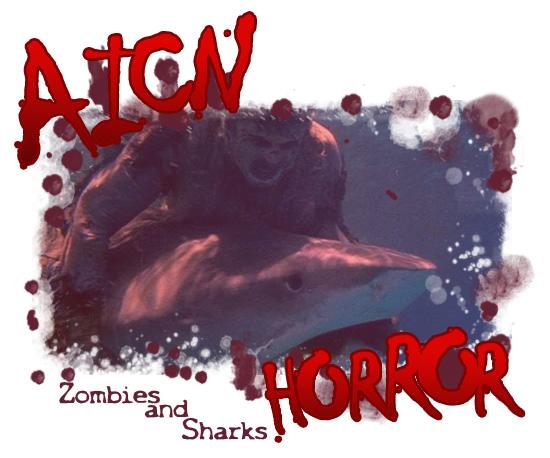 Logo by Kristian Horn
What the $% is ZOMBIES & SHARKS?
---
Greetings, all. Ambush Bug here with another AICN HORROR: ZOMBIES & SHARKS column. This week's batch consist of a few older indie scares. But before we do that…there's this…
---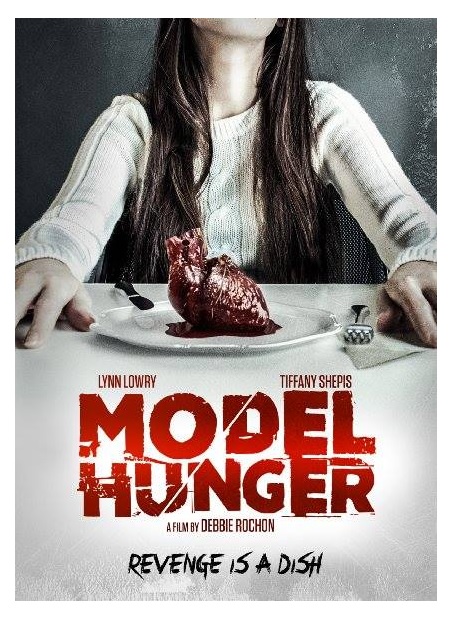 First up, we have an AICN HORROR Exclusive: MODEL HUNGER is described as
a terrifying perspective of what can happen when the industry pushes one woman too far and the horrifying domino effect that hacks, grinds, and amputates the unlucky women crossing her path.
The First Lady of Fear, Debbie Rochon (COLOUR FROM THE DARK, THEATRE BIZARRE) is crossing over the lens in her directorial debut with the self-aware horror film which is the next in the current trend of "female horror". Here's what Debbie herself said about the film in this AICN Exclusive:
"I can't say what I am more excited about, the script, my cast or my crew. I think everything comes together when it's supposed to, how it's supposed to. At least that's how this process has felt so far. I have been busy enough and excited enough to not be nervous yet. I am sure that will come soon enough but luckily I am quite overwhelmed, in a very good way, with so many things I haven't had the luxury to get nervous or sea sick yet. I believe so deeply in the material as does everyone involved. Between some really powerful friendships and the intelligence of the script this project has attracted some amazing talent.

I am very excited to say I have a nice mixture of my favorite types of people in front of the camera: underground cult punk and goth celebs, horror icons, stunning character actors. It's a dream. I feel so grateful to everyone involved. Behind the camera my main team consists of James Morgart who wrote the script and serves as Executive Producer. he takes on all the 'fun' stuff like rewrites and writing checks, I have Greg Lamberson who is working harder as our Line Producer (plus about 50 other jobs too) than I have ever seen anyone devote to a movie that 'wasn't theirs'. To Greg it is his movie as far as his dedication and love of the project. You can't buy that. People are either in it for the right reasons or they're not. Shannon Lark is heading up our press and outside collaborations with various companies and creating magic for us from the west coast. Wolfgang Meyer, our DP, is not only a very exciting, visionary talent - he's got a super cool name and I like that.

I have no doubt people will be really entertained by the grue filled horror aspects of the film and also engaged by the calibre of actors we have weaving our bloody phat tale about image and weight obsession in this country. Here is a movie that says something AND spills a LOT."
Can't wait to see this one.
Find out more about this film here.
---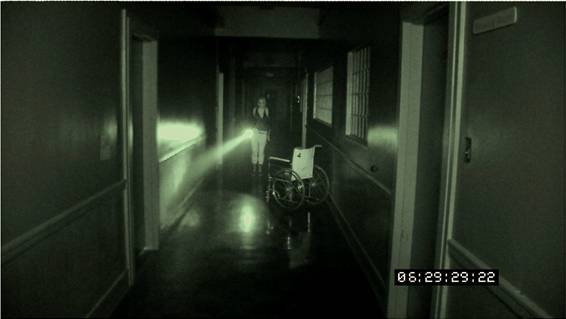 Here's another film that caught my eye; last year's indie found footager GRAVE ENCOUNTERS (
reviewed here!
) has a sequel coming out this fall. I'm sure I will be covering it closer to the film's release but until then, here's the premise:
While researching the events depicted in the original film and the subsequent disappearance of its lead "actor" Sean Rogerson, Alex Wright received a bizarre video from a mysterious blogger named "DeathAwaits666." Appearing to show Rogerson still alive but trapped inside the Collingwood Psychiatric Hospital from GRAVE ENCOUNTERS, Alex and his friends agree to meet the blogger at the infamous hospital in hopes of learning what really happened. To their horror, they quickly find themselves face-to-face with unspeakable evil. Realizing that they must be smarter and faster than Rogerson and his crew to avoid suffering the same fate, they use their knowledge of the original film to do whatever it takes to survive.
GRAVE ENCOUNTERS 2 will be available nationwide on demand October 2nd with a theatrical roll out in October.
---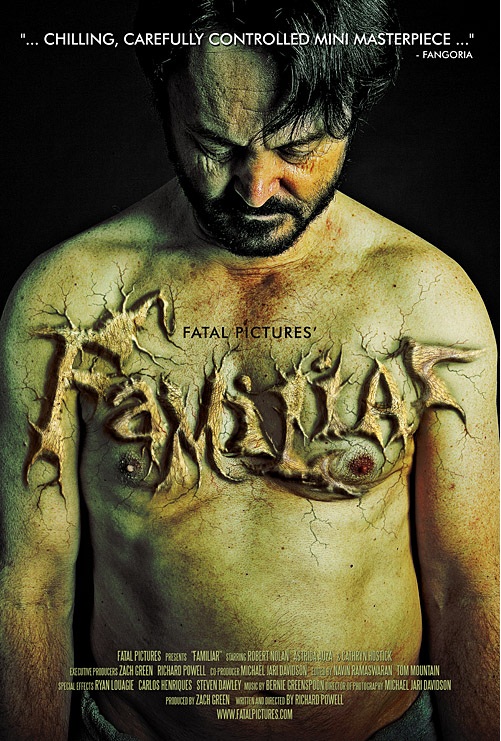 The fantastic short film FAMILIAR (
reviewed here!
) just got accepted into Fantasia International Film Festival (2012). Those of you lucky enough to make the fest should definitely check this short out which has more gore and psychological terror than most feature films. Below is the teaser trailer for the film.
---
Another short I loved, COUGARS, just announced it will be an official selection at the Fantasia International Film Festival next month (July 19th – Aug 7th). I'll be reviewing this short soon, but until then, here's the teaser.
---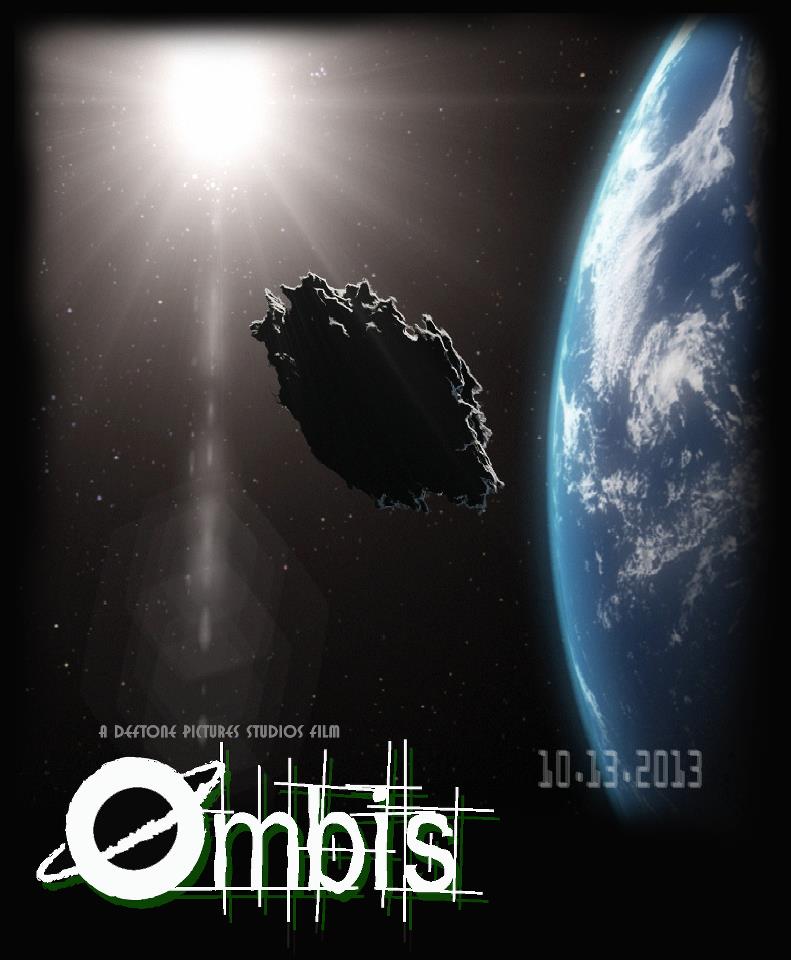 OMBIS is a film in production now and I hope to check it out soon, but until then here's the poster and a pic from the film on the left. Here's the premise:
the tale of an invasion of an alien virus which lands via meteorite in the small town of Metzburgh. Metzburgh is a former industrial town whose glory days are long past but whose residents are carrying on with their daily lives: loving each other and living life as best they can. In the midst of this idealistic backdrop, enter the hideous virus Ombis, which is intent on taking over the planet Earth and changing its residents into a host for a new species.
The filmmakers just announced that actress Lynn Lowry from Paul Schrader's CAT PEOPLE (1982) and George A Romero's THE CRAZIES (1973) will be in the film and we've got a teaser trailer below.
---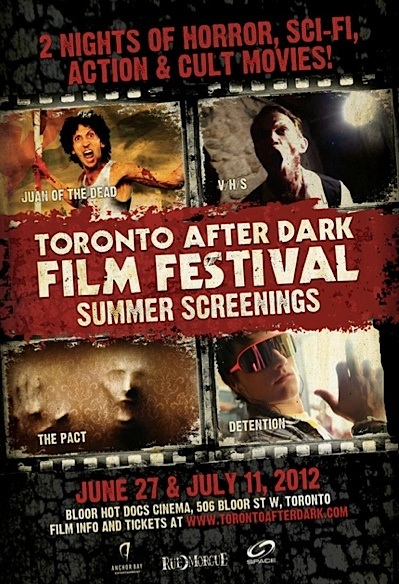 Toronto After Dark's Summer Screenings are Here! See Cuba's first zombie film JUAN OF THE DEAD, and the ultra scary Sundance hit V/H/S! Toronto After Dark, the popular horror, sci-fi, action and cult film festival, begins a limited, two-nights only, Summer Screening series tonight, Wednesday, June 27 with JUAN OF THE DEAD, Cuba's first-ever Zombie movie that's been getting great buzz from fans on the festival circuit. Then stick around if you dare, to experience the Canadian Premiere of THE PACT, the scary new supernatural film that shook up audiences at Sundance! TAD's second screening night is in two weeks time on Wed, July 11, and has the pairing of sci-fi, horror, cult comedy DETENTION starring THE HUNGER GAMES' Josh Hutcherson and the Canadian Premiere of V/H/S, the terrifying new found footage film featuring the works of six different movie directors that freaked out audiences at Sundance and SXSW! Tickets and Passes, starting from $13, available in advance, or at the door of the screening venue. the Bloor Hot Docs Cinema, 506 Bloor Street West at Bathurst, Toronto. Complete details on TAD's Summer Films, including detailed descriptions, trailers, images and advance tickets, all available at the
Festival Website here
.
---
Check out this cool "tone-poem" from the new film MODERNGRUMBLE, with FX by Marcus Koch and Music by White Ring. Here's the premise:
MODERNGRUMBLE is the coming of age tale of a young monster and possible messiah. A tone poem about a monster in love and on the road. And a collision of Fulci and Tarkovsky.
Sounds damn cool.
Find out more about this film here.
Check out this trailer.
MODERNGRUMBLE Full Trailer from Toby Venable on Vimeo.
---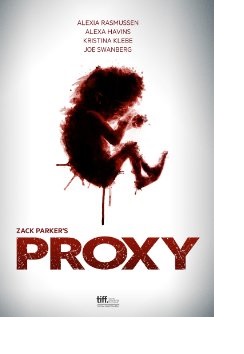 The director of SCALENE (
reviewed here!
) has a new film in the works. Zack Parker is directing PROXY. Here's the synopsis:
A very pregnant Esther Woodhouse is walking home after her latest OB appointment, when she is brutally attacked and disfigured by a hooded assailant. When Esther seeks consolation in a support group, she finds friendship and empathy in Melanie, another mother scarred with tragedy. Esther soon begins to believe that the horrific event might be a bittersweet act of fate. However, friendship and empathy can be very dangerous things when accepted by the wrong people. PROXY is a European-style suspense-thriller that promises to challenge the traditional cinematic form.
Parker is a truly unique voice in cinema and I can't wait for more info on this new feature.
Find out more about this film here.
---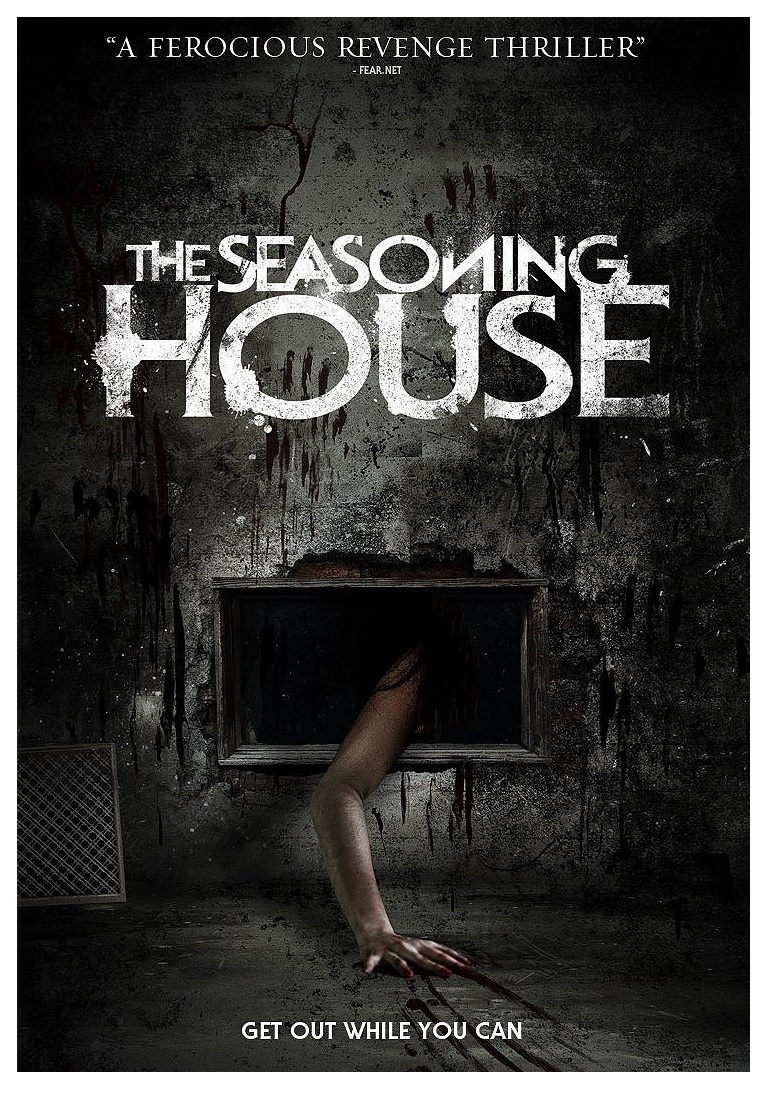 THE SEASONING HOUSE will have its world premiere at Film4's 2012 FrightFest on Opening Night this year. The film is described as
a stylish, shocking, claustrophobic, nightmarish neo-horror about Angel, a young Balkan girl forced to work in a rape house during an unspecified war. After she kills a militiaman, she goes on the run.
The film is directed by Paul Hyett (who did FX work on THE WOMAN IN BLACK, DOG SOLDIERS, DOOMSDAY, ATTACK THE BLOCK, EDEN LAKE, & THE DESCENT) and stars Sean Pertwee, Anna Walton, & Rose Day.
Find out more about this film here.
---
OK, enough news. Here are the reviews!
Today on AICN HORROR
(Click title to go directly to the feature)
HEADSPACE (2005)
THE SKY HAS FALLEN (2009)
MOLD! (2009)
CLOWN HUNT (2010)
P.O.E.: POETRY OF EERIE (2011)
ALIEN ORIGIN (2012)
And finally…Patrick Rea's DO NOT DISTURB!
---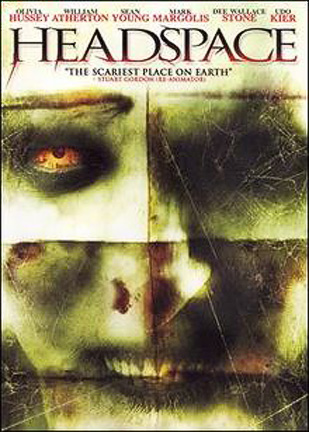 New this week on DVD/BluRay from MVD Entertainment Group!
HEADSPACE (2005)
Directed by Andrew van den Houten
Written by Steve Klausner, Troy McCombs, William M. Miller
Starring Christopher Denham, Erick Kastel, Olivia Hussey, William Atherton, Sean Young, Mark Margolis, Larry Fessenden, Dee Wallace Stone, Udo Kier
Reviewed by BottleImpEditor's note: Though we posted this in last month's Love Lovecraft AICN HORROR Column, with the release of HEADSPACE on DVD/BluRay this week, I figured it wouldn't hurt to post BottleImp's awesome review again!
Remember a few years ago when Blockbuster Video started to implode and close its stores? As location after location began to sell off inventory in preparation for closure, I managed to pick up a lot of DVDs on the cheap. Most of them were movies that I had seen, but on a couple of occasions I took a chance on something new—what the hell, it was only a couple of bucks. One such movie I bought based on its impressive lineup of actors, cited horror film festival awards, and a blurb from director Stuart Gordon emblazoned on the DVD case. This movie was the Lovecraftian psychological thriller HEADSPACE.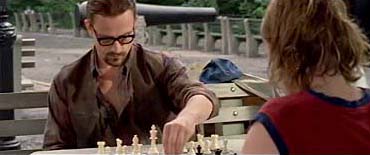 The film begins with an in-your-face, as yet unexplained shot of a bloodstained young man clad in a hospital johnny staggering to a chess table in an uninhabited, desolate-looking park. This striking visual abruptly cuts to an idyllic family scene as a young boy's birthday is celebrated with his brother and parents, though the pleasant vista shifts to an ominous tone as the mother (Sean Young) experiences an inexplicable nosebleed. From there, the mood grows even darker as, in a dreamlike scene, the boys find their bloodstained mother with the mutilated carcass of the family dog in her lap. The tension escalates to one of the film's most effective moments of horror before cutting back to the present day, where a young man named Alex Borden (Christopher Denham) happens upon a chess game in the park. Alex sits down and is almost immediately checkmated, and as he shakes hands with his opponent Harry Jellenik (Erick Kastel), Alex experiences a sudden headache and brief flash of a bizarre vision. These headaches grow more intense and the visions more persistent, but along with them Alex's mental facilities begin to expand. He becomes able to instantly absorb information and solve complicated mathematical equations, but he experiences increasingly bizarre glimpses of his past (that's right, Alex is one of the brothers from the prologue, and it's fairly simple to guess who the other brother is) along with visions of murderous creatures that may or may not actually exist. As both visions and flashbacks become nearly constant, Alex is forced to face both his past and the threat of an unstoppable evil from an alien dimension…or is it all in his head?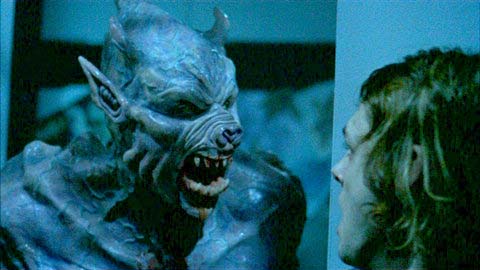 HEADSPACE explores the Lovecraftian theme of bridging the space between dimensions through the use of one's mind rather than any sort of external paraphernalia. This idea of opening up doorways to alien vistas through mental experimentation can be found in HPL's "Dreams in the Witch House" and "The Shadow Out of Time." The expansion of one's mental abilities through contact with other-dimensional beings was also a key component of Stuart Gordon's FROM BEYOND, based loosely on Lovecraft's story of the same name, and a probable influence on this film. There's also a healthy hint of "Pickman's Model" to be detected in HEADSPACE—at least, we Lovecraft fanatics will inevitably draw that comparison, given the brief glimpses the audience gets at Harry's paintings…the ones that seem to depict monstrous creatures interacting with our own mundane reality. And it can't just be a coincidence that when the monsters are finally fully revealed, they so closely resemble Lovecraft's description of Pickman's unearthly model, with its "dog face with its pointed ears, bloodshot eyes, flat nose, and drooling lips"? No, I'm going with the assumption that these elements were intentional decisions by the filmmakers, made to help give HEADSPACE that added atmosphere of cosmic horror by tapping into the Lovecraftian vein.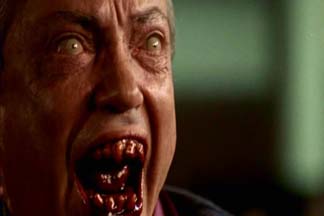 Unfortunately, HEADSPACE ends up being a movie full of atmosphere, but with frustratingly little payoff. Part of the problem is that the audience knows next to nothing about the characters; we're told that Alex is currently housesitting and we see that Harry is an artist, but aside from that we know nothing about their present-day lives. In the case of the supporting cast we know even less. HEADSPACE boasts an impressive lineup of horror and sci-fi movie veterans for these parts, yet none of them are given more than ten minutes of screen time. Udo Kier (ANDY WARHOL'S DRACULA) has the most visually meaty scene, but his part ultimately amounts to a footnote in the plot. Olivia Hussey's (BLACK CHRISTMAS) psychiatrist merely serves as a handy way for Alex to provide exposition, while Dee Wallace Stone (THE HOWLING) as one of the doctors who initially examines Alex seems so disconnected that she looks like she's sleepwalking through her scenes. Pacing also becomes an issue as the film slows down and meanders about for the majority of the second act. The movie picks up again as Alex meets with discredited Russian scientist Boris Pavlovsky (Mark Margolis), who gives Alex and the audience an explanation for what is occurring. It seems that while working for the KGB, Pavlovsky experimented with people he dubbed "links," who were able to bridge the gaps between parallel dimensions. Put two "links" together and you had the potential to create a psychic weapon…but it also creates an increased danger that can only be stopped by killing the "links." But the deaths caused by the psychic power…are these indeed the work of extra-dimensional creatures, or are they caused by the psychics themselves?
Ultimately, the question is never answered as to whether these otherworldly monsters are really there or just part of Alex's madness, and that's what keeps this film from being effective. It's fine if a movie leaves its audience with questions at the end, but in this case it feels more like the makers of HEADSPACE didn't have a clear idea themselves about the answers to those questions. Nevertheless, HEADSPACE does provide a moody atmosphere that can be hard to find in today's horror genre, and manages to evoke a touch of the Lovecraftian tone, if only for a few moments. I'm glad that I got this movie for the cost of a rental; I wouldn't recommend paying full price for the DVD (a new, shorter director's cut is coming this June—maybe that'll take care of that slow second act?), but HEADSPACE is definitely worth a watch for Lovecraft fans.
---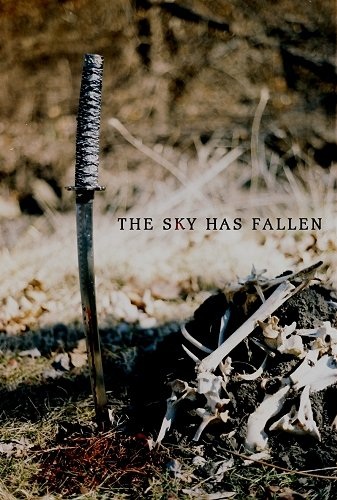 THE SKY HAS FALLEN (2009)
Directed by Doug Roos
Written by Doug Roos
Starring Carey MacLaren and Laurel Kemper
Find out more about this film here!
Reviewed by Ambush Bug
Here's another film that has barely over an hour of running time, but would have worked so much more effectively as a short 30 minute film. Filled with some decent action scenes and some genuinely creepy and downright scary scenes of monsters, aliens, and terrifying darks, THE SKY HAS FALLEN takes the well tread road of post-apocalyptic lore and fills it with some very nice moments.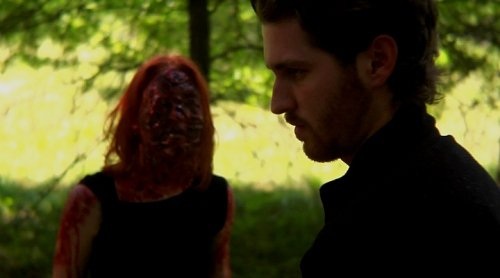 The actors in this film are trying their damnedest to be at their most serious. Not a smile is cracked in this film as a man in black with a pair of pistols which never run out of bullets and a samurai sword (Lance played by Carey MacLaren) and a woman in peril (Rachel played by Laurel Kemper) meet in a forest on the run from pustule ridden diseased zombies, shadowy aliens, and a white robed alien leader. Well, they run from these monstrosities until they stand and fight. And they do stand and fight. Often. In fact there are more than three segments of the man in black and the woman in peril slashing and blasting zombies and aliens which look impressive (especially since all of the fight scenes involve bucketloads of blood and close ups of slashes, bullet wounds, and gouges), but ultimately feel repetitious and dull, especially since the actors and the monsters move so slow while doing them.
The effects here are damn good. The action scenes make sure to zoom in on every slice, slash, and pierce the swords and bullets inflict. Though this effects showcase does slow the narrative down to a screeching halt, it looks good while doing so. But narrative wise, the whole story of THE SKY HAS FALLEN is pretty light. Each of the two survivors has a story. Each has had to endure much as the alien zombie plague hit. Each is distrustful of the other. Making each not very interesting as they divulge their secrets, their insecurities, and inner thoughts in a monotone and flat delivery of lines numerous times throughout the story.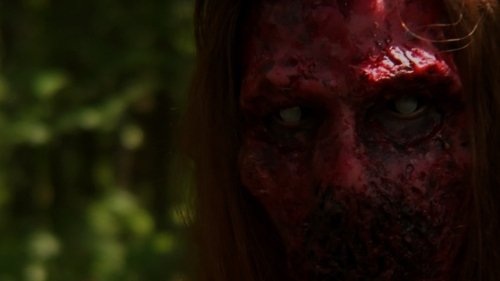 Though the narrative shambles, writer/director Doug Roos does a fantastic job establishing a sense of unease and terror. There is a scene where Rachel reads from a journal which is probably one of the most effective in the film as it tells the tale of a mother protecting her daughter then watching her succumb to the plague. Another recount of the first night of the alien zombie attack is filled with moody moments and punctuated by some extremely scary jump scares. The action scenes are actually well framed and if the actors in them weren't moving so slow, the pacing of the scene itself is really great considering the low budget.
In the end, THE SKY HAS FALLEN is filled with the familiar, but plays out in a pretty great way. With some better actors, a more substantial script, and maybe a decision to speed up the action scenes a frame or two per minute, Doug Roos has a pretty good film here. Roos shows enough talent in the script and a few key scare scenes to make me very interested in what he has in store for us next. Though THE SKY HAS FALLEN is short (just around and hour long), I think some nips and tucks here and there would make this into an extremely effective and intense 30 minute horror film.
---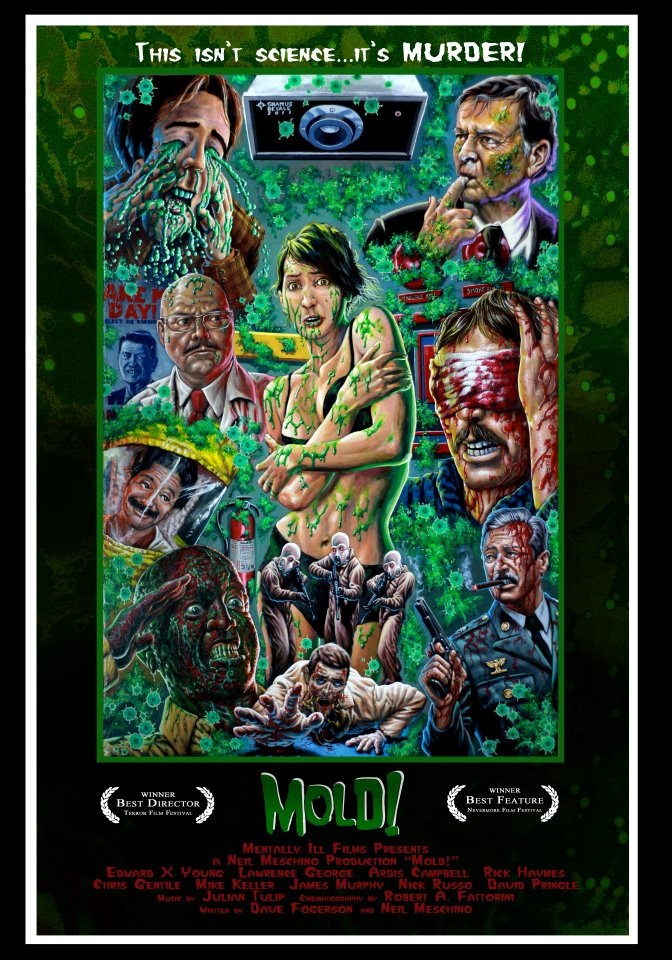 MOLD! (2009)
Directed by Neil Meschino
Written by Dave Fogerson & Neil Meschino
Starring Edward X. Young, Ardis Campbell, Lawrence George, Rick Haymes, Mike Keller, James Murphy, Nick Russo, Chris Gentile, David Pringle
Find out more about this film here!
Reviewed by Ambush Bug
Best described as THE STUFF meets STREET TRASH, MOLD! works well as a virus-style horror film as well as a spreading ooze film (a subgenre I'd love to examine one day in a special AICN HORROR column). The budget is low, but when it comes to a practical special effects showcase, MOLD! excels with honors. Though I'm quickly getting a bit tired of comedy horror these days with so many films relying on making fun of monsters instead of actually concentrating on making them scary, MOLD! feels like a low grade eighties throwback with a fun tone, hokey faux science gone wrong story, and great effects.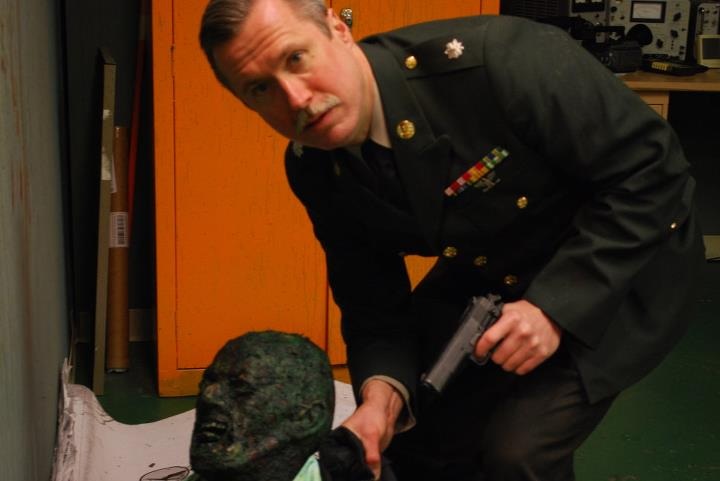 The story centers on Ronald Reagan's battle against drugs during the eighties. Top scientists are looking for a way to combat the growing drug problem and one scientist in a top secret science facility bunker comes up with a mold that eats just about everything. The intention is to drop a vial of the mold spore into the air and it eats up the drug crop of third world countries. Of course, the effects on humans is not taken into consideration until the spore is accidentally made airborne through a series of wonky lab mishaps by some fo the most clumsy scientists I've ever seen. Soon the science team, along with an army Colonel and his devoted soldier, are trapped in the bunker with green mold forming on the walls, in the water system, and on the people themselves.
The story is definitely a throwback to films like THE BLOB, "The Lonesome Death of Jordy Verill" sequence in CREEPSHOW, and the aforementioned STREET TRASH as the mold eats away at anything in its path and seems to be unstoppable. The story definitely lags after a goofy lab experiment gone wrong sequence at the beginning as the group is trapped in a room trying to figure out a cure for the spore as they get picked off and contaminated one by one. Thankfully, the ending of MOLD! goes over the top and back again with tons of gore and grossout moments of dismemberments, meltings, and oozings.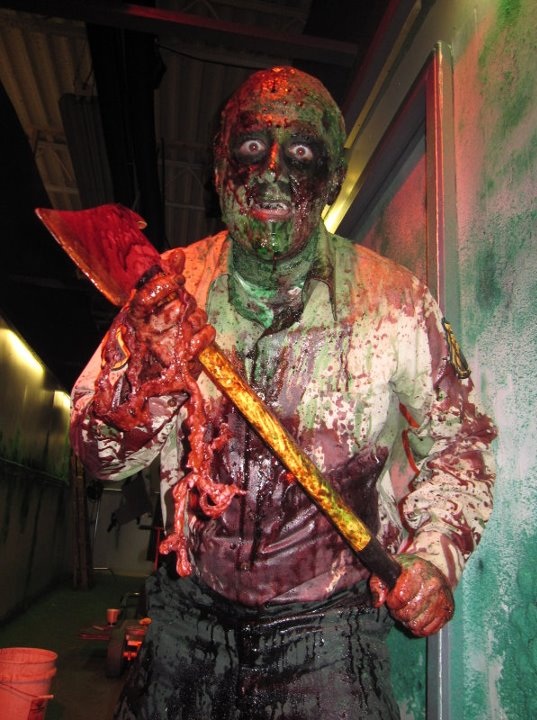 As I said above, the highlight here is the special effects. Everything from practical application, to dummies covered in green decay, to tons of slime, to stop motion is used to convey the different dangerous aspects of the funky fungi. My favorite being some nice stop motion animation of the spreading and growing mold. For the low budget of the film, it is downright admirable what the filmmakers were able to pull off.
There's some decent acting going on here. The tone is mildly camp, but not overly so with over the top characters intermingling with folks playing it straight. There are a lot of goofy moments and moments of groan as most of the trapped Colenal's dialog consists of action movie titles. But MOLD! redeems itself by the end with the gore-de-force, almost as if it is rewarding the viewer for enduring the tedious middle portion.
---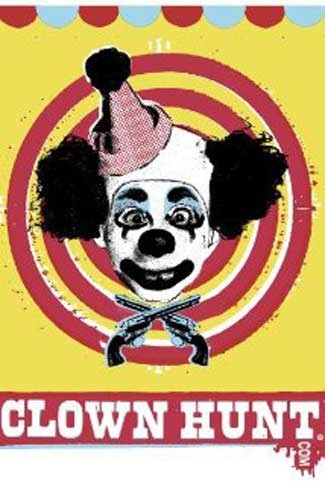 Found on DVD from MVD Entertainment Group!
CLOWN HUNT (2010)
Directed by Barry Tubb
Written by Barry Tubb
Starring David Keith, Paul Timek, Barry Tubb, Brendan Wayne, Joey Williams as Shitty Fred, and Trick Kelly as Albino Willie
Find out more about this film here!
Reviewed by Ambush Bug
Though most of the budget here went toward clown make-up, I have to commend the makers of CLOWN HUNT for coming up with a truly original concept and running with it. Now, this doesn't mean that this low budgeter is great, but it does have quite a few well executed ideas and moments of sheer weirdness. Ultimately, CLOWN HUNT is a good idea done decently, but not completely great.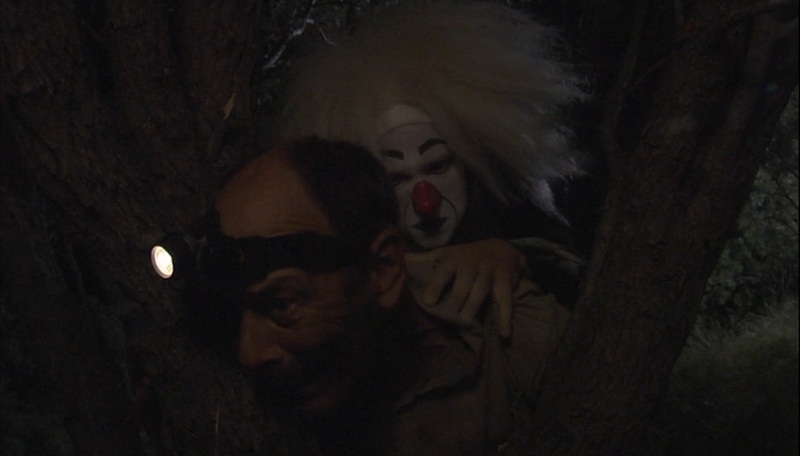 As I said above, the concept is a winner. So many horror films work as metaphors for other problems with the world. Usually it's zombies who are the most ripe to be farmed for deeper meaning. Everything from 9-11 to the AIDS epidemic has been delved into with the zombie mythos. Here, clowns is the metaphor of the day, representing everything from racism to homophobia to gun control, to border patrolling, CLOWN HUNT uses the metaphor of the clown to represent "the other" here as the story follows a troop of good old boys out to enjoy a beautiful afternoon of clown hunting.
Though the acting is not top notch, I've seen much worse and a lot of these proud Texas hunters load up their guns, down a ton of beers, and head out to clown territory on the opening day of "Happy Clown Season". But this isn't a free for all. There are rules. Sad clowns are off limits until "Sad Clown Season", which protects Shitty Fred, a hobo clown who wanders around trying to be shot and killed by the hunters. Killing a sad clown awards a swift penalty, as illustrated in this film. It's the straight faced approach to this odd mythos that makes this entire film work.
While the hunters are often portrayed as idiots with buckshot and beer on their breath, the clowns themselves are not completely without sin. Early on, the hunters witness the clown ritual of baby chicken stomping and kitten tossing, letting the viewer know that on top of there being an over-abundance of clowns in the world, they also are not kind to animals. Scenes of the clowns eating, interacting with one another, having sex, and roaming the range in their natural habitat is a nice touch here and again serves as some of its most endearing aspects to watch (though the clown mating scene with clown shoe fellatio was way too long).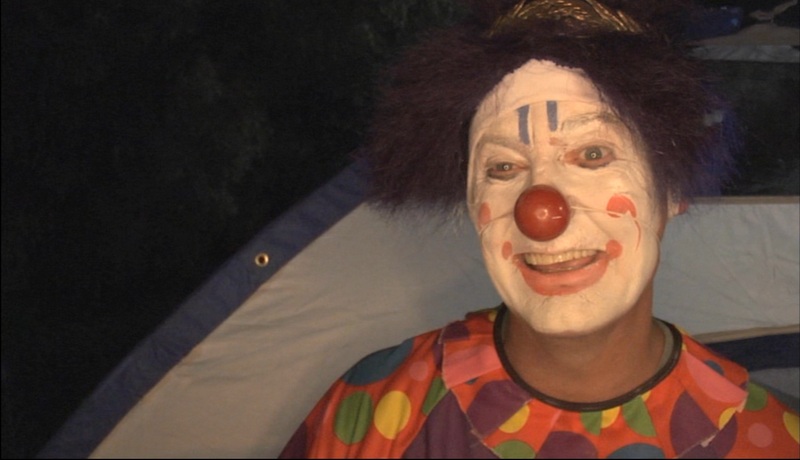 I also thought the scene where one of the hunters has a crisis of conscience and comes out as a closeted clown added more nuance to the thinly veiled metaphor homosexuality and its acceptance in the good old boy community. There's even a scene of clown rape, which is both disturbing and funny all at once. Had that metaphor been delved into with some more thought, the makers of this film would have a pretty fantastically nuanced film here. But instead a lot of the time, the cheap laugh is gone for with mixed results. The ending as well is kind of a mess with a lot of the fun sucked out of it in order to have an action sequence that is a little too much for the budget to allow as the battle between clowns and hunters ignites into a nuclear battle to end all battles.
In the end, there were quite a few scenes of hilarity (every scene with Shitty Fred is gold) and more than enough scenes that are "just damn wrong" as with the clown sex scene, the clown rape scene, the kitty tossing, and the chick stomping to warrant this film as an odd little curiosity. Clocking in at just over an hour, the joke well runs dry about 40 minutes in making me think this would have made for a fantastic 20-30 minute short. As is, it's just plain weirdness. But if you're creeped out by clowns, CLOWN HUNT is going to hit buttons you didn't know you had.
Here's the trailer, plus something called JAVELINA which looks pretty low fi awesome to me too.
---
Found on DVD from MVD Entertainment Group!
P.O.E.: POETRY OF EERIE (2011)
Directed by Domiziano Cristopharo (MAELZEL'S CHESS AUTOMATON), Giovanni Pianigiani & Bruno di Marcello (GORDON PYM), Paolo Gaudio (THE BLACK CAT), Alessandro Giordani (THE SPHINX), Paolo Fazzini (MAN OF THE CROWD), Simone Barbetti (THE TOMB OF LIGEIA), Giuliano Giacomelli (BERENICE), Matteo Corazza (THE GLASSES), Fratelli Capasso (THE SILENCE), Edo Tagliavini (VALDEMAR), Manuela Sica (THE TELL-TALE HEART), Yumiko Sakura Itou (SONG), Rosso Fiorentino (THE RAVEN)
Written by Antonio Micciulli (idea & concept), Edo Tagliavini, Andrea Cavaletto,Lulù Cancrini & Marco Varriale(THE SPHINX), Paolo Gaudio (THE BLACK CAT), Elena Lazzaretto (GLASSES)
Starring Mariano Aprea & Laura Gigante (THE SPHINX), Giovanni Morassutti, Francesco Roder, Ruth Morandini, Paolo Andreetta, Elettra Gozzi (THE GLASSES), Gerardo Lamattina, Marcello Moretti, Alessandro Garavini, Danilo Conti, Rita Fedozzi, Alessandro Randi (VALDEMAR), Marco Borromei (GORDON PYM)
Find out more about this film here!
Reviewed by Ambush Bug
The premise of P.O.E.: POETRY OF EERIE is that 13 international horror directors were given three days to film 13 Poe tales. As with most anthologies, P.O.E.: POETRY OF EERIE is a mixed bag. For those interested in all things Edgar Allan Poe, the film should be on their must see list. But even the most fervent Poe fan might have some trouble with some of these entries.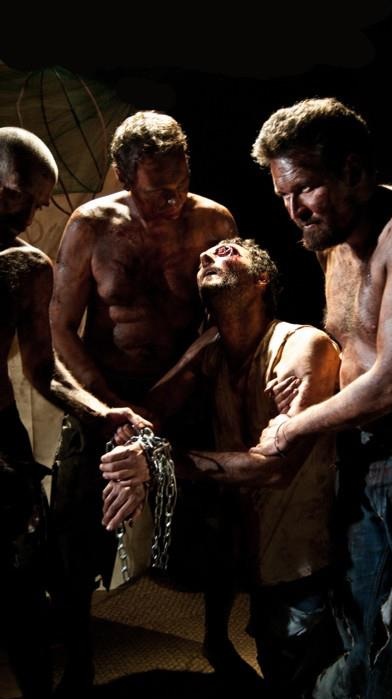 The most entertaining of this crop are the ones which literally read the Poe stories. Tales like THE RAVEN by Rosso Fiorentino reads Poe's most famous poem while following a man struggling with writers block in his den, haunted by a spectre that continually screams "Nevermore". Others like MAELZEL'S CHESS AUTOMATON directed by Domiziano Cristopharo, does a great job of telling Poe's tale while updating it with a freaky automated robot man who excels at chess. Because Poe's wordplay is so beautiful, it doesn't' really matter what it looks like, you can still appreciate the words. Here, though, some surreal imagery and tight editing make these two tales stand out. I loved THE GLASSES from Matteo Corazza, a simple tale of a woman who loses her glasses and ends up paying the ultimate price for that loss.
Other directors chose to go the artsy route with mixed results. Alessandro Giordani's version of THE SPHINX has some nice surreal imagery, but pays little attention to the narrative. Yumiko Sakura Itou's SONG does the same and though the director's short is simple, the Asian influenced imagery is memorable. I was somewhat disappointed with the minimalistic version of THE TELL TALE HEART as told by Manuela Sica. A lot of the imagery was there, but it just seemed like his version lived up to Poe's classic (which is by far one of my favorite stories). My favorite of the bunch which sort of goes its own way with what is expected is Paolo Fazzini's MAN OF THE CROWD, a musical cornucopia filled with classical and dance music as a man walks through the streets. Though this short drags a bit, the final frightful moments make it all worth while.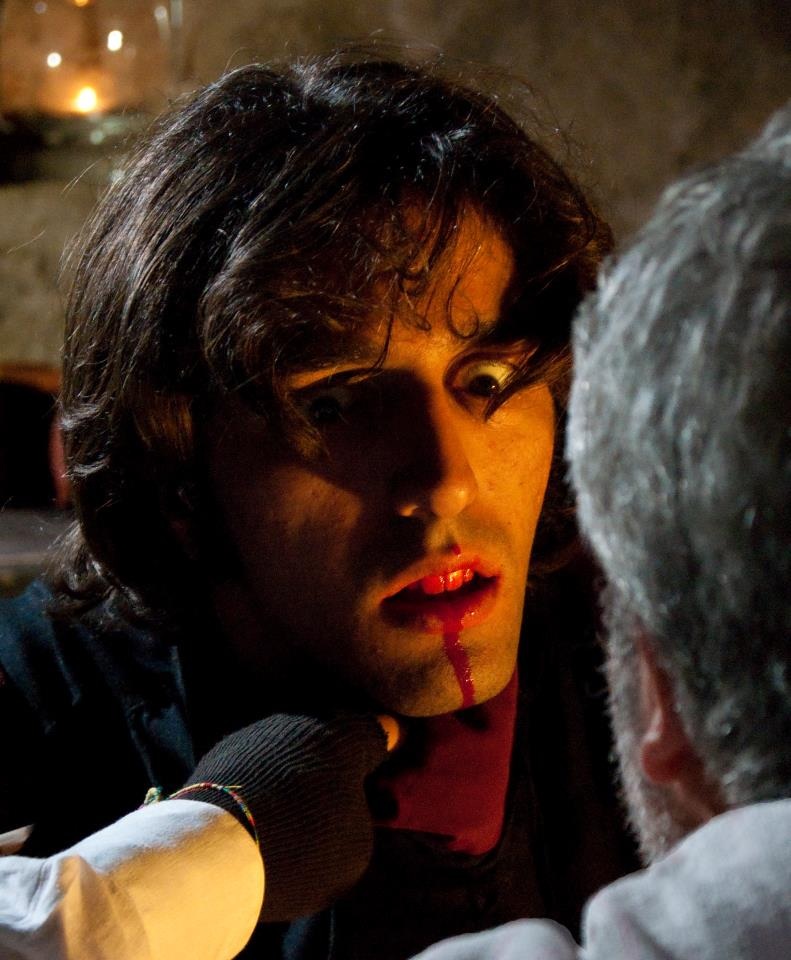 I have to admit, I am a bit biased. I don't think any of Poe's works will ever live up to the Castle films of the 50's and 60's, so watching Simone Barbetti's THE TOMB OF LIGEIA was tough for me not to compare to the Vincent Price classic. Though quite good, it just doesn't compare. Same goes for VALDEMAR from director Edo Tagliavini who chooses to go a more offbeat and goofy route with his version of the tale of mesmerization and death. Though I did love the claymation version of THE BLACK CAT by Paolo Gaudio, which stuck close to the story, but made it engaging with some clever clay sculpturings.
Some too artsty, some too much like previous renditions, some too literal, and some just right. If you like Poe, P.O.E.: PORTRY OF EERIE is worth a watch, but the three day limitation the directors had for this film makes me wish they had a little more time to make this anthology more interesting.
---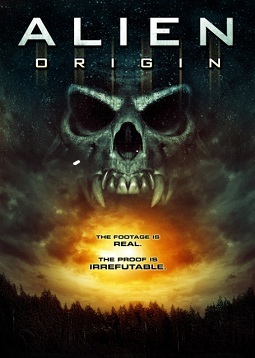 New on DVD from the Asylum!
ALIEN ORIGIN (2012)
Directed by Matt Atkins
Written by Matt Atkins
Starring Chelsea Vincent, Peter Pedrero, Philip Coc, Daniela Flynn, Andres Rash
Reviewed by Ambush Bug
Whew, rough week this week if you're looking for something horrific to watch. I saved the worst for last this time around. The problem many have with found footage films, despite the obviously jarring shaky hand cam, is the fact that the film's story is secondary to the plot. It's all style and very little substance. The folks behind ALIEN ORIGIN have made their own statement and made their film with little to no substance at all. Whereas usually I find myself pulled into most found footage films, I guess it is a clear indication how bad this film is that I never felt even the slightest tug into this film, despite the forced first person perspective.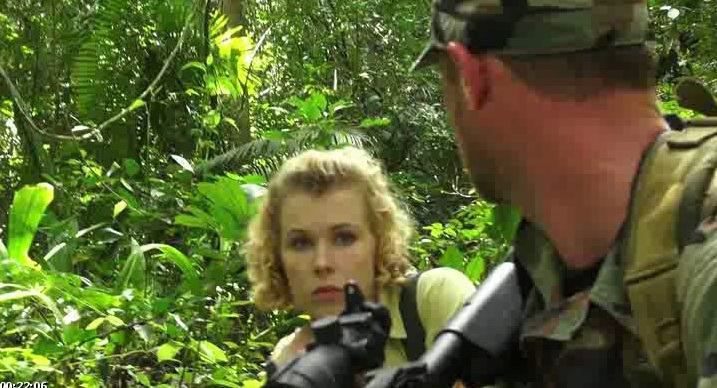 ALIEN ORIGIN starts promising enough with expansive (and most likely stock footage) of an expansive jungle mixed with the disclaimer that a special forces team was sent into the jungle on a mission accompanied by an investigative reporter and her crew. They disappeared and only the footage was found.
OK, I've heard that before, but I was willing to give this one a shot despite the familiar beginning. But no amount of found footage film experience I have had could prepare me for the utter waste of an hour and a half that followed.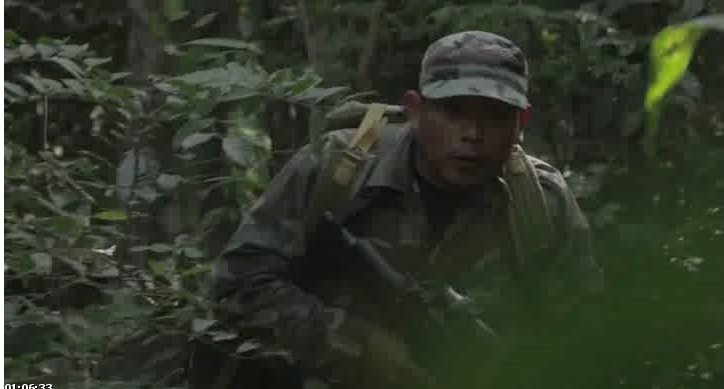 After a short set up introducing us to a crew of soldiers and the reporter, we are given scene after scene of people wandering through the jungle and seeing things off camera. Our cameraman is by far the worst cameramen in the history of journalism in that he is always just a second too late to capture the creatures/aliens/monsters on film. Even the most direct shots of whatever it is in the woods is obscured by blurs, static, or interference so not even in the end do we have a good look at what the hell is going on.
What we do see is tedious scenes of people running in the woods firing machine guns and grenade launchers. Then it switches to night vision where we are given more scenes of machine guns firing at nothing. There's a lot of screaming, a lot of running, and absolutely no monster to be seen. Just people firing weaponry in the dark for an entire hour and a half.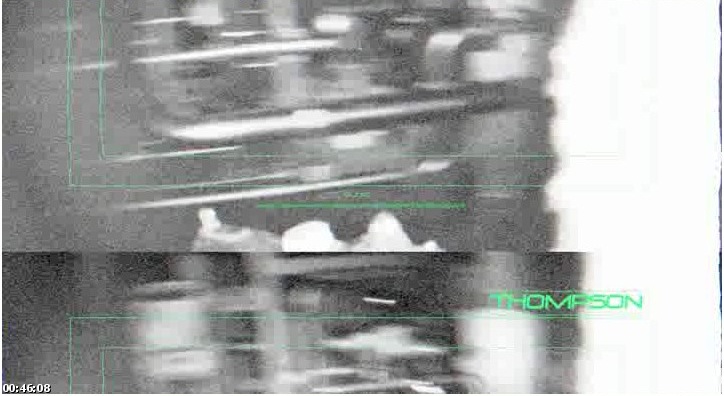 Had the makers of this film given me something by way of emotional resonance to latch onto, I might have forgiven them for obviously lacking the budget to show the creatures. But none of that effort is given here.
To add insult to injury, an additional scene is tagged onto the end tying it to PROMETHEUS by saying the creatures after the soldiers and the camera crew are the missing link between man and caveman from another planet. They don't even try to work this little nugget into the story. It's just added on as new footage found at the end hoping that folks piece it together themselves as to where this fits into the narrative (and I use that loosely) and how it even makes sense.
---
And finally…here's a creepy tale about a man trying to get some peace and quiet in a hotel room. Directed and written by Patrick Rea. Enjoy DO NOT DISTURB!
See ya next week, folks!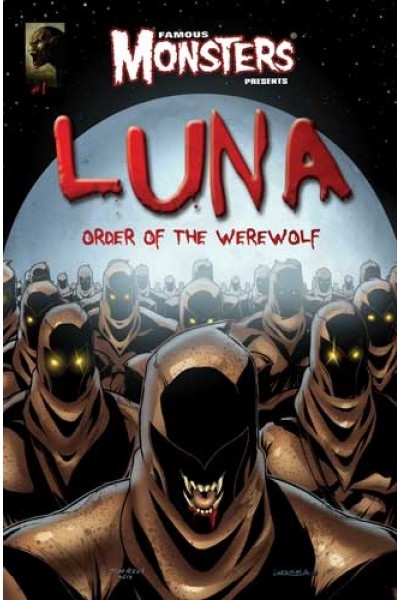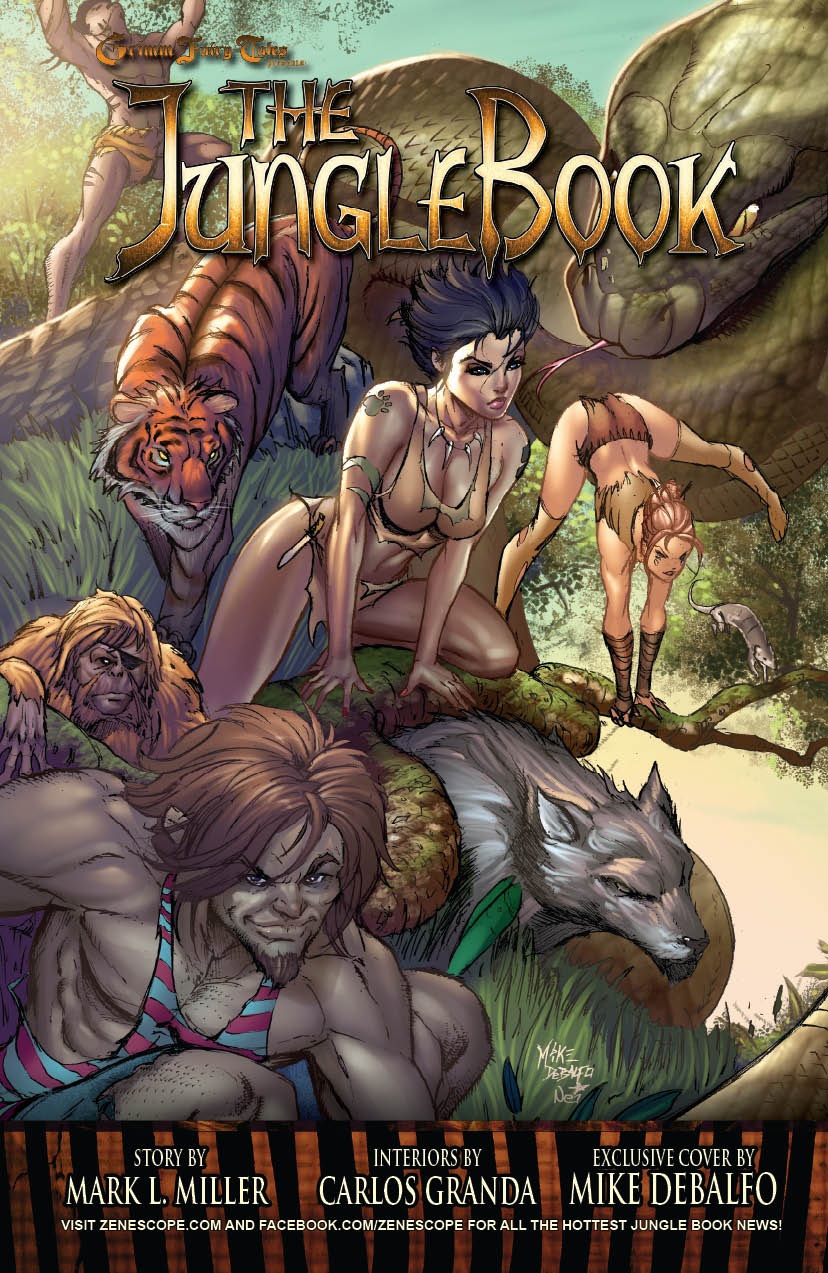 Ambush Bug is Mark L. Miller, original @$$Hole/wordslinger/reviewer/co-editor of AICN Comics for over ten years. He has written comics such as MUSCLES & FIGHTS, MUSCLES & FRIGHTS, VINCENT PRICE PRESENTS TINGLERS & WITCHFINDER GENERAL, THE DEATHSPORT GAMES, WONDERLAND ANNUAL 2010 & NANNY & HANK (soon to be made into a feature film from Uptown 6 Films). He is also a regular writer for FAMOUS MONSTERS OF FILMLAND & has co-written their first ever comic book LUNA: ORDER OF THE WEREWOLF (to be released in October 2012 as an 100-pg original graphic novel). Mark has just announced his new comic book miniseries GRIMM FAIRY TALES PRESENTS THE JUNGLE BOOK from Zenescope Entertainment to be released in March 2012.
---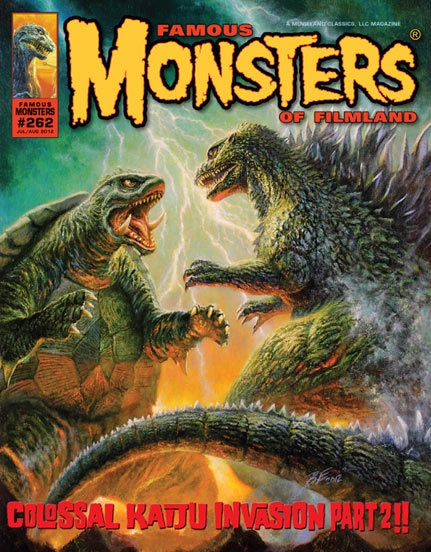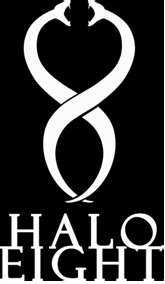 Check out the FAMOUS MONSTERS OF FILMLAND Website for all things horror!


Interested in illustrated films, fringe cinema, and other oddities?
Check out Halo-8 and challenge everything!



---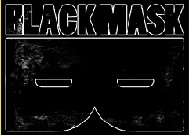 Find out what are BLACK MASK STUDIOS and OCCUPY COMICS here and on Facebook here!





---
Find more AICN HORROR including an archive of previous columns
on AICN HORROR's Facebook page!