Merrick here...

...with a look at Snakedance, a Davision era DOCTOR WHO adventure first transmitted January 1983. Snakedance is a sequel of sorts to a previous Davison era episode called Kinda, which we discussed last week. Kinda aired almost exactly one year earlier.
While only a few characters (the Doctor and his two companions, and the the evil Mara) are shared between the two stories, Kinda and Snakedance are connected by more or less the same backstory as well as a number of thematics - and are even packaged together in a DVD set overseas. As such, when exploring Snakedance, we'll also be holding it up against Kinda. Fair? Possibly not...but at the same time it's nearly impossible not to compare the two in matters like these.

But first...





MONSTERS ESCAPE THE DOCTOR WHO EXPERIENCE'S NEW CARDIFF HOME!!

Before I set about in my humble efforts to explore and write about DOCTOR WHO, a number of folks warned me that doing so would be an uphill push, and that there would be many perils and pitfalls ahead.

It THIS what folks were talking about? 'Cuz...damn...I mean...'splosions and upgradings and Daleks and those creepy-ass Scarecrows running amok? How long before they come for me? Look at those poor bastard press folks just standing there blankly, awaiting their untimely ends...or worse. Which, admittedly, isn't all that uncommon a demeanor for many press folk, but for purposes of discussion, let's pretend it is.
THE DOCTOR WHO EXPERIENCE opens July 20./ Daleks and Cybermen patiently await the subjugation and exploitation of the inevitable throngs of hapless attendees (website HERE). I'm bolting my door now and hiding in the attic. They're coming. I know they're out there, and they're coming.
BBC Home Entertainment, Aint It Cool News, and the Alamo Drafthouse Invite You To Free Screenings Of Three DOCTOR WHO Classics!! + Indianapolis And New York City WHOvians Rejoice! Screenings Coming To Your Areas Immediately!!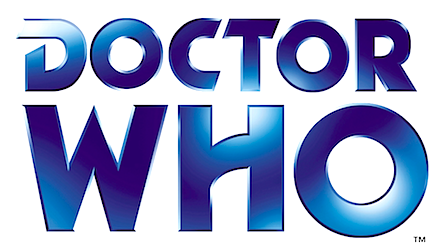 Over the past few months, BBC Home Entertainment, Aint it Cool News, and the Alamo Drafthouse have been bringing you some very, very cool theatrical screenings of recently restored classic DOCTOR WHO episodes like The Three Doctors, The Daemons, and Dragonfire.
We're now tremendously excited to announce the next few screenings in our series, all featuring newly restored versions of classic episodes, all occurring on the last Saturday of each month, and all happening at the lovely new Alamo Drafthouse on Slaughter Lane in Southwest Austin.




SATURDAY JUNE 30 - Resurrection of the Daleks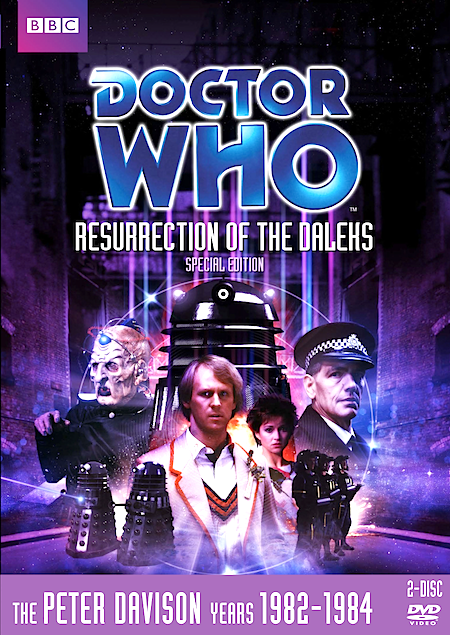 The TARDIS is dragged down a time corridor, forcing the Fifth Doctor (Peter Davison), Tegan (Janet Fielding) and Turlough (Mark Strickson) to materialize in a disused part of London in 1984. The corridor links Earth with a battle cruiser in the future that contains the Doctor's oldest enemy – the Daleks. Having lost the war with the Movellans, only one person can now help the evil race. With shocking consequences for the Doctor, it is time for the Daleks to resurrect their creator Davros (Terry Malloy)

The screening itself is FREE and General Admission, which means first come, first seated. HOWEVER, RSVP Meal Vouchers are available which either 1) guarantee you admittance to the screening, or 2) guarantee you a reserved seat in the theater depending on which option you purchase. The price of these RSVP vouchers is applied towards the cost of whatever meal or concessions you enjoy at the screening.

Resurrection of the Daleks vouchers are now available HERE.
SATURDAY JULY 28 - Death to the Daleks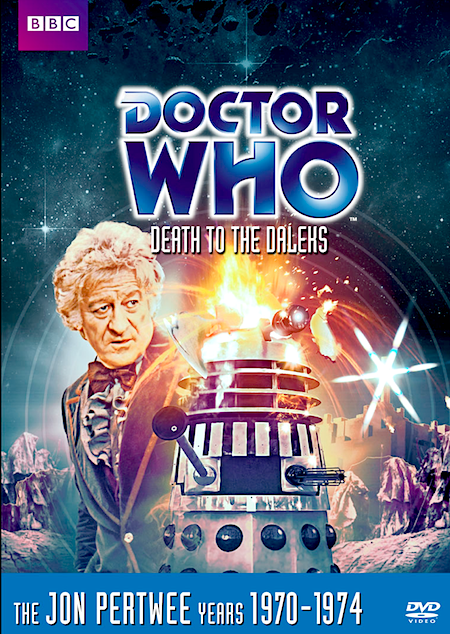 This Pertwee-era DOCTOR WHO adventure is described thusly by BBC Home Entertainment...

A power failure in the TARDIS draws it off course, and the Third Doctor (Jon Pertwee) and Sarah Jane Smith (Elisabeth Sladen) end up stranded on the bleak planet of Exxilon. They soon meet members of an Earth expedition in a similar situation. The humans are searching for a rare mineral, but first they must find out what is draining their power and avoid what's inside another grounded spaceship – one of the Doctor's oldest enemies, the Daleks

Like our previous screenings, admittance to Death of the Daleks is FREE and General Admission, which means first come, first seated. HOWEVER, RSVP Meal Vouchers are available which either 1) guarantee you admittance to the screening, or 2) guarantee your a reserved seat in the theater depending on which option you purchase. The price of these RSVP vouchers is applied towards the cost of whatever meal or concessions you enjoy at the screening.

Death to the Daleks vouchers are now available HERE.
SATURDAY AUGUST 25 - Spearhead from Space
In Jon Pertwee's initial adventure as the third Doctor...
The Time Lords have banished the newly regenerated Third Doctor (Jon Pertwee) to Earth. But he isn't the only alien to have arrived, as a swarm of meteorites have crashed into the sleepy English countryside, bringing with them a terrible new threat to mankind: the Nestene consciousness, a disembodied alien intelligence with an affinity for plastic. The Doctor and his newly appointed scientific advisor, Liz Shaw (Caroline John), join UNIT in a race against time to stop humanity from being replaced by a terrifying plastic facsimile race.

Like our previous screenings, admittance to Spearhead From Space is FREE and General Admission, which means first come, first seated. HOWEVER, RSVP Meal Vouchers are available which either 1) guarantee you admittance to the screening, or 2) guarantee your a reserved seat in the theater depending on which option you purchase. The price of these RSVP vouchers is applied towards the cost of whatever meal or concessions you enjoy at the screening.

We'll re-announce this screening and provide appropriate linkage as soon as vouchers become available.




SATURDAY SEPTEMBER 29 - information forthcoming
[[[ NOTE: as previous screenings have SOLD OUT, purchasing meal vouchers (thus guaranteeing your admittance to the screening) via the links above - and far in advance - is strongly recommended. ]]]




INDIANAPOLIS AND NEW YORK CITY - THE DOCTOR IS IN!!

I am thrilled beyond measure that classic DOCTOR WHO screenings will now be happening in other regions of the U.S. as well! These screenings are NOT directly connected to Aint It Cool News, per se, but our highly successful pilot efforts here in Austin have evidently paved the way and opened doors for others to partake of classic WHOvian greatness on the big screen in their fine cities - which truly makes me very happy.

The WHO North America group has partnered with BBC Home Entertainment to bring these same episodes to fans in Indianapolis. Per their message boards (located HERE)...

We are pleased to announce that we have partnered with BBC Home Entertainment and Tilt Studio to bring a classic Doctor Who monthly screening series and get together for all Doctor Who fans in Indianapolis and surrounding areas. Each month we will screen a digitally remastered classic Doctor Who story that is available on DVD from BBC Home Entertainment. The first meeting is scheduled for Saturday, June 30 from 2 - 5 pm in Indianapolis at the Tilt Arcade & Theatre located on the 4th Floor of the Circle Centre Mall.


The awesome Paley Center for Media in New York City is also joining in the fun, their schedule can be found HERE.

Indianapolis, New York City, and Austin will all be screening the same episodes on the same day, at roughly the same time of day! A rather amazing development as far as I'm concerned, and a trend which I hope both continues and evolves for a very long time to come.

If you are a part of, or know of, a sizable contingent of DOCTOR WHO fans in your next of the woods...and think they might feasbily be interested in screenings of this nature...DROP ME A LINE and I'll be sure your message gets to the proper folks at BBC Home Entertainment.

More to come....
CAROLINE JOHN - COMPANION LIZ SHAW - ADIEU

BBC has confirmed that John passed away.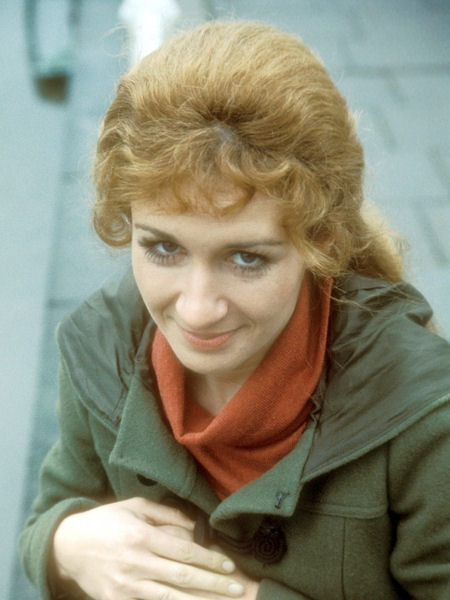 John premiered in her role opposite a newly regenerated Jon Pertwee in Spearhead from Space (Story #51). To be completely frank, I've yet to encounter John's work or character on DOCTOR WHO, and as such I feel wholly inadequate to remember her properly at this time. However, I warmly and strongly encourage you to do so in the Docbacks below.


In THIS piece at BBC, current WHO overlord Steven Moffat speaks of John warmly.

Doctor Who chief writer Steven Moffat paid tribute to "a brilliant actress" and "tremendous co-star" for Pertwee.


He said Liz Shaw was "not just a sidekick but a scientist in her own right and a match for the universe's number one know-all".


"The Doctor's companions should never be his assistants - they're the people who keep him on his toes and that's what Caroline did."

John's long and varied career also included LOVE ACTUALLY (one of my favorite films), EASTENDERS, and the 1989 WOMAN IN BLACK telefilm. She was 71.
Snakedance


"Dreams are important, Nyssa. Never underestimate them." - the Doctor, Snakedance Part 1



The Doctor, Tegan (Janet Fielding) and Nyssa (Sarah Sutton) arrive on the planet Manussa, which long, long ago banished the Mara - previously encountered by the Doctor & Co. on a different world in Kinda (Davison, Story #118). But is that extremely ungood Mara still around, plotting a return?


Last week, in regards to 1982's decidedly funky DW adventure Kinda, we pondered the merits of instilling a certain amount of mystery into storytelling. Not everything must be explained: a little bit of coyness...if handled properly...can nicely engage the audience - thoughts along those lines. Whereas Kinda is a poster child for how and why such approaches might and do work, Snakedance - its spiritual successor (literally and metaphorically) - makes such arguments a bit less convincingly. Considerably more obvious than its progenitor episode, Snakedance seems less self-assured than Kinda in several key regards. Its trappings, while appropriately sensational and metaphysical, are decidedly less aloof - which immediately renders its story more obviously interpretable in a number of ways. This characteristic also shifts Snakedance into territory which more closely adheres to 'traditional' DOCTOR WHO abstracts than the bold, ALTERED STATESy "what the fuck?" moments which made Kinda simultaneously confounding and intriguing. Snakedance often feels like it doesn't trust itself enough, or give its audience as much credit as the makers of Kinda did. It's less dangerous, and in many regards, more "expected."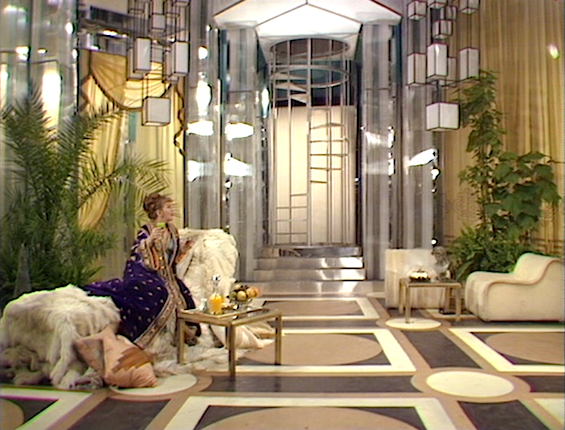 Nice set...
A key problem here is an odd and unnecessary paradox - one which I'm surprised someone didn't catch very early on in the story's development. While Snakedance is a 'sequel' in DW's narrative order, it also acts as something of a prequel to Kinda as well...revealing interesting back story about the serpentine Mara which appears in both tales (what it is, what happened to it, and what it may be up to next). Thus providing a degree of context to not only Snakedance, but Kinda before it. A rather brilliant maneuver, really.

Accordingly, the guest characters occupying Snakedance (the Manussans) have a long established cultural familiarity with the Mara...albeit in its somewhat legendary form. This is interesting enough, and it's quite fun to learn more about elements of previous episodes in a story which is set subsequent to those events. The problem, however, is that BECAUSE the Manussans have some experience with/understanding of the Mara, this would imply that they'd be more aware of the multitudinous strange events which portend its return in Snakedance. In other words...for people whose civilization has already gone to the mat with the Mara, these people don't seem terribly swift on the uptake - when a number of signs should've at least made them suspicious of their foe's impending comeback.
Without going into spoilers...Janet Fielding's performance in Snakedance, well, lacked nuance. And ended-up here. Reminds me of a few past girlfriends.

Stories predicated on the dumbness of characters rarely pay off in any genre save comedy. It may be quite possible to argue here that the "denseness" of Snakedance's characters actually plays to a broader undercurrent suggesting that our propensity to not pay attention to the world around us, or act on problems we pointedly perceive, is invariably a gateway to bigger, badder days ahead. In other words, 'in enlightenment, there is power.' If this is, indeed, returning scripter Christopher Bailey's intent...then he's on the money thematically, although perhaps his message wasn't conveyed as potently as it might otherwise have been.

While Fiona Cumming's direction is generally less elegant and self assured than Peter Grimwade's work on Kinda, she does manage to squeeze a few lovely performances out of her guest cast - notably Brian Miller as showman Dugdale (sadly underutilized here) and Martin Clunes' Lon...who shifts between utterly earnest and giddily over the top. There's a sense that Clunes is relishing ever moment of his time on Snakedance, or has at least found some way to derive no small portion of "fun" from it. It's enough to put a smile on a viewer's face.

Interestingly, Snakedance resonates beyond its more awkward trappings not due to its freshly fringy exaltation or exploration of crystal power, its decidedly metaphysical subtexts, or its mighty big and roundly unpleasant Mara megasnake. Instead, a simple and poignant allusion to the essence of the Mara itself - via this brief exchange between the doctor and Nyssa - firmly locks a much-needed 'gag' into place, finally providing audiences notions to both contemplate and take with them.

THE DOCTOR: I suspect that when they built the Great Crystals, they overlooked one vital factor: The nature of the mental energy absorbed would determine the nature of the matter created. The Great Crystal absorbed what was in their minds. The restlessness, the hatred, the greed. Absorbed it, amplified it, reflected it.

NYSSA: And created the Mara.
This conceit...sticks. And matters. It's evident in our modern
Laws of Attraction
. In genre terms, a society which inadvertently engineered its own downfall by accidentally amplifying their darker natures is a riff on 1956's FORBIDDEN PLANET and is later recalled (sorta) in STAR TREK: THE NEXT GENERATION's
Skin of Evil
. And, for all I know, this may also be a key tenant in the Buddhist philosophy on which both
Kinda
and
Snakedance
are firmly hinged.
That the energies and essences we project into the world take on lives and impacts of their own is one helluva lofty conceit on which to spin any story, and a truth...or metaphor?...to which we should all remain carefully attuned. Which is my long-winded and admittedly clunky attempt to encapsulate a far simpler altruism: who we choose to be, and how we master ourselves, and the 'us' we send into the world comes back at us, affecting what happens to us in the long run. A very, very WHOvian notion which
Snakedance
seems hellbent dancing around, without ever coming out and saying it. But one that's there, and relevant, nonetheless. And, of course, the fact that I'm even bothering to write about it at all suggests that Bailey and company got their point across all the same, regardless of their curiously circuitous path.
Snakedance
is available on DVD
HERE
in the U.S.and in
THIS
Snakedance/Kinda
2 pack in the U.K.
__________________________________
IN THE COMING WEEKS - Jumping Continuity With:
-- titles definite but sequence may flux slightly due to the arrival of upcoming DVD releases --
________________________________
__________
PREVIOUS DOCBACKS
[SEASON / SERIES SIX DOCBACKS]

"The Impossible Astronaut"

"Day of the Moon"
"The Curse of the Black Spot"

"The Doctor's Wife"

"The Rebel Flesh"

"The Almost People"
"The Doctor, The Widow and the Wardrobe" (2011 Christmas Special)
[RETRO-WHO DOCBACKS - MOST RECENT DOCBACK IS HIGHLIGHTED]
"An Unearthly Child" (Story #1)
"The Daleks" (Story #2)
"The Edge of Destruction" (Story #3)
"Marco Polo" (Story #4)
"The Keys of Marinus" (Story #5)
"The Aztecs" (Story #6)
"The Sensorites" (Story #7)
"The Sensorites" (Story #7 - full DVD release)
"The Reign of Terror" (Story #8)
"Planet of Giants" (Story #9)
"The Dalek Invasion of Earth" (Story #10)
"The Rescue" (Story #11)
"The Romans" (Story #12)
"The Web Planet" (Story #13) / SHERLOCK - "A Scandal in Belgravia" (Story #4)
"The Crusade" (Story #14)
"The Space Museum" (Story #15)
"The Chase" (Story #16)
"The Time Meddler" (Story #17)
"Galaxy 4" (Story #18)
Mission to the Unkonwn (Story #19)
"The Myth Makers" (Story #20)
"The Gunfighters" (Story #25)
"The Tomb of the Cybermen" (Story #37)
"The Seeds of Death" (Story #48)
"The Colony in Space" (Story #58)
"The Daemons" (Story #59)
"Day of the Daleks" (Story #60) + Preview of the DotD Special Edition
"The Three Doctors" (Story #65)
"Carnival of Monsters" (Story #66)
"Invasion of the Dinosaurs" (Story #71) and SHERLOCK: "The Reichenbach Fall" (Story #6)
"The Android Invasion" (Story #83) and SHERLOCK: "The Hounds of Baskerville" (Story #5)
"The Face of Evil" (Story #89)
"The Robots of Death" (Story #90)
"The Talons of Weng-Chiang" (Story #91)
"The Sun Makers" (Story #95)
"Nightmare of Eden" (Story #107)
"Kinda" (Story #118)
"The Awakening" (Story #131)
"Frontios" (Story #132)
"Resurrection of the Daleks" (Story #134)
"The Caves of Androzani" (Story #136)
"Time and the Rani" (Story #144)
"Paradise Towers" (Story #145) + New WHOvian Documentary / Newsbits
"Dragonfire" (Story #147)
"The Happiness Patrol" (Story #149)
"Doctor Who: The Movie" (aka TVM) - McGann)
DOCTOR WHO: THE COMPLETE SIXTH SERIES
Merrick's Personal Journey With The Doctor (How Merrick Got Hooked On DOCTOR WHO)
DOCTOR WHO Title Sequences & DW At Comic-Con 2011
"The Crash of the Elysium" (Manchester version - interactive DOCTOR WHO adventure)
Why Eccleston Left, Here Comes Caroline Skinner, And Season/Series Six Part 1 on Blu-Ray And DVD

New Trailer For Season/Series Six Part 2
DOCBACK CODE OF CONDUCT
1) a Docback should be about completely open and free discourse regarding all things WHO with, obviously, some variation on subject matter from time to time - the real world intervenes, discussions of other shows are inevitable, etc.)...

2) matters of SPOILAGE should be handled with thoughtful consideration and sensitivity.

Posts containing SPOILERS should clearly state that a SPOILER exists in its topic/headline and should never state the spoiler itself . "** SPOILER ** Regarding Rory" is OK, for example. "** SPOILER ** Battle of Zarathustra" is fine as well. " **SPOILER** Why did everyone die?" Is NOT good.
And, above all...

3) converse, agree, disagree, and question as much as you want - but the freedom to do so is NOT a license to be rude, crass, disrespectful, or uncivilized in any way. Not remaining courteous and civil, as well as TROLLING or undertaking sensational efforts to ignite controversy, will result in banning. Lack of courtesy may receive one (1) warning before a ban is instigated. Obvious Trolling or Spamming will result in summary banning with no warning. One word posts intended to bump-up any Docback's figures on AICN's "Top Talkbacks" sidebar will be considered actionable Spam - they not only complicate efforts to access Docback from mobile devices, but impede readers' abilities to follow or engage in flowing conversation.
In short, it's easy. Be excellent to each other. Now party on...