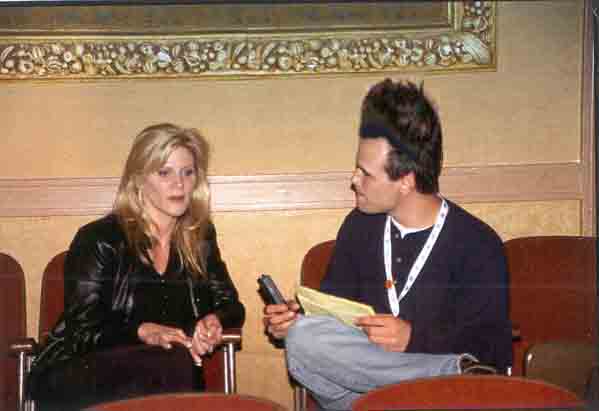 Tom Joad here… back with part two of my interview with Ginger Lynn Allen. Ginger does a fantastic job in Stephen Kessler's second feature film, THE INDEPENDENT. I had the opportunity to speak with her after the screening and she proved to be warm, intelligent, and among the most down to earth people I've met. Here's part two of our interview…
JOAD:
How was your experience getting the gig for WING COMMANDER w/Chris Roberts?
GINGER:
Nicole and Joy - the same two casting agents who brought me in to audition for "The Independent" - brought me in to read for "Wing Commander - Heart Of the Tiger". Whether or not they knew of my adult film past or not, I don't know. I do know that when Chris Roberts initially saw me on my first call back, he did not know of my adult career, and cast me on my acting abilities. Principal filming took place in the Los Angeles area with most of the shoot shot on green screen. My grandmother came to the set one day wearing lime green pants. It was pretty comical to see the top half of my Gram floating across the monitor when she walked out onto the sound stage. Wing Commander was one of the first, if not the first big productions to combine true interactive with film. The script was near 300 pages long. Each scene was shot in three to five different ways so that depending on the choices you made while playing the game the outcome would take the right direction. Preparation was a nightmare, but the game turned out to be fantastic. For the most part it was a wonderful project to work on. The only unpleasant part of the shoot took place the day that Mark Hamil and I were scheduled to have our "big kiss". The day started off with Mark's representative requesting that I provide an AIDS test before Mark and I kissed. According to SAG rules and regulations this request was a violation of SAG policies. I wanted to go ahead and provide my most recent test results (I test every six months and have for the past 17 years) and my agent wanted to bring in SAG officials and shut down the production until things were settled. The final decision was that I would gladly provide my test results if Mark were to do the same. I had my test results faxed to the set, but Mark's never came through. I didn't show him mine, and he didn't show me his. We shot, we kissed and that was the end of it. "Heart Of The Tiger" was the third in the "Wing Commander" series, and was, I believe the most successful. I played Rachel Coriolis, the ships chief mechanic and weapons loadout technician. Rachel for some reason was not brought back for part four. From what I understand many fans of "Heart Of the Tiger" were disappointed that Rachael 's character was not brought back. The director and producer of part 5 "Prophecy" decided it would be a good idea to include her in this episode. Rumor has it that when the next two episodes are shot I will be in them. But this is Hollywood so God only knows. I'd love to be in them, but I'm not holding my breath.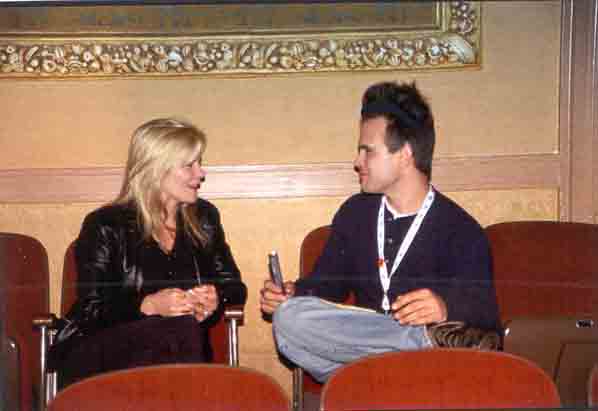 JED:
You were absolutely fantastic in your scenes [in THE INDEPENDENT], but I wanted to see you more! Did you shoot many scenes that were cut from the film?
GINGER:
Thank you for the praise. I did not have other scenes in "The Independent. I would have loved to be in the film more, but I'm just damn glad I was in it at all. The cast and crew were exceptional., and the opportunity was invaluable. Working on "The Independent" was one of the most pleasurable experiences I've had in my mainstream career. Originally the role I was brought in for was quite small, and as I've said the director Stephen Kessler upgraded my part to that of the mayor of Chaparral. I've been pretty fortunate to work consistently in mainstream films over the past 14 years, and the roles keep getting bigger and better. I'm grateful to have had the opportunity to work on "The Independent" and hopefully in the future I'll be up for bigger roles.
JOAD:
On THE INDEPENDENT you spoke highly of Janeane and Jerry, adding that there were no judgements passed. Do you have a problem with people tending to mis-judge you?
GINGER:
Jeanine and Jerry were the consummate professionals. I've experienced judgments and attitudes from actors on more than one occasion. I spoke of one of these on the set of "Wing Commander". A similar experience occurred on the set of Roger Corman's "Hollywood Boulevard II". An actor refused to kiss me because of fears that I may have been exposed to the AIDS virus. What is it with these guys? Your chances of being exposed to the virus is much greater with "normal" people who more than often don't practice safe sex as they should, or get tested nearly as regularly as people who have sex on film, if they do at all. I think the most humiliating experience I've had in Hollywood took place during my audition for Tony Scott's "Beverly Hills Cop II". This was one of my first big auditions, and I could not have been more excited. The role I was auditioning for was that of the ditzy waitress who believes John Ashton's character to be former President Ford. I hired a private acting coach and studied and prepared for two weeks prior to the audition. When I drove onto the studio lot my heart was beating fast, I was sweating and I wondered what I was doing there. I saved the studio pass to give to my grandmother knowing she would be as excited as I was. As I sat in the waiting room with other hopeful actresses, I was approached by the receptionist who asked me if I was wearing underwear. An odd question don't you think? I told her no I was not - wondering why she should ask in the first place, but too nervous to ask. When I finally went into the room occupied by non other than Tony Scott (OH MY GOD! THIS IS RIDLEY SCOTT'S BROTHER!), I was asked by another man who was in the room with Tony if I would be willing to pose for a nude Polaroid. I said no. Topless? No. I was there to audition for the role of the waitress and that was all intended to do. As I began to read for the role I was stopped mid-sentence by Mr. Scott. He told me to read the role as a total slut rather than the ditz described in the script. I was baffled, but did as I was told. Again I was stopped. This time Tony told me to act as though all I wanted to do was fuck every man I saw. My eyes welled up, but I held back the tears until I got out the door. I don't believe Tony Scott ever had any intention of hiring me for the film. It seems to me all he wanted to do was meet "the porno chick" and see how far he could get. I'm still disgusted with his behavior, but I've gotten used to dealing with dickless assholes in mainstream Hollywood. Luckily there are many more "real" men out there who have respect for women, whether they've done porno or not. I have made decisions in my life and my career that are against societies norm, but I've always held my head high and been a lady, and I always will.
JOAD:
I absolutely love Jagged Edge, and Rebecca is up there in my top three Hitchcock's with Rear Window and North by Northwest, tell me more about THE LAST LATE NIGHT.
GINGER:
"The Last Late Night" is an independent film directed by Scott Barlow. It's a dark comedy about a couple who is about to get married, but is still haunted by the ex-boyfriend/best friend of the bride and husband to be (Christine Steele and Aaron Waitress). The ex-boyfriend/best friend (Graham Gallaway) is a character similar to that played by John Belushi in the Saturday Night Live skit "The Man Who Wouldn't Leave". The entire film takes place in the young couples new apartment. At one point in the film the couple is throwing a house-warming/impress the boss (Bill Timony) and his wife party. I play the bosses wife who is not only an ex-stripper, but somewhat of a tramp who ends up sleeping with "the man who wouldn't leave". All in all it's a wonderfully written hilariously funny film with some very talented actors. It looks as though Bill Timony and I may be working on a future project together. Bill has written a script ala Rebecca and The Jagged Edge that we may get the "go" on. I have an offer made by the producer of one of my all time favorite mainstream films I've had the pleasure to perform in called "Bound & Gagged: A Love Story". If I can find a script which would be a good vehicle for me to show my acting talents, and I think I may have found it in Bills script, the producer of "Bound & Gagged" has said he would pull together the funding and produce the project. This leads us back to a question one of the people in the chat room asked regarding why I made the come back into porno after a 14 year break. I did it for several reasons including increased exposure (no pun intended). And it seems to have worked. Hopefully I'll be doing more of the work I want to in the near future. Not to imply I don't enjoy making adult films. I do. I try not to do anything in my life I don't enjoy or feel good about. Porno is no exception.
JOAD:
How has your experience been since returning to the adult video industry?
GINGER:
My return to the adult film industry has been interesting. It's been kinda like slitting my wrists. Sometimes it's all warm and fuzzy, sometimes it hurts like hell and sometimes I wonder what the fuck I was thinking. It is either the most brilliant decision I've ever made or I'm a total idiot. Time will tell. I will say the industry has changed drastically since I left it 14 years ago. Some things have changed for the better, some things have just changed. I think what I miss the most about the good old days is the comradery of the actors. It was such a close knit family back then. Everybody knew everybody and we were all friends for the most part. There were maybe 30 or 40 performers, and we were almost like family in some strange way. Today there are nearly a thousand performers. I grew up in porno. Then I moved away. I romanticized the memory of the industry. When I came back I realized that porno was a nice place to grow up, a nice place to visit, a nice place to spend a few weeks a year, but I don't want to live there anymore. There's no place like home.
JOAD:
What type and length of contract are you under?
GINGER:
I signed an exclusive three picture deal with VCA Films with an open option to do three more porno's if I so desire. My first release in over 14 years is "Torn" which was released in September of 1999. Torn recently (March of 2000) won Best Video Of The Year at the XRCO Award. Which in my opinion is the only honest awards ceremony in the adult film industry. The XRCO does not own a magazine in which film companies can purchase advertising space. Or film awards. My second release is "White Lightning" which will hit the streets and video stores on April 15th, 2000. The third in my comeback series "New Wave Hookers 6" (I was in the original in 1985) is scheduled to shoot in May of 2000..
JED:
Are there any particular changes in the industry you're not happy with since your return? Anything that you are particularly happy about?
GINGER:
I'm unhappy about three things: fake tits, fake orgasms & really fucked up attitudes.
JOAD:
Anything that you are particularly happy about?
GINGER:
Changes I am happy about? That would be better catering.
JED:
The U.S. Attorney case – you've got to be proud of yourself, there's nothing in this world more important to me than loyalty, and amidst all the madness, you kept your head and stuck to your guns. Would you change anything if you were able? What of the repercussions?
GINGER:
I'm going to keep it simple regarding my trial, our federal government, the IRS and our judicial system. For those of you who don't know the basics of the story here they are: I refused to testify against adult film producers on Tracy Lords behalf. My Daddy didn't raise any snitches. The government didn't like it. They tried to charge me with tax evasion. I'd paid my taxes. They charged me with willfully subscribing to a false tax return. My accountant had prepared my taxes. I had a trial. I sold my home. I spent every penny I ever made in adult films defending myself against a crime I never committed. I was facing 6 years federal time. I got 750 hours of community service, 3 years of probation and mandatory drug testing. I violated probation twice and spent 4 months and 17 days in federal prison. I have a lot more character now. And I'd make a great lesbian were I so inclined.
JOAD:
Your book, "I Did It. I Liked It. So What?" – Tell me about your writing process: Do you write longhand? What do you do to break through writer's block? Tell me about your experience with ghostwriters and how you decided to get rid of them and write it yourself.
GINGER:
I began writing my book before I realized I was writing it. I've kept a journal since the day I began working in adult films. This has been invaluable in writing my memoirs. I use several tools to write. I carry a notebook and a portable cassette recorder with me at all times. I also use my laptop computer. When I find that I have writers block, which is not very often (I usually have too many thoughts going through my head at a time to get them all down) I edit. It's easy to go back through what's already done and make changes. As far as ghost writers go I'm not real big on them. I'm sure for some people they're great. It seems it would be much easier to just tell some one your story than it would be to write it yourself, but there is a downside to that as well. I've worked with a half dozen or so different ghost writers and my experience has pretty much been the same with all of them. They each saw me as a one dimensional character. One saw me as a victim, one as a slut, one as a bitch, one as a little girl, one as a sex symbol and another saw me as some sort of alien from another planet. I'm a little of all of the above with the possible exception of the alien. When I write myself I try to include all aspects of my personality. It's difficult because I'm not a professional writer and I have no training, but that's what editors are for. I have a tentative deal with St. Martins Press, and if I ever finish this interview I just might get back to finishing my book. I'm not sure when "I did it, I liked it, SO WHAT!" will be finished. I work on it as often as possible. I have 26 chapters in the works. I'll keep you informed of the release date.
JOAD:
What about your son? Would you tell me a bit about him?
GINGER:
My son's name is Sterling. Having him is by far the best thing I've ever done in my life. He is a joy and a gem. I am truly blessed.
JOAD:
Plans for 2000 and beyond?
GINGER:
Raise my son well. Continue to work in mainstream films until I'm too old to remember my lines. Travel for work less. Travel for pleasure more. Marry my best friend. Finish my book. Strive to be a better person on a daily basis. Be happy and bring joy to others. Get a massage every day. Expand my horizons and my shoe collection. Carry the message.