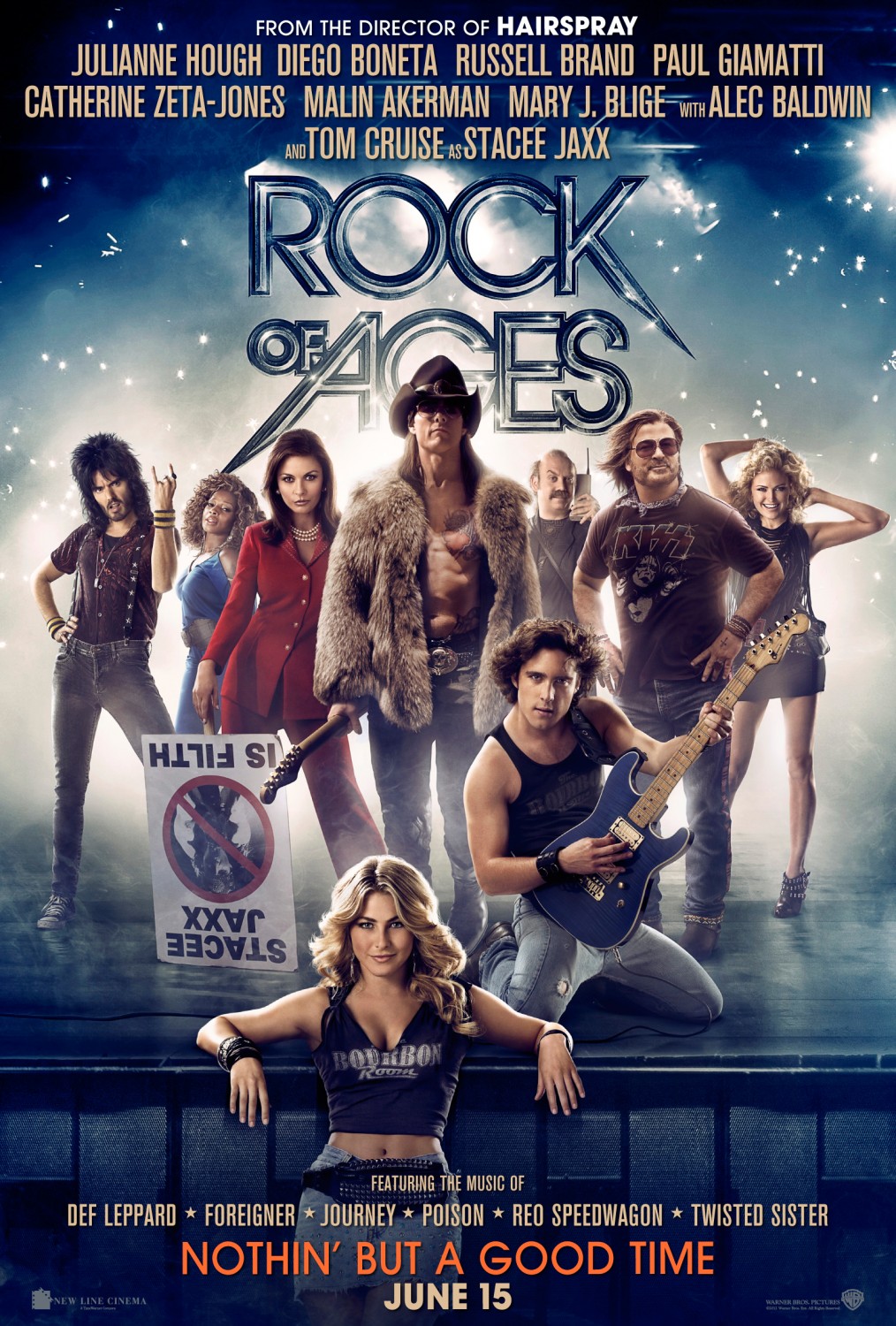 Nordling here.
ROCK OF AGES, for all the music, glam, and bluster, is really about one thing – one young woman's journey from getting off the bus to getting on the pole. In between we get some musical numbers that range from barely karaoke to fairly inspired, and a performance by Tom Cruise that goes past "odd" and into the realm of Marlon-Brando-in-THE-ISLAND-OF-DR.–MOREAU strange. He doesn't have a pet little person, but he does have his own monkey named Hey Man.
MOULIN ROUGE is a musical that took modern songs, put them into a sweeping romantic context, and for the most part, it worked. ROCK OF AGES has a much more limited playing field to work with – kitschy hair metal songs from the 1980s – but never for an instant reaches the levels of Baz Luhrmann's movie. Based on the Broadway musical of the same name, ROCK OF AGES wants nothing more than to entertain, but the subject isn't compelling in any way. We've seen this a million times before – two kids come to Hollywood with dreams of stardom and end up at some point saying, "Just don't shoot in my eye" before realizing that sometimes wishes really do come true. ROCK OF AGES certainly doesn't break that mold.
Julianne Hough and Diego Boneta play the two kids, and they are fairly forgettable. Movies like this, though, are made in the supporting performances, and those range from "What the hell was he thinking" (Bryan Cranston, just wasted here) to simply bad (Catherine Zeta-Jones, singing Pat Benatar while awkwardly dancing in her best Sunday dress, her CHICAGO days long gone), to serviceable (Malin Akerman, whose ass at one point gets a Foreigner ballad sung to it), to quite enjoyable and fun (Alec Baldwin and Russell Brand, who by far get the best musical number of the movie).
Tom Cruise plays rock god Stacee Jaxx as if Colonel Kurtz himself came home from Vietnam and started a hair band. Truly weird and funny, I'll say this for Cruise – he committed to the part 100%. He left nothing on the floor and most of the scenes with Jaxx are the highlights of the movie. His singing chops aren't terrible either – he carries songs like "Paradise City" and "Pour Some Sugar On Me" well and doesn't take the movie seriously. However, he's showing his age – the days of Cruise taking his shirt off for the ladies are probably numbered.
Jaxx's best days are behind him, and all he has left is booze, women, and the stage that he'll stumble onto if his manager Paul Gill (Paul Giamatti) is lucky. Gill's long past managing Jaxx – he's just collecting the money, but he sees something in young Drew Boley (Boneta) that he might be able to exploit for more. The Bourbon Room, where Drew and Sherrie Christian (Hough) work, is on hard times, and owner Dennis Dupree (Baldwin) is trying to scrape enough money to keep the place open. His last shot – Jaxx's band, Arsenal, is breaking up and their final show is going to be at the Bourbon Room. Then there is the mayor (Cranston) and his wife (Zeta-Jones) who want that land for the property value, and want to see the Bourbon shut down. Mary J. Blige joins the fun as the matron saint of the strip club where Sherrie eventually finds herself, and after Drew hits the big time, Sherrie finds her destiny straddling the chrome.
Director Adam Shankman's work here is fairly bland and unassuming – he's turned these rock songs of the 80s, which weren't all that poignant to begin with, and dulled them to the point that the whole thing feels straight-up karaoke. Only two songs seem to break the malaise – Baldwin and Brand's rendition of REO Speedwagon's "Can't Fight This Feeling", which will probably garner the most applause and praise, and Cruise and Akerman's truly weird covering of Foreigner's "I Wanna Know What Love Is" which has to be seen to be believed. It goes beyond bad – at some point the actors had to just say "Fuck it" and went with it all the way, and what comes out is bizarre and almost anti-sexual.
There's not much more I can say about ROCK OF AGES – Shankman, who turned John Waters' HAIRSPRAY into a fairly decent movie musical, just can't elevate this material, but it's fairly weak material to begin with. It Disneyfies the 1980s Sunset Strip from rampant Dionysian excess to, well, Broadway. Alec Baldwin and Russell Brand do decent work, but Cruise is on a whole other level of weird in this role, and I'd almost recommend it for his work alone. But the movie is predictable from beginning to end and cynically has nothing to say that a thousand other 1980s rock songs didn't say better 25 years ago.