Whether you love the movie, hate it, or remain wholly indifferent to it, there seem to be two elements of PROMETHEUS about which all Geeks agree. 1) Fassbender is amazing in the picture, and 2) the movie looks staggering in terms of photography and design. As such, I thought y'all might like to learn a bit more about a newly issued book which offers plenty of insight into the second element mentioned above. The awesome gang over at Titan Books just released a fascinating new title featuring design and concept progressions from Ridley Scott's PROMETHEUS.
PROMETHEUS: THE ART OF THE FILM is 191 pages of beautifully re-produced photographs, artwork, and designs chroncilcling the creation of Sir Ridley's much-anticipated, somewhat controversial, visually dazzling return to the horror/SF genre after an absence of three decades (if counting from BLADE RUNNER).
Scott provides a Foreword for this Mark Salisbury authored book, and contributes a generous amount of subsequent insight and context alongside Production Designer Arthur Max, Set Director Sonja Klaus, Guy Pearce (Peter Weyland), and Special Make Up Effects Supervisor Neal Scanlan.
One interesting bit of insight from Scott touches upon the early development of PROMETHEUS, Scott's strong interest in returning to the ALIEN mythos he was instrumental in shaping back in 1979, and the director's strong belief that it might not be possible to revisit the franchise in a direct and literal way while also keeping the experience fresh. Per Scott...
"I think in four films, honesty the good old Alien has worn out..."
[EDIT]
"He's no longer frightening. In one of the films, he was trapped inside caskets of glass. Before he was indestructible and was ungraspable. So I think he was used up and you've got to move on. That was my decision, move on, he's no longer frightening. We've seen so many creatures with jaws and teeth ad nauseam so they're not frightening anymore. So let's come up with something else."
A number of creature design studies appear herein, showcasing the development of the film's new passel of beasties and the physical construction of said lifeforms (provided they were actually built for the production). Ridley Scott storyboards are also present, one particularly amusing set of panels presents the space suited Prometheus crew as cute little smiley faced astronauts. Perhaps my favorite section focuses on designs for the Rover - this vehicle...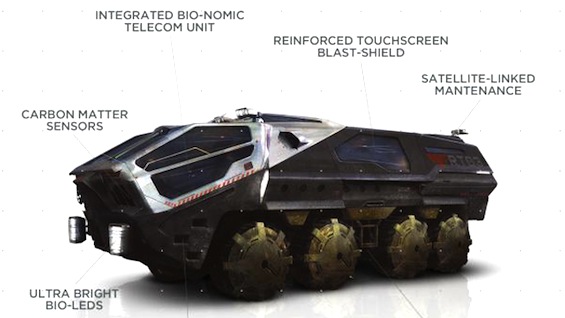 ---(image NOT from the PROMETHEUS: THE ART OF THE FILM book) ---
...which reminds me a bit of ARK II, a vehicle from the '70s television series of the same name.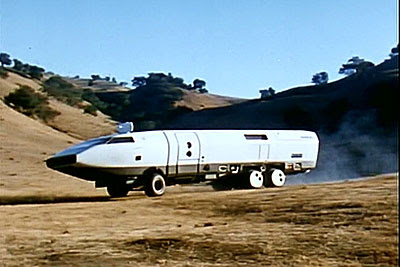 BELOW: Titan sent along this EMBIGGENABLE sample of artwork from the book, featuring a look at the Prometheus (originally called Magellan) crew at work on LV-223 using an early Rover design.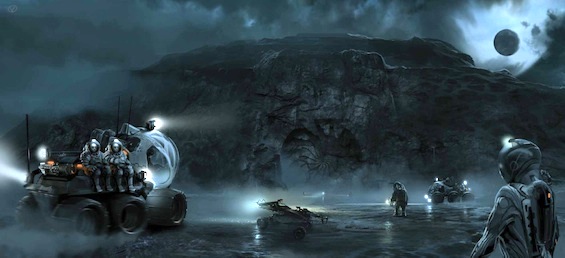 PROMETHEUS: THE ART OF THE FILM is now in bookstores, and is orderable HERE. Regardless of your thoughts on the movie itself, this book stands on its own as a lovely collection of compelling, evocative, and memorable Geek-friendly design and imagery which led to the birth of a movie whose full impact and importance to the genre may not be fully understood for quite some time.
Concurrently, Titan also is reissuing two titles from the way back machine. THE BOOK OF ALIEN from 1979, a design intensive exploration of ALIEN which..perhaps more so than the movie itself...gives one a very nice sense of exactly how much PROMETHEUS design is inspired (or at least informed by) by this movie.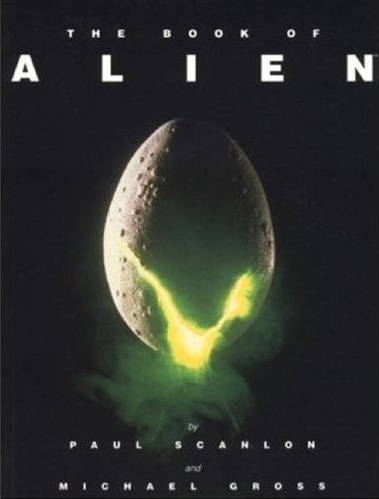 When I was in Middle School, I vividly remember a bookfair at which the original version of THE BOOK OF ALIEN was on-sale. I didn't have enough money to buy it, and I desperately wanted it - having been madly in love with ALIEN since seeing it its opening week in May 1979. A friend of mine, who had been hording his lunch money for several days, bought the book instead - a development which was initially crushing and dispiriting to me. UNTIL...my friend expressed his intent to share this title not only with me, but the other guys in our group. In essence, THE BOOK OF ALIEN became something of a community Geek bible for some time, passed back and forth between us week after week, month after month as we drew pictures inspired by its design, invented our own stories to go along said pictures, more or less creating our own 'universes' in the process. It impacted our imaginations in ways which persist today, decades later. I still have that original copy sitting on my bookshelf, and I'm never going to let it go.
You can find THE BOOK OF ALIEN HERE.
Also returning thanks to Titan is the ALIENS: COLONIAL MARINES TECHNICAL MANUAL. Perhaps the most Geeked out, nerdified ALIENverse title to ever hit shelves, this is exactly what the title suggests: a comprehensive look into the practices, technologies, and overall universe of the United States Colonial Marines introduced in 1986's ALIENS.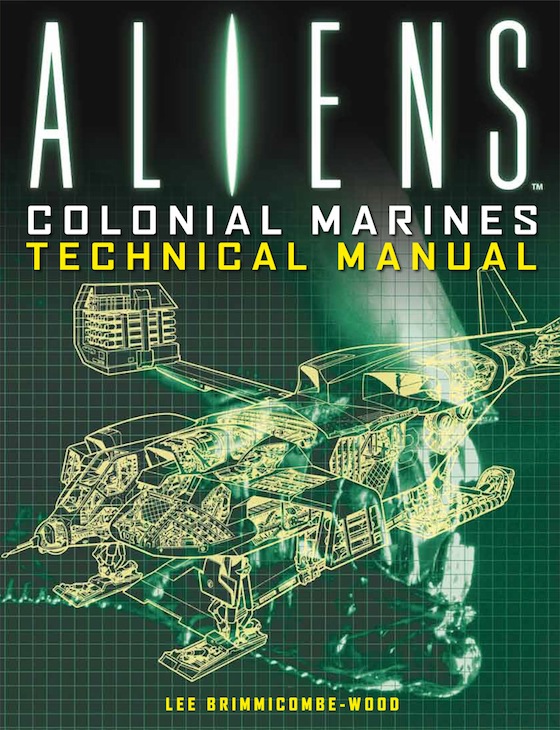 Photos, schematics, and artwork explore a number of elements here, including equipment, weapons, protocols, vehicles (a Dropship - which gets a two-page cutaway spread, tanks (!?), power loaders, armor, artillery, etc.) Basically, this 159 page book tells you more than you've likely ever thought to ask about the Colonial Marines. And, by the time you're done with it, you may actually find yourself wanting to these Colonial Marines on the screen once more. Which, admittedly, you may've been already...
ALIENS COLONIAL MARINES TECHNICAL MANUAL is available HERE!