Hey folks, Harry here... Brian Behm (AICwHK's VFX Asskicker) just tweeted the following picture from finishing his work on the below video's shots. It shows Ernest "Ernie" Cline with his own personal Proton Pack in action. Figured I'd have to give y'all a look at it immediately. Our episode where we talk Bradbury and Atari, DeLoreans that you could own for free by being a god amongst geeks and the contest worthy of READY PLAYER ONE! We talk future tech and the future knocking on our doors. SOMETHING WICKED THIS WAY comes and more. But for now, may I introduce you to ERNIE CLINE, BadAssMutherFucker!!! Click to Embiggen!!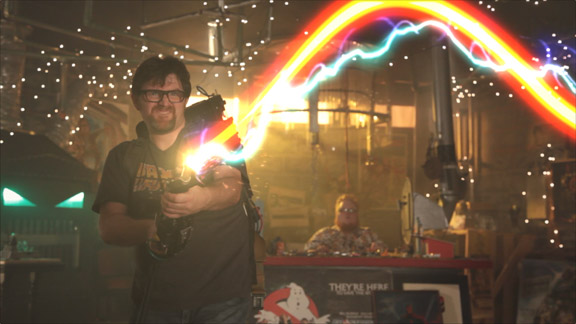 Hey folks, Harry here... In next week's episode of AINT IT COOL with Harry Knowles - our special guest is Ernest Cline, the author of READY PLAYER ONE. He's been a friend of mine for 16 years, most of which was spent in Tech Support and Poetry Slam competitions, but then he wrote FANBOYS and things started going crazy for him. READY PLAYER ONE, his first novel is hitting paperback, Ernie is giving away a Delorean - and he and I will be discussing Ray Bradbury, his book, his new Atari 2600 game. Right now the VFX badass, Brian Behm, on Ain't It Cool with Harry Knowles has decided to live stream himself working up the creation of the Proton Pack blast that Ernie the author of READY PLAYER ONE, fires at a mysterious creature in the cave... and it's kind of fascinating.
He completed his work on that - and is now working on the miniaturization effects on Ernie Cline - when he and I are playing Atari together. Hope you guys enjoy! Check it out...