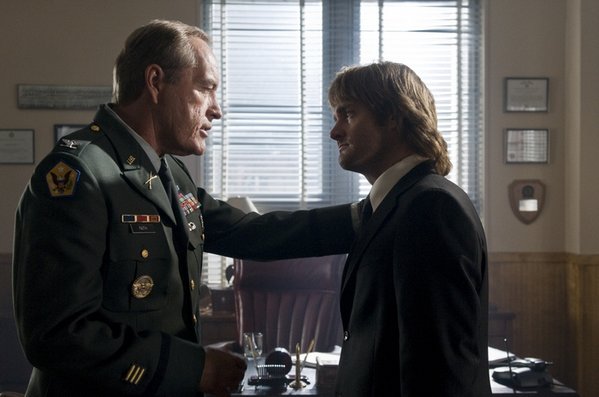 Beaks here...
A couple of weeks ago, writer-director-heartthrob Jorma Taccone shocked and elated right-thinking cinephiles when he told ScreenCrush's Mike Sampson that he was developing MACGRUBER 2 with star Will Forte and co-writer John Solomon. Taccone was vague on details, but he did let slip that it would take place at Christmas as a nod to DIE HARD. A MACGRUBER sequel paying homage to the one of the greatest action films of all time? What's not to love about that?
Well, if you were to put that question to a studio exec, the answer would likely be two numbers: the estimated budget for the sequel and the total worldwide gross of the original. So when I asked Forte about the sequel at today's THAT'S MY BOY press conference, I was heartbroken but not terribly shocked to receive this response:
Will Forte: As for MACGRUBER 2, it's very much in the works. We're just... no, I'm kidding. Jorma mentioned it. He was really tired one morning giving an interview, and he said something stupid about it. Believe me, we would love... we had so much fun doing that. We're proud of it, and we jokingly talk about the sequel all the time. But I don't think anybody in their right mind would give us any money for it. If somebody gives us money for it--

Andy Samberg: I'll give you a thousand bucks right now.

Forte: There is going to be a MACGRUBER 2 then. Funded by Andy Samberg.

Samberg: On a flipcam.
After the press conference, Forte expressed his gratitude to everyone who's embraced the film, and suggested that there might be "one alternate universe in a series of parallel universes" where MACGRUBER 2 could get made. Unfortunately, I don't think we're living in that universe.
Personally, I'd suck Ryan Kavanaugh's dick, let him fuck me and fuck a random object in his Relativity Media office if he'd agree to finance MACGRUBER 2. Less humiliatingly, I'd also be willing to launch the mother of all Kickstarter campaigns. Whatever it takes to give the moviegoing public one more opportunity to fall in love with Forte's bemulleted action hero.
But seriously... Kavanaugh... just tell me what you want me to fuck.