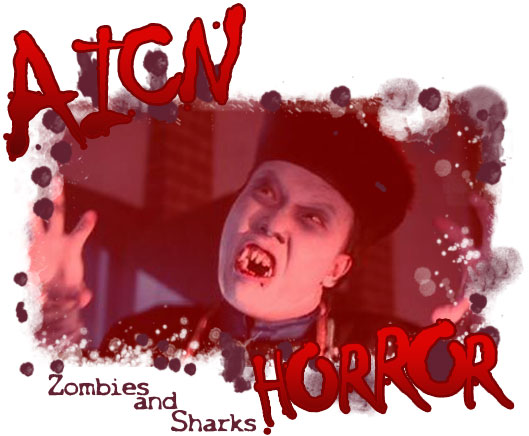 Logo by Kristian Horn
What the $% is ZOMBIES & SHARKS?
---
Greetings, all. Ambush Bug here with another AICN HORROR: ZOMBIES & SHARKS column packed with brand new horror treats and tricks. But as always, before that…there's this...
---
First up is NINJAS VS MONSTERS, the third in Daniel Ross' NINJAS VS series as our cast of martial arts masters take on Dracula, Frankenstein, the Wolfman, and the Mummy with the safety of the world at stake. The first two installments of this series were low fi yet inspired fun, I'm expecting the same from the third. Check out the first preview…
---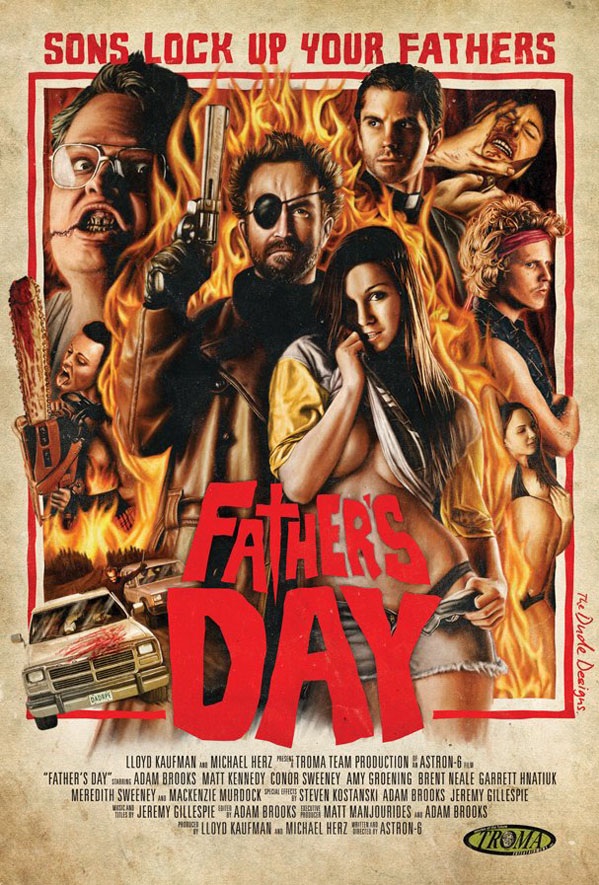 Looking for something to do with pop on Father's Day? How about checking out a film about a guy who is tracking down another guy who rapes fathers and is unsuccessful at catching him until that first guy becomes a father himself?!?!? It all makes sense in the nonsensical and gory FATHER'S DAY from Troma…of course! If you happen to be in Edmonton, Canada on Friday June 15th and happen to have your father with you and you both have a high tolerance for gore and a malformed funny bone, you might want to check out FATHER'S DAY on Father's Day! The filmmakers at Aston 6 are going to be there to enjoy the show and answer audience questions. Make pop proud and buy some tickets to this event! For more info on this event contact
Derek Clayton
or
Kevin Martin
!
---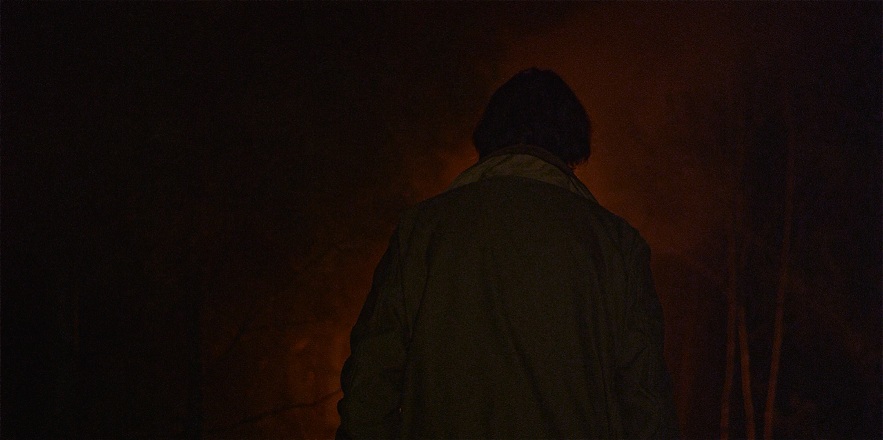 The folks behind MONSTER BRAWL (
reviewed here
) and EXIT HUMANITY (
reviewed here
) and the writer of PONTYPOOL (I can't believe I haven't reviewed that yet) are teaming up to bring us EJECTA,
which is the thrilling story of two men whose lives cross paths on a fateful night during a solar storm. A terrifying presence besieges the men on a remote farm triggering an intense struggle to survive the night. During the attack the men discover a truth that will change the way we look at the universe.
Sounds cool. Look for more coverage on EJECTA in a future AICN HORROR column and
find out more about this project here
!
---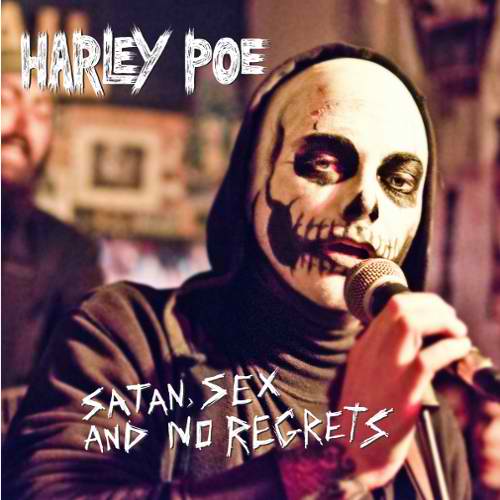 Joshua Hull's latest I AM THE LIVING DEAD is a horror musical that can be described as Bousman meets 1950's horror. Here's the official synopsis:
After secretly marrying the mayor's daughter, a musician is brutally murdered by the mayor & a group of angry townsfolk. Once he is dead, he finds himself trapped in Hell. He strikes a deal with the Devil to return for his wife & to get revenge on the town. However, once he returns from the grave, the musician discovers his wife has remarried. Bound to an eternal life in Hell, the musician gets his revenge on the town with a little help from his dead friends. Hell hath no fury like a dead, singing husband.
Sounds fun to me. It'll premiere in Chicago in November at
DAYS OF THE DEAD
. Stay tuned here for more info on this project, check out the pics on the right, and check out
I AM THE LIVING DEAD's Facebook page here
!
---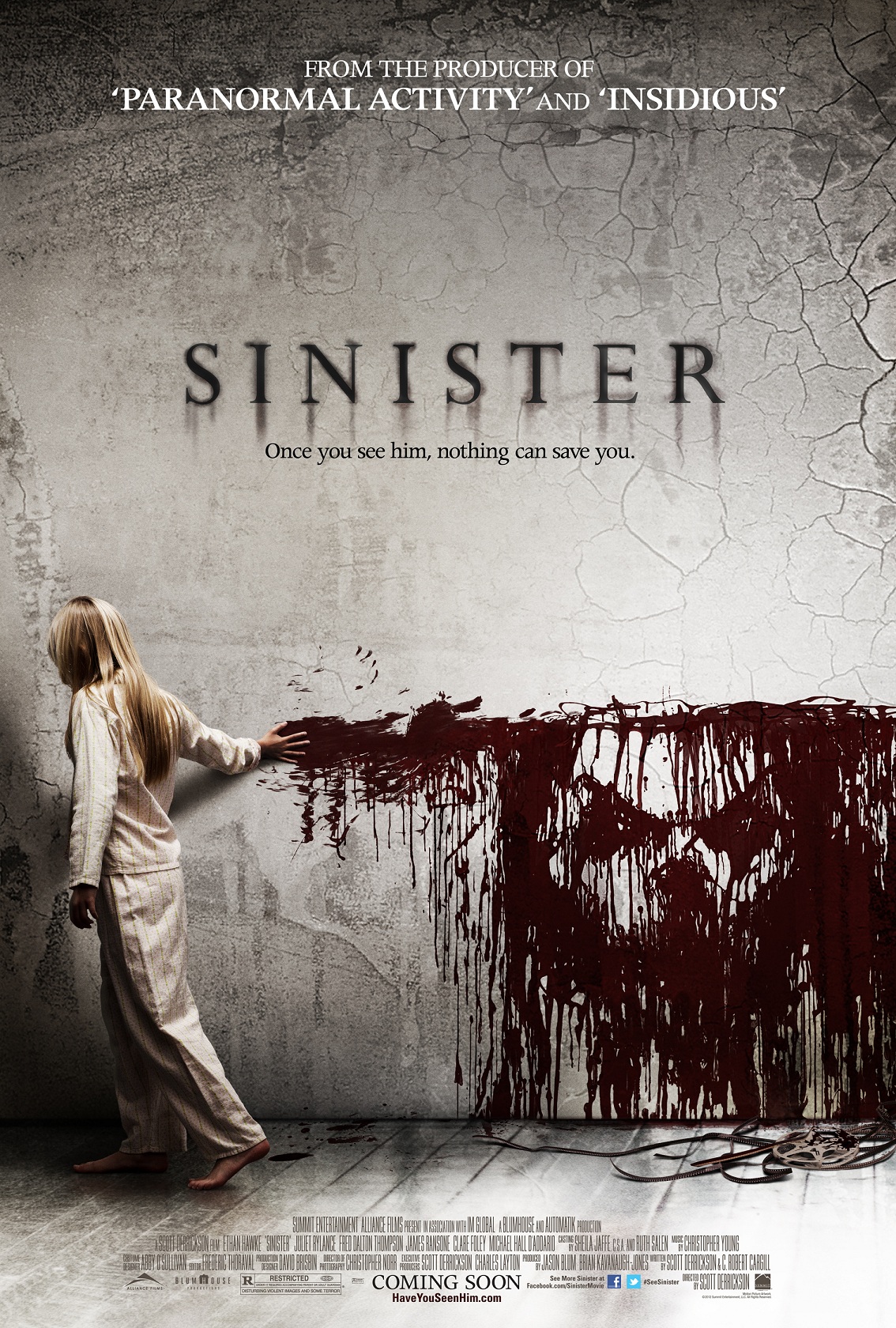 This week the folks behind the film SINISTER released a new poster (to the left). Here's the official synopsis of the film:
SINISTER is a frightening new thriller from the producer of the PARANORMAL ACTIVITY films and the writer-director of THE EXORCISM OF EMILY ROSE. Ethan Hawke plays a true crime novelist who discovers a box of mysterious, disturbing home movies that plunge his family into a nightmarish experience of supernatural horror.
Can't wait to check this one out in a future AICN HORROR column, it's written by our very own Massawyrm here at AICN.
---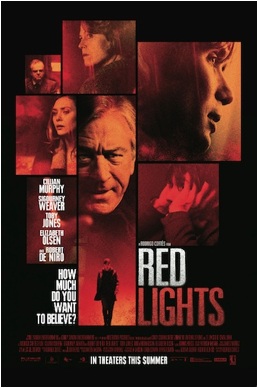 A big cast has been attached to RED LIGHTS starring Cillian Murphy, Sigourney Weaver, Robert De Niro, and Elizabeth Olsen. Here's the synopsis of the film:
Veteran paranormal researchers Dr. Margaret Matheson (Sigourney Weaver) and Tom Buckley (Cillian Murphy) debunk fraudulent claims of ghost whispering, faith healing and other psychic phenomena by detecting what Matheson calls "red lights," the subtle tricks behind every staged supernatural occurrence. But when the legendary blind psychic Simon Silver (Robert De Niro)comes out of retirement after 30 years, his once-fearless adversary Matheson warns Buckley to back off, fearing reprisal from the powerful Silver. Determined to discredit Silver, Buckley and his star student (Elizabeth Olsen) use every tool at their disposal to uncover the truth behind the charismatic, spoon-bending mind reader. But Buckley is forced to reexamine his own core beliefs as his quest builds to a mind-blowing conclusion in this taut psychological thriller from award-winning writer and director Rodrigo Cortés (Buried).
The paranormal investigator subgenre is always a fun one to dissect. RED LIGHTS definitely looks like something I'd be interested in. Check out the new trailer below.
---
And finally, I had to post this email I got from Troma. Looks like they are starting casting for RETURN TO CLASS OF NUKE'EM HIGH a sequel to the Troma classic CLASS OF NUKE'EM HIGH. Even the call sheet brings a smile to my face. Looks like one of the main requirements is nudity. What else would you expect from Troma…of course. Here's the info:
Casting has now begun for the next Tromatic movie to be directed by Lloyd Kaufman, creator of The Toxic Avenger and President of Troma! Revisiting the beloved 1986 favorite Class of Nuke'em High, Return to Class of Nuke'em High will shoot over summer 2012.

Actors are being sought for the following lead roles:
Lauren (18) pretty, feminine, innocent - some nudity
Chrissy (18) attractive, not so innocent - some nudity
Mr. Warner (30+) evil head of meat processing factory
Eugene (18) cute, dorky - some nudity
Mrs. Westley (30+) high school principal
Brick (18) tough, tattoos/piercings - some nudity
Cretins - men & women with piercings, tattoos, crazy hairstyles or unique physical attributes

Great cameos will be available for unusual males and females of all types, ethnicities, and sizes, with unique physical attributes, exotic animals, collectible cars or motorcycles or other unusual vehicles.

For all casting enquiries please emailhere for more info!
---
Now let's get on with the horror reviews!
Today on AICN HORROR
(Click title to go directly to the feature)
Retro-review: Jean Rollin's REQUIEM FOR A VAMPIRE (1973)
THE TORTURED (2010)
ABRAHAM LINCOLN VS ZOMBIES (2012)
THE PACT (2012)
THE AGGRESSION SCALE (2012)
Advance Review: THE BUTTERFLY ROOM (2012)
And finally…Frederic Lefebvre's MADAME BLODUC!
---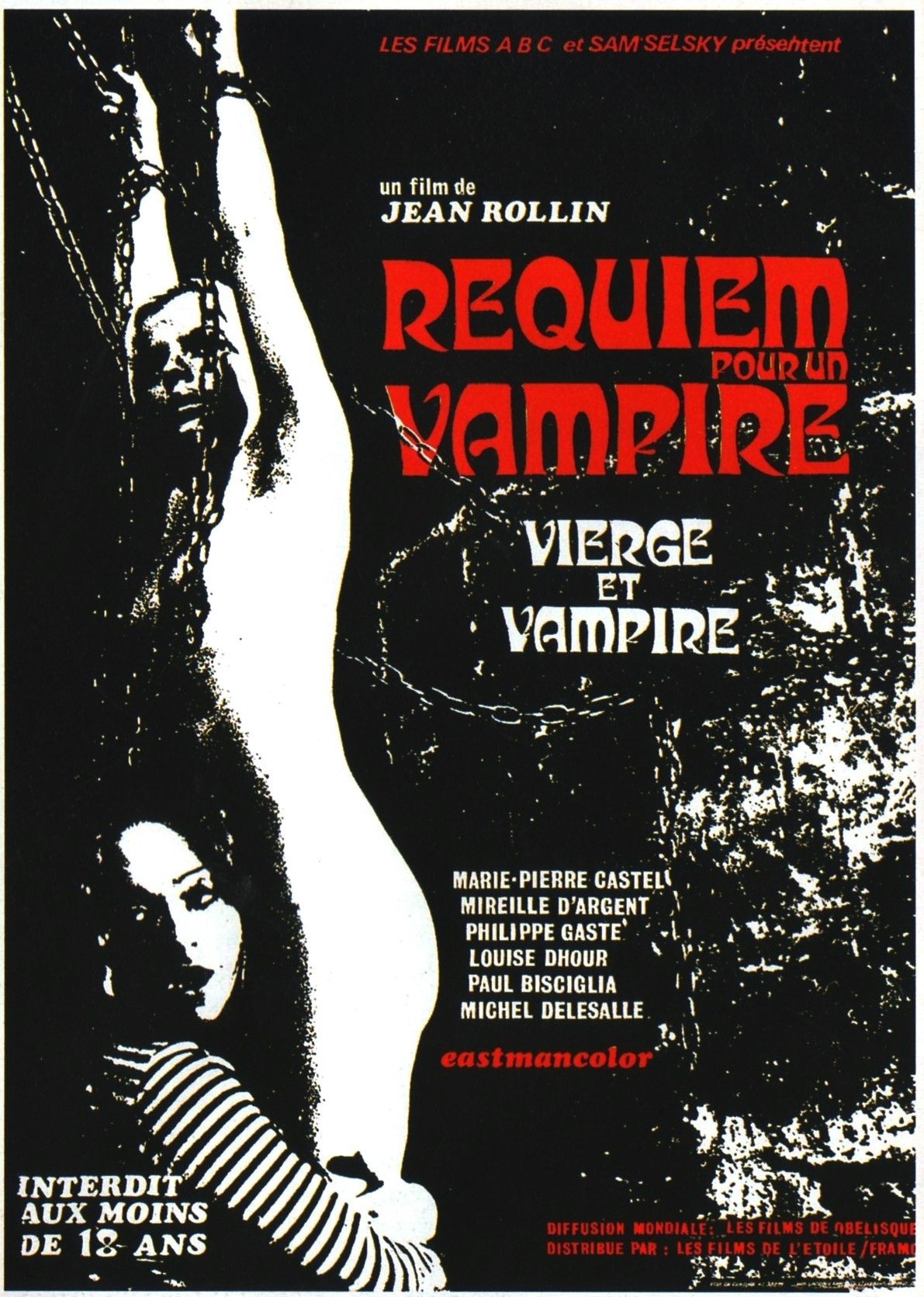 Retro-review: Available this week on Blu-Ray from Redemption Films!
Jean Rollin's REQUIEM FOR A VAMPIRE (1973)
aka REQUIEM POUR UN VAMPIRE, CAGED VIRGINS, VIERGES ET VAMPIRES, CAGED VAMPIRES, DUNGEON OF TERROR, SEX VAMPIRES, VIRGINS AND THE VAMPIRES, THE CRAZED VAMPIRE, THE CRAZED VIRGINS
Directed by Jean Rollin
Written by Jean Rollin
Starring Marie-Pierre Castel, Mireille Dargent, Philippe Gasté, DominiqueLouise Dhour
Retro-reviewed by Ambush Bug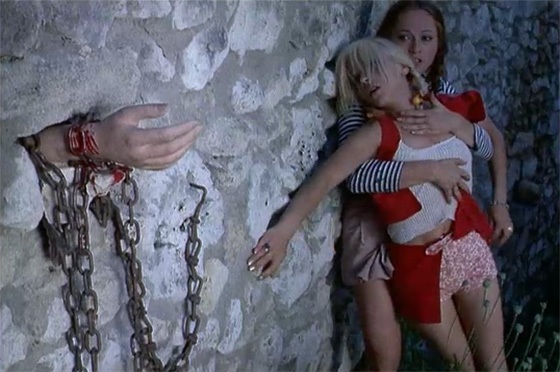 Having delved into the works of Jean Rollin last week with THE RAPE OF THE VAMPIRE
, I decided to be a glutton for punishment and go for round two even though I had some trouble getting through the first film. REQUIEM FOR THE VAMPIRE proves to be more of the same when it comes to Rollin's penchant for navel-gazingly slow plotting and uncomfortably long scenes of eroticism consisting of impish women rolling around on the ground with men and other women, but at least this one has some interestingly surreal moments and some goofy vampires to laugh at unintentionally.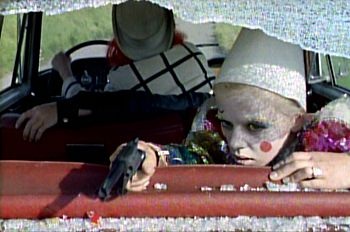 As much as I want to hold these Rollin films in high regard, the French filmmaker is doing a lot to keep me from doing so. First and foremost, the vamps in REQUIEM FOR A VAMPIRE are by far some of the most goofiest looking fangers ever put to film. The lead vampire looks like a graying Jeff Goldblum while the prosthetic teeth stick out from all of the vamps mouths awkwardly and crookedly more akin to a malformed saber toothed tiger than any vamp I've seen. Throw in a puffy pirate shirt or two and these creatures of the night are more likely to incite guffaws than screams of terror.
Rollin also tends to linger a bit too long during the multiple scenes of sex and torture and scenes involving both at once. Sure, these films were meant to titillate, most likely, but the same scene of S&M over and over or one scene drawn out lovemaking scene that lasts eons made my fast forward finger heavy.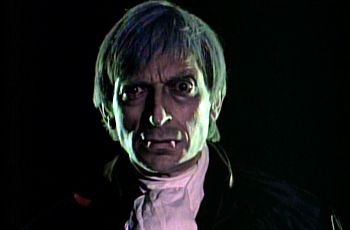 Apart from those criticisms, I did find REQUIEM FOR A VAMPIRE more digestible for it's offbeat moments, especially the opening scene as a pair of nubile young women are fleeing by car from another car dressed as clowns. The gunfight that ensues is the stuff of low budget 70's grindhouse dreams and the juxtaposition of the clown costumes and the deadly acts the two girls are doing is oddly cool. The two lasses drop the clown garb momentarily to roll around with each other in a graveyard and almost get buried alive upon hiding from some gravediggers. This story, touted by Rollin as his favorite film because he wrote it in two days, flows like a stream of consciousness beat poem with jazz music playing as the girls flit from graveyard to countryside to gothic castle. Though the film later devolves into S&M territory with scenes of handcuffed virgins and masked whip cracking, the first half of the film works as a gothic fever dream.
I've heard good things about the films of Jean Rollin, but these two films THE RAPE OF THE VAMPIRE and REQUIEM FOR A VAMPIRE didn't really do it for me. Though the surreal opener of REQUIEM works, the lack of ideas and drawn out scenes of sex and torture lost me in the second half.
---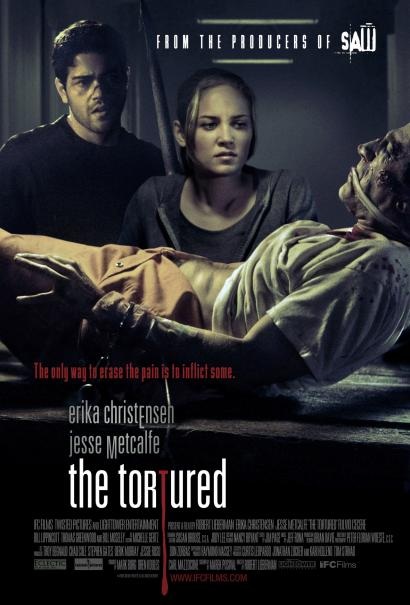 Available now on IFC Midnight VOD and in limited theaters June 6th!
THE TORTURED (2010)
Directed by Robert Lieberman
Written by Marek Posival
Starring Erika Christensen, Jesse Metcalfe, Bill Lippincott, Bill Moseley, Fulvio Cecere, Thomas Greenwood
Find out more about this film here!
Reviewed by Ambush Bug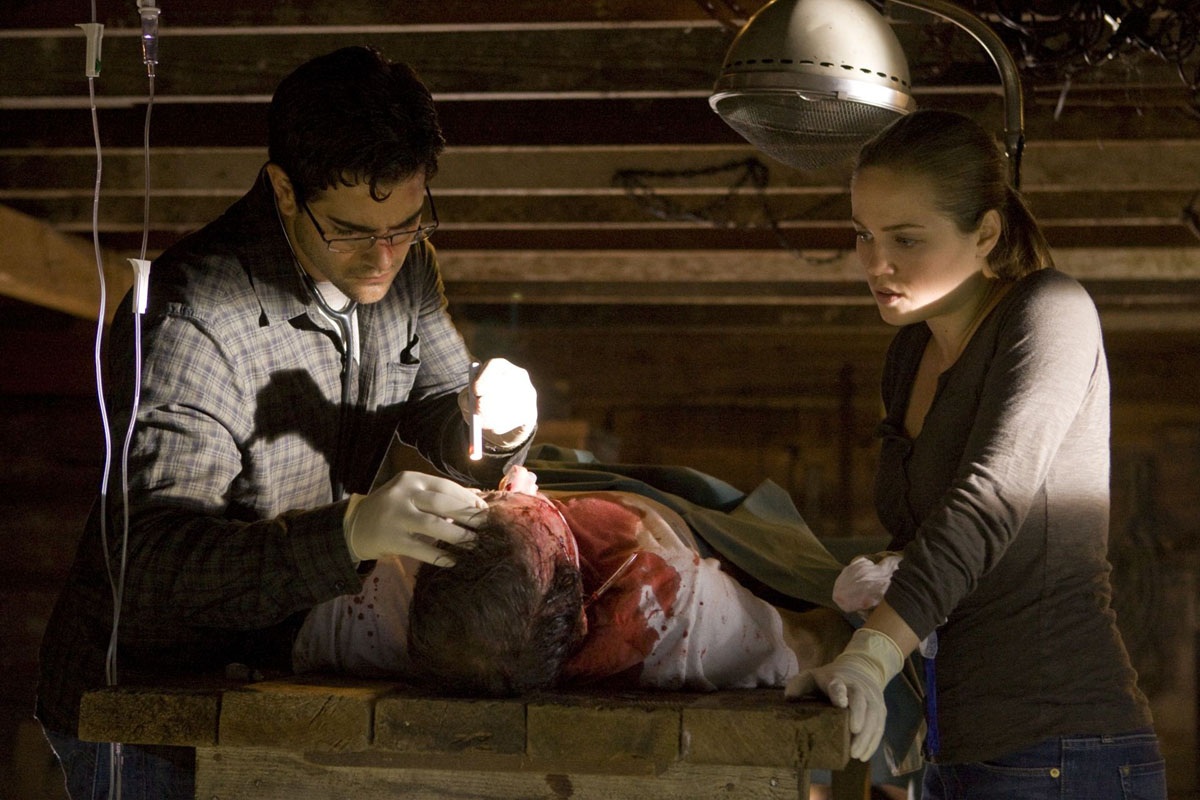 Though well acted and decently paced, THE TORTURED succeeded in frustrating the hell out of me by the end. I have to give props to the people behind this film for going places that few dare to go. The ambiguously "eye for an eye" tone is something that is quite common in cinema with everything from DEATH WISH to THE PUNISHER to DEATH SENTENCE telling us that the punishment must fit the crime. Here, the point is driven home even more as seemingly good people are driven mad with revenge to the point where they themselves become the monsters they once feared. But given the fact that every night on the news it's evident that barbarism is just a few baby steps away from today's society, this film is more relevant than ever, despite its flaws.
A young couple (Erika Christensen and Jesse Metcalfe) have their child abducted right out of their front yard and find themselves obsessed with bringing the guy to justice. When he is given a shortened term due to the abductor's (Bill Moseley) agreement to show the police where more bodies are, the couple is pushed to the moral brink and decide to bust him out and enact their own vengeance on him. As the synopsis would suggest, this is a dark film and the scenes leading up to the abductor's abduction are well acted by Christensen and Metcalfe. The fact that this couple is so likable only highlights the horror as they become torturers themselves as the story goes on.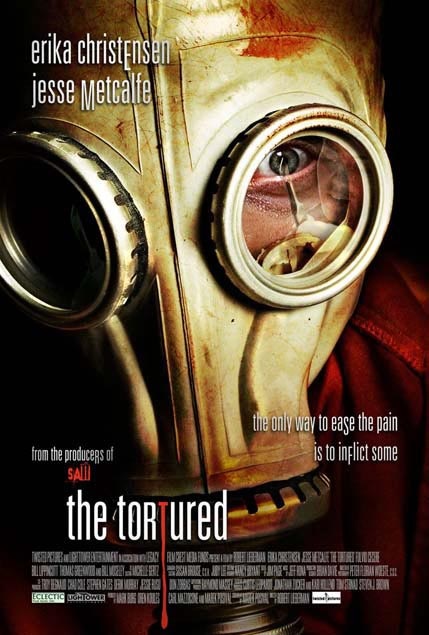 This film would fall apart if not for the performances by Christensen and Metcalfe. Though some of the scenes seem a bit too meaty for Metcalf to handle, Christensen shows how much acting talent she has here and offers a really sympathetic performance as the agonizing mother of the abducted child. Moseley has a much smaller part here, but his moments of solitude before his arrest are creepy as hell as the abductor speaks in different voices and wears clown makeup while tormenting the child. Shades of both SILENCE OF THE LAMBS' Buffalo Bill and real life child molester John Wayne Gacy are evident in Moseley's performance, but not so much that they are distractingly so.
The real problem I had with the ending was the fact that it goes the SILENCE OF THE LAMBS route with a key scene of the film. This is a pretty obvious lift from the iconic film, one I began to figure out a short while before the actual reveal. My problem wasn't with this twist itself, but in the resolution and the fact that there is absolutely no reactionary shot from Christensen and Metcalf, leaving the film on an extremely disappointing note. The fact that THE TORTURED ends in such a dissatisfying manner punctuates this film with a feeling of distaste that almost wipes the palate clean of the good performances and tight scripting that occurred in most of the minutes prior to the abrupt ending.
---
New on DVD from the Asylum!!
ABRAHAM LINCOLN VS ZOMBIES (2012)
Directed by Richard Schenkman
Written by Richard Schenkman, Karl Hirsch & Lauren Proctor.Starring Bill Oberst Jr., Jason Vail, Baby Norman, Don McGraw
Find out more about this film here!
Reviewed by Ambush Bug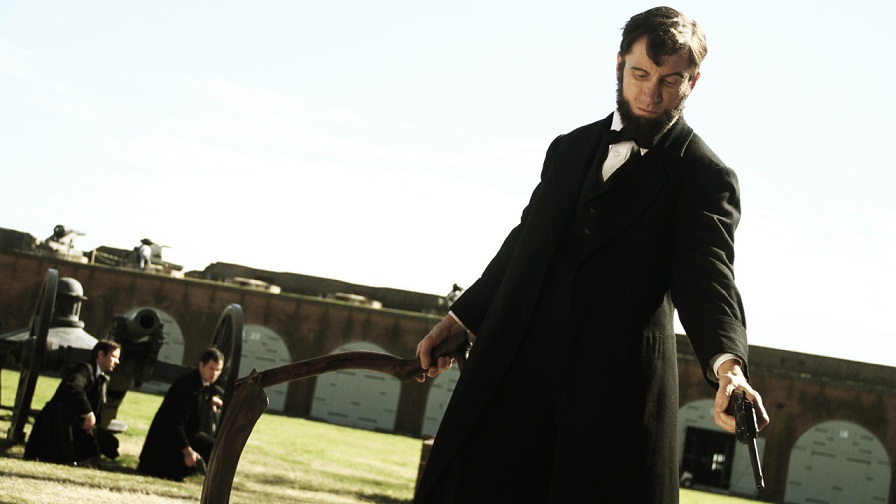 I know that it is well documented that our 16th President fought vampires in his youth, but did you know that he was proficient in the gentle art of zombie killing as well?
Well, you learn new things here at AICN HORROR every week and this week we get a bit of revisionist history as The Asylum releases ABRAHAM LINCOLN VS ZOMBIES. Now, in recent weeks there have been some hubbub in the talkbacks about my coverage of films that may not be blockbusters here in this weekly column. To that, I respond, "NO SHIT!". But as I've explained before, not all films can be THE EMPIRE STRIKES BACK. Sometimes a whole film can be redeemed by a cool idea, a small moment of film, or an inspired performance. Now, ABRAHAM LINCOLN VS ZOMBIES was made on a fraction of the budget of the Tim Burton produced, Timur Bekmambetov directed, Seth Grahame-Smith penned 3D blockbuster sure to scare up some big box office numbers this summer, but that doesn't mean it isn't an enjoyable film experience.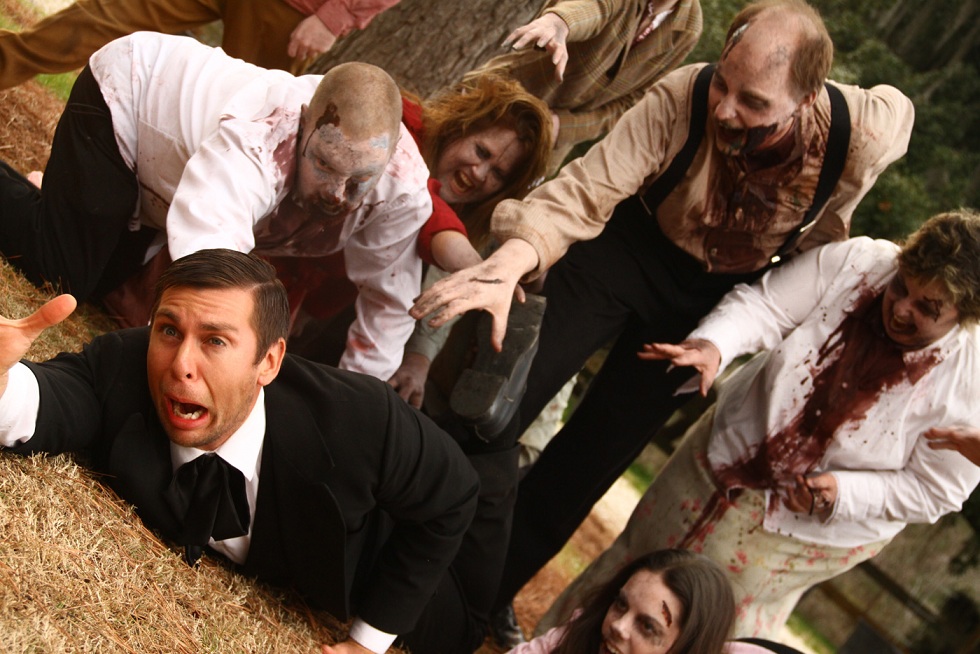 ABRAHAM LINCOLN VS ZOMBIES knows it's goofy and relishes in that fact. While the concept of Honest Abe using a steel scythe to decapitate the dead while spouting some of his most famous quotes is something those with an ounce of humor can chortle about, there will be those who roll their eyes at this film. But if you find yourself accepting the fact that you want to see a film where Abe kills vamps, yet dismiss this one, there's something wrong with you. Sure, it can be seen as a knock off. But I found this film to be pretty enjoyable throughout as it adhered to some of the major milestones in Abe's life, and veered only to fit in zombies into the mix. Some of the twists that are found in the film (the final one I don't want to spoil here) are inspired and cast a new kind of light on the way we look at American history. The fact that John Wilkes Booth fought as part of Abe's Secret Service Men and the inclusion of a young Teddy Roosevelt, a stubborn General Stonewall Jackson, and a noble Pat Garrett as part of his team were fun little Easter eggs that popped up from time to time here.
What makes the tone of this film work is the fantastic performance by Bill Oberst, Jr. as Abe Lincoln. While ABE VS VAMPS cast a young bo-hunk in the role, Oberst looks much more like the President. Oberst exudes a gentlemanly charm, showing consideration and an even keel, even in the heat of zombie battle. If anything, Oberst is honoring the President as a noble hero, someone to look up to, and he pulls it off marvelously. I wish the rest of the cast had that level of acting caliber, but sadly, they don't. The most distracting thing about this film is the fact that the cast just doesn't seem to have the chops to pull off this expansive epic style of film. Oberst, though, is swinging for the fences and makes it almost feasible that this is what Abe would do if zombies roamed the post-Civil War America.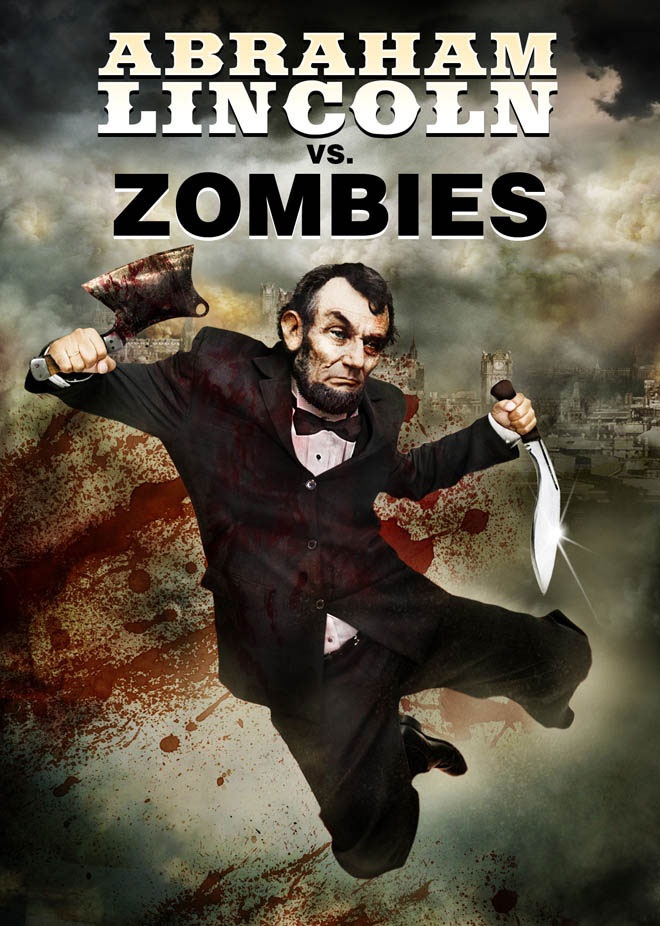 The budget here is low. The zombie makeup isn't bad, but green screen effects and computerized blood splatter are pretty evident throughout and somewhat distracting. I understand how much cheaper it is to go the CGI route, but when it's as evident as this, it serves more as a distraction than a way to titillate the gore hound in me. Still, director Richard Schenkman is smart about using only one or two locales and relying on stock footage to fill in the gaps to make this film look bigger than it is. Though Schenkman's camera occasionally lingers too long and edits choppily, working within the budget, the look of the film isn't bad.
I don't want to apologize for this film or ignore the rough edges here. It's low budget and apart from Oberst, a lot of acting coaches could get a lot of work out of this film's cast. But apart from that, I couldn't help but titter every time Abe switches open his scythe and decapitates a zombie. Call me easy to please, but I found ABRAHAM LINCOLN VS ZOMBIES to be a hokey fun time.
---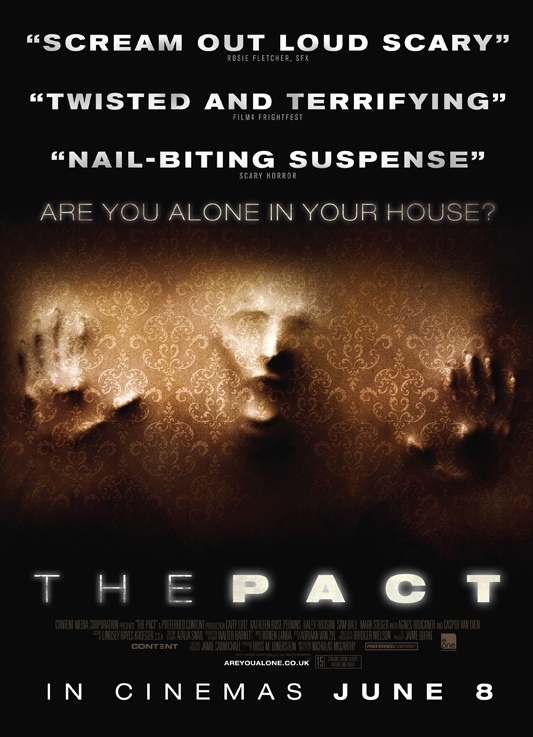 Available on VOD on IFC Midnight and in limited theaters July 6th!
THE PACT (2012)
Directed by Nicholas McCarthy
Written by Nicholas McCarthy
Starring Caity Lotz, Casper Van Dien, Agnes Bruckner, Mark Steger, Haley Hudson, Kathleen Rose Perkins
Find out more about this film here!
Reviewed by Ambush Bug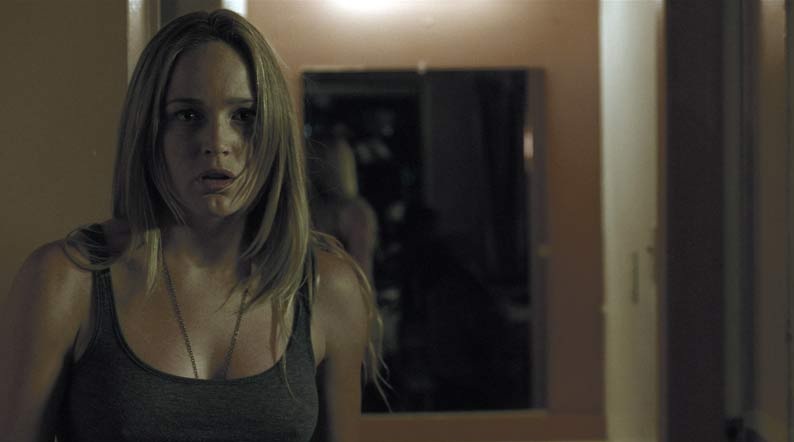 Though I wasn't expecting much going into THE PACT, by the five minute mark I found myself leaping from my chair in fear at what was going on. There were a few leaps in logic in the making of this one, but filled with moments of pure creep and terror, THE PACT is a film I'm recommending for those who love all things scary. An old fashioned ghost story, more along the lines of THE OTHERS and INSIDIOUS than PARANORMAL ACTIVITY, THE PACT is a ghost story worth getting behind.
Originally a short film, director Nicholas McCarthy has expanded on the concept without making it seem stretched too thin. The story follows a pair of sisters whose mother has recently passed away. The mother leaves the sisters a house and a horrible secret. When the first sister (Kathleen Rose Perkins) comes to the home, she soon disappears after a freaky interaction with her child over Skype. Then Annie the other sister (a loner motorcyclist played by Caity Lotz) arrives, she finds an empty house full of mystery. After a night of sheer horror that will surely make you jump out of your skin in fear, she realizes that otherworldly things are going on. Things get even creepier when a secret room is found with holes drilled in the walls giving someone or something a secret viewing room for everything that transpired in the house.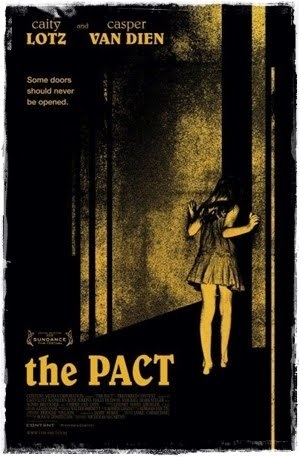 Great performances all around help make THE PACT easy to get caught up in. Caity Lotz is great and gruff as Annie the tough sister who is scared shitless, but perseveres against the forces of the unknown. Casper Van Dien even gives a good turn as the chiseled yet unshaven cop who somewhat believes the story of the distraught woman. And Haley Hudson has a nice smaller role as a creepy medium.
A creepy house, an otherworldly presence, a dark closet, and secret rooms all contribute to the thrills that pile atop one another in THE PACT. McCarthy takes his time unfolding this intricate plot of betrayal and secrets between mothers and daughters. McCarthy uses forced camera angles, trick photography and sincerely frightening imagery to scare the pants off of you in this little film. One of the aspects that is most rewarding is that the action rarely goes outside of this creepy abode, keeping this a tight thriller that never overshoots or shows the rough edges of a film made for this budget.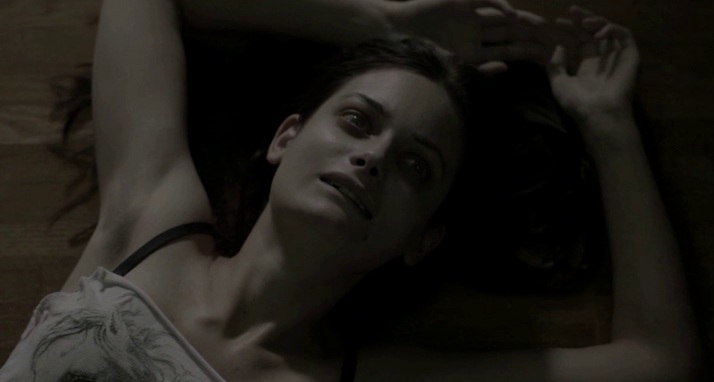 McCarthy got me more than once in this film, which hits hard in its action and isn't afraid to get in your face with the scares. I don't want to ruin too much of the terrors within THE PACT, but I will say you will be scared. The name of the film leaves a lot to be desired and I think many will overlook this one because of it. Another detriment is that people are wandering in and out of a crime scene investigated by the police with no worry. This plot hole is only a minor distraction from a truly great horror film.
THE PACT can be seen on VOD now at IFC Midnight and will have a limited theatrical run soon. No matter how you catch it, make sure you do. THE PACT is not to be missed.
---
New on DVD this week!
THE AGGRESSION SCALE (2012)
Directed by Steven C. Miller
Written by Ben Powell
Starring Ray Wise, Dana Ashbrook, Fabianne Therese, Derek Mears, Ryan Hartwig, Jacob Reynolds, Lisa Rotondi, Boyd Kestner, Joseph McKelheer
Find out more about this film here!
Reviewed by Ambush Bug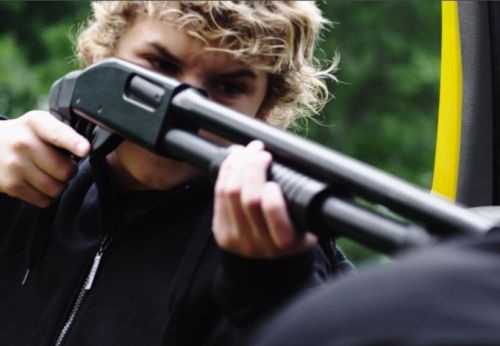 Steven C. Miller has been on my AICN HORROR panels quite a few times at SDCC over the past few years. He's a relatively new voice in horror who is about to make big waves as soon as his SILENT NIGHT (the remake of SILENT NIGHT DEADLY NIGHT) is released this December. But those looking to find out what kind of horrors the director is capable of should look no further than THE AGGRESSION SCALE, a ballsy home invasion film that pulls no punches with no fucks given.
The plot is somewhat simple. A mobster name Bellavance (Ray Wise) goes to prison and Bill a lower level employee (Boyd Kestner) takes his money and runs with it. Buying a new home, Bill, with a new wife Maggie (Lisa Rotondi) and her snotty daughter Lauren (Fabianne Therese), plans to start a new life, creating a nuclear family with his own troubled son Owen (Ryan Hartwig). Everything is hunky dory until a quartet of thugs show up to collect the cash Bellavance. What the thugs didn't realize was that the troubled teen is much more troubled than anyone had imagined.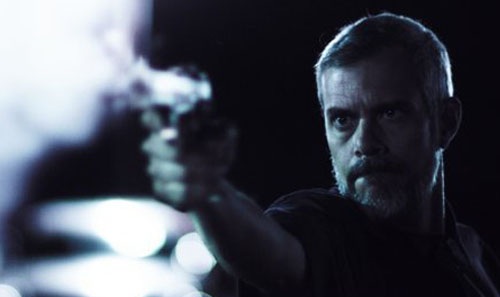 Sure, the plot serves as a twisted mirror image of HOME ALONE as a kid makes booby traps to thwart the bad guys, but never has a Rube Goldbergian mechanism been so devious or destructive as it is in this film. Hartwig gives a great performance as the silent but violent kid who is more like John Rambo than Macaulay Culkin as he whittles together booby traps that sear flesh, gouge hands, and shatter kneecaps of his pursuers. Turns out the kid is also pretty handy with a shotgun.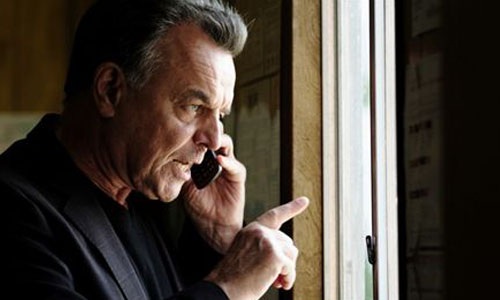 The cast of THE AGGRESSION SCALE is fantastic. Not only do we have Dana (TWIN PEAKS) Ashbrook, who is all snarls as the head baddie and sheds his boyish looks for a silver crewcut and beard, but we have a hockey maskless Derek (FRIDAY THE 13TH Remake) Mears offering a great performance as the muscle of the group. Rounding out the bad guys is the freaky kid from GUMMO, Jacob Reynolds, all grown up but still boyish in demeanor, which adds even more creepiness to his performance as thug three. Fabianne Therese is gorgeous but hard to like as the annoying sister, but given the despicable performances by the bad guys, you end up rooting for her by association to her badass stepbrother. And though his part is small, Ray Wise, as always, shines despicably as the mob boss.
THE AGGRESSION SCALE is a throwback film that lauds the gritty violence of the action films of the 70's and early 80's. Miller has shown that not only does he have a masterful handling of style and scare, but he can also do action with a confident hand. Lovers of hardcore action will want to put THE AGGRESSION SCALE on their must see list.
---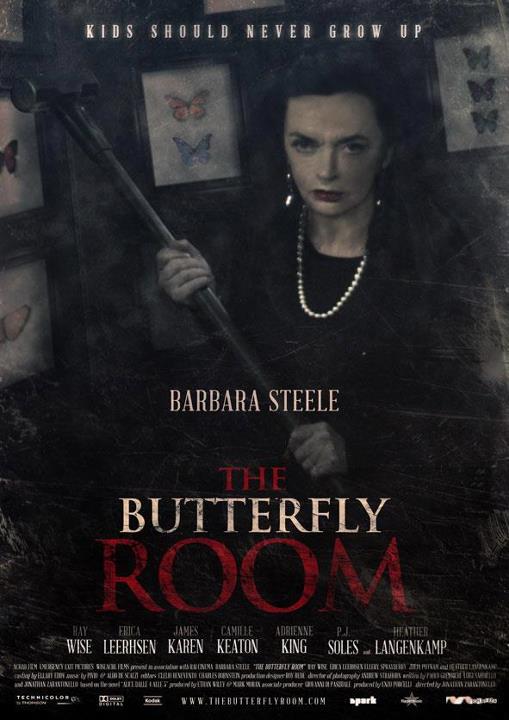 Advance Review!
THE BUTTERFLY ROOM (2012)
Directed by Jonathan Zarantonello
Written by Jonathan Zarantonello, Paolo Guerrieri, Luigi Sardiello
Starring Barbara Steele, Ray Wise, Erica Leerhsen, Heather Langenkamp, Ellery Sprayberry, Julia Putnam, Camille Keaton, P.J. Soles, Adrienne King, James Karen, Elea Oberon, Joseph H. Johnson Jr.
Find out more about this film here!
Reviewed by Ambush Bug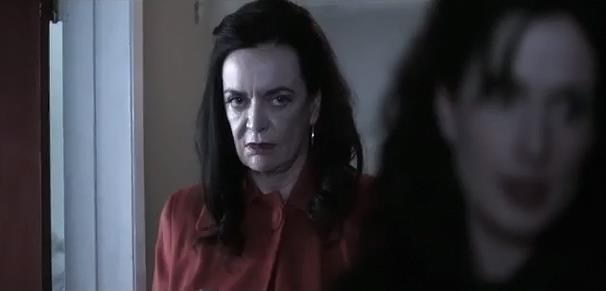 I'm going to tell you right now, put THE BUTTERFLY ROOM on your must see list. It will most definitely be on my Best of the Year list and I feel the need to shout from the rooftops in support of this indie surprise starring some of the greats of the horror genre.
Mothers have always been a great topic of horror to explore. Be it Faye Dunaway's evil matriarch in MOMMY DEAREST, Norman Bates' mom in PSYCHO, or even the creepy mother of two rapist bastards in MOTHER'S DAY, a mom gone wrong is something that always can get under our skins as an audience. Throwing her hat into the mix as one of the all time bad moms is legendary actress Barbara (BLACK SABBATH, PIT & THE PENDULUM) Steele who plays Ann, a seemingly harmless elderly lady living by herself in an apartment complex. By day, she keeps busy cleaning and going on walks, but in the room in the back of her apartment, scary goings on go on and as Ann reaches out to take care of a neighbor's daughter while she is away, the secrets of The Butterfly Room, a room which has never had a man in it and never will according to Ann, are about to be revealed.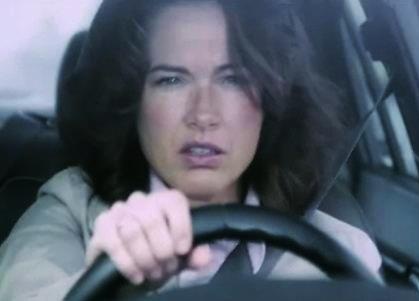 THE BUTTERFLY ROOM sports a cast of horror heavies the likes of which we rarely see. A NIGHTMARE ON ELM STREET's Heather Langenkamp plays a protective mother with ties to Ann's past. Erica Leershen (TEXAS CHAINSAW MASSACRE, WRONG TURN 2, BLAIR WITCH 2) and Adrienne King (Alice, the counselor who lopped off Mrs. Voorhees' head in the first FRIDAY THE 13TH), play mothers as well, as does HALLOWEEN & CARRIE's P.J. Soles and I SPIT ON YOUR GRAVE's Camille Keaton. Rounding out the cast is James Karen (RETURN FO THE LIVING DEAD) and Ray Wise (making his second appearance in this week's column, this time as a nosy handyman). All of these performances are fresh in this film and makes you wonder why these actors and actresses haven't worked since their iconic turns in these iconic films.
Aside from gathering a cast to die for, director Jonathan Zarantonello creates an entire fascinating world revolving around Barbara Steele's Ann. The apartment complex she lives and does her evil deeds in lives and breathes. The intimate close-ups of Ann working on her butterfly collection bring the viewer in uncomfortably close to this bizarre world where beauty is trapped, pinned down, and put on display. The metaphor of butterfly collecting is not an impenetrable one; rather it supplies a fantastic and creepy springboard to bounce Ann's twisted emotions from. Though it is clear early on that something twisted is going on with Ann, even when the shocks are revealed, they tend to resonate harder than expected.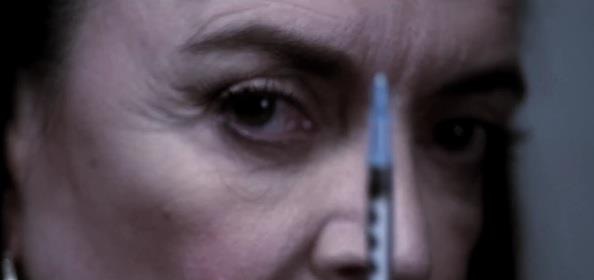 Zarantonello also takes some interesting and inventive steps in regards to the industrial beat-filled soundtrack and the leaps forward and backward in time in the narrative. Though this is often a surefire way to lose the reader, Zarantonello is able to lead us along, mainly by focusing always on Steele's Ann character as the touchstone by which all action in this film stems from. A lesser director would have lost me as a viewer, but Zarantonello is far from a lesser director.
But this is all Steele's show. In every frame, Steele exudes power and was even able to pull some sympathy from me as the viewer, even after we see her doing evil deeds. We are with her the whole time as she tries to cover her tracks, reaches out and connects with others, and gets burned for doing so causing her to fight back. Hers is a complex role which is able to ascertain both sympathy and revulsion and Steele hits every note with elegance and charisma.
I can't recommend this film more and I can't wait for more of you to see it so I can dialog about it with folks. It is definitely one of the best of the year in its complex narrative and masterful performances all around. THE BUTTERFLY ROOM is one of those films which taps into the simple horrors: the horror of harming a child, the horror of love not returned, the horror of betrayal, and the sheer horror of becoming exactly like ones' parents. And it does it so, so very well.
---
And finally…here's a brand new little short that is equal parts devious and fun. It's directed Frederic Lefebvre from Canada. Sit back with something tasty to gnaw on and enjoy MADAME BLODUC!
See ya next week, folks!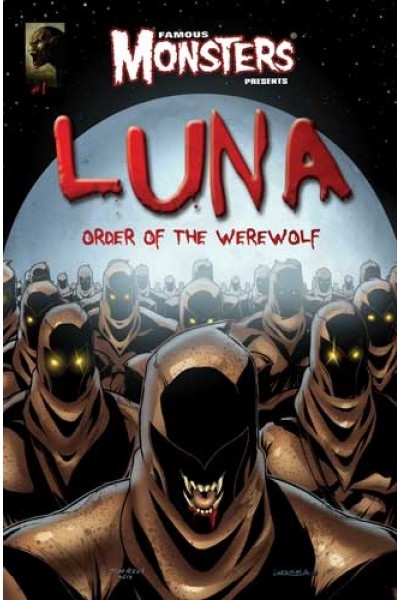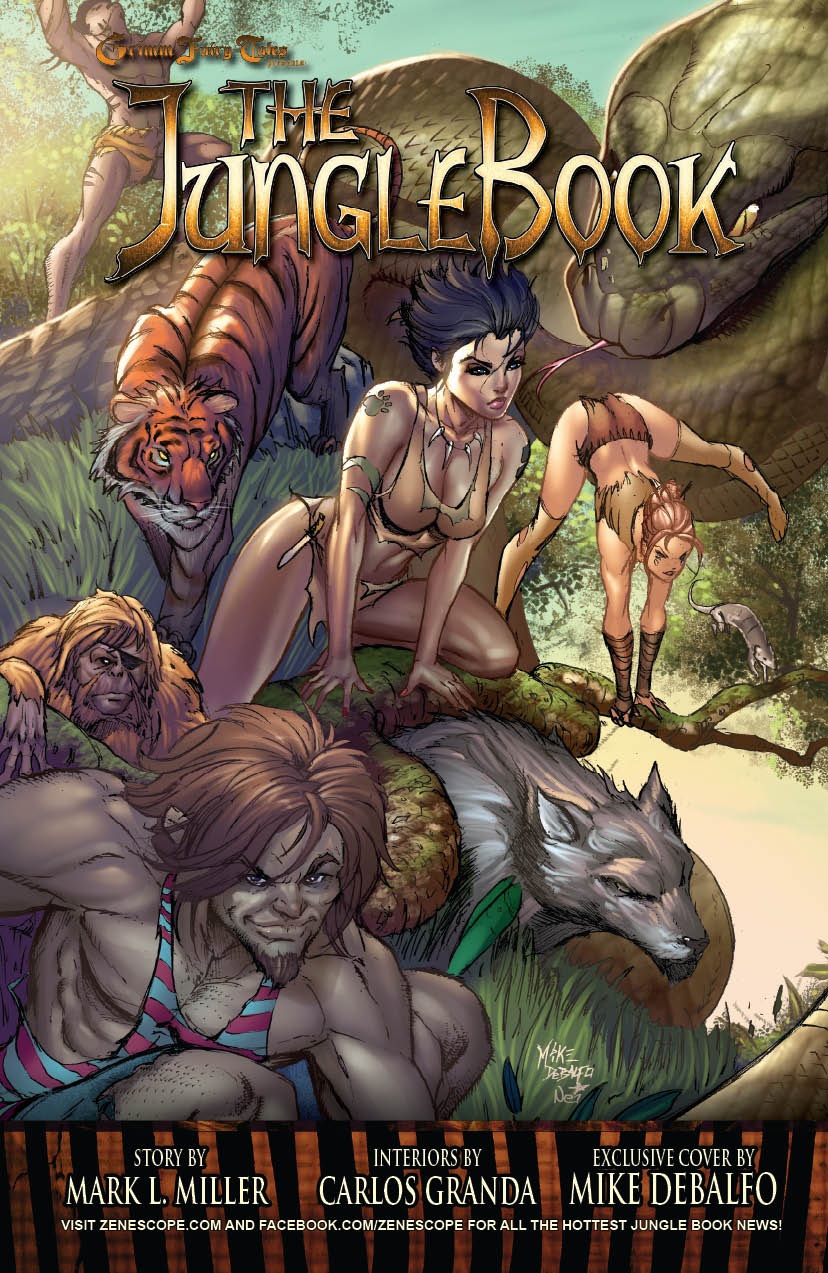 Ambush Bug is Mark L. Miller, original @$$Hole/wordslinger/reviewer/co-editor of AICN Comics for over ten years. He has written comics such as MUSCLES & FIGHTS, MUSCLES & FRIGHTS, VINCENT PRICE PRESENTS TINGLERS & WITCHFINDER GENERAL, THE DEATHSPORT GAMES, WONDERLAND ANNUAL 2010 & NANNY & HANK (soon to be made into a feature film from Uptown 6 Films). He is also a regular writer for FAMOUS MONSTERS OF FILMLAND & has co-written their first ever comic book LUNA: ORDER OF THE WEREWOLF (to be released in October 2012 as an 100-pg original graphic novel). Mark has just announced his new comic book miniseries GRIMM FAIRY TALES PRESENTS THE JUNGLE BOOK from Zenescope Entertainment to be released in March 2012.
---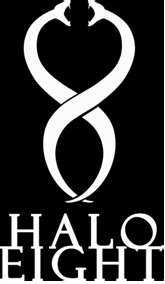 Check out the FAMOUS MONSTERS OF FILMLAND Website for all things horror!


Interested in illustrated films, fringe cinema, and other oddities?
Check out Halo-8 and challenge everything!



---
Find more AICN HORROR including an archive of previous columns
on AICN HORROR's Facebook page!