Ahoy, squirts! Quint here. No matter what you think of the length of the movie, the ideas behind it or how it shapes up as an adaptation, On the Road's legacy will be that it took two very wooden actors and sparked a great deal of life into them.
I guess it's the year of the bland monotone actor metamorphosis. First Channing Tatum showed some serious comedic chops in 21 Jump Street, then Sam Worthington woke up a bit for the Clash of the Titans sequel and now Garrett Hedlund and Kristen Stewart deliver extremely charismatic performances in On The Road. Wonder what movie Ben Stein's going to pop up in and act like Gilbert Gottfried!
Perhaps it was my moderate expectations, but I found myself drawn into On the Road. Of course the story is well known by this point. You don't even have to have read the book to know there's a crazy charismatic character named Dean Moriarty or that the main thrust of the story is about a young author wanting life experience so he can actually… you know… write a book.
Walter Salles and Jose Rivera are a good fit for Jack Kerouac's material. They get the on-the-road mentality, the desire to search for that unexplainable "something" (or "It" as Sal and Dean call this elusive descriptor) and the bonding that can only happen between friends as they explore together.
They imbue the script with that tone and feeling… maybe they draw out the drug use aspect a bit, but on the whole the film moves. Salles also can take a lot of pride in casting the movie well. I'm a big fan of Sam Riley's work in Control and he's great as Sal Paradise.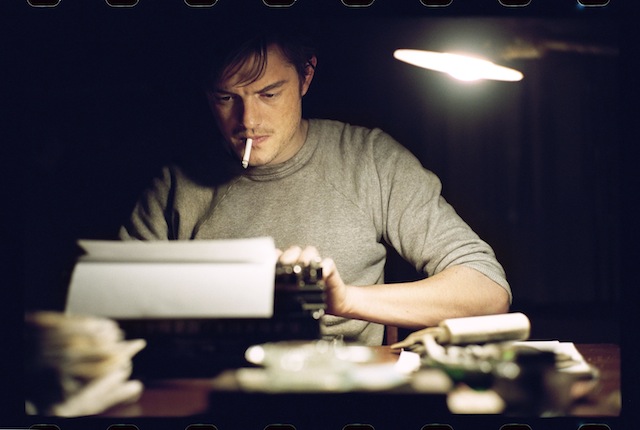 Dean Moriarty might be the flashier role, but Sal Paradise is the heart and soul of the film and also serves as the audience's entrance into this world. If we don't like him odds are we're not going to like anything in his world.
Riley is just innocent enough for us to forgive the debauched shit he does, just likeable enough that we want to follow him around the country with these rambunctious hooligans and just flawed enough to be interesting and unpredictable.
Sal and Dean's friendship is one of the most fascinating in literature and I'm happy to say that it translates wonderfully to the screen, thanks greatly to Riley and Garrett Hedlund's performances.
I have to imagine Hedlund felt the weight of the role pretty hardcore and it's a testament to his work here that doesn't transfer to his performance. He plays Dean with a perfect mixture of childlike energy and a politician's charisma with an undercurrent of heavy emotion running through the whole performance like a smooth bass line.
Kristen Stewart plays Marylou… she some of the glue that bonds Sal to Dean. She's dean's ex-wife and finds herself always drawn back to him no matter what has happened between them in the past. Sal can relate to that… it also doesn't hurt that she's pretty and about as sexually free as a person can be.
Stewart plays Marylou a little sad, but mostly as a base layer. Her mood is typically energetic, happy and a little minxy.
Okay, more than a little minxy, as you can tell. It's a brave performance for her. Yes, there's the nudity, but there's also the emotional ambiguity to her character. She can be in love with Dean Moriarty and also hate him. If she played it wrong then Marylou would just come off as a slut with stars in her eyes, but she injects the right amount of vulnerability to make her sympathetic, but not undercut the confidence of Marylou as a character.
As this is a road movie there are a ton of small parts played by big actors. Steve Buscemi, Viggo Mortensen, Terrence Howard, Amy Adams, Elisabeth Moss, Alice Braga and Kirsten Dunst all come to mind, although I'd be hard-pressed to call Dunst's Camille a small character. She might not have a lot of screentime, but she's probably the most important character in the story from Dean's perspective. She alters his arc in ways that nobody, no matter how close they are to him, could.
Eric Gautier deserves a lot of love for his gorgeous cinematography as well. This is an incredibly sharp movie. The scope format is used extremely well. All the technical stuff is top notch, from score to production design to set dec.
Like I mentioned earlier, I was won over by this flick. Like Sal, I enjoyed spending time with Dean and his group of poets, vagrants, druggies and promiscuous women.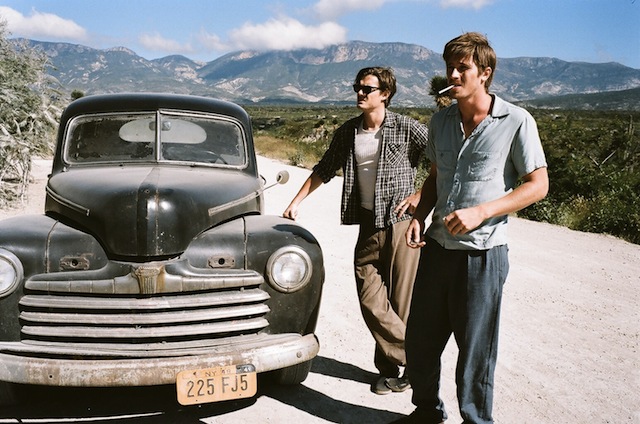 Running off to the premiere of the brand new restoration of Jaws. I kinda like that film, you know. Will report back on that soon! Stay tuned!
-Eric Vespe
"Quint"
quint@aintitcool.com
Follow Me On Twitter