Hello ladies and gentlemen, Muldoon here with another exciting edition of SATURDAY SHORTS, this time with 200% the funny. Below you'll find a small handful of comedic shorts that I found pretty neat. Obviously you may or may not agree, and that's cool, but I think they're each something kind of awesome and hope to see more from the filmmakers who put them together. (That actually goes for all the shorts I've been lucky enough to screen here on SATURDAY SHORTS.) So prep your funny muscles, you're about to get a workout (not the creepiest thing I've said all day). Again, remember each of these were submitted by fellow Ain't It Cool readers, so if you hated something or feel like it somehow wasted your time, (firstly chill out) just don't be a dick about it. Constructive criticism I'm sure is more than welcomed by the filmmakers, but "This sucks..." frankly that belongs in another TB. Anyways, that's enough negativeness - let's get pumped up with these shorts!
Go grab yourself some popcorn, lock your kids in a closet, kill the lights, relax and check out this little weekly film fest we've got ourselves here:
SUCCESSFUL ALCOHOLICS
(TRT: 25:13)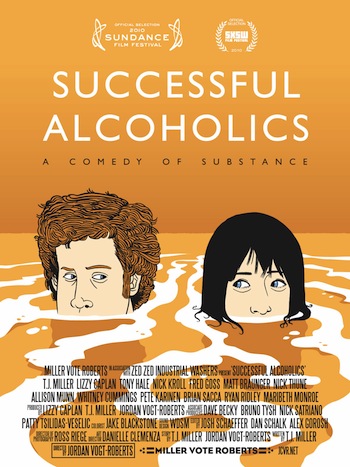 Here we are with a special treat, the hilarious TJ Miller and equally funny, and ridiculously lovable Lizzy Caplan. (What? I'm not allowed to crush on movie stars?) Filmmaker Jordan Vogt-Roberts has put together quite a perfect little mini-movie here. I can totally see this turning into a TV show...
A co-dependent couple drowning in booze need to redefine their definition of "success".
Successful Alcoholics premiered at Sundance, then played SXSW & AFI and then played over 30 other festivals It features TJ MIller, Lizzy Caplan, Nick Kroll, Tony Hale, Matt Braunger, Whitney Cummings and more. It's 25 minutes so get ready to hunker down.
Check out Jordan's website HERE or follow the guy on Twitter: @VogtRoberts
TIMMY, THE BAG BOY
(Comedy/Drama)
(TRT: 23:24)
Up next we have filmmaker Randy Kent's dramedy about a boy with a bag on his head. Okay, that's not really doing the film any justice, in his own words:
"The story of a boy, his bag and the one man who may just understand"
In this quirky comedy/drama mix of live-action, animation and cross video formats we meet Timmy, a seemingly normal nine-year-old boy who walks through life wearing decorative paper-bags over his head. His frustrated parents finally have to break down and take him to see a local child therapist. At the medical center Timmy meets the Bandage Man, an older, boorish man whose head is completely wrapped in bandages after having been in some kind of accident. The two masked men develop a bond that only they seem to understand.
Be sure to check out Randy's site HERE.
DONUTS IN NATURE
(TRT: 2:38)
While I haven't screened many wildlife shorts here (none come to think of it) this one just seemed to stand out. I feel like it'd be the Bell of the ball at MOMA or as some art installation where those crazy hipster kid's would dig and dig into the deeper (and deeper and deeper) meaning of the piece, but it's funny, it's an interesting bit of "Hmm, okay... I can go along with that." You read that title correctly, you know what you're in for.
Donuts in Nature is a short film in which Donuts are photographed in their natural habitat. I filmed it with Richard Arenas, who also did the music. We wanted the score to remind the viewer of the science programs everyone had to watch in elementary school. Many thanks to the Donut colony of Bronson Canyon for their cooperation in this film.
YOU BETTER WATCH OUT
(TRT: 21:45)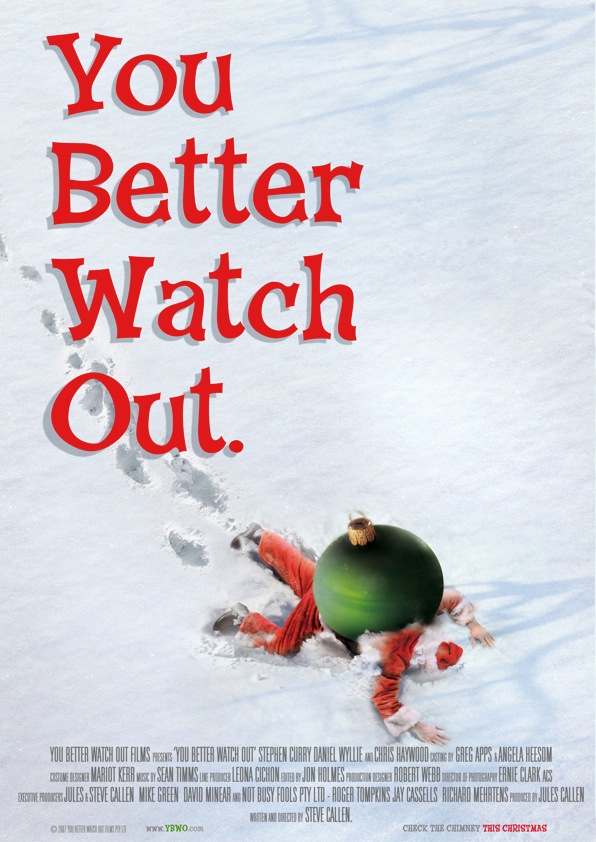 Okay, so here's a rarity, a short that's already been reviewed here at Ain't It Cool headquarters by Latauro HERE. Would that/should that mean we can't screen it here? Hell no! I must admit I didn't catch it until filmmaker Steve Callen shot it to me and I love it. If you give it a shot, I'm 110% sure you won't be dissapointed. Funny/darkish stuff.
A wickedly dark comedy about a department store Santa Claus who is kidnapped by two disgruntled brothers with a score to settle. As the brothers continue their interrogation, the man in the Santa suit is forced to remember things from his own past, things long since buried, of a time when he stopped believing in himself. Its only when he faces his own demons that he reaches enlightenment. However, enlightenment comes at a price.
BAM! That's it for this week folks. No mas shorts for this week. I sincerely hope you guys and gals had even half as much fun watching these shorts as I did. Special thanks to EVERYONE who's sent in shorts - without you this column doesn't exist. If you've already shot in a short, maybe had it screened, or not (I still have around 80 left to watch) - but have friends who've made a short - go ahead and let them in on SATURDAY SHORTS - I'm always on the lookout.
But wait? You want more SATURDAY SHORTS fun? Bam, here's a list of previous columns/screenings.
If you have a short and think it belongs here or are on the fence about whether to send it in, please do send it in - I'd love to see what you've put together. I've already seen hundreds of fresh new filmmakers' shorts and like any good addict, I need more!
Shoot me an email at "Mike@aintitcool.com"
In the subject line include:

"SHORTS" + "Your film's name" + "The film's genre"

Then, in the body of the email, please include a synopsis of the film and any contact information you might think I need or would want published.

Please don't feel the need to submit multiple times. I swear to each of you I truly check every email I get, and sending the same short a few times just makes it a bit messier.
Remember, the filmmakers might still be in the audience, so feel free to share your thoughts in Talkbacks below. (JUST DON'T BE A DICK). I picked them, so you know I think highly of all of these, but how about you fine folks? How'd you dig em?
- Mike McCutchen
"Muldoon"
Mike@aintitcool.com