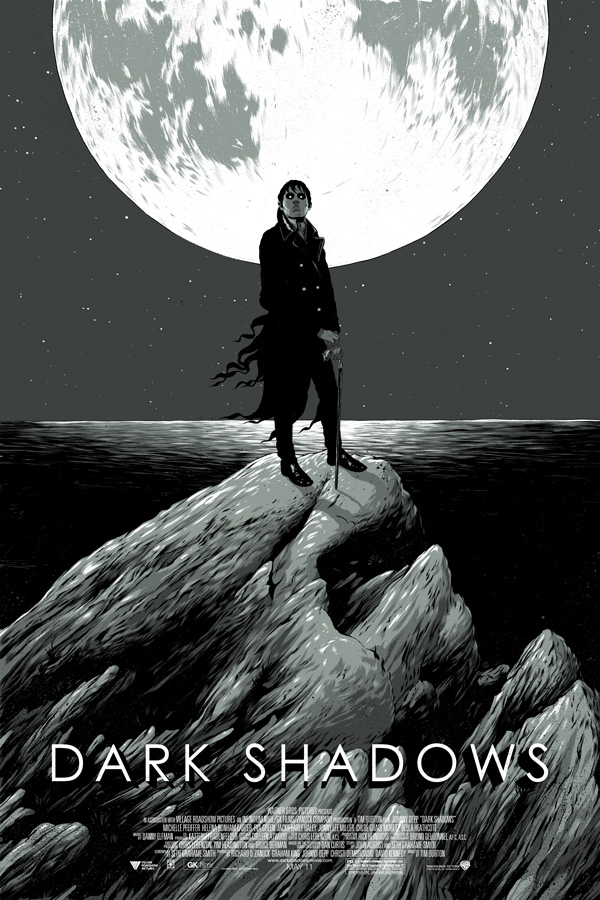 On Wednesday, I hosted screenwriter and author, Seth Grahame-Smith, in the basement to talk about DARK SHADOWS and something rather surprising came out of it. You see, the trailers for the film, while looking handsome, were a tonal ocean away from what I was hoping the film would be. I'm not a die-hard on the show, but I was raised aware of it. My parents had friends that were addicted to this genre Soap Opera - and the idea of Tim Burton making a gothic melodrama... well that's sort of exactly what I feel Tim should be doing.
That night when I hosted the screening, I asked Seth if he wanted to tell the audience anything to prepare them for the movie that followed and he asked how many of them had seen the trailers for the film. Being an AICN audience, everyone raised their hands. He then told them to clear those trailers out of their minds. What they shot was something that had those moments we saw in the trailer, but between that was a fairly straightforward adaptation of DARK SHADOWS... the family & personal secrets, the creaky manor, but most of all... the ache of a family under a curse.
The film begins in the 1700s and wow - it just looks fantastic. The casting is fairly spectacular. And the movie for me plays. Under no circumstances should this film be opening today, this should have opened in late September for a run into October and through Halloween, that element is actually completely in the movie. Opening the week after AVENGERS was always a leap from a box office cliff.
My favorite discovery of the film was Bella Heathcote, I'd seen her IN TIME, but didn't particularly love that film. But in DARK SHADOWS as the iconic Victoria Winters / Josette DuPres - she's perfect. I love her journey to Collinwood, it reminds me of Pamela Franklin's journey in THE LEGEND OF HELL HOUSE - and I don't think it is just Elfman's score. Her outfit on that trip absolutely reminded me of Hayley Mills' outfits from TWISTED NERVE, an absolutely brilliant film which Tarantino quoted with Darryl Hannah's whistled theme from KILL BILL by Bernard Herrmann. Well, her large round eyes are so expressive in this movie, that I just sort of got swept away. I got the idea that she was in fact as special as Barnabus felt she was. Which is key for us understanding his longing for her.
Willie Loomis was always a fave character of mine and having Jackie Earle Haley playing him with the absolutely golden mumbled lines he gives throughout - he's definitely the most giggle worthy character on this strange estate.
Chloe Moretz is growing up. It's not anything that I feel is exploitive - most girls tend to begin projecting their sexuality in their mid-teens - and in this film, Chloe is smoldering. She's tired of Collinwood and her family. She longs to escape to New York, where she can lose herself in the excitement of the city. She wants to dance in clubs and wander the streets at night. She likes to eat as far away from her family as possible. She wants to dance and let her body explode with the music. She feels isolated and lonely. She's a teenage girl - and she's fantastic. Later I have some issues with some of her character changes, but I'll let you judge those on your own.
Michelle Pfeiffer as the matriarch of the family, Elizabeth Collins Stoddard, is just perfectly plucked from the tapestry of the 70's as I remember it. In particular - my childhood memories of my maternal Grandmother... strike me very much like this character that she plays. The last member of a prestigiously wealthy family in decline. She has the air of aristocracy, but the continual slapping of reality that tells her she is no longer the Queen Bee she once was. There's a sadness to her. But when she gets a whiff of reestablishing the former grandeur of the COLLINS family - she latches onto that dream.
Then there's EVA GREEN. I am of the opinion that I would like Eva Green to be the way I go out. Yeah, if I had to get all Kevorkian - I choose death by Eva Green. She can throw me around a room, she can roll me up a wall and across a ceiling. She can rake my back and put splinters in my ass. Eva Green is more woman than any man could handle - and to be the focus of her sexual appettite would just simply be... Well, I'll bite the apple. She's amazing. There's a heightened manic energy when she comes on the screen. As a witch, she can pretty much rework reality however she likes. But at the center of her character is a centuries old bitterness left from the class warfare of her youth. She dabbled in magic to equalize the class boundaries from whence she came. She was a daughter of a servant to the Collins Family - who had always crushed upon young Barnabas Collins. Her mother constantly telling her that she wasn't even allowed to look upon him. Later as she blossomed into EVA GREEN, the class ocean between her and Barnabas had seemingly gone, until she realized that Barnabas could never seriously consider her for a lifemate due to the disparate class origins that they had. This turned into the heart of our story. She loves Barnabas, he does not love her. Unrequited love is always a pain in the ass, especially when the woman that loves you has witching ways. If she's Eva Green and Angelique Bouchard - you're probably going to have a miserable existence as a result.
Which brings me to talking about Barnabas Collins as played by Johnny Depp. Barnabas Collins is the Waldo of the film. He's the character that stands out as not quite belonging... but then, that is Barnabas Collins. Depp plays Barnabas without nearly the level of reserved class that Frid imbued the character with - but I get what Johnny is doing. He's concentrating on what he would associate with, had he been ripped centuries out of time and made to deal with a world of modern 70's wonders. He's suddenly faced with a world that the Collins family was no longer the masters of. He's a vampire, cast more from the world of Max Schreck... even having that extra knuckle and how he rises from his coffin. He avoids direct sunlight with umbrellas used as parasols. He is old fashioned, his language and demeanor are antiquated - and the humor isn't with him making fun of Collins, but of the time Collins has arrived in. The humor comes from the situation and his reaction to it. This is an actor choice. Personally, I wish the character of Barnabas was played with less pomposity and awkward flair - and instead, had Depp played the role with more of a sense of reserve and consideration. Barnabas Collins, to me, was a character that had a deep love and devotion for his family - and he wanted to get in there and help them rise to the top again. If anything, something more akin to Pacino in the GODFATHER Part 2.
Tonally the film is a bit all over. But that is what happens on most Soap Operas. In a way, this version of DARK SHADOWS has something more in common with the films of Bollywood. There's violence, family drama, personal secrets, a musical number and an outrageous conclusion that's rather spectacular.
At the end of the day though - I feel like I prefer the centuries old vampires and sexuality of TRUE BLOOD to DARK SHADOWS - but I certainly enjoyed the film and had quite a bit of fun with it. Real shout outs to the amazing production design of Rick Heinrichs and the lovely lensing of Bruno Delbonnel and the score by Danny Elfman. The film is so much better than the trailers and TV spots would make you think.
If you're someone within whom the spirit of Halloween resides, this is a film you should charm to.