A sound clip from Stanley Kubrick's SPARTACUS punctuates the arrival of Nazi-esque troopers ('the establishment,' in essence), hauling along a floppy, stuffed rag of of a man. Completely limp and scant on features, the figure pointedly conveys the tragic fatigue and defeat of oppression. The goons dispassionately toss the visage into the pit lining the sprawling stage, effectively heralding the edgy opening of Roger Waters: THE WALL LIVE - and nicely portending the essence of what's to come.
As is the case with many enduring works, the "truth" of THE WALL - originally debuted as a 1979 double album by Pink Floyd - varies greatly from observer to observer, and its potency is hugely dependent on whatever perspective is brought to the experience by individual listeners/watchers. Officially, THE WALL is the stylized, agonized, highly symbolic journey of a man called "Pink" as he explores (and comes to terms with) the isolated and lonely life he's now leading - the titular "wall" representing the symbolic, protective structure behind which many of us seek internal shelter and solace. This is, most certainly, an integral component of Waters' musical narrative. But the multi-decade longevity of THE WALL hinges on more sweeping notions - it's also a cautionary tale about small scale and large scale oppression (both deliberate and unintentional), a scathing indictment unyielding totalitarianism, and is about the "walls" which are built around us by others...as much as the walls we construct for and around ourselves. In short, "The Wall," for my money and at its most base essence, examines how we are molded by our world...perhaps more so than it centers on our reactions to it.
Roger Waters' gargantuan live interpretation of the piece, now making its way across North America, fully and pointedly preserves this powerful flexibility of interpretation. Time tested iconography loving recalls the earliest days of THE WALL phenomenon via image and animation - which are now applied atop a conceptual tapestry which feels eminently at home, and poignantly resonant, in our modern world.
"It's a very slippery slope when we give our governments and police too much power..." states Waters when explaining that a lonely projected image was a real-life man who'd been held down and shot in the back of the head by London police (who were never brought to justice), while subsequent media invokes contemporary social upheaval and overseas military operations. For a concept piece that is over thirty years old on the whole...Waters' present iteration of THE WALL is startlingly current, and imminently germane.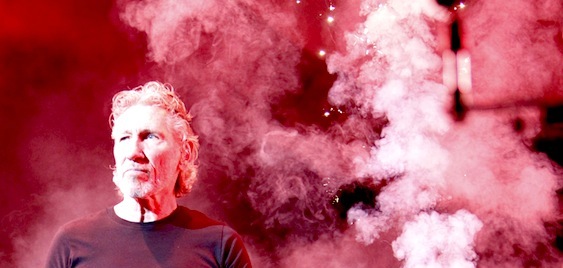 Other statements, both spoken and by way of complex projected graphics, implore the audience to think, question, act, wonder, and doubt. THE WALL's iconic, inexorably marching fascist hammers are omnipresent here...in set-decoration, costume design, even on Graham Broad's Bass Drumhead. As a result, THE WALL's assault on oppression, injustice, and its championing of the under privileged, forgotten, or misunderstood is rarely understated, and never far from the forefront.
The above-mentioned "flexibility of interpretation" is equally evident in the production's utilization of The Wall itself. The Wall, as a structure, begins life here as a partially constructed frame for Waters' sprawling stage. As the first of two acts progresses, stage hands and supernumeraries move about on-stage, slowly continuing its assembly...large "brick" by large "brick." This is a ceaseless background process throughout - occurring during over music, during Waters' interactions with the audience. Much like our lives and world, the Wall is a work in progress, and its journey towards completion is relentless. Slowly but surely, the musicians and their stage are increasingly obscured by the Wall and its ever toiling crew...who result to hydraulic lifts and other means to install bricks into hard-to-reach places. As the first act concludes, the Wall is completed and performers can no longer be seen.
Throughout all of this, THE WALL's duties and purpose are multitudinous. It serves as a projection screen for graphics both simple and elaborate - displaying various animations which also interact with the iconic Waters/Floyd "fisheye/Iris" suspended eerily above the stage.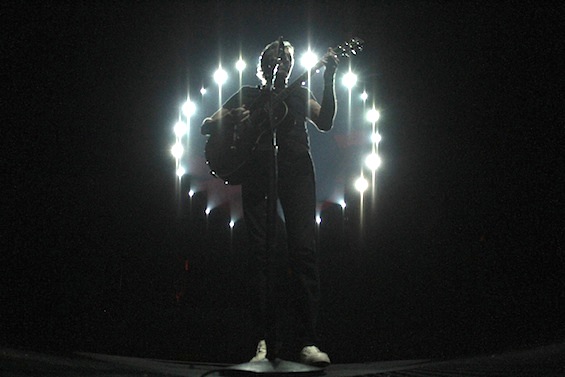 Sometimes the Wall is an obstacle, sometimes it's merely a tool. In one of the production's more subtle-but-amazing feats, single Wall components...featureless and drab in their natural state...seem to take on lives of their own when installed directly into the Wall. As if, suddenly, the projection technology recognizes their presence and decides to share the projected material with each newly connected component. Whether this be an optical illusion, or some form of technical wizardry, the gag is nicely representative of the astonishing attention to minutiae evident throughout the entirety of this presentation.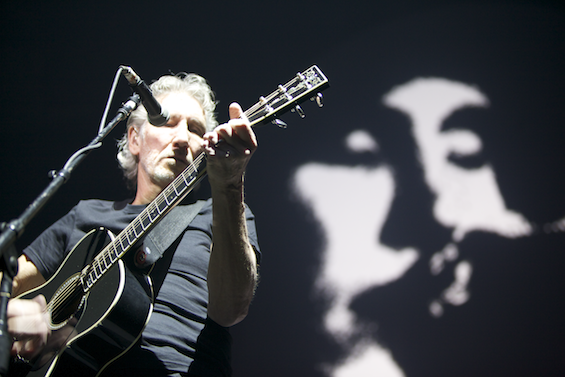 In one of THE WALL LIVE's more poignant moments, Roger Waters duets "Mother" with himself via a recording from a 1980 Earls Court performance.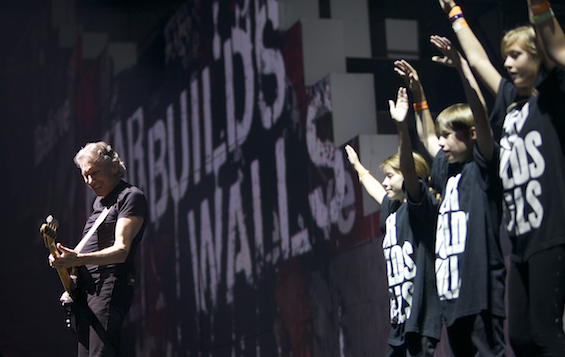 Waters with guest chidren..."Another Brick In The Wall"
With The Wall firmly erected, performances throughout the second half of the show happen on several plains: musicians are set-up in front of the wall, on top of the Wall, and the Wall possesses reveals few surprising functionalities. And, of course, it obscures the prep and deployment of the legendary 'flying pig'. Large, black, and smeared with angry tagging and propagandistic slogans like "trust us," its blazing red eyes survey the audience sinisterly as it rises from behind the Wall and maneuvers smoothly throughout the arena's airspace. Stalking its prey from overhead, the pig's radio-controlled effortlessness is unnerving on a number of symbolic levels - but why no one has marketed a radio controlled, helium-based replica of this propaganda swine for consumers (like
THIS
toy) is completely beyond me.
Handling back-up vocals, along with relatives Mark and Pat, is Kipp Lennon - who Aint It Cool readers may recall sang the opening title song - "Suspension"- for Glen A. Larson's 1979 movie/backdoor series pilot BUCK ROGERS IN THE 25th CENTURY.
Robbie Wyckoff is also on hand, charged with the unenviable task of handling David Gilmour's haunting pre-chorus/chorus in "Comfortably Numb." Wyckoff meets the challenge admirably enough, although it's a difficult not to miss Gilmour's serene power in those particular moments.
Longtime Pink Floyd collaborator Snowy White (guitar) joins guitarist/bassist G.E. Smith - SATURDAY NIGHT LIVE's music director for ten years (1985-95). Keyboardist Jon Carin cites Floyd's A MOMENTARY LAPSE OF OF REASON and DIVISION BELL releases among his many credits, with Harry Waters (Roger's son) on organ and piano. A world class assemblage of talent for an incomparable undertaking.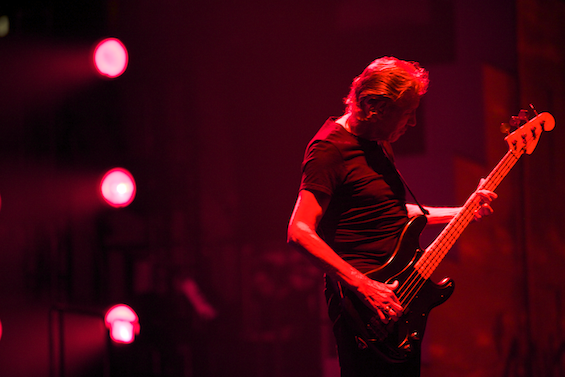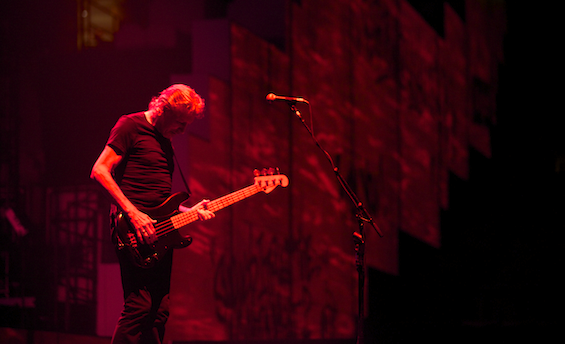 Adequately reviewing Roger Waters: THE WALL LIVE is a difficult proposition at best. It's easy to clinically express what transpires during the roughly 2 and 1/2 hour show, but there's an innate potency to THE WALL LIVE which simply can not be encapsulated or conveyed by mere words or description. Part oversized Trans-Siberian Orchestra-esque effects extravaganza, part performance art, part good-old-fashioned rock concert supported by state-of-the-art multi-media immersion - THE WALL is a gargantuan and visionary production requiring around 25 semi trucks to transport its components and crew from location to location. It is so rich in texture and detail that seeing it only one time can not possibly provide one a full sense of the production's nuance or execution. There are, simply, too many facets - overt and subtle - to grasp the entirety of THE WALL LIVE in one sitting. Which is appropriate, really, as complexity and richness are key factors empowering THE WALL's endurance and evolution over so many years.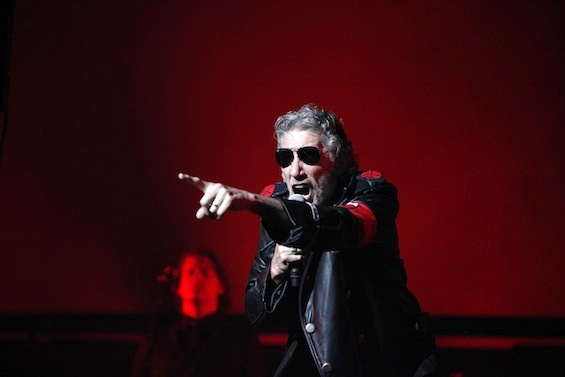 Given Waters' lengthy association with THE WALL, one might expect the performer to be tiring of both its content and presentation. This was decidedly not evident during May 3's sold out performance at
The Frank Erwin Center
here in Austin. While Waters was clearly hyper-focused and appropriately pre-occupied with getting down to business, he also conveyed a certain sense of pride - the countenance of a man who loves his music, and still believes in its strength.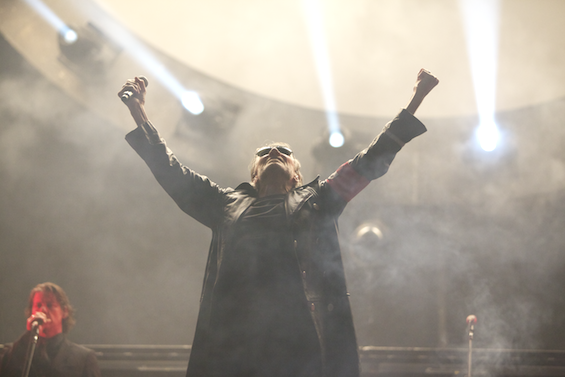 And he's right. With THE WALL LIVE, Waters has dazzlingly reasserted the relevance of his music and the broader ambitions accompanying it, complementing one of rock's most significant works with a performance and of unparalleled vision and power.
It's the experience it should be, and seems meant to be.
THE WALL LIVE is currently touring North America. While the current schedule shows the tour continuing through June, scuttlebutt suggests further dates may be added. Ticket information is available via the production's official site, HERE.
__________
Glen Oliver
"Merrick"
- e-mail
- Twitter
Roger Waters: THE WALL LIVE photographed for Aint It Cool News by David Oliver