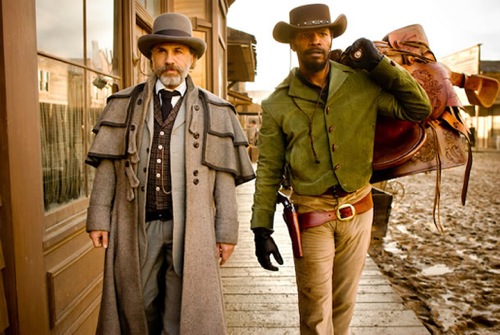 Beaks here...
Remain calm. All is well.
Yes, it's incredibly disappointing to learn that Kurt Russell has bailed on Quentin Tarantino's DJANGO UNCHAINED (which is still shooting in New Orleans), but the production hasn't missed a beat. Russell's role of Ace Woody, a vicious underling of Leonardo DiCaprio's Calvin Candie, will not be recast; his part has essentially been absorbed by Walton Goggins, who plays the equally nasty Billy Crash. It's up to us fans of JUSTIFIED and THE SHIELD to explain to the rest of the world why an expanded role for Goggins is wholly acceptable.
As for why Russell left the production, I've talked to a few folks in the know, and they all say no explanation was given. It was not a dramatic departure; Tarantino quickly readjusted, and that was that. There was no "walking off the set", and Russell's exit certainly had nothing to do with Sacha Baron Cohen dropping out.
I've asked around, but no one seems clear as to what's going on with Cohen's role. Cohen was to appear as Scotty Harmony, a wealthy social misfit who acquires a female slave for companionship (Jonah Hill was actually Tarantino's first choice for the role), but his promotional duties on behalf of THE DICTATOR knocked him out of the film. It's a small role that helps set up the film's antagonist, plantation owner Calvin Candie (Leonardo DiCaprio). It would be disappointing to lose that part of the script, but, if need be, it could be cut.
You'll recall that there was last-second recasting during the shoot of INGLOURIOUS BASTERDS, so this is definitely not cause for panic. It just so happens that he's got a huge cast, and a lot of name actors who'd kill to be in his film - and with a fixed December 25th release date, Tarantino simply doesn't have time to wait for actors' schedules to clear up. Aside from these minor snags, it sounds like DJANGO UNCHAINED is coming along beautifully.