Hello ladies and gentlemen, Muldoon here with an interesting tidbit of news. Foo Fighters frontman and Nirvana drummer Dave Grohl is stepping off the stage to get his hands dirty in a new documentary he's directing and producing about Sound City Studios - a major player in the recording world. Grohl and the rest of the Foo Fighters starred front and center in FOO FIGHTERS: BACK & FORTH a year ago, so I can only assume that project lit some sort of fuse in the guy. Seems like an interesting project that's obviously pretty close to the guy's heart - I'll certainly be checking it out, how about you folks?
Check out the press release:
(May 1, 2012, Los Angeles, CA) – Confirming widely circulated rumors, Dave Grohl of Foo Fighters and Nirvana announced today that he will direct and produce a feature Documentary film, SOUND CITY about the infamous recording studio in Van Nuys, California. The film was conceived by Grohl after purchasing the legendary Neve 8028 recording console from Sound City Studios last year. The console, built in 1972, is considered by many to be the crown jewel of analog recording equipment, having recorded such artists as Neil Young, Fleetwood Mac, Tom Petty, Cheap Trick, Guns and Roses, Fear, Nirvana, Rage Against the Machine, Slipknot, Nine Inch Nails, Metallica, and countless other musical legends over the past 40 years.

Through interviews with the artists and producers that created decades of musical history at Sound City, the film will showcase the amazing history of the studio, focus on the albums recorded there that went on to change the world, discuss the human element of music in an age of technology, and feature performances from many of the artists that called it "home".

Grohl's personal connection to Sound City began with the 1991 recording of Nirvana's breakthrough album, "Nevermind". Selling over 30 million copies worldwide, "Nevermind" changed the entire musical landscape and forever altered the course of Dave Grohl's life.

Roswell Films, a division of the Roswell Records label that releases Foo Fighters music, will distribute the film. Key personnel involved with the film include Producer/Director Dave Grohl; Editor Paul Crowder (Dogtown & Z Boys, Once In a Lifetime, Riding Giants); and Writer Mark Monroe (The Cove, Once In a Lifetime, The Tillman Story). The film is also being produced in conjunction with Jim Rota, John Ramsay, and Therapy studios.

Speaking to both the art of music and the art of filmmaking, Grohl crafted the letter below to share his vision for the film. Information and future announcements related to the film can be found at www.soundcitymovie.com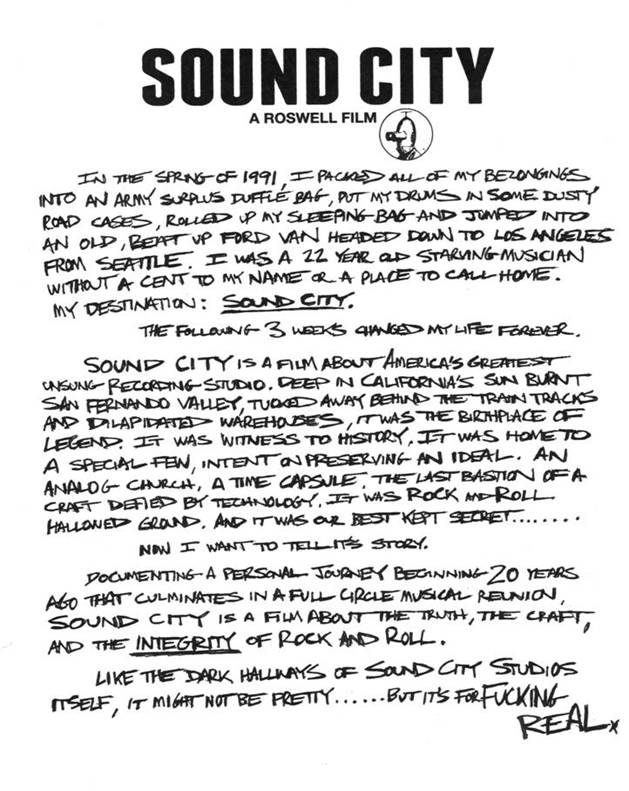 - Mike McCutchen
"Muldoon"
Mike@aintitcool.com