Ahoy, squirts! Quint here. So, yeah, I got to meet Pendleton Ward last night and maybe I geeked out a little bit and maybe we talked about MMOs and maybe I had a cup of Sprite with jello in it and maybe it was delicious and maybe I had a great time at the Mondo gallery looking at a bunch of different artists' interpretation of Ward's bizarro Adventure Time universe. Maybe.
Okay, you caught me. I definitely did all those things.
Although Mondo's Gallery was decked out with multiple dozens of pieces of art there was one print that wasn't included and that's Dave Perillo's show poster for the big Adventure Time Feast that's going on right this very minute. Everybody who bought a ticket gets this mathematical poster, but you get to see it first!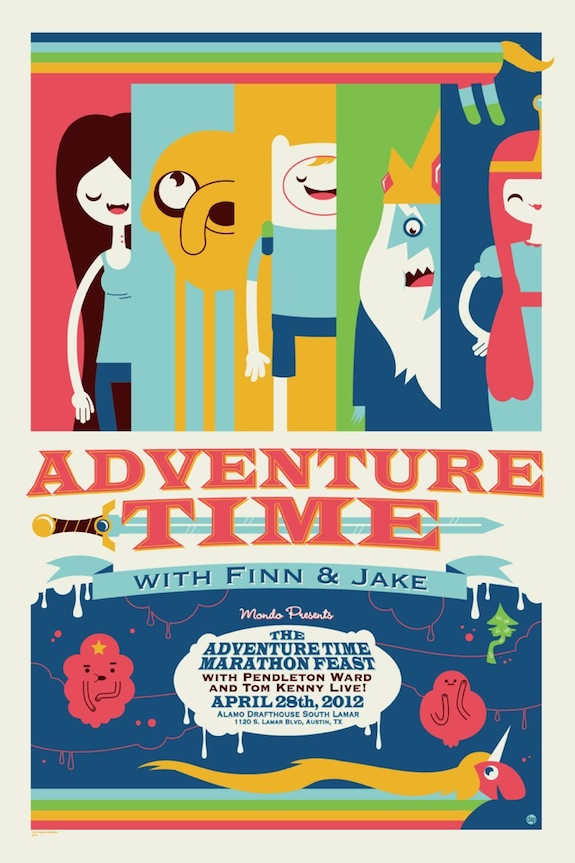 Dave Perillo's poster is 24x36 and limited to 245 pieces.
So, there it is. If you'll excuse me, I'm updating this using a brand new brain-chip that allows me to just think about an article and BAM it gets published… I'm actually sitting in the theater at the feast as this article goes live. How cool is that? This technology is still in its early stages, so forgive any articles that pop up announcing me hitting the Powerball or marrying Carey Mulligan…
-Eric Vespe
"Quint"
quint@aintitcool.com
Follow Me On Twitter