Merrick again...
Here's the relevant snippet of Nimoy's appearance on CNN, courtesy of an Aint It Cool News reader 'Lost In South Florida'.
I've also received some compelling independent confirmation that Nimoy is 'absolutely' in the new film...working more details which I'll share with you should / when they come through.
============================
Merrick here...
So I was just playing back my HD DVR recording of today's Enterprise/747 flyover of New York City.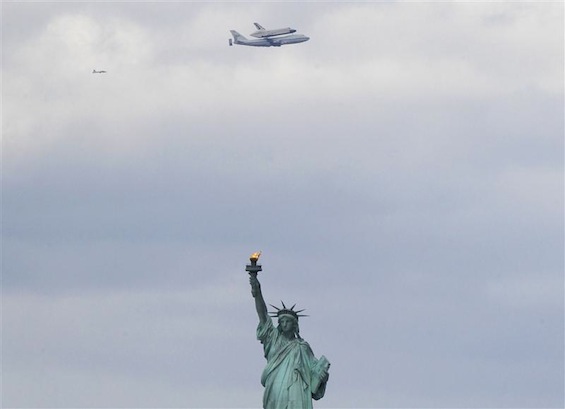 At one point in its coverage, the CNN posse on the ground in NYC rounded up Leonard Nimoy for a quick discussion about the vehicle's arrival. Throughout the piece, the CNN gang could barely control their Geekitude. In their final moments of discussion with Mr. Nimoy...unable to restrain themselves any longer...they went there...trumpeting the "new" STAR TREK movie (presumably referring to J.J. Abrams' 2009 picture), and asking if we'd see him "in another STAR TREK movie?"
Without missing a beat, Nimoy replied with the briefest "Umm..." and in no uncertain terms said "We're talking. We're talking."
Now, it's entirely feasible I've missed something somewhere along the way, but this is the first I've heard of the notion...and the a cursory Google query didn't turn up any evidence to suggest this news is 'out there' yet. His comment seems to have gone by generally unnoticed and unrecognized, but here it is for us to mull now. It should be noted that earlier in the year, Nimoy Tweeted about visiting the set of the new movie - although this certainly isn't (necessarily) an indicator of a fuller involvement with the project.
Will Nimoy be returning as Spock in Abrams' still-in-production STAR TREK sequel? Or is he potentially orbiting yet another TREK film? More as we know more...
P.S. If anyone out there has the ability to locate & grab this snippet (audio or video) & can present it here for embed, drop me a line. 'Twould be much appreciated.
--- follow Merrick on Twitter ! ---