...with a look at "Nightmare of Eden," a four part Tom Baker-era DOCTOR WHO adventure which aired November/December 1979. Partially directed by Alan Bromley...whose stubborn and sometimes contentious nature so fragmented the set that he was dismissed and replaced by producer Graham Williams...and scripted by Bob Baker..."Nightmare" is widely seen as a towering disappointment and a gigantic missed opportunity by both viewers and the people who made it. Is it? Read on for more...
But first...
BBC Home Entertainment, Aint It Cool News, and The Alamo Drafthouse Invite You To A Free Screening Of DOCTOR WHO: 'The Daemons' In Austin!!
Last month, BBC Home Entertainment, Aint It Cool News, and The Alamo Drafthouse bought you a special screening of the newly restored DOCTOR WHO classic "The Three Doctors." That event sold out the largest auditorium in the brand new Alamo Drafthouse in Southwest Austin, and everyone enjoyed the experience so much that we can't wait to show you another classic WHO story on the big screen. So...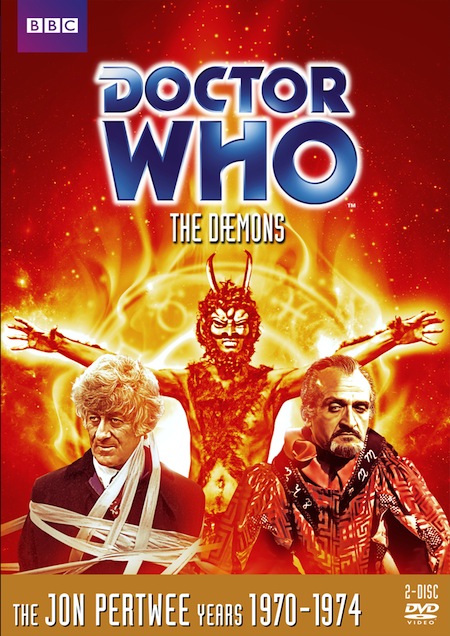 On Saturday April 28 at 1pm at the Alamo Drafthouse on Slaughter Lane in Austin, we'll be screening "The Daemons" which arrived on DVD April 10 - a five part DOCTOR WHO tale from 1971 which BBC describes thusly:
In the peaceful village of Devil's End something very strange is happening. A professor is preparing to open a nearby burial mound, and a local white witch foresees death and disaster. Meanwhile, the new vicar looks suspiciously like the Master, and he is using black magic to conjure up an ancient Dæmon. Can the third Doctor (Jon Pertwee), Jo (Katy Manning) and UNIT stop their old enemy before he succeeds?
The screening is free and is general admission (first come, first seated/served). However, admittance to the screening can be guaranteed by purchasing THIS MEAL VOUCHER in advance.
There was a great deal of interest in our last screening, so I strongly recommend moving quickly to make arrangements to attend. I'll be present for discussion and to introduce the episode, and we should have some cool goodies to offer a few lucky attendees as well.
BBC Home Entertainment, Aint It Cool News, and the Alamo Drafthouse are all very excited to bring you this opportunity, and we're looking forward to seeing you there!
BBC Home Entertainment and Aint It Cool News Would Like Have One More Chance For You To Snag DVD Copies Of The DOCTOR WHO Classics "The Daemons" And "Carnival of Monsters"!!
Last week, we offered "The Daemons": and "Carnival of Monsters" to a lucky reader who e-mailed at or closest to a pre-selected time. The person who came closest?
Thomas R, of TX.
My pre-selected time was Saturday April 21 at 11:59am CST USA. Thomas' e-mail arrived at 12:04 PM CST USA. Thomas, your contact information has been passed onto BBC, who is generously handling fulfillment of this giveaway.
If you're not Thomas, and most of you aren't, we've another opportunity receive the same titles! To commemorate our super-cool screening of "The Daemons" next week, BBC Home Entertainment and Aint It Cool News are giving you a chance to snag two recent DVD releases, each featuring wonderfully restored versions of a compelling DOCTOR WHO adventure. Both sets are loaded with insightful and fun extras.
Up for grabs once more?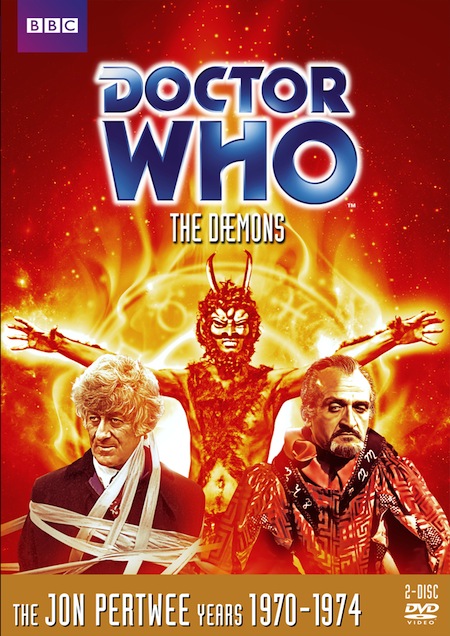 In the peaceful village of Devil's End something very strange is happening. A professor is preparing to open a nearby burial mound, and a local white witch foresees death and disaster. Meanwhile, the new vicar looks suspiciously like the Master, and he is using black magic to conjure up an ancient Dæmon. Can the third Doctor (Jon Pertwee), Jo (Katy Manning) and UNIT stop their old enemy before he succeeds?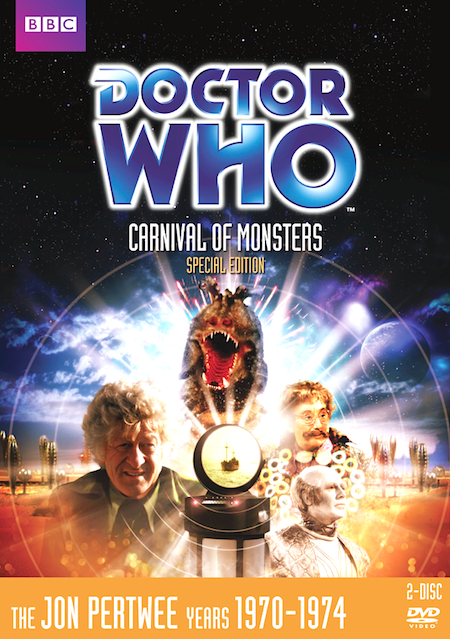 Freed from his exile on Earth, the third Doctor (Jon Pertwee) takes Jo (Katy Manning) on a test flight in the TARDIS, landing aboard SS Bernice, a cargo ship that appears to be crossing the Indian Ocean in 1926. As events take a dangerous and unexpected twist, it seems that their fate lies in the hands of a traveling showman named Vorg and his assistant Shirna, who have just arrived on the distant planet of Inter Minor with an amazing intergalactic peepshow called the Miniscope.
What do you have to do to snag one of these? Between now and 12 (noon) CST USA on Monday April 30, I've pre-selected one (1) time of day on one (1) pre-selected date. Whoever e-mails me at, or closest to, my pre-selected time on my preselected date will win this prize pack.
Only THREE ENTRIES PER PERSON, PER DAY, will be allowed. Anyone deviating from this limitation will see all of their entries for that day summarily discarded.
BE SURE TO INCLUDE YOUR FULL ADDRESS IN YOUR SUBMISSION. This is to expedite shipping of your prize only - no Spam lists or mass mailings or anything like that. All entries will be summarily deleted once a recipient is chosen.
BE SURE TO SEND FROM A FREQUENTLY CHECKED E-MAIL ADDRESS!! If I need to contact you and can not do so, I'll quickly move on to the next closest entry.
IN THE SUBJECT LINE, include the phrase "Good Grief!" If this is not in your subject line, your message won't be filtered correctly and I'll most likely not see it.
BE SURE YOU SEND E-MAIL TO THE ADDRESS LINKED BELOW!! You'd be surprised how many people send entries to the wrong place.
CONTEST OPEN TO NORTH AMERICAN READERS ONLY!!
Have fun, best of luck, and thanks so much for your time and support!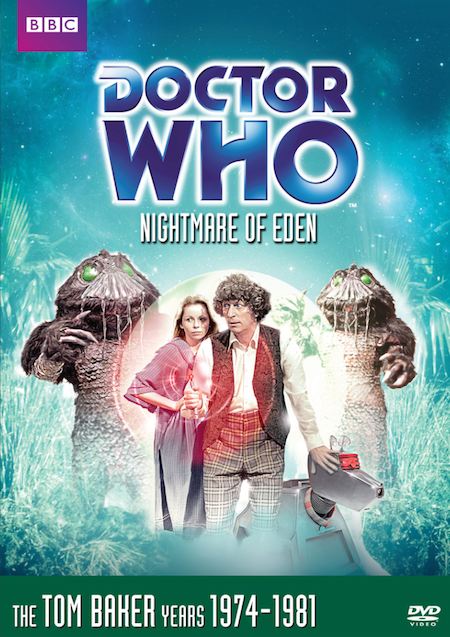 "Interfere? Of course we should interfere! Always do what you're best at - that's what I say..."
- the Doctor, "Nightmare of Eden" Part 1
The Doctor (Tom Baker), companion Romana (Lalla Ward), and K9 II arrive on board interstellar cruise liner Empress...currently ensnared with a smaller vessel, the Hecate. Our heroes' efforts to separate these ships reveals that all is not as it seems aboard the Empress. There's evidence that a highly addictive and dangerous drug called Vraxoin has been smuggled aboard (a drug so dangerous an entire planet was previously incinerated in an effort to rid the universe of it once and for all). Compounding the crisis, a device called the CET (Continual Event Transmitter)...something of a portable holodeck/catalogue of plant and animal life from across the galaxy...is acting up, spilling undesirable beasties called Mandrel onto onto the already beleaguered Empress...
"Nightmare of Eden" is, essentially, a MIAMI VICE episode set in the DOCTOR WHO universe. Where is a hideously illegal drug coming from? How was it smuggled on board a cruise liner? Who's to blame, and how can they be stopped? All set against a cosmic tapestry, and utilizing clever, science fictiony gags as essential points in the villain's dastardly scheme to keep the universe hopped up. All of which sounds like a fine idea - but the undertaking is tragically hamstrung in nearly every respect.
While Bob Baker's script for "Nightmare" is strangely dour compared to many WHOs, this tone may not be wholly inappropriate considering the story's indisputably edgy subject matter. After all, the results of drug use are clearly illustrated here: authoritative characters in positions of responsibility are overcome with catastrophic apathy, and folks needing a hook-up are shown to be dangerously indifferent to life-threatening crises - concerned only with their shakes, jitters, and finding their next fix as soon as possible. Not necessarily a fertile stomping ground for comedy.
Which is completely fine. DOCTOR WHO is sometimes most potent when it's not being witty, and its exploration of human foibles (like the Opium use illustrated in "The Talons of Weng-Chiang") have emerged as a vital element of the show over the years.
The tragedy here is that "Nightmare" ultimately falls flat on its ass in several key regards - Baker's joyless-but-solid script truly being the least of the issues at hand. And from the sound of maters, a lions' share of this story's shortcomings can be leveled at director Alan Bromley - an experienced producer and director of television drama who evidently never found his footing with this, his second visit to DOCTOR WHO (having previously helmed "The Time Warrior," Pertwee, Story #70). By many accounts, Bromley was stubborn and unwilling to adapt to the show's carefully honed, time-tested production methodology - resulting in considerable unrest on-set. So much so that he was ultimately relieved of duty and producer Graham Williams completed the shoot. With this in mind, it is to the vast credit of all involved that the story feels as consistent as it does...not an easy thing to accomplish when so much upheaval is present during the making of any TV show or film.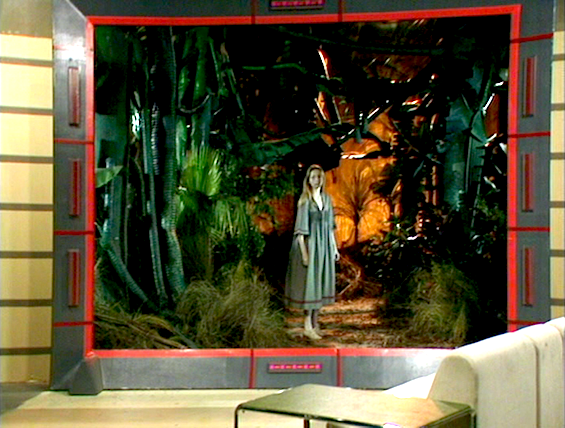 Romana (Lalla Ward) - an otherworldly Alice within the high-tech looking glass called CET (Continual Event Transmitter)
But this same relative consistency also gives rise to a number of paradoxical downfalls. Namely, problems which plague the adventure from the get-go pretty much remained in place even when a substitute director was drafted. There was no time, no money, and perhaps no raw energy left to undo the damage brought about by outgoing director Bromley. As a result, the story's innate shortcomings are rarely (if ever) smoothed over. Effectively undercutting the integrity of Baker's script at nearly every turn, and preventing a promising and potentially relevant adventure from ever taking flight.
Lewis Fiander as Tryst, the scientist whose CET machine pulses at the heart of this story, feels like he's performing a broad caricature instead of morphing into an organic creation. With his square, thin-rimmed glasses and affected Eurotrash accent, Fiander often evokes Peter Sellers' Dr. Strangelove more than the relevant scientist he's purported to be in this story.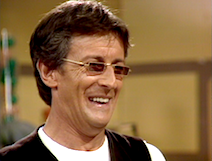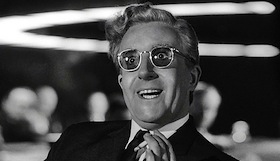 (l- Lewis Fiander as Tryst, r - Peter Sellers as Dr. Strangelove)
The finale of one action movement hinges on a hugely silly moment in which the Doctor lures pursuing Mandrels into a jungle environment within the CET's projection. The Doctor ducks off camera, the Mandrels pursue, and after a moment we hear the Doctor evidently being torn to shreds - "Oh, my fingers! My arms! My legs! My everything!" He stumbles out again, a bit battered and torn, a few moments later. The execution of this is cheap, lazy, idiotic and surely represents on of "classic" DOCTOR WHO's most bottom dwelling moments. This is the stuff of under-rehearsed Middle School plays or bad comedy skits...not good science fiction, or even a reasonable attempt at storytelling.
Several chases through spaceship corridors evoke keystone cops rather than netting even the most passing sense of peril, and another clumsy faux pas finds the Doctor pronouncing a Mandrel 'quite dead' - even though it's seen clearly breathing over the next few shots. A small nitpick to be sure, and this creature does indeed come back to life soon thereafter.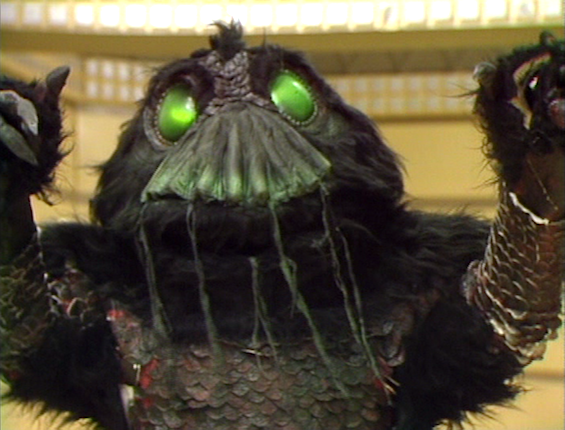 But this kind of ludicrous implausibility makes it impossible to take even such a simple story motion seriously in any way. It should be noted that, even with this somewhat embarrassing oversight, a dead Mandrel does eventually provide provide a very nifty story element which is actually something of a spoiler. Suffice to say, when one of 'em is down for the count, something happens beyond it simply laying there. It's a surprising plot point as well as a nicely executed visual effect. Well played.
Childish production design by Roger Cann and Rupert Jarvis' shabbily Vegas costumes both evoke Glen A. Larson's deliberately gaudy BUCK ROGERS IN THE 25th CENTURY of the same era - diminishing the adventure's atmosphere further, and strangely accentuating the shabbily realized Mandrel creatures themselves. In short: the "look" of this episode is completely at odds with the intent of Baker's script, thus the internal universe of (the vibe or tone of "Nightmare") never comes together fully.
"Nightmare" marks the first episode I've seen featuring Romana. I'm aware that actress Lalla Ward was in a real-world relationship with Tom Baker by this point in the show, but there's no on-screen chemistry evident whatsoever in this tale. In fact, the two seem rather dull together - arguably the least connected Doctor/companion pairing I've yet encountered. Furthermore, based on my understanding of her origin, I'm not sure Romana's character makes much sense. For a Time Lady, who apparently once considered the Doctor to be her academic inferior (per
THIS
Wiki entry), and should (theoretically) be endowed with a touch of elevated intelligence herself, she seems rather meek, decidedly un-savvy, and a tad thick. Perhaps her character, at this point in the show's development, had simply been relegated to the status of "an every person" companion? I'm guessing having two eccentric super-geniuses in play and working together may've stacked the odds a bit too much in favor of our heroes dramatically and narratively, and I could easily see a downshift of her conceptualization occurring. AN ESSENTIAL QUALIFIER: my reaction to Romana may well change once I've seen her introduction in context, and more fully experience her development (or lack thereof).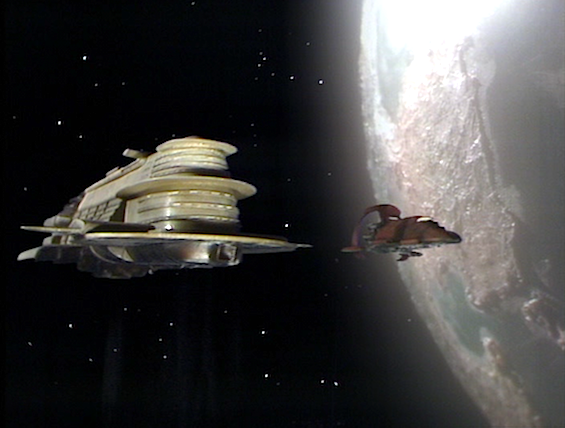 Interstellar cruise liner Empres (the larger ship) and Hecate orbit Azure. "Nightmare" was the first DOCTOR WHO to use video technology to realize visual effects, rather than the filmed approaches which had been previously called upon. The results were mixed (see "Extras" notes below...)
Strangely, for all of its shortcomings and clumsy missteps, "Nightmare of Eden" doesn't leave a particularly bad aftertaste, although I'm not sure this is necessarily an indicator of quality. Instead, it's a grim testament to the sensationalist thrill people often get when watching a disaster unfold on live television, or that irresistible compulsion to rubberneck passing an when automobile accident. Sometimes we just can't help but embrace the suck of that moment, which pretty much sums up "Nightmare" in a nutshell.
Extras include...
The Nightmare of Television Centre (13:24)
-- Insight from Colin Mapson (Visual Effects Designer) and A J "Mitch" Mitchell (Video Effects Designer).
The two discuss the financially based decision to shoot the model work (space ships) for this story on less expensive video as opposed to using film as the show normally did.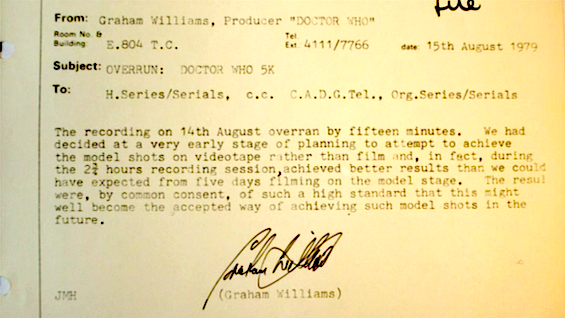 "Um, well, I think I must disagree with just about everything on that memo." - Colin Mapson, VIsual Effects Designer
Also interviewed is Val McCrimmon (Assistant Floor Manager - 2004 interview).
** Much ribbing of the story's woeful Mandrel costumes
** Discussion of problems on-set with director Alan Bromley, an experienced but "old school" producer/director who would not bend to DOCTOR WHO's established way of generating shows/material. As a result, there was much tension on set and Bromley very much rubbed Tom Baker the wrong direction.
Going Solo (7:45)
Writer Bob Baker discusses writing "Nightmare of Eden" without Dave Martin, his usual writing partner with whom he'd scripted episodes like "
The Three Doctors
" (Pertwee, Story #65) and "The Sontaran Experiment" (T. Baker, Story #77)
.
The Doctor's Strange Love (15:43)
Simon Gurrier with Josie Longand Joe Lidster in a piece shot in Sarah Jane Smith's attic, discussing whether or not drugs are "a suitable subject" for DOCTOR WHO.
Ask Aspel (11:03)
Vintage reel of Michael Aspel interviewing Lalla Ward (companion Romana). She (sorta) discusses how the name Lalla came from her proper name, The Honourable Sarah Ward, and talks about working with "monsters," her clothing on the program, etc. She seems a touch annoyed by the experience. This show has a very cool title sequence.
Coming Soon
"Dragonfire" (McCoy, Story #151 )
Photo Gallery (5:49)
PDF
Radio TImes Listings
____________________________________
NEXT WEEK
"Dragonfire" (McCoy, Story #151)
____________________________________
PREVIOUS DOCBACKS
[SEASON / SERIES SIX DOCBACKS]

"The Impossible Astronaut"

"Day of the Moon"
"The Curse of the Black Spot"

"The Doctor's Wife"

"The Rebel Flesh"

"The Almost People"
"The Doctor, The Widow and the Wardrobe" (2011 Christmas Special)
[RETRO-WHO DOCBACKS - MOST RECENT DOCBACK IS HIGHLIGHTED]
"An Unearthly Child" (Story #1)
"The Daleks" (Story #2)
"The Edge of Destruction" (Story #3)
"Marco Polo" (Story #4)
"The Keys of Marinus" (Story #5)
"The Aztecs" (Story #6)
"The Sensorites" (Story #7)
"The Sensorites" (Story #7 - full DVD release)
"The Reign of Terror" (Story #8)
"Planet of Giants" (Story #9)
"The Dalek Invasion of Earth" (Story #10)
"The Rescue" (Story #11)
"The Romans" (Story #12)
"The Web Planet" (Story #13) / SHERLOCK - "A Scandal in Belgravia" (Story #4)
"The Crusade" (Story #14)
"The Space Museum" (Story #15)
"The Chase" (Story #16)
"The Time Meddler" (Story #17)
"Galaxy 4" (Story #18)
"The Gunfighters" (Story #25)
"The Tomb of the Cybermen" (Story #37)
"The Colony in Space" (Story #58)
"The Daemons" (Story #59)
"Day of the Daleks" (Story #60) + Preview of the DotD Special Edition
"The Three Doctors" (Story #65)
"Carnival of Monsters" (Story #66)
"Invasion of the Dinosaurs" (Story #71) and SHERLOCK: "The Reichenbach Fall" (Story #6)
"The Android Invasion" (Story #83) and SHERLOCK: "The Hounds of Baskerville" (Story #5)
"The Face of Evil" (Story #89)
"The Robots of Death" (Story #90)
"The Talons of Weng-Chiang" (Story #91)
"The Sun Makers" (Story #95)
"The Awakening" (Story #131)
"Frontios" (Story #132)
"The Caves of Androzani" (Story #136)
"Time and the Rani" (Story #144)
"Paradise Towers" (Story #145) + New WHOvian Documentary / Newsbits
"The Happiness Patrol" (Story #149)
DOCTOR WHO: THE COMPLETE SIXTH SERIES
Merrick's Personal Journey With The Doctor (How Merrick Got Hooked On DOCTOR WHO)
DOCTOR WHO Title Sequences & DW At Comic-Con 2011
"The Crash of the Elysium" (Manchester version - interactive DOCTOR WHO adventure)
Why Eccleston Left, Here Comes Caroline Skinner, And Season/Series Six Part 1 on Blu-Ray And DVD

New Trailer For Season/Series Six Part 2
DOCBACK CODE OF CONDUCT
1) a Docback should be about completely open and free discourse regarding all things WHO with, obviously, some variation on subject matter from time to time - the real world intervenes, discussions of other shows are inevitable, etc.)...

2) matters of SPOILAGE should be handled with thoughtful consideration and sensitivity.

Posts containing SPOILERS should clearly state that a SPOILER exists in its topic/headline and should never state the spoiler itself . "** SPOILER ** Regarding Rory" is OK, for example. "** SPOILER ** Battle of Zarathustra" is fine as well. " **SPOILER** Why did everyone die?" Is NOT good.
And, above all...

3) converse, agree, disagree, and question as much as you want - but the freedom to do so is NOT a license to be rude, crass, disrespectful, or uncivilized in any way. Not remaining courteous and civil, as well as TROLLING or undertaking sensational efforts to ignite controversy, will result in banning. Lack of courtesy may receive one (1) warning before a ban is instigated. Obvious Trolling or Spamming will result in summary banning with no warning. One word posts intended to bump-up any Docback's figures on AICN's "Top Talkbacks" sidebar will be considered actionable Spam - they not only complicate efforts to access Docback from mobile devices, but impede readers' abilities to follow or engage in flowing conversation.
In short, it's easy. Be excellent to each other. Now party on...