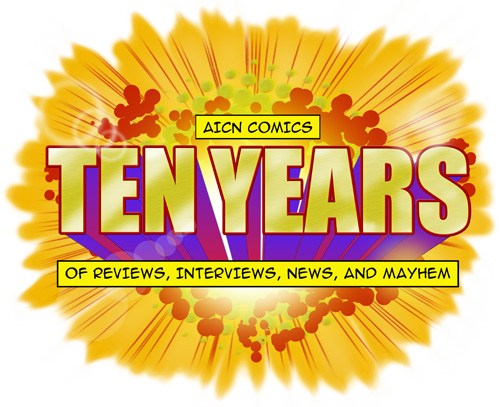 | | | |
| --- | --- | --- |
| Issue #56 | Release Date: 4/18/12 | Vol.#10 |
The Pull List
(Click title to go directly to the review)
BATMAN #8
SEVERED HC TRADE
TITMOUSE MOOK VOL. 2
RESET #1
NIGHTWING #8
NEW AVENGERS #24
ICHABOD JONES: MONSTER HUNTER #1-3
THE JAMES BOND OMNIBUS 003: THE GOLDEN GHOST
RAGEMOOR #2
DAMES OF THE ATOMIC AGE OGN
CHEAP SHOTS!
---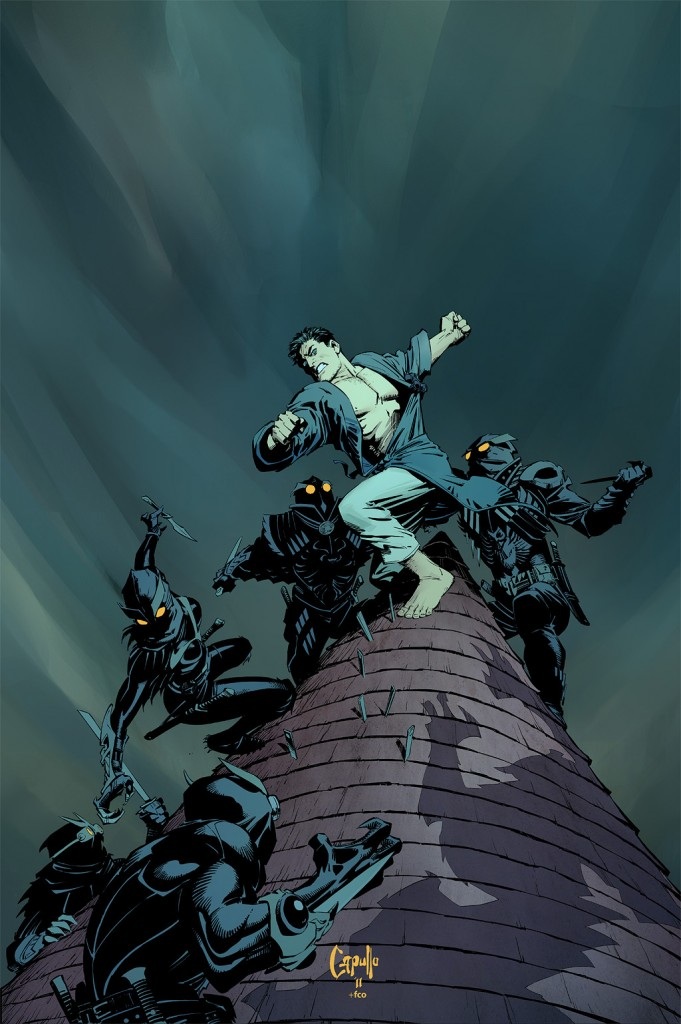 BATMAN #8
Writer: Scott Snyder
Artists: Greg Capullo & Rafael Albuquerque
Publisher: DC Comics
Reviewer: Optimous Douche
BATMAN pre-New 52 was a convoluted mess. Don't get me wrong, Morrison was hired to do a job and he did it admirably. But BATMAN was deconstructed to a point where the man was completely lost and the Bat was all that remained. Here's the thing about bats, though: they're a weak creature that only becomes threatening en masse, the direct antithesis of the Dark Knight's modus operandi. Taking the "man" out of BATMAN by itself was a mistake worthy of the continuity flush we got last year.
And just like with a literal flush, what you get in its place is a sparkling clean bowl. The trick this time is to ensure no excrement touches the pristine waters. Say what you want about the New 52 and I'll probably agree with you; some books have simply not lived up to the hype. With BATMAN, though, Snyder has achieved new heights of excellence because of one simple tenet: Bruce is just as important as the Bat.
Just as he did with Dick Grayson in pre-52 DETECTIVE, Snyder has spent the past seven issues of BATMAN expertly balancing the quiet moments of character with the cacophony of Gotham insanity. Snyder also showed us that there are still new ideas out there, especially when it comes to Batman's villains. While other Bat books have gone back to the well of old standards like The Joker and Penguin, BATMAN created a new threat for the Dark Knight in The Court of Owls.
The Owls concept made me groan at first. It seemed too simple. OK, we get it; owls hunt bats, so what? The "so what" was more than just a new breed of Bat hunters--it was a glorious retelling of Gotham history akin to the wonderful miniseries GATES OF GOTHAM. We also learned through a fun CSI DNA moment that Dick Grayson has genetic ties to this old order. See, while The Court of Owls is a new threat to readers, they have been controlling the inner workings of Gotham since the first cobblestone was laid on the dust-ridden roads. Through seven issues, Batmanwas drawn deeper into their plots to regain a more forward-facing control of Gotham and in the process made him literally lose his mind (which was displayed masterfully in the issue you had to read upside down and sideways as Bruce descended into madness).
I'm spending so much time with the history of this series to date because not a lot happened in this particular issue. Even though this is the precursor to the first major DC Crossover "Night of Owls," it really was a bit of prior issue rehashing. I get it: all of those RED HOOD AND THE OUTLAWS fans need this primer before "Night of Owls" encroaches on all Bat books, but for fans of BATMAN this was the denouement of the denouement from BATMAN's first arc. Basically, the Owls invade Wayne Manor. It's fun and fast-paced, but from a sheer "what's the point or plot of this issue", invasion is pretty much the order of the day. This is especially true if you don't have the prior knowledge on why these new invaders are so damn evil and dangerous.
Pretty much the truly new material came in the form of a back-up story penciled by Snyder's AMERICAN VAMPIRE counterpart Rafael Albuquerque. Capullo is no slouch with a pencil, but Albuquerque is so unique this is really the part of the issue stuck out for me. The backup story also set the stage for the crossover into the other bat themed titles NIGHTWING, BATWING and the aforementioned RED HOOD (among others). I also enjoyed Snyder's homage to "The Godfather" in this part: basically, the Court of Owls aren't going to take over Gotham through any bullshit grassroots efforts-- if you hold a position of power in Gotham the Owls have your number.
Time has made me very apprehensive of crossovers, but Snyder has never disappointed. I'm intrigued to see if one will negate the other. I'm also really looking forward to Red Hood helping Bruce out, given Jason Todd's past dalliances and current seething hatred towards Gotham's favorite son.
Optimous has successfully blackmailed fellow @$$Hole BottleImp into being his artist on Average Joe. Look for Imp's forced labor on Optimous brain child in mid-2012 from COM.X. Friend Optimous on FaceBook to get Average Joe updates and because ceiling cat says it's the right thing to do.
---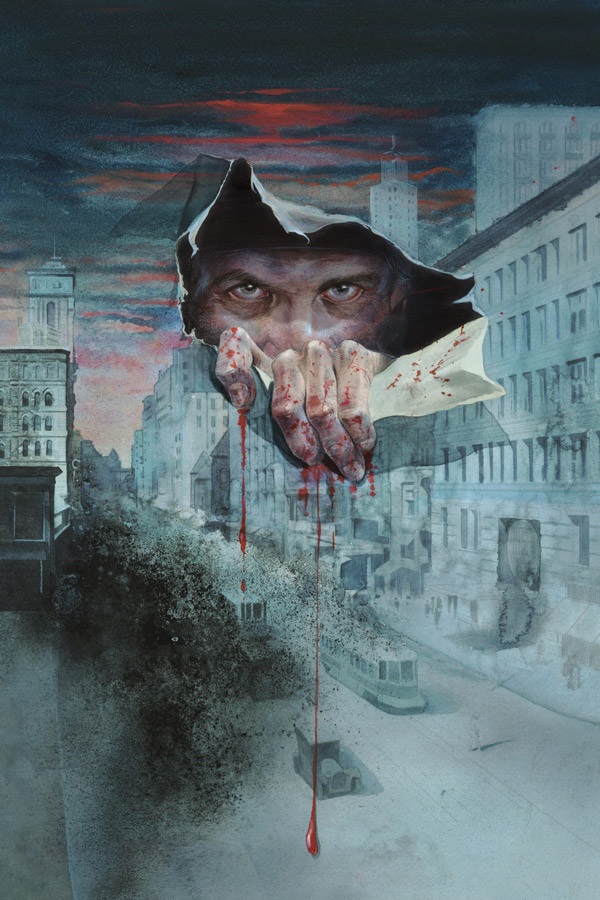 SEVERED HARDCOVER TRADE
Writer: Scott Snyder & Scott Tuft
Art: Attila Futaki
Publisher: Image Comics
Reviewer: Ambush Bug
Though I don't do it often with other writers, I buy pretty much anything Scott Snyder writes. Usually a writer comes out strongly with a great title, but then the flaws in that writer's style begin to show the more he writes. Now that I've enjoyed his run on DETECTIVE COMICS, the GATES OF GOTHAM miniseries, current runs on SWAMP THING and BATMAN, and have devoured every issue of AMERICAN VAMPIRE I can get my grubby little mitts on, I think I can safely say that I haven't had a bad time reading any of them. So when word hit of SEVERED, Snyder's horror miniseries teaming the writer up with Scott Tuft and doing another period piece doused in all kinds of horror themes, I crossed my fingers that this wasn't going to be the story that shows Snyder's faults.
So far, so good.
SEVERED is an extremely expertly plotted, thoroughly researched, and utterly engrossing tale set in pre-Depression era America. Much like Snyder's previous works, the story is filled with historical details as if Snyder were a time traveler and able to experience the culture himself. Of course, with time travel not possible, it's evident that Snyder, along with Tuft, has researched this era meticulously, adding details that are indicative of the time. It's this level of authenticity that Snyder brings to all of his works, making the world in which his characters have their adventures in seem livable and real.
SEVERED follows a young boy named Jack Garron who dreams of someday finding his absent father who he only has minimal knowledge about. He knows his father is a bluesman and little else. Soon, Jack begins to receive letters from his father and Jack decides to track down the address on these letters. Running away from home, Jack pairs up with another kid on the run, Sam, and the two take off to scam their way to reunite Jack with his father. Along the way, we are introduced to Alan Fisher, a seemingly well-intentioned traveling salesman. But Fisher has a darker side and a set of pointed teeth hiding under his dentures. Devouring the dreams of the young, Fisher is a monster that isn't easily explained, but nevertheless terrifying.
SEVERED is a slow burn of a book. Though each issue is rich in character and cultural nuance, the first few issues may be hard to digest for less patient readers. Those who stick to this story will most definitely find themselves captured within the narrative. The story plows Jack, Sam, and Fisher together and because much time was spent on getting to know these characters, you ache as you see these innocent kids on a collision course with these monsters. Snyder and Tuft don't forget to spice up each issue, though, as they slowly reveal how monstrous Fisher truly is in each chapter, so even though the first few chapters are slower than the rest, there is still an overwhelming sense of foreboding danger and frightful intent throughout.
Bringing another layer of authenticity to this story is artist Attila Futaki. His soft style gives everything a Norman Rockwell feel (the colors done by Futaki and in the latter chapters by Greg Guilhaumond) that exudes a wholesomeness that is oft attributed to this era. When things get dire, the juxtaposition of these soft, warm tones with the horrific imagery unfolding exudes the kind of discomfort one looks for in reading a horror novel. Every page is gorgeously crafted and again, authentic is a word I can't help but reusing since everything from creaky train cars to style of dress to the slimy welcoming ambiance of old blues bars seem to be referenced to a tee.
Snyder has yet to let me down. Once again he's paired himself with another talented writer in Tuft as he did with Kyle Higgins on THE GATES OF GOTHAM. Though it's hard to distinguish who brought what to the table, I've read enough of Snyder's work to know that if his name is in the credits, it's going to be read by me. SEVERED is a masterfully paced thriller with a horrific monster endangering characters that you truly care about. Highly recommended.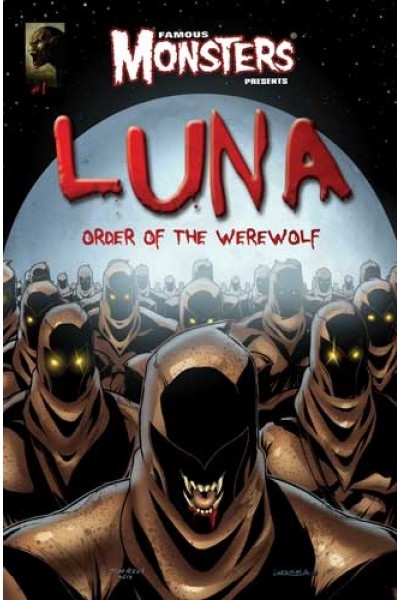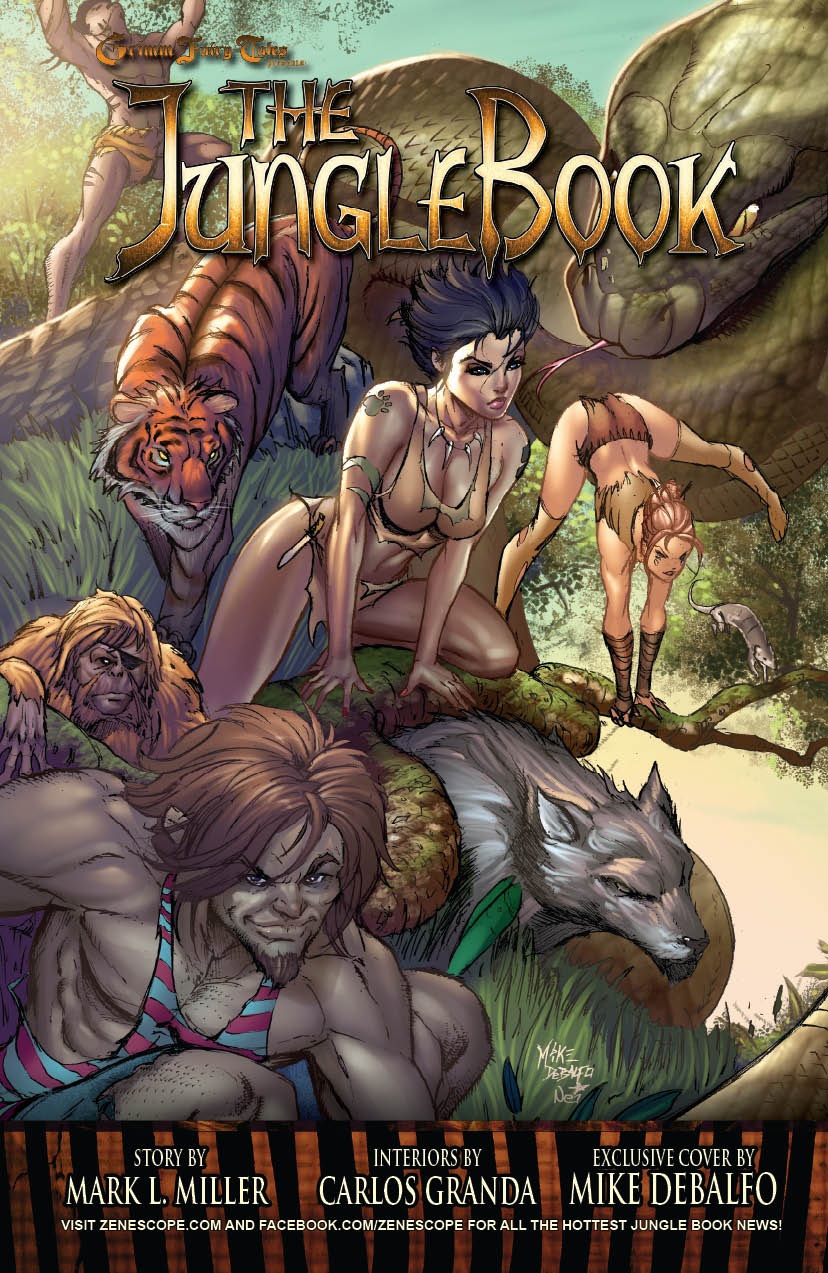 Ambush Bug is Mark L. Miller, original @$$Hole/wordslinger/reviewer/co-editor of AICN Comics for over ten years. He has written comics such as MUSCLES & FIGHTS, MUSCLES & FRIGHTS, VINCENT PRICE PRESENTS TINGLERS & WITCHFINDER GENERAL, THE DEATHSPORT GAMES, WONDERLAND ANNUAL 2010 & NANNY & HANK (soon to be made into a feature film from Uptown 6 Films). He is also a regular writer for FAMOUS MONSTERS OF FILMLAND & has co-written their first ever comic book LUNA: ORDER OF THE WEREWOLF (to be released in October 2012 as an 100-pg original graphic novel). Mark has just announced his new comic book miniseries GRIMM FAIRY TALES PRESENTS THE JUNGLE BOOK from Zenescope Entertainment to be released in March 2012.
---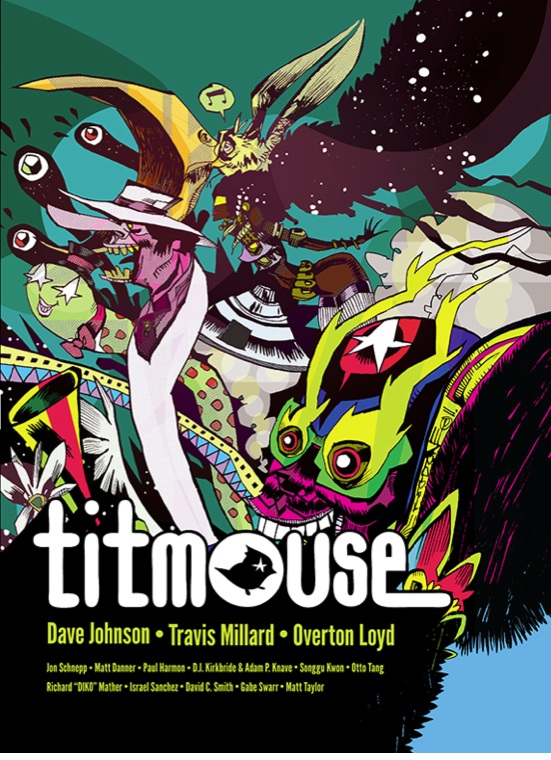 TITMOUSE MOOK VOL. 2
Writers & Illustrators: Paul Harmon, Matt Taylor, Matt Danner, Dave Johnson, David C. Smith, Richard Mather, Gabe Swarr, Vassilis Gogtzilas, D.J. Kirkbride, Adam P. Knave, Songgu Kwon, Israel Sanchez, Jon Schnepp, Otto Tang, Travis Millard

Publisher: Titmouse
Reviewer: superhero
From the animation studio that brought you METALOCALYPSE, SUPERJAIL!, CHINA, IL, BLACK DYNAMITE, and Disney's MOTYORCITY comes
TITMOUSE MOOK VOL. 2
. I had the pleasure of reviewing
the first MOOK
, and I have to say that the second MOOK is a worthy follow up to the previous edition. What you have here is a terrific collection of artists, writers, animators…heck, ARTISTS putting out some of the most eclectic and pleasantly crazy comics I've ever laid my eyes on. But MOOK VOLUME 2 is not just about comics. It's more than that. It's filled with great pieces of art that are both sequential and non-sequential and it includes an article or two! Yes, there are sections where you may have to read words that exist outside of the confines of your beloved word balloons! But that's OK! It'll all be all right! Because as comic fans we can be tolerant of words without pictures and we can accept when brilliant creators such as the ones behind this venture step outside the panel-framed box--or at the very least we should be able to when the collected work is as brilliant as this is.
Many of the artists from the first MOOK make return appearances and continue some of the terrific narratives that they began in the first edition of MOOK. Most notably Dave Johnson presents another chapter of his comic 'Flatuline', Paul Harmon returns with 'Harvest II', and Richard Mather returns with 'Zudintuk 2". The newest additions to the MOOK family impress with their entries as well. Each comic displays a unique voice and storytelling style as well as a confident dash of artistic bravado. MOOK VOLUME 2 is a brash mishmash of unique ideas colliding together into one professionally produced package. It's a must-have collection for anyone who wants to see comics done differently or observe artistic styles that normally wouldn't co-exist under the same umbrella.
Discovered as a babe in an abandoned comic book storage box and bitten by a radioactive comic fan when he was a teenager, superhero is actually not-so mild mannered sometime designer & cartoonist, Kristian Horn of Los Angeles, California. Some of his work can be seen at www.kristianhorn.com and check out his blog at www.parttimefanboy.com. You can check also out his webcomics at www.babybadass.com and thediplomatics.com, which is currently in development.
---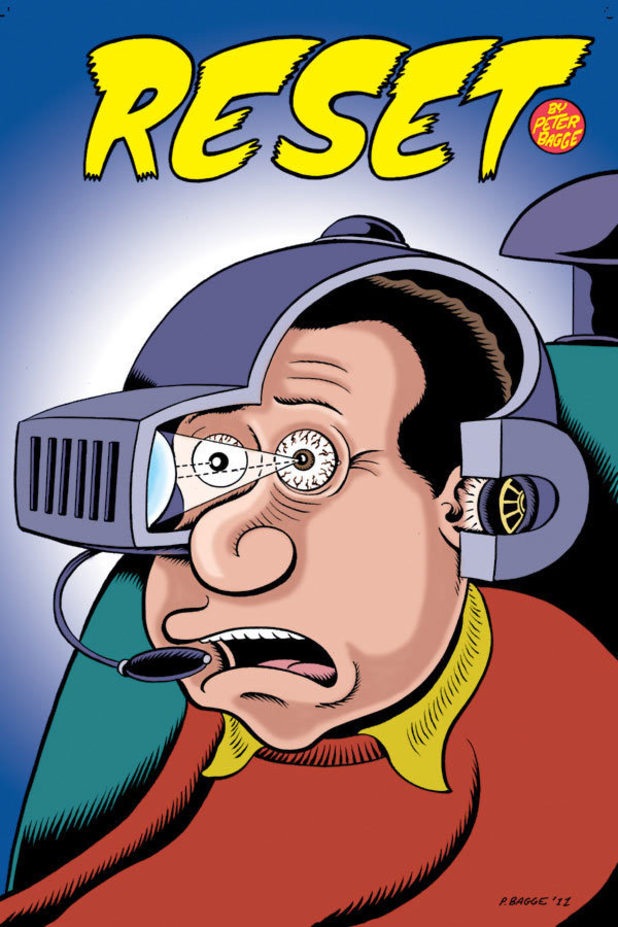 RESET #1
Writer: Peter Bagge
Artist: Peter Bagge
Publisher: Dark Horse Comics
Reviewer: MajinFu
Have you ever regretted something? Guy Krause has and he's reliving his grief every day as part of an "experiment" for which he reluctantly volunteered involving a virtual reality simulator where escape is only possible with the press of a "reset" button.
That's the premise of RESET, a story about a guy who can't seem to escape his past. When we first meet him he's sitting in a D.U.I. class for "road rage" where we learn that he is now a washed-up comedian whose job opportunities are now severely lacking due to his behavior. A chance meeting with a cryptic woman in class leads him to participate in what he assumes is a new form of psychotherapy, although the last few pages hint at a much larger conspiracy at work. It's this mystery tied to the experiment that winds up being the most compelling part of the book, especially since Guy Krause himself is a bit of a selfish jerk.
Peter Bagge's unique cartooning style works to great effect here in keeping the tone and pacing of the comic right on target. It's still just as humorous as his earlier work, maybe even more cheerful, which is saying something when you're dealing with such an unlikable protagonist. Hardly a panel lacks a word bubble, but even then the pages are littered with plenty of expressive characters and lettering to keep the flow and pacing running smoothly. Folks looking for a dense comic that takes more time to read than it does to walk around the block will be pleased with the content in this book. All we get here is a methodical introduction but enough is there to get you acquainted with the cast and have you salivating to find out what is really going on with this experiment.
Like most of Peter Bagge's earlier work, this book is funny in the way it skews reality while creating characters that are very believable and behave like real people. Guy isn't a very likable character but the story compensates with its humor and a surprise ending that will have you wondering what is really going on. This is one of those great first issues where so many ideas and colorful characters are on display that it's hard to tell where the story is really going to go next, and even harder to know where it will all end up. No matter what the conclusion, Peter Bagge is obviously going to deliver a strong satire of society and the technology that surrounds it. Check this book out!
---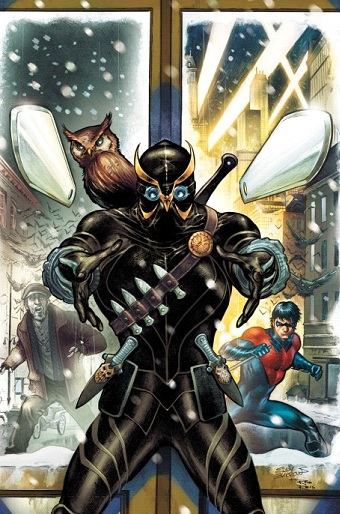 NIGHTWING #8
Writer: Kyle Higgins
Art: Eddy Barrows
Publisher: DC Comics
Reviewer: The Writing Rambler
I've never been a huge fanboy of one particular company or the other when it comes to the Big Two. As a kid I preferred Marvel's books and as I've grown older I find myself tending to fall in line with the DC camp but it's never stopped me from enjoying either of the other's offerings. I figured I'd just mention this as a precursor to me having some negative words towards Marvel's huge AVENGERS VS X-MEN event currently engulfing the Marvel Universe. To me Marvel just hasn't been able to deliver on huge events for a while now. Maybe they just try to go too big. I'm only mentioning this because on the flipside you have DC running their first major (I'm not counting the OMAC/FRANKENSTEIN crossover as a major event and the Green Lantern's Alpha War, or whatever it will officially be called, hasn't started yet) event revolving around one of their main titles. Instead of going huge and trying to include books that don't really fit (I'm sure they'll be doing this soon enough but for now I like it) they are focusing on the Batman family of books. I feel like this is where the events can really shine. You've got a story whose tie ins can stretch over several books while really telling a good tale and not what seems like a forced bunch of fan "dream matches" that won't have a huge effect on the overall universe it takes place in once it's over. BATMAN has done a really impressive job with giving us a new set of villains with the Court of Owls and the Talons, and in NIGHTWING # 8 we get to see that solid buildup transfer over really well into its first tie in book.
NIGHTWING #8 flows seamlessly from the events that take place in BATMAN #8 (a must read before you even think of touching this issue of NIGHTWING) and Kyle Higgins weaves his story of Gotham's past with an action-packed battle between Nightwing and one of the Court's Talons nearly flawlessly. Up until this point Higgins has reminded us just how far Dick Grayson has come in his solo career and successfully finished his first arc by tying in everything that's happening in NIGHTWING to the mysteries hidden in Gotham's background with the Court of Owls. All the pieces begin to fall nicely into place, and unlike so many other tie in books that feel forced and often barely have anything to do with the larger event (other than a cover page telling you that you must buy it), NIGHTWING #8 actually feels crucial to the "Night of the Owls" story. Eddy Barrows' art is a great compliment to the story, and actually one of my favorites of all the current Bat books. My only real critique is that there are a few moments where the artwork dulls itself down during the fight scenes, but it's really nitpicking on my part in an otherwise great piece of work.
Other DC titles and Marvel in general can learn a lot from what the Batman writers are doing right now. We're seeing a really good story that has been given time to be fleshed out over several issues (I highly recommend reading all 8 issues of BATMAN if you haven't already, to get caught up on the Court of Owls backstory) and now we get to enjoy the event that it's all led to. As far as I understand, the "Night of the Owls" storyline will crossover to all of the Bat books over the next month or so and if its anything like what we've been given in NIGHTWING #8 count me on board for checking them all out.
You can follow The Writing Rambler on his blog here and follow on Twitter @Writing_Rambler !
---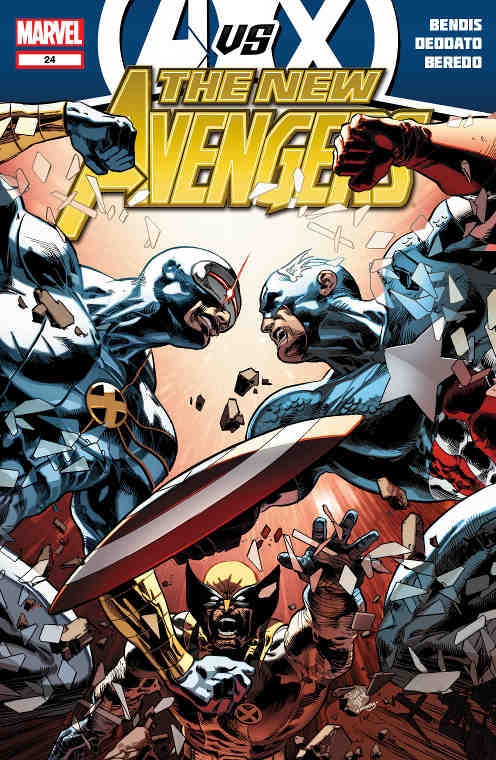 NEW AVENGERS #24
Writer: Brian Michael Bendis
Art: Mike Deodato & Will Conrad
Publisher: Marvel Comics
Publisher: Henry Higgins is My Homeboy
Lull.
As AVENGERS VS X-MEN begins proper, the time to step back and look at the individual Avengers has drawn near. These tie ins are among my favourite parts of these event stories, with Luke Cage's solo issue of NEW AVENGERS during CIVIL WAR one of my top single issues in the past ten years. With Bendis' time on THE AVENGERS drawing short, it's no surprise he spends time on two of his favourite characters, Jessica Jones and Luke Cage. Sadly, the issue isn't one of the better examples of their relationship. Opposed to that, the smaller moments of the team at large are light and enjoyable, and manage to shift easily into set up for AVENGERS VS X-MEN.
Writing: (3/5)
For THE AVENGERS, this is an incredibly talky book, even for a Bendis issue. Almost every panel is filled with interplay, quipping, and monologue. At times, it can grow old. Luckily, for the most part, the dialogue is well paced, managing to be both tongue in cheek and serious within moments of one another without losing a click. The scene shifts from Spider-Man trying to explain what happened during "Spider-Island" to Red Hulk leading the strike team of Avengers against Utopia. Both moments are consistent and well written without feeling forced. The whole issue is like this, utilizing smaller character moments more effectively then the bigger relationship scenes. Storm deciding to leave the mansion when the threat is revealed to be the Phoenix is a tense moment, followed by an unspoken but obvious thought concerning the loyalty of Wolverine. It's a very compact moment that, in a lesser book, would have been expanded too much.
The strength of the issue comes from utilizing a similar method as CIVIL WAR did--the issue focuses on the more personal side of one of the combatants, showing a brief look into Luke's motivations. His conversation with Jessica is quick, and explores a tried and true argument – "We can't be super heroes and parents" - but it doesn't necessarily feel old. Jessica raises good points, but Luke never really gets an opportunity to respond before the action of the storyline resumes.
The issue falls short when it starts to monologue. The Luke Cage section carries on much longer than it should. His speech to the crowd slowly loses momentum until the arrival of Jessica is welcome.
Art: (3/5)
Deodato and Conrad don't get terribly much to do here, but the two manage to turn what should be boring proceedings into very stimulating visuals. The look of the Helicarrier as it heads to Utopia manages to give each individual Avenger some sort of personality and uniqueness. The framing for the Avengers' assault on Utopia is likewise very engaging, and very well done. The issue's brightest moment is the discussion between Jessica and Luke. It's well structured, and manages to feel very intimate and distant at the same time, echoing the rift growing between Luke and Jessica.
The art sputters slightly when it closes up on the characters, notably Luke during his speech to the press simply looks off.
Best Moment:
"I liked your other costume better."
Worst Moment:
The speeches go on a little too long.
Overall: (3/5)
A solid, if flawed examination into the mindset of the Avengers. Hopefully it can reach the same pitch earlier tie ins have.
---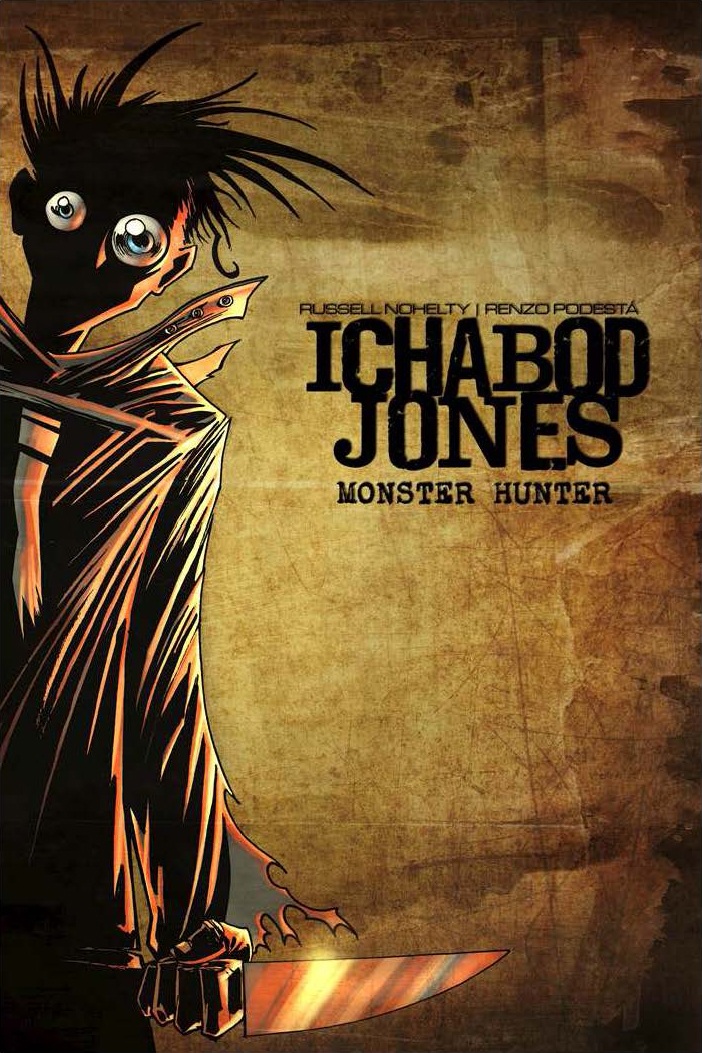 ICHABOD JONES: MONSTER HUNTER #1-3
Writer: Russell Nohelty
Artist: Renzo Podesta
Publisher: Viper Comics

Reviewer: Optimous Douche
The overwhelming success of GLEE indicates that America loves mash-ups, which makes me feel obligated to find an award winning combination of past entertainment to describe ICHABOD JONES.
Put simply, Viper Comics' latest brain child presented an alternate reality where the creepy cuteness of CORALINE collides with the reality-bending mind-fuck that was INCEPTION, and garnishes in a little SILENCE OF THE LAMBS for good measure.
Ichabod Jones is insane…maybe. This waffling has less to do with my lack of commitment and stems more from writer Nohelty's ability to blur the line between what lives in Ichabod's head versus what the rest of the world actually sees. Ichabod Jones is insane by some standards, but that insanity is going to help him save the world…maybe.
From page one you're never sure whether Ichabod is the hero or the villain. Yes, Ichabod kills, but each slaughter is for the greater good of mankind and will save humanity from the apocalypse…or at least, so says the voice in Ichabod's head.
One look at the bible tells us to take Ichabod at his word. How many sage profits climbed a mountain, heard a voice, and then used that voice to guide tribes through the desert or lay their child on a rock to be eaten by buzzards? Sure, in those olden days that voice was given a name, but whether it was Ra, Yahweh or God at the end of the day these fuckers were talking to themselves…maybe. In each case the voice was right, so why shouldn't we believe that the id driving Ichabod isn't speaking from the same plane of good intention for mankind? Should we condemn the voice because it condones murder? Mens rea tells us to throw that argument out the window, as does Dexter Morgan. Sometimes ends justify means--only time will tell what the right choice is.
This line between reality and insanity is blurred from issue one, but becomes even harder to discern as the series progresses. If you were to leave ICHABOD JONES after issue one or the beginning of issue two, Ichabod would indeed be dubbed insane and the clear villain in this tale. Nohelty gives you enough time outside of Ichabod's head to understand he lives in an asylum and there probably is no apocalypse--merely a young man trying to satiate a blood lust. And the voice in his head, oh, the voice in his head. There are really two protagonists to Ichabod playing off of Freud's theories of duality: the id and the ego. In this context Ichabod himself immediately becomes the voice of reason, the rational ego questioning and arguing with the voice on whether his killing is moral.
Nohelty does a wonderful job pacing this series, letting the second half of issue 2 take you full steam into Ichabod's insanity (or maybe reality). There simply is no middle ground. When trapped with other asylum members, both alive and dead, Ichabod devises a way out of entrapment that relies on the literal "intestinal" fortitude of a slayed "monster" to give then a lifeline of hope out of their pit of despair (for the obtuse, he climbs out of trouble using entrails – damn you obtuse and your obtuseness). Issue three becomes even more insane; once outside of entrapment Ichabod and his followers find a deserted wasteland (i.e. welcome to the apocalypse, kids). From here things just get stranger with Dune-like sandworms and a town that seems to be anything but salvation.
This is my second Viper book and I can say without reservation their presentation quality is on par with the Big Two. Podesta's art is definitely stylistic (remember my Coraline comparison from before), but resonates with true emotion and spot-on pacing.
My only criticism, which is also the book's main virtue, lies in whether Ichabod is crazy or not. I know…I know…there's something to be said for mystery, but it is a question Nohelty will need to answer sooner or later. The apocalypse seemed to come from nowhere, leaving us readers with a definite sense of "wha happened?" Regardless, if you want an enticing mystery that's bathed in the blood on innocents…maybe, then look no further than ICHABOD JONES.
---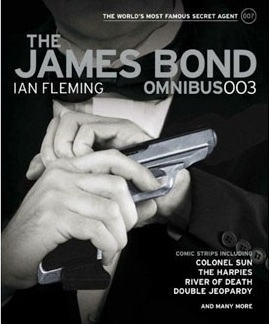 THE GOLDEN GHOST as published in THE JAMES BOND OMNIBUS 003
Writer: Jim Lawrence
Illustrator: Horak
Publisher: Titan Books
Reviewer: superhero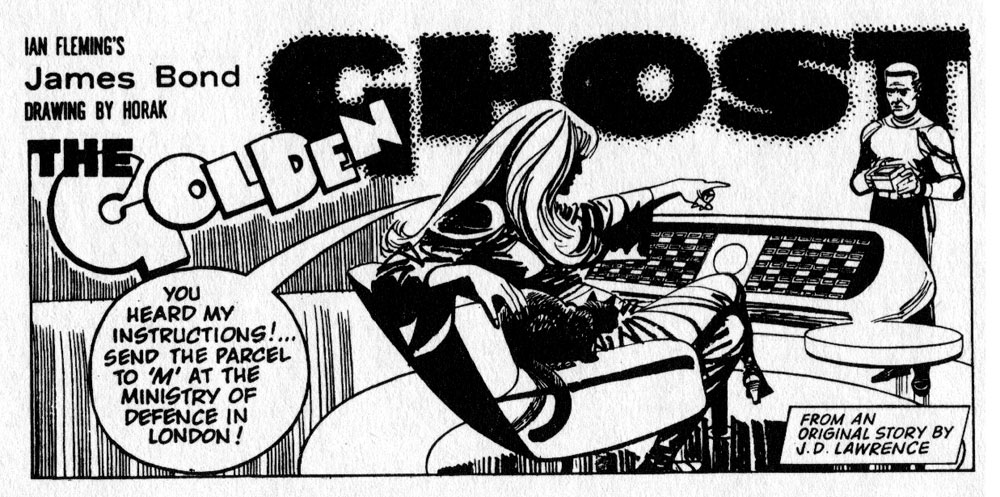 The first thing I have to do is make a correction. Apparently for the past several weeks I've been mis-crediting the writer of these comic adaptations of 007's adventures as Jim Fleming. In actuality, that credit should go to Jim Lawrence. I don't know how I've been making that mistake but I apologize for it. I feel like an ass I can only offer my deepest apologies to Mr. Lawrence (if he is still alive) and his family.
The other thing I'd like to address is that last week a very astute talkbacker pointed out that my review of COLONEL SUN had Fleming listed as the writer when it was in fact an adaptation of a Bond novel by writer Kingsley Amis. I can only say that I was going off of what the book was telling me. I did notice that after COLONEL SUN and beginning with this strip the credits switch from "By Ian Fleming" to "Ian Fleming's James Bond". It seems as if the remaining strips in this book are actually original stories crafted by the aforementioned Mr. Lawrence. But COLONEL SUN was credited to Fleming in the book so that's what I went with. Again, I apologize to Mr. Amis's family if any of them happens to come across this review.
With this chapter, THE GOLDEN GHOST, the Bond strips return to form. For all of my mistakes in laying out the proper credit for the writing of COLONEL SUN, I still found the SUN comic strip adaptation to be a bit on the slow side as far as spy adventures go. THE GOLDEN GHOST kicks Bond back into overdrive. The plot kicks off with the new head of a nefarious criminal organization called S.P.E.C.T.R.E , Lady Spectra, offering to sell MI6 some important information relating to an unknown plot. Bond is set up as the one to pick up the information and the action kicks off from there. As the story unfolds we discover that the British government is on the verge of kicking off a new and exciting era in aviation because of the development of an atomic-powered zeppelin called THE GOLDEN GHOST. Bond finds himself aboard the GHOST to thwart a possible attempt to sabotage its maiden voyage. Of course, things are not always as they seem and sabotage ends up being that last thing on the mind of the bad guys in this particular Bond outing.
OK, so spy stories have never been known for having the most sensible plots, but even I have to admit that this one takes the cake. Apparently no one in Bond's government had ever heard of the Hindenberg, because the idea of an atomic airship sailing through the skies seems like a wonderful idea to everyone involved in this story. Despite the inherent ridiculousness of the idea of developing atomic blimps as the next step in aviation history, Lawrence gets Bond into the action almost immediately and maintains a decent amount of tension throughout the story. Heck, there's even a sequence in GHOST where Bond finds himself literally swimming with sharks. Now that's the type of super villain death trap I can appreciate! THE GOLDEN GHOST is a terrific Bond adventure from beginning to end and manages to be just as entertaining as many of the movie adaptations have been. This is a Bond adventure that will seem very familiar to fans of the films. As to whether that's a good thing or not, it depends upon what kind of a Bond fan you are, but I personally found it highly enjoyable and I consider THE GOLDEN GHOST, despite the silliness of atomic airships, to be one of the best entries in THE JAMES BOND OMNIBUS 007.
In two weeks in the JAMES BOND OMNIBUS 003: FEAR FACE!
---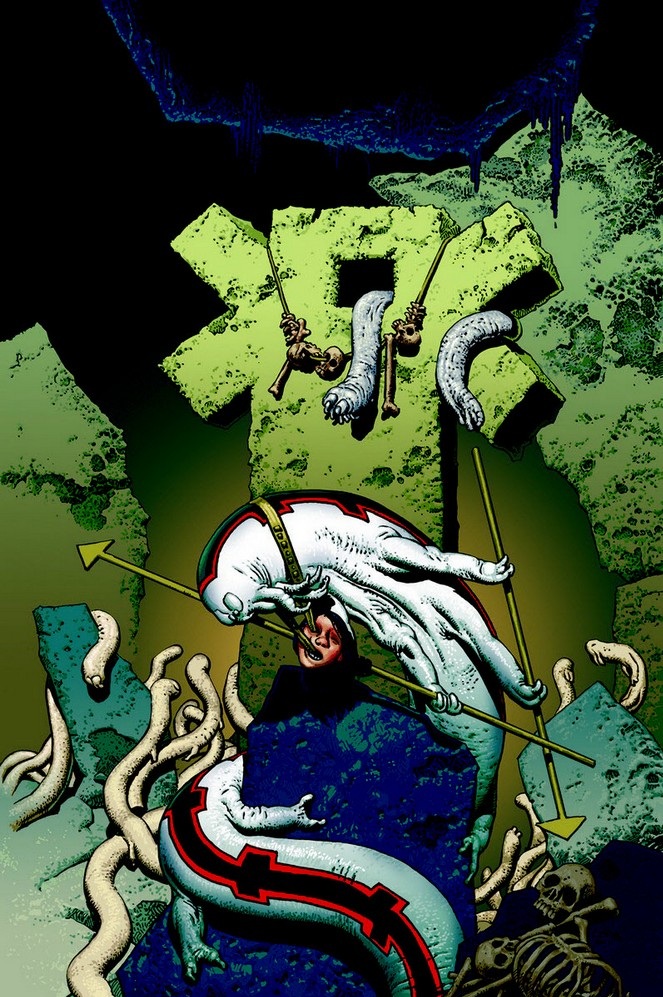 RAGEMOOR #2
Writer: Jan Strnad
Artist: Richard Corben
Publisher: Dark Horse Comics
Reviewer: MajinFu
Can you remember the last time your house needed renovations? Not really the "it's too warm in here, I'll turn on the air conditioner" problem, but more like "skull-monkeys in the basement are at it again. Jeeves, fetch me the Winchester!" Yeah… RAGEMOOR is more like that. The first issue of this horrific new series about a seemingly sentient castle sets the mood nicely and introduced the exterior of the castle with a graphical vigor currently unmatched in the genre.
A good haunted house story can keep you nervous fretting over the physical peril while slowly peeling away the layers around a particular place to reveal the horrifying truth that lurks within. In this case, aspiring poet and lord of the castle, young Master Herbert is forced to descend into the depths of the abode he inherited from his long-absent father. He is accompanied by his hand servant Bodrick, who has been with the house and its inhabitants for generations, and has an affinity for teaching cockroaches how to cook. Further investigations lead to some disturbing revelations concerning the lords of the house, and I can't wait to see where they take this next, although I expect things won't end well for anybody, except maybe the skull monkeys.
In many ways the history of horror fiction is like a haunted house, with its mysterious origins, innumerable participants, and a hodgepodge of global influences. RAGEMOOR draws from this wellspring of dread to create a story that calls upon everything from Lovecraft to Kafka for its inspiration, resulting in a tale that is tragically poetic and frighteningly visceral in equal parts. While this issue is mostly straight action astutely choreographed and composed masterfully by Richard Corben, writer Jan Strnad also manages to hit some potent emotional beats that could spell doom or maybe even hope for the rest of the cast in later installments, especially Hubert's love Anoria, who is already paralyzed from the trauma she suffered in the first issue. Somehow I suspect she is due for a nice comeback before the story finds it conclusion.
RAGEMOOR is an exquisite horror comic with a lot going for it, from the sumptuously detailed visuals that set the haunting mood to the layered story of a strange world previously unknown to many of the inhabitants of the chilly manor. If you are a fan of CREEPY and EERIE or you have been looking for something to keep you up at night worrying over what forgotten species lurks beneath your chambers, this is the book for you.
---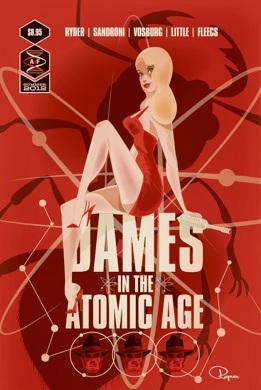 DAMES OF THE ATOMIC AGE OGN
Writer: Christopher Ryder
Artist: Mark Sandroni
Additional artwork: Mike Vosburg, Andy Suriano, Tony Fleecs, Tone Rodriguez, Mark Dos Santos, Steve Downer, Mike Rader, Rashan Ekedal, Paul Little, Chris Moreno
Publisher: Art of Fiction
Reviewer: KletusCassidy
So from time to time we at AICN Comics get requests from independent publishers to take a look at books that would maybe go unnoticed by some of us. Bug had a list on indies that we could look at, so I scanned the names to see if anything jumped out at me and immediately DAMES OF THE ATOMIC AGE caught my eye. I talked with the publisher and they offered to send me a copy. Between my drunken adventures this weekend, I stumbled into the kitchen and noticed I had a package…DAMES OF THE ATOMIC AGE. I flipped through it and found myself excited by what I saw: a noir tale complete with a PI, laser guns, a boxer, giant ants and great art. You know you're curious…
The art in this comic is f'in awesome. It kind of reminds me of John Byrne mixed with Jerry Ordway (two of my all-time favorite artists). The colors are great as well and do a lot to add to the noir feel of this book. A lot of times I feel what is lacking from most independent comics studios (at least that I've seen) is really great art. The art all throughout this comic isn't just good for an independent comic publisher; the art is great, period. Mark Sandroni handles the pencils in the main story but there are a lot of artists that contribute to this book by way of little mini comics that pop up throughout the book that are also a blast to look at. One of the minis is a pretty funny comic strip about a kid detective named Dodger Doogan trying to solve the mystery of the 'Black Dolly'. All of the minis are enjoyable on their own but add to the overall story by partially relating to the events in the main story, similar to how TALES OF THE BLACK FREIGHTER accentuates certain ideas and themes in WATCHMEN.
The story is about a private investigator who took a job to find out if a scientist's wife was being unfaithful; however, there is a lot more to this book than just that. Immediately the book takes some quick left turns that flip this genre and story directly on its head. After I read the first 6 or so pages, I decided that this is one of the strongest openings of a comic I've read in a long time. The story is awesome and moves very quickly, never really giving Ol' Kletus time for his ADD to kick in. At the end of every chapter there's something that ups the ante significantly, then grabs your curiosity, shoves it up against a wall and says "You ain't going anywhere, bub!" This comic had me interested and fully engaged the entire time, but alas it's only volume 1. I need the rest of this story in my life like I need a lime in my Tecate! And I have no problem paying the $9 for the next volume!
This was a really great read with fantastic art by everyone involved. I'm going to pass this comic around to my friends like a spliff at a Willie Nelson concert. The story is well paced and never lets up on the action and intrigue. The whole book is tons of fun from the mini comics to the art to the dialog to covers that mimic old pulp magazines and fight posters: every aspect of this comic works. You can tell that everyone not only put a lot into this comic, it also seems like they had a great time doing it. Honestly, this is my favorite random thing I've read since OUR LOVE IS REAL. This comic has proven to me that I need to seek out more independent comics and not fall into the trap of only buying comics I'm familiar with from big publishers. Find this comic, read it and give it to anyone you know that is slightly interested in cool sci-fi/detective stories…Ol' Kletus will bet on his left bunion that there won't be any disappointments from you or them.
---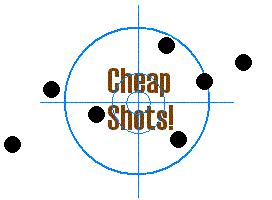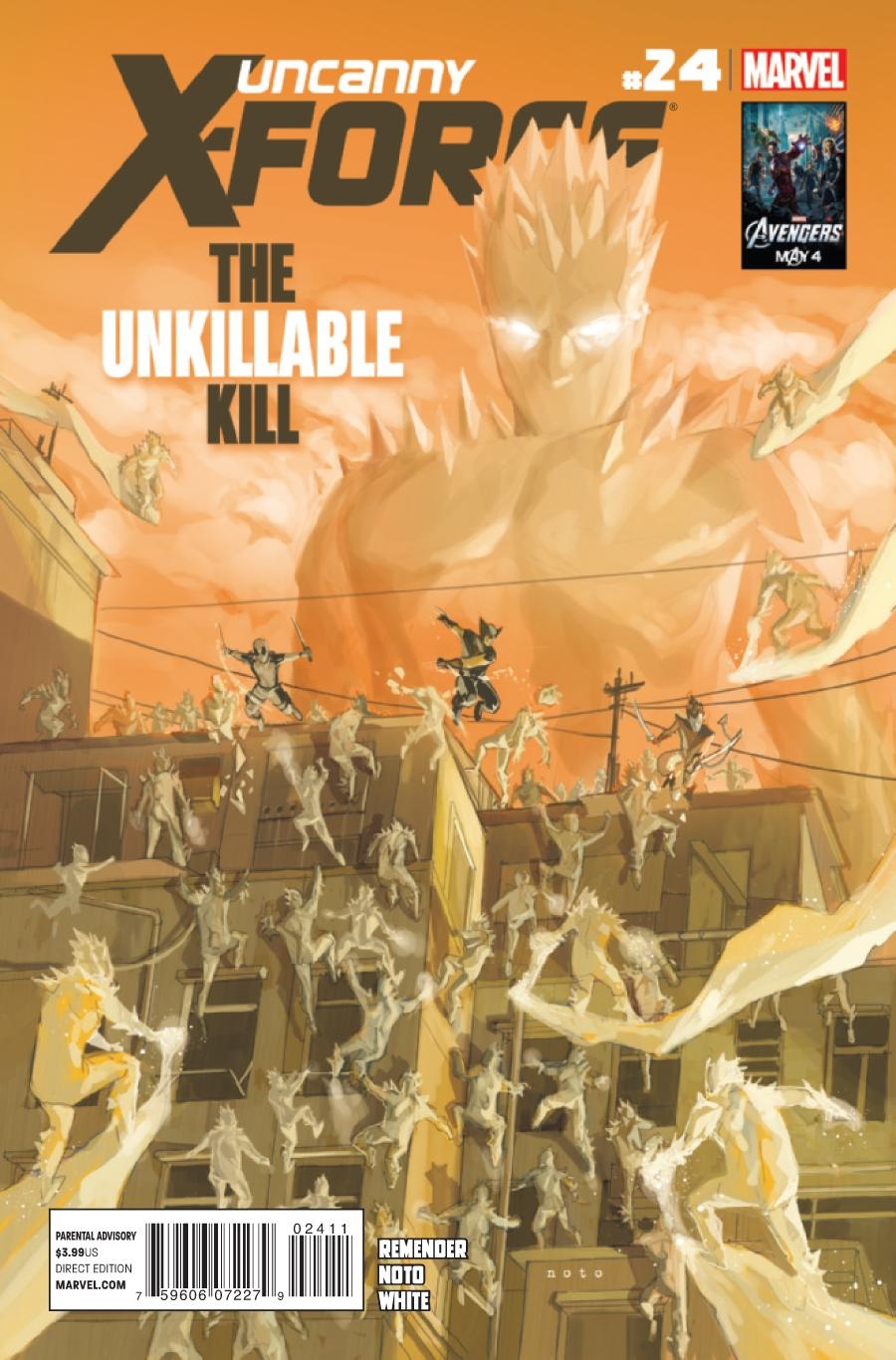 UNCANNY X-FORCE #24
Marvel Comics

Here we go! This one feels like it's back on track. I was mildly disappointed in the time this series has spent with the Captain Britain Corps as it all felt a bit sloppy and disjointed, especially when compared to what Remender had been putting out on a monthly basis with his first eighteen or so issues. UNCANNY X-FORCE seems to have regained a great deal of focus with this issue, and it'll probably be the first time in a while that you'll be able to clearly remember what happened after only one read through. It also may be the first time in a while that you really care what happened, since the internal drama of the team really jumps up a few pegs in that last page, and the Iceman/Nightcrawler battle is as awesome as it is touching. Phil Noto does a great job with the art in this issue, and his work always seems so well balanced, getting the most amount of detail into every panel without it ever seeming too cluttered or indecipherable. I don't like his Wolverine face, but I tend to be very particular about Wolverine's face, and my reasons for it rarely make any sense, so I won't be counting this against him (if you must know, I think it looks like he might have a nice smile…see? Doesn't make any sense). But anyway, if you've been putting off UNCANNY X-FORCE for whatever reason since the Dark Angel Saga wrapped, I think this issue is a good time to jump back on and prepare for what could be another great X story from Rick Remender. -
The Dean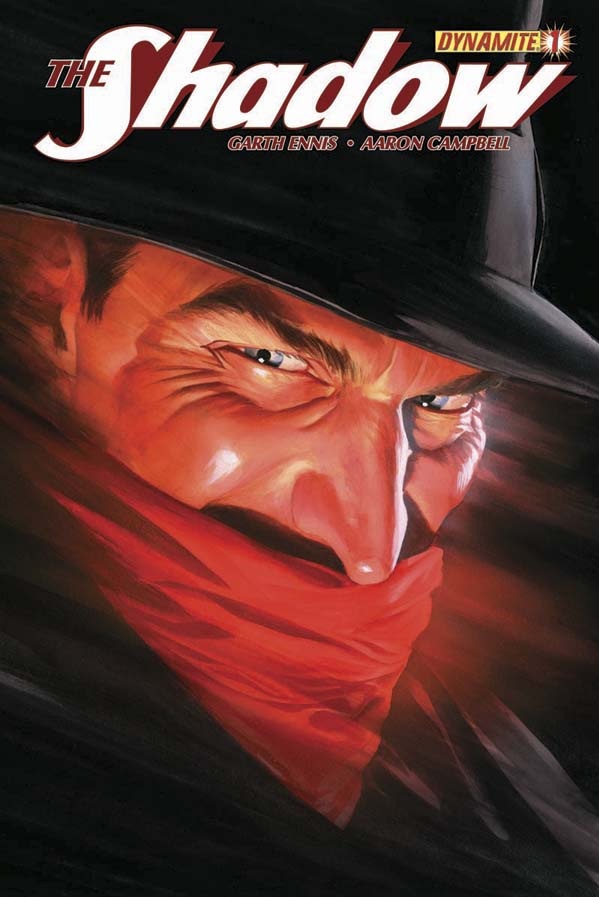 THE SHADOW #1
Dynamite Entertainment
You think you know pulp? The Shadow IS pulp! Originally the disembodied voice of a detective-themed radio show in the 1930s, the Shadow would go on to become one of the first fictional vigilantes, ultimately inspiring the creation of characters like Batman and the Punisher. Some of you may recognize the character from the 1994 Alec Baldwin vehicle that was campy, but fairly faithful to the original series. With this new comic from Dynamite Entertainment the Shadow returns to his roots as a scum-scaring vigilante in the 1930s who sees the darkness in the hearts of all men. Ennis fans won't be surprised by the presence of his patented gore and violence, but they'll be pleased to know that he has also managed to craft a fairly decent re-introduction to the seminal character that should please fans young and old. Aaron Campbell's art suits the material well, but his inks are a little too heavy during some of the daylight scenes. Special recognition goes to Carlos Lopez, who knows how to keep the colors muted and then suddenly layer a page in rich reds. Without Lopez's vivid color work, it would have been harder to distinguish some of the characters from one another. Fans of the Shadow and pulp heroes in general really have no excuse to miss this book, as it's a great continuation of the violent vigilante's exploits that recalls the original radio dramas with panache and a mature edge that contemporizes the dark hero well for any new readers. -
MajinFu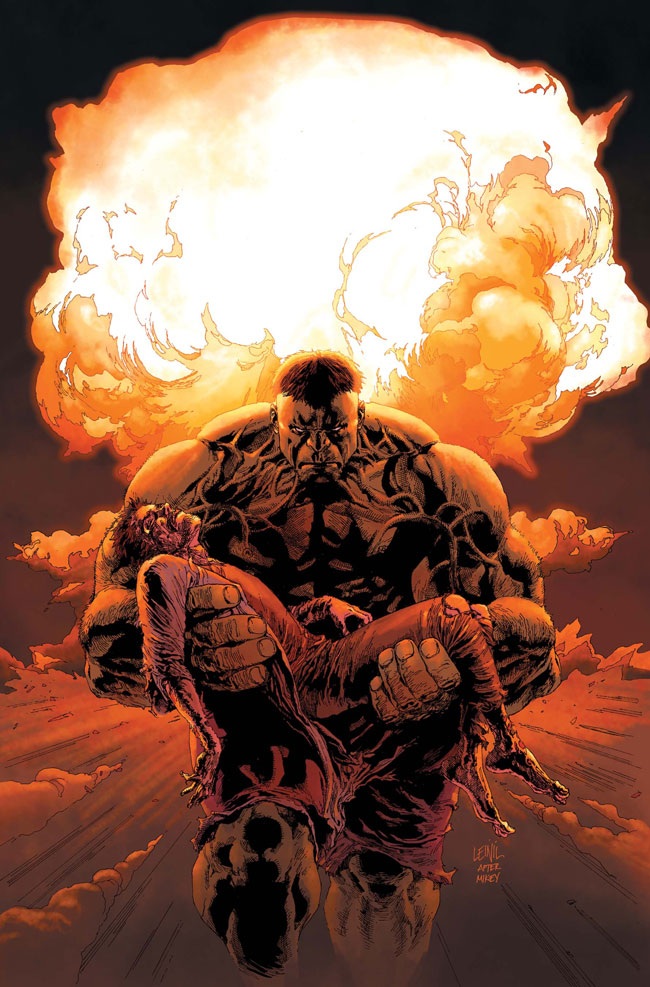 INCREDIBLE HULK #7
Marvel Comics
I haven't been all that excited to pick up Aaron's INCREDIBLE HULK outside of his first issue on the series. I buy it every month hoping it might turn into something a little more exciting, but the idea of mad-scientist Banner vs. bearded Hulk has been a consistently cooler idea than Aaron's execution of it so far. This issue is certainly one of, if not the best of, this still young run, but I can see better issues in the series' future as it looks like Aaron may have finally found the heart in his Hulk/Banner relationship. Plus next month's issue has Aaron writing the Punisher again with the upcoming "Stay Angry" arc, which should be reason enough for you to buy it. While Steve Dillon will be drawing INCREDIBLE HULK with issue #8, we've got Whilce Portacio on this one, and you'll get no complaints from me. I've heard a few folks refer to his work as inconsistent, but it's never been noticeable enough for me to detract from the issue, and I think his art is pretty impressive more often than not. INCREDIBLE HULK #7 wraps up a lot of the previous six issues, but I think it stands on its own pretty well if you're looking to get a Hulk fix before the next arc. I'd recommend it on that alone, but this issue also has one of the funnier Hulk moments I've read in a long time involving his needing a new pair of pants. Intrigued? You should be! -
The Dean
---
Editing, compiling, imaging, coding, logos & cat-wrangling by Ambush Bug
Proofs, co-edits & common sense provided by Sleazy G
Remember, if you have a comic book you'd like one of the @$$holes to take a look at, click on your favorite reviewer's link and drop us an email.

Check out AICN COMICS on Facebook and Comixpedia.org!