Details HERE. More video HERE.
...with a quick look at "The Happiness Patrol," a three part McCoy era story initially transmitted November 1988.
But first...
BBC Home Entertainment, Aint It Cool News, and The Alamo Drafthouse Invite You To A Free Screening Of DOCTOR WHO: 'The Daemons' In Austin!!
Last month, BBC Home Entertainment, Aint It Cool News, and The Alamo Drafthouse bought you a special screening of the newly restored DOCTOR WHO classic "The Three Doctors." That event sold out the largest auditorium in the brand new Alamo Drafthouse in Southwest Austin, and everyone enjoyed the experience so much that we can't wait to show you another classic WHO story on the big screen. So...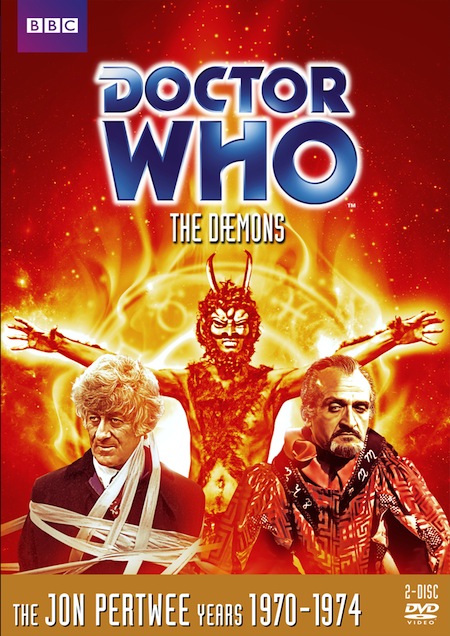 On Saturday April 28 at 1pm at the Alamo Drafthouse on Slaughter Lane in Austin, we'll be screening "The Daemons" which arrived on DVD April 10 - a five part DOCTOR WHO tale from 1971 which BBC describes thusly:
In the peaceful village of Devil's End something very strange is happening. A professor is preparing to open a nearby burial mound, and a local white witch foresees death and disaster. Meanwhile, the new vicar looks suspiciously like the Master, and he is using black magic to conjure up an ancient Dæmon. Can the third Doctor (Jon Pertwee), Jo (Katy Manning) and UNIT stop their old enemy before he succeeds?
The screening is free and is general admission (first come, first seated/served). However, admittance to the screening can be guaranteed by purchasing THIS MEAL VOUCHER in advance.
There was a great deal of interest in our last screening, so I strongly recommend moving quickly to make arrangements to attend. I'll be present for discussion and to introduce the episode, and we should have some cool goodies to offer a few lucky attendees as well.
BBC Home Entertainment, Aint It Cool News, and the Alamo Drafthouse are all very excited to bring you this opportunity, and we're looking forward to seeing you there!
BBC Home Entertainment and Aint It Cool News Would Like To Give You DVD Copies Of The DOCTOR WHO Classics "The Daemons" And "Carnival of Monsters"!!
To commemorate our super-cool screening of "The Daemons" next week, BBC Home Entertainment and Aint It Cool News are giving you a chance to snag two recent DVD releases, each featuring wonderfully restored versions of a compelling DOCTOR WHO adventure. Both sets are loaded with insightful and fun extras.
What's up for grabs?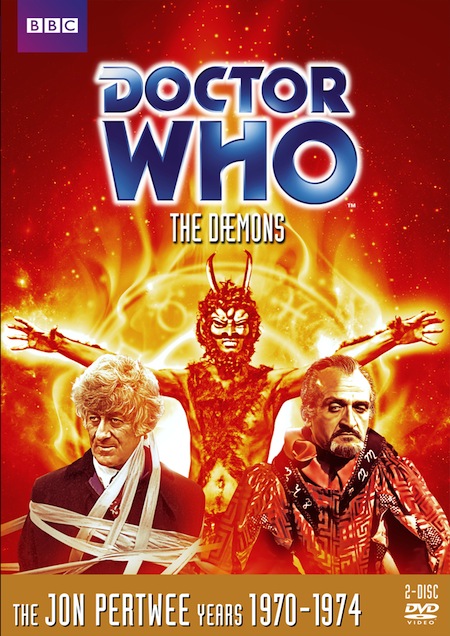 In the peaceful village of Devil's End something very strange is happening. A professor is preparing to open a nearby burial mound, and a local white witch foresees death and disaster. Meanwhile, the new vicar looks suspiciously like the Master, and he is using black magic to conjure up an ancient Dæmon. Can the third Doctor (Jon Pertwee), Jo (Katy Manning) and UNIT stop their old enemy before he succeeds?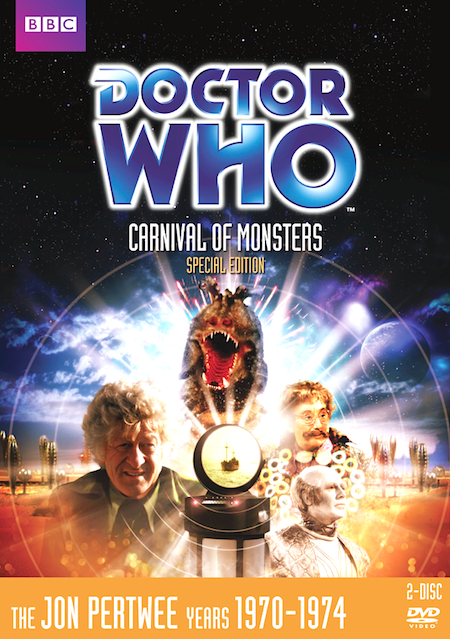 Freed from his exile on Earth, the third Doctor (Jon Pertwee) takes Jo (Katy Manning) on a test flight in the TARDIS, landing aboard SS Bernice, a cargo ship that appears to be crossing the Indian Ocean in 1926. As events take a dangerous and unexpected twist, it seems that their fate lies in the hands of a traveling showman named Vorg and his assistant Shirna, who have just arrived on the distant planet of Inter Minor with an amazing intergalactic peepshow called the Miniscope.
What do you have to do to snag one of these? Between now and 12 (noon) CST USA on Monday April 23, I've pre-selected one (1) time of day on one (1) pre-selected date. Whoever e-mails me at, or closest to, my pre-selected time on my preselected date will win this prize pack.
Only THREE ENTRIES PER PERSON, PER DAY, will be allowed. Anyone deviating from this limitation will see all of their entries for that day summarily discarded.
BE SURE TO INCLUDE YOUR FULL ADDRESS IN YOUR SUBMISSION. This is to expedite shipping of your prize only - no Spam lists or mass mailings or anything like that. All entries will be summarily deleted once a recipient is chosen.
BE SURE TO SEND FROM A FREQUENTLY CHECKED E-MAIL ADDRESS!! If I need to contact you and can not do so, I'll quickly move on to the next closest entry.
IN THE SUBJECT LINE, include the phrase "The TARDIS Looks Kinda Cute Painted Pink!" If this is not in your subject line, your message won't be filtered correctly and I'll most likely not see it.
BE SURE YOU SEND E-MAIL TO THE ADDRESS LINKED BELOW!! You'd be surprised how many people send entries to the wrong place.
CONTEST OPEN TO NORTH AMERICAN READERS ONLY!!
Have fun, best of luck, and thanks so much for your time and support!
"The Happiness Patrol"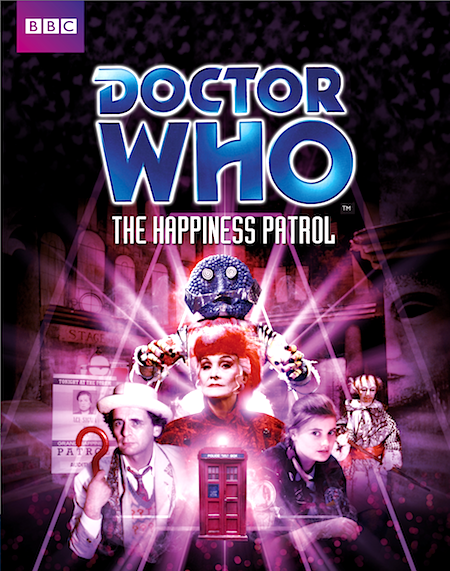 "Look me in the eye. Pull the trigger. End my life." - the Doctor, "The Happiness Patrol" Episode 2
The Doctor (Sylvester McCoy) and companion Ace (Sophie Aldred) arrive on Terra Alpha - an Earth colony settled "several hundred years" in Ace's future. From the moment they arrive, neither of them like the place very much...finding it too artificial and "happy." Qualities made more troublesome by rumors recently gleaned by the Doctor: is "something evil" happening here?
The core ideas driving "The Happiness Patrol" may all have seemed full of potential when considered on their own merits. But as realized by writer Graeme Curry and director Chris Clough, they amass in an imprecise vision which is never fully formed or roundly executed.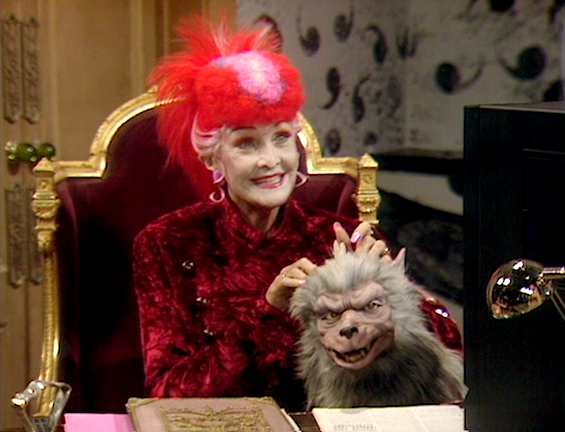 Sheila Hancock as Helen A, architect of 'happiness' but bringer of despair on Terra Aplha. Seen here with her smug Stigorax, Fifi - who sports a striking resemblance to its master.
It's Willy Wonka meets BRAZIL - attempting an exploration of the human condition while also condemning fascism. These radically disparate notions are difficult to stitch together at best, and therein lies a lion's share of this story's failings. "The Happiness Patrol" represents a distracting and forceful collision of under-developed conceits and thematics rather than the creation of a naturalistic universe, resulting in a story which manages to merely skirt many intriguing notions without actually being about very much at all.
Thus, a story which (like STAR TREK V: THE FINAL FRONTIER one year later) is about the essential human need to counterbalance joy with heartbreak emerges as aggravatingly remote and strangely aloof. Despite some ham-handed lip service intended to verbalize the point of this whole affair, there is simply no payoff here to justify the journey.
Matters are worsened when the Kandyman - a confection-themed AI/robot turned inquisitor, enforcer, and executioner - arrives.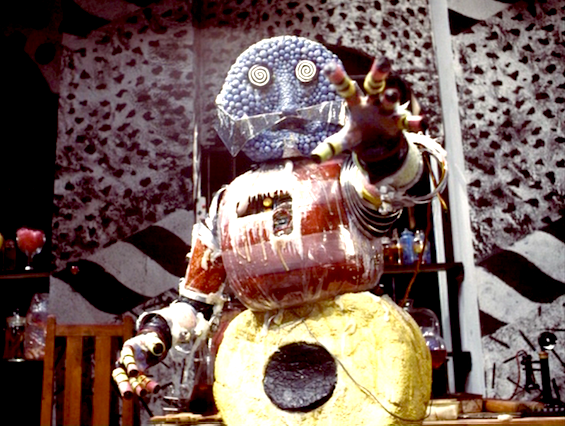 While this opinion may not be popular amongst Docback regulars, I actually don't have any issue with what The Powers That Be were attempting here: a visually odd, brightly colored, childish action figure whose megalomania and homicidal tendencies run wholly contrary to preconceptions suggested by his aesthetic. That could result in a fun, subversive, unexpected, and wicked character. Again, as with the story's muddled thematics and ineffectual cross hatching of genres, the execution simply doesn't match the concept's innate potential.
As presented, Kandyman is a sluggish, dim-witted, grating, lard ass of a subservient who couldn't possibly have earned the fearful reputation with which he is evidently regarded. In fact, he spends much of his appearance immobilized because his feet have been stuck to the floor. He's a sissy...a zero...a little bitch...and any Terra Alphan incapable of summarily dispensing with him deserves whatever ludicrous fate the Kandyman may have waiting for them. He's a story-sinking character of scant logic and zero credibility. (see the extras notes below for more on Kandyman's conceptualization/evolution).
In the midst of so much bumbling and stumbling, "The Happiness Patrol" does occasionally shine - and when it does so, it shines very brightly. John Asbridge's often rich and oversized production design strongly portends Alex Proyas' DARK CITY ten years later...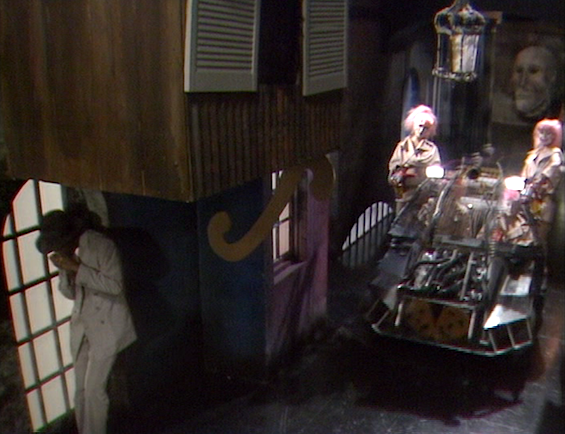 The Happiness Patrol is on the move - here rolling up to harmonica playing Earl Sigma (Richard D. Sharp), whose blues aren't fully understood on Terra Aplha.
...and a surprisingly effective, harmonica-driven score by Dominic Glynn infuses much needed tonal and emotional connection.
Somewhat ironically (considering the overall state of the adventure), it is in "The Happiness Patrol" that Sylvester McCoy's Doctor enjoys two of the most memorable sequences ever afforded any iteration of the Doctor. These scenes also reinforce my own assertion (not always shared by the DW fan community) that McCoy was, in actuality, an extremely capable Doctor who was merely saddled with frustratingly inadequate material.
In one early exchange, a thoroughly provoked Ace lashes towards the bad guys: "I want to nail those scumbags, I want to make them very, very unhappy." "Don't worry Ace..." reassures the Doctor with a nearly homicidal chill, "...we will." A later story movement finds the Doctor face to face with armed snipers who level a gun at his face. In response, the Doctor menacingly...almost psychotically...challenges a guard to shoot him at point blank range.
These are among the finest "badass" Doctor moments I've yet encountered in my non-chronological journey through the show, and if the whole of "The Happiness Patrol" had risen to these equally lofty and carefully conceived plateaus, history would remember the Doctor's adventure on Terra Alpha as something very, very special.
As is, however, "The Happiness Patrol" is a frustrated traveller. It sets out on a journey towards greatness, but falls far short of its destination due to numerous traffic jams (convoluted concepts) and mechanical issues (the failure of writer Curry and director Clough to merge said concepts into an effective whole). It's an interesting and perhaps even noble undertaking, and one which sometimes hints at great vision.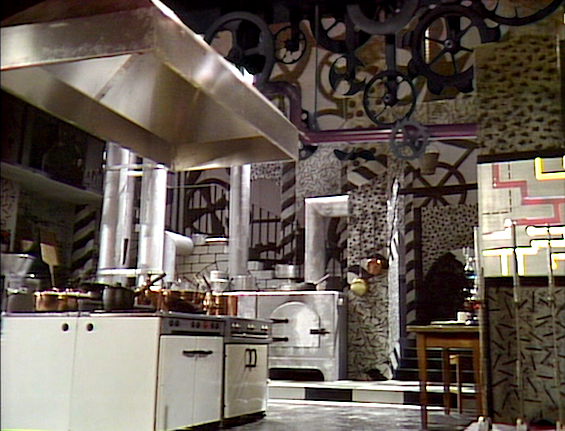 But that vision is never fully focused or defined, and remains coyly elusive throughout.
"The Happiness Patrol" earns yummy rewards for at least attempting to think out of the box and create something unique and memorable, and is never as painfully bankrupt as say, "
Time and the Rani
" or "
The Sensorites
." Nor does it come close standing amongst the giants. Which is a shame, because with more thought and less diffusion, it very well might have.
Extras include...
Happiness Will Prevail (23:46)
The folks who made this episode attempt to explain what they were thinking in a slightly-too-self congratulatory way.
Insight from...
-- Andrew Cartmel (Script Editor)
-- Graeme Curry (writer), who says that "Happiness Patrol" was developed, in part, to subvert the common DOCTOR WHO conceit that the Doctor lands on a planet where there's a problem and leaves everyone happy in the end. "What you ended up with was the Doctor being able to go somewhere and leave people with the ability to be miserable if they wanted to".
Curry also says the episode is skewering a "brash" American culture ("muzak, cheer leaders, shiny stuff") - which "always kind of seemed a bit sinister to me, as if it wasn't the truth..it was hiding something."
Because, you know, there are no British propensities about which outsiders might level similar charges...
-- Chris Clough (director)
-- Sophie Aldred (companion Ace)
-- David John Pope (Kandyman)
** Cartmel calls Kandyman "a magnificent piece of design"
** Helen A = Margaret Thatcher
** Kandyman originally conceived to be something of a fringe ("more human") scientist who killed for in order to fund his experiments. Would've loved this take...'tis what the story needed.
** Bassett's candies got upset that Kandyman bore a striking resemblance to their icon/logo.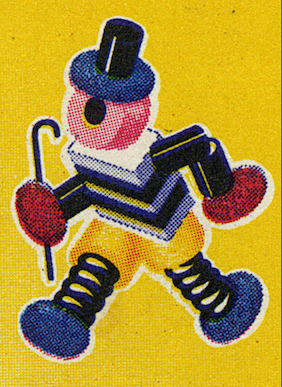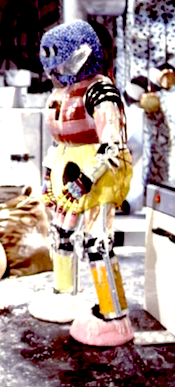 (l - Bassett's Allsorts Man, r -DOCTOR WHO's Kandyman)
Bassett's complained to BBC, and as part of an agreement between BBC and Bassett's, Kandyman could never be used in future DOCTOR WHO stories.
** Aldred mentions having head rumors that "Happiness Patrol" was to be shot noir-style / black & white.
Deleted & Extended Scenes (23:20)
23:20!?!?!? That's a lot of material...
When Worlds Collide (46:05)
Shaun Ley hosts an extended assessment of DOCTOR WHO's political nature. How the show and characterizations were influenced by, and fit into, their worlds/times.
Insight from...
-- Andrew Cartmel (Script Editor 1986-89)
-- Barry Letts (Writer/Producer/Director 1967-75)
-- Terrance Dicks (writer/Script Editor 1968-83)
-- Gareth Roberts (writer 2006- )
-- Steve O'Brien (Cult Media Journalist)
-- Bob Baker (writer 1970-79)
Much Fifi and Kandyman.

Radio Times Listings
Coming Soon (1:37)

A preview of the forthcoming DVD reissuance of "Death to the Daleks" (Pertwee, Story # 72)
____________________________________
IN THE COMING WEEKS (sequentially)
Nightmare of Eden (T. Baker, Story #107)
Dragonfire (McCoy, Story #151)
____________________________________
PREVIOUS DOCBACKS
[SEASON / SERIES SIX DOCBACKS]

"The Impossible Astronaut"

"Day of the Moon"
"The Curse of the Black Spot"

"The Doctor's Wife"

"The Rebel Flesh"

"The Almost People"
"The Doctor, The Widow and the Wardrobe" (2011 Christmas Special)
[RETRO-WHO DOCBACKS - MOST RECENT DOCBACK IS HIGHLIGHTED]
"An Unearthly Child" (Story #1)
"The Daleks" (Story #2)
"The Edge of Destruction" (Story #3)
"Marco Polo" (Story #4)
"The Keys of Marinus" (Story #5)
"The Aztecs" (Story #6)
"The Sensorites" (Story #7)
"The Sensorites" (Story #7 - full DVD release)
"The Reign of Terror" (Story #8)
"Planet of Giants" (Story #9)
"The Dalek Invasion of Earth" (Story #10)
"The Rescue" (Story #11)
"The Romans" (Story #12)
"The Web Planet" (Story #13) / SHERLOCK - "A Scandal in Belgravia" (Story #4)
"The Crusade" (Story #14)
"The Space Museum" (Story #15)
"The Chase" (Story #16)
"The Time Meddler" (Story #17)
"Galaxy 4" (Story #18)
"The Gunfighters" (Story #25)
"The Tomb of the Cybermen" (Story #37)
"The Colony in Space" (Story #58)
"The Daemons" (Story #59)
"Day of the Daleks" (Story #60) + Preview of the DotD Special Edition
"The Three Doctors" (Story #65)
"Carnival of Monsters" (Story #66)
"Invasion of the Dinosaurs" (Story #71) and SHERLOCK: "The Reichenbach Fall" (Story #6)
"The Android Invasion" (Story #83) and SHERLOCK: "The Hounds of Baskerville" (Story #5)
"The Face of Evil" (Story #89)
"The Robots of Death" (Story #90)
"The Talons of Weng-Chiang" (Story #91)
"The Sun Makers" (Story #95)
"The Awakening" (Story #131)
"Frontios" (Story #132)
"The Caves of Androzani" (Story #136)
"Time and the Rani" (Story #144)
"Paradise Towers" (Story #145) + New WHOvian Documentary / Newsbits
DOCTOR WHO: THE COMPLETE SIXTH SERIES
Merrick's Personal Journey With The Doctor (How Merrick Got Hooked On DOCTOR WHO)
DOCTOR WHO Title Sequences & DW At Comic-Con 2011
"The Crash of the Elysium" (Manchester version - interactive DOCTOR WHO adventure)
Why Eccleston Left, Here Comes Caroline Skinner, And Season/Series Six Part 1 on Blu-Ray And DVD

New Trailer For Season/Series Six Part 2
DOCBACK CODE OF CONDUCT
1) a Docback should be about completely open and free discourse regarding all things WHO with, obviously, some variation on subject matter from time to time - the real world intervenes, discussions of other shows are inevitable, etc.)...

2) matters of SPOILAGE should be handled with thoughtful consideration and sensitivity.

Posts containing SPOILERS should clearly state that a SPOILER exists in its topic/headline and should never state the spoiler itself . "** SPOILER ** Regarding Rory" is OK, for example. "** SPOILER ** Battle of Zarathustra" is fine as well. " **SPOILER** Why did everyone die?" Is NOT good.
And, above all...

3) converse, agree, disagree, and question as much as you want - but the freedom to do so is NOT a license to be rude, crass, disrespectful, or uncivilized in any way. Not remaining courteous and civil, as well as TROLLING or undertaking sensational efforts to ignite controversy, will result in banning. Lack of courtesy may receive one (1) warning before a ban is instigated. Obvious Trolling or Spamming will result in summary banning with no warning. One word posts intended to bump-up any Docback's figures on AICN's "Top Talkbacks" sidebar will be considered actionable Spam - they not only complicate efforts to access Docback from mobile devices, but impede readers' abilities to follow or engage in flowing conversation.
In short, it's easy. Be excellent to each other. Now party on...