Merrick here...
Per THIS piece at MTV (which nabbed the photo from On Location News), we have a new photo from the shoot of Abrams' new STAR TREK film.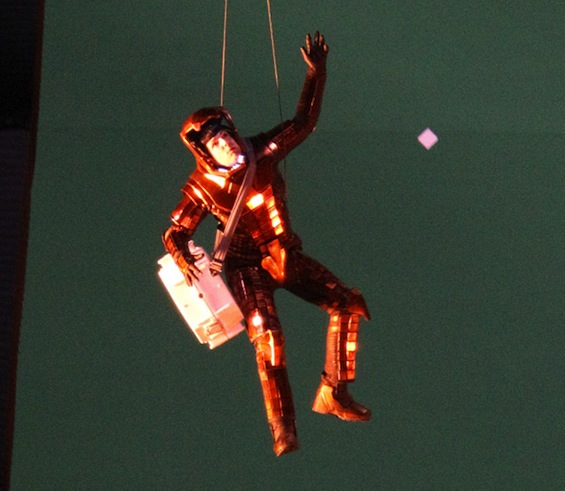 Photo by Eric Ford/On Location News
On Locaton describes the image thusly...and herein lies a SMALL SPOILER:
Zachary Quinto as Spok filming an action scene for the Untitled Star Trek 2 Sequel. After first rehearsing the scene with a Spok Stunt Double Actor Zachary Quinto was then rigged to a wire in front of a large green screen and lifted to a height of 10 stories high then dropped at a high rate of speed as if he was falling. In the scene Spok is wearing a "Volcano Suit" and carrying an unknown piece of equipment with the Starfleet Emblem. A Volcano is somehow involved in this scene. The crew had a real fire burning off camera to catch the fire reflections on Spok's "Volcano Suit".
Fully unaware of MTV's "Iron Man" comparison, my five year old just walked past, saw this image on my computer screen, and said, "Who's that? Is that Iron Man?" So there you go...
--- follow Merrick on Twitter ! ---