My earliest memory of William Finley involves a bad suit, worse teeth and Amy Irving in a bikini. It looks a little something like this.
As an eight-year-old kid watching THE FURY with his parents in the room, this was a confusing tableau. Then came the close-up in the phone booth, which upped the revulsion ante with a mouthful of rotting choppers.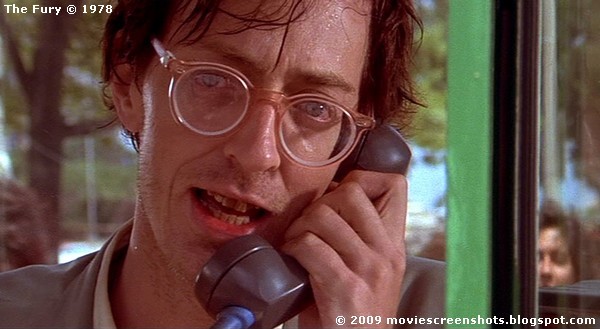 You don't forget a face like that. And if you're a resourceful director, you certainly don't pass up an opportunity to cast a face like that.
Unfortunately, there aren't many resourceful directors working in this business anymore, which could very well account for why Finley did his most indelible work in the 1970s. As far as movies go, he was Brian De Palma's discovery, playing the titular disfigured troll in the director's playful, allusion-heavy 1962 short "Woton's Wake". In many ways, Woton was a warm-up for Finley's iconic turn as Winslow Leach in De Palma's classic PHANTOM OF THE PARADISE. Whereas Finley would spend most of his career playing gangly weirdos like Raymond Dunwoodie in THE FURY, De Palma gave him room in PHANTOM to create a garishly tragic hero who goes from aspiring songwriter to garishly scarred freak. Finley's nervous demeanor is perfectly suited to De Palma's frantic, what-can-I-get-away-with approach; De Palma was still figuring out how far he could push things aesthetically, and I'm not sure he could've gone as far as he did without his frequent collaborator Finley there to act as something of a safety net. There's a familiarity there that just barely keeps the film tethered while nutjobs like Gerrit Graham play every scene to the whacked-out hilt.
When you examine De Palma's early career, the one true constant is Finley* - and not just as an actor. After all, it was Finley who wrote and belted out the groovy earworm of a title song for De Palma's experimental MURDER A LA MOD in 1968 (which is included on Criterion's must-own Blu-ray of BLOW OUT). He also figures prominently in THE WEDDING PARTY, DIONYSUS IN '69 and De Palma's 1973 breakthrough SISTERS (as the sinister, conjoined-twin-severin' Emil Breton).
Finley went on to make memorable appearances in two Tobe Hooper's EATEN ALIVE and THE FUNHOUSE, and also turned up in the bizarre Chuck Norris flick SILENT RAGE, but it's his run with De Palma that defines him. I guess it's appropriate that Finley's final performance was as the creepy Georgie Tilden in De Palma's THE BLACK DAHLIA, but I'd always hoped one of the filmmaker's acolytes, like Quentin Tarantino or Edgar Wright, would've found a substantial part for the character actor in one of their films. Any excuse to be moved - or unnerved - by that strange, spindly frame one more time. Alas.
So thank you for the wonderfully disconcerting memories, Mr. Finley. You're the only person who ever looked inconspicuous hunched over a trash can reading a newspaper. Brando wishes he could've pulled that off.
Faithfully submitted,
(I also recommend reading Edgar Wright's heartbreaking remembrance.)
*Though Jennifer Salt was often there as well.