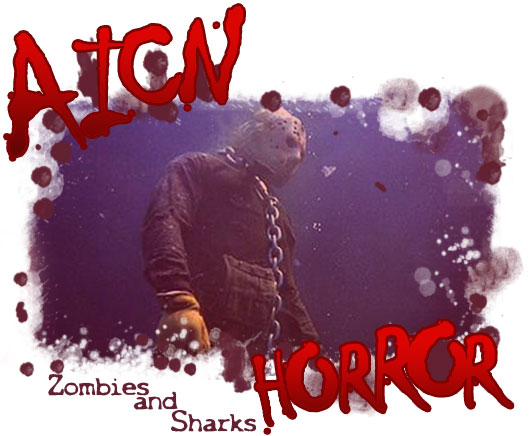 Logo by Kristian Horn
What the $% is ZOMBIES & SHARKS?
---
Greetings, all. Ambush Bug here with another AICN HORROR: ZOMBIES & SHARKS column. While I'm suiting up and getting ready to take on the Chicago Comics and Entertainment Expo (C2E2), I'll give you a chance to check out this week's column chock filled with horror. We've got another bunch of freshly picked fright films for you this week, plus some oldies but goodies. But before we get to that…there's this!
---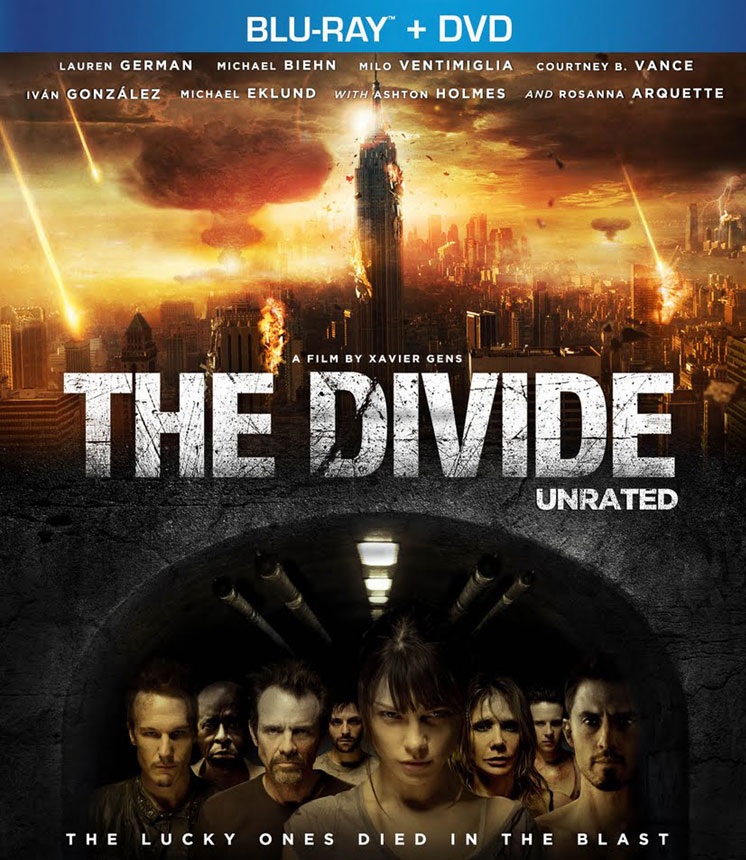 Let's start off with the winners of our THE DIVIDE DVD/BluRay Contest. The following lucky folks will be receiving their own copy of THE DIVIDE DVD/BluRay Combo Pack (
I reviewed this film here
). The following contestants provided the most interesting answers to the following question:
What fictional character and what real life person would you most want to be locked in a bomb shelter with for eternity?
There were a lot to choose from, but I went with the most highbrow, the coolest, and finally the creepiest suggestions (listed below with the winners).
Highbrow: ALEX MCCOWN picked Samuel Clemens aka Mark Twain and Jane Austen's Emma
Cool: JOHN SURRE picked Amber Heard and Cool Hand Luke
Aaaannnd finally, Creepy: JEREMY THOMPSON with his picks, Mystique & Miley Cyrus
Thanks for everyone who participated, and congratulations to Alex, John, and Jeremy. Look for THE DIVIDE released on DVD/BluRay on April 17th!
---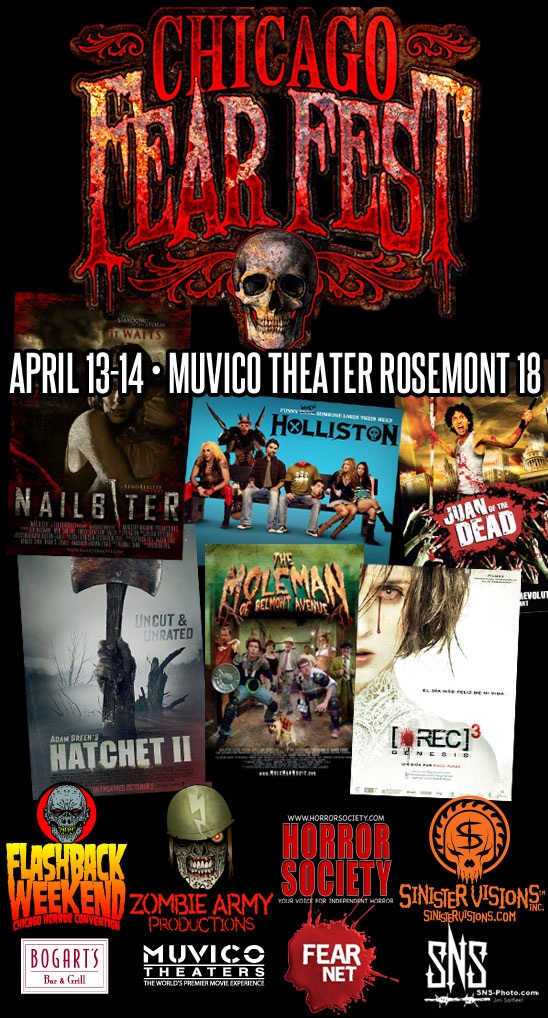 Next I have the winners to our CHICAGO FEAR FEST Contest.
KEN SZYMCZYK
and
PATRICK BROMLEY
are the lucky winners of a weekend pass to the event, which allows them access to a weekend full of Chicago premieres such as REC3, JUAN OF THE DEAD, NAILBITER, HATCHET 2 UNCUT and ABRAHAM LINCOLN VS VAMPIRES, plus all of the panels, short films, and even admittance to the after party! Congratulations, Ken and Patrick! Be sure to have your ID with you when you show up to pick up your weekend pass!
Flashback Weekend is teaming up with three other Chicago area horror organizations (Horror Society, Sinister Visions, and Zombie Army Productions) and the Muvico Theaters Rosemont 18 in Rosemont, IL to present the CHICAGO FEAR FEST to be held all this weekend, April 13-14, 2012. I'll be jetting from one end of Chicago at C2E2 to the other to make this event later today! Be sure to come out and support this awesome horror event if you're in the Chicago area!
Find out more info about this awesome festival, show times, and ticket prices at its website here!
---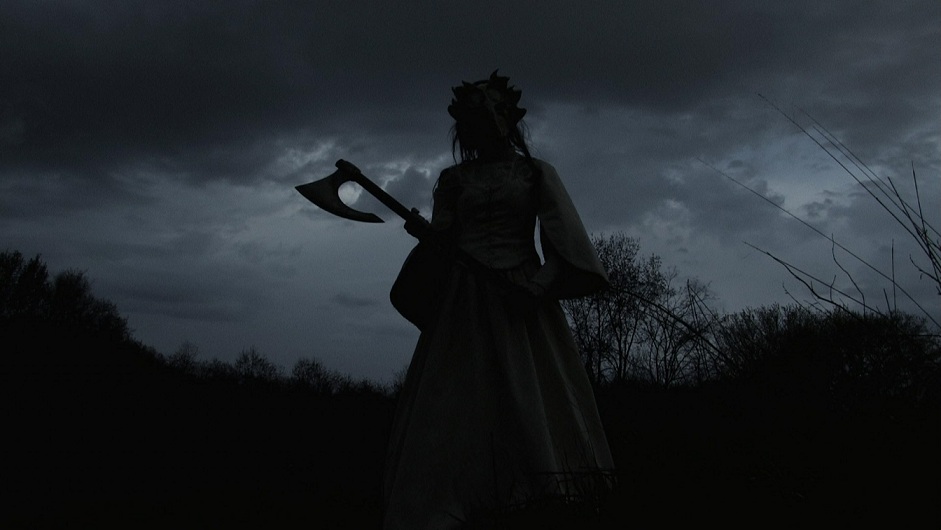 I got this email the other day from
Piranha Pictures
and figured it was cool enough to post at the top of the column.
"Piranha Pictures has revealed the first teaser for its newest production, A SWEET & VICIOUS BEAUTY. Capturing the Gothic flavor of films such as the productions of Hammer Studios or Roger Corman's Poe pictures, this movie is guaranteed to cause death of fright in babies, small dogs, dinosaurs (in theory), and Congressmen (over 65 only)."
Shot in the DC/Baltimore area, the film was directed by Eric Thornett and stars Bette Cassatt, Sara Cole and Brenden McDougal. Check out the teaser trailer for the film below and look for more updates on this cool and creepy-looking indie treat in future AICN HORROR columns!
---
In Toronto? Fangoria is presenting the film MONSTER BRAWL (
I reviewed it here
) this Friday (today!) at The Projection Booth theater in Toronto (a bad ass little grindhouse that just re-opened). Before the feature they are going to be playing the short film MELISSA! It is said to be a horror/fantasy/thriller with a dash of the old monster movies thrown in.
Find out more information about this event here!
Check out this preview of MELISSA! below!
'Melissa!' Teaser. from Ravavilad! on Vimeo.
---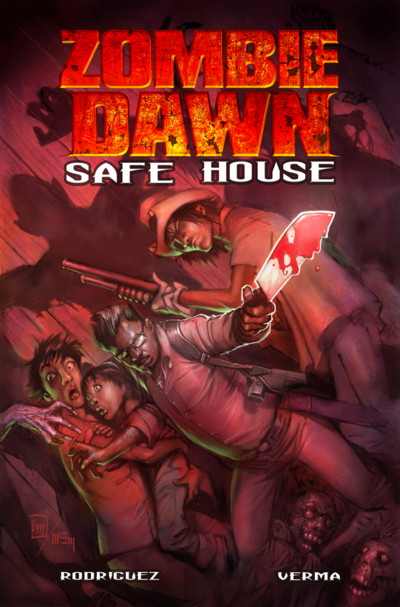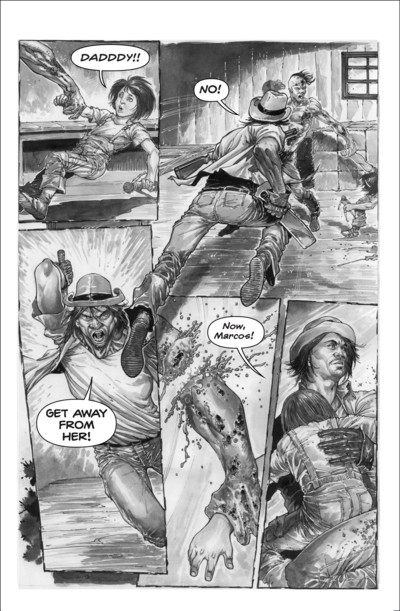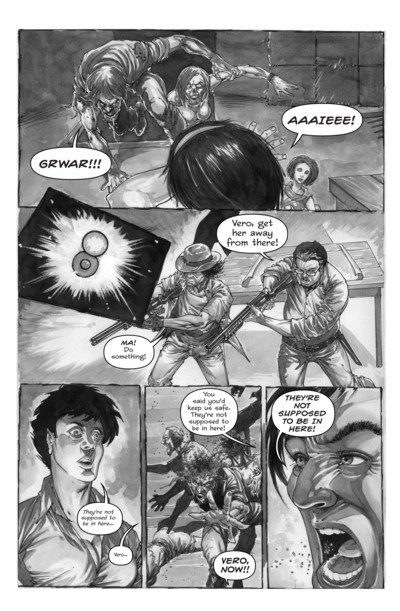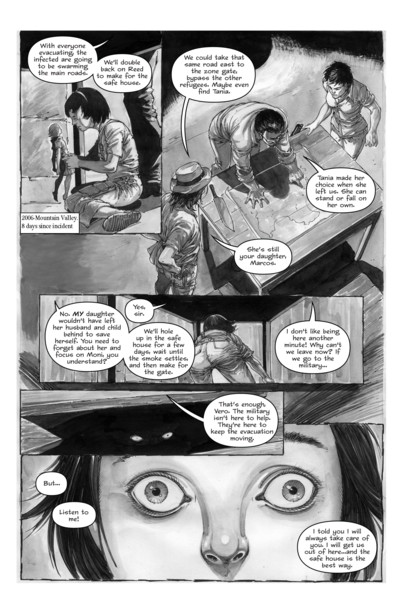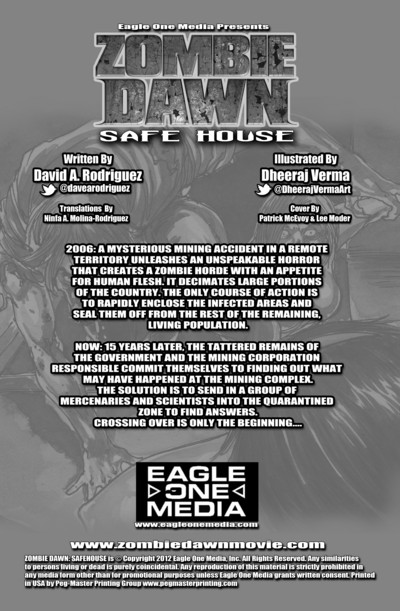 Eagle One Media
is releasing ZOMBIE DAWN this week (today!) in limited release. The low budget zeek is getting a lot of praise around the web and I'll be covering the film very soon on AICN HORROR. In conjunction with the film's release, they are putting out a comic book of the same name that continues the tale from the film. Click on the pages on the right and left for a preview of this comic and be sure to support indie horror by seeking out ZOMBIE DAWN in theaters this weekend!
Find out more about ZOMBIE DAWN here!
---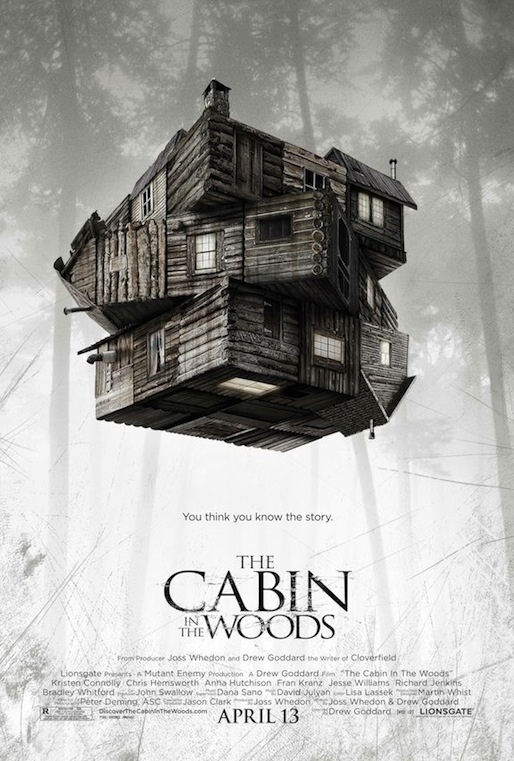 Those looking for my CABIN IN THE WOODS review in this column can check it out here (I posted it separate from the column yesterday!).
Drew Goddard and Joss Whedon's film is definitely worth supporting with your hard earned cash this weekend, but I go into more wordy detail on my feelings (both pro and con) about the film in an extensive review!!!
---
And now, let's get this party started, Jason's ice cream is melting!
Today on AICN HORROR
(Click title to go directly to the feature)
Happy F13: FRIDAY THE 13TH PART 3 (1982)
Retro-Review: SOMETIMES THEY COME BACK (1991)
TWISTED FATES (2012)
THE TERROR EXPERIMENT (2010)
SAND SHARKS (2011)
REMNANTS (2012)
And finally…Bloody Cuts' PREY!
---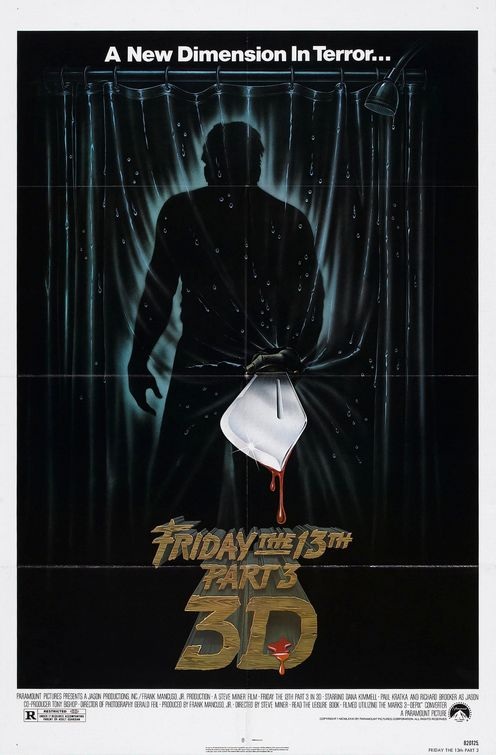 Happy Friday the 13th!
FRIDAY THE 13TH PART 3 (IN 3-D) (1982)
Directed by Steve Miner
Written by Martin Kitrosser, Ron Kurtz, Victor Miller, Carol Watson, Petru Popescu
Starring Dana Kimmell, Paul Kratka, Larry Zerner, Tracie Savage, Jeffrey Rogers, Catherine Parks, David Katims, Rachel Howard, Nick Savage, Gloria Charles, Kevin O'Brien, & Richard Brooker as Jason
Retro-reviewed by Ambush Bug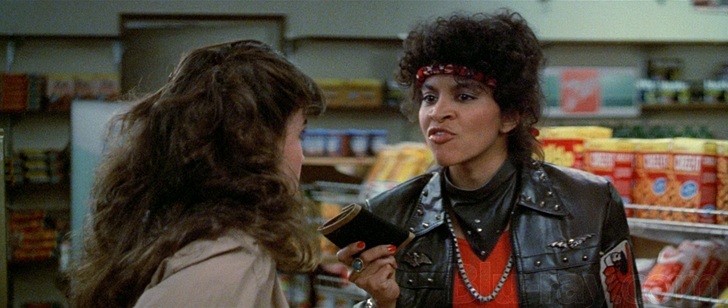 Now that I've reviewed Parts One and Two of the FRIDAY THE 13TH series I can get into the finer points of why I have come to love the film series more than any other. What made these movies cool wasn't the fantastic acting or particularly original stories. It was the fact that the films, at least in the earlier entries, were so tightly connected together. Now, looking back, I know they were just making shit up as they went along. But after a few year leap from film one to film two, the thing that sets episodes three and four apart from the herd is the fact that watched back to back, they all fit together. Sure, now with LORD OF THE RINGS, HARRY POTTER, STAR WARS, and the like, connecting the films in the series together is a gimme, but back then, it was something cool to see when the end of the last film began the next.
FRIDAY THE 13TH PART 3 begins with old Ginny, the final girl from PART TWO, impersonating Jason's mother and whacking him across the shoulder with his machete. And as the opening credits roll (sporting a funky soundtrack, still done by Manfredini, but jazzed up with synth and drums because this film was made in 3D so it's futuristic!), we see Jason remove the machete and slink away, ready to immediately jump back into action with the killing he does so well. Our cast of latest soon-to-be-deads actually show up at Crystal Lake the very next day after the events of the last film, making this more of a SATURDAY THE 14TH film than actually happening on Jason's birthday.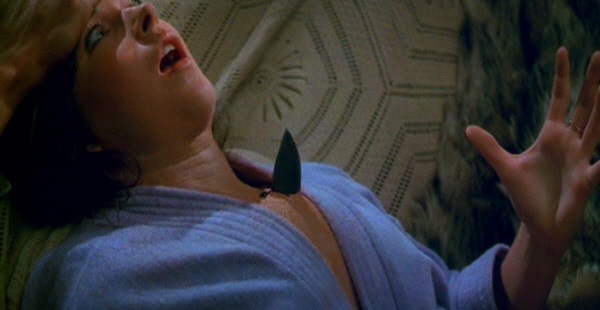 But why split hairs? What ensues is more of what you've come to expect from the FRIDAY THE 13TH series. At this point, the series still had its bite with Jason's kills being especially brutal; Jason stabs a red hot poker through a pregnant woman's belly, Jason slices a guy walking on his hands in two with a machete, Jason squeezes a man's head so hard that his eye pops out. Jason also solidifies his devious side by killing a cage full of bunnies (BAD JASON!) and to make matters worse tosses a rattlesnake inside so it can leap out at the viewer and the victim at just the right moment. At the same time, though, the series was starting to lose some of the originality in regards to its kills. The memorable arrow through neck scene with Kevin Bacon in Part One is repeated, this time with a knife instead. Gone are the flashes to white that often occurred during the deaths, making them feel somewhat less impactful. With Crazy Ralph offed in the previous entry, another old loon spouts doom and gloom to our oblivious and mocking campers.

Paying attention to the 3rd Dimension brought new life to the series when original kills failed. This was the first Paramount film produced in 3D since 1954 and the 3D camera used to shoot the film was the same kind that dazzled audiences in JAWS 3D. Miner takes full advantage of stabbing, poking, and shoving stuff IN YO FACE every chance he gets. From needles to fire pokers to rolled joints to eyeballs to yo-yos to rattlesnakes to knives, everything is coming at you in full 3D! What these instances of 3rd Dimension effects lack in subtlety, they make up in hokey fun.
FRIDAY THE 13TH can be recognized for a couple of firsts. Though previous entries catered to the pure whitebread audience, PART 3 expanded its cultural sensitivity by casting a Latina actress as well as a pair of black gang members for Jason to slaughter. With Cheech and Chong at the height of their popularity, we also have a pair of stoners on the chopping block for the first time to offer some comedic moments and setting up more deviant behavior for our murderous camp killer to take care of.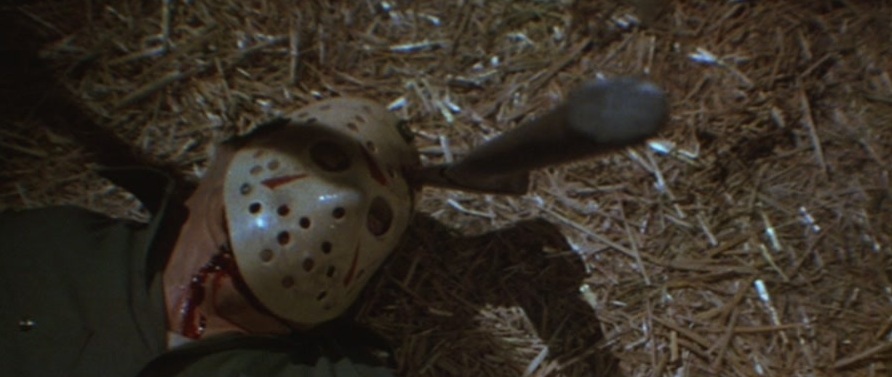 But I guess the biggest first this film is known for is that it signals the first time we see Jason in his soon-to-be trademark hockey mask. A little research tells me that the hockey mask was originally used during rehearsals to cover the killer's face during the scenes which still focused on the hands and feet of the killer rather than showing him in his entirety. It was not meant to be a part of the film, but the effects guy was a hockey fan and happened to have a Red Wings goalie helmet in his bag. When Miner saw the mask he loved it and incorporated it into the story by having it first belong to Shelly, the prankster of the group, then used by Jason after he kills the prankster to fool people into thinking he was Shelly. Still, it's uncut awesome when Jason strolls out on the dock sporting the hockey mask for the first time. It's one of those moments that stand out as miniscule at the time, but resonant on later viewings knowing how big that look became as a symbol for the series.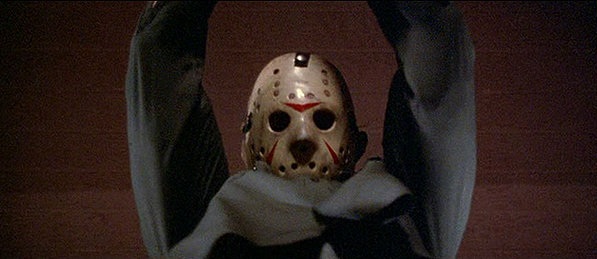 One of the reasons why FRIDAY THE 13TH PART 3 might lack the punch of its predecessors is that effects guru Tom Savini didn't return for this one. Though Manfredini and Miner helped with consistency between the films, the absence of Savini's visceral effects is evident from kill one.
Thematically, the film is lacking as well; instead of the attention to mystery in the first and the amateur psychology at play in part two, F13 PART 3 depends mainly on the cat and mouse chase, with the cast offed quickly in order to focus on the new final girl Chris (this time played by Dana Kimmell) who may or may not have been raped by Jason three years prior in the woods surrounding Crystal Lake. While Miner heaps on the abuse towards Jason in this final fight between final girl and killer, it lacks the depth of Alice's final battle with Mrs. Voorhees in the first and even Ginny's battle in the second. And while Miner kept things realistic somewhat in the first two, Jason truly becomes unkillable in the third as he survives a hanging and an axe to the head and still keeps coming, Chris' mutterance "You can't be alive!" becoming Jason's motto from there on out.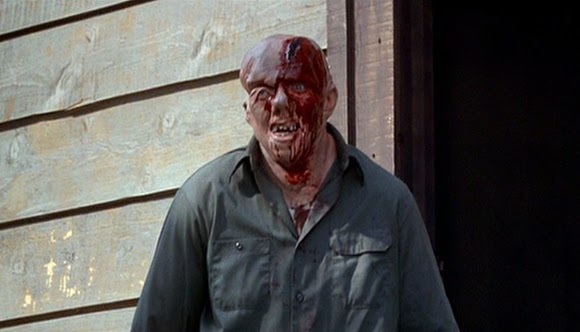 At this point, the presence of mystery was fading and it was turning into more of a showcase for kills. Never do we wonder who is doing the killing (a feeling that is prevalent in both of the previous entries) and Jason's move to villainous superstardom was beginning here. Richard Brooker does a fine job as the lumberous Jason who isn't above running while in pursuit of his kill, giving him an almost desperate and frantic gait instead of the zombie-like stride Jason adopts later.
Though the story continues almost seamlessly from PART 2 to 3, one annoying inconsistency was that somewhere between the two films Jason lost all of his hair. The once burly mountain monster covered in facial hair and an ungamely hairdo from PART 2's unmasking is now as bald as a baby's pooper. I'm sure this had to do with the budget focusing on 3D effects rather than practical ones, but the differences between the two looks of Jason is quite jarring and marks the start of the one surprise to look forward to in these films--that being what mask the FX wizards have whipped up for Jason this time around. Though hairless, this unmasked Jason is one of the weirder looks in that in the film's final moments, the oft-inscrutable Jason looks more like a grinning madman.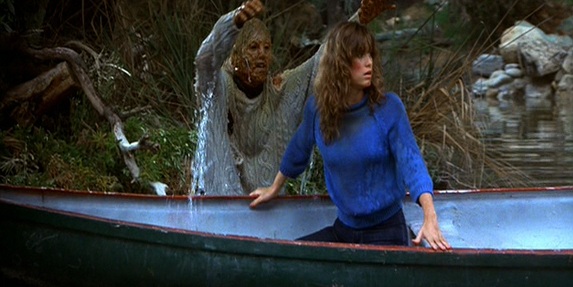 One thing that stands out as one of the biggest missed opportunities established in PART 3 is the appearance of Mrs. Voorhees at the end, leaping from the lake in an homage to the original film's ending. Originally, PART 3 was supposed to be the end of the series and Miner decided to go full circle with it. Still, having Jason killing campers on land and Mrs. Voorhees haunting the lake is a one-two punch I would love to see. Though her appearance is most likely a dream, as far as the loose narrative this series has, I still think the absence of Pamela Voorhees in later entries is a missed opportunity nevertheless.
Still, the ending is one of the stronger ones in the series with plenty of shocks from Jason rising from the dead to flapping ducks to Mrs. Voorhees' surprise leap from the lake to Chris' surprisingly lunatic acting right before the credits roll. Check out this pretty damn hilarious remix of Chris' final moments from the movie.
Though its far from the best the film series has to offer, FRIDAY THE 13TH PART 3 still has that thrill and energy of the first few and wasn't afraid to add new details to the ever-horrifying saga of Jason Voorhees. Some might think it's ridiculous to spend this much time and this many words on a series such as FRIDAY THE 13TH, but I know scores of avid fans who feel like I do: that this is a series worth celebrating for all the cool that it was at the time. There's got to be something to this film series to spawn so many sequels and I can't wait to delve further into these films over the next Friday the 13th holidays!
Happy Friday the 13th, folks!
This trailer is just sooo damn retro-cool.
Check out my reviews of other F13 films below:
FRIDAY THE 13TH (1980/2009)!
FRIDAY THE 13TH PART 2 (1981)!
---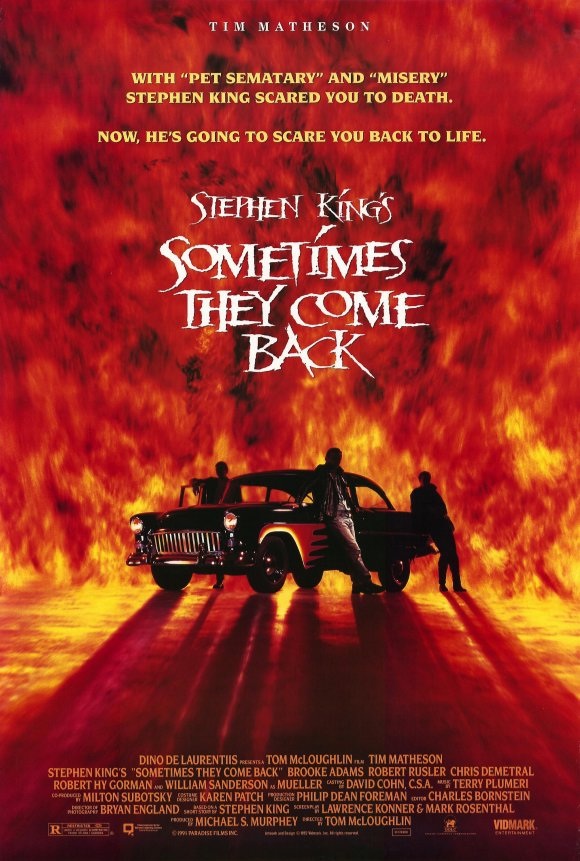 Retro-review: Available for the first time in UK on DVD this week!
SOMETIMES THEY COME BACK (1991)
Directed by Tom McLoughlin
Written by Stephen King (story), Lawrence Konner & Mark Rosenthal(screenplay)
Starring Tim Matheson, Brooke Adams, Robert Rusler, Chris Demetral, Robert Hy Gorman, William Sanderson
Reviewed by Ambush Bug
Not one of Stephen King's stronger adaptations, SOMETIMES THEY COME BACK was a TV movie from an age of cinema when every one of King's stories both short and novel length was adapted to film. Originally, this film was to be a part of the CAT'S EYE anthology, but Dino De Laurentis decided that it was strong enough to be a full length film on its own. Littered with a lot of the less effective tendencies in King's bag of tricks, SOMETIMES THEY COME BACK serves as a reminder that not all of his stories are gold.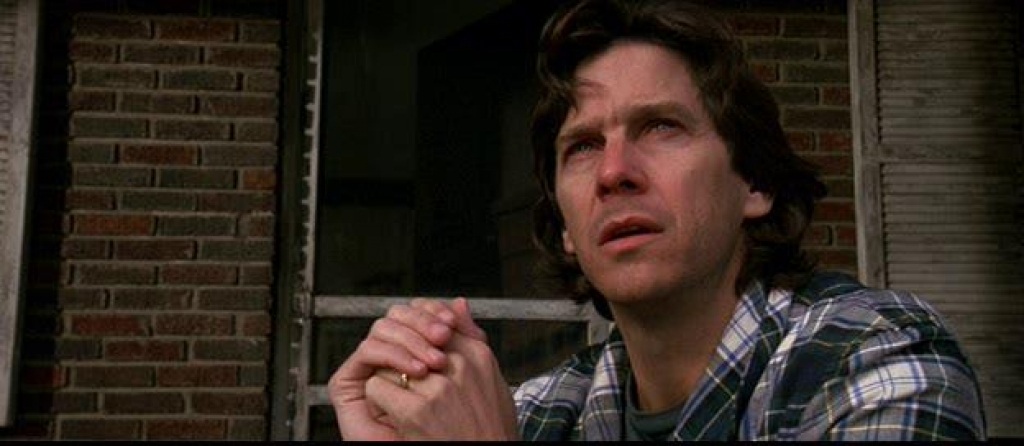 Featuring the same heavy dose of nostalgia that is prevalent in such stories as IT and STAND BY ME (aka THE BODY), SOMETIMES THEY COME BACK follows a teacher named Jim Norman (Tim Matheson) who reluctantly returns to his home town for a teaching opportunity, despite bad memories of his brother dying at the hands of a quartet of punks who look like they've leapt from the set of GREASE. Like Jack Torrance (another King creation played expertly by Jack Nicholson in THE SHINING), Norman struggles with a temper, having lost his previous job because of it. Some of the more effective scenes show Matheson struggling to contain his temper in front of an unruly class, though Matheson's pleasant demeanor lacks the fangs Nicholson bore in THE SHINING. Still, Matheson does a decent job as a man conflicted with inner demons trying to contain them in order to be a good husband and father to his family.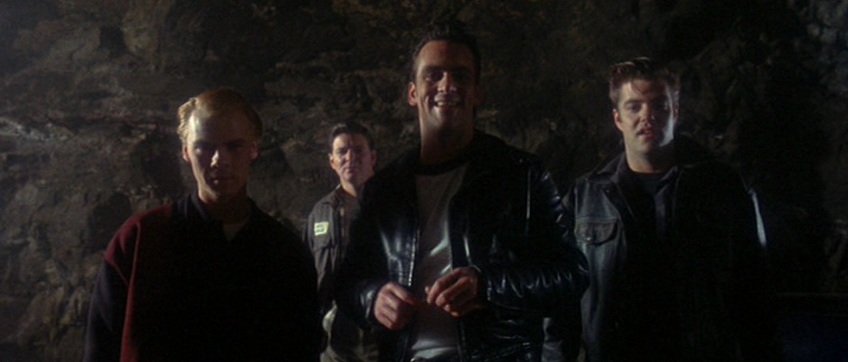 Those inner demons burst to life as the punks who killed Norman's brother return from the dead and begin showing up as transfer students in his classroom. Like Kiefer Sutherland and the rest of the bullies in STAND BY ME, they threaten to destroy the good intentions of our hero, but just as Matheson's face (which hadn't aged much since ANIMAL HOUSE over ten years prior) lacks that menace as Nicholson, Robert Rusler (who was on a roll at the time with appearances in A NIGHTMARE ON ELM STREET 2: FREDDY'S REVENGE, WEIRD SCIENCE, and the classic VAMP), Nicholas Sadler (who was set to be Michael Pitt 20 years before Michael Pitt and starred in MOBSTERS and STOP OR MY MOM WILL SHOOT), and Bentley Mitchum (from TV's short lived OUTSIDERS series and DEMONIC TOYS) lack the proper fright factor to instill the fear one has when faced with a bully. Basically, the three ghosts laugh a lot and drive their car into folks a la another King standby, CHRISTINE.
Tom McLoughlin, having just come off of directing one of my favorite FRIDAY THE 13TH's (PART 6: JASON LIVES), tries to push the envelope with some nice practical effects and a few bits of humor that work well. There's a bit where Brooke Adams (who plays Norman's wife) grabs a knife before investigating a noise. She pauses, looks at the knife, then grabs a bigger one. That's kind of funny, as is the bullies tossing parts of a jock they have just ripped apart out of their car window one part at a time. Moments like these occur throughout this film, making me wonder what kind of fun McLoughlin might have had if this were an R-rated theatrical release instead of a made for TV flick. As is, there are some nice practical effects when the bullies reveal their rotted corpse selves, which are pretty darn cool looking.
Practical effects and decent acting save this relatively toothless adaptation which serves as more of a Cliff's Notes version of better King stories than standing on its own as a strong ode to the King. SOMETIMES THEY COME BACK ends rather limply as the family hugs it out and the music swells, hoping for that wave of nostalgic wholesomeness that permeates a lot of King's lesser work. For some reason, this film warranted two sequels; SOMETIMES THEY COME BACK…AGAIN and SOMETIMES THEY COME BACK FOR MORE (I was hoping for a fourth—SOMETIMES THEY COME BACK FOR REALSY REAL THIS TIME, but it doesn't look like it was in the cards). I haven't seen any of the sequels and don't really have a desire to. Still, for the King completist, SOMETIMES THEY COME BACK is not the worst King adaptation, but pales in comparison to his better works.
---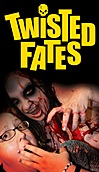 TWISTED FATES (2012)
Directed by Joe Sherlock, Robert J. Olin, Ron Ford
Written by Joe Sherlock
Starring Michelle "Ame" Mahoney, John Bowker, Ron Ford, Athena Demos, Alexandra Paris, Doom Grrl, Caren Rebekah Parmenter, Bryn Kristi, & Ariauna Albright
Find out more about this film here!
Reviewed by Ambush Bug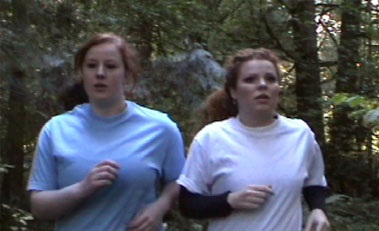 Filmed with a budget as low as they come, there's something quite charming about this low fi anthology. I shouldn't like it. The acting is the pits, with most of the non-actors speaking at a monotone level and not exhibiting a lot of range. The stories are less than original. The effects are rudimentary. But despite it all, every scene and every minute of TWISTED FATES oozes a love for all things horror and I can't help but get behind it for that fact alone.
If anything, the folks behind this film should be proud they have a horror anthology completed and able to present. Like most anthologies, the one tying it all together is by far the weakest. It involves a pair of guys who go door to door roofie-ing housewives and having their way with them. Of course, these ne'er-do-wells run afoul of the wrong housefrau and end up having to endure her telling them a trio of tales while dressed in bondage wear.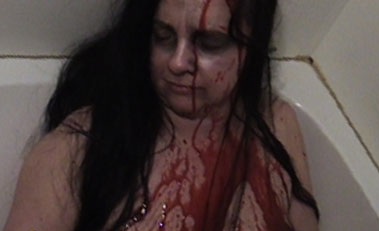 Tale one, "The New Neighbor", casts an older man who can't believe his luck when a sassy new occupant moves into his trailer park and invites him to dinner. Things go wrong in an overly complex yet somewhat ridiculously farcical manner. Tale two, dubbed "Welcome Sister", is a somewhat predictable albeit brutal tale as a pair of joggers run afoul of some hooded creeps in the woods. Finally, "It Haunts" is a nice take on the housesitter alone in the house story that could use about ten minutes shaved off in the editing room, but nevertheless offers up some scary imagery.
Again, TWISTED FATES is low, low, low budget, but redeems itself with some decent takes on age old tales and a palpable sense that this is one of those bare bones budgeteers where everyone involved had a great time making it. I am interested in seeing what the filmmakers have in store next and if you don't mind overlooking the low fi production, TWISTED FATES has a lot going for it.
---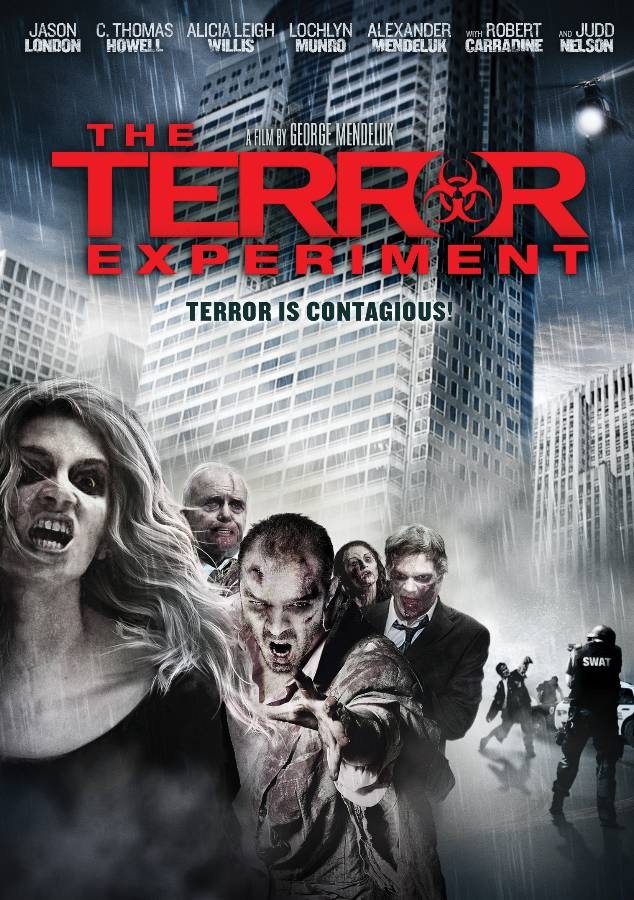 New on DVD/BluRay this week!
THE TERROR EXPERIMENT (2010)
Directed by George Mendeluk
Written by D. Todd Deeken
Starring C. Thomas Howell, Judd Nelson, Jason London, Robert Carradine, Lochlyn Munro, Serah D'Laine, Alicia Leigh Willis
Reviewed by Ambush Bug
Agh, man, though I am forgiving to the subject of the next review, I can't muster up the same sympathy towards this unimaginative riff on the zombie genre. Though everyone involved in this DIE HARD WITH ZOMBIES seem to be reaching for the stars in both performances and writing, THE TERROR EXPERIMENT just kind of felt limp to me. Ideas lifted directly from 28 DAYS LATER and a multitude of other zombie/infection films doesn't help make this film any more memorable. I am having a hard time finding something positive to say about this obvious soon-to-be entry in SyFy's long list of bad horror films shown on Saturday nights.
One thing I can say is that the filmmakers involved do a lot with very little. Stock footage and the use of narration from radio and TV do a decent job of making this low budgeter feel like it is taking place on a more grand scope. Narration of events occurring while looking through the windshield of a moving police car is a decent way of building that level of illusion necessary for filmmakers with budgetary restrictions, and the guys behind the camera show some creative chutzpah here. But when I'm lauding the corners taken to make the film, though, you know I'm grasping for straws at something positive to say.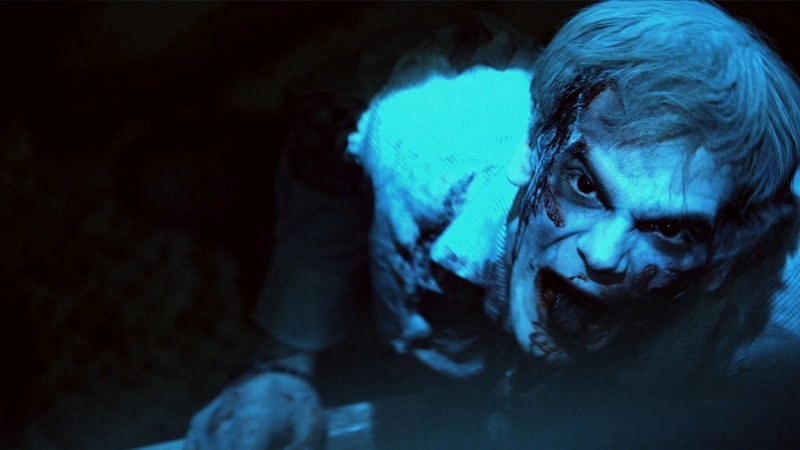 The film is a veritable who's who of where the hell have they been actors. Judd Nelson, C. Thomas Howell, Jason London, and Robert Carradine all show up to let us know that they are still alive and kicking, though you wouldn't believe it from the lack of energy in their performances. The story follows an experiment gone wrong and a terrorist group set to incite the end of the world to save it with a virus which turns people into mindless berserkers. The infected act very much like the Rage-filled monsters from the 28 DAYS LATER franchise, yet occasionally seem more like the Romero zombies who retain some of their humanity after death.
I wish I could say more about this film, but apart from having a cast of stars that don't seem to want to be there and a plot you can find in fifty better films, THE TERROR EXPERIMENT just didn't really do a lot for me. The filmmakers seem to know how to work around a budget and stretch it to make it look bigger than it really seemed, which is definitely an impressive quality to possess.
---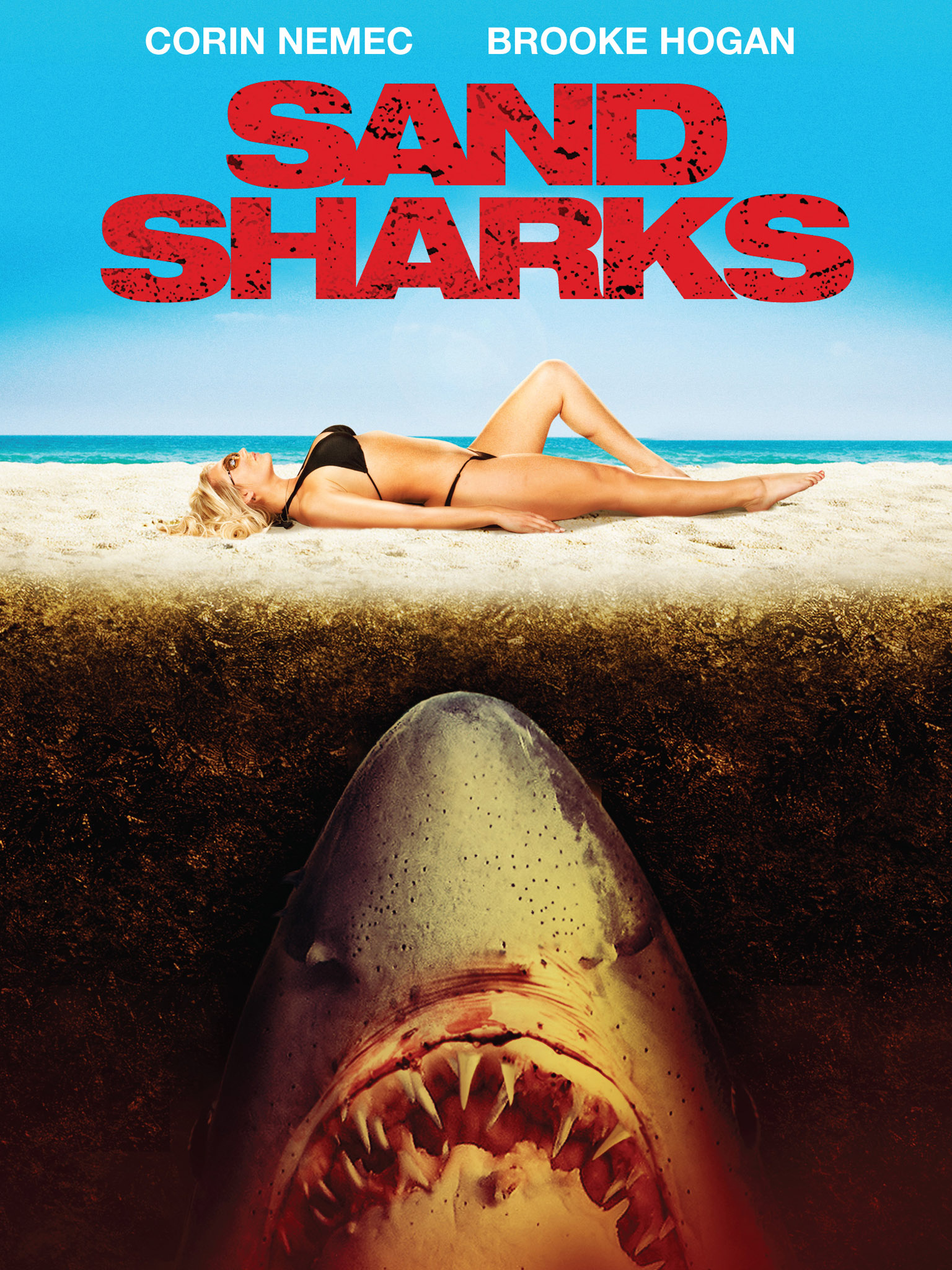 Available on VOD now!
SAND SHARKS (2011)
Directed by Mark Atkins
Written by Cameron Larson & Joe Benkis
Starring Corin Nemec, Brooke Hogan, Eric Scott Woods, Gina Holden, Julie Berman , Vanessa Lee Evigan, Nick Hogan, Robert Pike Daniel
Reviewed by Ambush Bug
I have to admit, I have a soft spot for shark films. No matter how ludicrous or poorly made, there's something about the monster in the water with all of the teeth and splashing that gets me on the edge of my seat every time. Now, nothing will compare to JAWS. I know that. But I still hold out hope that one of these times, a film will come along and hit me on a visceral level that that film does every time I watch it.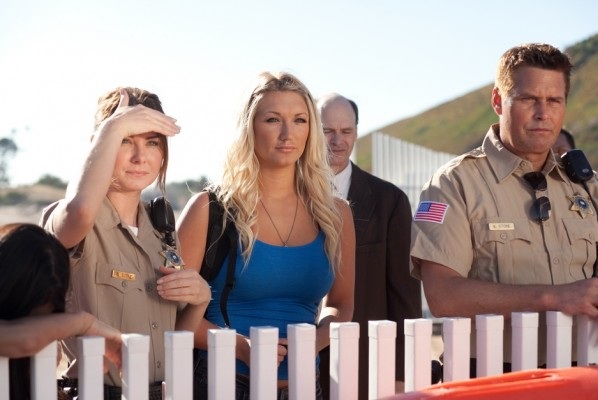 SAND SHARKS is not that film, though it's pretty clear that the filmmakers behind the film and the actors in front of the camera and being eaten by the shark have all seen the film. References to JAWS permeate this entire film, even down to the basic story structure which involves a quiet beach town keeping a beach open despite recent attacks leaving a trail of dead bodies. There's even a crusty seaman on hand to offer tales of sharky woe and an intimate knowledge of the beast, as well as characters such as a brainy scientist whose warnings are never taken seriously, a concerned lawman who feels responsible for it all, and a money hungry mayor and showman who will do anything to keep the beaches open. The only thing different about this film from JAWS and all of its knockoffs is that the toothy predators skim through the sand as well as the water, making them doubly dangerous.
Let's not even try to go into the science and physics of the shark's ability to swim through solid earth. Yes, it's implausible, but if it works for TREMORS, I guess it can work here. Like the worms in TREMORS, the sharks are attracted to sound--a fact that is used to the heroes' advantage numerous times. About as much logic is applied to the sharks' tunneling ability as to the science in this one as the marine biologists and big brains come up with one hare-brained scheme after another to take on the sharks. Both TREMORS and JAWS worked because of their smart scripts no matter how crazy the idea of a serial killing shark or a giant earth tunneling worm is. SAND SHARKS lacks in this type of skillful screenwriting and doesn't seem to have the inclination to even shroud the sharks' abilities in some kind of scientific fact. But what SAND SHARKS lacks in knowhow, it makes up with one corny joke after another.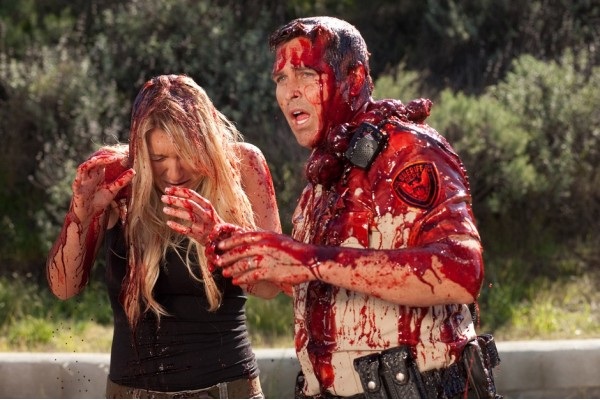 Though this isn't a Roger Corman-produced camp fest, it is as campy as it comes with self-effacing jokes made at its own expense as well as blatant rip-offs of JAWS-isms such as "We're gonna need a bigger beach!" The humor is attempted often throughout and though most of the attempts are groaners, I have to admit that they were kind of fun to endure.
The film stars Corin Nemec (who most recognize from SUPERNATURAL, but I remember from PARKER LEWIS CAN'T LOSE) as a slimy showman who will stop at nothing to keep his moneymaking party going despite the sharks' tendency to burst from the sand and eat people. Brooke Hogan shows up as the brainy scientist, as does her brother Nick. Interestingly enough, this is the daughter of Hulk Hogan's second shark adventure as she was last seen taking on a shark with two heads in the appropriately titled TWO-HEADED SHARK ATTACK (
reviewed here
).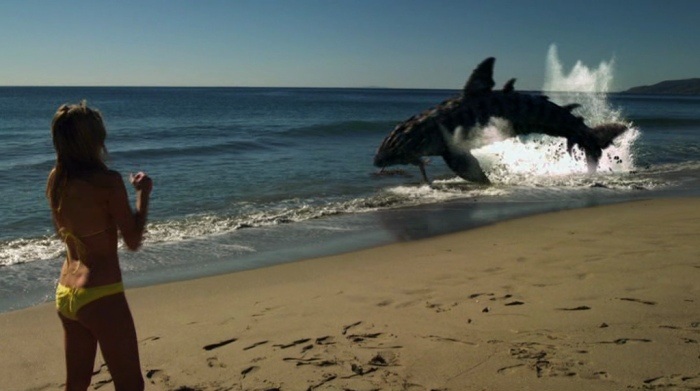 I found SAND SHARKS to be brainless fun. Whereas other films try to fool us with bad CGI, at least the CGI is relatively decent here (or maybe the contrast with the sand made the effects look more believable). There's a decent amount of blood at play later in the film and I have to say it was fun watching the shark bursting from the sand in random places despite how ludicrous the concept was. Points are given to this one in its less than subtle references to the subgenre of film it spawned from. Not quite the pig in shit campiness of PIRANHA 3D or the grindhouse fun of BLOOD BEACH, SAND SHARKS is a brainless yet somewhat fun romp despite itself and serves as the bastard son of TREMORS and JAWS which harmlessly tells jokes in the corner making fun of itself yet pales in comparison to its parents.
---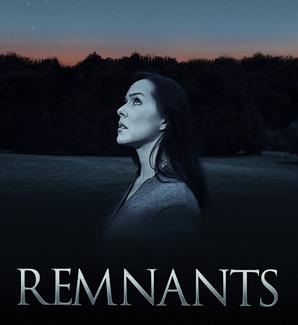 REMNANTS (2012)
Directed by Tim Szczesniak
Written by Paul Hilburger
Starring Robert Pralgo, Vanelle, Jeff Briggs, Donald Sill, David J. Mack
Find out more about this film here!
Reviewed by Ambush Bug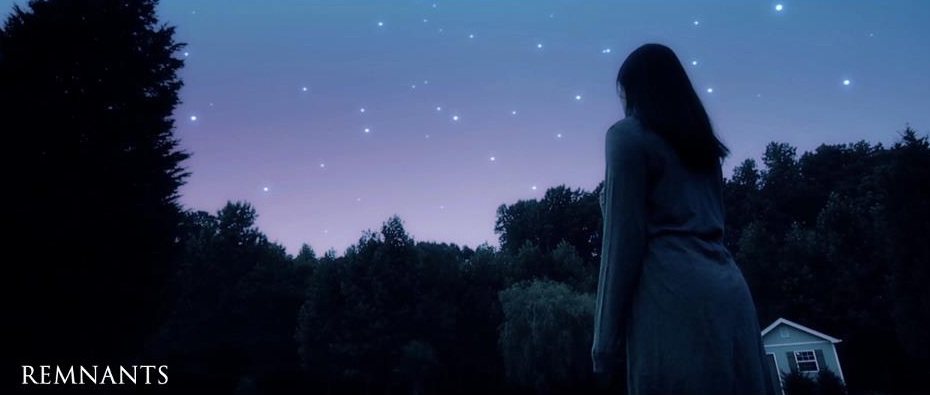 This is a nice end of the world gem filmed on the budgetary low, yet utilizes some themes in a surprisingly mature and patient manner. Comparisons to THE WALKING DEAD are bound to cross one's mind when checking out REMNANTS. Both are about a group of survivors trying to get by and get along once society has crumbled. Though REMNANTS has nary a zombie to be seen, still the film illustrates how the lack of societal structure chips away at humanity.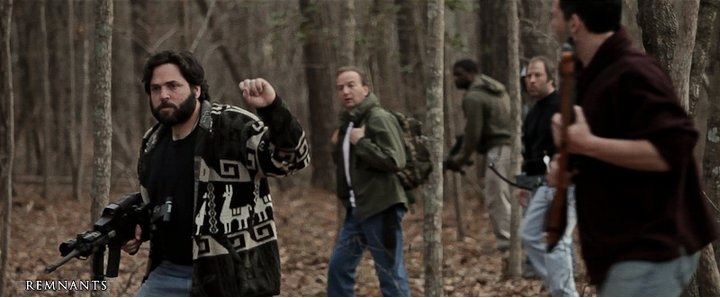 If you're a reader of THE WALKING DEAD comic book, you'll definitely spot the similarities as a group of survivors wall themselves into a gated community and work together to defend what little civility they have left and ration off the remainder of their food and water supply. Actor Robert Pralgo plays the leader of this makeshift community who not only helps maintain order, but struggles to keep the morals he had before society crumbles. This film takes place during a two week span, so no one's gone completely Thunderdome yet, but REMNANTS does a great job of how quickly we might slide into barbarism given the right circumstances.
The screenplay of REMNANTS, though somewhat familiar, is well done, pacing this decline of civilization well and adding in nice bits of character. Most come from Pralgo himself who is charismatic and downright funny in the way he still has the strength to find humor in things and when things get dire, he's able to act the heavy stuff as well.
The acting from the rest of the cast is less impactful. It appears that mostly non-actors filled out the rest of the cast, and their line delivery is pretty cardboard at times. The exceptions come from nice performances by Vanelle as Pralgo's wife who does her best Jiminy Cricket reminding Pralgo of his ever-waning humanity.
The ending of REMNANTS is pretty impactful and resonated. Some may have a hard time looking past the amateur acting, but beneath that is a winner of a script and a capable presentation of it. REMNANTS may have its rough edges, but its strength lies in its story. This is a film worth supporting.
---
And finally…here's another episode of BLOODY CUTS. This one is an extremely spooky twist on nighttime dance club predators called PREY from UK director Jonny Franklin. BLOODY CUTS have announced a new project coming in the early summer directed and written by Ben Tillett and Jake Cuddihy, but until the new cut is complete, here's PREY to tide you over. Be warned, this one is pretty damn scary with some fantastic jumps and a clever story. Enjoy!
See ya next week, folks!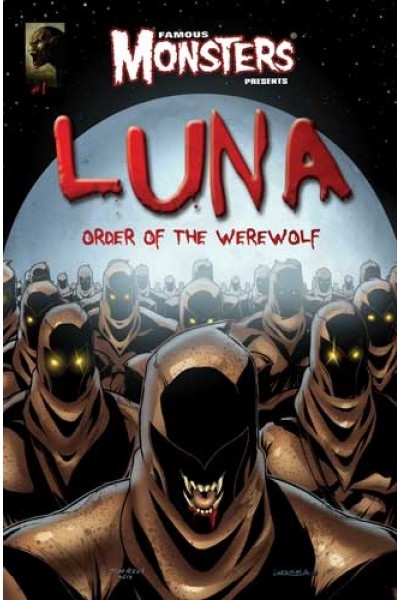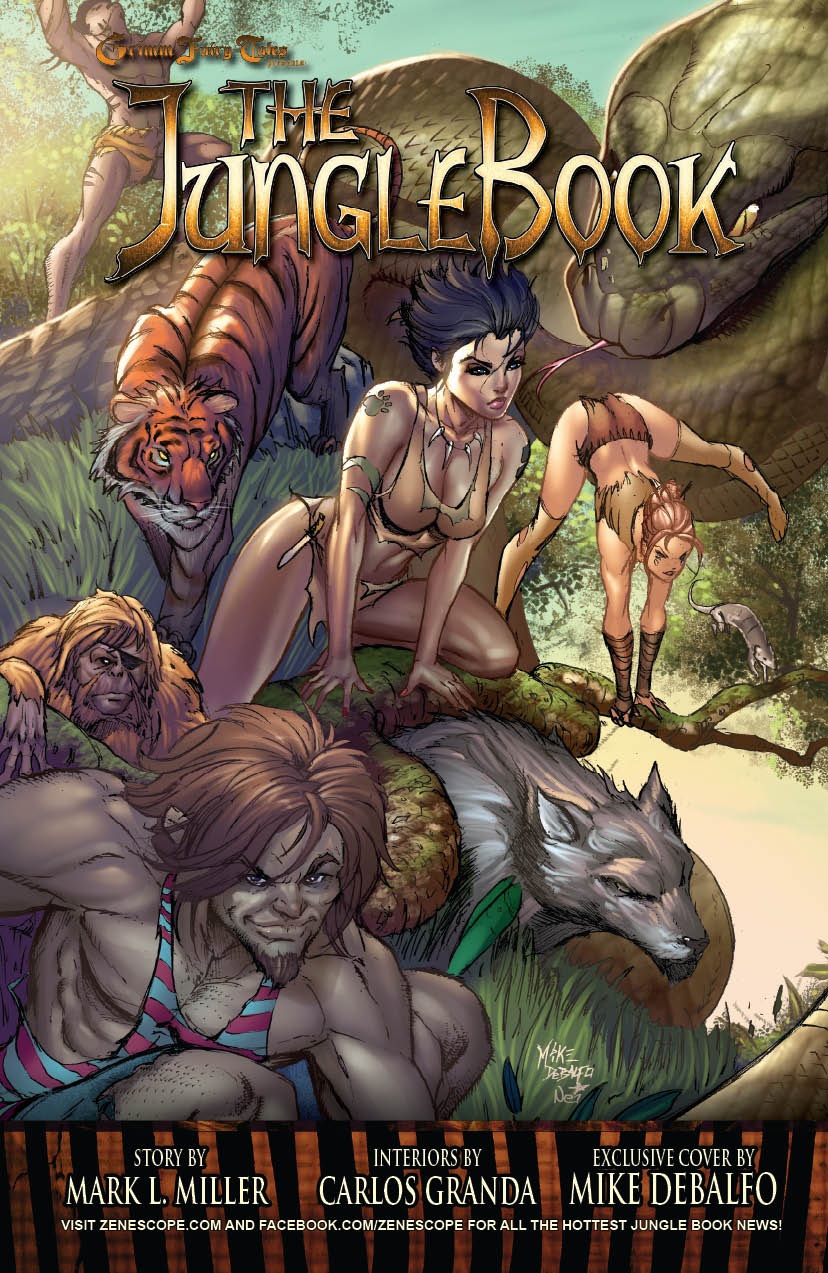 Ambush Bug is Mark L. Miller, original @$$Hole/wordslinger/reviewer/co-editor of AICN Comics for over ten years. He has written comics such as MUSCLES & FIGHTS, MUSCLES & FRIGHTS, VINCENT PRICE PRESENTS TINGLERS & WITCHFINDER GENERAL, THE DEATHSPORT GAMES, WONDERLAND ANNUAL 2010 & NANNY & HANK (soon to be made into a feature film from Uptown 6 Films). He is also a regular writer for FAMOUS MONSTERS OF FILMLAND & has co-written their first ever comic book LUNA: ORDER OF THE WEREWOLF (to be released in October 2012 as an 100-pg original graphic novel). Mark has just announced his new comic book miniseries GRIMM FAIRY TALES PRESENTS THE JUNGLE BOOK from Zenescope Entertainment to be released in March 2012.
---
Check out the FAMOUS MONSTERS OF FILMLAND Website!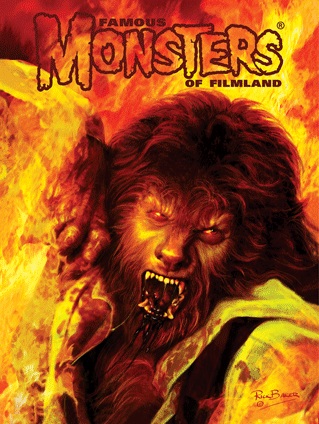 ---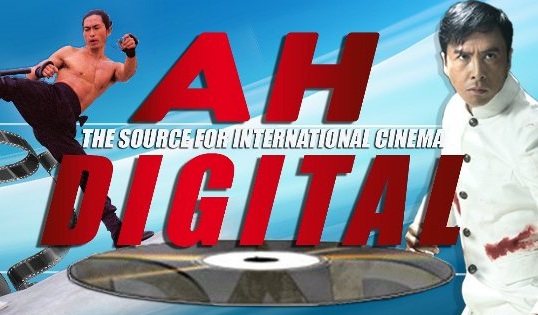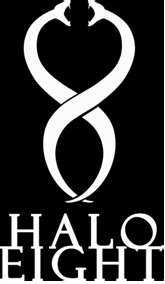 Looking for obscure, foreign, or hard to find DVDs & BluRays?
Check out AH Digital: the source for international cinema!


Interested in illustrated films, fringe cinema, and other oddities?
Check out Halo-8 and challenge everything!



---
Find more AICN HORROR including an archive of previous columns
on AICN HORROR's Facebook page!