"Monty Cristo" here.
Now that I've had some time to get settled in here at Ain't It Cool, you can expect Criterion Collected to come more frequently. Believe it or not, I'm planning on having a new installment of this column for you each week, with a different focus each time.
There'll be some posts like this one that focus on reviews, and others that focus on Criterion "culture" in general. While at the store last week purchasing THE WAR ROOM and LETTER NEVER SENT, I thought of a number of ideas that I'll be trying out over the coming weeks.
One of the biggest no-brainers comparing original DVDs with their Blu-ray upgraded editions, so count on that (next week, I'll be looking at BRANDED TO KILL and TOKYO DRIFTER). If you followed my writing at Hollywood Elsewhere, you'll remember that a couple of years ago, I began a chronological retrospective of the career of Yasujiro Ozu. I will be revising and remastering that series in advance of the April 17 release of LATE SPRING on Blu-ray.
If there are specific topics or titles that you would like for me to cover, please email me. I'd love to hear from you.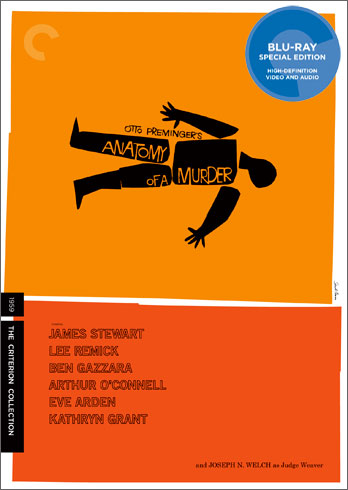 ANATOMY OF A MURDER (1959) #600
Otto Preminger's ANATOMY OF A MURDER is not only one of his greatest works but also one of the greatest legal dramas put the film. Watching James Stewart spar with George C Scott is wonderful, but I agree with Harry that it is yet more entertaining to watch Scott watching Stewart chew on the courtroom scenery.
The specifics of the case at hand were based on a real-life case that was tried by the lawyer who plays the judge. The crux of the case, whether or not a justifiable homicide was committed, is the basis of many of the most gripping legal dramas that have come in the decades since.
In a recent conversation with Harry, we agreed that this is a film that far too few have seen theatrically in far too long. If you're interested in going to a screening of this, drop me an email. Tell me what city you live in, and we'll see what we can do.
One of the things that I love most about Criterion special editions is that they do not force you to listen to newly-created surround soundtracks that were not originally available. In the case of ANATOMY OF A MURDER, they include the new 5.1 alternate soundtrack, and surprisingly, I found myself actually enjoying it quite a bit. I only did this after watching with the original monaural soundtrack, of course.
All of the special features are pretty outstanding. In particular, the interview with Preminger biographer Foster Hirsch is very insightful, as well as the Saul Bass featurette, which features Bass biographer Pat Kirkham. The Gary Giddins interview regarding Duke Ellington score is wonderful as well. Ellington's score is one of the unsung heroes of this film.
I was most surprised and delighted by the excerpts from a 1967 episode of FIRING LINE, which featured Preminger in discussion with William F Buckley. Preminger acquits himself quite well, and delivers more engaging television than we're accustomed to these days.
Down to the packaging design, curated by F Ron Miller, it's a handsome addition to any collection. Miller had the unenviable task of adapting for the work of Saul Bass.
The picture quality is crisp, rich, and grainy. The transfer looks like a newly struck print, reproducing the stunning black and quite cinematography brilliantly. If only we all had unlimited budgets, we would buy every release put out by the Criterion. If you have to choose just a few titles a year to pick up, then this should definitely be one of them. I can state with some certainty that this will end up being one of my top releases of the year, and one that I will re-watch more often than most discs on my shelf.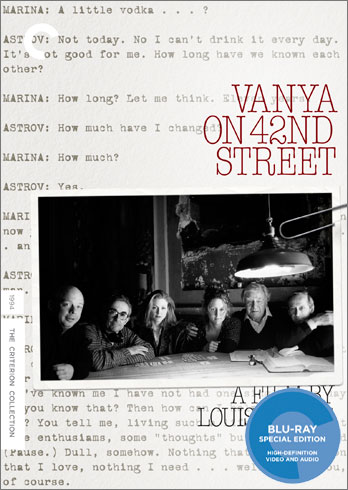 VANYA ON 42ND STREET (1994) #599
This film is a true miracle of the creative process, and I hope that its high concept does not prevent people from investigating this marvelous film, the last feature made by the great Louis Malle. It also happens to include two of my favorite performances by Wallace Shawn and Julianne Moore.
In this world full of people obsessed with the glowing screens in their pockets, the idea of a feature film that documents the rehearsal-style production of a play written by Anton Chekhov and staged in a run-down old Broadway theater...seems an impossible sell.
Five years before the film was made, director André Gregory brought together a company of actors to merely rehearse the play Uncle Vanya, never intending to actually perform it for an audience. They did these rehearsals in an abandoned theater (the Victory) when their professional schedules allowed. Eventually, they started inviting very small groups of friends to watch the rehearsals, which they performed in a different abandoned theater across the street (the New Amsterdam). The stage was unusable, so they used a portion of the orchestra section and adjacent rooms and corridors.
This would prove to be a profoundly unique theatrical production, since once this non-production closed, the theater was to be renovated and the atmosphere could never be duplicated or approximated again.
A few years later, the New Amsterdam theater would host the premiere engagement of Disney Theatricals's THE LION KING musical and afterward, the still-running MARY POPPINS.
If there is a standard prerequisite to watching VANYA ON 42ND STREET, it would probably be the you should have a passing familiarity with the plot of Uncle Vanya. I would put forth, however, that one should instead be inclined to walk in on the rehearsal of a play they may have never seen or heard of. That is all of the perspective you really need coming into VANYA ON 42ND STREET. The film rewards multiple viewings, just as multiple viewings of a theatrical production throughout its run reward the theatergoer.
The only supplemental feature on the disc is a newly-recorded 40 minute retrospective documentary, featuring interviews with André Gregory and the majority of the cast, reflecting on one of the most unique productions in both theatrical and cinematic history. The included booklet, a feature often under-appreciated in reviews, includes an on-set report by film critic Amy Taubin.

TINY FURNITURE (2010) #597
Like it or not, Lena Dunham really is the voice of her (and my)generation. Me, I don't mind the sound of that. Her work perfectly reflects the inner turmoil of her (and my) generation: alternately boastful and self-loathing, we are adrift in a world where we feel all the great things have been done.
I gather that a fair amount of the contempt lodged toward her (after you remove simple jealousy of what she's done at so young an age) is really directed at all of us jackass millennials. We are the generation of too many emperors, and not enough kingdoms.
I regret that I did not get a chance to see the pilot of her new HBO show GIRLS at the recent SXSW Film Festival, but from everything that I've heard, it sounds like my cup of tea. I am glad that Criterion chose to include her first feature film, CREATIVE NONFICTION, on this release. Along with four of her short films (also on the disc), they paint a very comprehensive portrait of who Dunham has been and is evolving into as a filmmaker.
Her work is all semi-autobiographical, at times hitting closer to home than I think she may have anticipated. Maybe there's something wrong with me, because I really sincerely enjoy the mixture of pomposity and insecurity that is at the core of all of Dunham's work. Maybe it's a generational thing.
I was initially quite surprised to see the amount of backlash against Dunham from her (our) own generation. I think that part of it is owed to the aforementioned jealousy, but another portion of it is the millennial generation not liking the idea of having themselves exposed for what they are: charlatans and posers on a grand scale. We are the generation with nothing great left to do, if you ask most of us., and we aren't terribly interested in much other than ourselves. Dunham and Nora Ephron get into this a little bit in the interview included on the disc.
Some have decried the inclusion of TINY FURNITURE as part of the Criterion Collection, whereas others have railed against the cover art. I disagree on both counts, especially considering that the very thing most complained about, the self-centered nature of the filmmaking, is the focus of said cover art. Hate the film all you want, but the digital self-video-portrait is extremely fitting, considering what's inside.
Owning the film may not be for everyone, but I think that it warrants being seen before one makes a presumptive, pompous, unfair judgment.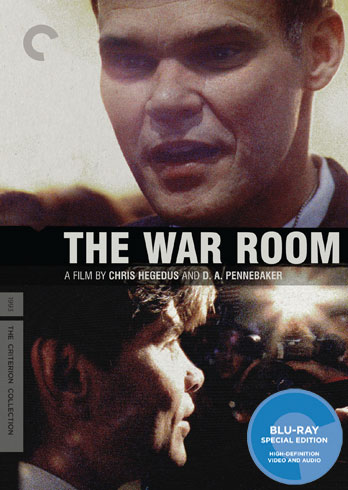 THE WAR ROOM (1993) #602
One of the finest political documentaries ever made is now a chronicle of a bygone era in politics. This film is the result of adverse circumstances turning into better material than anyone could've hoped for.
THE WAR ROOM follows the 1992 presidential race from inside the Clinton campaign, with a James Carville/George Stephanopoulos buddy comedy at the film's narrative center.
Even though I've seen WAR ROOM many times, it's been years since I revisited it, and certainly since before the 2008 presidential race. Looking at it now, through the lens of campaigns that thrive on social media and micro-donations, it's amazing to think that just 20 years ago, this was how campaigns were run. I never thought I'd find the events of this movie to feel slow-paced.
It's impossible not to think of THE WAR ROOM as a time capsule film: a set of memories of the era in politics, documentary, and media in general when Direct Cinema didn't seem like a quaint relic to many. Remember when "reality" on television was not equated up with some talentless fool making a spectacle of him or herself, but a report from a war-torn third world country?
The early 90's was a period when simply completing a feature film was not something you could do on a few hundred dollars and a DSLR you borrowed. The digital revolution was still a long ways off. As real as I know the film to be, it is now actually difficult to completely believe the authenticity of what I see on the screen. When Chris Hegedus and DA Pennebaker set out to make the film, they didn't know that Clinton was going to win, or that Carville and Stephanopoulos's careers would be made out of the work they did on this campaign. They thought they were sunk when they were refused access to the candidate, and instead had to settle on his campaign staff.
The extra features contain a wealth of enjoyment for political junkies and documentary enthusiasts alike. Leading off is the William J Clinton Foundation panel from a few years ago, where former Pres. Bill Clinton appeared out of the audience as a surprise guest. In his impromptu remarks, his greatest insistence is on a campaign having a consistent and clear narrative, an ideal that his campaign staff seized on in 1992. I think this is the first time content that appeared on C-SPAN has been used as a Criterion extra.
THE RETURN OF THE WAR ROOM is a Sundance Selects production that looks back at the film and eliminates the need for a commentary track, since much of RETURNS's content is a retrospective examination of the most prominent parts of the first film.
The richest part of the supplements is the 40-minute long conversation between Chris Hegedus, DA Pennebaker, RJ Cutler, and Wendy Ettinger. They discussed the Genesis and production of the film in debt, telling very stories firsthand as vividly as if they had happened the day before. The moment that got me the most though, is when they started lovingly, warmly praising Bingham Ray, who unfortunately passed away suddenly during this year's Sundance Film Festival. The way they describe the dependability and passion of Ray is how anyone who knew him would describe him. He was not only a consummate professional, but also a true believer in the potential power of film, and the promise of independent cinema. Without him, many films like THE WAR ROOM would not exist. To have the opportunity to watch these masters of their form praise him to high heaven, months before tragedy struck, is a privilege indeed, and a fitting tribute to his legacy. It's a truly classy (and appropriate) move that Criterion dedicated the entire release to Bingham Ray in the included booklet.
Regardless of political leaning, this is a Great Film. Seek it out.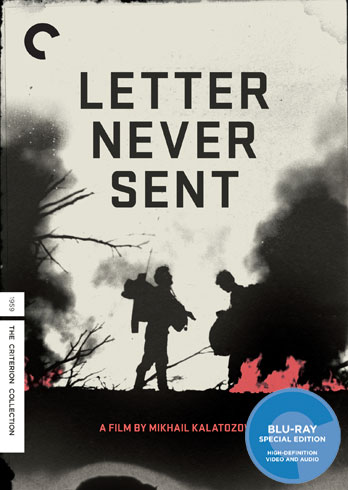 LETTER NEVER SENT (1959) #601
There are times when I greatly prefer no extra material besides the film itself. As bizarre as it sounds, I like to be left shellshocked, mouth agape, and utterly stunned, with nothing in the disc menu to let me escape. This film is one of those that just knocked me back. These experiences remind me of earlier days, when Criterion's releases would simply leave you with the film and maybe just some liner notes to read through.
I was very much a fan of Joe Carnahan's THE GREY earlier this year. It shares a man against the elements theme with Mikhail Kalatozov's classic Russian film, and I'm convinced that they would make a hell of a double feature. No offense to Carnahan, but this movie blows his out of the water. For me, this film was a revelation.
In LETTER NEVER SENT, a team of four geologists are sent out into the taiga of Siberia to find diamonds. They all have more than just the mission at hand in the back of their minds, and they can't help but be distracted by their own personal insecurities and hangups. The meet some success, but eventually, something goes terribly wrong and they find themselves stranded and unable to communicate with home base.
Not only does the film feature stunning, immaculate cinematography, but it comes from a period in cinema when actors surrounded by a forest fire on all sides means that actors' lives were actually put in danger just to make a film. They weren't simply surrounded by tennis balls and CG garbage.
I had seen the director's other two most famous films, I AM CUBA and THE CRANES ARE FLYING, but I had never been able to catch this one. If it weren't for Criterion, I can't be certain that I ever would have.
Do not, under any circumstances, allow the lack of supplemental materials to put you off purchasing this movie.
The three disc ultimate edition of I AM CUBA contains loads of supplemental material on Kalatozov, so I'm perfectly happy with the extremely thorough essay in the booklet for LETTER NEVER SENT. I would love to see the existing rights holder of I AM CUBA sub-license it and all of the supplemental materials to Criterion, so that the Collection can release Blu-rays of all three of Kalatozov's greatest films.
That's it for this week. Depending on how my weekend shapes up...you may very well get a review of the new DAVID LEAN DIRECTS NOEL COWARD box set before next week starts.
Remember, if you have requests or thoughts on the column, I'd love to hear them.
Moisés Chiullan
"Monty Cristo"
Email
Follow Me on Twitter