The Kidd here...
It was a big weekend for Jennifer Lawrence as it appears a few people made it out to the movies to see a little flick called THE HUNGER GAMES. Now with a major series resting on her shoulders, there's a bit more notice paid to the projects she's involved with. That makes perfect timing for Relativity Media to release the first image from HOUSE AT THE END OF THE STREET, the thriller starring Lawrence, Elisabeth Shue and Max Thieriot, which hits theatres in late-September.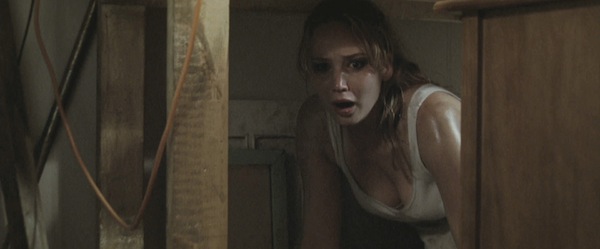 In the film, Lawrence and her mom (Shue) move into their dream house, only to learn they've moved next door to a house where a daughter killed her parents and disappeared, leaving behind her brother in the house as the only survivor. As she gets closer to the guy, the mystery of what happened in the house will begin to unravel.
I'm going to guess this picture is of Lawrence trapped with fear somewhere in the HOUSE AT THE END OF THE STREET.
-Billy Donnelly
"The Infamous Billy The Kidd"
Follow me on Twitter.