The BBC just released the first official photo of The Doctor's new companion: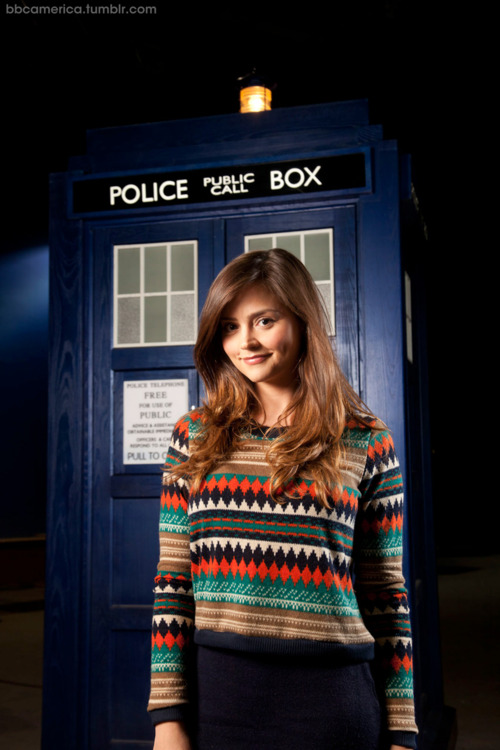 Back to our original post:
-----------------------------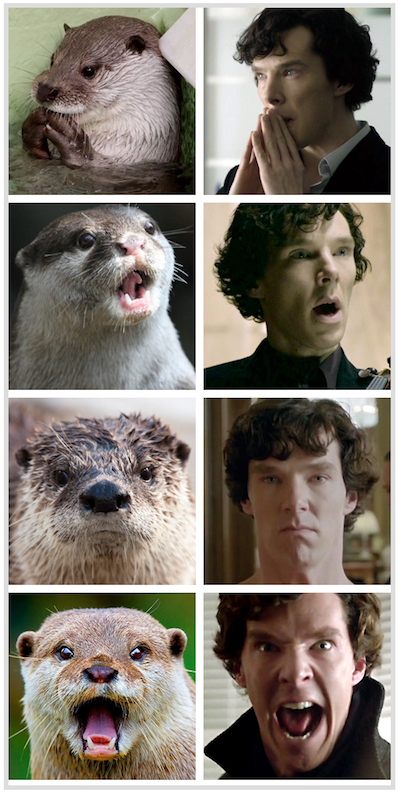 click to embiggen - submitted by Margaret
Merrick here...
...with a look at "The Face of Evil," a Tom Baker era DOCTOR WHO story which originally transmitted Jaunary 1977. This is the Doctor's first introduction to Leela (Lousie Jameson), the fierce not-so-primitive 'primitive' who would become one of the show's most well-known, most-loved traveling companions.
Speaking of companions...
WHEN AMY AND RORY LEVE THE SHOW IN SEASON/SERIES 7 OF DOCTOR WHO, MATT SMITH'S NEW COMPANION WILL BE...
Expanding upon our article regarding Wednesday's announcement...
Per the official DOCTOR WHO Twitter stream, a new companion has been selected to join Matt Smith during Season/Series 7 of DOCTOR WHO - which will transmit beginning later this year. What follows might be viewed as SLIGHTLY spoilerish in nature, but keep in mind that these are officially sanctioned info bits...so my guess is these points aren't too revealing in the grand scheme of things.
The new companion joining the Doctor on his sprawling adventures across time and space is the rather stunning Jenna-Louise Coleman.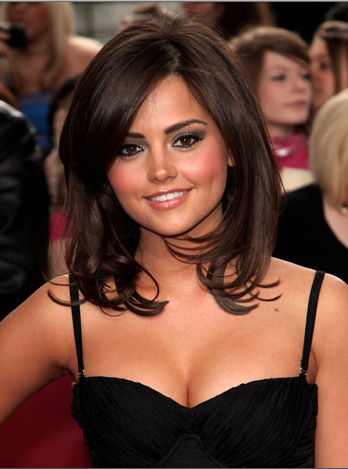 Coleman appeared recently in CAPTAIN AMERICA: THE FIRST AVENGER, but may be better known for her role as Jasmine in EMMERDALE.
Per Steven Moffat: "We saw a lot of brilliant actresses. But Jenna was the only person going faster than Matt - he had to keep up!"
The notion of anyone 'going faster' than Matt Smith boggles the mind. The potential for information overload here is both high and amusing.
The official Twitter stream also indicates that 5 episodes of Season/Series 7 will transmit this year, along with a Christmas Special which will introduce Coleman's character. 8 further episodes will follow next year.
Per Moffat: "Amy & Rory will leave in a final encounter with the Weeping Angels in ep 5. Not everyone gets out alive and I mean it this time"
So, does this mean one of them gets relocated in time? My guess would be Rory...leaving Amy knowing that he's still alive somewhere in the time stream, but unable to access him again due to some insurmountable time differential. This bittersweet turn could once more play off the 'waiting' / not connecting aspect demonstrated by Rory the Centurion in "The Pandorica Opens" / "The Big Bang," and Amy in "The Girl Who Waited" as well as her first-ever encounter with the Doctor. Or, perhaps Amy gets touched by an Angel...thus relocated in time...which could also make her "The Girl Who Waited" again in some tragic and demented way?
It's important to remember that this is the unpredictable, sometimes wild and woolly Moffverse. Amy and Rory's dispatch may have nothing at all to do with the Angels themselves. The Angels may only populate an episode alongside an entirely different plot machination which results in their departure. Back to the Library, perhaps?
Keep your eyes on that Twitter stream for more details as more come around. Thanks to Bill, Robert , John, and MOV for sending along links!
LET'S HELP WASH AND TASHI!!
I present the following...quite frankly...not being entirely sure how to proceed.
I will say that yesterday, I personally attempted outreach about this situation to the best of my ability, in a number of interesting and promising ways - and my efforts are ongoing. Nonetheless, perhaps there's more we can do? As Geeks, and as human beings. For Wash, and for his wife Tashi - who is holding vigil and keeping the faith as her husband slips away.
Docbacker Gotilk called my attention to THIS blog, which is run by Tashi Pratt-King. It chronicles the life, care, and decline of her husband Wash, who has been diagnosed with Glioblastoma Multiforme (a terminal brain cancer). He is dying, and is already fading. On this blog, Tashi mentions two of Wash's passions. Passions which also carry great meaning to anyone still reading my words:
Wash also says if anyone wants to or can get in touch with The Grand Moff [Stephen Moffat] or Nathan Fillion he would be happy to get some kind of dying-geek shout-out from his idols.
Anyone wishing to send Wash and Tashi goodies can send mail to this physical address, which can evidently receive packages.
Wash and Tashi Pratt-King
PO Box 27716
Tempe, AZ 85285
It seems strange...SO strange...to be writing about the loss of fictional characters Amy and Rory within an article which also confronts wrenching, real world loss. But it also seems strangely appropriate, somehow. To me, as much as these Docbacks are about DOCTOR WHO, I also see them as being about people, relationships, and connections. And I thought that maybe, just maybe, it might be possible to find some way to make Wash's existence just a little happier. Be it through some cosmic and meaningful act, or a small gesture which brings a smile to his face...if only for one moment.
Any ideas would be warmly welcomed, and any pro-activity on your part would be exceptionally meaningful and grand. At the very least, perhaps we might take to message boards...to Twitter...to Facebook...and make as much noise as possible for Wash before its too late.
BBC HOME ENTERTAINMENT AND AINT IT COOL NEWS ARE OFFERING YOU A FINAL CHANCE TO SNAG A SET OF FOUR VERY COOL 'CLASSIC' DOCTOR WHO DVDs!!
BBC Home Entertainment and Aint It Cool News recently announced a special screening of the recently resorted WHO classic "The Three Doctors" at the new Alamo Drafthouse on Slaughter Lane in Austin. The screening will happen THIS WEEKEND at 1pm, Saturday March 24, and is general admission (first come, first seated) - although a $5 reserved seat meal voucher can be purchased in advance
HERE
. These vouchers are moving nicely...act quickly if you're interested in reserving a seat.
Our original announcement on the screening is
HERE
!
To commemorate this extremely exciting and very cool event, BBC Home Entertainment and Aint It Cool News have been offering a number of prize packs in the weeks leading up to our screening - each recipient receiving all of BBC Home Entertainment's release of classic DOCTOR WHO stories for this month (March).
These excellent DVDs are loaded with extras and feature resorted image and sound work - the episodes they contain look and sound great, and extras are extremely insightful and informative.
We have ONE (1) more set of these DVDs to offer one (1) lucky recipient this weekend. Here's a list of what's up for grabs, along with BBC's description of each show...
"THE TOMB OF THE CYBERMEN"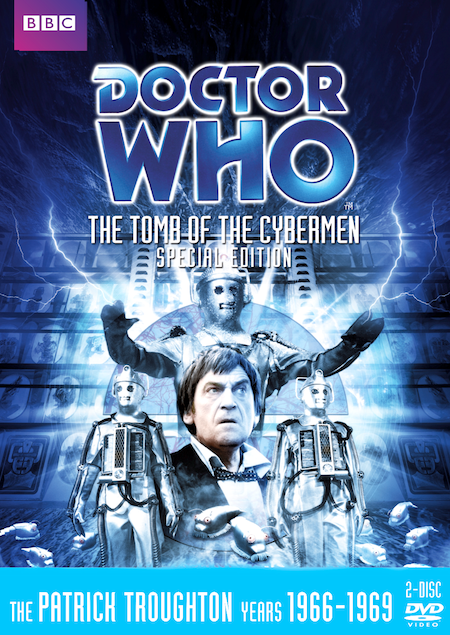 For centuries, the disappearance of the Cybermen from the universe has been a mystery. The Doctor, Jamie and Victoria arrive on Telos - once the Cyber home world - just as an Earth expedition uncovers the entrance to a long-lost control centre filled with baffling technology. With the Doctor's help, the archaeological party discovers the last of the Cybermen, frozen and entombed in a vast underground cavern. But by entering the tombs, the humans have sprung a fiendish trap. All around them, the Cybermen begin to rise from the dead.
"THE ROBOTS OF DEATH"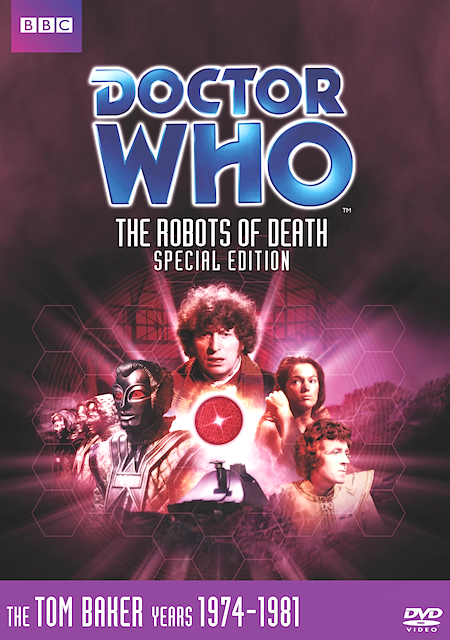 The TARDIS, carrying the Doctor and his new companion Leela, arrives aboard a huge sandminer on a deserted world. The small human crew relies almost entirely on robots to carry out their every task and whim while they mine the planet's rich minerals. Suddenly, one by one, members of the team start to disappear. The time travelers discover that someone or something is murdering the crew - but, of course, nobody believes it could be the robots.
"THE FACE OF EVIL"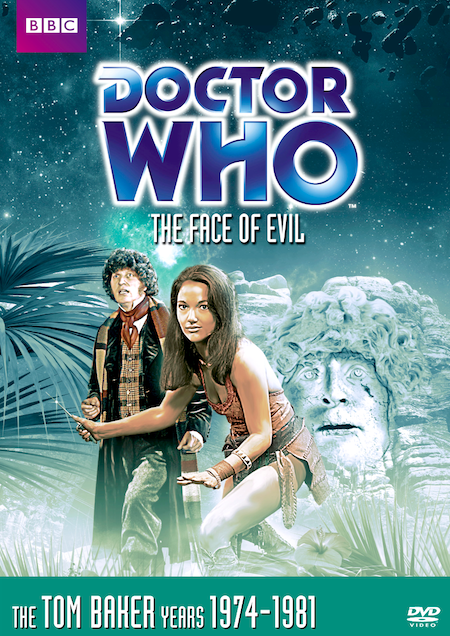 When the TARDIS arrives on a jungle planet, the Doctor encounters two warring tribes, the Sevateem and the Tesh. The Sevateem worship a god called Xoanon and the Tesh are supposedly keeping Xoanon prisoner... But why do the Sevateem call the Doctor the Evil One? And what are the invisible creatures in the jungle? The Time Lord, with the help of a girl called Leela, is about to find out.
"THE THREE DOCTORS"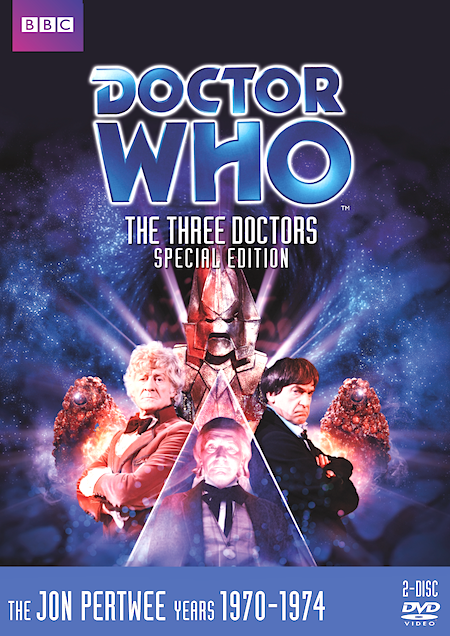 The Time Lords are in crisis. A powerful force is draining their energy into a mysterious Black Hole - and they must recruit the Doctor to save them. But one Doctor isn't enough for this mission. All three of the Doctor's incarnations, aided by Jo Grant and UNIT, must face the wrath of Omega - a fallen Time Lord trapped in a universe of anti-matter, with one thing on his mind: revenge.
We have ONE (1) more sert of these DVDs to offer one (1) lukcy recipoient this weekend. How do you get this set? Between now and 11:59 PM CST USA on Sunday March 25 , I've pre-selected one (1) time of day on one (1) pre-selected date. Whoever e-mails me at, or closest to, my pre-selected time on my preselected date will win this prize pack.
How do you get this set? Between now and 11:59 PM CST USA on Sunday March 25 , I've pre-selected one (1) time of day on one (1) pre-selected date.
Whoever e-mails me at, or closest to, my pre-selected time on my preselected date will win this prize pack. Only THREE ENTRIES PER PERSON, PER DAY, will be allowed. Anyone deviating from this limitation will see all of their entries for that day summarily discarded.
BE SURE TO INCLUDE YOUR FULL ADDRESS IN YOUR SUBMISSION. This is to expedite shipping of your prize only - no Spam lists or mass mailings or anything like that. All entries will be summarily deleted once a recipient is chosen.
BE SURE TO SEND FROM A FREQUENTLY CHECKED E-MAIL ADDRESS!! If I need to contact you and can not do so, I'll quickly move on to the next closest entry.
IN THE SUBJECT LINE, include the phrase "Jelly Babies?" If this is not in your subject line, your message won't be filtered correctly and I'll most likely not see it.
BE SURE YOU SEND E-MAIL TO THE ADDRESS LINKED BELOW!! You'd be surprised how many people send entries to the wrong place.
CONTEST OPEN TO NORTH AMERICAN READERS ONLY!!
Have fun, best of luck, and thanks so much for your time and support!
THE PERSON RECEIVING THE DVDs OFFERED IN LAST WEEK'S GIVEAWAY?
Hunter R, VA.
My preselected time was Sunday 18 March at 3:30 p.m CST USA. Hunter's e-mail arrived on Sunday March 18 at 3:335 pm. Congratulations to Hunter! Your contact info has already been passed along to BBC Home Entertainment, who is graciously handing fulfillment in these giveaways! Enjoy!
"The Face of Evil"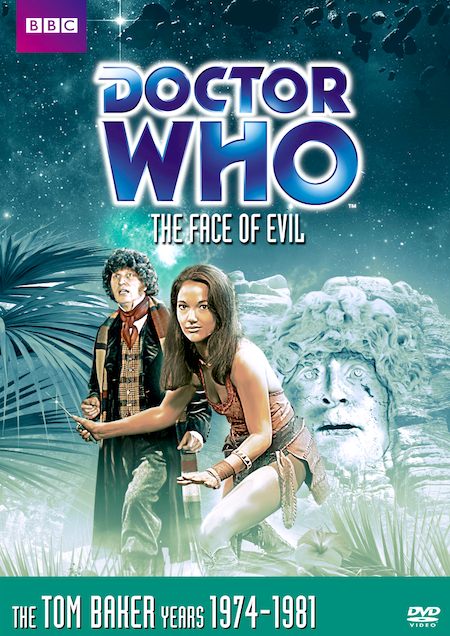 "That was either very good shooting or very bad. Either way, I wouldn't dream of moving."
- the Doctor, 'The Face of Evil' Episode 1
"The Face of Evil" opens on a jungle planet during a heated debate amongst poobahs of the Sevateem tribe. Seems Leela...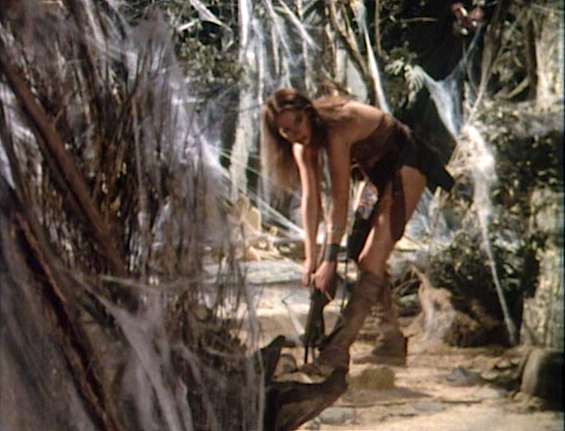 ...has been speaking out against the establishment and calling into question the existence of her people's own god, resulting in her being quickly and summarily banished from the tribe.
As the exiled Leela makes her way through the hard environment beyond the Sevateem village, she encounters a whimsical traveller sporting a hat, a long scarf, and a healthy supply of Jelly Babys - the Doctor (Tom Baker).
The Doctor quickly gleans that all is not as it should be on Leela's apparently primitive world, evidenced by the scattered remnants of space-travel technology, and disquieting evidence that the people of this place have been forged by a dark past. A past for which the Doctor himself was unknowingly responsible...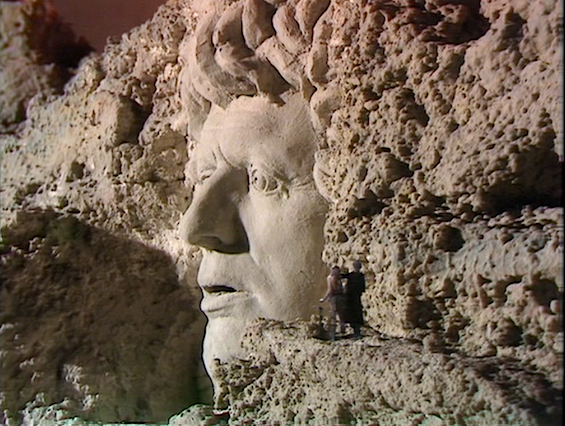 "The Face of Evil" is an exercise in tremendous frustration. Performances are earnest-to-exceptional across the board (with special accolades going to the sparkling chemistry evident in Baker and Jameson's first pairing), and the core story here is brilliantly conceived.
Whopping plot twists occurring roughly half way through the tale (developments which will be carefully preserved herein for those yet to see this story) promise edgy, resonant, high-minded science fiction. Unfortunately, the result careens headfirst into a meandering and messy quagmire - effectively undercutting the vast potential suggested by scripter Chris Boucher's carefully-laid set-up. It's possible to walk away from "The Face of Evil" with a solid grasp of general movements and numerous plot points, while carrying little-to-no sense of how such details form a cohesive or functional whole. "The Face of Evil" often feels like a shotgun blast of generally excellent conceits, all of which are in desperate need of direction, focus, and purpose.
Production design by Austin Ruddy (this was his debut on the show), featuring pseudo-primitive beautiful people living amidst tattered and adapted vestiges of a long-lost, technically-advanced civilization, strongly portend MAD MAX BEYOND THUNDERDOME in both style and concept - a full 8 years before that film hit screens. Designs for the Tesh's futuristic corridors and central computer core (the Tesh being a second prominent race in this story) are exceptionally conceived and strongly executed, although costumery for the Tesh themselves evokes candy-coated gaudiness one might find in a NUTCRACKER performance, or a shabbily produced ALICE IN WONDERLAND adaptation.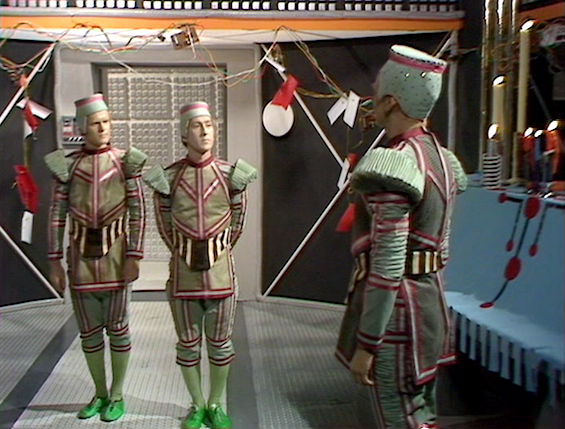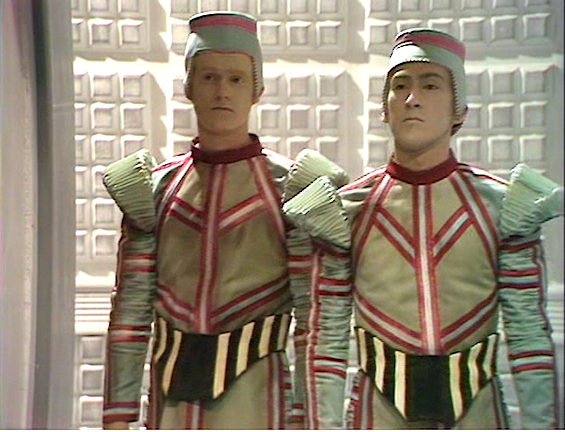 Between this design and color scheme, the Tesh propensity for over-produced courtesying, and the group's generally wimpy demeanor, it's hard to take these Tesh seriously - even when they're chasing our protagonists with deadly energy weapons. They feel very much out of place here, further confounding our effort to bring order and meaning to a tatty swirl of disparate concepts.
The Doctor's pointed reference to to 'religious gobbledegook,' and Boucher's general skewering of man's propensity to blindly follow, or categorically dismiss, a faith provide some degree of compelling and appropriate gravity, but it's never enough to keep "Face" from repeatedly jumping the tracks.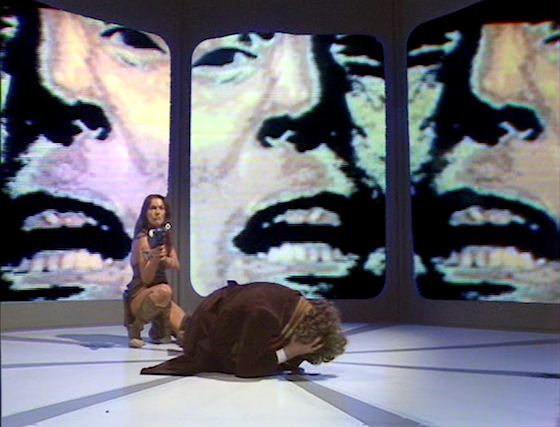 Chiefly memorable for the Doctor's brilliantly simple but wholly inspired revenge against a petulant warrior who slaps Leela, for his eventual (albeit unintentional) adoption of her companionship, and for memorable ideas which never reach a satisfactory endgame - "The Face of Evil" emerges as a highly enjoyable adventure if one accepts the tragic axiom that this story will simply never connect its dots. Director Pennant Roberts brings the thunder here, and there are a number of satisfyingly fun moments and "Oh, wow!" gags spread throughout. Regrettably, there parts never congeal into a rational or entirely rewarding whole.
The restored "Face of Evil" DVD is available HERE in the U.S. and HERE in the U.K.
Extras include...
Into the Wild (25:12)
Insight from...
-- Philip Hinchcliffe (Producer)
-- Louise Jameson (Leela - who says 60 girls were interviewed for Leela...culled to 10...then she was selected)
-- Pennant Roberts (Director - 2005 interview)
-- Per Jameson, she used a 3 year old as Sally Armitage (sp?) as something of an inspiration for her Leela's body movements and affectations, as well as lifting body language from her dog Bosie.
-- Discussions of early make-up misfires for Leela's character...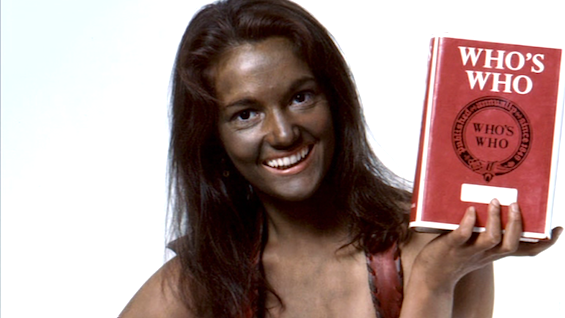 -- Mat Irvine (Visual Effects Designer) - this was his first DW.
-- Austin Ruddy (Designer) - this was his first DW as well.
-- Jameson discusses her first appearance on-set in her skimpy costume. "The guys were very appreciative, and they said "We're absolutely delighted to be loghting you for the next few months."
-- Discussion of the execution of the Horda creatures and the (clever) realization of an alarm clock which is crushed beneath invisible forces.
-- Anthony Frieze (young voice of Xoanon the computer)
From the Cutting Room Floor (9:05)
Featuring behind the scenes angles, alternate angles, unused sequences, mini-bloopers, etc. lifted from surviving 8mm film reels.
Tomorrow's Times: The Fourth Doctor (14:06)
An assemblage of DW reviews from critics of the era, as amassed in publications stored in the British Library's Newspaper Archive.
DOCTOR WHO Stories: Louise Jameson (17:22)
Louise Jameson from a 2003 interview for "The Story of DOCTOR WHO," offering her remembrances and insights into her time on WHO. Talks about shooting her favorite episodes ("The Sun Makers" and "The Talons of Weng-Chiang")
Swap Shop (4:29)
Jameson's vintage interview with a show called SWAP SHOP.
Denys Fisher Toys Advert (:33)
A vintage toy commercial featuring DOCTOW WHO action figures (the Doctor, the "amazing" Leela, Cybermen, the giant Robot, a Dalek,and a TARDIS which makes figures "disappear."
Photo Gallery (5:42)
PDF Materials
-- Radio Times Listings
-- 1976 Typhoo Tea DOCTOR WHO Promotion
Coming Soon
Preview for the forthcoming DVD of "The Daemons" (Pertwee, Story # 59 )
IN THE COMING WEEKS (sequentially)
"The Robots of Death" (T. Baker, Story #90)
"The Daemons" (Pertwee, Story #59)
"The Carnival of Monsters" (Pertwee, Story #66)
PREVIOUS DOCBACKS
[SEASON / SERIES SIX DOCBACKS]

"The Impossible Astronaut"

"Day of the Moon"
"The Curse of the Black Spot"

"The Doctor's Wife"

"The Rebel Flesh"

"The Almost People"
"The Doctor, The Widow and the Wardrobe" (2011 Christmas Special)
[RETRO-WHO DOCBACKS - MOST RECENT DOCBACK IS HIGHLIGHTED]
"An Unearthly Child" (Story #1)
"The Daleks" (Story #2)
"The Edge of Destruction" (Story #3)
"Marco Polo" (Story #4)
"The Keys of Marinus" (Story #5)
"The Aztecs" (Story #6)
"The Sensorites" (Story #7)
"The Sensorites" (Story #7 - full DVD release)
"The Reign of Terror" (Story #8)
"Planet of Giants" (Story #9)
"The Dalek Invasion of Earth" (Story #10)
"The Rescue" (Story #11)
"The Romans" (Story #12)
"The Web Planet" (Story #13) / SHERLOCK - "A Scandal in Belgravia" (Story #4)
"The Crusade" (Story #14)
"The Space Museum" (Story #15)
"The Chase" (Story #16)
"The Time Meddler" (Story #17)
"Galaxy 4" (Story #18)
"The Gunfighters" (Story #25)
"The Tomb of the Cybermen" (Story #37)
"The Colony in Space" (Story #58)
"Day of the Daleks" (Story #60) + Preview of the DotD Special Edition
"The Three Doctors" (Story #65)
"Invasion of the Dinosaurs" (Story #71) and SHERLOCK: "The Reichenbach Fall" (Story #6)
"The Android Invasion" (Story #83) and SHERLOCK: "The Hounds of Baskerville" (Story #5)
"The Talons of Weng-Chiang" (Story #91)
"The Sun Makers" (Story #95)
"The Awakening" (Story #131)
"Frontios" (Story #132)
"The Caves of Androzani" (Story #136)
"Time and the Rani" (Story #144)
"Paradise Towers" (Story #145) + New WHOvian Documentary / Newsbits
DOCTOR WHO: THE COMPLETE SIXTH SERIES
Merrick's Personal Journey With The Doctor (How Merrick Got Hooked On DOCTOR WHO)
DOCTOR WHO Title Sequences & DW At Comic-Con 2011
"The Crash of the Elysium" (Manchester version - interactive DOCTOR WHO adventure)
Why Eccleston Left, Here Comes Caroline Skinner, And Season/Series Six Part 1 on Blu-Ray And DVD

New Trailer For Season/Series Six Part 2
DOCBACK CODE OF CONDUCT
1) a Docback should be about completely open and free discourse regarding all things WHO with, obviously, some variation on subject matter from time to time - the real world intervenes, discussions of other shows are inevitable, etc.)...

2) matters of SPOILAGE should be handled with thoughtful consideration and sensitivity.

Posts containing SPOILERS should clearly state that a SPOILER exists in its topic/headline and should never state the spoiler itself . "** SPOILER ** Regarding Rory" is OK, for example. "** SPOILER ** Battle of Zarathustra" is fine as well. " **SPOILER** Why did everyone die?" Is NOT good.
And, above all...

3) converse, agree, disagree, and question as much as you want - but the freedom to do so is NOT a license to be rude, crass, disrespectful, or uncivilized in any way. Not remaining courteous and civil, as well as TROLLING or undertaking sensational efforts to ignite controversy, will result in banning. Lack of courtesy may receive one (1) warning before a ban is instigated. Obvious Trolling or Spamming will result in summary banning with no warning. One word posts intended to bump-up any Docback's figures on AICN's "Top Talkbacks" sidebar will be considered actionable Spam - they not only complicate efforts to access Docback from mobile devices, but impede readers' abilities to follow or engage in flowing conversation.
In short, it's easy. Be excellent to each other. Now party on...