Hey folks, Harry here... Some HAUNTED MANSION geeks have been scouring the web looking for indications of life for their project. And over at Illusion Industries' website in their DESIGN area, they found something that looks like Bernie Wrightson's HATBOX GHOST. Now... so far as I know, Wrightson has never designed a HATBOX GHOST, but damn if that didn't stop ILLUSION INDUSTRIES from doing something that looks exactly like that. ALSO... According to ILLUSION INDUSTRIES list of projects, they haven't been tapped to do work for HAUNTED MANSION, and given they haven't worked with Guillermo in the past... well, it probably means that they do not have a gig on Guillermo's HAUNTED MANSION.
So, what is this?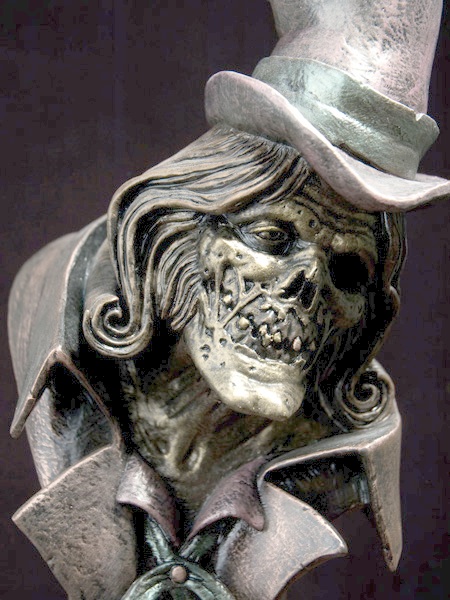 First of all - that is absolutely the way I'd love to see the HATBOX GHOST looking in Guillermo's production of HAUNTED MANSION. I'd love one of these at geek headquarters and whomever the sculptor is... they're fairly godlike in my opinion, that's just awesome.
This could be one of several things. A sculptor at Illusion Industries could have just been a fan of Disneyland's HAUNTED MANSION and of Bernie Wrightson and just did this because he knew that it must be sculpted by him because the world would destroy itself if it didn't happen. It could be that Guillermo has asked a selection of companies to bid via creating a HATBOX GHOST and he'll decide which companies work on it based upon their interpretation. Or someone could have commissioned them to create this just because they're a huge fan and had the money to pay for it. IF it is for Guillermo's HAUNTED MANSION, and ILLUSION INDUSTRIES posted it on their website... well, there'll be angry calls soon. But honestly, it just looks like something done with a ton of love and talent to me. Let us bask in its glory!
Ye of little faith, no sooner does this story go out than I get an email from someone with a REAL HATBOX GHOST by Guillermo! Thanks Frank!