Merrick here...
Per the official DOCTOR WHO Twitter stream, a new companion has been selected to join Matt Smith during Season/Series 7 of DOCTOR WHO - which will transmit beginning later this year.
What follows might be viewed as SLIGHTLY spoilerish in nature, but keep in mind that these are officially sanctioned info bits...so my guess is these points aren't too revealing in the grand scheme of things.
The new companion joining the Doctor on his sprawling adventures across time and space is the rather stunning Jenna-Louise Coleman. Coleman appeared recently in CAPTAIN AMERICA: THE FIRST AVENGER, but may be better known for her role as Jasmine in EMMERDALE.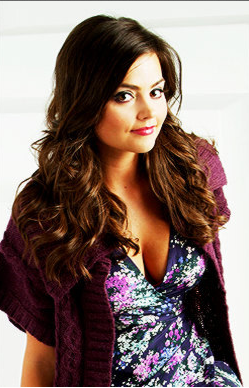 Per Steven Moffat: "We saw a lot of brilliant actresses. But Jenna was the only person going faster than Matt - he had to keep up!"
The official Twitter stream also indicates that 6 episodes of Season/Series 7 will transmit this year, including a Christmas Special which will introduce Coleman's character. 8 further episodes will follow net year.
Per Moffat: "Amy & Rory will leave in a final encounter with the Weeping Angels in ep 5. Not everyone gets out alive and I mean it this time"
Keep your eyes on that Twitter stream for more details as more come around. For now, here are two embeds featuring Coleman:
(4:04)
--- follow Merrick on Twitter ! ---