Merrick here...
A while back, the world of badassness was shaken to its foundation by word that the next EXPENDABLES movie would be rated PG-13, instead of the (for my money, infinitely more appropriate) "R" rating many of us were expecting.
From my point of view, the matter boils down to one simple and concise issue: when one is marketing a film about some of the toughest mofos ever to appear on the big screen, watering them down with a less flexible rating pretty much runs contrary to the point of the entire project.
It's now looking like all the vile, vitriol, and consternation many (including myself) have hurled towards this decision has been weighed. Or, at the very least, this may simply be a case of The Powers That Be finally coming to their senses.
According to THIS piece at StalloneZone, the site has been contacted by Sly, who conceded the following:
"After taking in all the odd rumors and hearsay, EXPENDABLES II is an R."
I'm not completely sure what rumors and hearsay Sly is referring to here - he confirmed the picture's PG-13 rating to us here on AICN back on Jan 18 (HERE). Was other scuttlebutt afoot? Whatever the case, it's now looking like we can retire this wonderful fan made poster. Retire, perhaps. But not necessarily delete.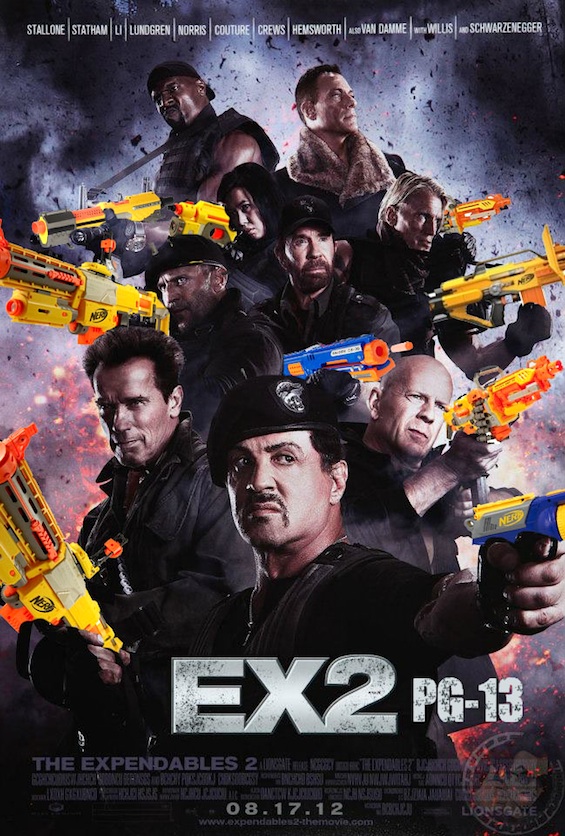 --- follow Merrick on Twitter ! ---