...with a look at "The Three Doctors" - which first transmitted between December 1972 and January 1973.
This tale collides the first three Doctors in DOCTOR WHO history, William Hartnell, Patrick Troughton, and Jon Pertwee, in a tale which brings them face to face from dodgy incident in their culture's past.
But first...
THE RECIPIENT OF LAST WEEK'S DVD GIVEAWAY IS...
Last week, we hosted a lovely contest in which one lucky recipient would receive a colection of all of the 'Classic' DOCTOR WHO DVDs released by BBC Home Entertainment this month (March). And those discs will go to...
Doug B, GA.
The name of the game was to send me an e-mail at, or closest to, a pre-selected mystery time on a pre-selected mystery date. My pre-selected time in this instance as 7:35pm CST USA on Saturday March 10. Doug's e-mail arrived at 7:39pm CST USA on Saturday March 10. I've already passed your name onto BBC Home Entertainment, who is generously handling fulfillment for this giveaway...which we very much appreciate.

Enjoy the DVDs, Doug. Great stuff all around.
Didn't get these DVDs? Well...OK...then let's do it again!! ---->
BBC HOME ENTERTAINMENT AND AINT IT COOL NEWS ARE OFFERING YOU A SECOND CHANCE TO SNAG A SET OF FOUR VERY COOL 'CLASSIC' DOCTOR WHO DVDs!!
BBC Home Entertainment and Aint It Cool News recently announced a special screening of the recently resorted WHO classic "The Three Doctors" at the new Alamo Drafthouse on Slaughter Lane in Austin. The screening will happen at 1pm, Saturday March 24, and is general admission (first come, first seated) - although a $5 reserved seat meal voucher can be purchased in advance
HERE
. These vouchers are moving nicely...act quickly if you're interested in reserving a seat.
Our original announcement omn the screening is
HERE
!
To commemorate this extremely exciting and very cool event, BBC Home Entertainment and Aint It Cool News will be offering a number of prize packs in the weeks leading up to our screening. Each recipient will receive all of BBC Home Entertainment's release of classic DOCTOR WHO stories for this month (March).
These excellent DVDs are loaded with extras and feature resorted image and sound work - the episodes they contain look and sound great, and extras are extremely insightful and informative.
Here's a list of what's up for grabs, along with BBC's description of each show...
"THE TOMB OF THE CYBERMEN"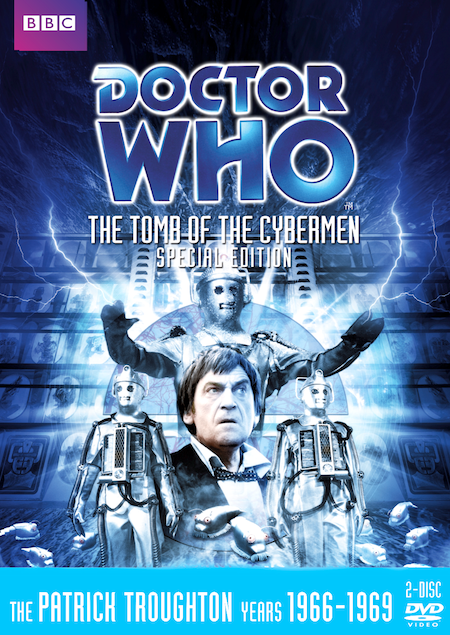 For centuries, the disappearance of the Cybermen from the universe has been a mystery. The Doctor, Jamie and Victoria arrive on Telos - once the Cyber home world - just as an Earth expedition uncovers the entrance to a long-lost control centre filled with baffling technology. With the Doctor's help, the archaeological party discovers the last of the Cybermen, frozen and entombed in a vast underground cavern. But by entering the tombs, the humans have sprung a fiendish trap. All around them, the Cybermen begin to rise from the dead.
"THE ROBOTS OF DEATH"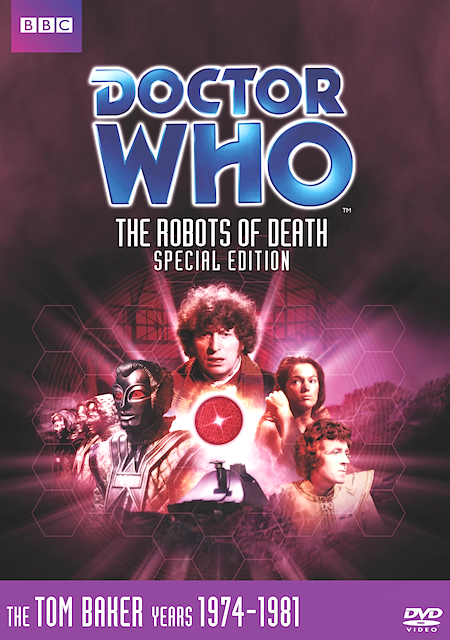 The TARDIS, carrying the Doctor and his new companion Leela, arrives aboard a huge sandminer on a deserted world. The small human crew relies almost entirely on robots to carry out their every task and whim while they mine the planet's rich minerals. Suddenly, one by one, members of the team start to disappear. The time travelers discover that someone or something is murdering the crew - but, of course, nobody believes it could be the robots.
"THE FACE OF EVIL"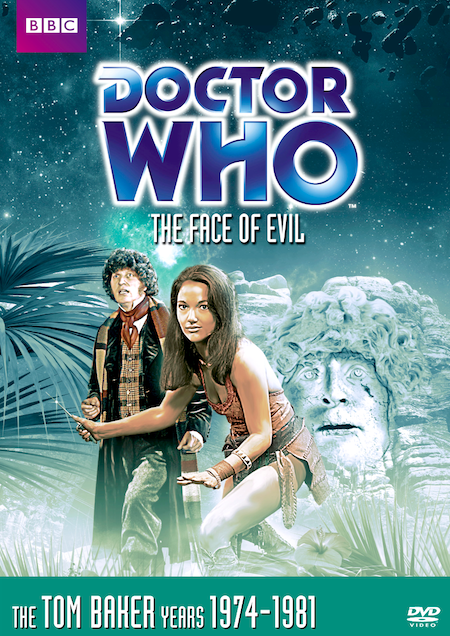 When the TARDIS arrives on a jungle planet, the Doctor encounters two warring tribes, the Sevateem and the Tesh. The Sevateem worship a god called Xoanon and the Tesh are supposedly keeping Xoanon prisoner... But why do the Sevateem call the Doctor the Evil One? And what are the invisible creatures in the jungle? The Time Lord, with the help of a girl called Leela, is about to find out.
"THE THREE DOCTORS"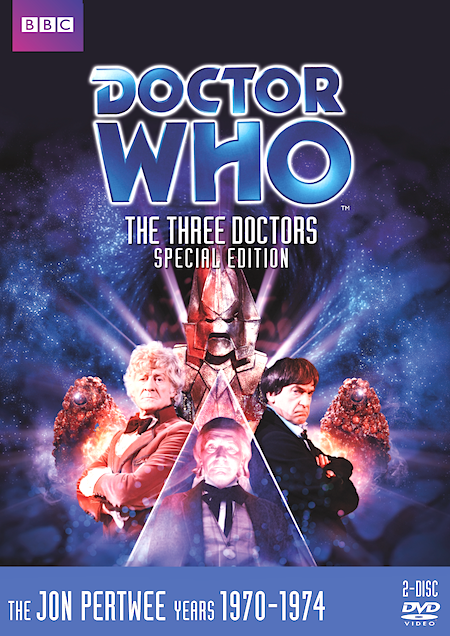 The Time Lords are in crisis. A powerful force is draining their energy into a mysterious Black Hole - and they must recruit the Doctor to save them. But one Doctor isn't enough for this mission. All three of the Doctor's incarnations, aided by Jo Grant and UNIT, must face the wrath of Omega - a fallen Time Lord trapped in a universe of anti-matter, with one thing on his mind: revenge.
How do you get this set? Between now and 11:59 PM CST USA on Wednesday March 21, I've pre-selected one (1) time of day on one (1) pre-selected date. Whoever e-mails me at, or closest to, my pre-selected time on my preselected date will win this prize pack.
Only THREE ENTRIES PER PERSON, PER DAY, will be allowed. Anyone deviating from this limitation will see all of their entries for that day summarily discarded.
BE SURE TO INCLUDE YOUR FULL ADDRESS IN YOUR SUBMISSION. This is to expedite shipping of your prize only - no Spam lists or mass mailings or anything like that. All entries will be summarily deleted once a recipient is chosen.
BE SURE TO SEND FROM A FREQUENTLY CHECKED E-MAIL ADDRESS!! If I need to contact you and can not do so, I'll quickly move on to the next closest entry.
IN THE SUBJECT LINE, include the phrase "Jelly Babies?" If this is not in your subject line, your message won't be filtered correctly and I'll most likely not see it.
BE SURE YOU SEND E-MAIL TO THE ADDRESS LINKED BELOW!! You'd be surprised how many people send entries to the wrong place.
CONTEST OPEN TO NORTH AMERICAN READERS ONLY!!
Have fun, best of luck, and thanks so much for your time and support!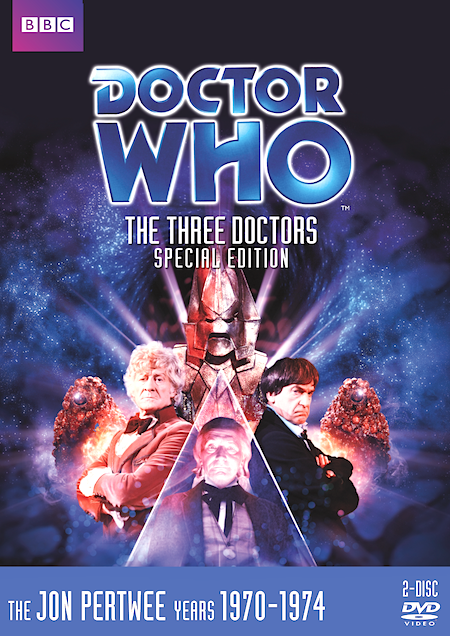 "Well now it's arrived. And it's hostile. And it's still here. So what do we do and how do we find it?"
Brigadier Lethbridge-Stewart, 'The Three Doctors' Episode 1
As funky events surrounding the detection of an unexplained interstellar light beam escalate on Earth, Time Lords on the Doctor's homeworld (Gallifrey) struggle to stem an unthinkable crisis: "vital cosmic energy is draining away despite of all we can do to check it...Unless the energy loss is stopped, the whole fabric of space time will be destroyed."
Finding themselves more or less paralyzed by this mysterious energy syphoning, the Time Lords undertake one last ditch effort to save the day - they mobilize the Doctor (Jon Pertwee) on far away Earth. By crossing time streams, they also send him desperately needed support - two previous versions of himself (William Hartnell as the first Doctor and Patrick Troughton as the second Doctor). Thus launching an adventure that will pit these three Doctors against a legendary and powerful fallen time lord called Omega.
"The Three Doctors" is a fascinating exercise in, and admirable balance of, crass, gimmicky commercialism and well-considered narrative expedition. At several points on this DVD's extras, Story Editor Terrance Dicks and Producer Barry Letts confess that spinning a tale in which the Doctor meets (and must work with) pervious versions of himself was a conceit neither was eager to embrace. Yet fans repeatedly advanced the notion, the WHO team was looking for some kind of gimmick befitting the show's (then) upcoming tenth anniversary, and now here we are.
Did their acquiesence pay off? Rather well, all things being equal. The chemistry of (then) reigning Doctor Jon Pertwee and previous Doctor Patrick Troughton is top-notch.
Both Doctors find the other versions of themselves annoying, frustrating, and generally inferior to their own iteration. When faced with each others's brilliance, each becomes amusingly insecure and territorial - a sensibility apparently informed by real-life push/pulls between the two actors on-set.
Exacerbating their dysfunctionality is the duo's mutual subservience to Hartnell's progenitor Doctor, who appears here to admonish, condescend, and advise via monitor (his deteriorating health prevented him from full-on participation with this story as initially planned).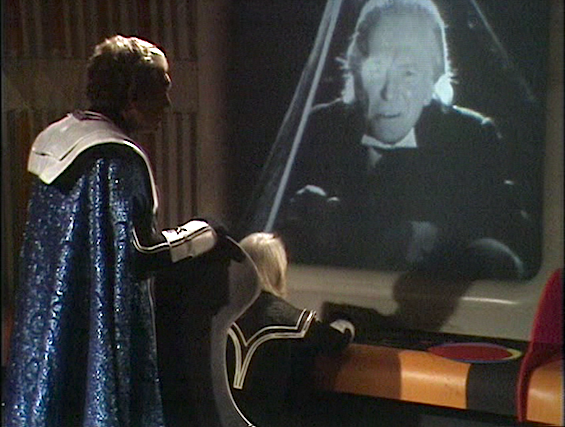 Whenever Hartnell shows up, snarky and bickering Troughton and Pertwee more or less kowtow to their elderly incarnation - a touching tribute made more poignant by the stinging reality that this story represents Hartnell's last appearance as the Doctor. He died three years later.
There's a bedroom comedy quality to "The Three Doctors" - or would that be something of a "WHO's on first?" vibe (see what I did there?) - chiefly driven by the confusion and disbelief of supporting characters struggling to adjust to the presence of multiple Doctors in the same timeline. This zany nature is amplified by Stephen Thorne's portrayal of Omega. He brings psychotic and operatic grandiosity to the part, decidedly lacking the nuance of, say, Christopher Gable's Sharaz Jek in "The Caves of Androzani." But "The Three Doctors" isn't about subtlety, and Omega isn't conceived to be a particularly sympathetic foil. He's a scorned and roundly unhappy bad guy in a story which (overall) feels remarkably like a DOCTOR WHO comic book of some sort. And when considered in this light, he does just fine.
This "comic book" sensibility prevents "The Three Doctors" from ever attaining the far loftier plateaus which DOCTOR WHO is capable of reaching, as this strory emerges as more of a romp...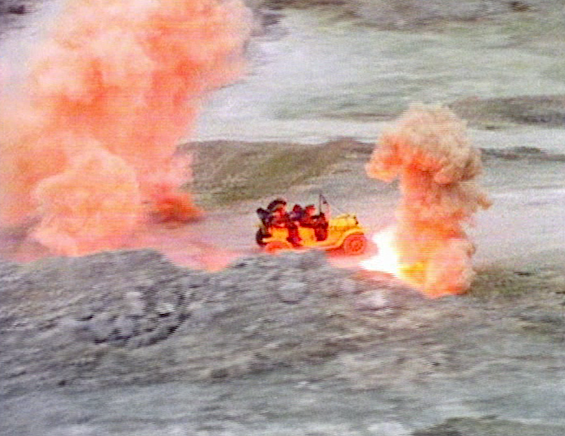 ...a celebratory birthday party, than a hard driving enterprise aspiring to dramatic or conceptual heights.
Amidst the confusion and madness inherent in having three Doctors rubbing against each other while trying to save existence as we know it, a lovely backstory and series-relevant mythology is introduced and spun here: we learn how the Time Lords attained the raw energies necessary to traverse time and space. The insertion of this material is natural, smooth, and suggests compelling pre-history to the DW title which makes one want to learn, and see, more. Skillfully scripted by Bob Baker and Dave Martin (who'd later bring us "The Sontaran Experiment") and smoothly inserted, it is this background which forms the skeleton upon which "The Three Doctors" is hung - and helps define this story as indespensibly relevant to the whole of WHO.
"The Three Doctors" does exactly what it sets out to do, and does it extremely well. Neither the height of DOCTOR WHO at its best, nor the worst the show has offered, it is a solid tale primarily memorable for the above-mentioned Omega backstory, and for exploring how the Doctor faces the most challenging obstacle of all...himself. It would've been breathtaking to see Hartnell physically interacting in the same sequences with Troughton and Pertwee. While that doesn't happen here, at least we have this publicity photos like this one to commemorate their memorable, albeit virtual, union.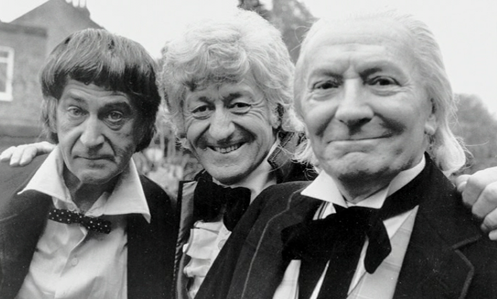 Three brilliant performers in a story custom built to accentuate each of their strongest qualities - briskly and paced by scripters Baker, Martin, and director Lennie Mayne. For all of its shortcomings, it's hard to ask for much more than that.
This newly restored (and and lovely looking) "Three Doctors" will screen on Saturday March 24 at 1pm, at Austin's newest Alamo Drafthouse (on Slaughter Lane), brought to you by BBC Home Entertainment, Aint It Cool News, and The Alamo Drafthouse. The event is free and general admission, which means first come, first seated. Reserved seats can be attained by purchasing a $5 meal voucher HERE.
Extras on this new 2 disc 'Special Edition' DVD include...
Pebble Mill at One (20: 44)
Bernard Wilkie (visual effects designer) discusses the creatures of DOCTOR WHO and some general effects work for a Brisitsh afternoon talk show.
Blue Peter 5/11/73 (13:40)
Third Doctor John Pertwee shows off the futuristic roadster which he commissioned for himself, which also appeared on the show. The vehicle...
-- got 50 mpg...
-- had a top speed of "well over one hundred" per Pertwee...
-- had a working TV monitor in the cockpit (reception via auto-telescoping aerial)...
-- featured a simulated on-board computer...
-- had a cassette player...
The show also features a look back at DOCTOR WHO between its 1963 origins and Blue Peter's 1973 broadcast.
A collection of material, mostly from 31 WHO (essentially info-bumpers from 1990). Features a 90s hot host lady...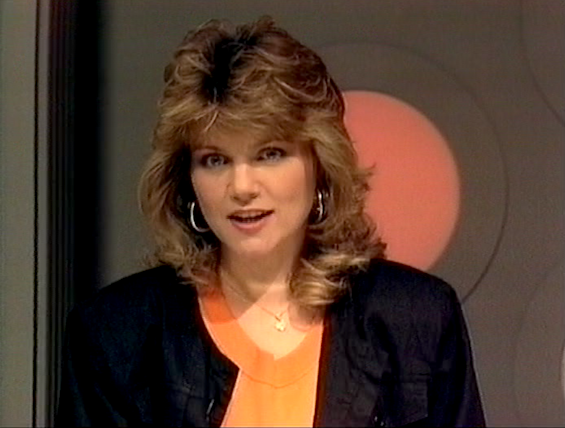 ...who interviews Nicholas Courtney (Brigadier Lethbridge-Stewart) and Script Editor Terrance Dicks. the two discuss their involvement with "The Three Doctors."
Dicks admits that the idea for brining the Doctors together actually came from fans. After initially existing the notion, The Powers That Be warmed to the concept - resulting in this story.
Dicks discusses the "rivalry" between Troughton (Doctor #2) and Pertwee (Doctor #3). Dicks also chats about the complexities and challenges of scripting the subsequent reunion episode, "The Five Doctors."
K-9 creators (writers David Martin and Bob Baker) discusses the origins of K-9 (called "Pluto" early in its development). Seems K-9 was originally intended NOT to be a series regular.
Jon Pertwee appears to discuss his casting in the show - his begrudging agent called DOCTOR WHO producers and suggested Perrtwee for the part once word of Troughton's departure came. Turns out, Pertwee was already name #2 on the production's short list. Pertwee reveals his favorite DW monster, and discusses those he felt didn't work so well.
WHO producer John Nathan-Turner is one of the hosts and presents a lead-in to "The Three Doctors."
Five Faces of DOCTOR WHO Trail (4:12)
BBC 2 promos for a retrospective run including "Logopolis" (T. Baker, P. Davison, Story #115), "Carnival of Monsters" (Pertwee, Story #66), "The Krotons" (Troughton, Story # 47), "An Unearthly Child" (Hartnell, Story #1), and "The Three Doctors" (Pertwee, Hartnell, Troughton, Story #65).
A promo for "The Three Doctors"
40th Anniversary Promo (3:01) - for 2003's 40th anniversary of DOCTOR WHO cut to a funky techno/dance iteration of the show's theme.
Radio Times Listings
A preview for the "Face of Evil" DVD (T. Baker, Story #89)
Happy Birthday to WHO (23:10)
-- Terrance Dicks (Script Editor) discusses overcoming the hamstringing of the series by previous producers (like exiling the Doctor to Earth)
-- Dicks and Barry Letts (Producer) discuss the challenges of adjusting their script and concept to Hartnell's failing health.
Insight from...
-- Katy Manning (companion Jo Grant)
-- Bob Baker (Writer)
-- Stephen Thorne (Omega)
-- Discussion of the not-entirely-smooth interactionsof Troughton and Pertwee. Dicks insinuates that the offstage tensions and rivalries of the duo conveyed to their on-screen performances.
Was DOCTOR WHO Rubbish? (14:00)
Karen Davies (fan), Thomas Guerrier (fan), Katreena Dare (fan), Joe Lidster (fan) discuss the tendency of some folks to pick on the shortcomings of DOCTOR WHO's execution instead of focusing on what it does right.
-- Davies and Dare discuss the influence of the old show on the current iteration of the title.
Subsections:
Wobbly Sets 

Always Set in a Quarry
Bubblewrap Monsters (may I suggest 'Bubblewrap Monsters' as a name for a music group?)
Rubbish Acting
Unemotional
Things Change (a look at how the series developed for its 2005+ revamp)
Girls, Girls, Girls - 1970s (21:15)
Caroline John (UNIT's Liz Shaw), Katy Manning (companion Jo Grant), Louise Jameson (companion Leela) examines how WHO girls were impacted by 70s trends. Introduced by by Peter Purves.
Subsections:
The Avengers Influence
(the calculated use of female companions to rope in dads. )
Wearing the Gear
Reflecting Feminism
Thoughts on the Profession
Our Doctors (Jameson: A question I'm often asked, you know, 'What's the apocryphal Tom Baker like to work with?' And, you know, the answer is: 'He's my favorite monster, really."
The Career Legacy
(per Manning and John, Pertwee encouraged them to utter bad words if they were unhappy with how things were going during taping, because..."it's the only way they'll stop.")
IN THE COMING WEEKS (sequentially)
"The Face of Evil" (T. Baker, Story #89)
"The Robots of Death" (T. Baker, Story #90)
PREVIOUS DOCBACKS
[SEASON / SERIES SIX DOCBACKS]

"The Impossible Astronaut"

"Day of the Moon"
"The Curse of the Black Spot"

"The Doctor's Wife"

"The Rebel Flesh"

"The Almost People"
"The Doctor, The Widow and the Wardrobe" (2011 Christmas Special)
[RETRO-WHO DOCBACKS - MOST RECENT DOCBACK IS HIGHLIGHTED]
"An Unearthly Child" (Story #1)
"The Daleks" (Story #2)
"The Edge of Destruction" (Story #3)
"Marco Polo" (Story #4)
"The Keys of Marinus" (Story #5)
"The Aztecs" (Story #6)
"The Sensorites" (Story #7)
"The Sensorites" (Story #7 - full DVD release)
"The Reign of Terror" (Story #8)
"Planet of Giants" (Story #9)
"The Dalek Invasion of Earth" (Story #10)
"The Rescue" (Story #11)
"The Romans" (Story #12)
"The Web Planet" (Story #13) / SHERLOCK - "A Scandal in Belgravia" (Story #4)
"The Crusade" (Story #14)
"The Space Museum" (Story #15)
"The Chase" (Story #16)
"The Time Meddler" (Story #17)
"Galaxy 4" (Story #18)
"The Gunfighters" (Story #25)
"The Tomb of the Cybermen" (Story #37)
"The Colony in Space" (Story #58)
"Day of the Daleks" (Story #60) + Preview of the DotD Special Edition
"Invasion of the Dinosaurs" (Story #71) and SHERLOCK: "The Reichenbach Fall" (Story #6)
"The Android Invasion" (Story #83) and SHERLOCK: "The Hounds of Baskerville" (Story #5)
"The Talons of Weng-Chiang" (Story #91)
"The Sun Makers" (Story #95)
"The Awakening" (Story #131)
"Frontios" (Story #132)
"The Caves of Androzani" (Story #136)
"Time and the Rani" (Story #144)
"Paradise Towers" (Story #145) + New WHOvian Documentary / Newsbits
DOCTOR WHO: THE COMPLETE SIXTH SERIES
Merrick's Personal Journey With The Doctor (How Merrick Got Hooked On DOCTOR WHO)
DOCTOR WHO Title Sequences & DW At Comic-Con 2011
"The Crash of the Elysium" (Manchester version - interactive DOCTOR WHO adventure)
Why Eccleston Left, Here Comes Caroline Skinner, And Season/Series Six Part 1 on Blu-Ray And DVD

New Trailer For Season/Series Six Part 2
DOCBACK CODE OF CONDUCT
1) a Docback should be about completely open and free discourse regarding all things WHO with, obviously, some variation on subject matter from time to time - the real world intervenes, discussions of other shows are inevitable, etc.)...

2) matters of SPOILAGE should be handled with thoughtful consideration and sensitivity.

Posts containing SPOILERS should clearly state that a SPOILER exists in its topic/headline and should never state the spoiler itself . "** SPOILER ** Regarding Rory" is OK, for example. "** SPOILER ** Battle of Zarathustra" is fine as well. " **SPOILER** Why did everyone die?" Is NOT good.
And, above all...

3) converse, agree, disagree, and question as much as you want - but the freedom to do so is NOT a license to be rude, crass, disrespectful, or uncivilized in any way. Not remaining courteous and civil, as well as TROLLING or undertaking sensational efforts to ignite controversy, will result in banning. Lack of courtesy may receive one (1) warning before a ban is instigated. Obvious Trolling or Spamming will result in summary banning with no warning. One word posts intended to bump-up any Docback's figures on AICN's "Top Talkbacks" sidebar will be considered actionable Spam - they not only complicate efforts to access Docback from mobile devices, but impede readers' abilities to follow or engage in flowing conversation.
In short, it's easy. Be excellent to each other. Now party on...
And, above all...

3) converse, agree, disagree, and question as much as you want - but the freedom to do so is NOT a license to be rude, crass, disrespectful, or uncivilized in any way. Not remaining courteous and civil, as well as TROLLING or undertaking sensational efforts to ignite controversy, will result in banning. Lack of courtesy may receive one (1) warning before a ban is instigated. Obvious Trolling or Spamming will result in summary banning with no warning. One word posts intended to bump-up any Docback's figures on AICN's "Top Talkbacks" sidebar will be considered actionable Spam - they not only complicate efforts to access Docback from mobile devices, but impede readers' abilities to follow or engage in flowing conversation.
In short, it's easy. Be excellent to each other. Now party on...