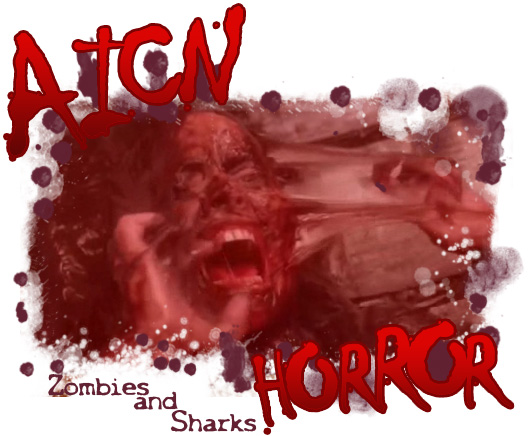 Logo by Kristian Horn
What the &#$% is ZOMBIES & SHARKS?
---
Greetings, all. Ambush Bug here with another AICN HORROR: ZOMBIES & SHARKS column. Before we get into the new horrors, there's this…
---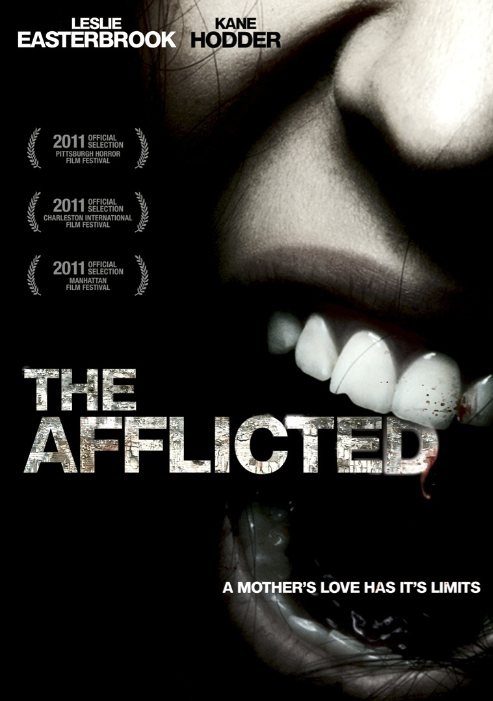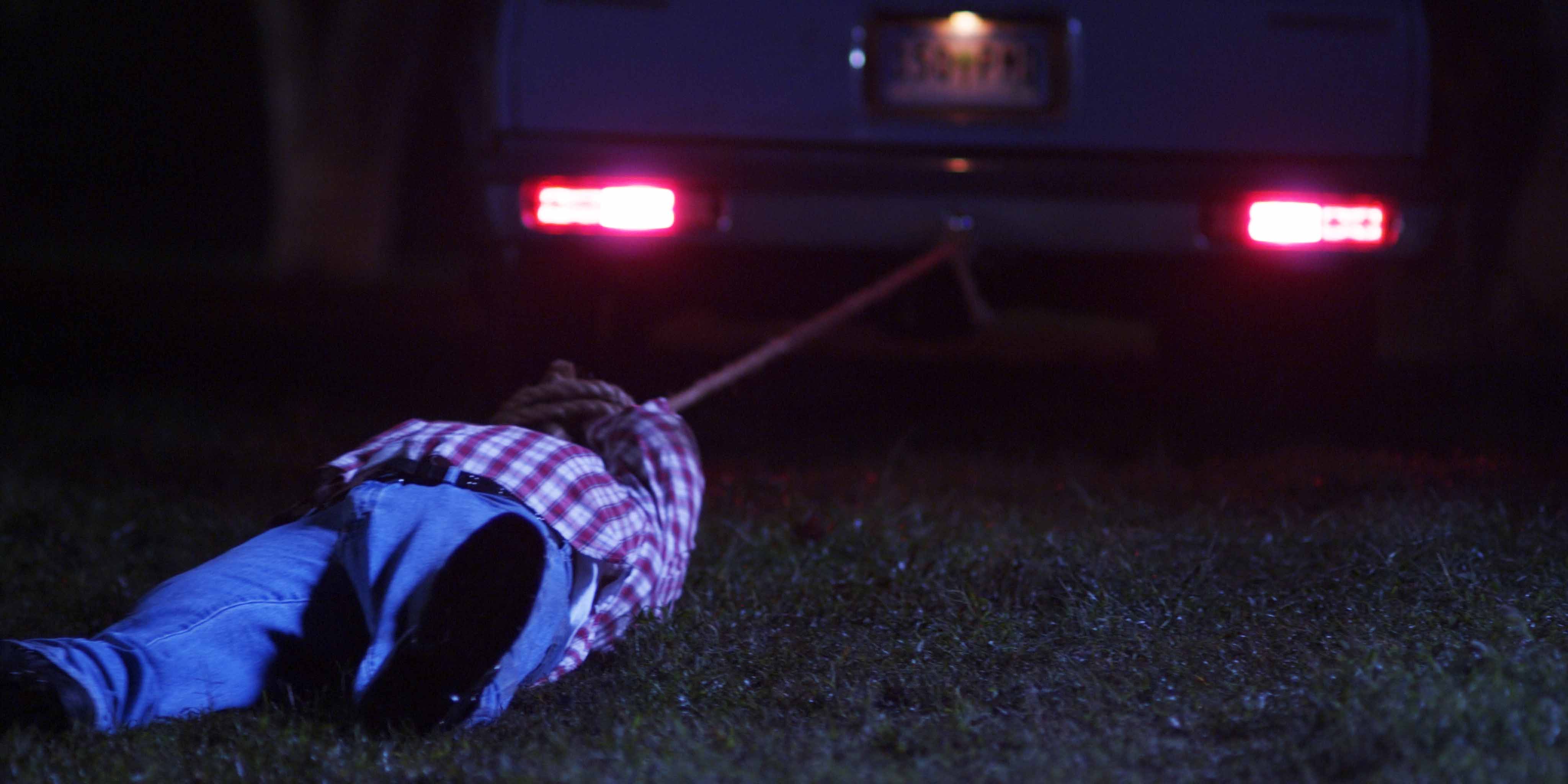 Let's start out with an exclusive peek at a new film called THE AFFLICTED starring Kane Hodder and Leslie Easterbrook. The film looks like dark dingy sickness…in a good way. If the clip below interests you, check out more on this film
on its website here
and Facebook page. Enjoy the exclusive clip below and click on the images for some exclusive pics from the film. Look for a review of THE AFFLICTED soon on AICN HORROR.
And here's the trailer for THE AFFLICTED!
---
Let's get on with the fright flicks!
Today on AICN HORROR
(Click title to go directly to the feature)
Retro-Review: LITTLE SHOP OF HORRORS (1960)
Retro-Review: THE PYX (1973)
THE BURNING MOON (1997)
SMASH CUT (2009)
Advance Review: GALLERY OF FEAR (2010)
ABSENTIA (2011)
And finally…Chris Johnson's THE HITCHHIKING!
---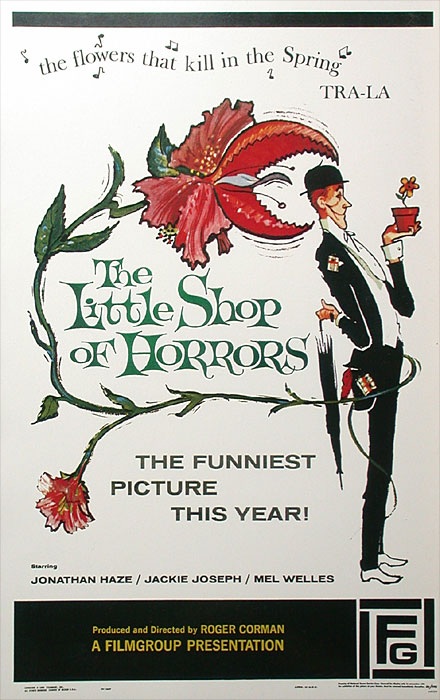 New on BluRay/DVD! Also available on Riff Trax!
LITTLE SHOP OF HORRORS (1960)
Directed by Roger Corman, Charles B. Griffith, Mel Welles
Written by Charles B. Griffith, Roger Corman
Starring Jonathan Haze, Jackie Joseph, Mel Welles, Jack Nicholson, Dick Miller, Myrtle Vail, Karyn Kupcinet, Leola Wendorff, Lynn Storey, Wally Campo, Jack Warford, Meri Welles, John Herman Shaner
Retro-reviewed by Ambush Bug
Oh, Thheymour.
Though I have fond memories of going to see the remake of Corman's classic in the theaters, I had never seen the original LITTLE SHOP OF HORRORS until watching this newly remastered DVD/BluRay. This may be one of the few cases where I prefer the remake over the original, mainly because of some fine performances by Rick Moranis, Steve Martin, and Ellen Greene and some cactchy showtunes. But still, Corman's original LITTLE SHOP OF HORRORS still has that charm seen in most of Corman's earliest endeavors.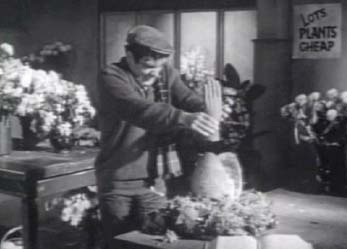 Seymour is a down on his luck flower salesman, working in Mr. Mushnik's Flower Shop on Skid Row. In a mistaken crossbreeding accident, Seymour somehow creates a Venus flytrap-like plant that thrives on blood. When the selfless Seymour doesn't have a drop left to spare, he begins feeding the plant hobos and prostitutes, making the plant grow to massive proportions. As Mushnik's store and Seymour rise in fame, the plant's need for blood grows as well. Soon, Seymour realizes that this plant is out of his control.
Sounds like the makings of a pretty awesome horror movie. Right?
Unfortunately, the horror is downplayed to a point of non-existence here. Everything is played for laughs and even those laughs are pretty lame. Even an appearance by Jack Nicholson, proving that even Jack can give a lame performance, doesn't save this.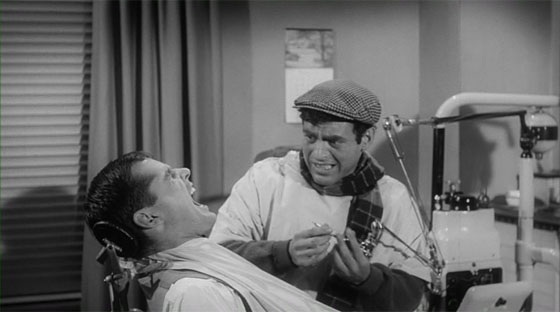 Though it is a puppet, the plant is actually pretty well done as far as low scale special effects go. The pod-person reveal at the end is even more than a little jarring, despite how bad the painted renditions of the dead characters are. Still, effects-wise, this is something impressive for its time.
I can't be too hard on LITTLE SHOP OF HORRORS. It's as harmless as Seymour and definitely a fun retro experience by one of the trailblazers in horror, but after watching the lame comedy and low attention to actual horror in the original and the showtune-rific remake, I can't help but wonder what a LITTLE SHOP OF HORRORS that actually delivered the horrors would be like.
---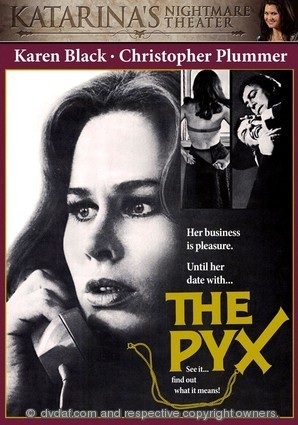 New on DVD from Scorpion Releasing & Katarina's Nightmare Theater!
THE PYX (1973)
aka THE HOOKER CULT MURDERS
Directed by Harvey Hart
Written by Robert Schlitt (screenplay), John Buell (novel)
Starring Karen Black, Christopher Plummer, Donald Pilon, Jean-Louis Roux, & Yvette Brind'amour
Retro-reviewed by Ambush Bug
Made during the height of trendy Satanism and bearing a lot of resemblance to ROSEMARY'S BABY is THE PYX, a film riddled with 70's police procedural and religious and anti-religious symbolism. THE PYX, also known as THE HOOKER CULT MURDERS in some parts, was a vehicle for actress Karen Black who not only stars in the film, but provides numerous songs for the soundtrack as well.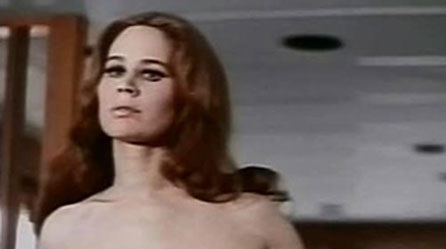 Though the film is meticulously paced and rather slow at times, THE PYX is saved by its stars Black and a young Christopher Plummer who plays the detective on the case of what looks to be Black's murder. Both actors do a fantastic job of telling a two tier story, one going on leading up to the death of a prostitute (played by Black) and the investigation of her death lead by Plummer. Black juggles the ability to appear sultry and innocent all at once here, with her doe eyes and big hairdo masking a more jaded and apathetic underneath. Plummer is less outstanding playing the typical hard nosed detective here, though does so capably.
Director Harvey Hart shuffles between the present and past pretty seamlessly, though the shift was pretty obvious (Black is alive in the past, and a corpse in the present). Still, the narrative flows nicely, revealing important story points in succession making this a well paced thriller.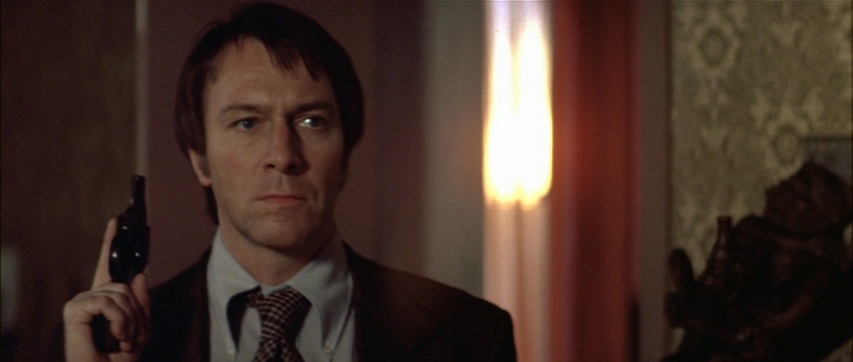 Those looking for straight up horror might be a bit disappointed. THE PYX relies on the creepiness of religious and anti-religious imagery and chanting which gives off an overall sense of dread rather than straight up scares. And though the film ends rather abruptly, it does tends to echo Polanski's thriller near the climax which makes it more interesting to watch, but disappointing that it is so like another important horror film of its time. Still, with some great performances, a haunting soundtrack voiced by Black herself, and some deft storytelling tricks, THE PYX is an obscure oldie worth digging for.
---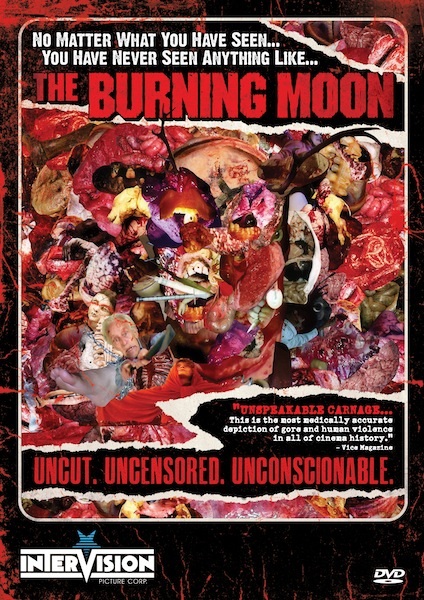 New on DVD from Intervision!
THE BURNING MOON (1997)
Directed by Olaf Ittenbach
Written by Olaf Ittenbach
Starring Andrea Arbter, Ellen Fischer, Ronald Fuhrmann, Rudolf Höß, Bernd Muggenthaler, Kurt Nauder, Beate Neumeyer, Helmut Neumeyer
Reviewed by Ambush Bug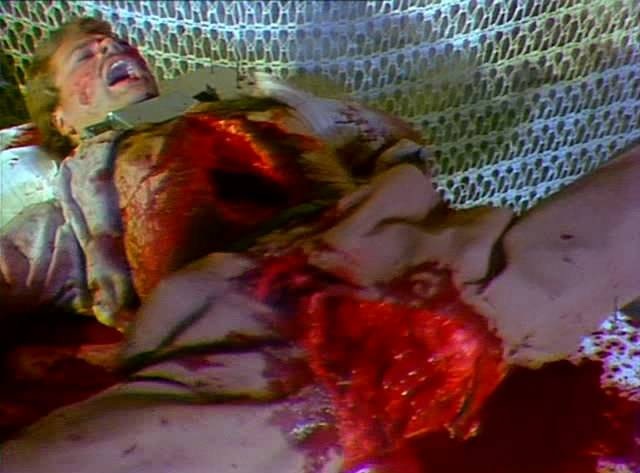 So THE BURNING MOON has been touted as the most gore-filled film ever. Though it does have its moments of gore, I am not sure if I'd consider it the granddaddy of all gore-fests.
That said, if you're looking for gore, THE BURNING MOON is definitely one to seek out. Now, don't go expecting to see any acting skills displayed or clever storytelling or even capable camera work. None of that shows up at all here. But if you want gore and lots of it and don't really have a care about what else happens in between the bloodletting, THE BURNING MOON might be the movie for you.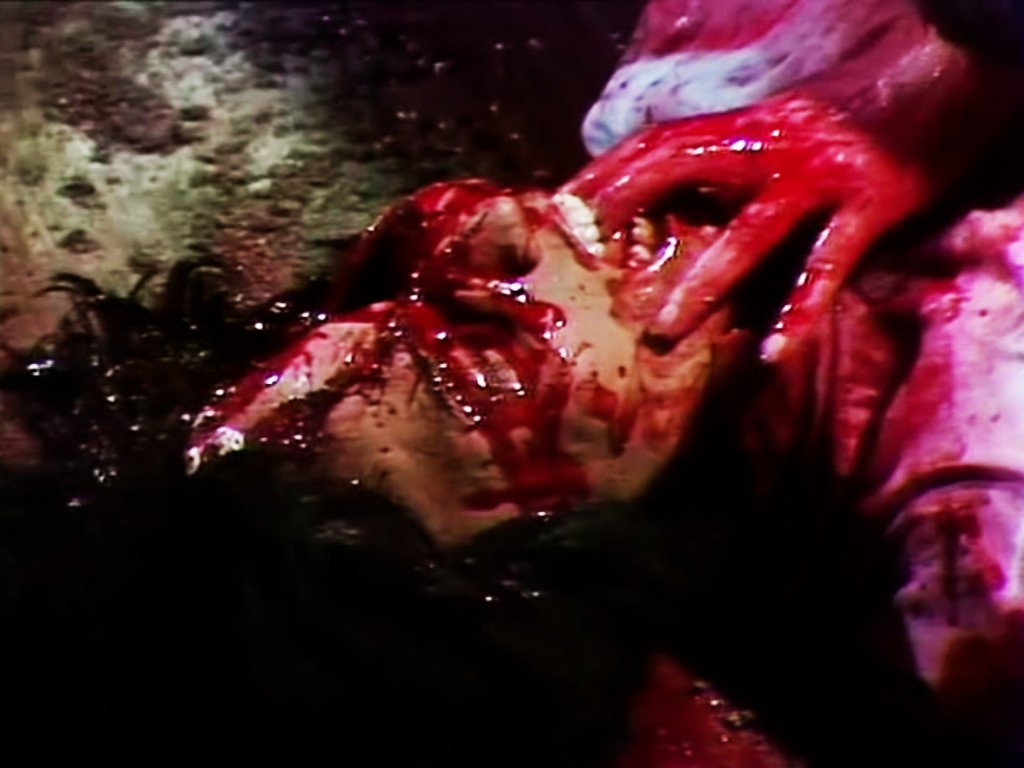 The story, if you want to call it that, is about a no-goodnik who is forced to take care of his younger sister. In retaliation against his parents forcing him to babysit, the rebellious teen (you know he's rebellious because he's wearing torn acid wash jeans and sports a semi-Flock of Seagulls haircut and a dangly earring) tells the little girl one depraved story after another about serial killers, serial rapists, and finally narrative is tossed out completely in favor of blood splattered mayhem.
Though blood by the vat-load is shed and splattered, realism isn't really the focus here. Bodies are torn to shreds as if they are made with paper mache, probably because the fake bodies most likely were. Blood is hosed all over the place dripping off of all cast members and the rooms they are attempting to act in. Writer/director Olaf Ittenbach isn't shy about where his interests lie, and if your interests lie in low-budget gore by the bucketload with little attention to any of the other important aspects of filmmaking, THE BURNING MOON is something you should check out. Those of you who like things like acting skills and creative storytelling might want to look elsewhere.
---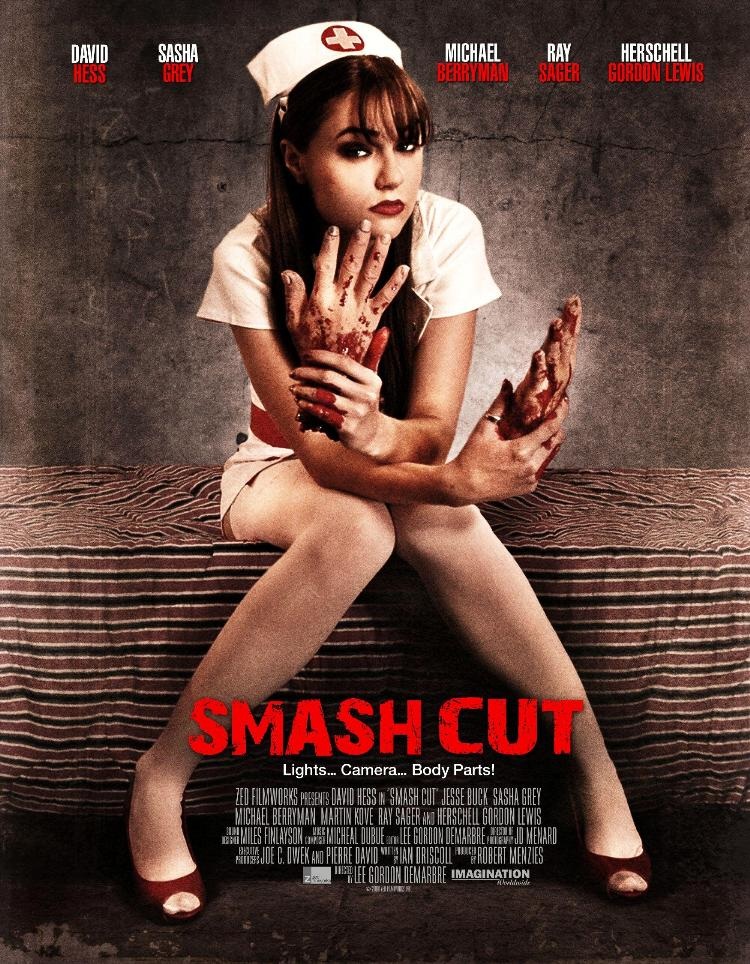 SMASH CUT (2009)
Directed by Lee Demarbre
Written by Ian Driscoll
Starring David Hess, Jesse Buck, Michael Berryman, Ray Sager, Sasha Grey, Jennilee Murray, Michael Dubue, Barry Blake, Peter Michael Dillon, Meghanne Kessels & Herschell Gordon Lewis
Find out more about this film here!
Reviewed by Ambush Bug
Though SMASH CUT has been out for over a year, I recently had a chance to check it out and felt like it was worth passing on to you all. The film from beginning to end is a love letter to the Godfather of Modern Gore Herschell Gordon Lewis, so much so that the filmmaker makes a few appearances in the film to give it his endorsement.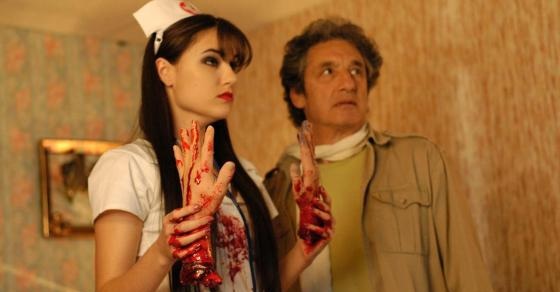 Anyone who knows the work of Herschell Gordon Lewis knows that the filmmaker has been known for his maverick style of guerilla filmmaking, shunning the notions of permits and planning and just going for broke with what little means he's got to get the movie done.
I reviewed THE GODFATHER OF GORE
a while back, which did a fantastic job of illustrating how rebellious this seemingly pleasant man actually is behind the camera. Much like that film, SMASH CUT illustrates that notion by casting the late great David Hess as a director who will stop at nothing, even murder, to complete his film.
Though the acting is spotty at times, director Lee Demarbre does a great job of capturing the essence of Lewis' style and mixing it with a story quite reminiscent of Vincent Price's classic THEATER OF BLOOD, where the filmmaker lashes out at the critics and anyone who gets in the way of his making a film.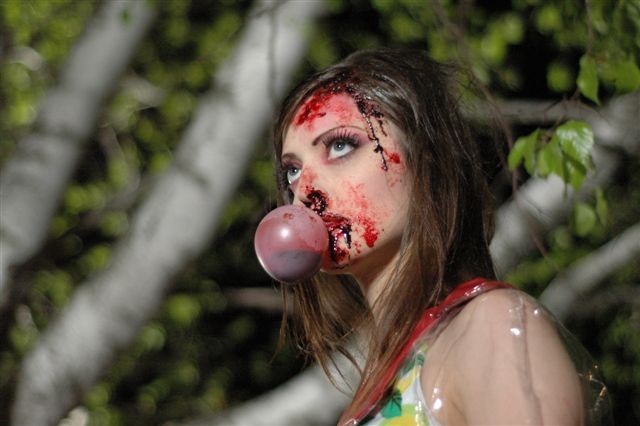 Filmmaking as metaphor has been a concept often in cinema. Even the recent top tits film of the year, THE ARTIST, leaps full force into the film about filmmaking subgenre. SMASH CUT does so as well, following a director in love with making films, though his films are panned by the critics and suffer from financial and other woes. Hess stumbles his way through the production and does end up killing quite a few people, but it's a testament to the actor's skills that I actually felt for the character's plight despite his lack of respect for little things like the lives of others.
With cameos by THE HILLS HAVE EYES' Michael Berryman and H.G. Lewis himself, if you like classic low budget horror, this film should definitely be on your to watch list. Sure, some of the comedy falls flat, but serving as a swan song standout performance by a great genre actor like David Hess and an homage to one of the greats in gore in Lewis, SMASH CUT deserves to be seen by more people.
---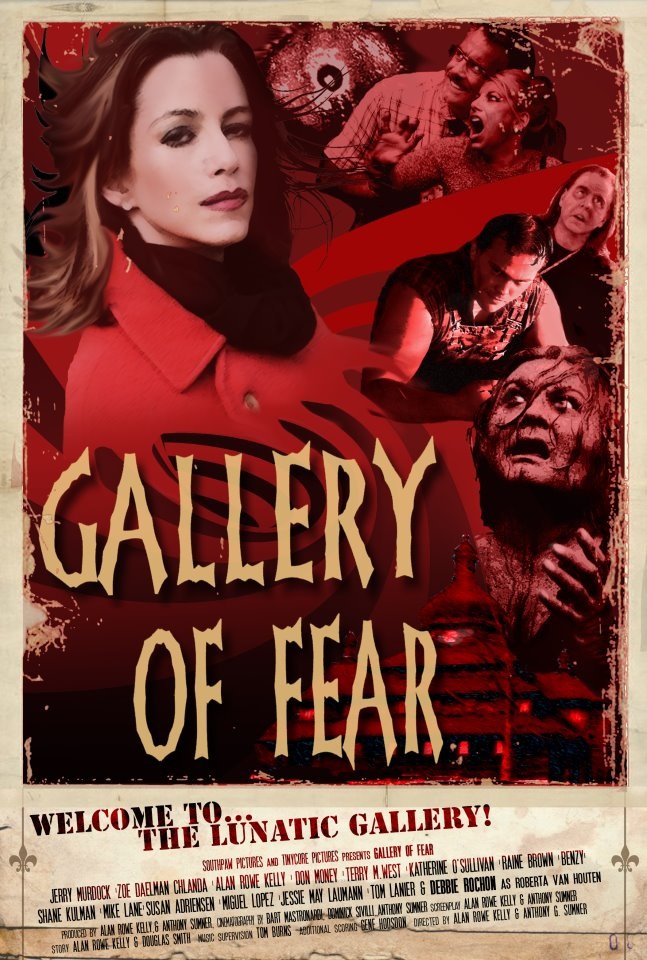 Advance Review!
GALLERY OF FEAR (2011)
Directed by Alan Rowe Kelly & Anthony G. Sumner
Written by Alan Rowe Kelly & Anthony G. Sumner (based on a story by Doug Smith)
Starring Debbie Rochon, Jerry Murdock, Zoe Daelman Chlanda, Raine Brown, Alan Rowe Kelly, Katherine O'Sullivan, Terry M. West, Don Money, Benzy, Mike Lane, Terry Shane, Miguel Lopez, Robert Norman, Shane Khulman, Tom Lanier, Susan Andriensen, Jesse May Laumann, David Marancik
Find out more about this film here and here!
Reviewed by Ambush Bug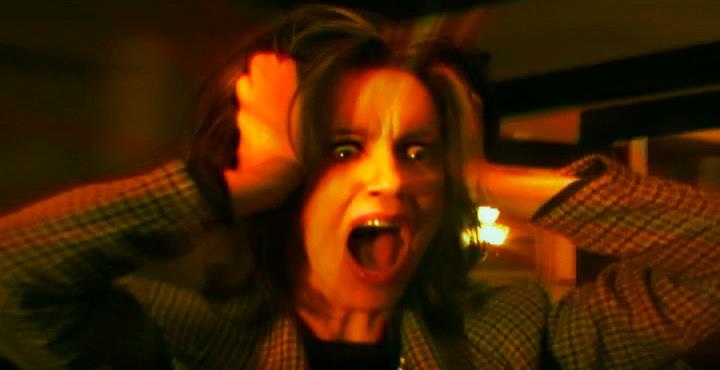 Those looking for the next big name in independent horror should look no further than Alan Rowe Kelly and Anthony G. Sumner. Sumner brought us the horror anthology SLICES OF LIFE (
reviewed here
) last year and it looks like he hasn't taken any time off since. As with most horror anthologies, some of the stories in GALLRY OF FEAR are better than others, but all rank high for taking full advantage of effects that don't outreach the budget and venturing places big budget horrors fear to tread.
The film is bookended with a story starring scream queen Debbie Rochon playing a snobby art critic left in an abandoned gallery. Though this story is light on the scares, Rochon does segue the three short installments very well. A la NIGHT GALLERY, Rochon flits from one twisted painting to the next, giving down-snouted criticism while swizzling a glistening champagne flute that looks somewhat sinister in the right light.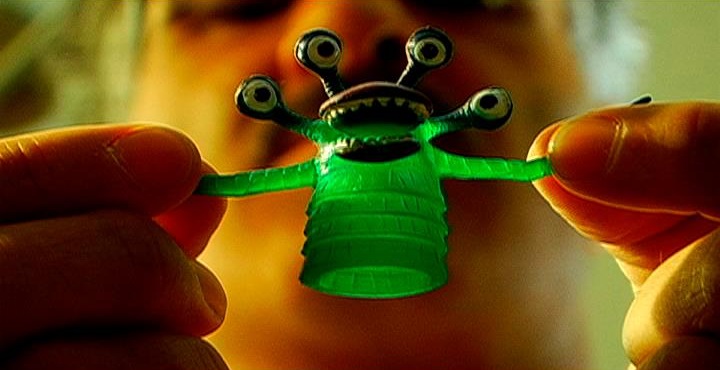 The first segment is called "By Her Hand She Draws You Down", a twisted tale of artistic vampirism and a complex relationship between a husband and wife. The wife, played by Zoe Daelman Chlanda, is a boardwalk artist who is quite talented, but when she uses a particular red chalk, the artwork saps the life from those posing. Star of each segment Jerry Murdock takes a nice dramatic turn in this installment as the voice of reason to his constantly soul-hungry wife, who is willing to take anyone's life with the stroke of a piece of chalk. This was a nice segment to start out with. A slow burner with really nice effects. And whoever did the art for the sketches is one talented artist as each of the soul stealing works look like penciled photography.
Next up is a more comical piece of B-Movie mayhem. Though lacking the heart of the first segment, "Down the Drain" makes up for it with funny bone. Jerry Murdock returns in this one, this time homaging Bill Murray's CADDYSHACK performance as a dimwitted and down on his luck substitute teacher who can't seem to get any respect from anyone. Things start to pick up when the sad sack goes off his meds and starts seeing a sewer monster. Then those who antagonized him start dying. This is a fun piece, reminiscent of CREEPSHOW's "The Crate" sequence, especially when the teacher's annoying wife shows up to berate him.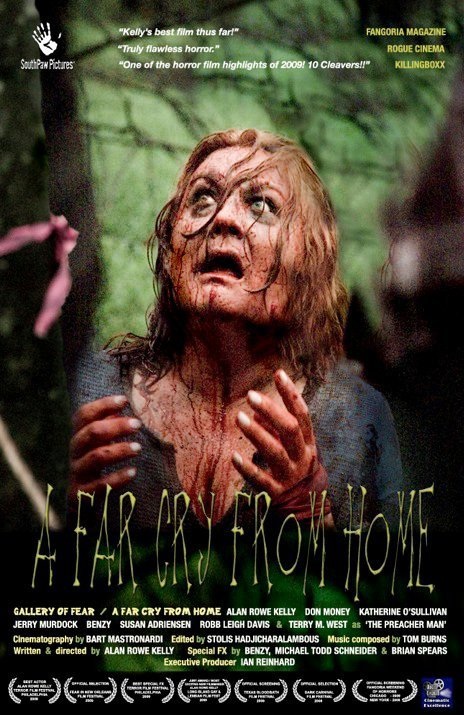 The final installment is what makes this film something worth seeking out. "A Far Cry From Home" succeeds as a revenge film, a killer hillbilly film, and also as a bit of social commentary. Imagine is Harvey Fierstein got lost in the backwoods of Hillbilly USA. That's the premise here as homophobia turns to all out assault on a homosexual couple who happen along the wrong antique shop in the middle of nowhere. A lot of clichés are utilized in this one, but they are done so with a deft hand. Just when you think this is going one way, the story zags. There is lots of gore here, but it's the hateful dialog the bible-thumping hillbillies spew which ring as most horrific. Murdock returns in this installment, proving he's got a lot of range, this time playing a truly imposing bile-spewing redneck. Though the first two segments were fun, Sumner and Kelly definitely saved the best for last, taking a B-line into serious horror territory.
At the moment, GALLERY OF FEAR is touring the festival circuit. It's another fantastic anthology from two filmmakers who aren't afraid to take bold turns and tackle tough subject matter through the bloody lens of horror. I'll definitely be keeping you all in the know when and where you can check this one out.
---
New this week on DVD/Bluray!
ABSENTIA (2011)
Directed by Mike Flanagan
Written by Mike Flanagan
Starring Katie Parker, Courtney Bell, Dave Levine, & Doug Jones
Official site.
Reviewed by Ambush Bug
BUG NOTE: I reviewed this film quite while ago, but since it is being released this week on DVD, I figured it would be good to remind folks about it. It's definitely worth checking out.
Actually, I owe ABSENTIA a lot. When the teaser trailer was sent to me a while back, I posted it on AICN and suggested that I was thinking of doing an AICN HORROR column. Most of the responses were pretty positive, and I loved being able to talk about a film that was relatively unknown and full of potential given what I saw in the trailer. Well, it's been a few months and I had a chance to check out the entire movie, and I think I backed the right horse.
ABSENTIA opens silently as Tricia (played by a very pregnant Courtney Bell) wanders around the neighborhood posting MISSING posters on telephone poles, replacing ones faded giving a clear indication that she's been doing this for quite some time. We find out that Tricia's sister, Callie (played by Katie Parker) is coming to visit her to be with her for the birth of her child. The tone of the film is very serious and as the sisters go through the motions of grieving the disappearance of Tricia's husband and accepting the fact that he's most likely dead.
This isn't a bunch of hyperactive teens crying while a boy band ballad is twinging in the background, ABSENTIA is a mature look at loss through the lens of a horror film. It reminded more of the tone of Alejandro González Iñárritu's 21 GRAMS than any horror film I've seen, dealing with death in such a dour and serious manner. ABSENTIA works because the actors, though I've never seen them in anything before, have the chops to pull off the serious weight of dread that permeates the film. Both actors playing the sisters do a great job of making you feel for them and feel their pain.
But though the mood is deathly serious, there's a lot of fun to be had with ABSENTIA. Turns out Tricia's husband wasn't the first to disappear and that there is a series of disappearances leading back hundreds of years all around the same tunnel running under a road across from Tricia's home. Though no one believes it at first, when more folks start disappearing and ghosts of the abducted start showing up (including a very creepy Doug Jones), Tricia and Callie are forced to consider that some kind of creature is taking these people.
Director/writer Mike Flanagan, does a fantastic job of juggling both the dramatic and the fantastic moments here. There's a real sense of terror as these ghosts try to warn the living of the bug-like monster that is staking them and peppered throughout are some true classic moments of fear. Flanagan never really shows you what the monster looks like, but his mastery of making the most of the dark is near perfect. Though I really wanted to see the beast, what I did see was pretty damn terrifying.
ABSENTIA is not your typical modern horror film. It's not dumbed down. It's not badly acted. It doesn't feature tired clichéd monsters. What it does have is powerfully scary moments, themes with heft, and an impact that will leave you remembering this film long after the credits.
---
And finally…you think you've seen every variation of the hitchhiking motif? Think again in this hilariously creepy short by Chris Johnson called THE HITCHHIKING! I loved this shortie film from 51 Deep productions!
See ya, next week, folks!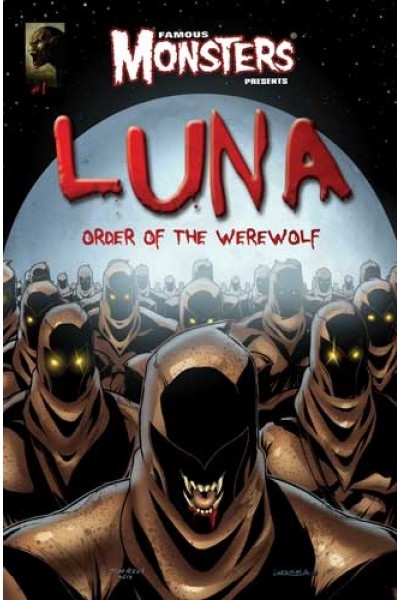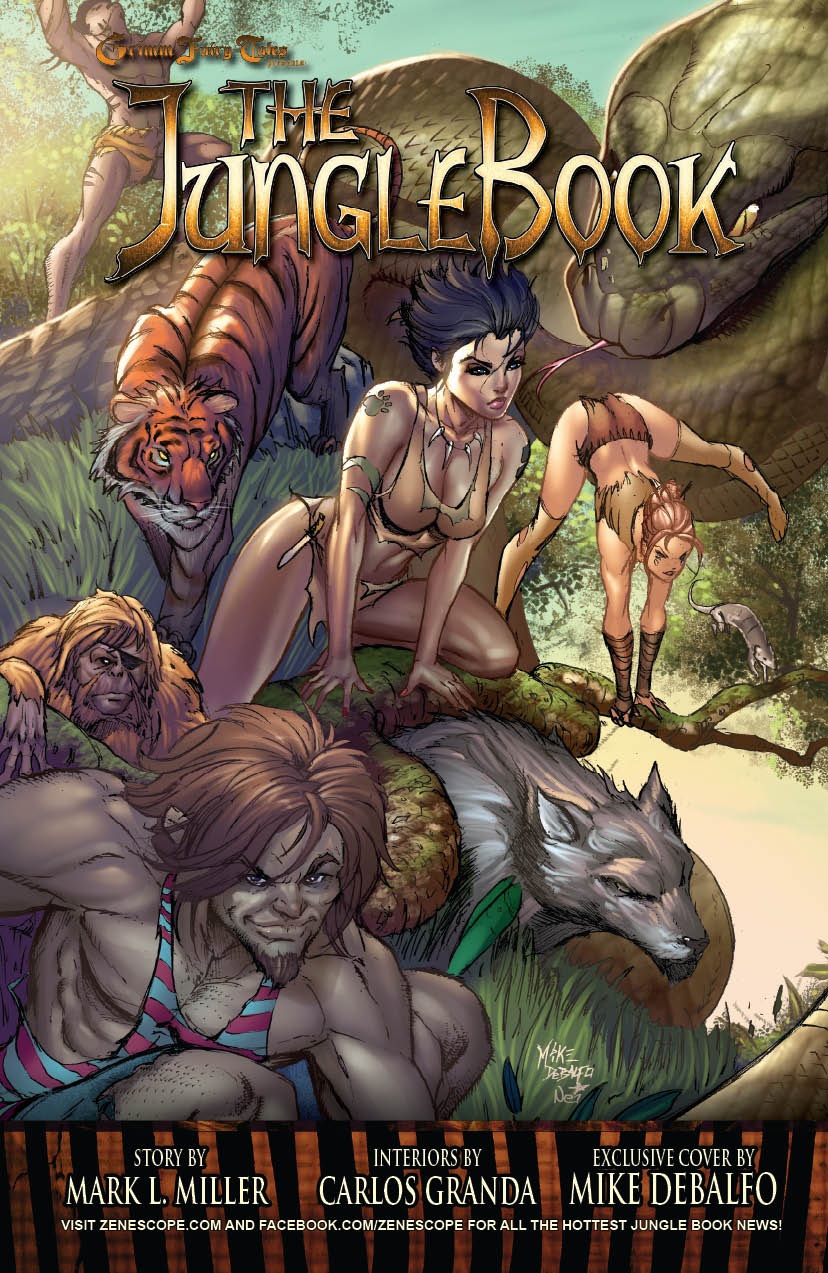 Ambush Bug is Mark L. Miller, original @$$Hole/wordslinger/reviewer/co-editor of AICN Comics for over ten years. He has written comics such as MUSCLES & FIGHTS, MUSCLES & FRIGHTS, VINCENT PRICE PRESENTS TINGLERS & WITCHFINDER GENERAL, THE DEATHSPORT GAMES, WONDERLAND ANNUAL 2010 & NANNY & HANK (soon to be made into a feature film from Uptown 6 Films). He is also a regular writer for FAMOUS MONSTERS OF FILMLAND & has co-written their first ever comic book LUNA: ORDER OF THE WEREWOLF (to be released in October 2012 as an 100-pg original graphic novel). Mark has just announced his new comic book miniseries GRIMM FAIRY TALES PRESENTS THE JUNGLE BOOK from Zenescope Entertainment to be released in March 2012.
---
Check out the FAMOUS MONSTERS OF FILMLAND Website!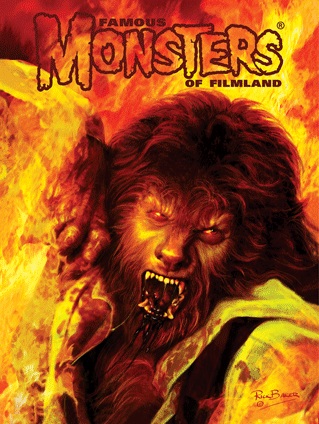 ---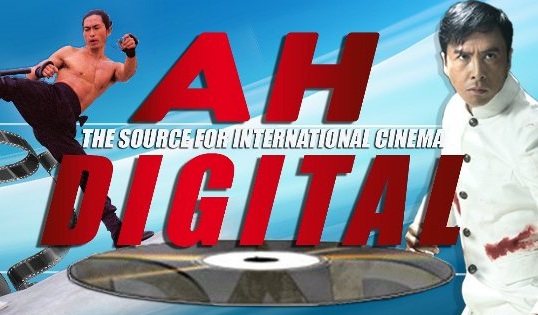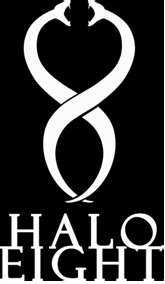 Looking for obscure, foreign, or hard to find DVDs & BluRays?
Check out AH Digital: the source for international cinema!


Interested in illustrated films, fringe cinema, and other oddities?
Check out Halo-8 and challenge everything!
---
Find more AICN HORROR including an archive of previous columns
on AICN HORROR's Facebook page!