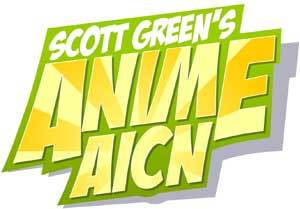 Logo handmade by Bannister
Column by Scott Green
At a 2005 anime convention, a would-be Battle Royale distributor was asked why they never brought the infamous teenage deathmatch movie to North America. According to this distributor, after the Columbine shootings, the studio behind BR, Toei, screened the movie for their lawyers. Toei was then informed, that if they released the flick in North America, they'd go to jail.


But, times have changed. The frequently-compared-to Hunger Games has gotten a PG-13 rating and prominent coverage on the entertainment outlets. And, finally, Battle Royale is a week away from becoming widely available, with North America on Blu-ray, DVD and digital download scheduled for March 20th from Anchor Bay Entertainment.
Ahead of the release, AICN has a nice, red band sample to share
Battle Royale: The Complete Collection's four disc setin collectible high-end packaging will include:
· Battle Royale Director's Cut with both Japanese and English language tracks and English subtitles
· Battle Royale Theatrical Cut with both Japanese and English language tracks and English subtitles
· Battle Royale II with Japanese language and English subtitles
· Battle Royale Bonus Content with Japanese language and English subtitles
SPECIAL FEATURES:
· The Making Of BATTLE ROYALE
· BATTLE ROYALE Press Conference
· Instructional Video: Birthday Version
· Audition & Rehearsal Footage
· Special Effects Comparison Featurette
· Tokyo International Film Festival 2000
· Battle Royale Documentary
· Basketball Scene Rehearsals
· Behind-The-Scenes Featurette
· Filming On-Set
· Original Theatrical Trailer
· Special Edition TV Spot
· TV Spot: Tarantino Version
The Battle Royale release will include:
· Director's Cut with Japanese and English language and English subtitles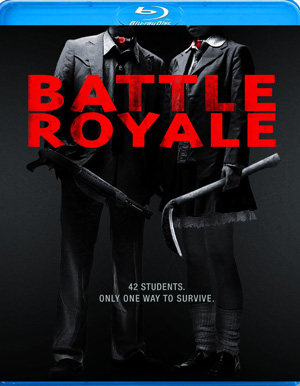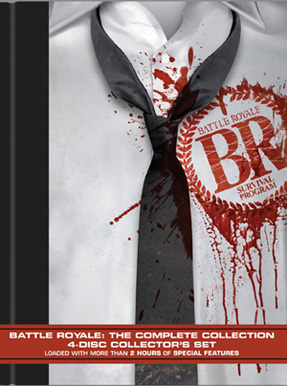 BATTLE ROYALE: The Complete Collection Blu-ray (3 disc plus bonus DVD)
Genre: Action/Drama, Thriller
Street Date: March 20, 2012
Pre-book: February 22, 2012
SRP: $49.99
Cat #: BD24401
UPC: 0 1313 24401-9 4
Disc 1 – Battle Royale Director's Cut:
Run Time: 122 minutes
Rating: Not Rated
Format: Anamorphic Widescreen (1.78:1)
Audio: Japanese Dolby TrueHD 7.1 and English Dolby TrueHD 5.1
Subtitles: English
Disc 2 – Battle Royale Theatrical Cut:
Run Time: 113 minutes
Rating: Not Rated
Format: Anamorphic Widescreen (1.78:1)
Audio: Japanese and English Dolby TrueHD 5.1
Subtitles: English
Disc 3 – Battle Royale II: Revenge Director's Cut:
Run Time: 133 minutes
Rating: Not Rated
Format: Anamorphic Widescreen (1.85:1)
Audio: Japanese Dolby TrueHD 5.1
Subtitles: English
Disc 4 – Battle Royale Special Features DVD:
Run Time: 194 minutes
Rating: Not Rated
Format: Full-Frame (1.33:1)
Audio: Japanese Dolby Surround 2.0
Subtitles: English
BATTLE ROYALE: The Complete Collection DVD (4 disc)
Genre: Action/Drama, Thriller
Street Date: March 20, 2012
Pre-book: February 22, 2012
SRP: $44.98
Cat #: DV24566
UPC: 0 1313 24566-9 0
Disc 1 – Battle Royale Director's Cut:
Run Time: 122 minutes
Rating: Not Rated
Format: Anamorphic Widescreen (1.78:1)
Audio: Japanese and English Dolby Digital 5.1
Subtitles: English
Disc 2 – Battle Royale Theatrical Cut:
Run Time: 113 minutes
Rating: Not Rated
Format: Anamorphic Widescreen (1.78:1)
Audio: Japanese and English Dolby Digital 5.1
Subtitles: English
Disc 3 – Battle Royale II: Revenge Director's Cut:
Run Time: 133 minutes
Rating: Not Rated
Format: Anamorphic Widescreen (1.85:1)
Audio: Japanese Dolby Digital 5.1
Subtitles: English
Disc 4 – Battle Royale Special Features:
Run Time: 194 minutes
Rating: Not Rated
Format: Full-Frame (1.33:1)
Audio: Japanese Dolby Surround 2.0
Subtitles: English
BATTLE ROYALE Director's Cut Blu-ray
Genre: Action/Drama, Thriller
Street Date: March 20, 2012
Pre-book: February 22, 2012
Cat. #: BD23767
UPC: 0 1313 23767-9 0
Run Time: 122 minutes
Rating: Not Rated
SRP: $29.99
Format: Anamorphic Widescreen (1.78:1)
Audio: Japanese Dolby TrueHD 7.1 and English Dolby TrueHD 5.1
Subtitles: English
BATTLE ROYALE Director's Cut DVD
Genre: Action/Drama, Thriller
Street Date: March 20, 2012
Pre-book: February 22, 2012
Cat. #: DV23762
UPC: 0 1313 23762-9 5
Run Time: 122 minutes
Rating: Not Rated
SRP: $24.98
Format: Anamorphic Widescreen (1.78:1)
Audio: Japanese and English Dolby Digital 5.1
Subtitles: English