Ahoy, squirts! Quint here. In the many years of the Alamo Drafthouse Cinema's reign there have been some incredible events and screenings. Those hallowed walls have been host to Quentin Tarantino showing obscure classics, Mel Gibson nervously previewing Passion of the Christ, Ralph Bakshi angrily storming off stage between a double feature of Wizards and Coonskin, Crispin Glover being… well, Crispin Glover all up in there and thousands of other geek-tacular Q&As and vintage screenings.
However there's something special going on this summer… something epic that movie nerds all over the world will envy Texas for.
We know the Summer of 1982 was a banner year for geek releases. So does The Alamo and they've decided the best way to mark the 30th anniversary of the greatest single year of geek cinema by releasing the best movies of that crazy summer as close to their original release dates as possible.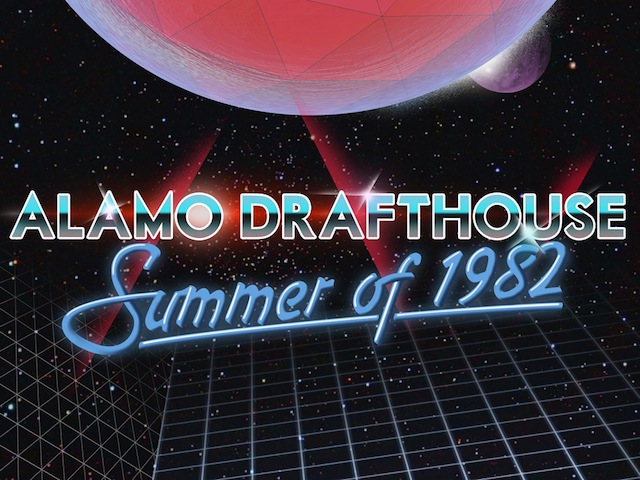 The titles are Conan the Barbarian, The Road Warrior, Rocky III, Poltergeist, Star Trek II: The Wrath of Khan, E.T., The Thing and Tron. They're working out a rights issue with Blade Runner, so that's not locked in yet, but God willing Deckard will join the misfit bunch that includes Tangina, Khan, Keys, MacCready, Max, Alan One, Clubber Lang and Crom.
Not only will these classic films be presented in 35mm they'll also be preceded by trailers that would have likely been placed before each feature. How great is that? Oh, and you Mondo lovers… looks like we're getting Mondo prints for each film as well!
Each film will be co-presented by a movie news site and there might be a special guest here or there as well. Yours truly will be introducing Poltergeist, a film which claims the honor of being my very first memory. Not movie memory, my first memory period.
Every Alamo will be running this summer of '82 programming. Here's the rundown for the Ritz in Austin, but keep an eye on their website for updates on other venues.
May 11 - CONAN THE BARBARIAN
May 18 - THE ROAD WARRIOR
May 25 - ROCKY III
June 1 – POLTERGEIST
June 3 - STAR TREK II: THE WRATH OF KHAN
June 8 - E.T.
June 22 - THE THING
TBA – BLADE RUNNER*
July 6 – TRON
*Note, the Alamo programming team is working hard to schedule the sci-fi opus BLADE RUNNER. Watch for updates via @drafthouse and Facebook.com/AlamoDrafthouse.
Can you imagine the day when there's an Alamo in every town and when they do strategic awesomeness like this it'll be akin to a limited re-release? Oh, man. That day can't come soon enough.
This is going to be flat out awesome and I'm extremely excited to take part in it. I'm even more excited to see what Mondo has up their sleeves…
-Eric Vespe
"Quint"
quint@aintitcool.com
Follow Me On Twitter