Merrick here...
Given the insane amount of bad luck and screwy timing which have plagued the production, I still have an "I'll believe it when I see it!" vibe about this new MAD MAX picture - said to be the first installment in an already scripted trilogy (consisting of FURY ROAD, FURIOSA, and FURRY VENGEANCE...wait that's not right).
This said, there do seem to be a number of indicators suggesting that the mighty George Miller may finally have at least the first part of his trilogy on track...including comments from new Max Tom Hardy, who says the film will roll in April, and an increased number of vehicle sightings (like THIS recent report).
A reader named David just sent along THIS article, revealing two more vehicles from the movie. Thus providing further evidence that we may FINALLY see a new MAD MAX movie in theaters, after an absence of nearly three decades.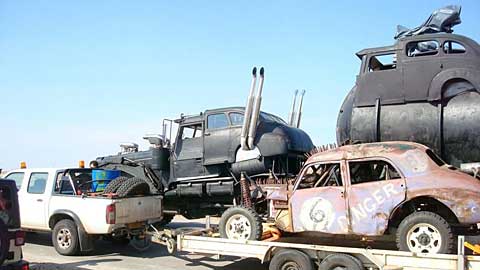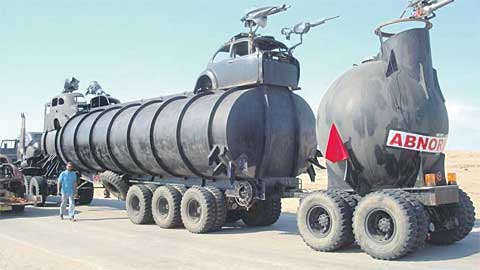 David also provided some context for what the article says:
According to the article, these were taken at a railroad crossing on the road to Cape Cross, Namibia, presumably where filming will take place.
So there you have it. With any luck,. we'll have more and more images of this nature as FURY ROAD heads towards (hopefully) inexorable principal photography.
--- follow Merrick on Twitter ! ---