Merrick here...
Remember the Mattel Hoverboard from BACK TO THE FUTURE II and III? Seems the company will soon be issuing a full-scale replica of that iconic device, featured in the sequence below:
ToyArk has this image of a promo poster for the product, sighted during Toy Fair 2012. Click to EMBIGGEN it!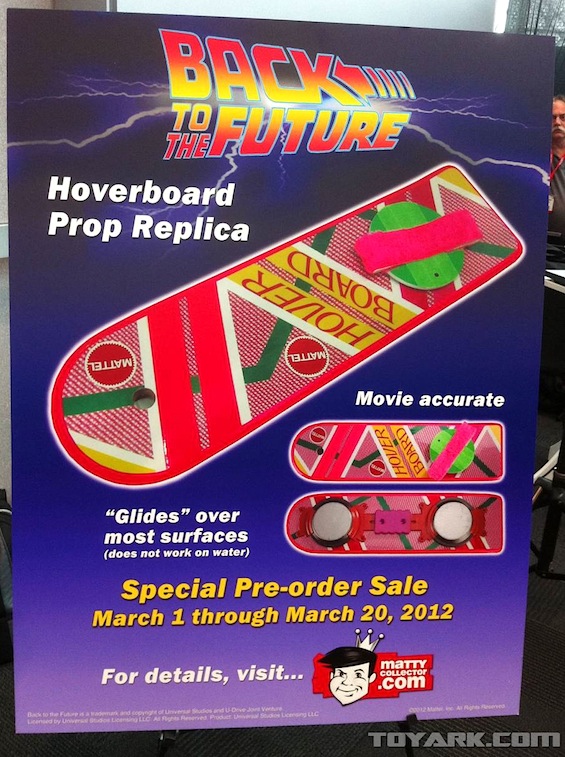 I'm kind of surprised it took Mattel so long to do this - perhaps they were inspired by the bat-shit-crazy sales of the Nike's recent Marty McFly shoes (thousands and thousands of dollars a pair) and decided to get in on the action? Whatever the case, sounds like this Hoverboard could end up being costly as well...so be ready to jump in on the action quickly during what appears to be a very limited ordering window which begins March 1.
Here's a press release to tell us more...
"Back to the Future Hover Board: Finally! This totally awesome 1:1 replica of the hover board from the BTTF 2 and BTTF 3 films includes multiple whooshing sounds and will glide over most surfaces (does not actually "hover" -- check back in 2015 for that feature). We'll be taking orders for it March 1 -- March 20, 2012, and the final product will be shipped around November/December 2012. Because this is such a high-cost item, there will be a minimum number of orders required to go into production. If we don't receive the minimum orders, won't go into production and customers will not be charged. The price will be announced later this month (Note: Hover board does not work on water.)
--- follow Merrick on Twitter ! ---