Ahoy, guys. Quint here. I didn't know Adam Adamowicz's name until I found out he died, but his work had a huge impact on me.
This isn't your typical obituary here on AICN. We don't cover a lot of video game stuff, but gaming has been a major part of my life since the glory days of Super Mario Bros and Centipede. I've loved many games, arcade, console and computer games, but if asked to pick my favorite game of all time I immediately flash to wandering around the ruins of Washington DC listening to Cole Porter with my trusty Victory Sniper Rifle at the ready and The Terrible Shotgun a quick button press away should I get backjumped by a Super Mutant.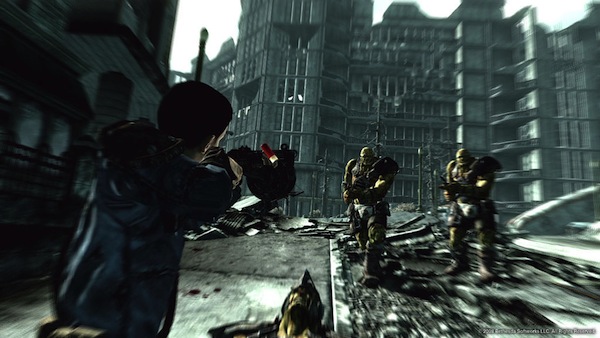 Fallout 3 has it all. A dark sense of humor, a compelling story, a cast of hundreds of fascinating people (some without skin!) and creatures, a great perk system that really drives you to keep on playing and completing quests, a unique mixture of First Person Shooter and Role Playing Game elements and, most importantly of all, a world you just want to live in and explore.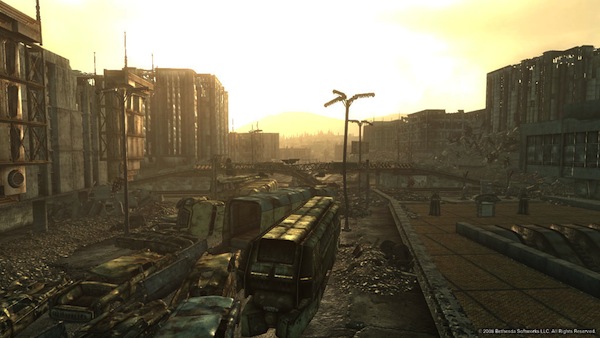 That's where Adam Adamowicz comes in. He was a concept artist at Bethesda and worked on Fallout 3 and Skyrim. It seems like he was surrounded by quite a few talented concept designers on Skyrim, but my impression is that if you like the look of Fallout 3 then you can bow down at his feet because he spear-headed the design of everything in that game from the plasma rifles to the ghouls to the Super Mutants to the Vaults to the Deathclaws to the Robots to the junk that liters the crumbled streets.
Not only did he do that, he did most of it with pen and pencil, atypical of the way most video game concept designers work. Scanning through his art at the Bethesda site I find myself wishing I could have all of it framed on my wall.
That hand-drawn feel to the designs translated perfectly to the digital world and I have no doubt that added to the grittiness of the post-apocalyptic world of Fallout 3's Capital Wasteland.
I'm angry at myself for not knowing of Adamowicz while he was alive, of ever asking myself where the look and tone of this game I love so much came from. I would have loved to have sent Adam a fan letter, letting him know that his work went beyond killing a few hours as I mindlessly blasted away mutants, but had a deeper impact on me in much the same way as Jack Cardiff's cinematography did or Edith Head's costume designs did or Saul Bass' titles did or Drew Struzan's poster art does.
I suppose I thought of Bethesda as a faceless entity that just spit out amazingly immersive worlds. My brain recognized that entity was made up by hundreds (if not thousands) of extremely talented people, but I just never really thought about it.
So, thank you, Adam. Thank you for being a crucial member of a team that has cost me hundreds of hours of my life since 2008. I've perfected my achievements (including DLC), have done a good guy and bad guy playthrough and have explored every inch of the Capital Wasteland, but I think I may throw the game in again tonight in your honor, just wander around and soak up all the detail knowing now where it came from.
I'd like to thank Aaron Morgan for tipping me off to the great obituary at Awesome Robo!. Without those guys I wouldn't have known about Adam, so thanks.
My thoughts go out to Adam's friends, co-workers, family and fans. Cancer's an asshole.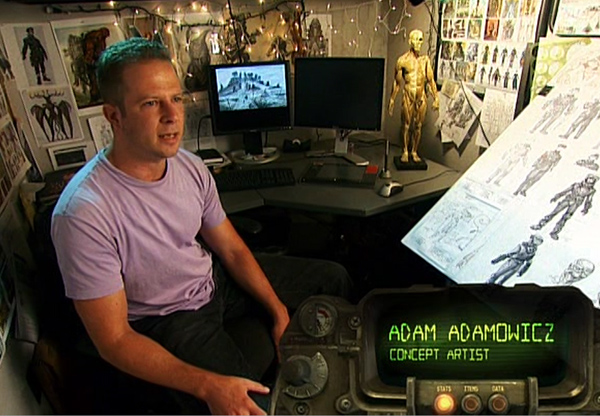 Before I go, I thought I'd share more of Adam's work from Fallout 3 and his personal projects. He did everything… sketches, watercolors, sculptures, etc. Here's some of my favorite pieces: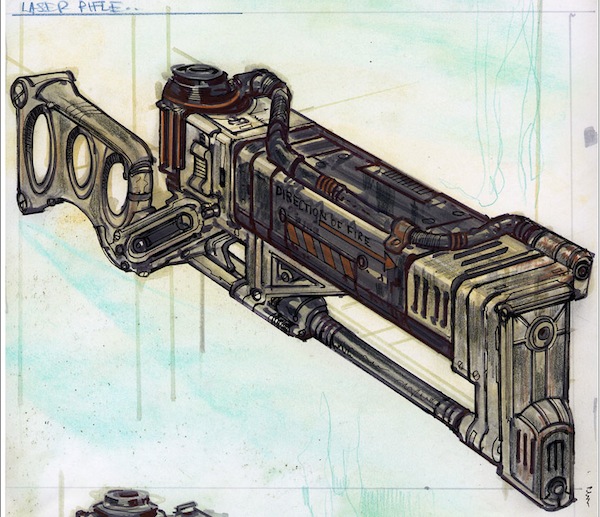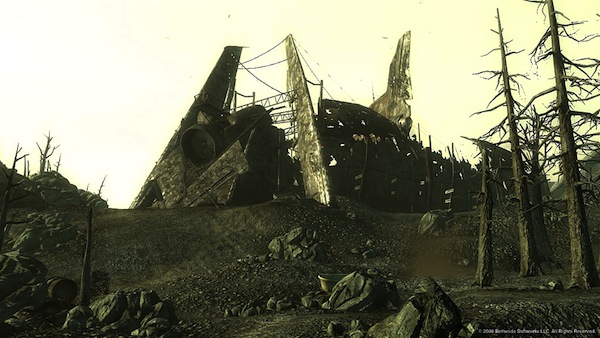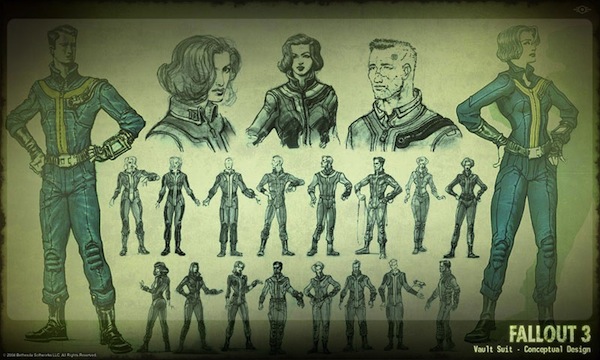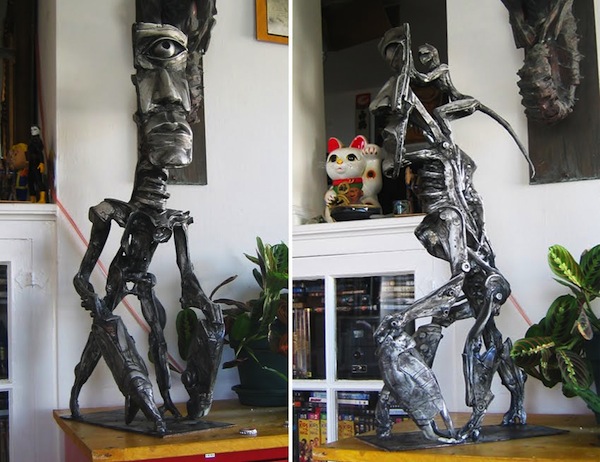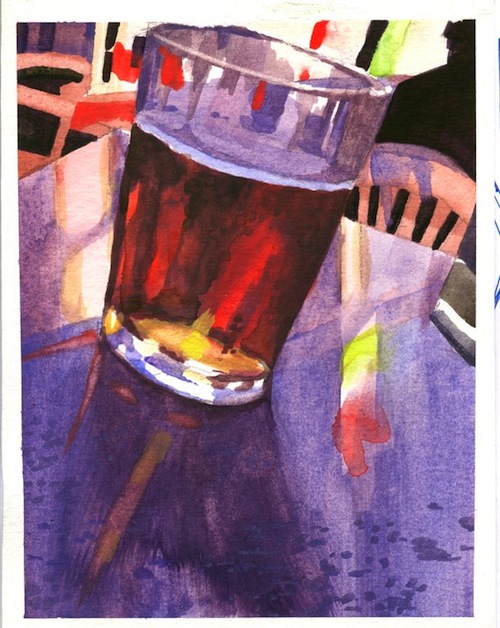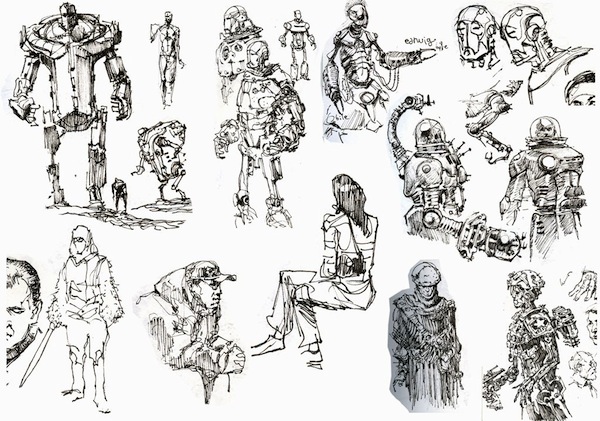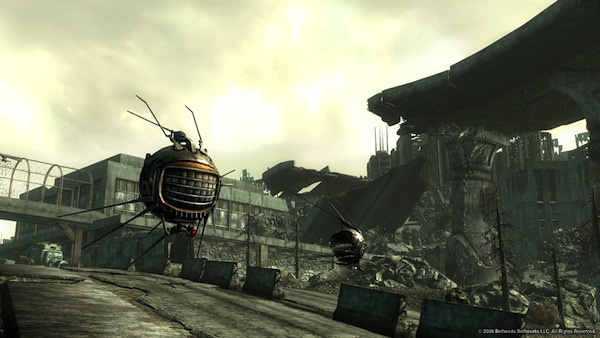 -Eric Vespe
"Quint"
quint@aintitcool.com
Follow Me On Twitter