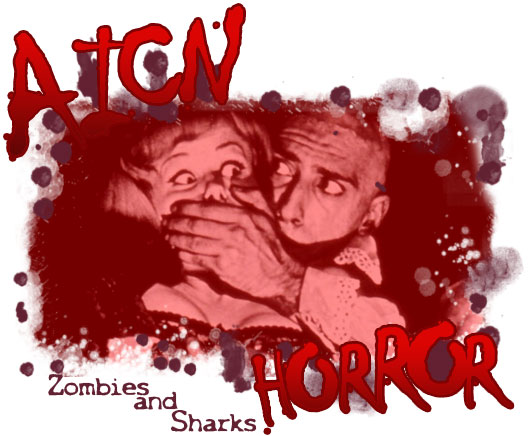 Logo by Kristian Horn
What the $% is ZOMBIES & SHARKS?
---
Greetings, all. Ambush Bug here with another AICN HORROR: ZOMBIES & SHARKS column. We've got a nice batch of horrors new and old for today plus a couple of advance reviews of films soon to be released. But first, there's this…
---
A while back,
I reviewed the short film, FOLLOWED, a different kind of zombie story.
Well, it's finally available for all to enjoy online, so I figured I'd share it with you all.
Followed (2011) from James Kicklighter on Vimeo.
Now let's get right to it, shall we?
Today on AICN HORROR
(Click title to go directly to the feature)
Retro-Review: NOTHING BUT THE NIGHT (1973)
THE ORPHAN KILLER (2011)
THE GHOUL (2011)
BLIND ALLEY (2011)
THEATRE BIZARRE (2011)
And finally…John Keefer's CLAYTON!
---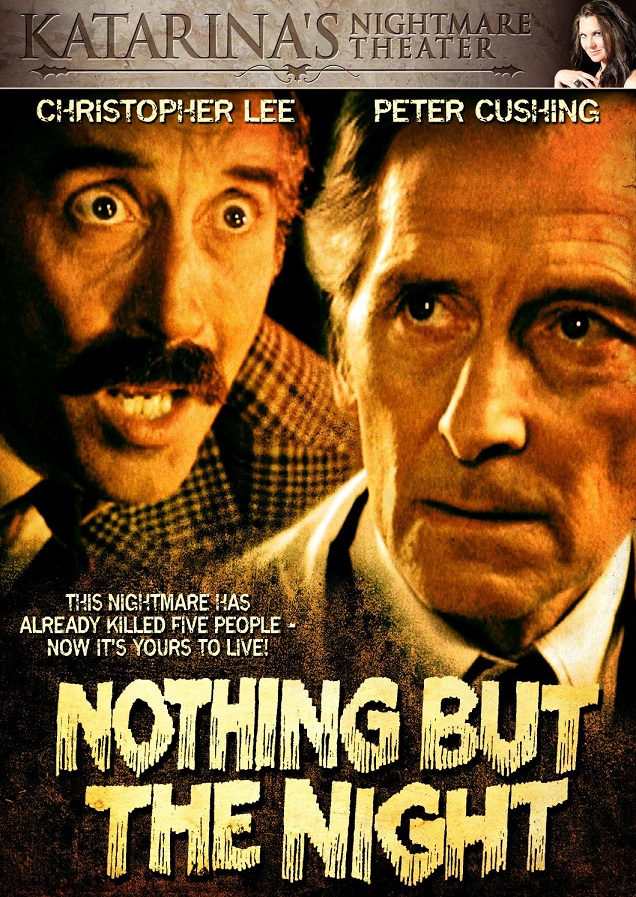 New on DVD from Scorpion Releasing & Katarina's Nightmare Theater!
NOTHING BUT THE NIGHT (1973)
AKA THE DEVIL'S UNDEAD and THE RESURRECTION SYNDICATE
Directed by Peter Sasdy
Written by Brian Hayles (screenplay), John Blackburn (novel)
Starring Christopher Lee, Peter Cushing, Diana Dors, Georgia Brown, Michael Gambon
Retro-reviewed by Ambush Bug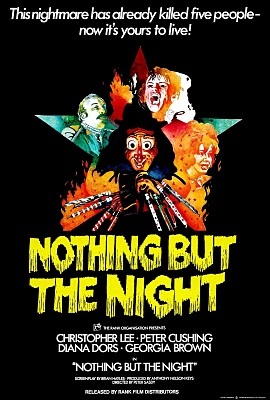 I was pleasantly surprised at how much I became wrapped up in this slow burning shocker that repeatedly pulls the rug out from under the viewer all the way until the end of the film. NOTHING BUT THE NIGHT looks and feels like a late Hammer film, mostly because of its stars, Christopher Lee and Peter Cushing, but thematically belongs more in the company of ROSEMARY'S BABY and THE WICKER MAN. Like those two films, NOTHING BUT THE NIGHT deals with more sophisticated themes than fangy vamps and the leaping missionaries that hunt them, venturing more into themes of conspiracy and paranoia.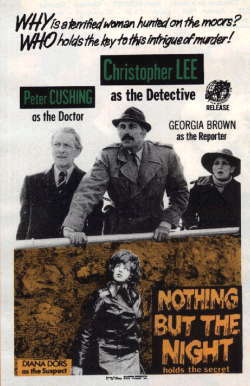 Christopher Lee plays an investigator looking into the mysterious deaths of board members of a secluded school. He works closely with a forensic specialist played by Peter Cushing in investigating what look to be suicides, but still twinge the two investigators' suspicions of foul play. Though the investigations lack the detail modern forensic detective stories possess, the mystery still takes its time to unfold and more than a few red herrings are tossed out to mislead us along the way. In many ways, Lee and Cushing play a modern day Sherlock and Watson with Lee handling the street investigations while Cushing is back in the lab. Seeing these two horror veterans in a film I didn't know existed was the real treat here.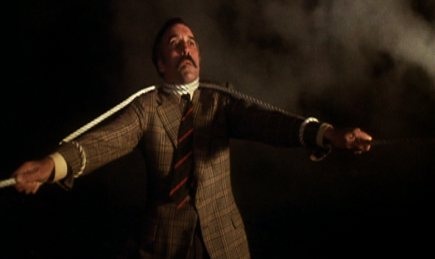 I don't want to give too much away about the story. There is a lot of deception going on by the director right up until the end. Peter Sasdy also filmed TASTE THE BLOOD OF DRACULA with Lee and Cushing and prefers to keep the audience misled along the way in this one. I found the ending to be both ballsy and shocking, though the real threat becomes obvious towards the end. Just lumping this film in with ROSEMARY'S BABY and THE WICKER MAN (released in the same year) might clue you in about what the ending is like, but still there's enough originality to the script and strong performances by both Lee and Cushing (not to mention the ending, which will definitely take the wind out of you) to attract fans of old school horror in NOTHING BUT THE NIGHT's direction.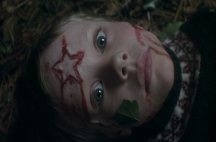 This film is presented by Katarina Leigh Waters, who does a nice job of offering up both Elvira-esque witticisms and substantial fun factoids about the film such as the appearance of a young Dumbledore 2 himself, Michael Gambon, as a policeman. Katarina also informs us that this was the first and only film produced under Christopher Lee's company Charlemagne (named so because Lee is a descendant of the famous Roman emperor). Katrina's contribution definitely makes this DVD presentation particularly worthwhile for completists of both Lee and Cushing's works. I highly recommend this forgotten treasure of a thriller starring two of horror's greats.
---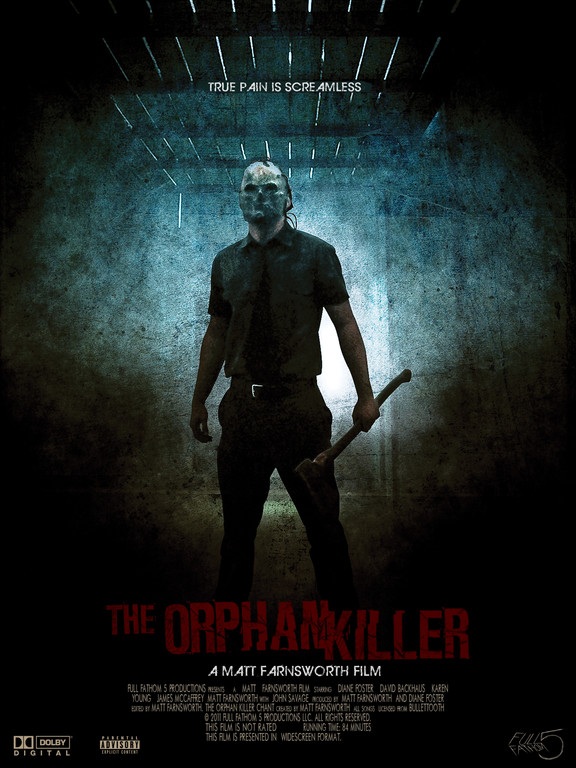 THE ORPHAN KILLER (2011)
Directed by Matt Farnsworth
Written by Matt Farnsworth
Starring Diane Foster, David Backus, Matt Farnsworth, James McCaffrey, John Savage, Karen Young
Find out more about this film here and on Facebook here!
Reviewed by Ambush Bug
THE ORPHAN KILLER really wants to be the next FRIDAY THE 13TH or HALLOWEEN. It is definitely made by folks like me who loved the eighties/nineties slasher boom. You can almost taste how much the filmmakers want to make their mark in the annals of horror. The thing is, there's a whole lot of stuff going on that I recognize from other horror franchises happening here. What does distinguish this film from the herd of wannabe slasher icons is that this is an intense and gory film with effects that stay grounded in reality, making the kills all the more effective. Though its intentions are obvious, I can't help but recommend a film whose serial killer has my own name—Marcus Miller.
The parents of Marcus Miller and his sister Audrey were the victims of a home assault, leaving the two in an orphanage at a very young age. Riffing on DEXTER, Audrey was adopted by a cop, while Marcus was left to be abused by the nuns at the orphanage. Forced to wear a skull mask and repeatedly beaten by nuns, it's no wonder Marcus turned out as screwed up as he did. Writer/director Matt Farnsworth is most effective in these flashback scenes at the orphanage, really getting under the skin of Marcus and showing us what made this killer so murdery.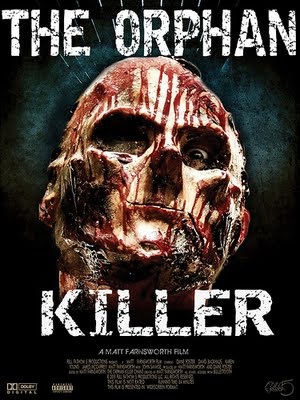 A few years later and Audrey is being plagued by visions and nightmares of her long lost brother, and though the revelation that Marcus is actually stalking her comes quick, it does lead to a relentless hourlong cat and mouse game of torture and death. Though the body count is low, the gore is high as Audrey struggles to survive being stabbed, poked, beaten, and sliced by Marcus. This definitely gets gratuitous, and I found myself tuning out to the tortures that occurred in that last hour. Though it does reflect the struggle between Laurie Strode and Michael Meyers in HALLOWEEN, it does so with the addition of copious amounts of blood and abuse. Though the director tries to shock with repeated scenes some might find sacrilegious with Marcus quoting the Bible while killing nuns and priests, I found the excessive, almost hour-long abuse of a single woman to be the thing about this film that made me wince the most.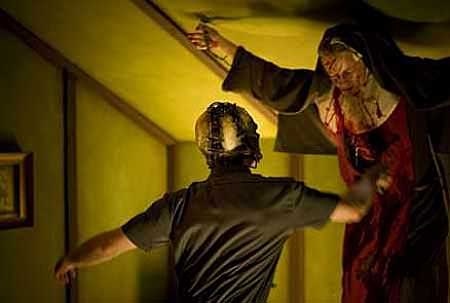 Shades of HALLOWEEN and SILENT NIGHT DEADLY NIGHT (in its use of religious imagery as fodder for serial killer rampage) permeate the bulk of THE ORPHAN KILLER. But the sheer power of the beating star Diane Foster endures is more akin to Marilyn Burns' ordeal from TEXAS CHAINSAW MASSACRE. Though the gore is definitely inspired on such a low budget and scenes of the killer's origin were definitely skillfully done, I found the latter half of the movie to be somewhat tedious and a little too obsessed with the torture going on. Director Matt Farnsworth definitely seems to have a lot of talent here and the appearance of John Savage as a cop and Karen Young as a nun definitely makes things a whole lot classier. I'm interested in seeing Farnsworth's next endeavor, since a lot of promise is shown here in certain places.
Find out where you can see THE ORPHAN KILLER
here
. Unlike most films, this one has yet to be released, but has enjoyed a lot of success on the festival circuit and has a huge fan following on Facebook and elsewhere online. Though ultra-violent, I can see why folks are clamoring for the film. Marcus Miller is definitely a serial killer with bite. If the director can focus less on gratuitous torture and more on story, I'd be interested in seeing another outing with THE ORPHAN KILLER.
---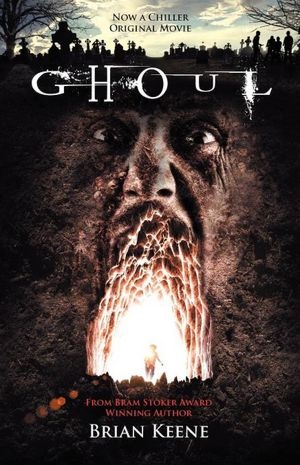 Advance Review: Recently played at the Slamdance Film Festival!
GHOUL (2011)
Directed by Gregory Wilson
Written by William M. Miller (screenplay), Brian Keene (novel)
Starring Nolan Gould, Jacob Bila, Trevor Harker, Catherine Stewart, and Barry Corbin
Find out more about this film here and on Facebook here!
Reviewed by Ambush Bug
I had a chance to check out the yet to be completed film GHOUL, adapted from Brian Keene's novel. The film reminded me a lot of the works of Stephen King paired with some of the Amblin films of children in real peril that we all grew up loving. Though GHOUL's budget is considerably lower, it still retains that youthful spark and wonder that permeated those old films. From the producers of THE WOMAN, a lot of the issues that arise in that fantastic film do so again here as family conflict and real world horrors almost overpower the legend of the Ghoul itself.
The acting here could be better. There's always a chance taken with child actors, and though a lot of the lines and situations director Gregory Wilson puts the kids in are extremely heavy, some of the child actors lack the experience to pull it off completely. I also feel the script could have been punched up as well, with some of the lines lacking the emotional weight the story seems to be going for.
GHOUL does deal with a lot of emotional baggage here with sexual abuse, physical abuse, neglect, and murder all issues these kids have to deal with. At first, I felt as if this were a lighthearted romp with a bunch of kids meeting an old town legend, but things get dark pretty quickly, leaving me with a "holy shit, I can't believe they went there!" feeling. These heavy themes again prove to be a challenge for this film because the kids experiencing these issues are lacking in experience to carry their weight.
In the end, I found myself enjoying GHOUL due to the balls the filmmakers have in putting the children in dangers both real and imaginary. It gets pretty bloody occasionally, but those scenes pale in comparison to the pitch black tone that arises as soon as these "Goonies"-type kids start revealing that one's father abuses him with fists while one's mother sexually molests him.
Like THE WOMAN, GHOUL pulls back the curtain of what looks like typical small town America showing that the true terrors are the ones occurring in the homes rather than the shadowy caves below. The power of the emotions involved in the story make it easy to look past the dodgy acting and low budget of GHOUL.
---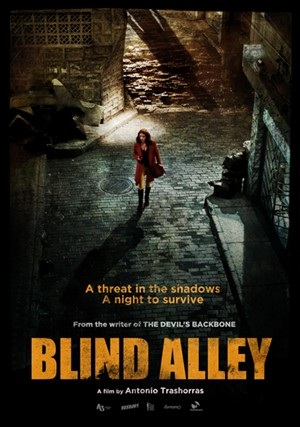 Advance Review!
BLIND ALLEY (2011)
AKA EL CALLEJON
Directed by Antonio Trashorras
Written by Antonio Trashorras
Starring Ana de Armas, Leonor Varela, Diego Cadavid, Alfonso Rosas, Judith Diakhate
Find out more about this film here!
Reviewed by Ambush Bug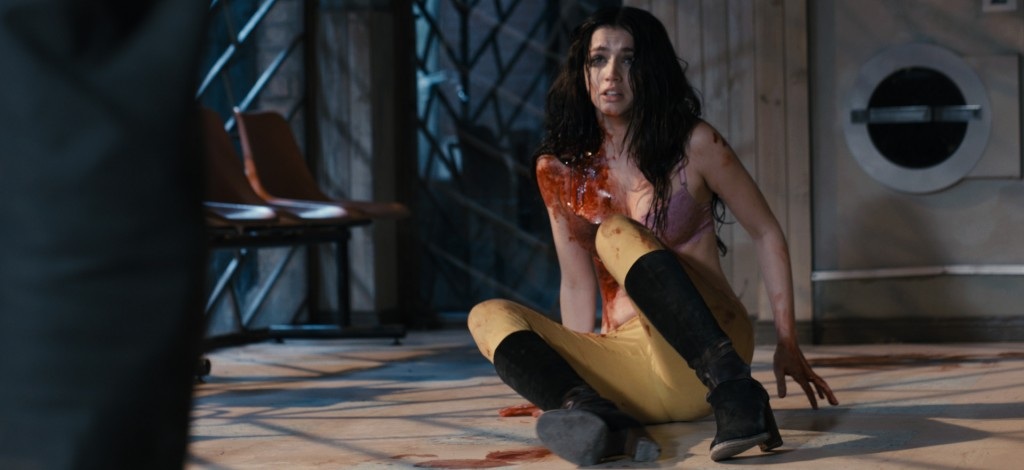 I have a feeling that BLIND ALLEY is going to be another one of my favorite films of the year, joining the ranks of MIDNIGHT SON, THE WOMAN, LITTLE DEATHS, and BLOOD JUNKIE by the time the year is out. One thing that I look for the most about a horror film is that it shows me something in a way it's never been done before. With BLIND ALLEY, it's not so much original material that Antonio Trashorras offers us with this tale of a woman trapped in a laundromat being stalked by a vampire; it's the fact that he made a vampire story that is actually scary (something I'd love to see more of in today's cinema).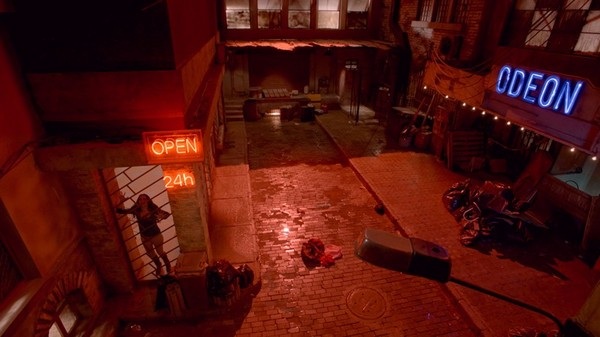 BLIND ALLEY starts out with an amazing retro AUSTIN POWERS/LAUGH-IN style dance number set to animation with the heroine Rosa (played by the gorgeous, destined-to-be-a-star actress, Ana de Armas) shaking what her mammy gave her. Though this opening doesn't really have a lot to do with the rest of the movie, it is an original and fun way of indicating that you're in for a fun film experience. Turns out this dance number is an audition set to a green screen. After returning to her day job as a cleaning lady in a hotel, she finds out she must come in for another audition in the morning. Of course, she's got to have a fresh dress for the callback, so it's off to the laundromat. Though it doesn't sound all too exciting, Trashorras (who was the writer of THE DEVIL'S BACKBONE) revs up the energy quickly as Rosa finds herself trapped in a laundromat at the end of an alley with a creature of the night stalking her from the outside.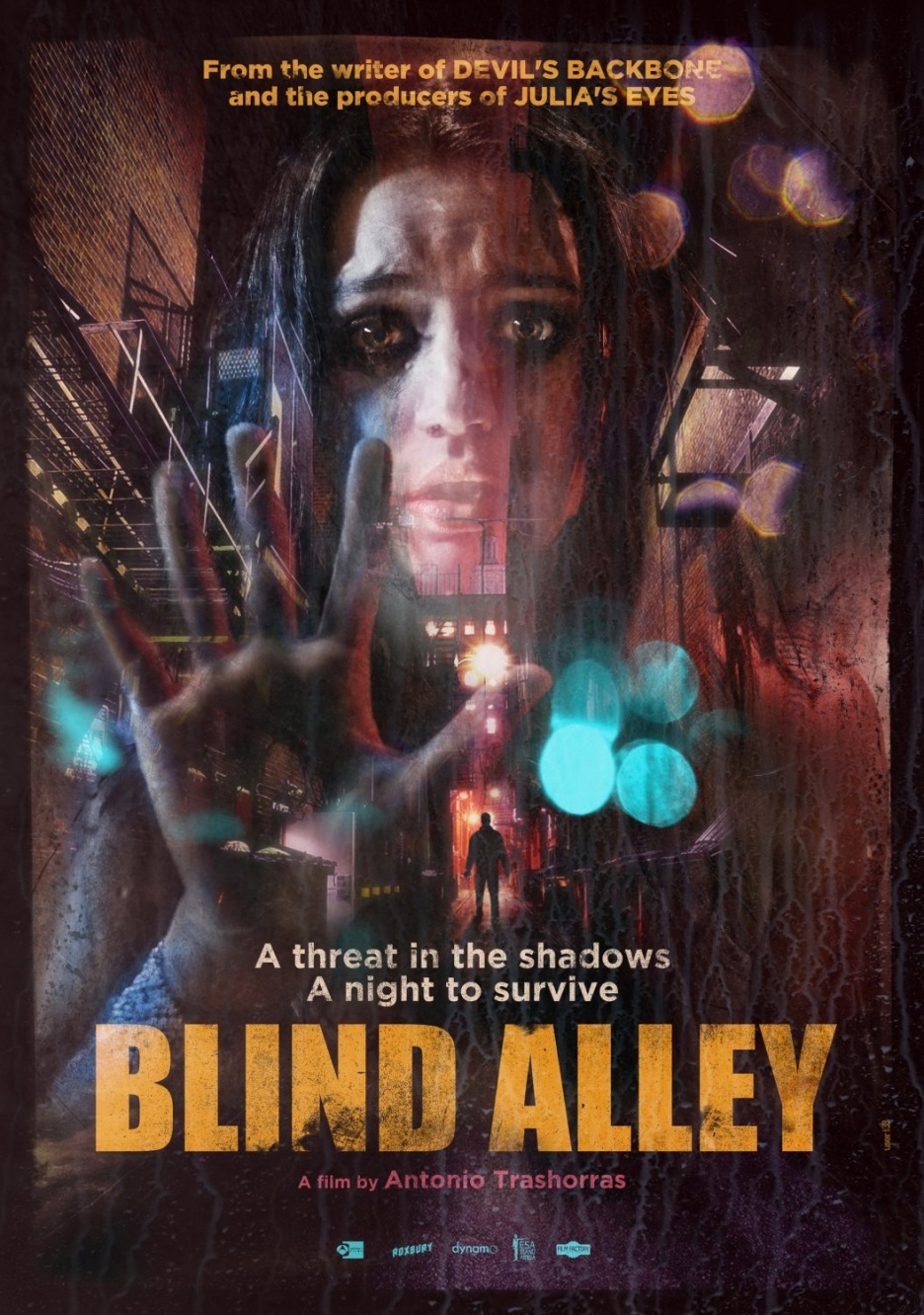 The vampire in question is Gabriel (played by another highly capable actor, Diego Cadavid), and though it's meant to be somewhat of a surprise that this seemingly nice guy is a vamp, early on, as Rosa talks with him, one quickly puts it all together. This
is
a horror movie, you know. Though the true identity of the threat is pretty obvious, Trashorras does intervene with quite a few surprises along the way. There are times when I was left wondering why the vamp couldn't just burst through the glass windows of the laundromat, but that could be written off as the vamp toying with his prey rather than actually be hindered by her retreat.
Though some of the computer effects are a bit too obvious for my tastes, BLIND ALLEY is a beautiful looking film as Trashorras focuses his camera on unconventional imagery and draws out depth and beauty. The scenes in the hotel following Rosa on her day to day work schedule are engrossing despite being mundane, and the rest of the film, which is set in a singular locale, is gorgeously lit with gaudy street signs and flickering light bulbs. The single location here makes the film seem more like a play than an actual movie, but the restraint of the filmmaker is what makes BLIND ALLEY all the more effective.
BLIND ALLEY is currently touring the festival circuit. I'll be sure to keep readers in the know as to when and where they can check out this awesome film.
---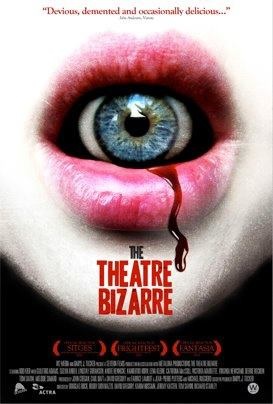 Advance Review!
THEATRE BIZARRE (2011)
Directed by Jeremy Kasten (framing segments), Douglas Buck (segment "The Accident"), Buddy Giovinazzo (segment "I Love You"), David Gregory (segment "Sweets"), Karim Hussain (segment "Vision Stains"), Tom Savini (segment "Wet Dreams"), Richard Stanley (segment "The Mother Of Toads")
Written by Zach Chassler (framing segments), Douglas Buck ("The Accident"), Buddy Giovinazzo ("I Love You"), David Gregory ("Sweets"), Karim Hussain ("Vision Stains"), Richard Stanley & Scarlett Amaris ("The Mother of Toads" and "Vision Stains"), Emiliano Ranzani ("The Mother of Toads")
Starring Udo Keir, Virginia Newcome, Amanda Marquardt, Amelia M. Gotham (framing sequence), Lena Kleine, Mélodie Simard, Jean-Paul Rivière, Bruno Decary ("The Accident"), André Hennicke, Suzan Anbeh, Harvey Friedman ("I Love You"), Lynn Lowry, Lindsay Goranson, Guilford Adams, Jessica Remmers, Elissa Dowling, Jeff Dylan Graham, Erin Marie Hogan ("Sweets"), Kaniehtiio Horn, Cynthia Wu-Maheux, Imogen Haworth, Rachelle Glait ("Vision Stains"), Debbie Rochon, Tom Savini, James Gill, Jodii Christianson ("Wet Dreams"), Catriona MacColl, Shane Woodward, Victoria Maurette ("Mother of Toads")
Find out more about this film here!
Reviewed by Ambush Bug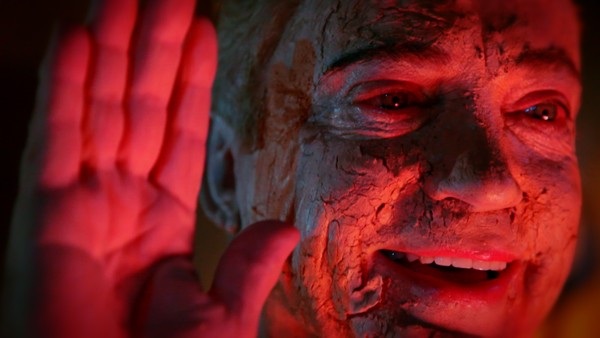 Opening this weekend on a limited release is THEATRE BIZARRE, an anthology featuring quite an impressive line up of horror filmmakers. Each filmmaker was given a very limited budget to make a segment of the film with the only guideline being that the story would play in a Grand Guignol Theatre set in a real movie theater. As with most anthologies, this film is a mixed bag. Framed with a funhouse style sequence with a clockwork Udo Kier introducing each chapter and viewed by a spooky eyed audience member who believes she's in for a fun filled show, THEATRE BIZARRE proves to be an impressive compilation of horrors.
Part one "The Mother of Toads" is by HARDWARE's Richard Stanley, a director who made a lot of waves when he first came into the scene and one who seems to have fallen off the radar in recent years. Here he offers a story of a pair of Americans in France happening upon the real Necronomicon and a deity known as the Mother of Toads. Stanley definitely stills knows how to creep the viewer out with ominous monster POV shots and more shots of smoky moors and hillsides. Though the delivery of lines by lead actor Shane Woodward is a bit wooden, Stanley takes full advantage of the moody environment and amps up the scares with a haunting soundtrack of a moaning/wailing woman. Filled with slime and ookiness, "The Mother of Toads" serves as a nice opener to this anthology.
"I Love You" plays next from Buddy Giovinazzo, the twisted mind behind COMBAT SHOCK. This one is about a man falling apart as his wife leaves him. Filmed inside an apartment in Berlin, this is a brutal tale of love gone wrong and makes me want to break out my copy of COMBAT SHOCK to re-experience that warped masterpiece again. Though this segment is a slow starter, the gory finale makes it all worth the wait.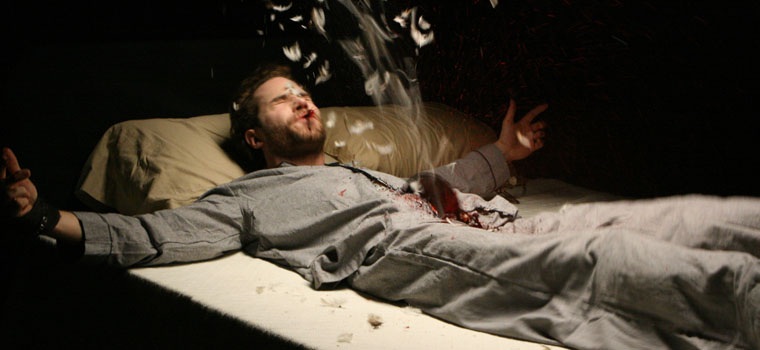 Next up is "Wet Dreams" from SFX godfather Tom Savini. As one might expect from a Tom Savini film, the strength here lies in the imaginative effects rather than story. A cheating husband has repeated dreams of castration and goes to his psychologist (played by Savini) who offers some rudimentary psych advice. Though this one is shorter than others and views as somewhat trite, it definitely proves to be one of the more memorable offerings due to the graphic nature of the effects and proof positive that Savini still has it when it comes to gore.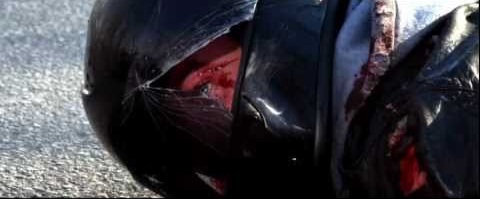 Douglas Buck (directors of the SISTERS remake) comes next with "The Accident"; a tragic look at death through the innocent eyes of a child. Buck's soulful story reminded me more of a Terrence Malick film than anything else and proved to be the most resonating short of the bunch. With effects that seemed all too disturbingly real, I found this one to be completely unnerving in a very good way.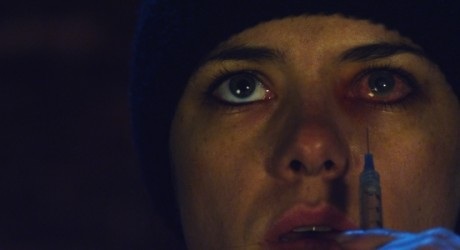 SUBCONSCIOUS CRUELTY's Karin Hussein directed "Vision Stains" which contains some absolutely toe-curling moments of bizarre gore and gruesomeness. This one is definitely not for the squeamish with eye torture galore. Hussein has a knack for getting under the skin here, making this hardened gore-hound wince more than once during this segment. Anyone who has seen the experimental film UN CHIEN ANDALOU knows how disturbing this kind of imagery can be. Though some of the shorts here are more soulful or funny or emotionally impactful, this story about a shady female serial killer who steals memories by drawing eyeball matter through a syringe then injects the matter into her own eye to experience the memories herself is one story that may turn even the most hardened of stomachs. But its not only the imagery here that disturbs, the questions this short film asks are enough to fill an entire full length film.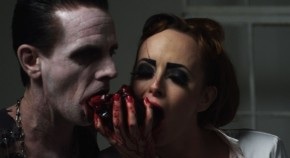 Finally, David Gregory offers up "Sweets". The director of PLAGUE TOWN serves up a devious story of love and gluttony. Though it may seem at the beginning of this tale that this is going down familiar territory blazed by some of the previous segments, Gregory takes things in a ludicrously gross direction. Darkly comical and decadently wretched, "Sweets" is another one that might just make the more delicate viewers gag. I couldn't help but admire the depravity going on in this segment.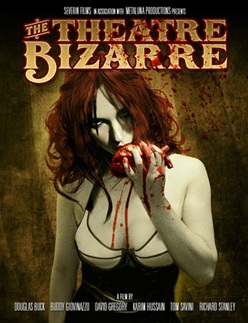 Though this anthology proved to be a mixed bag of good and not so much, I have a special place in my cold dead heart for this type of film. THEATRE BIZARRE is what its name indicates; a collection of grotesque imagery set to twisted tales of madness, torment, and sorrow. There are no happy endings wrapped in a bow with this film, yet I found most of them to be utterly satisfying. Just when the film tends to take itself too seriously and is thematically dreary, it plops out a short that does the opposite. This collection of twisted tales is definitely something to seek out if you're in the mood for horror in short digestible chunks. Totally gory and devious to its core, THEATRE BIZARRE is something I hope to see more of in horror. I for one hope more films like CHILLERMA, LITTLE DEATHS, and now THEATRE BIZARRE are made to twist our intestines and chill our spines in short, sweet doses.
---
And finally…Check out this hilariously twisted short from John Keefer entitled CLAYTON! It's sick. It's twisted. It's semi-claymation. Enjoy!
See ya, next week, folks!

Ambush Bug is Mark L. Miller, original @$$Hole / wordslinger / reviewer / co-editor of AICN Comics for over nine years. Mark is also a regular writer for FAMOUS MONSTERS OF FILMLAND and has just released FAMOUS MONSTERS first ever comic book miniseries LUNA (co-written by Martin Fisher with art by Tim Rees) You can pre-order it here! Support a Bug by checking out his comics (click on the covers to purchase)!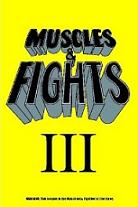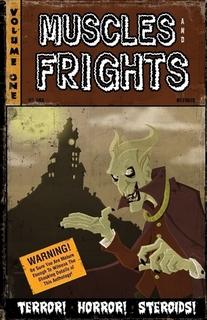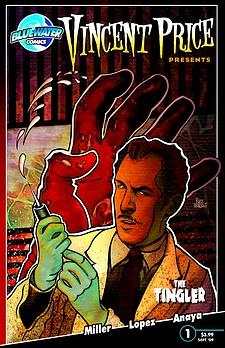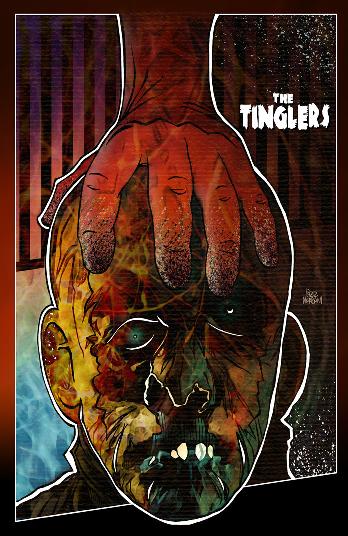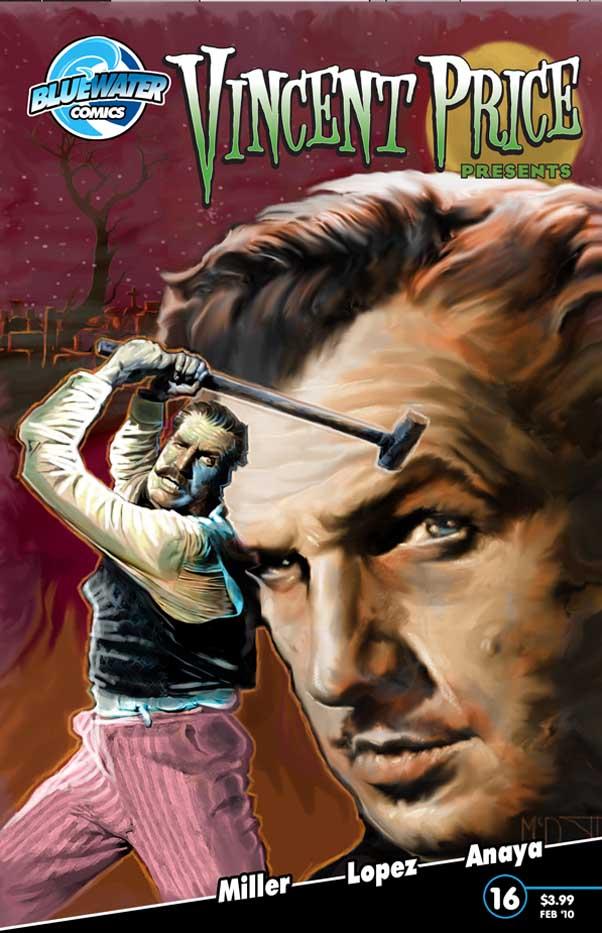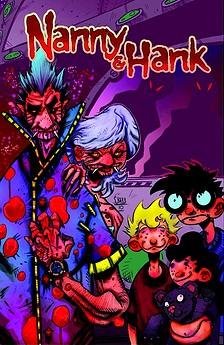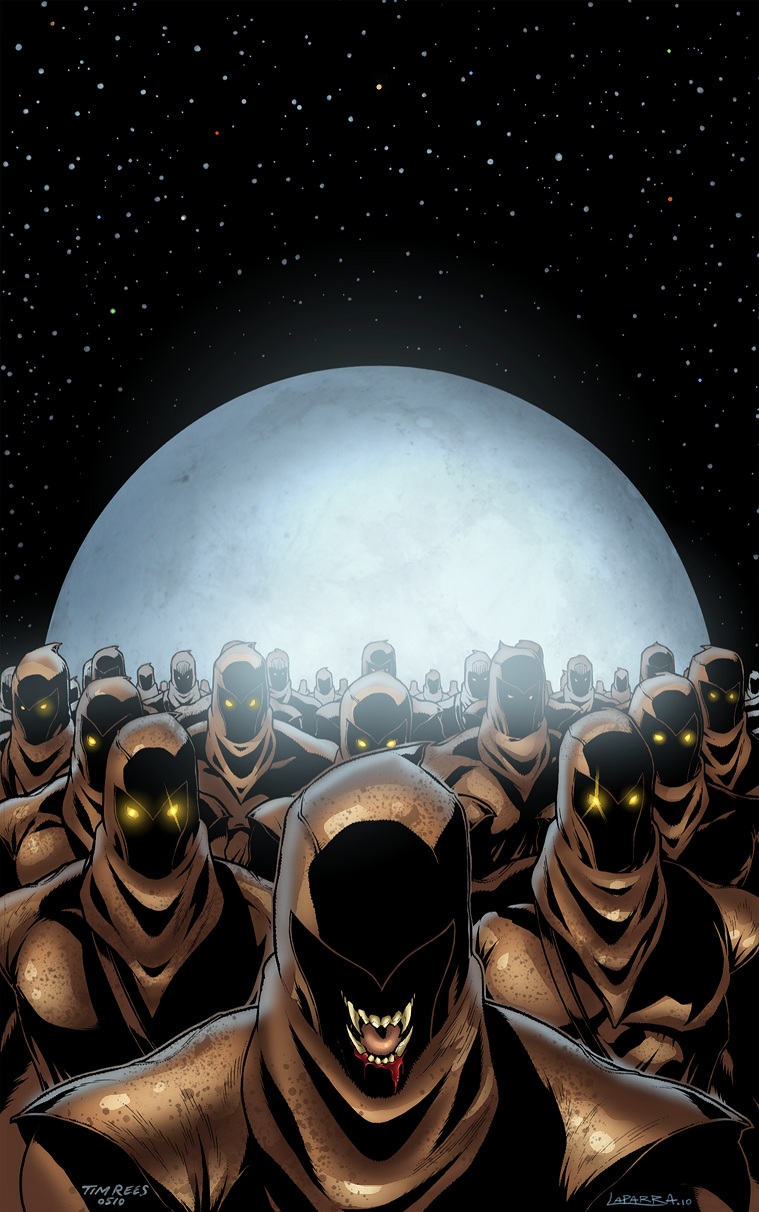 NANNY & HANK's Facebook Page
(Just announced: NANNY & HANK is soon to be a major motion picture from Uptown 6 Productions!)
THE DEATHSPORT GAMES' Facebook Page
FAMOUS MONSTERS PRESENTS LUNA: ORDER OF THE WEREWOLF's Facebook Page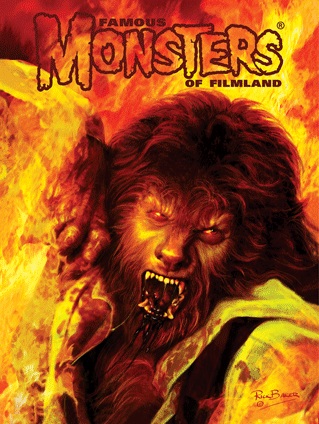 ---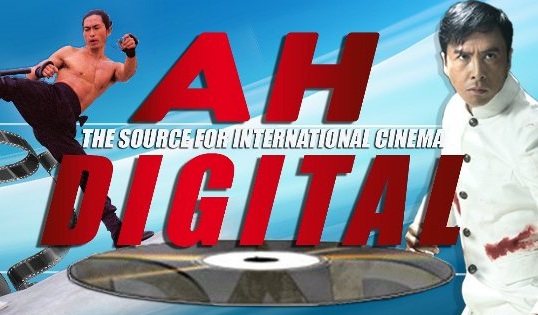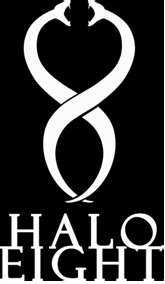 Looking for obscure, foreign, or hard to find DVDs & BluRays?
Check out AH Digital: the source for international cinema!


Interested in illustrated films, fringe cinema, and other oddities?
Check out Halo-8 and challenge everything!



---
Find more AICN HORROR including an archive of previous columns
on AICN HORROR's Facebook page!