Greetings! ScoreKeeper here officially closing out a rather fruitful year with a list of my top ten favorite scores of 2011. Every year my due diligence is tested as my film music radar prowls the field in search of worthy scores to fill those last few coveted spots. This year it was more a matter of whittling down an abundance of worthy candidates. There are a handful of titles I truly loved that aren't making my list. It's a testament to an auspicious year hallmarked by the efforts of supremely talented composers around the world working feverishly to refine their craft. There are more composers writing more music for more film lovers than at any time in the history of cinema. Bellissimo!

As in years past, I am woefully disappointed for not exposing myself to more films. Don't get me wrong, I digested film with a voracious appetite; however, I know there are plenty more I have yet to discover. This article is a testimony of my passion for cinema and an account of the best film music I was honored to experience in the past year.

What surprises me most is that my favorite scores lean a trifle toward the mainstream. My personal tastes and aesthetics propel me in a wide array of directions scouring the earth in search of diamonds in the rough, underdogs, and independent darlings that struggle to compete with their mainstream brethren. This year appears to be different. There was a higher-than-usual allotment of well-crafted, entertaining, and dynamic film scores which happen to be categorized as mainstream. I think that's pretty cool too.

If you wrote, arranged, performed, recorded or mixed music for film in 2011, I sincerely thank you for your efforts. Every one of you should be commended for nourishing the craft I dearly love.

...however, there are nine of you I'd like to commend a little more.

Let's get it on! I present my ten for '11!

---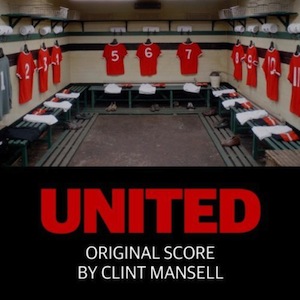 10. UNITED (2011) by Clint Mansell - This is the only score on my list written for a television movie. UNITED chronicles Manchester United's famous "Busby Babes" which held the distinguished honor of being the youngest team to ever win the Football League. In 1958, eight members of the team along with fifteen supporters and journalists were killed when British European Airways flight 609 crashed on its third attempt to take off from an icy runway at Munich-Riem Airport in Munich, West Germany.

For composer Clint Mansell, a story of this magnitude and emotional depth is unique. When I first heard the music it immediately thwacked me in the gut. There's pain in every note supported by an overwhelming sense of strength and optimism. That kind of dynamic duality is difficult to rein, but it seems to breathe onto the screen as a single effortless gesture.

Championing a sound uniquely his own, Mansell has rapidly become one of the more eclectic and interesting composers working in film today. His propensity to sidestep pigeonholes inadvertently placed upon him throughout his career has rendered a broad-based assortment of varying projects. With his latest effort, UNITED catapults Mansell to the next level. His music, while remaining simple in its construction, offers multiple layers of emotional complexity. He remains one of the few composers who I can not wait to hear their next score.

The score for UNITED is available as a digital download via iTunes and Amazon.com.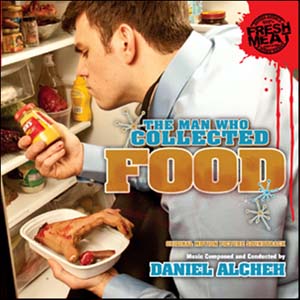 9. THE MAN WHO COLLECTED FOOD (2011) by Daniel Alcheh - What results from the combination of late classical period strings, brooding noir-ish trumpet, grungy nightclub saxophone, baroque harpsichord, and a rainbow of dainty orchestral textures with a quirky black-comedy horror film about cannibalism?

...you get one of the more innovative and eclectic scores for a horror film I've heard in the last decade.

Thirty years ago, cinema was chock-full of fearless filmmakers and courageous composers racing to craft the next bizarre cornucopia of euphonic euphoria the likes of which had not yet been seen nor heard in cinema at that time. Today?...Not so much. After a while the status quo gets painfully trite.

THE MAN WHO COLLECTED FOOD by Daniel Alcheh is amalgam of eccentricity so forthright that no colloquialism can properly express the breath of freshness it infuses into the air. It is so unique and nonconformist that no score in the pantheon of film music comes close to it equal. While functioning wholly outside-the-box, Alcheh's unconventional music choices compliment the narrative with reckless abandon and the radical eclecticism actually gels it together.

The score for THE MAN WHO COLLECTED FOOD was released on CD by Screamworks Records (SWR-11004) and is available for purchase at Screen Archives. It is also available as a digital download via iTunes and Amazon.com.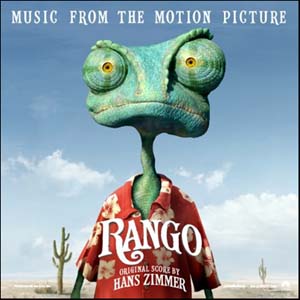 8. RANGO (2011) by Hans Zimmer - I wouldn't categorically place myself amongst the legions of ravenous fans who gourmandize themselves on the music of who is arguably the single most popular and influential film composer on the planet; however, RANGO is good. Real good! As a film music connoisseur who is partial to well constructed and deftly developed themes, it came as a mild surprise that the crown jewel of themes composed in 2011 was penned by Hans Zimmer.

At the heart of this kaleidoscopic score is an infectious theme brought to life by an arsenal of unorthodox instruments including calliope, banjo, whistlers, kazoo, and contrabassoon (an especially brilliant stroke!). What distinguishes this theme from its contemporaries is that it's not merely a single pithy phrase. It's comprised of a lingering full-bodied prime sentence balanced by a consequent B theme of equal proportion and contrasting characteristics. These ambitious A-B phrased themes are an endangered species in cinema.

To acclaim Zimmer's achievement by simply reducing its brilliance to the theme would grossly undermine the overall success of the entire score which is wrought with personality, color, humor, and an acrobatic development of material not heard from Zimmer in a relatively long while. Clever nods to classic western scores of the past including THE MAGNIFICENT SEVEN (1960) and THE GOOD, THE BAD AND THE UGLY (1966) bring a whimsical and nostalgic lifeblood to Zimmer's cutting-edge music.

The score for RANGO was released on CD by Anti Records (ANTI-87141-2) and is available for purchase at Amazon.com. It is also available as a digital download via iTunes and Amazon.com.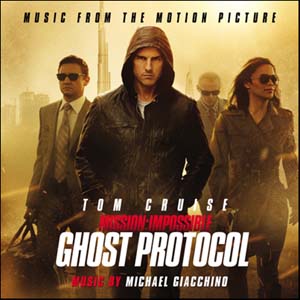 7. MISSION:IMPOSSIBLE - GHOST PROTOCOL (2011) by Michael Giacchino - The best pure action film since DIE HARD (1988) is also my second favorite movie of 2011. I have not had a more fulfilling cinematic experience in several years and much of its tip-to-tail grab-and-hold-you success stems from an exemplary score by Michael Giacchino.

Even well-composed action scores can be fairly one-note (a bit ironic considering how many notes are jammed into an action score). The rare exception manages to elevate itself by transcending the simple machinations music relies upon in order to effectively underline the action on film. In GHOST PROTOCOL, the responsibility of the music journeys far beyond simply underlining the action which allows composer Giacchino to craft multiple layers within the subtext of the music without compromising its fundamental role. It provides character to the narrative far beyond a typical action score would venture and skillfully amplifies the overall tension when it's most appropriate.

Since it's a MISSION: IMPOSSIBLE score one would expect an overt global element to be prominent in the score. Giacchino delivers by taking audience members to each exotic local to experience for themselves the sights, sounds and flavors of every destination. The entire MISSION: IMPOSSIBLE franchise is rimmed with exceptional music; however, Giacchino's latest opus may be the most pure to the aesthetics of the original series. It sports the most interesting modern interpretation of Lalo Schifrin's iconic theme and uses it with expert precision to craft the overall body of the score even when the melody itself is not present.

The score for MISSION: IMPOSSIBLE - GHOST PROTOCOL was released on CD by Varèse Sarabande (302 067 128 2) and is available for purchase at Amazon.com. It is also available as a digital download via iTunes and Amazon.com.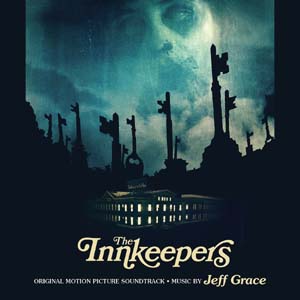 6. THE INNKEEPERS (2011) by Jeff Grace - I love a good old fashioned ghost story! From my point-of-view as a composer, a traditional ghost story is the crown jewel of the horror genre. It's challenging enough to proficiently juggle all the various components of a typical horror narrative. Mix in the additional layers of emotion that accompany a classic ghost tale and it becomes increasingly more complex.

Jeff Grace manages to flawlessly capture the entire elemental spectrum of THE INNKEEPERS. It's intensely creepy with spasms of sheer terror wrapped in a melancholic blanket giving the film an emotional weight wrought with sadness and solicitude. He even manages to skillfully weave moments of clarity kissed with a subtle hint of wit allowing director Ti West's off-kilter humor to gel seamlessly with the other components. Not since Alejandro Amenábar's score for THE OTHERS (2001) or Fernando Velázquez's score for THE ORPHANAGE (2007) have I been as captivated, moved and bedazzled by a spectral score composed with such artisanal skill.

I've been following Grace's work for several years now and I can attest that he has not composed a mediocre score to date. His work is maturing at an alarming rate as he quietly stakes his claim as the undisputed king of independent film scores.

The score for THE INNKEEPERS will be released on CD on January 31, 2012, by Screamworks Records (SWR12001) and will be available for purchase at Screen Archives. It will also be available as a digital download via iTunes and Amazon.com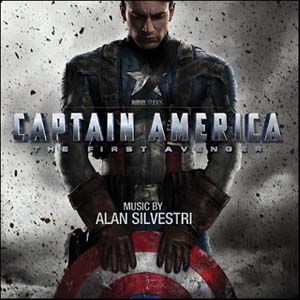 5. CAPTAIN AMERICA: THE FIRST AVENGER (2011) by Alan Silvestri - There was no single score I was more pessimistic about than CAPTAIN AMERICA: THE FIRST AVENGER. I'm an ardent admirer of Alan Silvestri and was confident he could work his magic; however, I didn't feel like the studio system would allow the score this film needed to be written. I was wrong.

Silvestri's score is exactly what I was hoping for. It's a throwback pastiche of ultra-nationalistic American war scores bundled in a comic book aesthetic. Crowned with a rousing theme that burrows into your memory, the music is unapologetically overt and kicks your ass if you decide to ever question its intention. Sounds a lot like Captain America doesn't it?

The score for CAPTAIN AMERICA: THE FIRST AVENGER was released on CD by Buena Vista Records (D001387402) and is available for purchase at Amazon.com. It is also available as a digital download via iTunes and Amazon.com.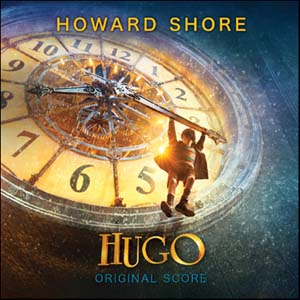 4. HUGO (2011) by Howard Shore - There many things to wax lyrical about the score for HUGO. It's easily the finest Howard Shore has composed since THE LORD OF THE RINGS (2001-2003) which is arguably the most accomplished achievement in the history of film music. HUGO reunites Shore with his loyal raconteur Martin Scorsese and the result is just short of miraculous.

Shore's elegantly composed music for HUGO is a window into the eyes of a young child who yearns to understand his purpose in the world. It reflects a life wrought with confusion made clearer by the curiosity of mechanical knick-knacks and the challenge of invention. Shore's lilting themes performed on the humble accordion add an appropriate Parisian touch to music exploding with childlike innocence and shadowy sadness. Even the moderately paced tempi are inspired by the clicking of copious clocks which permeate the film.

Shore's greatest gift is his propensity to express vast quantities of narrative material using uncluttered lines of music that are pure and simplistic. He refuses to bog down his creations with ancillary phrases or congested instrumentation detracting from the overall sanctity of the music. He's a master storyteller who doesn't feel the need to yell obnoxiously to get his point-of-view across. What you hear is what you get and that's all you'll ever need.

The score for HUGO was released on CD by Howe Records (HWR007) and is available for purchase at Amazon.com. It is also available as a digital download via iTunes and Amazon.com.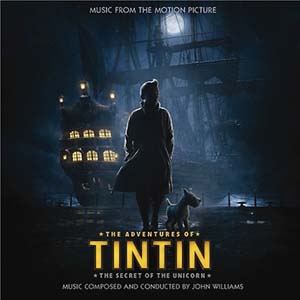 3. THE ADVENTURES OF TINTIN (2011) by John Williams - It's really unfair. The level at which John Williams is composing film music right now is above and beyond what everybody else in the industry dreams of. The only reason this score is not at the top of my list is that the movie fell surprisingly flat for me. That didn't detract from Williams' acrobatic display of compositional brilliance and narrative prowess.

John Williams will be 80 years old next week. He shouldn't be the leading innovator of our field. It should be some young buck pushing out the old guard with newfangled ideas sharpened to a razor's edge with talent beyond the status quo. Alas, as long as Williams is composing it's sure to be another masterpiece.

The score for THE ADVENTURES OF TINTIN was released on CD by Sony Classical (88697975882) and is available for purchase at Amazon.com. It is also available as a digital download via iTunes and Amazon.com.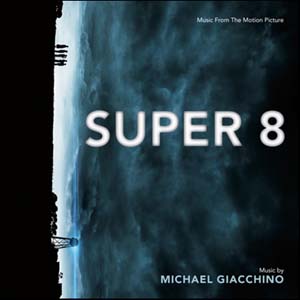 2. SUPER 8 (2011) by Michael Giacchino - What amazes me most about Michael Giacchino's music for SUPER 8 is that it's the quintessential Steven Spielberg score, yet manages to evade the musical idiosyncrasies characteristic of John Williams. This may seem like a paradox? How can it sound like a score for a Spielberg film without sounding like John Williams?

The answer lies in the language of cinema. It's the fearless pronouncement of emotion and irrepressible sense of adventure which permeate a Spielberg-inspired plot. Within these cinematic attributes a variety of musical styles can be explored and still evoke the same principle concepts. By staying true to his self, Giacchino was able to use the narrative style of Spielberg rather than the musical style of Williams to craft his own unique score.

A hallmark of this masterwork is an assortment of infectious melodies spearheaded by a sorrowful theme composed for young Joe Lamb's deceased mother. It's woven seamlessly throughout the picture cloaked in a variety of guises until it culminates as a single unrestrained wallop of unbridled emotion when Joe lets go of his precious locket and says goodbye to his mother. When I first experienced this moment in the theater, I felt like I was twelve years old again reliving the magic of a forgotten 80's film. It reminded me where my passion for film originated. For this I am extremely thankful.

The score for SUPER 8 was released on CD by Varèse Sarabande (302 067 101 2) and is available for purchase at Amazon.com. It is also available as a digital download via iTunes and Amazon.com.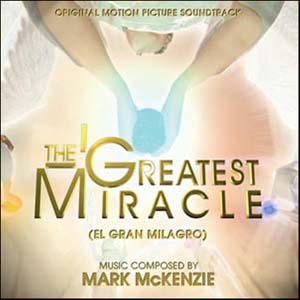 1. THE GREATEST MIRACLE (2011) by Mark McKenzie - Perhaps it's a bit ironic that nestled atop my list of favorite scores of 2011 sits one of the smallest and more obscure films I've ever written about. While I was impressed by much of what mainstream cinema had to offer, my absolute favorite score of the year was discovered in the most unlikely of places. THE GREATEST MIRACLE (EL GRAN MILAGRO) is a computer animated family film produced in Mexico which flaunts a relatively simple narrative saturated with Catholic themes. The entire movie essentially takes place inside a towering cathedral during mass. The audience for this bizarre little film is never in doubt; however, the overt emanation of emotion conveyed through its music with virtuosic precision enchants its patrons regardless of religious affiliation.

It's apparent from the opening frame of the film that the producers allocated an exceptionally large slice of the overall budget toward music than is traditionally applied. You don't often stumble upon films this small sporting such lavishly produced music. It's masterfully composed utilizing a large symphony orchestra, chorus and boys choir. The result is a potent lesson in how a well-crafted score can elevate a film beyond it's relative means.

Mark McKenzie's reputation as a composer may be new to most film music aficionados; however, I guarantee his talents have tickled your ears for decades. McKenzie made his mark on Hollywood as a master orchestrator for composers including Danny Elfman, Bruce Broughton, Basil Poledouris, Randy Edelman, Marc Shaiman, James Newton Howard, Alan Silvestri, and Jerry Goldsmith. As a composer, Mark has done exceptional work for smaller projects including FRANK & JESSE (1995), DR. JEKYLL AND MS. HYDE (1995), and DRAGONHEART: A NEW BEGINNING (2000).

McKenzie's latest opus, THE GREATEST MIRACLE, is an unbelievably gorgeous score constructed from broad sweeping strokes of orchestral color balanced delicately with a beguiling theme worthy of angels in heaven. His commanding orchestral prowess immediately catapults him among the foremost symphonists in Hollywood.

As a non-Catholic, I was flabbergasted how effortlessly the music adhered me to the sentimental core of this film. These are raw emotions and principles of which I can't easily relate outside the sanctity of the movie theater; however, through the unbridled magic of cinema, its efficacious music grants me the ultimate gift of empathy.

Every favorite score has a favorite moment. For me this occurs when the two main characters approach and enter the cathedral. As they walk through the courtyard with heavy hearts, a soaring statement of the primary theme is played in the upper strings while fragments of the melody are echoed by the horns. It's a sumptuous moment reflecting the opulence of the exterior architecture of this magnificent building. Upon entering the church, the music capsizes as the upper strings sustain the harmony while the cellos sing quietly an awe-inspiring yet acquiescent statement of the theme in the upper register. It's a heart-swelling moment that is rarely eclipsed in modern cinema.

Of all Mark's accomplishments, I am not aware of one that surpasses his latest creation. It transcends the sum of its components and represents everything that compelled me to fall in love with film music so many years ago. I hope Mark McKenzie is granted more opportunities to emerge from the shadows of the legends he dutifully served for so many years.

The score for THE GREATEST MIRACLE was released on CD by BuySoundtrax Records (BSXCD 8894) and is available for purchase at Amazon.com and BuySoundtrax.com. It is also available as a digital download via iTunes and Amazon.com.

If you're on Twitter look me up...