Hello ladies and gentlemen, Muldoon here with a cool little featurette from Shock Till You Drop (or possibly ComingSoon.net) on how the new Ghost Rider film was shot. In the video below you'll see the insane shooting style that Mark Neveldine and Brian Taylor used to get their version of a revamped flaming skull of a Nic Cage on a motorcycle in the can. I might be mistaken, but I believe this is the exact featurette that played BNAT before the film was screened. Personally I didn't care for the first GHOST RIDER and honestly I don't think too many folks did. It felt like a giant shell of what it could have been, so when I first heard of a potential sequel... Let's just say I was curious, but wasn't getting my hopes up. And then when it was announced that the CRANK guys were behind the revamp, my ears perked up. I think the guys delivered some truly insane shots, just wished the film had a little bit more meat on its bones in terms of plot. Make no mistake, this film is a rollercoaster of fun, though it might not be for everyone.
I can't think of any directors out there today who would jump off a cliff or hop down the side of the building themselves to get the shots they need. That alone makes me a fan of the guys and leaves me eager to find out what they've got next after GHOST RIDER: SPIRIT OF VENGEANCE.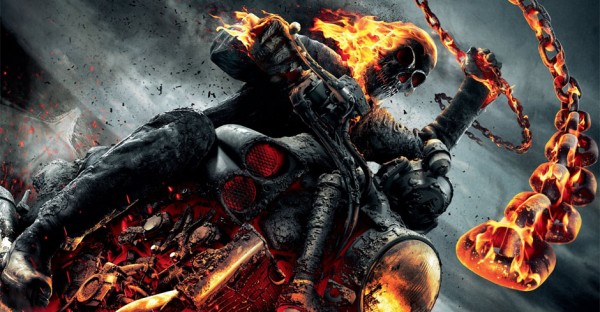 The film star Nicolas Cage [KICKASS], Idris Elba [THOR], Ciaran Hinds [MUNICH], and Christopher Lambert [HIGHLANDER]. The movie hits theaters February 17th.
- Mike McCutchen
"Muldoon"
Mike@aintitcool.com