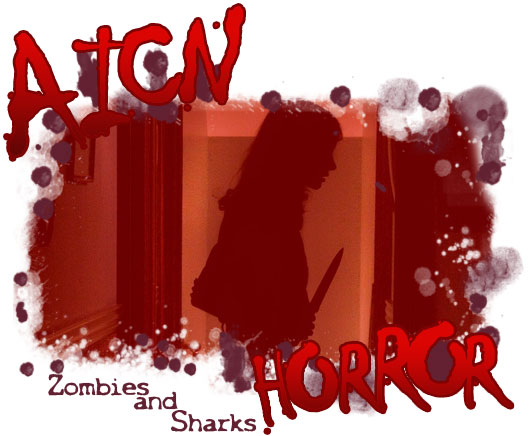 Logo by Kristian Horn
What the $% is ZOMBIES & SHARKS?
---
Greetings, all. Ambush Bug here with another AICN HORROR: ZOMBIES & SHARKS column. This time around I had a chance to chat with Adrian Garcia Bogliano, the director of the kinetic thriller COLD SWEAT, newly released on DVD/BluRay. Before diving into the interview, though, here's a review of the film. Enjoy!
---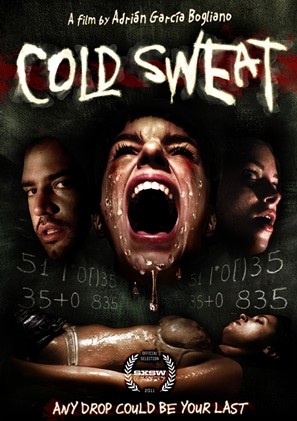 New on DVD/BluRay!
COLD SWEAT (2010)
AKA SUDOR FRIO
Directed by Adrián García Bogliano
Written by Adrián García Bogliano, Ramiro García Bogliano, Hernán Moyano
Starring Facundo Espinosa, Marina Glezer, Camila Velasco, Omar Musa, Omar Gioiosa
Find out more about this film here and here!
Reviewed by Ambush Bug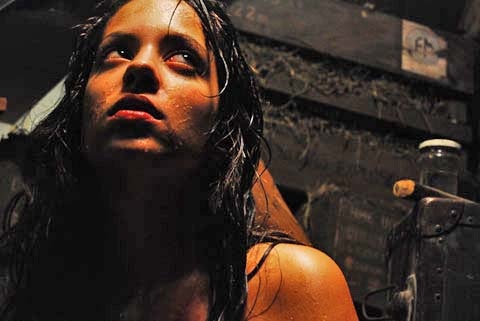 There are some films which move slow and drive deep into the viewers hearts and minds. Then there are some like SUDOR FRIO AKA COLD SWEAT which pumps like a adrenalized heartbeat. Every second of COLD SWEAT is a kinetic anvil symphony and though it is occasionally as horrific as they come, it never slows down for you to catch your breath until the very last second.
There is a story here, but for the most part, it's secondary to the aggressive forward momentum and explosive actions throughout. A jealous boyfriend investigates the spot where his cheating girlfriend disappeared days prior. Upon entering the home, he realizes that this isn't the bungalow of a young stud boy but a house of horror occupied by a pair of elderly men leftover from an age-old revolution. Continuing their revolutionary work, the two experiment with nitro-glycerin, dynamite, and bizarre equations on a chalk board. Their victims are youngsters lured to their doorstep via a dating service.
All of this happens in the first fifteen minutes of the film. I haven't even gotten to the armless legless guy in the side room or the mutilated zombie ladies in the basement, or the insane gang members next door. As I said, this film is jam packed with fantastic ideas. Director Adrián García Bogliano makes this a RUN LOLA RUN of the horror set, with the narrative racing all the way through rarely pausing for breath.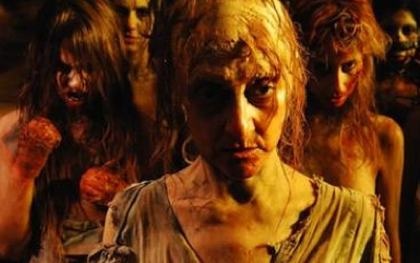 Bogliano does some fantastic movie magic, incorporating hyper-slow motion, hi-def detail, and a throbbing rock soundtrack to make the moments of tension hit the viewer like a sledge hammer.
COLD SWEAT is not a subtle film. Not by a long shot. But it is a visual masterpiece. Bogliano already wowed me with PRENUMBRA (
reviewed here
), a subtle and patient slow burner about Satan and the end of the world. Here he does the exact opposite, barreling through all expectations like a charging bull and never coming up short with breath taking visuals and creative ideas. With a new film HERE COMES THE DEVIL (discussed below) being filmed as we speak, it looks like Bogliano is definitely a filmmaker to watch. Check out COLD SWEAT first. It's a glorious assault on the senses and simply must be experienced.
And now, here's what director Adrián García Bogliano had to say about his film, COLD SWEAT!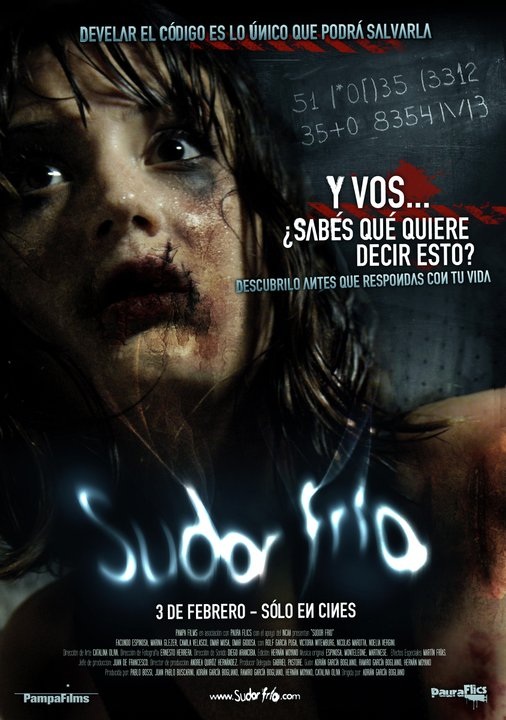 AMBUSH BUG (Bug): Hi Adrian, how are you doing today?
ADRIAN GARCIA BOGLIANO (AGB): Hey, how are you?
BUG: Good, good. I know you're on the set and that you don't have a lot of time here, so let's get right to it.
AGB: Hey, no problem.
BUG: Well I just saw COLD SWEAT last night and it really was great. Can you tell my readers about it? Those who haven't heard of the film yet?
AGB: It's a film that's… It was very important to me that they reach some sort of breaking point for the Argentinean horror films, because there was a lot of people like me making really low budget or micro-budget films I think since like 1995 or something. There were a lot of people making very, very small films and this was the first time that we had the support of the Argentinean Film Institute. We also had the support of a production company and then we had Buena Vista. They were kind of partners of partners in Argentina, so this was the first time that we had the chance to showcase Argentina. It was the first Argentinean horror film with a major distribution in years, so you know that really was important to us, because after the film was released a lot of films are being produced now like science fiction, horror films, and suspense films that didn't have a place in the mainstream Argentinean film industry. In a way it's a film that…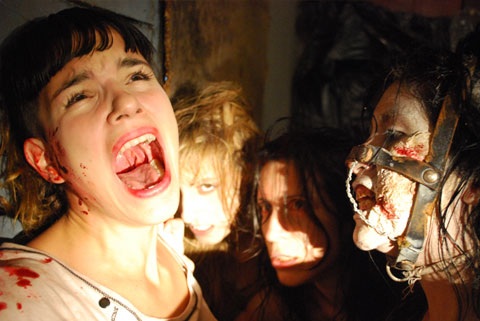 BUG: Great. The film is about a couple of kids that kind of stumble into this house of horrors, is any of this based on fact? Is it a real story or taken from a true story?
AGB: Well it is actually… I took a few things… In the 1970's we had this military government and during that dictatorship there was a lot of killing, a lot of torture, a lot of rape, and a lot of kidnappings of babies. Out of that people… I mean the low ranking officers, the guys who committed these crimes, not the high ranking officers, it was the low ranking officers that did these horrible things. So to me, that was pretty disturbing and because I live in a city that had a lot of kidnapping and a lot of torture, so you know you kind of think of that. We brought in this one guy who seemed to be an expert and then suddenly the guy starts talking about politics and we realize he's got this kind of fucked up vision of the politicians of the country, this kind of Nazi way of thinking and then we realized he talking about a grandfather and then we realized he's a crazy old bastard. That's the kind of element that I took from what you can actually see, pretty crazy stuff that had happened here.
BUG: Yeah, well I definitely thought that the film sounded really distinct and unique. It seemed like you really did a great job of amping up the tension between the actors and their situations. What went into the decisions to really visualize that tension and picking the sounds that you chose? The soundtrack you chose for the film seems like it really did match up to the tension that happens throughout the whole film. What were the decisions that you made to try to add those elements to the film?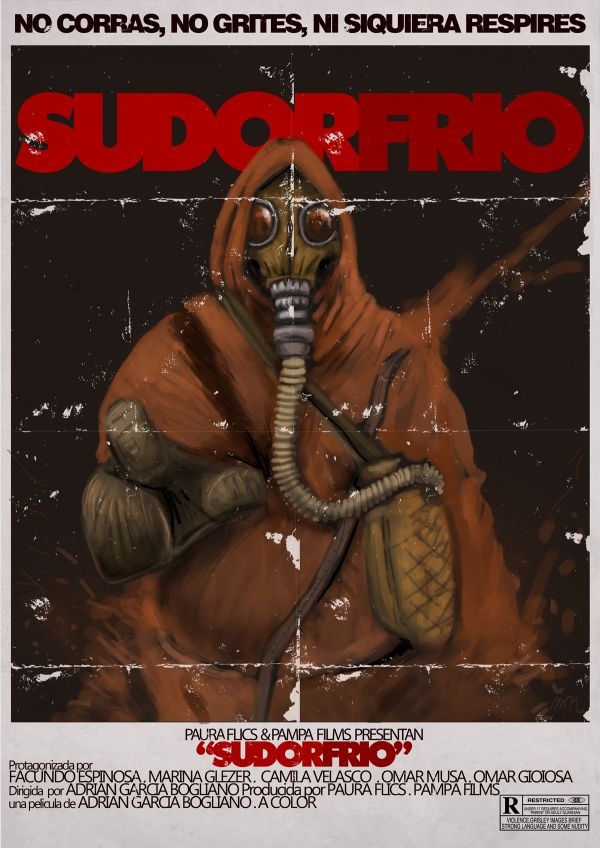 AGB: With the sound I worked with another guy with and I think the sound mixers did an amazing job. They captured a lot of things that I told them about and it was the first time that they were making a horror film and they were used to making more naturalistic kind of sounds for Argentinean film and I basically worked with a lot of… I think the best sound design right now is going out of France with the French horror films of the last ten or fifteen years. It's amazing what they are doing.
BUG: Sure, I agree with you completely.
AGB: Yeah, I mean they have several people working with sound designers and everything. It's unbelievable and they take these very brave decisions with where they go on the soundtracks like before an impact or that moment of you know… or a shock, they take all of the sound off and they make these decisions that are really interesting and I worked with the same thing on the music, because I wanted to create this kind of music that you can often see in French films. They learned the ropes from crafting music and noises and the blend like where the noise ends and the music ends. That was a challenge, because we wanted… When I showed these examples to the sound designers, I was like "Okay, these guys working with ten times the time and the pay," so it was basically a challenge and also I love Italian horror films and in particular Dario Argento and these kind of strange use he used to make of heavy metal like suddenly a heavy metal song starts out of the blue and it's kind of bizarre, but I it's pretty effective. Do you know what I mean?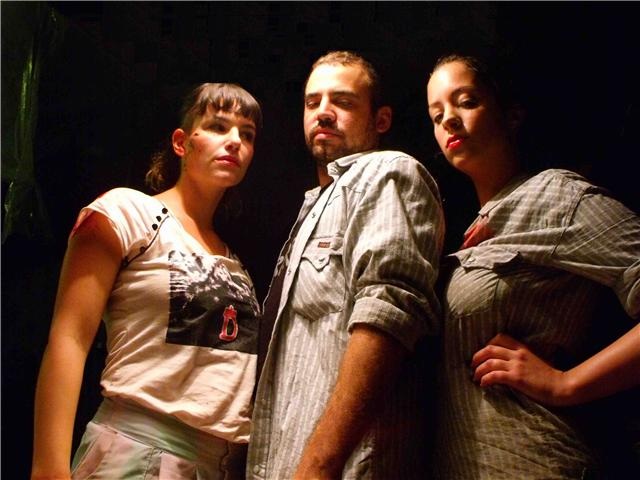 BUG: Definitely.
AGB: You don't know what to expect.
BUG: Yeah, it really was a great film. I don't want to get away without talking about your new film, HERE COMES THE DEVIL. Can you tell us about that?
AGB: Yeah, yeah sure. I can say it's a project that I'm really, really excited about, because it's really different to all of the films I made so far. It's a supernatural film and it's being shot in a very strange way… It takes place in Tijuana and the Gulf of Mexico. To me it's the first time that I'm shooting a feature film here in Mexico. It's now the first time that I'm going to be making a feature film here and I'm really excited. I'm really excited also, because the people here have decided to support this project even though I think it's a very weird film. It's horror, which is weird already, but it's weird because… It's nothing like COLD SWEAT, but I think it's… Even though it's a little bit weird, it's kind of not for a teenaged audience, because it's going to be a very dark film. It references police films like more films of the 70's, so you know they decided to support this project and so the whole thing's going to be spoken in Spanish. It's a really good decision and a really good film.
BUG: It's about children who go missing in the caves of Tijuana? Is that correct?
AGB: Yeah, it follows children who go with their parents for a day out of the city to the outskirts of the city and they disappear in a hill instead of a cave and when they come back the next day they have changed, something has changed in them. At the beginning they think make they went with somebody who abused them, but then they find out that it's something else.
BUG: Okay, well I also just noticed that you… Did you direct PENUMBRA?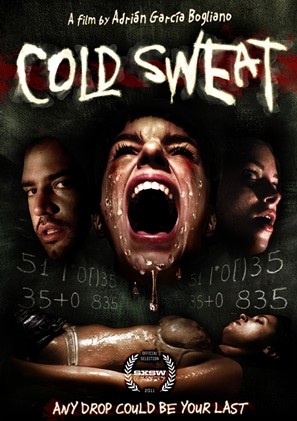 AGB: Yeah.
BUG: I just saw that film a couple of months ago and I loved that film as well. That was a part of some of the festivals going around, is that correct? That played at The Toronto After Dark Festival?
AGB: It was in Fantastic Fest. Yeah, it was the world premiere at Fantastic Fest and it was acquired by Midnight and they are going to be distributing it in March.
BUG: In March? Okay, that's what I was wanted to ask. I wanted to ask when that film was going to be available to see, because that was another great film. You're kind of on a roll here, you've been doing some great films.
AGB: Yeah, this year is going to be crazy. We are starting now with COLD SWEAT and in March PENUMBRA is going to be released and then at the end of the year is THE ABC'S OF DEATH, which I'm participating in. Synapse Films actually acquired three of my previous films and they are going to be releasing this, so you're going to get tired of me. (Laughs)
BUG: (Laughs) Well I doubt that. Not if you keep on making films like this. Best of luck on your shoot.

AGB: Thank you very much, man.

BUG: Thank you. Have a good day. COLD SWEAT is available now on BluRay & DVD!

See ya Friday, folks!

Ambush Bug is Mark L. Miller, original @$$Hole / wordslinger / reviewer / co-editor of AICN Comics for over nine years. Mark is also a regular writer for FAMOUS MONSTERS OF FILMLAND and has just released FAMOUS MONSTERS first ever comic book miniseries LUNA (co-written by Martin Fisher with art by Tim Rees) You can pre-order it here! Support a Bug by checking out his comics (click on the covers to purchase)!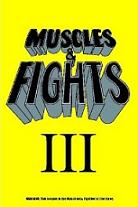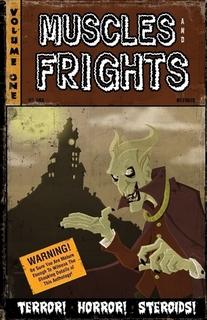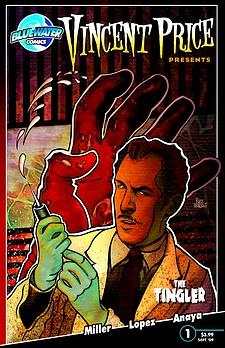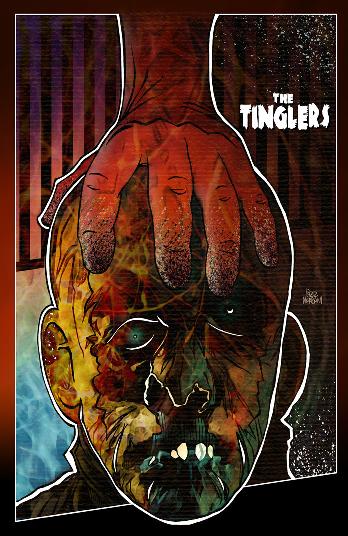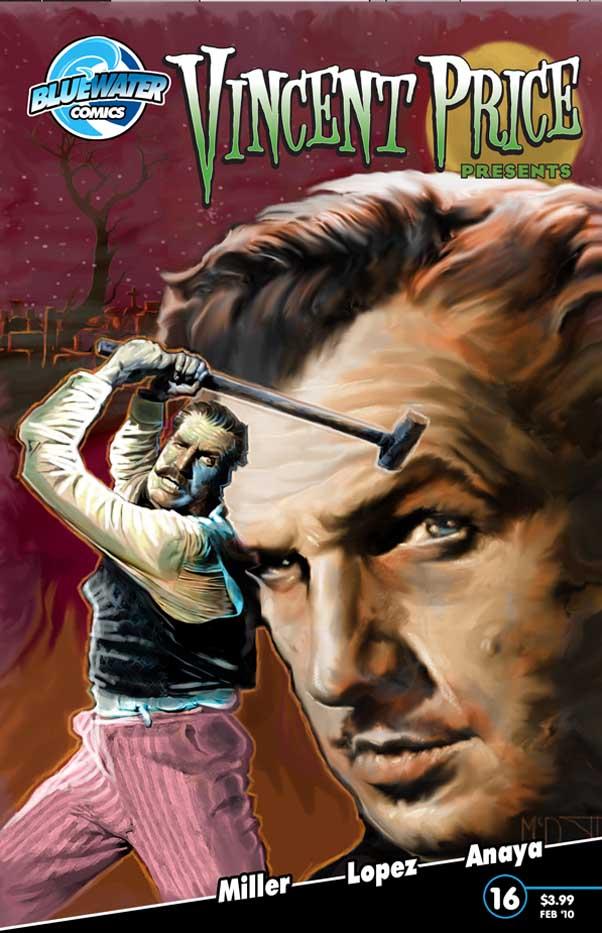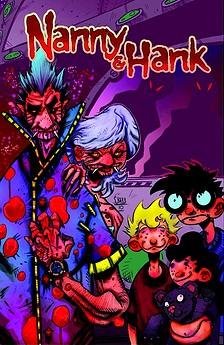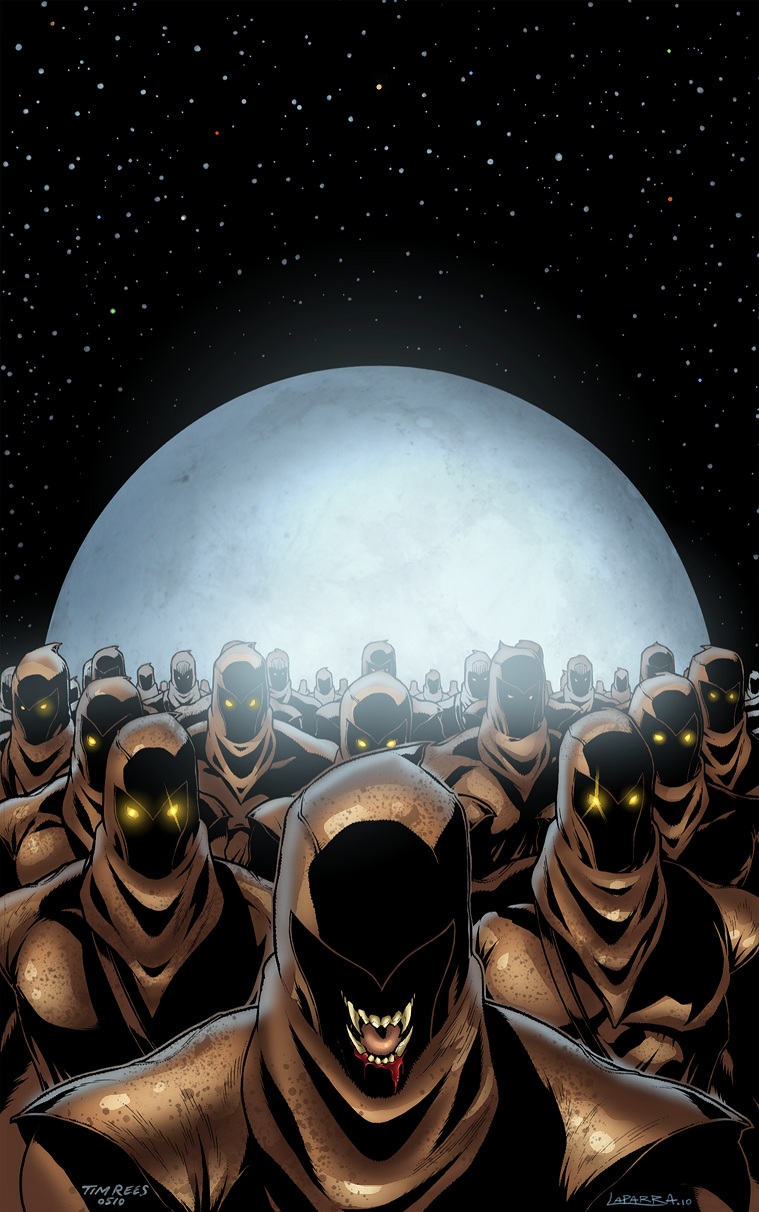 NANNY & HANK's Facebook Page
(Just announced: NANNY & HANK is soon to be a major motion picture from Uptown 6 Productions!)
THE DEATHSPORT GAMES' Facebook Page
FAMOUS MONSTERS PRESENTS LUNA: ORDER OF THE WEREWOLF's Facebook Page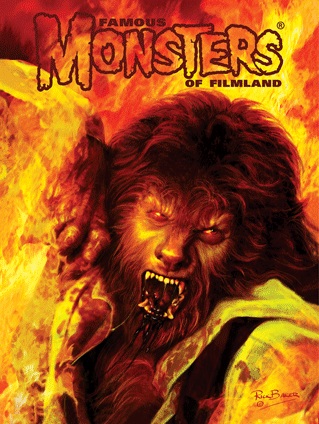 ---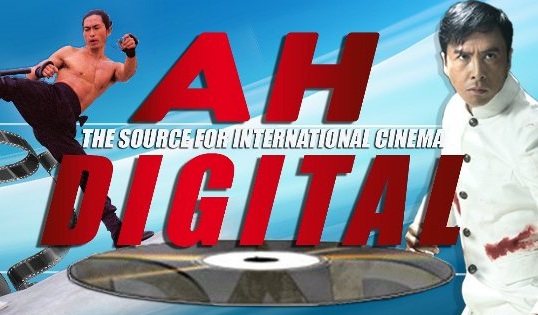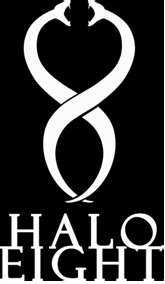 Looking for obscure, foreign, or hard to find DVDs & BluRays?
Check out AH Digital: the source for international cinema!


Interested in illustrated films, fringe cinema, and other oddities?
Check out Halo-8 and challenge everything!



---
Find more AICN HORROR including an archive of previous columns
on AICN HORROR's Facebook page!