Britgeek here.
One talented actor who has a penchant for playing an imposing badass is Luke Goss, the man who, in a previous life, was the drummer in '80s teen pop band Bros, but swapped slamming sticks on a drum kit for breaking 2x4s over backs and blowing things up in the movies. Starting his acting career on the stage in London's West End as Danny in GREASE, Goss has progressed into one of cinema's toughest action heroes of the last few years. It wouldn't be a surprise to see him make an appearance in a sequel to THE EXPENDABLES sometime in the future.
Goss' latest film to reach the UK is PRESSED, an intense crime drama that centres around a man who finds himself thrust into a life or death situation when he is let go from his job and the appeal of a one-time foray into crime becomes too much to resist. Written and directed by first-timer Justin Donnelly, the film is a very human story headed by a nuanced performance from Goss in the role of Brian. While he's made his name from action movies, PRESSED is heavier on characters and emotion than bullets. See my review in my next DVD and Blu-ray review column.
I recently had the opportunity to speak to Goss about the film, as well as his future and transition from just an actor to writer, director and producer. I greatly enjoyed our conversation. He's a humble man and clearly a passionate performer.
BRITGEEK: Congratulations on PRESSED. I saw the film earlier today and really quite enjoyed it.
LUKE GOSS: Oh thank you, that's nice. It was a smaller movie and a small story, but both were deliberate so I'm glad you enjoyed it. It was a fun shoot actually, it was only three weeks but we had a great time making it.
BG: As you mention, it's a small film, and actually I think the fact that it was a low-budget film suited it. No matter how much money could have been thrown at it, I don't think it would have made much difference.
LG: No, it's a modest story deliberately, it's kind of topical with people losing their jobs and it's panic stations, isn't it? These things happen in life to all of us, me included, and it's about a man who's living, not monstrously beyond his needs, but he's certainly living without worry … As I said to the director when I first met him and we discussed if it was going to happen, or certainly if I was going to be part of it, I liked the modesty of the story and the fact that he doesn't have a certain set of skills and he doesn't kick arse, he's... for example, when I did this scene where I broke down and I miss my wife, it's like a cacophony of being foolish and feeling stupid feelings and missing the comfort of what we work so hard to have, and I liked the modesty of the story. And I think you're right, I don't think it had any place for a big budget. I mean, sure, post-production is always benefited by a bigger budget, but I think Justin as a first-time director did a great, great job.
BG: So how did you actually get involved with the project?
LG: It was just an offer. They wanted me to do it and it came through my agent and they said that they'd ask if I would do it and I read it and I said the first thing I've got to do is meet the director, who I know is a young guy and it's his first time, and I just want to see who's going to DP the project … I wanted to know what he wanted to achieve; did he want to make it kind of a bit too actiony [sic], or... I just wanted to get a sense of where he wanted to head with it, and obviously I like to be collaborative as far as dialogue and all the other stuff, and it just was a good fit and it was kind of a family affair up there in Canada, and I was like yeah, let's do it. So it was a very quick evolution of reading it to making it, it was pretty fast.
BG: What was interesting to me about your character, Brian, is that he's flawed, and its those flaws coupled with the scenario of the money that pretty much act as the inciting incident to what is effectively his downfall. What attracted you to the character?
LG: Like you say, he's flawed, but also, like any role, if I read and he's too squeaky and there's no flaws or there's no vulnerability, then there's no real excitement for me to want to play [him]. I just liked the fact he's good at what he does and then he's out of his element, he's out of his league with this story, and I just felt it'd be nice to play somebody who's somewhat desperate and not kicking arse. There were things out there more important than him: he's got his child, he's got his wife, and I just liked the modesty of it all … I liked the simplicity of it.
BG: I think he's more of a human; a real character.
LG: Yeah, I mean I love playing those kinds of roles, even when you've got a super villain or a superhero kind of situation, you've still got to find a human in them; you've still got to find what makes them feel fragile, what makes them feel vulnerable, what makes them feel scared. When you play somebody who's totally normal, it's actually wonderful because it's more of a, not precise, but more of an internal process.
BG: Do you think characters are stronger when they're like that?
LG: For me personally … I still want to find a weakness in these guys. I want to find a humanity. The guys in the States … always talk about wanting somebody who's flawless. There's nothing that I can relate to in that. As guys, we have to protect our emotions, we have to keep ourselves together, keep ourselves strong … I think when you see roles where there's some kind of breakdown, there's some kind of chink in the armour, to me it's certainly more interesting to watch, so when I'm putting it together I'm always a big fan of trying to achieve that, even with somebody [who] appears to be either dangerous or otherwise. It's still nice to find that vulnerability.
BG: Yeah, I think it's perhaps easier for audiences to connect with characters who they can believe in and think that they could actually exist, as opposed to some kind of invincible, gun-toting warrior.
LG: Yeah, that's why it's nice to find those scenes where they are sitting by themselves, whether he's smoking a cigarette or just sitting down, contemplating something, or an introspective moment. I think it's important, really important, to find those things in characters.
BG: Over the years you've become quite synonymous with action movies, but PRESSED on the other hand, although it's got guns and gunshots, is much more a drama. A crime drama. Was the prospect of doing something a little bit different appealing to you?
LG: There's a film I just did, my first British movie in a long time, called INTERVIEW WITH A HITMAN, that I'm really proud of. It's a love story set around a hitman, but again, HITMAN doesn't bring with it explosions and stuff like that, and really not many guns. [There are] guns that you see in the scene many, many times, but you don't see them fired a great deal. It's primarily an internal story … [I think] a love story set around that world is really interesting and I read it and I didn't see the ending coming … and that's pretty much a drama out-and-out, and then again there's a movie, INSIDE, which is a supernatural thriller, but you don't actually see any of the things that are going on; you hear them and then occasionally you see the little result of something that's happened, you don't actually see it happen. Almost like a play. [It stars] the guy that was in RAWHIDE, Paul Rae, and myself. I play the principal character. It's a movie with a place, just two of us in a cell and you don't really see us until the last act out of those cells. It's a really interesting story, and, again, that's got no action going on in the cell apart from tears and panic … There's been a lot of drama this last year just gone. I loved it. It was a new, like you said, slightly new direction, but still bringing in some physical capabilities, but not driven by that, just assisted by that.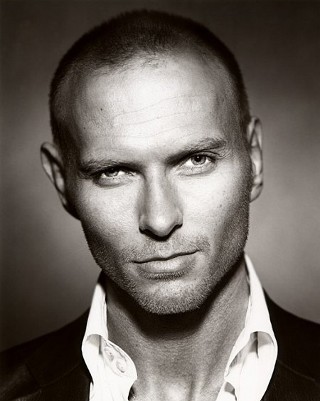 BG: Moving from acting to producing, which began with BLOOD OUT – how's the role working out for you?
LG: You know what it is? I don't really enjoy it in the sense of raising money and all that other stuff, but I do like... it's a means to an end to make a movie with people that you care about, whether it be friendship-driven or a combination of friendship and talent and looking around and finding yourself on set with people that you enjoy being around, and also enjoy what they're capable of doing professionally. So, to me, I like it because [there are] exciting conversations … Even if you're not in film you can still understand it's hard to actually get a movie going in this climate, so I think the challenge of that is exciting, and also being able to have that creative say across the board is exciting. I'm directing this year, too, which I'm both nervous and excited about. One of the movies we're producing I wrote also, so it's a fun time. It's intimidating, but that's what gets you up in the morning, you know.
BG: So you're spreading your wings as far as the creative involvement and development of projects.
LG: Sometimes it feels a bit beyond the spread, like ouch. But it's a responsibility. If I'm writing or producing it, it better be okay because I don't have any excuses. It would be my fault entirely [laughs]. It's a challenge and it's worth giving it a shot at least.
BG: Absolutely. It's definitely worth exploring these routes and seeing where you want to go.
LG: Yeah, I think it's all about having creative say, but also the collaborative thing, which is one thing a lead role gives you, which I'm thankful for, but with producing, it's a case of having that collaborative energy and sitting around a table and getting excited about something that doesn't exist yet but you know it will. It's a fun life.
BG: And at the end of the day, film-making is a collaborative process.
LG: Oh yeah, more than ever, more than anything I've ever done … It's a chain of people and actually it's a chrome-plated link … it's the same fabric, has the same breaking strain, and you really are all very much dependent on each other, that's what's so beautiful about film, it really is. Nobody's more important than the other, because if you take away an element and you don't have a chain, it's done.
BG: Many of the films that you've made have found distribution in the home entertainment market, which these days is no bad thing, especially where action and horror are concerned as they thrive. Obviously, as an actor, the bigger the release and exposure the better, but as a producer you need to think a bit differently. From a business perspective, have you concentrated on producing films specifically targeted at that market, or is your intention, at the moment, to produce bigger projects?
LG: You want to make sure you can make a profit in the sense of anything above what it cost to make and put out, but it's not the profit in the bottom line sense, it's profit in the sense that if you don't lose money for the investors and you can keep making films, but when I'm talking about what we're doing and producing, for example, I won't sell domestic rights, I'm not going to be getting into handing over certain things that don't allow the potential of something to become greater than we hoped for. Well not hoped for, but a lot of producers sell domestic rights here and everywhere and they give a territory exclusives, and I'm thinking, why would you possibly do that? You've basically diminished every possibility this film has of growing … You've just stumped it before it had a chance. So I think you have to be careful, for example on the pre-sale side of things.
Actually, your comment about home entertainment not being a bad thing is interesting because I'm finding more and more people understanding that, because we sit at home with our 60-inch TVs. When DEATH RACE 2 came out, we were number three in America – that's number three in the main charts; a huge amount of profit. It's interesting that the perspective is changing and people are understanding it, but of course, having a theatrical release is a buzz more than anything. It's fun, and it's really good for the career. At the same time, making a film is making a film and I don't have a conscience … Some people have a concept of giving a different game or a different level of commitment based upon the budget of the film or its home, whether it's home entertainment or theatrical. I don't have a concept, my output's the same and my commitment to the project is the same. I think maybe it's because I'm British. I came here a London boy and I feel so lucky to be doing it, I mean generally, it's not just for the purpose of the interview, I genuinely feel blessed and lucky to be doing it.
I know the profit means I can do it again and often means that somebody enjoyed it, so you're achieving … I like to bump into people who say, 'Hey man, I fucking loved that movie!" It's fun. You didn't wreck someone's night. And the other thing is, the investors are happy because they made their money and more, so it means you can play again and make another film.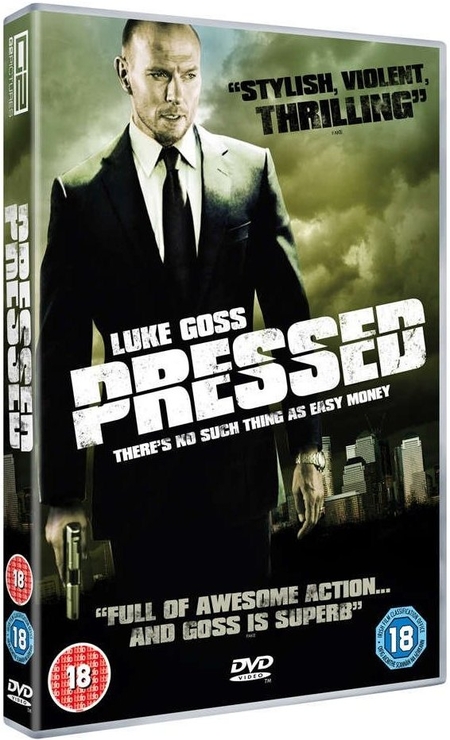 BG: You've worked with Guillermo del Toro on HELLBOY II: THE GOLDEN AGE and BLADE II. Are there any plans for you to work with him again?
LG: I don't know. He said to me once we'd always work together and when we do it's HELLBOY, but I hope so. I love working with him. He always makes it... it's like a master class in film every time you work with Guillermo. One, I love him very much as a person … He's without a doubt responsible for a little bit of leverage I have within the industry, as far as I get to work almost every day, and he has a lot to do with that with his belief in me. I love working with him, I love watching his knowledge.
He never, ever guesses on set. He understands film-making and he understands film, and also he's a huge fan of the history of film, and also I guess a geeky fanboy beyond belief. It's nice to be around him. I would presumptuously say I hope so and I would assume we'll do something together in the future, but I don't know what that is yet. With HELLBOY, he just showed up. He just gave me that role, which is very nice of him. People say would I do make-up again. I wouldn't do it again, I don't think, unless it was for him … It's worth it with his roles 'cause he challenges you so much.
BG: So it's a case of seeing what the future holds.
LG: Yeah. He said we'll always work together and I hope that that's true, because I really love working with him. But we'll see.
BG: Thanks a lot, Luke. Pleasure speaking with you.
LG: I really appreciate your time, Adam. Thank you, mate.
Many thanks to Luke for his time. PRESSED is available on DVD from January 23.
Fancy bagging yourself a copy of the DVD? I have five (5) to give away courtesy of G2 Pictures. Just answer the following question for your chance to win:
Luke Goss played the villain in which movie?
A) BLADE II
B) SPIDER-MAN 3
C) SUPERMAN IV: THE QUEST FOR PEACE
D) BATMAN BEGINS
To enter, all you need to do is send me an email with your full name, location and answer.
For a bonus entry, tell me your answer via Twitter.
Winners will be selected at random and notified shortly after the competition closes at midnight on Friday, January 27. This competition is open exclusively to residents of the United Kingdom. Good luck!
TTFN.