Greetings once again, dear readers...it is I, Monty Cristo!
You will be hearing from me again quite soon indeed. My talkbacks now appear in a BLACK BOX, and I am here to stay.
I have followed the career of Greg Pak since he was best known as a filmmaker. He made a lovely sci-fi anthology film called ROBOT STORIES, which I saw many South by Southwest festivals ago. I may have even seen it sitting next to AICN's own tack-sharp and feisty Annette Kellerman.
Greg Pak was then and is now a geek like all of us. He gets it.
Pak would become (and remains) one of the biggest names in comic books, writing signature runs on HULK (PLANET HULK, WORLD WAR HULK) and ASTONISHING X-MEN, as well as the brilliant miniseries MAGNETO: TESTAMENT and the more recent (and soon to be trade paperback-ed) RED SKULL: INCARNATE.
He's done fascinating independent projects like VISION MACHINE, whose Creative Commons licensing is a story in and of itself. He was recently announced as the writer of DOCTOR STRANGE: SEASON ONE, which I wish were available as we speak (Strange is one of my favorite comic characters). I'll buy every goddamn variant cover. Milk me, Marvel (a new company catchphrase?).
In his ongoing quest to conquer the world of funnybooks, Pak has started a new ongoing series called DEAD MAN'S RUN, which is summed up nicely as "Jailbreak from Hell." in issue #0's afterword. The idea was pitched to him by Gale Anne Hurd's company, Valhalla Motion Pictures. Hurd produced a few little things you may have heard of, like ALIENS, TERMINATOR 2, and oh...THE WALKING DEAD.
If the first issue and the preview (#0) are any indication, I would very much enjoy seeing the property eventually hit the screen...but I'm getting ahead of myself.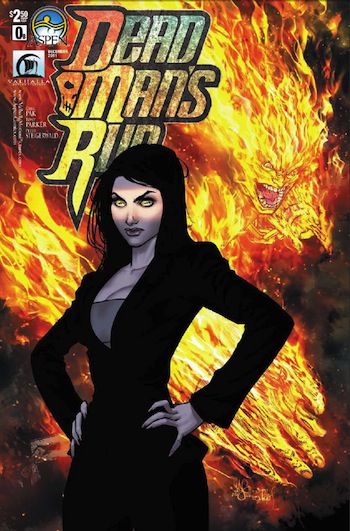 To the outside world, the primary setting of this book appears to be an ultra-secure prison. It turns out that it's actually Hell, and not everyone in there is supposed to be in there. Something is rotten in Hell, big surprise.
Our protagonistic duo are Sam, a meek cartographer, and Captain Romero, a rough-edged tough guy with a past. You can read issue #1 without having read #0 and know who's who, but this is one of those cases where every page is worth absorbing. We get glimpses at our main cast's background, but the teases are neither too esoteric nor too didactic as to feel like a waste of time...or like Pak is beating you over the head with exposition.
Guards feast on prisoners' souls, the Warden is an intimidating...presence, with...weird...eyes. Sam's little sister Juniper gets herself into a lot of trouble while trying to get Sam out of trouble.
#0 focuses on Romero, and #1 shifts to Sam. I'm interested to see whether the focus favors one or the other come issue #2.
It's a very solid read, and one that I recommend avid comic readers give a commitment to. It's on my pull list for the full 6-issue run, unless Pak starts punching kittens with gloves made of puppies. Give them $6 worth of faith on #0 and #1 and see how the next few months go.
The biggest reason I'm doing that isn't that Pak sent me review copies of two (not) lousy comic books, but because I think we need smart, well-researched writers working on interesting, original work like this. It's why I support books like Brian Bendis' FATALE, anything Warren Ellis bleeds onto a page, and many others.
If you look at MAGNETO: TESTAMENT and RED SKULL: INCARNATE, you have your proof as to Pak's dedication to research and accuracy. My mind reels at the idea of him soaking in loads of information about Hell and the occult and then translating it into something non-historical.
The more I write about him, the more I think it'd be great to get a lengthy, geektastic interview out of this Greg Pak! What say you, TALKBACKERS?! I am at your beck and call (within reason and safe boundaries)!
If you are not yet a fan of Pak, seek out the MAGNETO & SKULL books immediately. The MAGNETO paperback is $15 on Amazon, and the RED SKULL trade hits on February 8th. It is currently a $10 pre-order. Your local comic shop may have all five issues of SKULL, so consume as you please and support them if possible.
Yours,
Monty Cristo
Follow me on Twitter @MontyAICN
Email me: montycristo@gmail.com
I think it appropriate to debut my Cartuna-ization here. It seems right to do so in a post wherein I review a comic book about a jailbreak.
...and yes, I am a sentient cigar with clockwork machinery arms and legs.