Scripted Hourlongs
11. HOMELAND (Showtime) Writers (and composer Sean Callery) behind "24" craft a TV-MA pay-cable series about a counter-terrorism unit. Morena Baccarin cavorts nakedly. Claire Danes as a slutty, bipolar Jack Bauer assumes her sexiest role ever. (No, I'm not forgetting how sexy she was in "Temple Grandin," you swine.) And it's got the great Mandy Patinkin – who has fled everything from "Chicago Hope" to "Dead Like Me" to "Criminal Minds" -- to masterfully inhabit the key role of CIA vet Saul Bereenson. Like "24," it is a series full of great twists. I've no idea where this thing can take Carrie and Company next season. Maybe they'll leap ahead five years just as Secret Muslim Sgt. Brody has secured his party's nomination for president?
10. FRINGE (Fox) Consigned to the Fox Friday Death Slot that brought a dozen other sci-fi shows to untimely ends, "Fringe" no longer seems to be bothering with trying to find new fans; rather it seeks to challenge and service the fans it has left. I wonder if showrunners would have contemplated a third alternative universe – one in which Massive Dynamic cyborg executive Nina Sharp has long served as Olivia Dunham's mother figure – had it not been for J.J. Abrams' alternative timeline success with "Star Trek." The last two episodes – about a man (Stephen Root) using time travel to cure his wife and another man (Tobias Segal) who goes to extraordinary lengths to get noticed in an elevator – demonstrate this series still carries a lot of emotional juice.
9. DAMAGES (DirecTV). Ever wonder where Vice Dean Laybourne might go if he perceived Dean Pelton as more insolent? Laybourne might better resemble brutal, murderous war profiteer Howard Erickson. Throw in a cowboy version of Dylan Baker plus Judd Hirsch, Griffin Dunne, Fisher Stevens, Keir Dullea and "Bridesmaids" star Rose Byrne's giant bangs and you've got yourself another big tub of lawyering excitement.
8. THE WALKING DEAD (AMC) The second season is already better than the first in almost every respect. But I wonder if we'll ever learn what we lost with the first 2011 episode scripted by Frank Darabont, writer-director of "The Shawshank Redemption," "The Green Mile" and "The Mist." That intended second-season premiere (remember the zombie herd that swarmed the highway?) was cut down from a full hour to about 20 minutes and blended into what became a 90-minute season premiere. It also apparently led to Darabont's firing. 2011 brought the last few episodes written while Darabont was still actively involved in the scripting. Robert Kirkman, who wrote the "Walking Dead" comic books and remains on the AMC payroll, says things have been awesome since Darabont's firing. We'll see how the 2012 episodes fare without Darabont's proven stewardship.
7. PARENTHOOD (NBC) This one routinely makes me laugh and makes me cry. Jason Katims, busy until last year as showrunner on "Friday Night Lights," had more time to focus on his other NBC dramedy, and said dramedy improved markedly. Katims wrote last April's second-season finale and repeatedly brought enormous emotional resonance to the hour. No scene was more moving than the one shared by Craig T. Nelson's Grandpa Zeek Braverman and Mae Whitnman's granddaughter Amber. Katims' script was superbly served by both actors as Zeke offered his grizzled-vet version of Martin Luther King Jr.'s most famous speech. On the other hand, Jason Ritter (star of "The Event" and grandson to the great Tex Ritter) continues to demonstrate he is not man enough for Lauren Graham.
6. CAPRICA (Syfy) The final five (as opposed to the Final Five) episodes aired Jan. 4, 2011. I found the final two, written or co-written by "Star Trek"/"Galactica" vets Michael Taylor ("Virtuality") and Jane Espenson ("Buffy," "Angel," "Firefly"), thrilling and redemptive of the series as whole. (I adored Bill Adama's kitchen-happy grandmamma.) I came to care about the plights of Lacy Rand and the Greystones and the Adamas.: The final act of the final episode telescopes five years forward, and makes Syfy's decision to redlight a second season all the more saddening. (The DVD contains a finale commentary by writer-producer Kevin Murphy, who indicates the Vancouver Olympics prevented a first-season episode in which Zoe communed in virtual reality with a member of "Galactica's" Final Five Cylons. Could have been Saul Tigh! Heartbreaking!)
5. JUSTIFIED (FX) This was the season of the Bennetts – Dickie, Doyle, Coover, Mags and would-be adopted daughter Loretta McCready. I think my favorite season-two episode – and the one that hewed most closely to the series' Elmore Leonard roots – was the one about Rachel's brother-in-law, a halfway house escapee desperate to reconnect with his son. This was also the season that explored – via a forgotten load of evidence-room cash – the depth of Raylan Givens' commitment to his fabulous ex-wife. It's interesting that Leonard's next novel, "Raylan," features a coal-mine exec named Carol Conlan (not Carol Johnson) and dope-dealing brothers named Dickie and Coover Crowe (as opposed to Dickie and Coover Bennett or Dewey Crowe).
4. BOARDWALK EMPIRE (HBO). People who complain about the casting of Steve Buscemi confuse me; his work as Nucky Thompson manifests the number-one reason I tune in. The series is otherwise thick with great characters: Gillian Darmody, Manny Horvitz, Esther Randolph, Arnold Rothstein, Leander Whitlock, Lucy Danziger, Chalky White, Mickey Doyle, Richard Harrow and The Commodore. I can't wait to see what they do with puritan fugitive Nelson Van Alden in Capone's Illinois next season.
3. BOSS (Starz) This mesmerizing tale of a complex, monstrous Chicago mayor isn't yet as good as "The Wire," but for me it fills the vacuum left by "The Wire" much more capably than "Treme." Like "Boardwalk Empire," this is a tale of gangster-politicians. If you've been enjoying the saga of Nucky Thompson, I strongly encourage you to pursue the tale of Tom Kane.
2. BREAKING BAD (AMC) Walt continued his evolution into Heisenberg Badassery, and the show got so much better as the characters of "Better Call" Saul Goodman, Mike Ehrmantraut and Gus Fring began to assert themselves. Hank Schrader was the most improved of the first-season characters this year; I once dismissed Hank as a dim, loutish swine of an overcompensater, but Hank turned out to be The Real Thing.
1. GAME OF THRONES (HBO) Wow! Love love LOOOOOOVE this thing. It's been a long wait for a series with characters as rich as the ones that inhabit this tale of a fireproof dragonmistress and snow zombies. Every week seemed to introduce a new land baron or bridgekeeper or woodland crazy to fall in love with. All hail Robb, Drogo, Baelish, Tyrion, Snow, Tywin, Theon, Arya, Daenerys, Joffrey, Hodor and The Hound. Even the evil, murderous Jamie Lannister proves consistently entertaining.
0. MAD MEN (AMC) Is not on this list because it offered no new episodes in 2011. Not one.
Bonus!! Scripted Half-Hours!!
10. FUTURAMA (Comedy Central)
9. NEW GIRL (Fox)
8. ENLIGHTENED (HBO)
7. THE OFFICE (NBC)
6. PARKS AND RECREATION (NBC)
5. COMMUNITY (NBC)
4. SOUTH PARK (Comedy Central)
3. LOUIE (FX)
2. CURB YOUR ENTHUSIASM (HBO)
1. BEAVIS AND BUTT-HEAD (MTV)
HAPPY NEW YEAR!!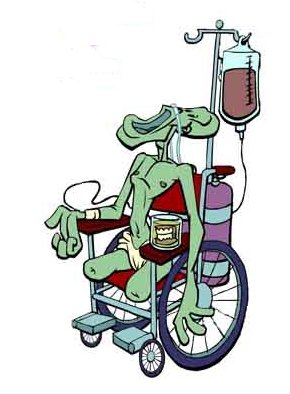 Less Than $8.73 Per Blu-ray Movie!!