Merrick here...
My initial plan had been to incorporate a bit of retroness into this particular Docback, but I figured anything I contributed would be quickly and properly eclipsed by "The Doctor, The Widow and The Wardrobe" - aka "This Year's DOCTOR WHO Christmas Special" - which broadcasts Sunday December 25 at 7pm on BBC One, and 9pm ET/PT on BBC America.
But before we get to that...
MURRAY GOLD'S DOCTOR WHO SEASON SIX SCORE IS NOW AVAILABLE!!!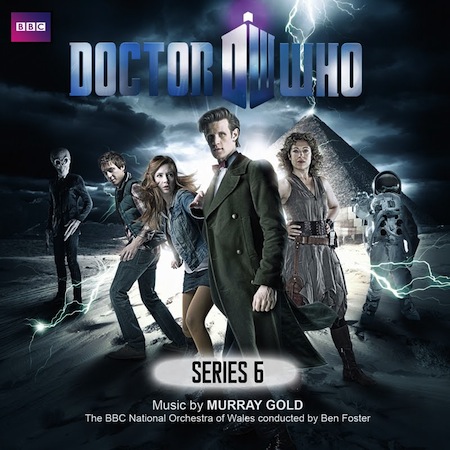 Gold's score for Season/Series Six was never as wholly inspired or altogether rousing as his work in Season/Series Five, but Season Six remains a damn fine (and often amazing) work in itself. And, like its predecessor, Gold's efforts here represent some of the best music ever brought to a television series. More details in the coming weeks, but for now...
The 66 track (!?!?), two disc set is now available HERE in the U.K. (where I understand it's also downloadable on iTunes), and is available HERE in the U.S. Although there may be stocking issues in the U.S. at the moment, so another good U.S. option (and somewhat better price) would be Screen Archives Entertainment.
"THE MOFF" TALKS SEASON/SERIES SEVEN, THE FIFTIETH ANNIVERSARY, AND MORE!!
In a recent discussion with Scotsman, Grand Moff Steven talks about pushing of the next wave of DW episodes towards later next year: "...it's almost like an aesthetic thing. If you're having to close the curtains so you can see the screen, that's not a good time to be watching a show that's largely about tunnels and torches. I think it's a show you watch in the dark." He also hints that we may get multiple episodes commemorative episodes marking the show's upcoming 50th anniversary, and coyly (but decidedly non-committally) addresses a fervent fan desire which pops up every now and again here in The Docbacks: Scotsman's Paul Whitelaw re: Moffat:
Fans are clamouring for an anniversary special featuring current incumbent Matt Smith alongside many of the previous Doctors, I venture. "Apparently," he shrugs with a laugh, with nothing more to say on the matter.
There are many more interesting tidbits to be found. Click HERE to find the article in its entirety!
"THE DOCTOR, THE WIDOW AND THE WARDROBE"
A BBC press release describes the story thusly...
Matt Smith (The Doctor) is joined by Claire Skinner (Outnumbered), Bill Bailey (Black Books), Arabella Weir (Skins, The Fast Show) and Alexander Armstrong (Armstrong & Miller) in the new festive special packed full of Christmas thrills and chills from lead writer and executive producer Steven Moffat (The Adventures of Tintin).
It's Christmas Eve, 1938, when Madge Arwell comes to the aid of an injured Spaceman Angel as she cycles home. He promises to repay her kindness – all she has to do is make a wish.
Three years later, a devastated Madge escapes war-torn London with her two children for a dilapidated house in Dorset. She is crippled with grief at the news her husband has been lost over the channel, but determined to give Lily and Cyril the best Christmas ever.
The Arwells are surprised to be greeted by a madcap caretaker whose mysterious Christmas gift leads them into a magical wintry world. Here, Madge will learn how to be braver than she ever thought possible. And that wishes can come true...
Madge Arwell is played by Claire Skinner, Lily Arwell by Holly Earl and Cyril Arwell by Maurice Cole
A few weeks ago, The Powers That Be released this tantalizing, prequelish mini-episode which presumably contextualizes some of the events we'll see this weekend.
This represents our last blast of "new" WHO for some time - Series/Season 7 will continue sometime next year and The Docback will still be around to welcome it warmly. Until then, we'll continue steadily forward with our weekly Friday Docbacks as I explore vintage DOCTOR WHO episodes, take a look at whatever new DVDs and/or Blu-rays and/or audios may be released...and plans are currently afoot to potentially broaden our coverage here (i.e. DWverse products and more). I hope you'll stay with us....it should be fun.
I'd like to take a moment to sincerely wish each and every one of you the happiest, warmest, most peaceful, and most meaningful of Holidays. I hope the next week or two affords all of us the opportunity to put our stresses, worries, and misgivings aside and, simply, re-embrace and re-discover the goodness in our lives. The qualities that are often swept under the rug, marginalized, or taken for granted when overshadowed by the immediacies of our daily existence. More than gifts or celebration, that's often what this Holiday Season means to me. A chance to re-orient to my humble and consistently fractured little universe. A chance to breathe, clear my head, and reboot. Which, really, is DOCTOR WHOy in more than a few ways. Whatever journey you may undertake take this time of year...be it physical, spiritual, or both...here's a tip of the hat and the warmest of regards. It's been a pleasure getting to know you all, and I look forward to more adventures with you in the coming year.
We'll be back next Friday with more WHOness, at which time the Docback will become a Lockback as well - for the January 1 premiere of new SHERLOCK telefilms from Steven Moffat and Mark Gatiss.
Until then? Peace on Earth, and wherever we may travel...
PREVIOUS DOCBACKS
[SEASON / SERIES SIX DOCBACKS]

"The Impossible Astronaut"

"Day of the Moon"
"The Curse of the Black Spot"

"The Doctor's Wife"

"The Rebel Flesh"

"The Almost People"
[RETRO-WHO DOCBACKS - MOST RECENT DOCBACK IS HIGHLIGHTED]
"An Unearthly Child" (Story #1)
"The Daleks" (Story #2)
"The Edge of Destruction" (Story #3)
"Marco Polo" (Story #4)
"The Keys of Marinus" (Story #5)
"The Aztecs" (Story #6)
"The Sensorites" (Story #7)
"The Reign of Terror" (Story #8)
"Planet of Giants" (Story #9)
"The Dalek Invasion of Earth" (Story #10)
"The Rescue" (Story #11)
"The Romans" (story #12)
"The Gunfighters" (Story #25)
"The Colony in Space" (Story #58)
"Day of the Daleks" (Story #60) + Preview of the DotD Special Edition
"The Talons of Weng-Chiang" (Story #91)
"The Sun Makers" (Story #95)
"The Awakening" (Story #131)
"Frontios" (Story #132)
"Time and the Rani" (Story #144)
"Paradise Towers" (Story #145) + New WHOvian Documentary / Newsbits
DOCTOR WHO: THE COMPLETE SIXTH SERIES
Merrick's Personal Journey With The Doctor (How Merrick Got Hooked On DOCTOR WHO)
DOCTOR WHO Title Sequences & DW At Comic-Con 2011
"The Crash of the Elysium" (Manchester version - interactive DOCTOR WHO adventure)
Why Eccleston Left, Here Comes Caroline Skinner, And Season/Series Six Part 1 on Blu-Ray And DVD

New Trailer For Season/Series Six Part 2
DOCBACK CODE OF CONDUCT
1) a Docback should be about completely open and free discourse regarding all things WHO (with, obviously, some variation on subject matter from time to time - the real world intervenes, discussions of other shows are inevitable, etc.)...

2) matters of SPOILAGE should be handled with thoughtful consideration and sensitivity.

Posts containing SPOILERS should clearly state that a SPOILER exists in its topic/headline and should never state the spoiler itself . "** SPOILER ** Regarding Rory" is OK, for example. "** SPOILER ** Battle of Zarathustra" is fine as well. "**SPOILER** Why did everyone die?" Is NOT good.

And, above all...

3) converse, agree, disagree, and question as much as you want - but the freedom to do so is NOT a license to be rude, crass, disrespectful, or uncivilized in any way. Not remaining courteous and civil, as well as TROLLING or undertaking sensational efforts to ignite controversy, will result in banning. Lack of courtesy may receive one (1) warning before a ban is instigated. Obvious Trolling or Spamming will result in summary banning with no warning. One word posts intended to bump-up any Docback's figures on AICN's "Top Talkbacks" sidebar will be considered actionable Spam - they not only complicate efforts to access Docbacks from mobile devices, but impede readers' abilities to follow or engage in flowing conversation.
In short, it's easy. Be excellent to each other. Now party on...