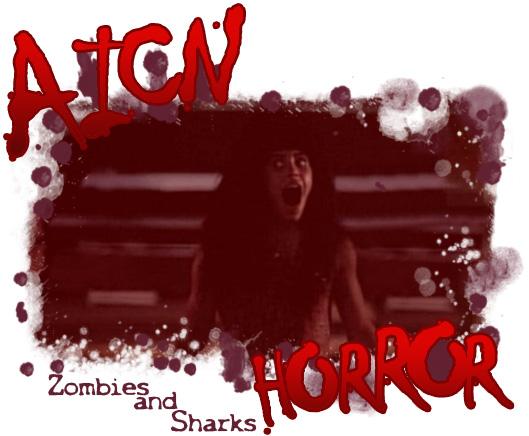 Logo by Kristian Horn
What the $% is ZOMBIES & SHARKS?
---
Greetings, all. Ambush Bug here with another AICN HORROR: ZOMBIES & SHARKS column. Here's another batch of new horror finds for you to enjoy this week. But before that…there's this…
---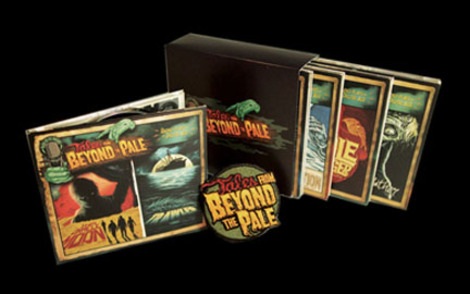 Yesterday, I posted an AICN HORROR Contest
for Glass Eye Pix's TALES FROM BEYOND THE PALE Audio Plays.
Send an email here with your thoughts on the scariest sound you've ever heard and you might be the proud recipient of a 5 CD Box Set!
I'll be announcing the winners next week!
This week,
I posted an interview with director Simon Rumley,
best known for last year's grueling RED, WHITE & BLUE, about his segment in LITTLE DEATHS (I review the film below). Be sure to check that interview out after reading my glowing review of the film below.
Now, let's get on with the reviews!
Today on AICN HORROR
(Click title to go directly to the feature)
FEARNET's Catch of the Week: THE WEREWOLF (1956)
THE UNDYING (2009)
DEAD BODIES EVERYWHERE (2010)
GREY SKIES (2011)
LITTLE DEATHS (2011)
And finally…DEATH FUCK!
---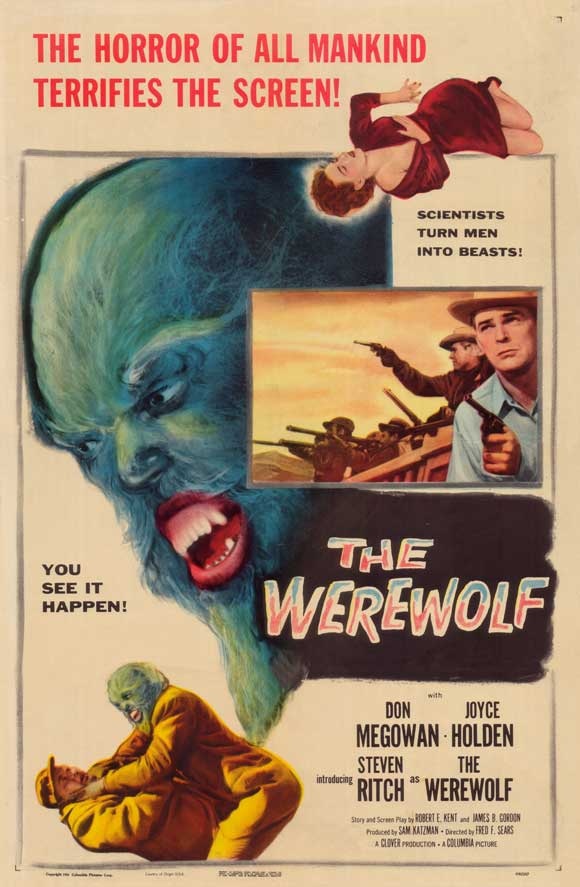 FEARNET's Catch of the Week:
Available free On Demand all month!
THE WEREWOLF (1956)
Directed by Fred F. Sears
Written by Robert E. Kent & James B. Gordon
Starring Steven Ritch, Don (Dan) Megowan, Joyce Holden, Harry Lauter, Ken Christy, S. John Launer, George Lynn
Retro-reviewed by Ambush Bug
Having heard about this film for quite some time and being a diehard werewolf lunatic, when I saw that THE WEREWOLF was available On Demand all month on FEARNET, I jumped at the chance to check it out. While THE WEREWOLF has many of the classic wolfman standbys of a monster on the loose, fleeing from an angry mob while pulling at the heartstrings of the audience, this classic is a standout in the werewolf subgenre for numerous reasons.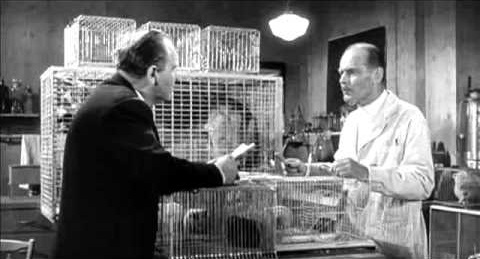 First and foremost, the werewolf makeup and transformation (a must for all lycanthropy films) are top notch. While it strays from the classic Lon Chaney Jr. design, it still maintains the feel with large wispy eyebrows and a prominent row of gnarly teeth. The classic fade through various stages of transformation is both cheesy and impressive.The main distinction from other wolf man films is that actor Steven Ritch, who plays the werewolf, isn't cursed by a demon or bitten by a werewolf; instead he's a product of science. Late in the film, a pair of scientists are introduced who set out to eliminate their escaped mistake. Adding a scientific element to the mix makes this a somewhat more an Atom Age take of science gone wrong rather than a classic Universal take on the beast.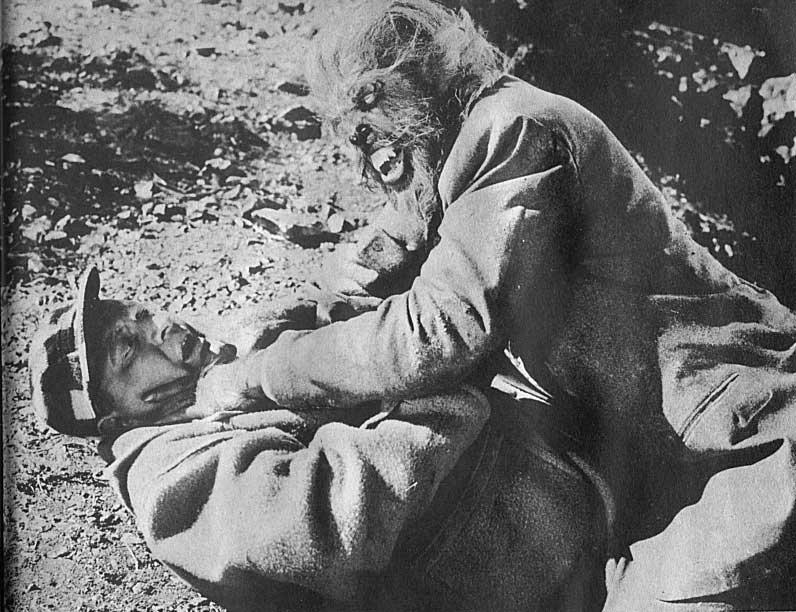 THE WEREWOLF is high on drama with multiple scenes of talking heads (a detriment to many a monster movie of old)--due to limited budget, most likely. The high amount of melodrama might ring as schmaltz for some, but it also adds to the fun when the Werewolf's family is negotiating with him as he hides out in the woods. Don Megowan plays the gung ho sheriff set to bring the monster in for murder, while his nurse girlfriend Joyce Holden pleads for him to play nice. Steven Ritch amps up the sympathy factor as well and deserves some extra props for walking through snow in bare feet!
Much old timey fun is to be had with THE WEREWOLF: every bit the classic of Universal's WOLF MAN with a bit of a modern sci fi twist thrown in for distinction.
---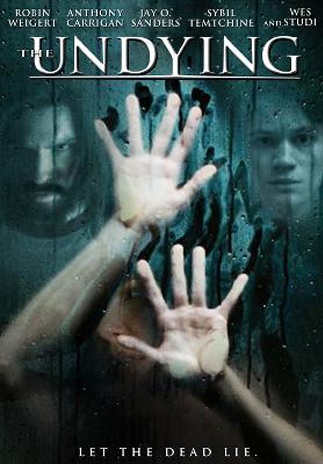 New this week on DVD!
THE UNDYING (2009)
Directed by Steven Peros
Written by David M. Flynn & Steven Peros
Starring Robin Weigert, Anthony Carrigan Jay O. Sanders, Wes Studi
Reviewed by Ambush Bug
Oh boy. Though capably acted and shot, I can't recommend this Lifetime Movie of the Week-style ghost story. Actress Robin Weigert does a decent job as a weepy doctor widow, pining for her lost love and trying to start fresh in a new town. Wes Studi also does a capable job as a dedicated and superstitious detective investigating the reappearance of a thought-dead man, and Jay O' Sanders amps up the smarm as a creepy doctor who doesn't like to take no for an answer, especially where his nurses are concerned. But all of the well acted performances won't put any edge on this watered down horror yarn.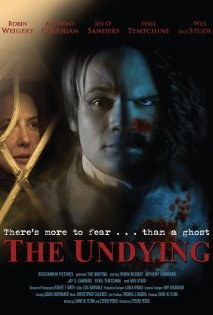 Goofy horror movie logic allows the ghost of a Civil War soldier to enter the body of a recently deceased abusive husband Weigert's character is treating at the hospital. The desperate woman decides to steal the dead body and smuggle it home so that the ghost can take over the corpse. Soon, the Civil War vet possesses the body and it's like ENCINO MAN as he marvels at the moving pictures on the television and modern amenities such as the radio. A third act revelation that the abusive husband side of the corpse is still in the body as well makes for a quick conflict shake the ant farm, but it's a bit late to spice up this burrito at that point.
Light on scares and blood, apart from the ghost aspect, it's hard to categorize this as horror. Lacking in the bite usually preferred by readers of this column, I doubt it will satisfy, but the decent acting at least kept me watching until the end. THE UNDYING is just too tame to make it as horror.
---
DEAD BODIES EVERYWHERE (2010)
Directed by Shea VanLaningham
Written by Shea VanLaningham
Starring Rito Balducci, Nathan Bottorff, Bryan Brogan, Heather Chilson, Melissa Chirello-Wood, Catherine Flynn, Carissa Lund, Ron Rotondo, Andy Schatner
Find out more about this film here and here!
Reviewed by Ambush Bug
I'm a huge supporter of all things indie horror and this one certainly fits the bill. Filmed on what looks to be digital solely in a forest, DEAD BODIES EVERYWHERE is the latest in what looks to be the newly dusted off genre of "cabin horror" and is somewhat of a love letter to slasher in the woods films of old.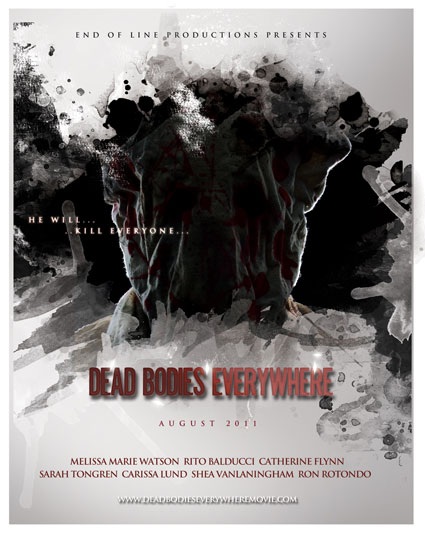 Everything that made FRIDAY THE 13th a classic is here. Foreboding townsfolk. A creepy legend. A group of sex and alcohol crazed kids in the woods. A killer with a penchant for axes and bag-head masks. All of this has been seen before, but DEAD BODIES EVERYWHERE does a decent job of rehashing it all. Though the acting is strictly amateur hour and the sound fades in and out as if only one microphone worked, and even then only occasionally, despite its rough edges, DEAD BODIES EVERYWHERE delivers on a decent body count and some scenes that actually do instill jumps. There are quite a few scenes involving the killer stalking the soon-to-be victims in the background a la Michael Meyers that are quite effective. The most chill-inducing scenes depict the killer emerging from the expansive darkness in the woods at top speed taking the campers by total surprise. I also dug the brutality of the kills, as this maniac doesn't just go for one kill shot. He tends to thwack and thwack over and over until the axe blade goes through the body and into the ground beneath.
The film opens with an extended scene of multiple murders occurring at once, deftly playing with the viewers' sense of pace and time. I loved this opening scene and had the film been as ingenious as intertwining multiple groups of campers being killed across multiple timelines, it would have lived up to its name. As is, DEAD BODIES EVERYWHERE is pretty by the book, but adheres to that book with a knowledgeable handling of the genre and hitting every well tread beat.
---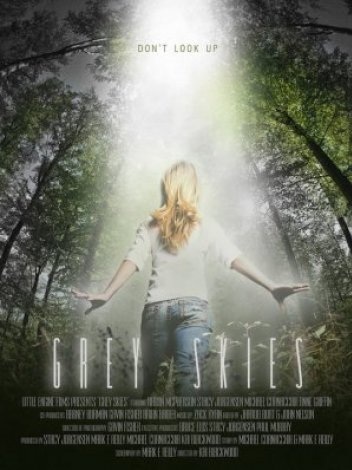 New on DVD this week!
GREY SKIES (2010)
Directed by Kai Blackwood
Written by Mark Reilly & Michael Cornacchia
Starring Michael Cornacchia, Thela Brown, Marie Del Marco, Shelley Dennis, Anne Griffin, Stacy Jorgensen, Jeff Lorch, Aaron McPherson, Scott Mullin
Find out more about this film here!
Reviewed by Ambush Bug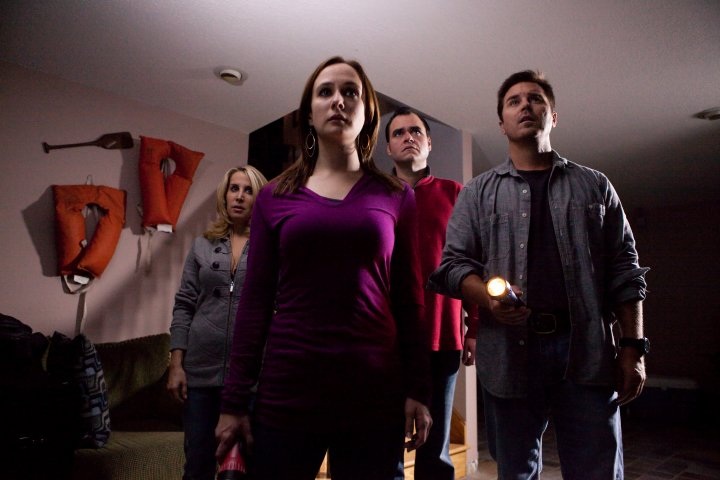 The quick pitch for this one would read FIRE IN THE SKY meets INVASION OF THE BODY SNATCHERS as a group of vacationers gather in a cabin to relax only to have troubled pasts and, of course, some pesky aliens surface to ruin all of the fun. In I SOLD MY SOUL TO THE DEVIL (
reviewed here!
), director Kai Blackwood stars in a documentary about the lengths folks would go to be successful in Hollywood. In GREY SKIES, his first feature film, it turns out Blackwood's Faustian deal may have paid off since the film is a capable handling of the alien abduction genre with some interesting technical additions that amp up the scares.
GREY SKIES ratchets the melodrama to 11 in the first half hour as the couples introduce and deal with their own issues unhealthily. Feeling a bit too THE BIG CHILL-ish for my tastes, these opening moments might entertain some, but had my fast forward finger twitching. I can't say the conflicts interested me much, but they do serve as nice fodder to cast the alien abduction backdrop against once the saucer lands. Blackwood does a couple of nice things with sound here, especially the bone grinding and crunching sounds the aliens make when close. Some creative editing also makes for an uneasy viewing experience as each of the vacationers are abducted and recruited to the alien's dark side.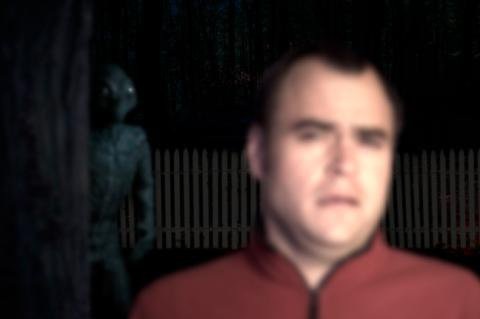 Though on the low end of the budget scale, GREY SKIES is a capable dose of alien horror. Blackburn wisely avoids a cheese factor by keeping the aliens out of focus and into the background. The abduction scenes were somewhat jarring and had I not seen FIRE IN THE SKY, it might have even been a little scary, but having seen that film and loved the way the abduction was handled there, it seemed uninspired.
Unfortunately, with iconic films like CLOSE ENCOUNTERS and even smaller gems like SIGNS, FIRE IN THE SKY, and even COMMUNION, the horrific side of alien abduction has to be pretty original to be effective. GREY SKIES has an expansive cast of decent actors, and Blackwood handles the abduction and creepy build-up with a promising hand. It'll be interesting to see what the director has coming up next, given this capable alien abduction horror effort.
---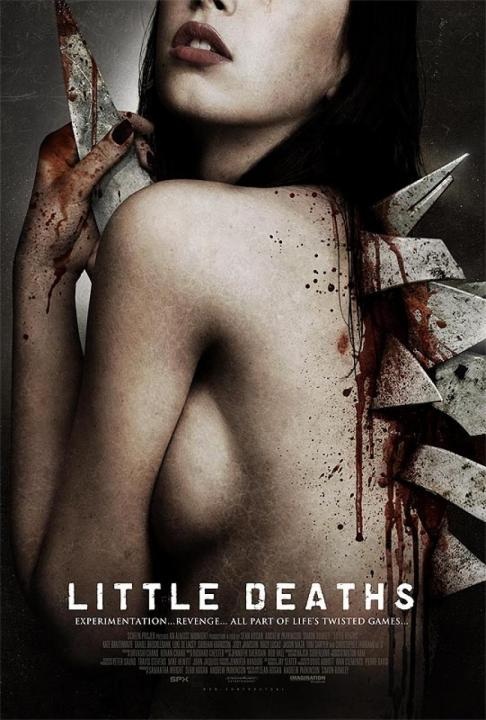 New on DVD & BluRay today!New this week on DVD!
LITTLE DEATHS (2011)
Directors: Sean Hogan ("House & Home"), Andrew Parkinson ("Monster Tool"), * Simon Rumley ("Bitch')
Writers: Sean Hogan ("House & Home"), Andrew Parkinson ("Monster Tool"), * Simon Rumley ("Bitch')
Starring Luke DeLacy, Siubhan Harrison, Holly Lucas ("House & Home"), Daniel Brocklebank, Jody Jameson, Christopher Fairbanks ("Mutant Tool"), Kate Braithwaite, Tom Sawyer ("Bitch")
Reviewed by Ambush Bug
By far, the best film of the week and a sure-fire occupant of next October's best of AICN HORROR column, LITTLE DEATHS is an anthology pairing sex and death in interesting, imaginative, taboo, and deranged ways by some of the most inspiring horror-meisters in the biz today. Structured as three separate stories, the film zags when zigs are expected and will most likely offend you on one level or another.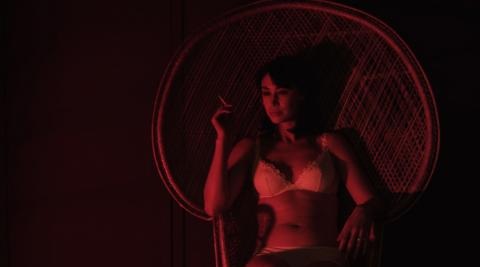 "House & Home" is a fun but somewhat predictable entry, introducing the concept of sex and death which permeates the entire film in a nice way. I guess "nice" is somewhat misleading, though, since the events in this film are about as un-nice as you can get as a husband and wife mislead a homeless woman into their home then use her as a sex slave. The final moments are somewhat out of left field, making the film feel more like an entry from the old TALES FROM THE CRYPT HBO series than any of the other entries. With copious amounts of blood and a jet black sense of humor, "House & Home" is a good first course, preparing one for the dire tones to come.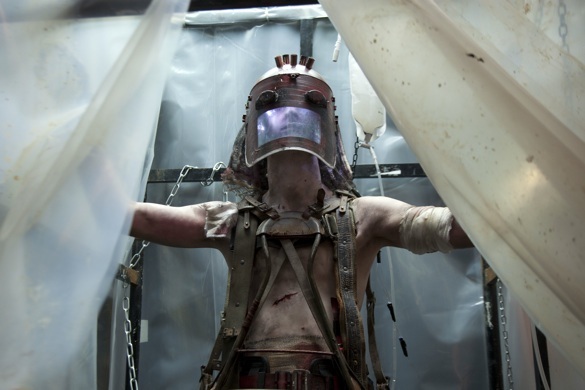 "Mutant Tool" is about as perverse as they come involving drugs, Nazis, prostitution, and giant dongs. Director Andrew Parkinson does a fantastic job intercutting between a prostitute in therapy and a secret drug ring which gets its secret ingredient from the spunk of a chained mutant creature with a giant dangling dong. As the prostitute begins to feel some kind of psychic connection with the chained leftover of Nazi science, her world begins to unravel. The ending is both shocking and unexpected and the level of perversion at play will definitely raise the bile in one's throat. This is some twisted shit, but Parkinson makes it all a fascinating trainwreck to witness.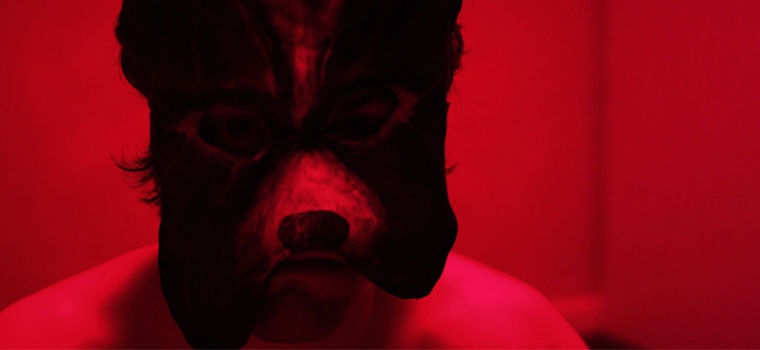 The highlight of this trio of sexually sadistic shorts is "Bitch" by RED, WHITE & BLUE's Simon Rumley (
check out the interview I did with the director here!
). Though the relationship between the two lead actors, Tom Sawyer and Kate Braithwaite, may echo the troubled romance between Amanda Fuller and Noah Taylor in RED, WHITE, & BLUE, the story takes this pairing to much seedier and more psychologically murky depths in "Bitch." Filmed in vivid and devious reds and tranquil and troubling blues, "Bitch" shows how much a feature filmmaker can put into a short film. It's a testament to Rumley's handling of dementedly tricky emotional situations that he is able to allow us to care for both characters in such a short amount of time. Though on the surface the perverse sex shared between Sawyer and Braithwaite might cause snickers, you end up feeling heavy sorrow for both characters at how fucked up their definition of love is. At its core, this is about how weak one can feel in a relationship and how angry that can make one feel. I'm being vague about this story because it simply has to be seen to be believed at how heavily the material is handled. Needless to say, it makes for some of the most provocative moments I've experienced cinematically in quite a while. Though this story may be categorized as the story of the worst girlfriend ever, "Bitch" is so much more!
Not for the faint of heart or weak of stomach, LITTLE DEATHS goes where few horror films dare to. My only criticism is that this film lacks something tying the shorts together. I'm not looking for a syphilitic Crypt-Keeper style horror host announcing each short, but something creative would have made this feel more like a complete film rather than a collection of horror shorts. As is, it still deliver shocks, awes, and scares on every level and will leave you squirming in your seat at the dark avenues and seedy motel rooms these filmmakers have chosen to take us. Though it might entice you to take a shower afterward, LITTLE DEATHS delivers horrors you more than likely have never experienced before.
---
And finally…since we are talking a bit about le petite mort, I stumbled upon this mock preview a while back that blew me away. How is this not a real movie? Love every second of it.

Experience the awesome of DEATH FUCK!
See ya, next week, folks!

Ambush Bug is Mark L. Miller, original @$$Hole / wordslinger / reviewer / co-editor of AICN Comics for over nine years. Mark is also a regular writer for FAMOUS MONSTERS OF FILMLAND and has just released FAMOUS MONSTERS first ever comic book miniseries LUNA (co-written by Martin Fisher with art by Tim Rees) You can pre-order it here! Support a Bug by checking out his comics (click on the covers to purchase)!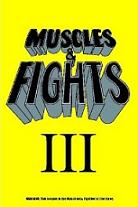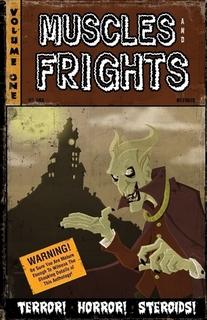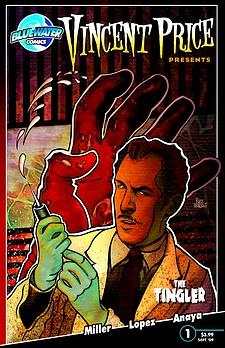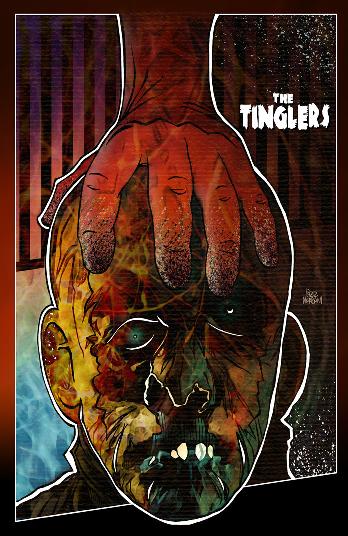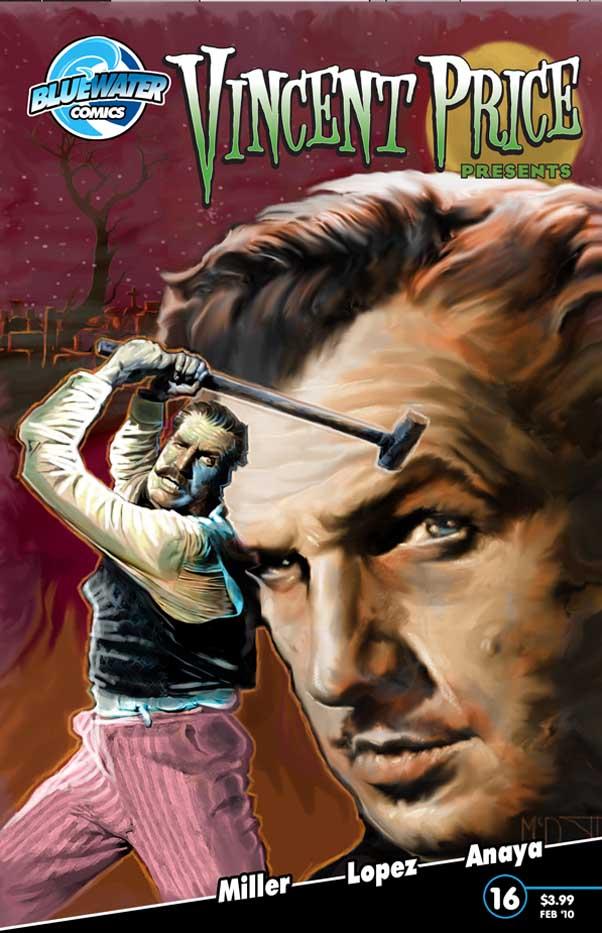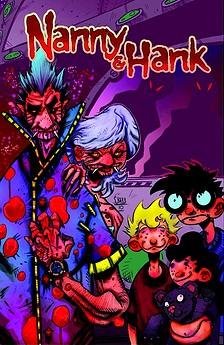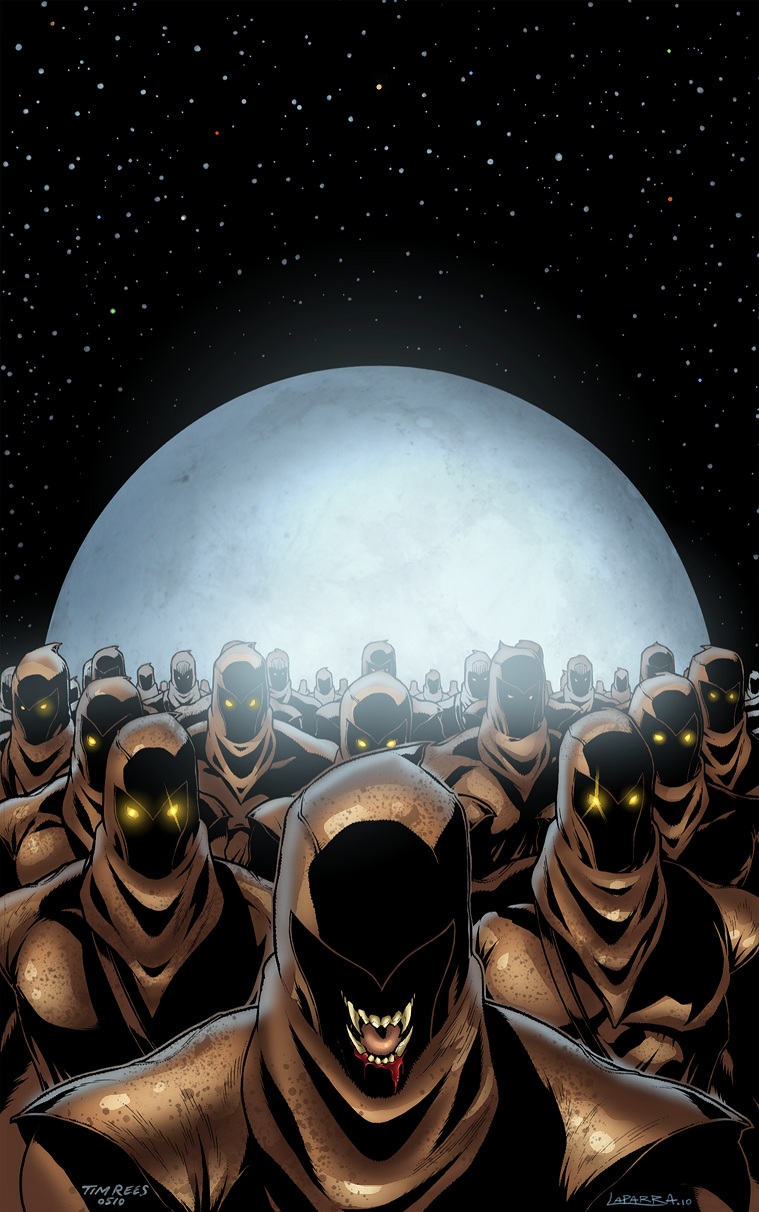 NANNY & HANK's Facebook Page
(Just announced: NANNY & HANK is soon to be a major motion picture from Uptown 6 Productions!)
THE DEATHSPORT GAMES' Facebook Page
FAMOUS MONSTERS PRESENTS LUNA: ORDER OF THE WEREWOLF's Facebook Page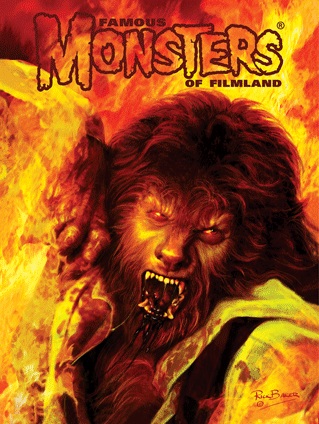 ---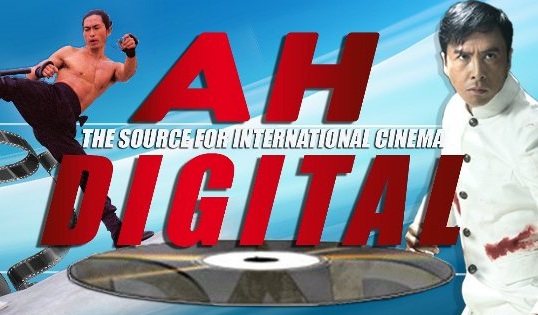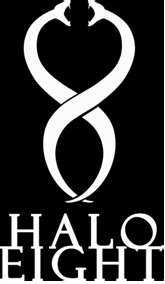 Looking for obscure, foreign, or hard to find DVDs & BluRays?
Check out AH Digital: the source for international cinema!


Interested in illustrated films, fringe cinema, and other oddities?
Check out Halo-8 and challenge everything!



---
Find more AICN HORROR including an archive of previous columns
on AICN HORROR's Facebook page!