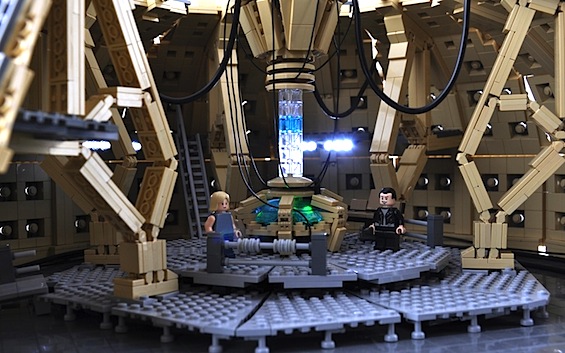 TARDIS control room, custom built from LEGO. Amazing detail shots HERE. Contributed by Margaret!
Merrick here...
...with a look at "The Rescue" - the 11th ever DOCTOR WHO, starring William Hartnell in a story which broadcast on 2 and 9 January in 1965.
BBC HOME ENTERTAINMENT AND AICN WISH YOU HAPPY HOLIDAYS!!
BBC Home Entertainment as graciously offered 1 (ONE) extremely cool DOCTOR WHO prize pack for a lucky AICN reader.
Here's what's up for grabs...
Doctor Who: The Complete David Tennant Years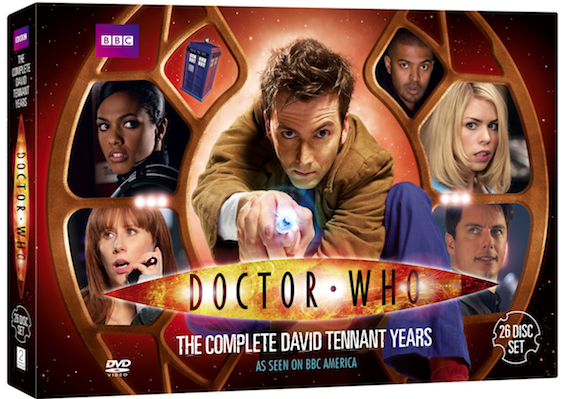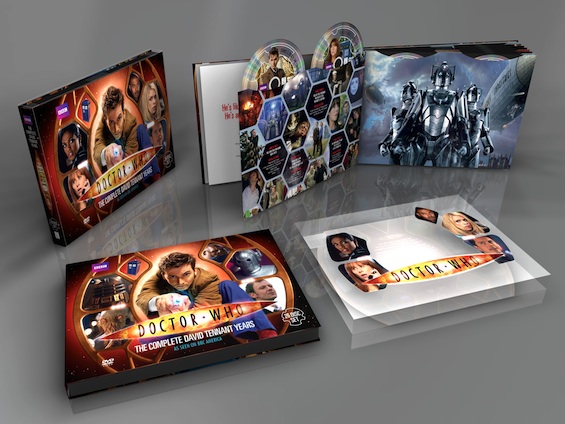 A beautifully re-packaged re-issuance of Seasons/Series 2-4 of the 2005+ DOCTOR WHO (Season/Series 1 starred Christopher Eccleston in the lead role). This set also includes two animated DOCTOR WHO adventures with Tennant voicing the lead ("The Infinite Quest" and and "Dreamland"), and DVDs of the five DOCTOR WHO specials with which the Tennant's 10th Doctor exited the show. These specials are, by the way, also available on Blu-Ray and denote DW's migration towards HD. The other Tennant episodes in this set are not available on Blu-ray, so this is a fantastic opportunity to grab the whole Tennant shebang.
Also included in the Gift Pack are The Eleventh Doctor's Sonic Screwdriver (details HERE), The Eleven Doctors Micro-Figure Set (details HERE), and this 2011 San Diego Comic Con Exclusive TARDIS Bobble Head (which makes sound!)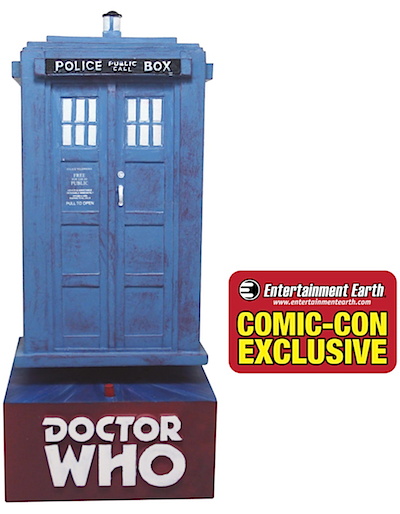 The image file above is named "tbobble." A Gallifreyan rapper?
What do you have to do to win this? 'Tis very simple, but PLEASE FOLLOW THESE GUIDELINES EXACTLY!
I've randomly pre-selected a time of day between now (11:41am CST USA on December 9, 2011) and 12:01 pm (noon +1) CST USA on Thursday December 15, 2011. Whoever's (Whomever's?) e-mail arrives closest to this time of day will receive this gift pack.
I should note that past AICN contests have (literally) been determined by one second. I should also note that I've NEVER seen two contest entries arrive during the same second.
YOUR SUBJECT LINE must include this exact phrase: WHO, WHO, WHO! MERRY CHRISTMAS! Any deviation from this subject line will likely result in my not seeing your entry, and/or your summary disqualification.
IN YOUR MESSAGE: include your full name and mailing address. This is to expedite prize shipment only - all entries will be quickly deleted once a recipient is selected. No Spam lists, mailing lists, etc.
BE SURE TO E-MAIL ME FROM AN ACTIVE AND FREQUENTLY CHECKED ACCOUNT. If I need to get in touch with you, I won't spend much time chasing you down and will move on to the next closest entry.
This particular contest is available to North American readers only.
You can enter up to 10 (TEN) time per day, and yes I'll confirm the number of time you entered on the pre-selected ("winning") day. If you enter more than that? All of your entries for that day will be immediately discarded.
I'll announce the recipient of the prize pack in next week's Docback (unless the recipient specifically requests that I do not do this- let me know in your entries).
The contest is open now! Have fun, best of luck, and wishing you the happiest of Holidays./...
A huge thanks to BBC DVD for both providing these gifts and handling fulfillment for this awesome opportunity.
CHRISTMAS SPECIAL PREQUEL ONLINE
In case you missed it earlier this the week, BBC has brought online a short prequel to the "The Doctor, The Widow and the Wardrobe." This sets up the forthcoming Christmas Special which airs December 25 at 7pm on BBC One, and 9pm ET/PT on BBC America.
A Docback for the Christmas Special will go online Friday December 23.
A NEW WHOTININNIES PODCAST IS NOW ONLINE!!
This week we set out to discuss DOCTOR WHO, but end up taking substantial (and less focused than usual) detours towards the films of Manahem Golan and Yoram Globus (i.e. Canon Films), the productions of Alexander and Ilya Salkind (SUPERMAN: THE MOVIE, SANTA CLAUS: THE MOVIE), and mull our controversial assertion that the Richard Donner Cut of SUPERMAN II (HERE in U.S., HERE in U.K.) is superior to the Richard Lester version which released into theaters. We finally circle clumsily back to WHO, discussing this bizarroverse iteration of K-9 (available HERE)...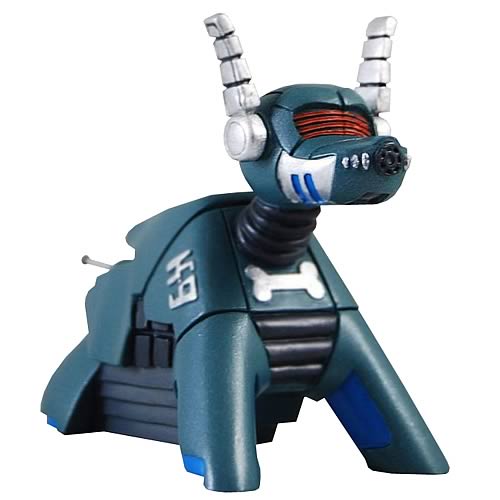 You can download the newest WHOTININNIES HERE, while past installments can be had HERE. And, really, in how many podcasts will you learn about the greatness of a man called Boogaloo Shrimp?
A DOCTOR WHO VIDEO GAME COMING TO PLAYSTATION 3, PLAYSTATION VITA, AND PC!!
Per a BBC Press Release:
Doctor Who: The Eternity Clock will be the first of a series of Doctor Who console games developed by BBC Worldwide Digital Entertainment and Games marking a significant movement into gaming for this business. Two further Doctor Who console game titles are planned to follow this release with details to be announced next year.
[EDIT]
Doctor Who: The Eternity Clock will immerse gamers in the universe of Doctor Who, allowing them to take on the role of the Doctor and River Song as they travel across time and space to save the Earth. Gamers must learn to master the complexities of time travel with exceptional time based game play, changes made in one time will impact another creating multiple possibilities and challenging players to solve puzzles across the centuries.
A wholly new storyline has been developed especially for this new Doctor Who console game franchise, written in collaboration with the BBC Wales team. Photo-real graphics, television quality scenes and highly realistic characters will bring the world of Doctor Who to life immersing fans completely in the twists and turns of an action filled plot. The stars of the series Matt Smith (the Doctor) and Alex Kingston (River Song) have recorded full voiceovers for their characters in Doctor Who: The Eternity Clock and motion capture has been used to create in-game characters that are incredibly realistic providing the ultimate Doctor Who gaming experience.
The DOCTOR WHO universe is, clearly, ripe with potential for video gaming. I'm extremely curious to see how these projects shake out, but also cautious. NOT because of the talent realizing these particular games - but because TV/movie-to-game adaptations are frequently extremely misguided, uninventive, and inadequate. Again, I'm speaking about a general concern here- not necessarily addressing these forthcoming DW games, of which I've yet to see a single moment.
I've recently been playing the LEGO games with my 4 year old (BATMAN, PIRATES OF THE CARIBBEAN, INDIANA JONES, and STAR WARS) and LOVED them - so much accessibility and clarity of adaptation, yet so much cleverness. I'd be orgasmically excited should LEGO ever lience out a DOCTOR WHO game. This possibility is not terribly likely, I should think, but a guy can hope...can't he?
Here's a teaser for DOCTOR WHO: THE ETERNITY CLOCK...
"The Rescue"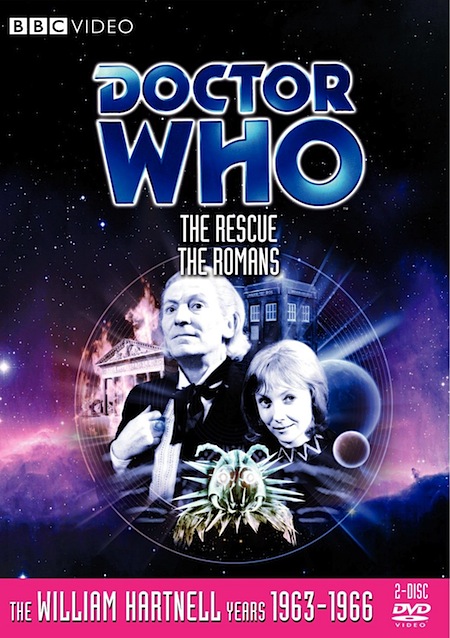 Scripted by David Whitaker, the story finds the Doctor (William Hartnell), and companions Ian (William Russell) and Barbara (Jacqueline Hill), arriving on planet Dido (not "Dildo," which is what I erroneously saw when glancing at this story's DVD case) and quickly discovering the wreckage of a crashed spaceship from Earth.
Amidst the debris, a young girl named Vicki (Maureen O'Brien) and an injured man named Bennett (Ray Barrett) are struggling to survive and awaiting a rescue vessel. They're pressured by an indigenous lifeform named Koquillion, and Vicki is being strongly dissuaded from leaving the immediate area due to potential danger from the planet's native inhabitants.
This story doesn't play well for the Doctor - he's been to Dido before and word of its people's evidently dangerous nature doesn't jibe with his previous experiences here. Are Dido's inhabitants truly threatening Bennett and Vicki, or is the danger they face altogether different in nature? And if it is, how many have already been imperiled...and what horrors could lie ahead?
While the specific plot line of "The Rescue" doesn't contribute hugely to DOCTOR WHO's overall mythology, and the episode's purpose is clearly to serve as an introduction to companion-to-be Vicki, several mechanical elements introduced here which would eventually become significant components in the WHOverse's overall functionality.
For example, this is the first episode in which the Doctor alludes to having previously visited the story's location (i.e the planet Dido) - a device which would be utilized, and useful, time and time again in the coming years.
"The Rescue" also represents the first deployment of the TARDIS' iconic grinding sound over exterior shots of the vessel materializing/dematerializing. Previously, this sound was heard only in interior sequences - external footage of arrivals and departures were accompanied with a very slow fade in/fade out of the TARDIS general systems "hum," but never the signature grind...until now.
As alluded above, this is also the first time a "companion" was invited to join the Doctor (on screen, at least). Ian and Barbara didn't intend to accompany the Doctor and Susan on their journey in the show's opener, although it's reasonable to assume that the Doctor asked his granddaughter Susan - who he ultimately ditched on future Earth ion the conclusion of the story preceding this ("
The Dalek Invasion of Earth
") - to join him before we first met the duo in "
An Unearthly Child
." At the very least, it's a safe bet she didn't resist joining her "grandfather," otherwise the Doctor would be nothing more than a creepy and possibly pervy old kidnaper. Which is, of course, not the case. The new companion we're discussing in this instance is Vicki.
Given that "The Rescue" is only two parts long, there's not a great deal of story mechanics to dissect this time around. The "kept woman" motif in which we initially find Vicki ensnared doesn't play as poignantly or as intelligently as it might've, but the relative lameness of this conceit is effectively dispelled by an unexpected "What the Hell? Did they really just do that?" sequence involving Barbara, Vicki, and a pit creature which looks like it could easily be an AICN staffer...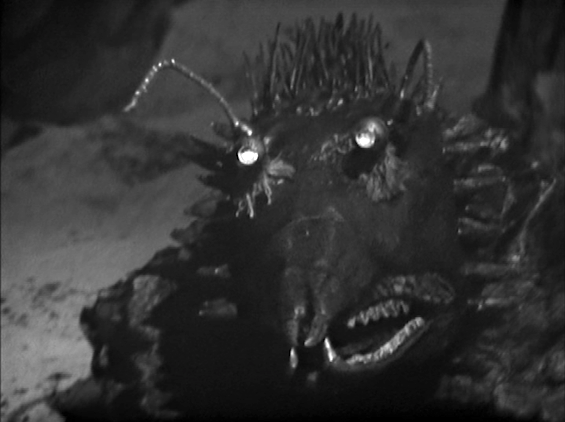 Whitaker and director Christopher Barry maintain a brisk pace throughout the proceedings, injecting a few new effects into the WHOVerse that we'd likely take for granted today, although they represented a tricky new approach at the time. These shots work surprisingly well, this establishing shot of Ian and Barbara discovering Vicki's wrecked ship being one example...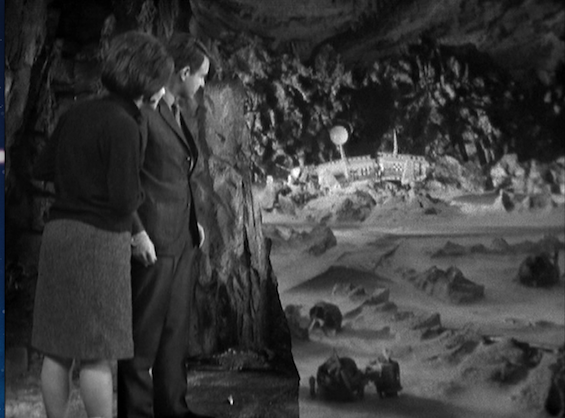 Without a great deal of meat to chew on, the whole of "The Rescue" could've easily passed as roundly unmemorable and utterly vaporous save for Vicki's inclusion. However, the story's final ten minutes or so are conveyed with both visual flare and dramatic gravity - brining us one of our most pointed glimpses to date of the Doctor in his 'Don't fuck with me, I'm admonishing a villain!' mode...followed by a lovely and understated sequence in which the Doctor invites Vicki to join him on his journey. It's shot in considerable darkness outside of the TARDIS, and chiefly illuminated by the slowly pulsing lantern atop the craft. Smart, simple, and classy.
Generally lightweight but never disagreeable fare, "The Rescue" cheekily concludes with...literally...a cliffhanger segueing us into "The Romans," which we'll take a look at next week.
NEXT WEEK
"The Romans" (Hartnell, Story #12)
(available HERE in the U.S. and HERE in the U.K.)
PREVIOUS DOCBACKS
[SEASON / SERIES SIX DOCBACKS]

"The Impossible Astronaut"

"Day of the Moon"
"The Curse of the Black Spot"

"The Doctor's Wife"

"The Rebel Flesh"

"The Almost People"
[RETRO-WHO DOCBACKS - MOST RECENT DOCBACK IS HIGHLIGHTED]
"An Unearthly Child" (Story #1)
"The Daleks" (Story #2)
"The Edge of Destruction" (Story #3)
"Marco Polo" (Story #4)
"The Keys of Marinus" (Story #5)
"The Aztecs" (Story #6)
"The Sensorites" (Story #7)
"The Reign of Terror" (Story #8)
"Planet of Giants" (Story #9)
"The Dalek Invasion of Earth" (Story #10)
"The Gunfighters" (Story #25)
"The Colony in Space" (Story #58)
"Day of the Daleks" (Story #60) + Preview of the DotD Special Edition
"The Talons of Weng-Chiang" (Story #91)
"The Sun Makers" (Story #95)
"The Awakening" (Story #131)
"Frontios" (Story #132)
"Time and the Rani" (Story #144)
"Paradise Towers" (Story #145) + New WHOvian Documentary / Newsbits
DOCTOR WHO: THE COMPLETE SIXTH SERIES
Merrick's Personal Journey With The Doctor (How Merrick Got Hooked On DOCTOR WHO)
DOCTOR WHO Title Sequences & DW At Comic-Con 2011
"The Crash of the Elysium" (Manchester version - interactive DOCTOR WHO adventure)
Why Eccleston Left, Here Comes Caroline Skinner, And Season/Series Six Part 1 on Blu-Ray And DVD

New Trailer For Season/Series Six Part 2
DOCBACK CODE OF CONDUCT
AICN's Friday DOCTOR WHO Talkbacks - aka "Docbacks" - operate on a different set of standards than other AICN Talkbacks. These standards developed quickly and naturally, and we intend to preserve them. Accordingly, please take a moment to note a few guidelines which should help proceedings move along smoothly and pleasantly:
1) a Docback should be about completely open and free discourse regarding all things WHO (with, obviously, some variation on subject matter from time to time - the real world intervenes, discussions of other shows are inevitable, etc.)...

2) matters of SPOILAGE should be handled with thoughtful consideration and sensitivity.

Posts containing SPOILERS should clearly state that a SPOILER exists in its topic/headline and should never state the spoiler itself . "** SPOILER ** Regarding Rory" is OK, for example. "** SPOILER ** Battle of Zarathustra" is fine as well. "**SPOILER** Why did everyone die?" Is NOT good.

And, above all...

3) converse, agree, disagree, and question as much as you want - but the freedom to do so is NOT a license to be rude, crass, disrespectful, or uncivilized in any way. Not remaining courteous and civil, as well as TROLLING or undertaking sensational efforts to ignite controversy, will result in banning. Lack of courtesy may receive one (1) warning before a ban is instigated. Obvious Trolling or Spamming will result in summary banning with no warning. One word posts intended to bump-up any Docback's figures on AICN's "Top Talkbacks" sidebar will be considered actionable Spam - they not only complicate efforts to access Docbacks from mobile devices, but impede readers' abilities to follow or engage in flowing conversation.
In short, it's easy. Be excellent to each other. Now party on...