Greetings! ScoreKeeper here giving out a little heavy metal in time for the holidays. This will probably be my last CD giveaway of 2011 so I hope you take advantage of it.

London Music Works (along with The City of Prague Philharmonic Orchestra) in connection with Silva Screen Records has been releasing new performance compilation albums for quite some time now. Just a few months ago I gave away copies of their James Horner and Hans Zimmer compilation albums. This time I've got Steven Jablonsky at the plate hitting a triple with music from the three TRANSFORMERS films.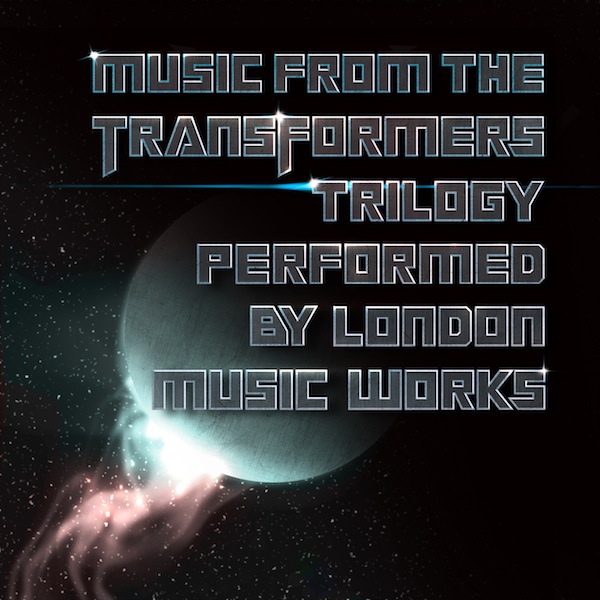 On this album are sixteen tracks featuring six from TRANSFORMERS (2007), another six from TRANSFORMERS: REVENGE OF THE FALLEN (2009) and four tracks from TRANSFORMERS: DARK OF THE MOON (2011).

These are really good performances by London Music Works conducted by James Fitzpatrick that rivals the original recording. As a rule, I'm going to partial toward the original score recordings over any re-recording but I have to say there's a depth and clarity in these recordings that I really like. I thought the originals get pretty muddy most of the time. The chorus sounds great and the electronics are deemphasized a little more than in the original recordings.

For the last giveaway of the year I've got five copies of MUSIC FROM THE TRANSFORMERS TRILOGY Performed by the London Music Works on CD to give to loyal AICN readers.

So what do you have to do?

Just send me an email to scorekeeper@aintitcool.com using the subject: TRANSFORM THE HOLIDAYS! and include your name, mailing address, a valid email address, and either your favorite or least favorite moment of any of the three TRANSFORMERS films. Which ever fires up the most passion in you.

I'll then take all the entires transform them into numbers and blindly pick five at random. Those five chosen will receive this great compilation CD courtesy of Silva Screen Records. The deadline for submission is Sunday, December 11th, at 11:59pm EST. Only one entry per person. International entries will be accepted. Duplicates will be discarded.

That's it! Get your entries in today. I'll be announcing the winners a day or two after the contest closes. Good luck!
If you're on Twitter look me up...