Hey folks, Harry here... Sorry if BUTT-NUMB-A-THON has been a bit of a mystery for folks this year... My key partner in making all the logistics of BNAT to come off effortlessly had a family illness take her away from BNAT at a fairly critical time. Due to the secrecy of BNAT - it has suddenly involved catching a whole group of awesome folks to pick up the ball and make the mad dash to the finish line in a week. So yeah, it is kind of like a 3 ring Circus on fire with Dinosaurs loose and while that does rule... it is a bit of healthy anarchy.
The good news is - there's 13 titles that make up this year's BNAT13WOLF... It just worked out that way. 8 new, 5 vintage. 2 of the 35mm vintage titles - I feel extraordinarily lucky to have - as neither film is available on DVD or Netflix. Both are titles that absolutely must have a release and from what I hear - the prints are outstanding - so once they get announced, most of the hard work is out of the way for those that would make a profit from these titles. So yeah, very happy about that. There is 3D fun this year. FYI for those that need to prepare for that ocular assault.
BUT every year - my favorite part of Butt-Numb-A-Thon - leading up to the event - is collaborating with the artist that creates the infamous BNAT posters. This year's comes from Gordon Jones, who did the 7TH VOYAGE OF BUTT-NUMB-A-THON poster and the 10 COMMANDMENTS OF BUTT-NUMB-A-THON posters. Gordon is a local Austin Art Teacher and a dear friend, one of my Groomsmen - and we first started working together on some concept art he did for me on GHOST TOWN, a project that lost its ground when RELATIVITY went belly up - but still it the project dearest to my heart. Gordon also did the Author Visual Conceptions of READY PLAYER ONE for Ernest Cline.
This year - with the BNAT13WOLF title we decided to base the poster off the layout for the French silkscreened 2-sheet for CURSE OF THE WEREWOLF with Oliver Reed. Albeit... more aggressive, exploitive and with far more BOOBAGE than Hammer bestowed upon that poster. The resulting painting is enormous. 40"x60" - The painting will be on display at the Alamo throughout the event! Spectacular! I love the classic MONSTER MAG sort of vibe from it - and well... There's lots of BOOBS! Why the French? Because it just tickled me. Here's the poster - embiggenable by clicking: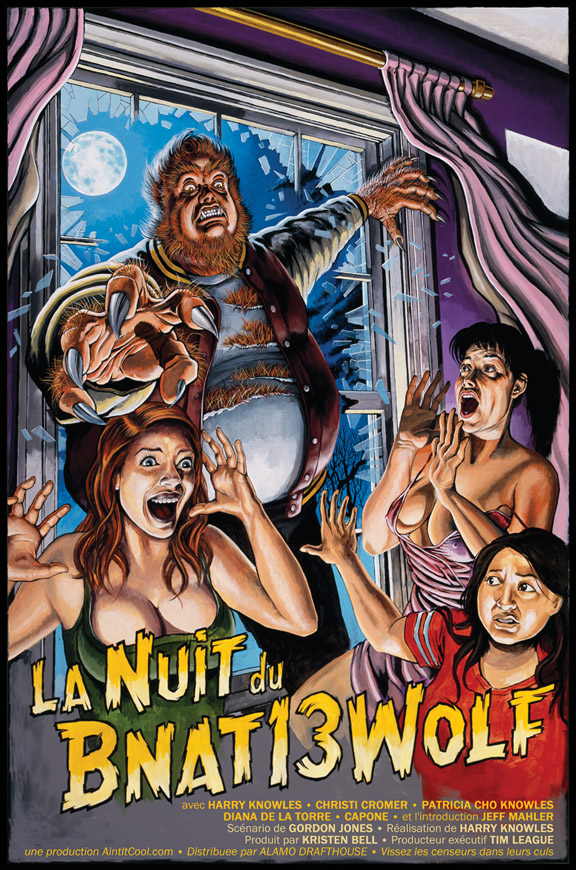 The tickets for this year's BNAT will be going on sale this MONDAY, December 5th. BNATTERS will receive a contact from the Drafthouse - and your ticket, if you're on the list is guaranteed for purchase BY YOU. Anyone not on the list that tries to buy will simply end up making a donation to the SATURDAY MORNING KIDS CLUB - the longest running film series in Austin - and it goes to help future generations cultivate a healthy love and admiration for classic cinema of many genres.
NOW - about the BNAT13WOLF pre-party.... We're taking over PINBALLZ ARCADE, click that link for the location details, but from 8pm to 11pm on Friday, December 9th- BNATTERS will be getting free beer and a few tokens each (if you need more, you know what to do! We do get a discount). I wonder how many BNATTERS will get their photo taken with Pinball Machines that represent past films to premiere at BNAT?!?!? That's a fun one!
Local Austin Geek, hopeful standby traveler - you're welcome to join us at PINBALLZ... you just won't be on the free beer list - SORRY! But we'd love to hang with y'all and play some games!
Alrighty folks... Right about now, in one week, the awesome pain of BNAT will be just about to hit an amazing streak of films! Til then, my friends... Enjoy the BNAT poster! I think it rocks pretty hard!