Finally we're at our last Holiday Gift Guide section of 2011! It's been a long time coming and I wanted to thank you guys for letting me spread these out a little more than I usually do. Compiling, researching and writing The Guide in New Zealand has been challenging to say the least, but I'm quite proud of it.
Let's wrap this up, shall we?
GIZMOS/HOME AND OFFICE NERDINESS
I've combined a few categories into one here. You'll find electronics and home and office fun stuffs below… annnnnnd… let's go!
CHEAP $24.99 and Under
So, it's really just a cheap piece of plastic, but it holds wonders. This Japanese import (Kotobukiya) ice tray will make Han Solo in Carbonite ice cubes. In other words, it is possibly the coolest nerd thing that will spend a lot of time in your freezer. The good news is that these trays don't come with any Ugnaughts. $8.99.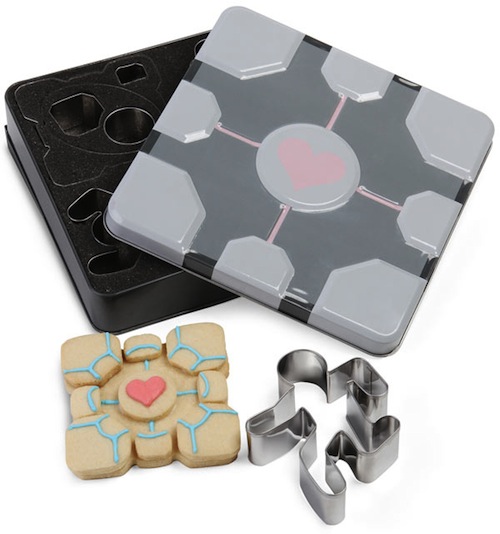 My nerding out on Portal isn't over yet, so don't get all settled in just yet! Whoever thought it was a good idea to make Portal-themed cookie cutters should be taken out back… and given a hug! I want a companion cube cookie! Now we just need a companion cube cake mold to be so meta-geek referency that it'd cause the world to implode. $19.99.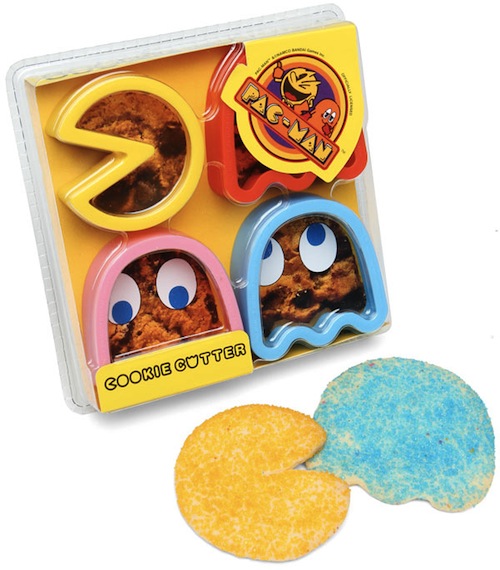 Cookie time ain't over yet! Here's another ingenious set of cookie cutters made for geeks. It's quite a smart angle to play, right? Not too many skinny, non-cookie eating video game obsessed geeks out there I'd wager. Well played, Cookie Cutter Makers. Well played. $15.99.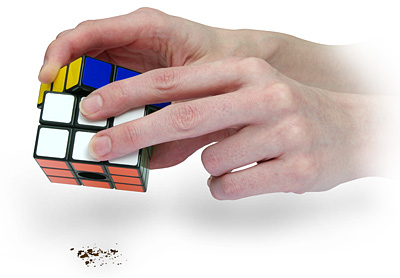 By the time I'm done with you your geek kitchen will be the envy of all your pop-culture obsessed friends. Rubix Cube Salt and Pepper Mills? What's next, Simon Says Waffle Iron? Oh, shit… I need to talk to a copyright that stat! Nobody steal that idea! I'M GONNA BE RICH!!! $11.99 each.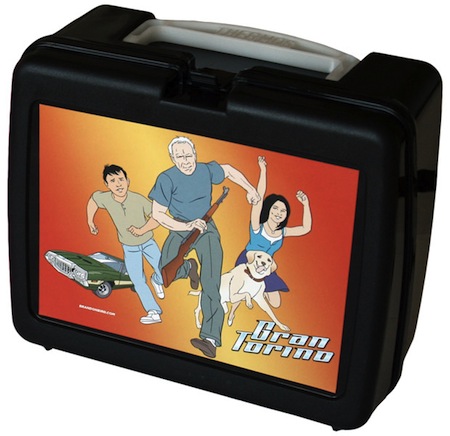 This is another nice little bit of weirdness from Brandon Bird. I'm no fan of Gran Torino, but I am a fan of this particular item. Of all the things to make a plastic '80s style lunch box out of… and that's why it really works as an homage. They made some ridiculous lunchboxes for kids back then. I had a Rambo 3 plastic lunchbox! Why would they make that for little children?!? Now you can take your PB&J sandwiches with the crusts cut off to work in a receptacle bearing the visage of an old racist dude and his Asian sidekicks! $20.00.
There's nothing like serving up a nice plate of sweet and sour chicken with steamed rice and then sticking your lightsaber chopsticks down in front of your date. It's a make it or break it moment. If they think it's awesome, put a ring on it. If they don't, then it wasn't meant to be. Sorry to be the one tell you this. There's a whole series of lightsaber chopsticks. The above is Anakin's set, there's also Dooku, Vader, Obi-Wan, Yoda and Maul should you be so inclined. $12.99.
All you need is love! And these Beatles coasters for your sweaty beverages, of course. I mean, love is all well and good, but you don't want rings to stain up your nice table now do you? These coasters feature the covers of all of The Beatles Albums and thus are awesome. $19.98 plus shipping.
Speaking of awesome coasters, these Portal 2 Warning Signs coasters are brilliant. If you have some cake and want to make sure the test subjects keep their cool glasses of milk tidy, then these are the way to go! Another great item from ThinkGeek! $19.99.
You can drink pints out of mutated animal heads! Yay! Set of 4 pint glasses featuring the grinning mugs of Michelangelo, Donatello, Leonardo and Raphael! $19.99.
A Ninja Turtle lava lamp!?! What'll they think of next? Get this and watch the ooze float around hypnotically! Far out, man! $22.91.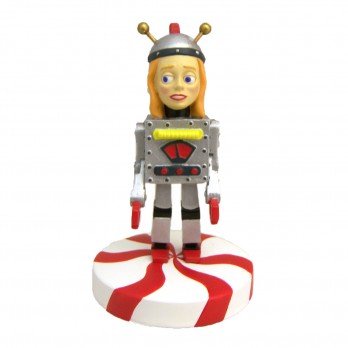 Bleep-bloop, time to put Christmas Episode Britta on your tree! Now if only NBC would have the whole gang you could decorate your tree with all the cool kids from Greendale. Of course if you did then NBC would probably stop Christmas halfway through and hold it indefinitely. $12.95 get you Britta.
This Cylon makes noise and hangs from your tree. Don't trust it. $23.73.
We're not done with things to hang on your tree. John Wayne wants you to put him up, pilgrim, and make no mistake! Perfect holiday cheer gift for the dads and granddads out there! $16.99.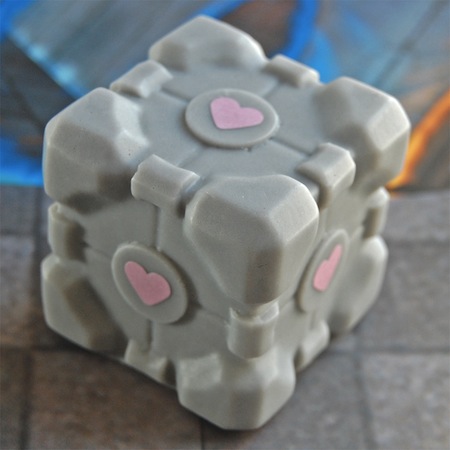 Can there be a more perfect geek item than a nerdy bar of soap? You can say "Hey, check out this awesome NES controller soap!" without the receiver of the gift being tipped off that they are smelly and need to shower some more. The only thing that can go wrong is that they could look at these soaps as collectibles and never use them, but that's a risk I'm willing to take, dammit! Tons of options here. The above mentioned NES controllers, Han in Carbonite, Pac Man, Portal (pictured), Apple Bus Soap, Dr. Who, Thundercats, Transformers you name it! Typically $8-$10 a bar.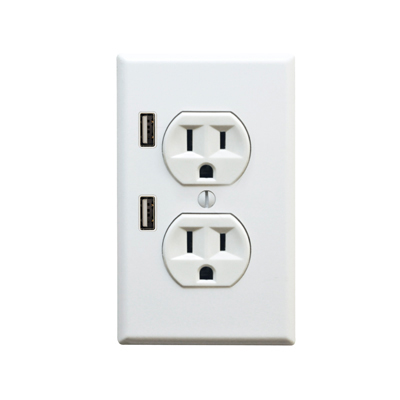 We are living in the future and there's no better visual signal to that undeniable fact than the above. This is a wall power socket that has two regular outlets as well as two USB chargers built in. Charge up your iPhone, iPod, iPad, iWhatever and keep your regular power outlets free! How thoughtful of you! $24.95.
A real, working Dali Clock. How sweet is that? Hang it off of a bookshelf, desk, doghouse, outhouse, shithouse, brick house, Full House or whatever you can find and be the envy of all your cool art friends as they sip wine and eat cheese. $10.90.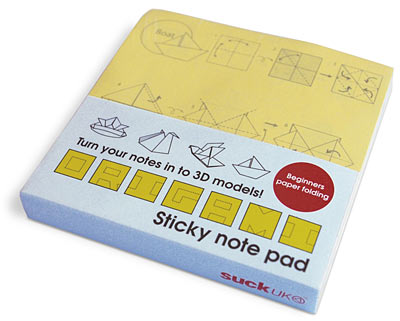 Have you ever wanted to take your stick-it note reminding you to buy some bacon and turn it into a pig? Who hasn't, right? Well now you can with this pack of stick-it notes that come with instructions on how to turn your notes into different origami creations, including flower, boat, pig, bird… no unicorns, though. Sorry Edward James Olmos. Only $3.99 for a pad of 100 pieces of paper.
I don't know why I love this Tiki Tissue box so much, but goddamnit I do. This is kind of the most rad thing ever in my book. This same company also did a William Shakespeare one, too, but that one freaks me out. Giant Tiki Head with Kleenex coming out of his nose runs you $22.24.
Have Godzilla's roar at the touch of your fingers! Not only Big Green but also Mothra, King Ghidorah and Baby Godzilla as well. Far better than trying to make your own Godzilla roar as you demolish your kid's sandcastle or Lego city. Sorry kid, but this is an important adult moment. You'll understand some day. $9.29.
This is a bit of a dick move posting here since it's way sold out, but I think this 8-Bit Wreath is about the coolest wreath ever made by geekkind. So, sorry for the cocktease on this one, but as you can see it is awesome. Maybe Thinkgeek will get some more in? $14.99.
This is a credit card sized lightbulb. And it's cheap. I honestly don't care if it really works or not. The whole concept is so whackadoo insane that I can't help but smile at it. You get five of them for the low low price of $8.00.
Why have a real, giant fridge when you can have a tiny one on your desk powered, via USB, by your computer? Now all your dreams have come true and you can cool your caffeine one can at a time with this USB fridge! $24.95.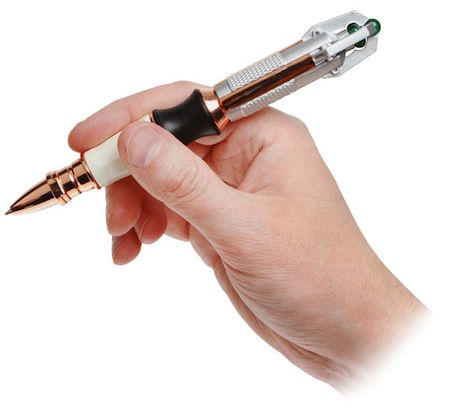 It's a Sonic Screwdriver and a pen all at once! I'm afraid the Sonic Screwdriver part might not work like it does on TV, but I'll bet that the pen part works a wonder! Based on the 11th Doctor's Sonic Screwdriver this pen will make your note-taking so much more fun than it was before! It writes in either black or green and runs ya' $19.99.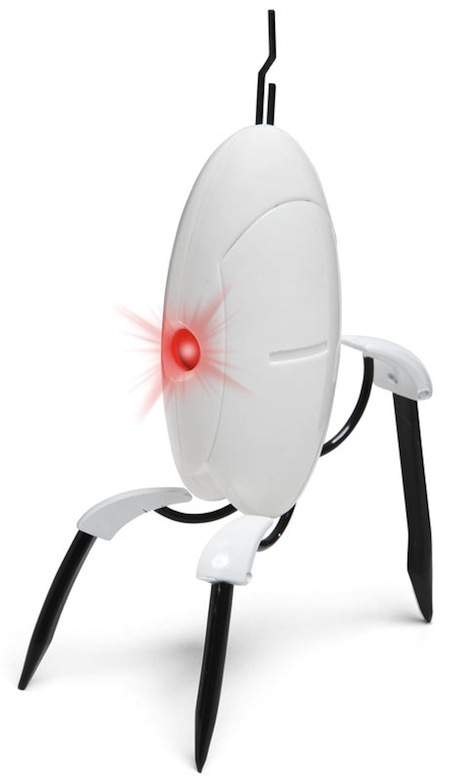 Oh my lord in heaven, I want one! It lights up, has turret sound effects from Portal and Portal 2 and talks! "Are you still there?" "I don't hate you." So cool! The only downside is that it only stands 3 ½ inches tall. If these were full sized (and were motion activated) I'd buy an army and put them in different rooms of my house to keep myself entertained for days and days and days and days! $24.99.
Actually made by the Etch A Sketch people, this iPhone 4 hardcase is all sorts of nostalgic! Front and back, it's just like an Etch A Sketch, although you can't make straight lines with the controls (although I hear there is an Etch A Sketch app…) $24.22.
MODERATE $25.00-$70.99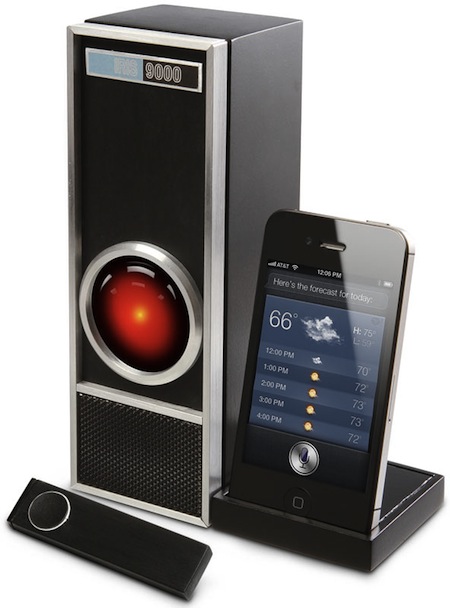 So basically this is a badass speakerphone for your iPhone 4S. The Hal eye blinks in time to SIRI's voice, which you can communicate with from across the room. The Hal box picks up your voice and also amplifies Siri's so when she talks back to you it goes through this device. Another tease, unfortunately as this is sold out, but they expect to have more in 2012. $59.99.
Not only can you plug this Tardis into your computer, not only does it light up and make sounds… the main purpose of this magical creation is to act as a USB Hub. There are 4 USB ports in this sucker. Most USB hubs are ugly, plain things. Not this one, by God! Practical and nerdy! $25.95.
We're not done with geeky Tardis things yet, Whovians! Why stop at nifty electronics when you can also keep your kitchen geeky, too? This electronic cookie jar activates (light and sound) when you close the jar or push down on the lamp. $26.99.
If zombies are more your speed when it comes to baked goods storage then this cookie jar is for you! It also makes a nice present for grandma… if your grandma's cool, that is. If not, I'm sure she'd like a doily set or something. $29.99.
I have a set of these (thanks Aaron) and I fill up my Marvel heroes' heads with Diet Mt. Dew all the time (that looks especially good in the already green Hulk glass). These glasses are a yes. A big yes. $28.99.
I really dig this Nightmare Before Christmas lamp, but I'm kinda macabre so the idea of having a lamp with a tombstone as its base and creepy bats on the lampshade appeals to me. What can I say? $44.99.
This is a nice, hard to find Nightmare Before Christmas piece, a Jack Skellington Christmas Tree that stands 20" tall and has 22 ornaments on it. A nice geeky tree for your desk or teeny tiny apartment! It has been retired, but you can still get it for $40.99.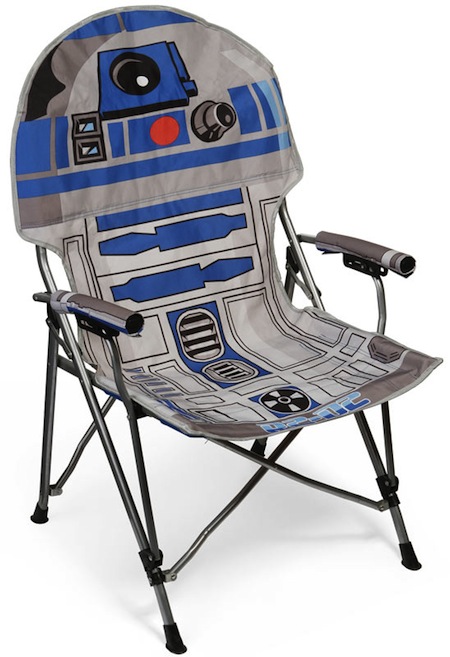 Thinkgeek puts out some awesome stuff, but I feel really sorry for them that they couldn't have been around and put these out in 1999. They would have a batrillion dollars (that's right, I said "batrillion") off of all the fans that suddenly needed chairs en masse so they could camp out. That year was nothing but camp-out time. Toys R Us for the toys and weeks in line for midnight tickets… ah, back in the innocent days before the dark times… Anyway, R2-D2 will hold your lazy ass for only $39.99.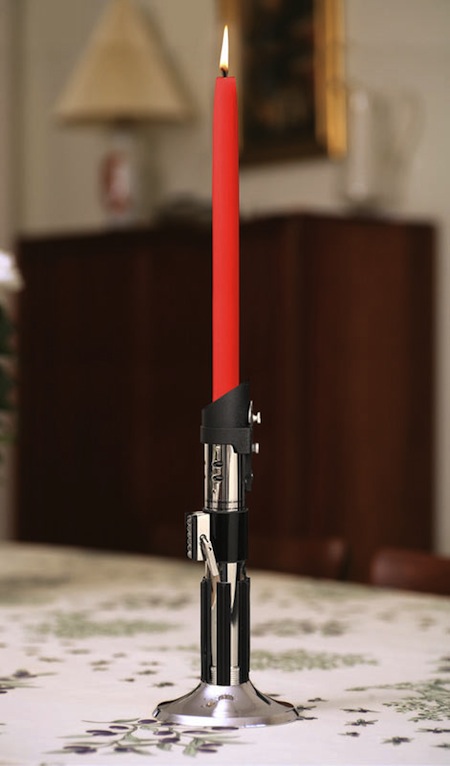 Okay, so yes… this is a solid metal lightsaber candlestick (that comes with 3 red no-drip candles). I dare someone to kill a person with this in the den (actually, for legal reasons I totally do not condone murdering anybody with this novelty candlestick no matter how funny it'd be to have a Clue world merge with geek furniture). Like all cool things this one's out of stock until the end of December, but you can sign up to be notified when it's back in stock over at Thinkgeek. When it is, it'll run you $39.99.
From the Noble Collection comes this Harry Potter illuminating wand… so you get a flashlight and a film prop replica all wrapped up into one! The light turns on with a wave of the wand and the utterance of "Lumos!" To be honest you just need to wave the wand to make it light up, but if you gift this to someone tell them they have to say "Lumos" when they do it and see how long it takes them to figure out they've been duped! $44.49.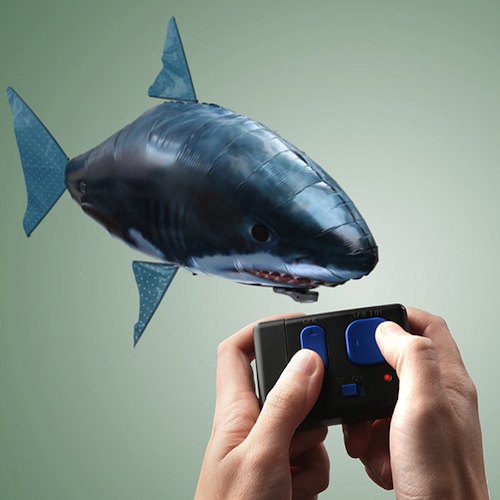 When I gather up my initial list of stuff to include in the Holiday Gift Guide every year I tend to wander around various geek sites, jumping from link to link down many long chains and noting those items that interest me. My notes on this particular piece was (and I quote) "A MOTHERFUCKING FLYING SHARK!!!" And it's remote controlled no less. You need some helium and batteries, but the basic package gets you a remote, the shark balloon (refillable, by the way, and they say one dose of helium keeps it floating for 2 weeks) and a smile on your face so big it's liable to split your damn head in two! $30.22.
EXPENSIVE $71.00-$499.99
The Kindle Fire is Amazon's answer to the iPad. While it doesn't have as wide a range as the iPad, for its price it's hard to beat. When you add in the bonuses you get from being an Amazon Prime member, which includes thousands of TV shows, movies, Cloud storage for your Amazon purchases and something called the Lending Library which acts as a virtual library with thousands of book titles you can read for free, then this becomes a very attractive piece of equipment. I love my iPad 2, but if you don't have the $500-$700 to drop on a cool gadget, but you want a tablet that has all your favorite apps, the ability to read books, magazines, comics and play high def video this ain't too shabby for the asking price. Only $199.99.
For you geeky iPad owners out there, here's a great item. I included it last year and it turns out it was a Thinkgeek April Fool's Joke… much like their Taun-Taun sleeping bag, the demand that arose for their "joke" made the funny one-off turn into a real product. The iCade is built up as an old tabletop arcade game, docks your iPad or iPad 2 and connects to the cabinet controls via Bluetooth. Comes with an app that includes Pong for free, but supports over 100 Atari titles available for in-app purchase. They come in 3 game bundles for $1 each or $14.99 for all 100. Pretty crazy, right? Definitely cool! $79.99.
FOR THE SUPER RICH ONLY $500 and Up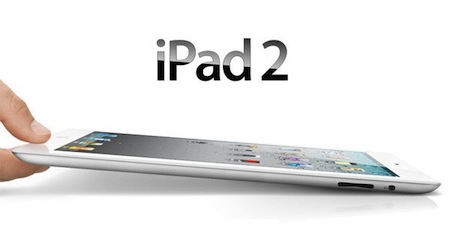 Ah, the lovely iPad 2. We all know how cool this device is (with two clicks and $16 removed from my account I had the new Stephen King book in nowhere New Zealand the day it was released, for example) it's all about which version is right for you. I have the wifi only 16gb version and I have to say that I'd use it more if I had the 3G enabled version. Many options with this product, so read up carefully before you take the plunge. You'll be glad you did. You can check out all the specs at Apple's site and order from them starting at around $499.99 and going up to over $800. You can get a refurbished iPad 2 for $478.95 on Amazon, but is it really worth saving $30 when you could get a brand new one instead?
APPAREL
Below we have T-shirts, glasses, bathrobes, coats, hoodies, replicas, nerdstuffs galore! Enjoy!
CHEAP $24.99 and Under
Don't you hate those pesky 3-D movies, but sometimes you don't have the option of seeing a 2D version? Well, the technology gods have fixed that for you fine folks with these amazing, revolutionary 2D glasses! They turn any RealD filmgoing experience back to 2D! Will wonders never cease? $7.99.
This is a must for cold weather smartphone users. Every year at Sundance I find the juggle of gloves and iPhone to be a pain in the butt and now technology has advanced enough that we can keep our fingers warm AND use our touchscreens thanks to these gloves! There are a variety to choose from, but these particular ones will run ya' $12.99.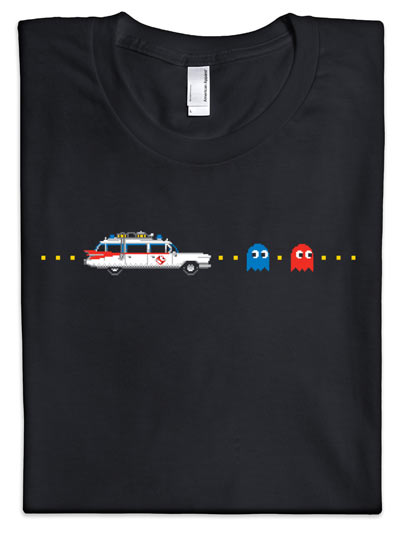 Quite an inventive mash-up here… Pac-Man would have had a much easier time eating up all those dots if he had just called in the Ghostbusters at the beginning. They would have come, saw and kicked those asshole ghosts' ass leaving all the fruit and dots for that chubby mobile mouth to eat at his leisure. $19.99-$21.99.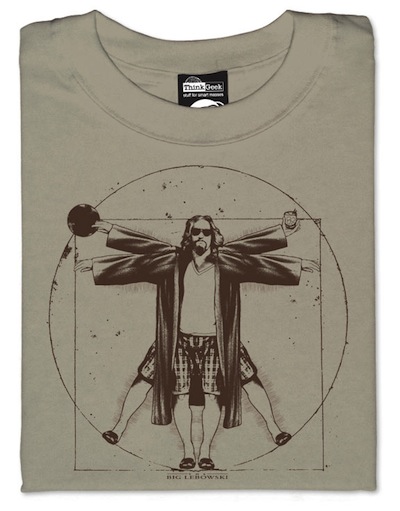 Vitruvian Dude? Kind of a match made in heaven if you ask me. Now whip out that checkbook and slowly write a check for the below amount. If you don't… well, that aggression will not stand, man! The Dude always abides, especially when he's this cool. $17.99-$19.99.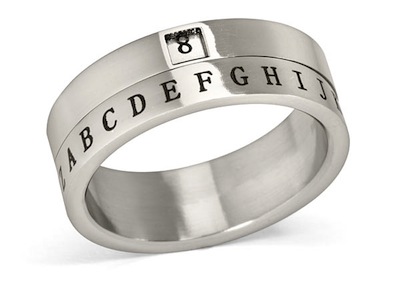 I know you want this secret decoder ring. How do I know? Because I want this secret decoder ring and you all are exactly like me, of course. Who didn't grow up wanting a decoder ring? I think it was A Christmas Story that planted the urge in me and it's a particular itch I never scratched. Now it's possible and cheaply, too. $15.99.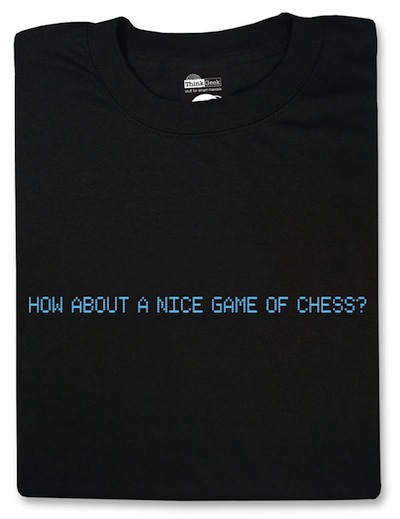 Simple, elegant, cool. A nice game of chess does sound pretty good right about now. None of that Thermonuclear War bullshit! $16.99-$18.99.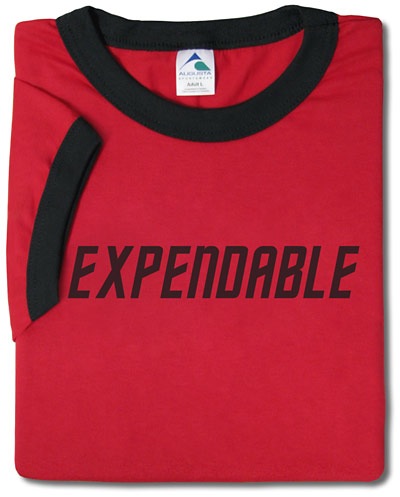 If you get the reference then just go ahead and buy the shirt. $19.99-$21.99.
This comfortable looking oddity is a Pacman Fleece Sleeved Throwblanket. It's a blanket with sleeves. And made of fleece. And geeky love. And awesomeness. $24.25.
MODERATE $25.00-$70.99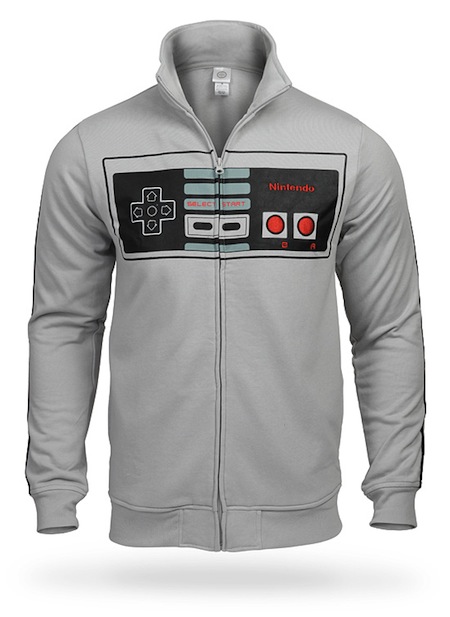 Nintendo. Controller. Track. Jacket. Nostalgic gamers will now be a little more warm this winter season!$42.50 XS-XL, $44.50 for 2X and $46.50 for 3X.
This Portal hoodie (sizes up to 3X) lets you become a test subject without the crazy computer lady trying to kill you or the potential of melting death or laser amputation. Sadly it doesn't come with those awesome kangaroo spring things that allow you to fall huge distances and land on your feet. Maybe next year's guide… $59.99.
I foresee some desperate geek robbing a 7-11 wearing one of these and making a YouTube video that spreads like wildfire. A Captain America hoodie feels like a natural idea, but just wait and see if my prediction comes to pass! Pretty rad hoodie, available in sizes S-2X at $59.99.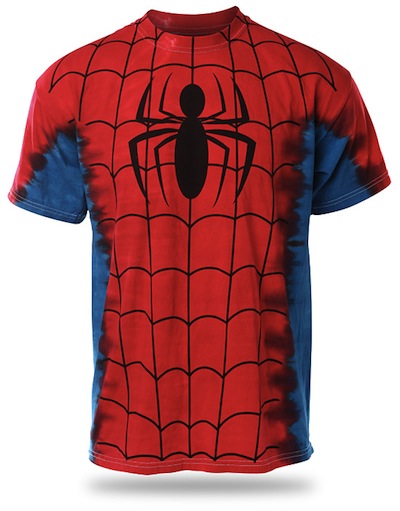 Far out, man! A tie-dye Spider-Man shirt! You'll taste colors when wearing this groovy shirt and celebrate the aerial dynamics of everybody's favorite friendly neighborhood Spider-Man at the same time! (Note, the tasting colors part is a lie). Pretty cool looking. I like! Available in S-2X ranging from $23.99-$30.00.
Beautiful! Simple! Geek greatness! Now you can be Tony Stark and have a cool light up shirt to keep the shrapnel from inching into your heart! I haven't double checked the medical accuracy of that statement, so don't quote me on it. If you have shrapnel inching towards your heart, then get to a doctor, man! Available in sizes S-XL at $29.99.
Be a little Lebowski Urban Achiever and get your very own Lebowski bowling shirt! With a wide range (S-5X) this one's a good bet for just about every little Lebowski (or not so little Lebowski) in your immediate circle! $54.00-$62.00.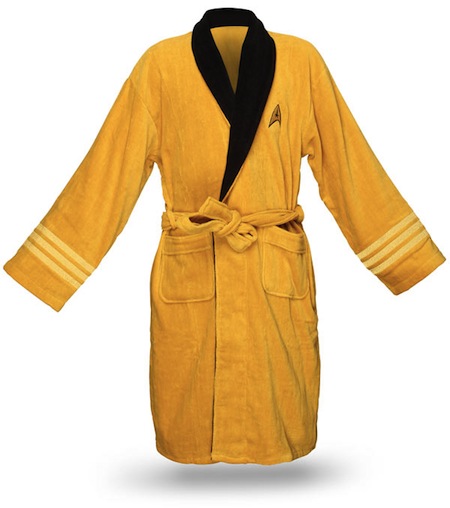 Star Trek bathrobes! The one pictured above is, obviously, Captain Kirk and is a one-size bit (up to 46" it looks like). These are supposed to be incredibly soft and comfortable and you don't have to stick with Kirk if you prefer another crew member. Kirk runs you $59.99, Spock runs you $59.99, Uhura is $59.99.
EXPENSIVE $71.00-$499.99
These Gunnar glasses are made for those of us who spend way, way, way too much time in front of a computer every day. Designed to reduce eye strain, the reviews on these glasses are extremely positive. Apparently they do work… it's just a damn shame I didn't have a pair while working up this Guide. I think I burst 19 blood vessels in my eyeballs with all this geekery! $79.99.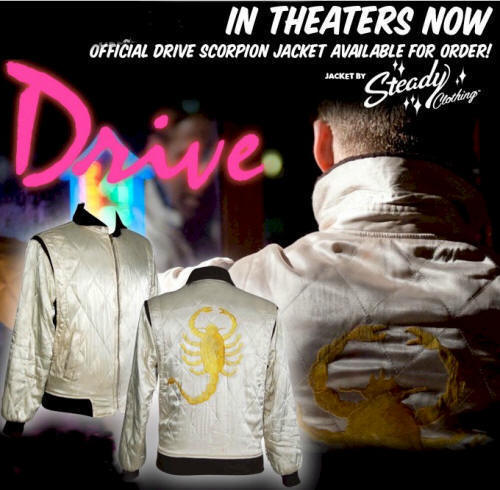 Not shipping until February due to ridiculous demand, you can nonetheless put your very own Drive scorpion jacket on order and be the most badass silent type ever. Note, this jacket does not come with a toothpick, acreepy bald man mask or make-out time with Carey Mulligan. $139.00.
I haven't forgotten you, ladies! There's stupid-expensive super-nerd apparel for you, too. And guys who are into that kind of thing as well, of course. I don't judge. This replica Star Trek TOS dress is pretty hot, I gotta say. For conventions or some play acting to spice up the night life, whatever you guys want. I'm no prude! Currently available in XS, Medium and Large, with XL and 2X coming in January. This one will run ya' $325.99.
If you always thought David Tennant had a real nice jacket then this item's for you! Here's an official reproduction of the 10th Doctor's jacket made with very fine materials and not just on the outside. The lining is also high quality wool blend fabric complete with inner pockets… the perfect place for your Sonic Screwdriver pen from up above! Currently only available in XL and XXL, with smaller sizes on order for the coming months. $329.99.
Come on, admit it. You wanted to dress up like Alan Rickman even before he was cast as Snape in the Potter films. Now you can as Snape's robes are available for purchase. Well, not his actual robes, but you know what I mean. Look like Snape in your day to day life. It's a cheap way to get out of Jury Duty at the very least… $299.99.
First off, you need to click the above link just read the hilarious Amazon reviews… Secondly, you can get your own invisibility cloak!!! Well, I guess just a cloak cloak since it doesn't really make you invisible. But it's an official replica made just like the one used in the movie. It's a heavy velvet cloak with black silk liner and hand silk-screened patterns on the surface. It better be heavy duty since the price tag sure is. $395.00 .
FOR THE SUPER RICH ONLY $500 and Up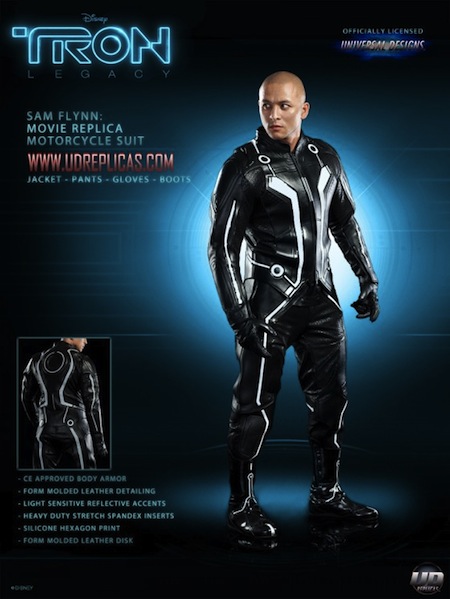 So you're a geek and you ride a motorcycle. You have visions of being in the Tron universe, your hog a lightcycle. Now you can make your dream a little more of a reality with this full body leather riding outfit designed like the suits in Tron: Legacy. The light strips are actually incredibly high grade reflective tape that shines brightly back with even the smallest amount of light. An identity disk is built in the back. You can buy the costume in bits, but the full outfit runs you $995.00 in Canadian monies.
FOR THE SUPER RICH ONLY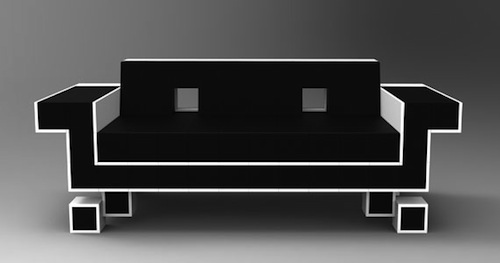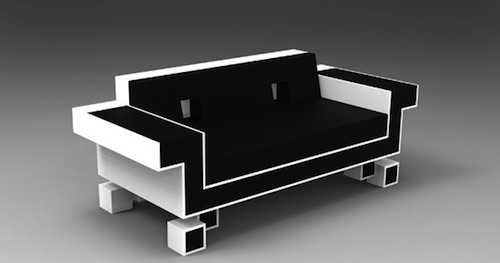 If you woke up this morning and thought, "Self… I think we've earned a custom-built Space Invaders couch. It's a lot of money, but gosh darn it! We're worth it!" then this item is for you! Memory foam cushions, fine leather and all the vintage arcade gaming geekiness $5k can buy! $5,000 plus shipping.
So, it's a penny under the category limit… Sue me (please don't)! Actually, with shipping this one will be over $500, so there! I probably should have thrown this into the Toys or Collectibles categories, but what the hell? It's too cool to exclude. For $500 you get a Twilight Zone Mystic Seer Replica that actually spits out fortunes! It also has a working coin mechanism and is a limited edition actually signed by William Shatner! Only 150 of these exist and you can get you one for $499.99.
Trek nerds will know what this is! It's a phaser rifle from the original series. When a sidearm just won't do, you gotta have some high power backup as you explore strange new worlds. This 1:1 replica was designed using the original prop references, has LED lighting effects, a rotating power selector and a custom display stand. It goes for $999.99 and is on pre-order for a January release.

Here I thought it'd be really funny to include a real life crazy powerful military grade .50 Barrett sniper rifle after the fictional sci-fi rifle replica and now I'm concerned I'm on a watchlist with the searches I just put into google. It kind of blows my mind that civilians can buy this kind of equipment (as long as you don't live in California, where they are super illegal) in America. The model up above is a Barrett Model 99 50 caliber rifle and the all in price for the top of the line is $6799.99. Now I feel really weird putting an honest to god gun on this list… You'll shoot your eye out!

The Seabreacher seems to be a cross between a mechanical shark and mini-submarine. These things exist! People buy them! I can't fathom being rich enough to own something like this… It's some James Bond villain shit right here! The starting price for the Seabreacher X (shark-inspired) is $81,000.
That wraps up the Guide this year. Thanks again for bearing with me as I took a little longer finishing this up due to my Middle Earthy activities. Now that this is done I'm back to focusing on Hobbit stuffs and the Behind the Scenes Pic of the Day will return! Yay!
Hope you guys enjoyed the list this year. As usual it was a huge effort and a giant time suck on my end of things, but the only thing that really matters is if you guys found some cool shit to buy for yourself, your friends and loved ones this holiday season. Or at least had a lot of fun window shopping!
Click here for Part 1 of the 2011 Holiday Gift Guide! DVDs, Blu-Rays, Video Games and Art!
Click here for Part 2 of the 2011 Holiday Gift Guide! Books, Comics, Music and Food!
Click here for Part 3 of the 2011 Holiday Gift Guide! Collectibles, Toys and Board Games!
-Eric Vespe
"Quint"
quint@aintitcool.com
Follow Me On Twitter