Howdy! How was everybody's Black Friday? Show of hands: who got pepper-sprayed for pushing an old lady out of the way for a $2 waffle iron?
So, schedule, length of the list this year and general exhaustion have forced me to split the final Guide piece in two. Usually there are 3 parts to The Guide, but this year there'll be four. I've gathered up Toys, Board Games and Collectibles in this part and will have the rest of the Guide for you hopefully by Monday.
Some good contests in this one, so keep an eye peeled! Have fun!
Click here to see Part 1 of the 2011 Holiday Gift Guide featuring Blu-Rays, DVDs, Video Games and Art!
Click here to see Part 2 of the 2011 Holiday Gift Guide featuring Books, Comics, Soundtracks, Music and Food!
COLLECTIBLES
CHEAP $24.99 and Under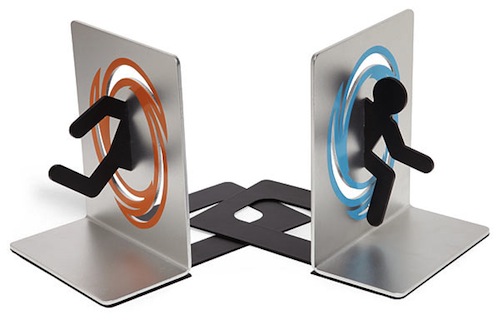 Yes, yes, yes, yes, yes. And yes. Yes. I'm making a note here: Huge Success! It's hard to overstate my satisfaction at these bookends. Perfect. $24.99.
MODERATE $25.00-$70.99
Now this is supposed to be from some Jason and the Argonauts comic book, but we don't need to recognize that. It's a 1:6 skeleton from Jason and the Argonauts! And as such it rules. It's on pre-order for a January release and runs $49.99.
This Batman statue, based on the artwork of David Finch, is pretty badass if I don't say so myself. Limited edition of 5000 pieces from DC Direct you can get this black and white Batman statue for only $65.98.
One of the best zombie designs of the last decade, the Bike Girl from the pilot episode of The Walking Dead, gets a bust! And it's painted and sculpted by KNB as well, so you get the originators of the makeup creating this sweet mini-bust! $40.36.
When someone asks if you want a Terror Dog you say YES! Especially since it lights up. It. Lights. Up. People! On pre-order for February release. $67.99.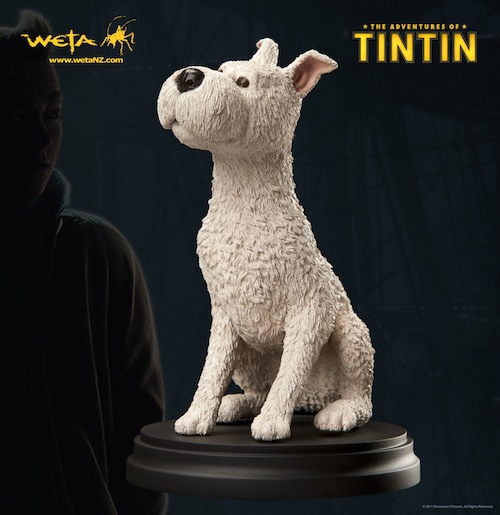 Aww, precious little Snowy! Dog people will love this little guy in The Adventures of Tintin and want one for themselves. Weta has anticipated this need and have made up some nice Snowys for just that need! Shipping next month, you can get your own Snowy for $39.99.
Congrats to the winners Sherri Dean and Arnaud Bonnet!

Arf, arf-arf! What's that Snowy? You wanna go home with a couple of AICN readers? Arf-arf! You've read this site before, right? Who knows who might get you. It could be a nasty, trolly talkbacker… Arf! You hope it's a nasty talkbacker?!? Whatever floats your boat, little fella! You heard, the dog. I have two Snowys looking for a home, courtesy of Weta. If you think you have a good home for him, then email me at this email address with the subject line "I'll adopt Snowy!". Only enter once or run the risk of banishment from the contest! The contest is open to the world, so foreigners have at it! I'll pick the winners before 11:59pm CST Sunday, November 27th, email them and post the names here. Good luck!
Snape, the tragic hero of the Harry Potter series, is yours and no need to make an unbreakable vow to own him, either. Have this visage of Alan Rickman for only $39.99.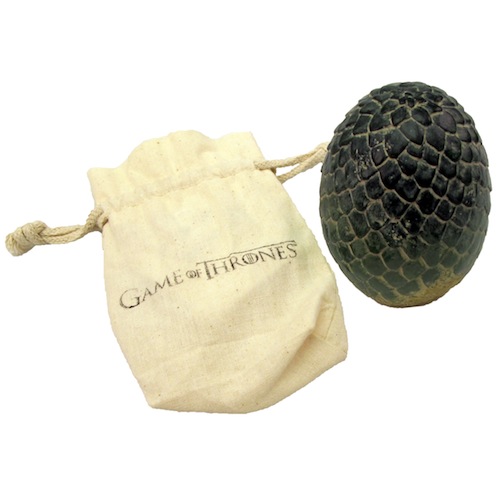 That is a Game of Thrones Dragon Egg Paperweight, the perfect gift for the hot naked blonde Kahleesi in your family! $44.99.
Jewel Staite is cute as a button, so why not keep her forever in your house? I mean, this statue… not her... that'd be creepy and she'd probably need to be fed and stuff. Firefly fanatics and Whedon worshippers will love this. $51.99.
Dr. Adorable is more like it, right guys? Right? Please don't hate me for that… I swear I won't do that again! In keeping with the cute Joss Whedon cast peoples, here's a big-eyed toony version of Felicia Day, the internet's biggest crush! Doing laundry. I'm sure GenderBender is gonna love this one… $49.99.
Here's another cute bookend, this time it's the Peanuts characters playing tug o' war through Snoopy's house. I'm sure Snoopy appreciates them fucking up his digs… It looks like he's cheerleading Charlie Brown's side, but he's really waving him off in that pissed off Snoopy whine/voice that I loved so much as a kid. $49.99.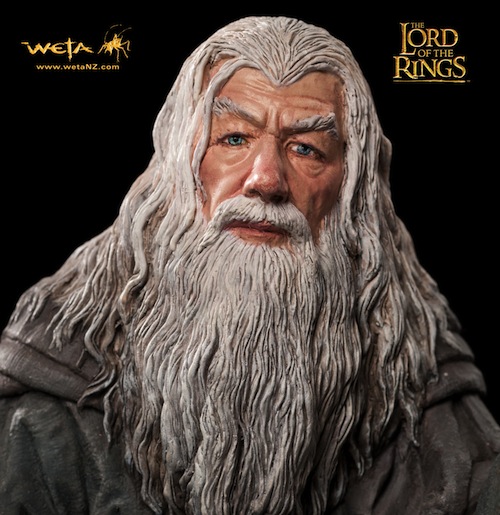 Weta's got a new Gandalf in the works, shipping in January. It's Gandalf the Grey looking serious with some (surely) Shire-grown weed in his pipe. Good ol' Gandy! $69.99.
I think this one was available for pre-order last Guide, but now you don't need to pre-order nothing! Just order it! Iron SnowMan, the perfect nerd Holiday decoration! $40.99.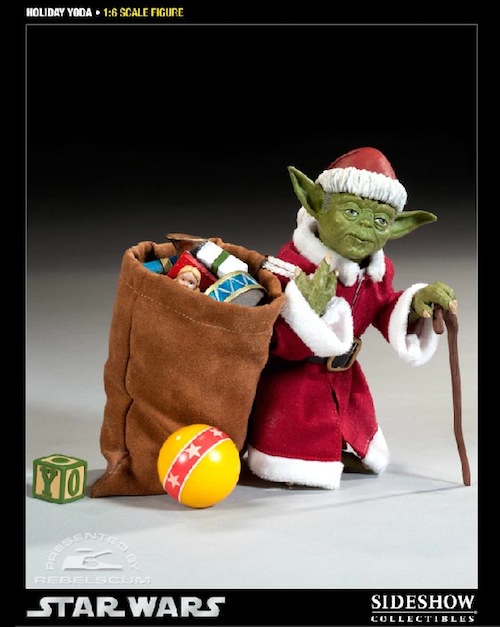 This 12" Santa Yoda is a limited Sideshow Statue recreating Ralph McQuarrie's 1981 Lucasfilm Christmas Card and it's kind of awesome. You not only get Santa Yoda, but also his little slimey mudhole decorated with Christmas lights and presents! $74.99.
Congrats to the winner of this contest, Mr. Andrew Peirce of Australia!

WAIT WAIT WAIT WAIT WAIT! Don't go! It's contest time!!! If you want that Yoda (and I know you do, so don't act all high and mighty) you can win one without paying a dirty red cent. You just gotta email me at this email address with the subject line "Want This I Do!" (if you don't give me that exact subject line I might not see your entry) and your mailing address in the body of the email should you win Mr. Yoda. Easy peasy, right? Only enter once or run the risk of banishment from the contest! The contest is open to the world, so foreigners have at it! I'll pick the winner before 11:59pm CST Sunday, November 27th, email the winner and post the name here. Thanks, Sideshow! Good luck!
EXPENSIVE $71.00-$499.99
Christopher Lee as Dracula! There's a line of Hammer Horror busts hitting in January and they are brilliant looking! Standing 8" tall these aren't tiny little mini-busts. One of the cooler items in the Collectibles Section of The Guide this year… but if you pick up Drac you gotta pick up the next item as well… $79.99.
If you don't pair your Christopher Lee Dracula with this Peter Cushing Van Helsing bust then you are dead to me! DEAD DO YOU HEAR!?! Okay, well maybe not dead, but you will make me a little sad because these two pieces belong together. In my mind as a pair they are the most iconic Dracula/Van Helsing combinations ever. Bela might have Drac cornered by himself, but there's no argument over the best pairing of adversaries in the mythology. $79.99.
Ingrid Pitt's um… bust… immortalized in this… uh… bust. Countess Dracula is the third of the Hammer set and while it is pretty awesome I'd pick up Cushing and Lee first before figuring out if there's enough moolah in the old bank account for her, but that's just me. $79.99.
Looks like the same folks putting out those Hammer busts also have a couple of really badass Star Trek ones coming out. KIRK! Young Kirk, at that. Check that out! Too cool! On pre-order for a February release! $79.99.
Engage! If you're more of a Picard dude or know someone who is, this one is for you (or you can be a Captain completist and pick them both up). As a Next Gen kid who also grew up watching TOS with my folks I've never picked a favorite and you can't make me! $79.99.
If the only thing your house (or boat… or even better, your houseboat) is missing is an Enterprise Dedication plaque replica then this item is for you! This one is the Enterprise E Dedication. This replica has been made by the same prop makers who work on the show, so bonus! $199.99.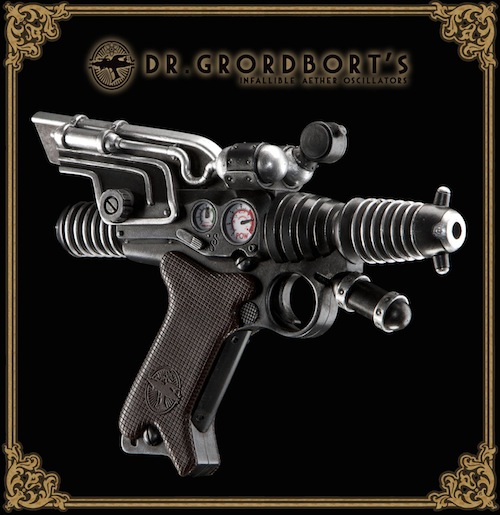 Weta's Dr. Grordborts series is still going strong, thank god for Steampunk sci-fi ray gun aficionados everywhere! The newest entry is called Saboteur 66 and looks really nifty. Made out of lighter weight materials this one isn't as pricy as the earlier guns and can be yours for $89.99.
Congrats to Simon Olliver, the winner of the above raygun!

What's that you say? You want a contest for that awesome Weta Raygun? Your wish is my command! Weta have given me one (and only one, you greedy so-and-sos!) to give to one of you good people. To win you just gotta email me at this email address with the subject line "Pew Pew! You're dead!". Only enter once or run the risk of banishment from the contest! The contest is open to the world, so foreigners have at it! I'll pick the winner before 11:59pm CST Sunday, November 27th, email the winner and post the name here. Good luck!
This 20" tall bad boy is a poor Crabhead dude from Half-Life 2. His pain and suffering is beautiful and limited to only 750 pieces worldwide. There's one left at Entertainment Earth for $249.99 and one left at Amazon for $259.99.
RELOADING! Oh shit, here comes a tank! Who has a Molotov?!? Oh, the many hours I've lost to Left 4 Dead! This Tank statue is pretty awesome and they even painted his eyes with glow in the dark paint! This big bastard stands 15" tall, is created using the original game files to be as accurate as possible and is limited to only 750 pieces! It also weighs nearly 30lbs! $249.99.
I absolutely love this Stripe statue, arms filled with Yum-Yums! Standing 12" tall, this is a perfect gift for the Gremlins fan (ie anybody that draws breath) in your circle! $79.99.
Limited to only 300 piece this Doc Savage statue is pulpy awesomeness. Own the Man of Bronze and let the your friends, neighbors, in-laws and significant others bow to your manly glory! $199.99.
What I really like about this Superman Vs. Brainiac maquette is that it looks like the artists based their Superman on Christopher Reeve. Since we never saw him face Brainiac (just rich robot people with Richard Pryor) on film, this is kind of like 3D fan fiction. Standing over 16" tall, this limited piece (750) will run you $208.03.
Alex Ross' Batman is incredibly cool, so it goes without saying that a statue based on his take on The Dark Knight is also incredibly cool. And it is. So I won't say it. Shit… I already did. I won't say it again! It's a mini-statue, standing over 6" tall and is limited to 5,000 pieces. Yours for $60.48.
What's Batman without a sweet Harley Quinn statue? Especially when she's walking Little Lou and Baby Bud! This is a very well designed piece and stands a huge 16 ½ inches tall! Limited to 1500 pieces, this one runs $279.99.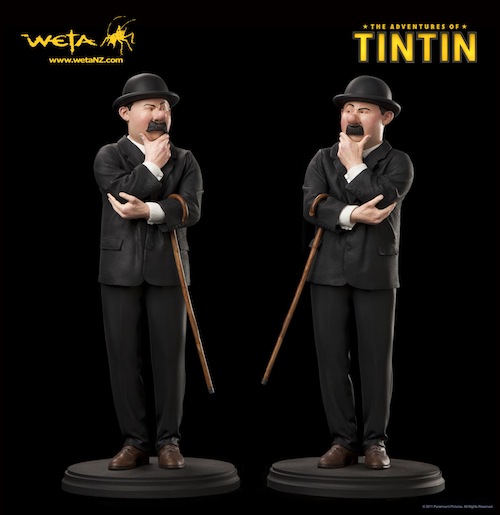 The weirdest set of Nick Frost and Simon Pegg figures ever! They don't even look like the actors! Oh, wait… Thomson and Thompson from Tintin are great and these statues look even greaterer! 1500 piece run, shipping in December! Order now for $299.00.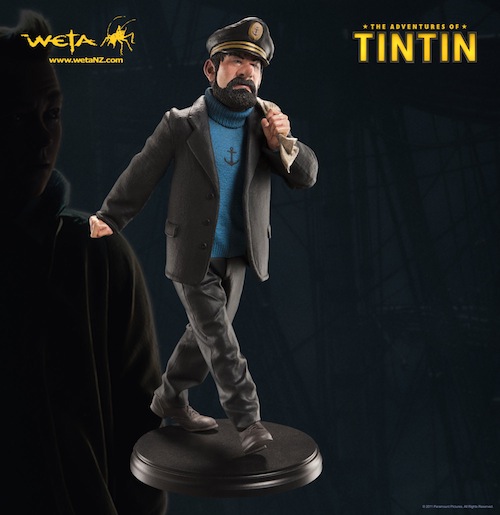 And here's Captain Haddock, one of the two stand-out performances from Andy Serkis this year! Unfortunately there's no Caesar statue from Weta, so I can only point at one great Andy Serkis statue. Maybe next year! From one seaman to another, here's to swimmin' with bow-legged wimmin, Cap'n! $199.00.
A Blue Meanie! Standing nearly 10" tall, this Blue Meanie is limited to 1968 pieces (see what they did there?) and it's awesome. The whole line of Yellow Submarine statues is great, actually. My favorite is the Blue Meanie (which is why he's featured here, duh), but he's followed closely by the great Nowhere Man statue ($119.99). You can also get John, Paul, George and Ringo for $114.99 each. The Blue Meanie is also $114.99.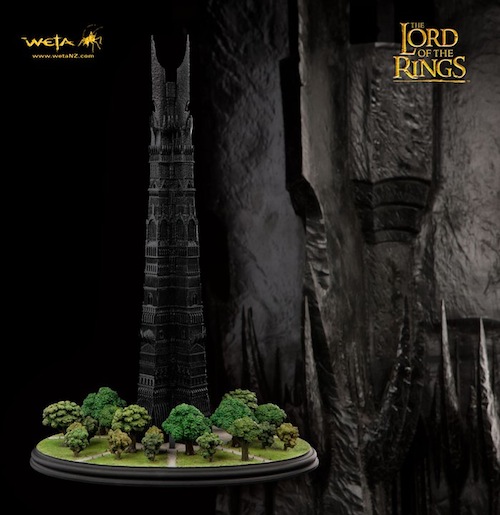 Ah, the good days… before Saruman the Wise abandoned reason for madness, when trees grew wild around Orthanc. I actually saw the artists at Weta working on this when I toured a few months back and they had the original "Bigature" from the movie out for reference. The attention to detail was that specific. This sucker ships next April, but is available for pre-order at 17" tall. $249.00.
Nerd Alert! Link on Epona is beautiful, a hand-painted limited edition statue (only 1500 of these will exist) celebrating the 25th anniversary of The Legend of Zelda. Standing 17" tall and 16" long, this is a massive piece and will set you back and equally massive $439.99. On pre-order for a May 2012 release. It's a ways off, but I had to include it in the guide this year. Very cool.
This full-sized replica of the Plasma Cutter from the first Dead Space game looks great! Not only does it light up (!!!), the Plasma cutter also can switch to horizontal or vertical mode and it comes with a sweet Plasma Cutter case! If a case of Necromorphs breaks out in your area you'll be glad to have this bad boy by your side! $219.99.
There can be only one! Uh… well, I guess there'll be more than one replica Kurgan sword on the market, but you can't feature a Highlander sword and not throw down the "There Can Be Only One!" quote. Be just like Clancy Brown and own this sword! $170.99.
HELLO! This statue's name is Inigo Montoya. You killed his father. Prepare to die! If you give this to your six-fingered friend you are the coolest person to ever live on this earth. Fact! I love this piece and it's limited to only 500 pieces world wide. I've spent too much money on shit from this guide already, but I'm not far away from taking the plunge and just getting this sweet statue. On pre-order for January, this one can be paired with the below item. Cost is $247.99.
That's right, the Inigo Montoya base can actually link to the Dread Pirate Roberts base and you can have your own Cliffs of Insanity swordfight in your home! Too cool! $247.99.
It's not a Holiday Gift Guide without some new, badass Darth Vader statue. And this is that new, badass Darth Vader statue. From his epic fight with Luke in Empire, this 1:6 scale statue is on pre-order for a January 2012 release! Don't say NOOOO! and betray your childhood. Buy this! $224.99.
I have no idea with this Gamorrean Guard statue is so much, but I guess when you're a badass green pig with an ax you can demand a higher price than most. Standing 15" tall, this statue is imported from Europe and is limited to 1500 pieces. $435.87.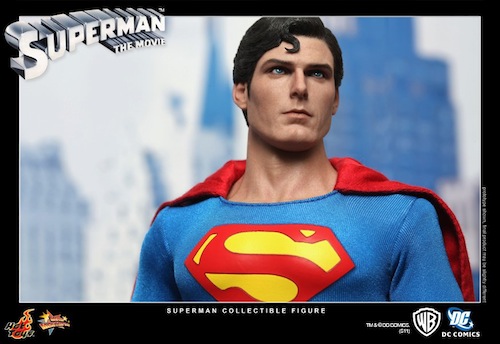 Hot Toys have outdone themselves with this 12" Superman figure. The likeness of Christopher Reeve is freaky. So realistic! These guys always do good work, but this is just on another level. This limited edition figure will cost ya' $209.99, a portion of which will go to the Christopher and Dana Reeve foundation.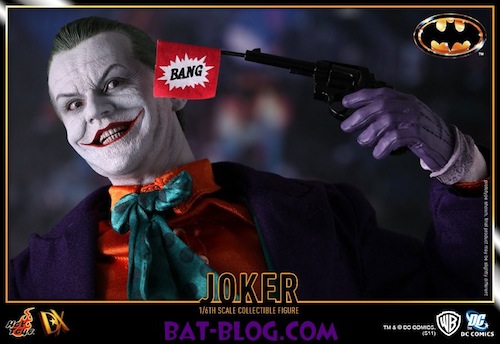 Speaking of ridiculously awesome Hot Toys products, they've also given the Jack Nicholson Joker the special treatment. Their Heath Ledger Joker was incredible, too. If you nabbed the Ledger one this would be a badass counterpart, methinks. Ships first quarter 2012 and costs $264.99.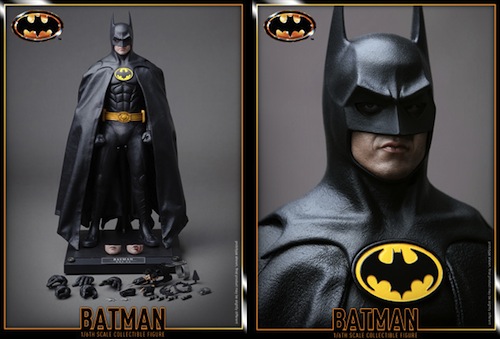 Speaking of a great companion piece, Hot Toys have also done up a Michael Keaton Batman, too. Boy Howdy, it's swell! I always loved this design and Keaton really did knock it out of the park, didn't he? Now I feel like watching Burton's Batman! $239.99.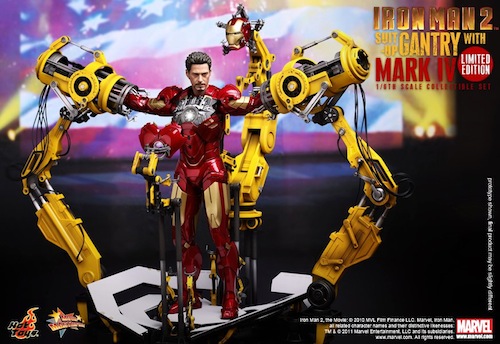 Right up to the Expensive Limit comes this limited edition Iron Man in his Suit-Up Gantry, again from Hot Toys. The Gantry base lights up, you can move the arms into over 80 different positions, and is over 23 inches wide. The Iron Man that comes with it is a Mark IV suit, with light-up eyes and ARC reactor and it also comes with a Robert Downey Jr. Tony Stark head if you want that, too. Lots of options, super cool and super pricey at $499.99. Ships 1st quarter 2012.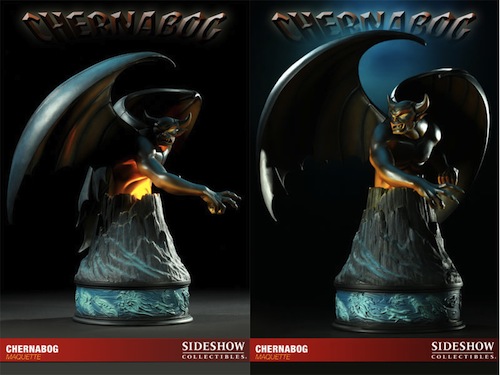 Sideshow's not kidding around with this Chernabog maquette! One of the coolest designed characters in Disney's history gets a 22" tall, 15lb monster of a statue devoted to it. And it's mega-limited with a run of only 200 pieces. $299.99.
More sweet Disney statues! Guys, if your girl is a Disney fan this will be like crack-cocaine for her. What can I say? Chicks dig The Little Mermaid. And why shouldn't they? It's a great flick! $199.99.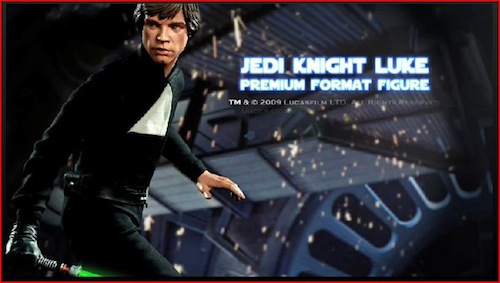 So be it, Jedi. These Sideshow Premium Format figures are killer and this one has Luke as a fully formed Jedi Knight, badass green lightsaber and all! They're running low on these, so this could be your last chance for one. $299.99.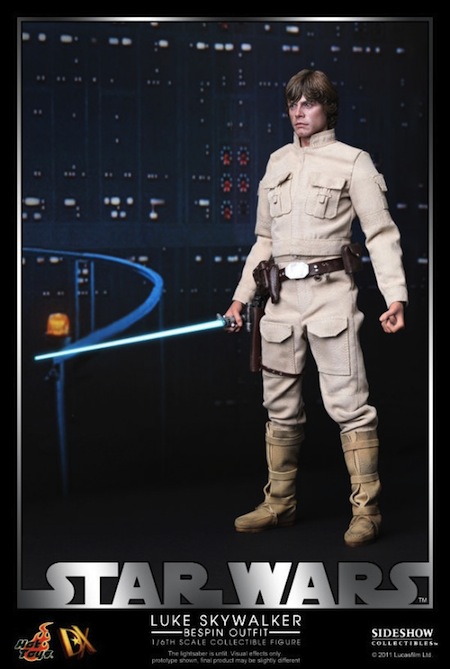 Or you can go back to Jedi-In-Training and snag this Hot Toys Bespin Luke (that even comes with a Lukes-Face-In-Vaders-Exploded-Helmet creepy Tree thing that freaked me out as a kid). You get many options… bloody face, stump-hand, you name it! Another nice piece from Hot Toys!$299.99.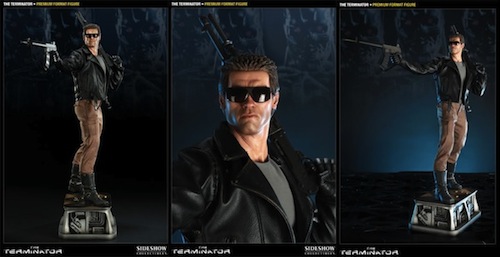 This is one of my favorite Sideshow pieces on the guide this year. Arnold from that first Terminator film is something else. He was a robot! His skin started looking fake as the movie went on! I don't know how they did that!?! This is another one of their Premium Format line, which means it's huge, heavy and badass! The Exclusive Edition has a head that doesn't have the sunglasses and has one eye missing, letting the robot show through! $324.99.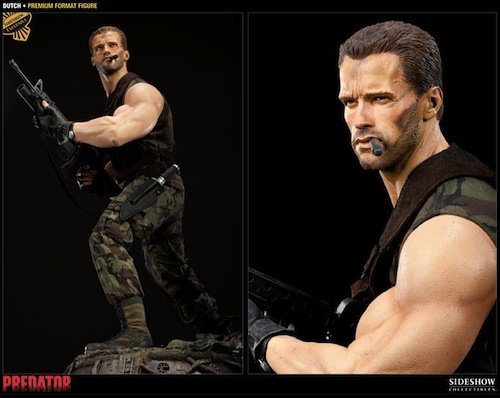 "Get to da choppah!" Arnie, you glorious bastard! An amazing likeness of the man, with the Sideshow Exclusive Edition coming with the above-featured cigar-chomping head as a bonus, from one of his best non-James Cameron-related movies! Now we just need a Carl Weathers and a Billy Premium Format set to follow this up! Not shipping until 2nd quarter 2012, but still awesomesauce! $349.99.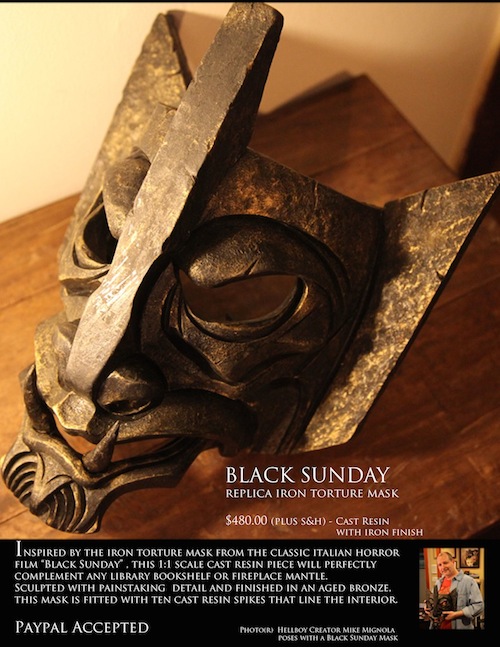 My pal Kevin McTurk has worked for damn near every effects house in the business. Weta, KNB, Spectral Motion… He knows his shit and when he gets his geek on there's nothing like it. Exhibit A is this piece, which he made out of pure love for Mario Bava's Black Sunday. It's a replica of the mask from the flick, hand made by Mr. McTurk and available for $480.00.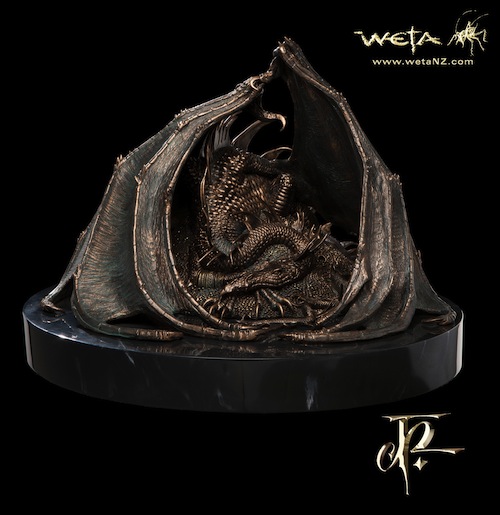 Only 300 of these John Howe-art inspired Smaugs are available. Sure, it's Faux Bronze, but the real bronze statue costs like a billion trillion dollars, so why not take a substitute? With The Hobbit coming up, I can guarantee you'll be jonesing for some Smaug, so if you got the money burning a hole in your pocket, this is a good option! $449.00.
TOYS
CHEAP $24.99 and Under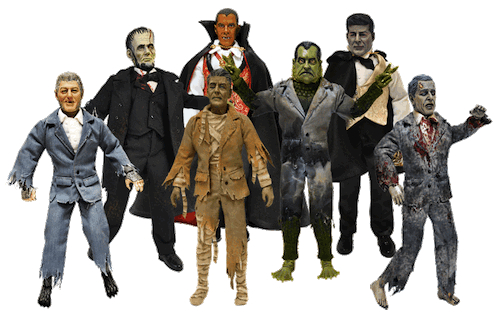 I don't know why I've included any other toys this year. Presidential Monsters is about the coolest line of toys ever conceived and executed. I want ALL of these! A small company called Heroes In Action are putting these out and their website says they're out of stock on Baracula, Monster from the Watergate Lagoon and Lincolnstein, but you can still pick up Phantom of the White House (JFK), Wolf Bill, The Ronmy and Zom-Bush for $24.99 each through the Heroes In Action website or Baracula, Lincolnstein, The Ronmy and Wolf Bill are on pre-order as a bunch at BigBadToyStore for $89.99. So, the Nixon monster is the only one really hard to get, which is a shame because I've seen it up close and they even put webbing between his upraised peace sign fingers… So awesome!
It's a Yahtzee year for The Guide for some reason. So be it! This Yahtzee special Mario edition looks rad! There's a cooler one below, but for the Nintendo family this can't be beat! $16.99.
This is quite possibly the coolest version of Yahtzee ever. Oogie Boogie was a dice-roller as a character, so why not use his head to play this longtime family favorite bonding game? $16.99.
I don't know exactly what this is, some kind of strategy game involving Gremlins… you get 6 Gremlins miniatures, some action cards and a gameboard of some sort. It's some weird Gremlins game and it's super cheap, so worth a how-cool-is-it gamble. $11.99.
ARE YOU THREATENING THE CORNOLIO BOBBLEHEAD?!? Beavis' Cornholio personality is one of the funniest things ever committed to animation, so buy this and worship on a daily basis. Build a shrine of TP for its bunghole and Cornholio shall smile down upon you. $12.99.
Who doesn't love Mickey Mouse? Show me that Pinko bastard and I'll Steamboat his Willy! I'll Mickey his Beanstalk! Wait, that doesn't sound as threatening as I intended it to. Anyway, here's a great little statue honoring the old and new in one piece. Very sweet and perfect gift for youngins and the young at heart. $19.99.
It might not be Barack Obama, but this is still a cool Dracula figure. Diamond Select has a whole line of classic monsters that's pretty rad. I've included some of them below.$19.99.
I'll never get tired of this design for Frankenstein's Monster. It has never been topped, though many have tried. Get the cool monster (as portrayed by Boris Karloff) plus the lab table he was birthed on! $19.99.
And the Diamond Select Mummy figure. Universal Monsters are always a good bet for the movie nerd! No such thing as too many Mummys or Frankensteins or Creatures… speaking of… Creature is below. You can pick up The Mummy for $17.99.
This isn't the best Creature sculpt I've seen, but it does come with a hot babe in a one-piece! Go get her, Fishman! $19.99.
Mario, Yoshi, Luigi, Bob-omb, Flying Goomba and Bullet Bill! Looks great in package, but word is these aren't the most durable little toys. Would make great workplace decorations, though. $23.75.
A different kind of monster… the delicious kind! Count Chocula 9" plush is very cute and awesome for cereal enthusiasts (aren't we all?). He's not the only one available either… $10.99.
Frankenberry! Not my favorite cereal, but he's just a cute little guy, isn't he? $10.99.
Why is Boo Berry drunk? I get the feeling he's going to either tell me he loves me or beat me up for lookin' at him funny. Last cereal monster, I promise! $9.99.
Wait, they didn't do an Alien cereal did they? I don't want to be liar… So, Neca has this great looking 7" Alien figure out. I know you want it, you know you want, everybody knows you want it. No need to be ashamed. We're all friends here. $16.99.
It'd feel wrong to have a guide without some weird Star Wars cheap toy set, so here's such a cheap toy set! Jabba, Salacious Crumb, Hot Green Dancing Alien Girl (I know her name's Oola, nerds. Relax!) which is usually $39.99 is on sale for $19.00 at Entertainment Earth right now.
At 13" Tall with a wingspan over 10" you can own one of the best designed creatures to ever grace one of Guillermo del Toro's movies: The Angel of Death from Hellboy 2. This item has been available before, but never this cheap. $16.99.
This is kind of a genius idea for a toy. The Space Monolith is essentially just a black brick, but with the right packaging it becomes sci-fi nerd porn awesome! $12.99 plus shipping.
Another board game that came out while I was here in New Zealand, so I haven't played it yet, but I'm a little obsessed with movie/tv/pop culture tie in board games so of course I ordered me one of these. And I haven't seen one episode of the new season of Walking Dead yet. Damn you NZ TV! $22.73 plus shipping.
MODERATE $25.00-$70.99
Speaking of The Walking Dead, McFarlane has the license for the toys with two versions hitting streets. Already out is one based on the comic books, which is the one featured here. In January there's one based on the Walking Dead TV show, but this set is good for now with a comics-accurate Rick Grimes, Michonne and two zombies in this set. You can pick them up separately, but it's cheaper if you buy the set together. $54.99 for all four.
Why be stuck with someone else's zombie design when you can make your own? If you have a creative horror fan in your circle this is a good gift. Make your own zombie! Kind of like a model kit, paint it up yourself, etc, but with a few different base options. Want more exposed bone? There's a limb for that! Pretty nifty! $59.99.
The Mistress of the Dark is now available as a model kit and a pretty sweet one, too. This 1:8 scale model is yours for $31.99.
Nothing says "I Love You" like gifting a little plastic horribly scared murderous child molester. Ah, Freddy… old good Freddy, not new shitty remake Freddy. This Neca two-pack gets you two figures, one based on the first Nightmare film's design and the second based on Part 2. I'm quite partial to the first design, especially since you can give him super long arms. $.
Great Caesar's Ghost! A 1:32 scale model kit of the '60s Batman TV show Batmobile is available. Yes, sir. Is nice! $32.99.
Part of Halo's 10th Anniversary comes this McFarlane Toys 3-pack celebrating the changing designs of Master Chief over the first three Halo games. For Halo geeks (myself included) this is an awesome gift. $29.99.
The design of Mass Effect is outstanding, so much so that I'm shocked they haven't made it into a movie yet. I predict in about 10 years we'll be seeing boom of video game movies and TV series much like we're living in the middle of a superhero boom right now. Halo, Bioshock, Fallout, Mass Effect… all ripe for franchise treatment once studios get over the video game stigma. Gore Verbinski's Bioshock movie would have been crazy incredible! Anyway, Mass Effect. With the third game on the horizon, time to get your nerd on with this replica of the SSV Normandy. The detail is pretty great on this one. Very cool piece. $34.99. You can also pre-order the Normandy SR-2 Cerebus ship from Mass Effect 2, which hits in January and runs the same $34.99
Custom Monopoly boards are nothing new, but it's kinda awesome to have a Futurama one, dontcha think? I think so! $33.99.
Toys R Us has an exclusive 7 pack of Toy Story toys from the Hawaiian Vacation short that is all sorts of sweet. The whole gang is here and dressed up Hawaiian style, which is kind of messed up when you consider one of them is a pig. Sorry, Hamm, you're going into the pit!!! $43.99.
I'm sorry, I had to include this even thought it's a pre-order for something 5 months away… It's just too cool. I grew up on MAD Magazine. In many ways it helped for my sense of humor, for good or ill. This set of 6" Alfred E. Neuman superheroes modeled after JLA, called The Just-Us-League, is awesome incarnate. That Alfred E. Neuman Superman is worth the price of the set by himself! Pre-order for an April release at $49.99.
Christian Bale Batman! Cop disguise Heath Ledger Joker! Toys for adults! Yaaaaay! $35.24.
Well I'll be a monkey's uncle! I've lived to see the day that we get a crazy cool Cyrus toy! Standing 9" tall with 40 points of articulation you can get The One and Only from The Warriors. Cyrus is a straight up badass and now you can get this sweet representation of him for only $29.99. Can you dig it? CAN YOU DIG IT?!?
A giant Sentinel toy from Hasbro! It lights up and comes with his own tiny Wolverine figure! Standing over 16" tall, this one will dwarf your other X-Men toys and well it should! $54.99.
A board game where you can play as Godzilla, Gigan, Rodan or King Ghidorah against an attacking army and other Kaiju whilst stomping cities to ashes? Uummm… why has it taken this long for this game to happen? Godzilla: Kaiju World Wars runs ya' $43.99.
Oh my God, look at that big bastard! How great does that look? Godzilla fans will squee with delight! With 29 points of articulation this SH Monster Arts Godzilla is the most versatile version of Big Green yet. He can even be moved into swimming position! How rad is that? On pre-order for a January release at $69.99.
This sucker was $140 a week ago, but the Cloverfield monster is now half off thanks to a Black Friday Sale. If you ever wanted it, nows the time to make the plunge! $60.00 from Entertainment Earth.
EXPENSIVE $71.00-$499.99
Your nerd mancave would not be complete without a dartboard, so why not go the extra mile and get yourself a Star Wars dartboard? If you have a mancave you are either single anyway or have a wife that'd tolerate that level of geekiness! On pre-order for a January release, the dartboard can be yours for $164.99.
Click here for Part 4 of the 2011 Holiday Gift Guide! Gadgets, Gizmos, Electronics, Home and Office Geekiness, Apparel and For The Super Rich Only!
-Eric Vespe
"Quint"
quint@aintitcool.com
Follow Me On Twitter