Ahoy, squirts! Quint here with the beginning installment of my Gift Guide for the 2011 Holiday season! Welcome!
As some of you may have noticed I've been in New Zealand, embedded on the set of The Hobbit, since October. Spending 12 hours a day, 6 days a week, on the set has made the completion of this guide a little more challenging this year, so I've been at it since September, chipping away during my downtime.
I'm going to handle it a little differently this year. Instead of releasing them all at once, I'm going to stagger each section by a day. I'm early with the first section, which usually doesn't post until Thanksgiving and I'm hoping to have section 2 up tomorrow, on Thanksgiving, with the third and final section hitting this weekend.
Of course those plans can go out the window depending on Hobbit stuffs, but I'm doing what I can, averaging less than 5 hours of sleep a night trying to juggle the Hobbit visits, set report writing and completing this guide.
As usual I've broken down each category into different price tiers: Cheap ($24.99 and under), Moderate ($25.00-$70.99), Expensive ($71.00-$499.99) and For The Super Rich Only ($500.00 and up).
There's some great stuff in here this year, including some rad giveaways for the eagle-eyed reader. I did my best to keep the prices up to date, but this time of year as companies struggle to outdo each other with Black Friday deals prices can change quickly. So, apologies if any of the prices are out of date. I'd imagine for the majority of items that if the price has changed it's in your favor since there are some crazy Black Friday deals going down.
Speaking of, keep an eye on Amazon's Black Friday Page. They're have a week of deals and some really good stuff has come up already.
Well, let's get into it. We begin with DVDs/Blu-Rays, Video Games and Art! Hope you guys enjoy it!
DVDS/BLU-RAYS
CHEAP $24.99 and Under
What better way to kick off the Holiday Shopping Guide than one of the hands down best Christmas movies to hit since Bad Santa. This Finnish film feels like an Amblin movie with about 100% more old man dick than Goonies. But don't let that dissuade you. This is probably the best dark fairy tale version of the Santa myth that has ever been put to film. I love this film so, so, so much! $20.99.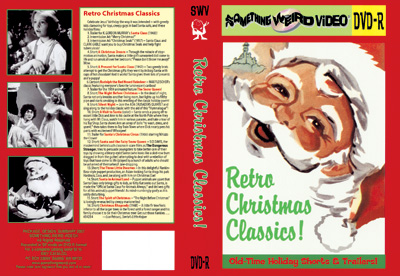 Something Weird Video has a DVD-R out with a ton of weird Christmas-themed obscurities, including Max Fleischer's Rudolph the Red Nosed Reindeer cartoon, celebrity Christmas Seal PSAs, live action, stop motion, animation… you name it, if it's weird, old and Christmas related on it's on this DVD. A great off-kilter gift to get you and yours into the Holiday spirit! $10.00 plus shipping.
While we're on a holiday movie theme, we can't ignore the new Blu-Ray for one of my personal favorite Christmas movies, Scrooged. Bill Murray is awesome, Marion Ravenwood is adorable, the movie is creepy, funny, heart-warming and bizarre all mixed together in one festive package! $16.99.
Do not gift this to your mom! Or do, if you either have a cool mom or wish to be taken out of her will. A Serbian Film is harsh, but is some pretty powerful filmmaking. Playing out as the ultimate fucked version of Fincher's The Game this one won't leave any prisoners. Now, this is still a cut version. Outside of Criterion pulling a Salo and picking it up I doubt we'll ever see a (legal) full version released in the US. I haven't seen the trimmed cut, but I hear it's still got teeth. If you have a sicko friend or are a sicko yourownself then this is the release of the season! $17.99 blu, $17.99 DVD.
If you want a movie with as much grossness as A Serbian Film, but that won't depress the hell out of you (and with less rape) then Riki-Oh is for you. Finally out on Blu-Ray, this is an underground classic. The violence is super cartoony and shocking, but in a really fun way. Kung fu, blood and exploding heads, oh my! Those long-time Daily Show viewers will remember the head crushing/exploding moment from back in the Craig Kilborn days. This movie is all sorts of crazy awesome and would make a great double feature with the below title. $24.98.
Peter Jackson's Braindead (aka Dead Alive) is plain old awesome, one of the best, goriest, most fun takes on the zombie legend ever. It's a uniquely New Zealand flick that is fascinating for genre fans and for Lord of the Rings fans. You can see much of his style that would later be used in the LOTR trilogy utilized here. I haven't seen this Blu, but I hear it's a step up from the DVD. Not sure which cut, but I'd assume it's the cut down US version. Either way, it's very cheap right now and a good place-holder as we wait to see if there's ever going to be an ultimate high def release of this title.$10.49.
Without Heavenly Creatures Jackson and his team probably wouldn't have been able to do Lord of the Rings. Kate Winslet and Melanie Lynskey make their debuts in this fantastic melding of a true crime story and a fantasy about two girls who plot to murder one of their mothers. This film is Peter Jackson firing on all cylinders. There's a reason Jackson and his partner Fran Walsh were nominated for their script. Just an all around great movie. On preorder with a December 13th release. $14.99.
It's about time The Rocketeer gets the high def treatment! Jennifer Connelly in 1080p! Yowza! Joe Johnston's best film is currently on pre-order with a December 13th release. I don't know what the special features are going to be like at the time of this writing, but we know we get the movie for sure and that's what matters! $18.99.
Oh, man. What a nostalgia trip! I loved the Claymation California Raisins as a kid. This set includes all 13 episodes of the cel-animated CBS series as well as Will Vinton's claymation Raisins specials and commercials. Very cool! $18.99.
Speaking of a dose of nostalgia, I'm the happiest boy in the world that Pee-Wee Herman is back in modern pop culture. His Broadway show is a great melding of his previous stage show and characters from the Playhouse. Who isn't excited to see Chairy and Conky and the rest of the playhouse alive and well? This Blu-Ray has a performance of the show and an audio commentary with Pee-Wee and the cast. $15.99 on Blu, $14.99 on DVD.
Louis C.K. is the funniest guy out there right now. Well, that's true, but he has been the funniest guy out there for years, but it's just now that his particular brand of crude genius is being recognized by the world at large. With his fantastic FX show (ahem, look below…) and his last few albums being "I hurt from laughing so hard" funny the man has hit his stride. This feature length comedy film deserves a spot on your shelf next to Eddie Murphy's Raw and Delirious and any of George Carlin's HBO specials. It's that good. And it's a damn shame we couldn't get that experience theatrically. I'd love to see the return of feature length stand-up performances! Maybe someday, but in the meantime we still have this amazing piece of comedy. And for only $13.99.
Season 1 of Louie is the best awkward comedy this side of Curb Your Enthusiasm. $24.99 Blu and DVD combo set.
I have the big ol' Kubrick Blu-Ray box set in the more expensive category, but I gotta recommend this Blu-Ray book release of A Clockwork Orange. It has new docs and a sweet interview with Malcolm McDowell as he looks back on being Alex. It's a gorgeous transfer in cool packaging so if you already have some of the other titles in the box set it might behoove you to pick up this title this way. Or if you don't love your friend/partner/mate/buddy enough to drop $100+ on the big set. $19.99.
Not only one of the great movies, but a gorgeous transfer with some great docs. Although suspiciously missing it Tarantino himself. He's well represented in the vintage behind the scenes stuff, but damn near everybody except for Quentin shows up for the new docs. But it's cheap, is prettier than it has ever looked on home video and is a must have for any High Def collection. $14.99.
Jackie Brown is Tarantino's most underrated flick, which is probably why it's cheaper to pick up than Pulp Fiction, but I love it. It's not Pulp Fiction, which is why people rejected it upon its initial release, but that's exactly why the movie works for me. Bridget Fonda had never been hotter, it has probably the best De Niro performance in the last 20 years and Pam Grier is rockin' in the flick. Pure Tarantino on display here.$10.49.
By all accounts this is an incredible film. Because of my travel I haven't had the pleasure of sitting down and watching Batman: Year One, but I have seen tons of praise for it. That's not surprising since they're using Frank Miller's awesome comic storyline as the basis for the story. Oh, and Bryan Cranston voices Gordon. Yes! $16.99 Blu, $18.49 DVD.
Page One is a fascinating look inside the New York Times as the institution grapples with the emergence of new technology and the downturn of print journalism. David Carr keeps this from being stuffy. He's an opinionated old guard type that is smarter than everybody in the room and often times louder as well. The doc is entertaining, well-paced, very well balanced and an honest snapshot at a time of transition for one of our most respected newspapers. $22.99 Blu, $11.99 DVD.
Keeping the documentary trend going, I have to highlight another great film I saw on the fest circuit. American: The Bill Hicks Story is an in-depth look at the life and career of one of our most talented comedians. Bill Hicks merged comedy with striking political and social commentary like no other save perhaps Lenny Bruce. Made with the participation of the family, there's some incredible footage of Bill throughout his life, including some of his very first stand-up shows at open mic nights. It's sad he left us so soon, but this doc is a great tribute to the man. $20.36 on Blu, $23.99 on DVD.
You will see this film on the top of many a geek Top 10 of the Year lists, I'd wager. Sci-fi, horror, action and comedy are draped over a skeleton of redemptive drama in this debut directorial effort from Joe Cornish. With its star-making cast, whip-sharp script and great special effects, this flick delivers the goods. B'lieve, bruv. $22.99 on Blu, $19.99 on DVD.
Unedited, uncensored and in High Def? I love watching classic cel animation in HD and I'm dying to take a look at this set. I grew up with Tom and Jerry. No, that doesn't make me special, so did everybody else in the English-speaking world. Tom and Jerry are great and this Blu-Ray has their first 37 toons in HD, with an optional 5.1 surround sound and with all the culturally sensitive jokes untouched. Should be tops on most animation fans lists this year. $23.99 on Blu$18.99 on DVD.
Lucio Fulci at his best is hard to top. House by the Cemetery is a really fun, bizarre entry in his filmography. This is one of two remastered Fulci titles Blue Underground has put out this quarter and they're awesome. Blue Underground is known for the TLC they put into their releases and this one comes loaded with special features. $15.99 on Blu.
The second big Blue Underground HD Fulci release is probably his his most famous. Zombie vs. Shark. Yep, this is the one. Not only is there a real live shark and a real live stuntman in zombie make-up that go at each other, but there's also one of the most horrific eyeball trauma ever put to film. For a movie that was only found at the coolest of mom and pop stores in the VHS days it's kind of mindblowing that a 2-disc HD transfer of this is available so readily. $22.99 on Blu.
If you buy one DVD/Blu-Ray on this list, buy this one. Francis Ford Coppola's The Conversation is one of my all-time favorite movies. Made between Godfather 1 and 2, this is Coppola at his peak. It may not be as iconic as Apocalypse Now, but it's a stronger story. Just masterful filmmaking with a leading performance by Gene Hackman that is extraordinary. One of the best, underseen movies of the last 40 years. $17.99 on Blu.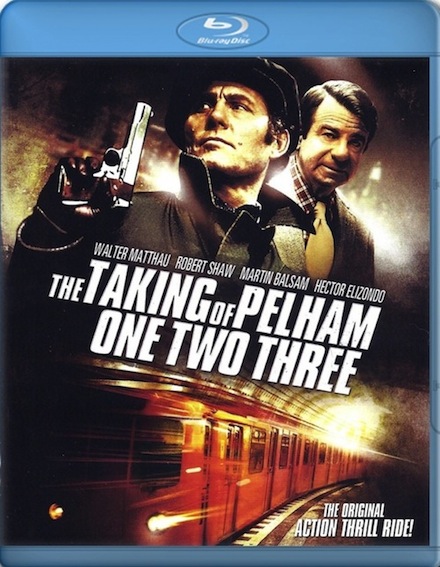 If you buy two DVDs/Blu-Rays from this Guide, buy this one as well as The Conversation. Another underseen '70s gem of a flick starring Robert Shaw (undeniable badass) and Walter Matthau (surprising badass) about a gang of terrorists that hold a subway car hostage under the streets of New York. A million miles better than the John Travolta/Denzel Washington remake. And David Shire's score is funky '70s awesomeness. If you haven't seen this one, blind buy it and thank me later. $14.99 on Blu.
A fascinating must-see for any cinephile. The Moroder Metropolis is an early '80s restoration that features early MTV rock as the soundtrack. Freddie Mercury, Adam Ant, Pat Bennetar and tons more makes possibly the most entertaining version of Metropolis to ever be distributed. Kino, who put out the fantastic Complete Metropolis (on Blu), has also issued this one on Blu-Ray. This is one of the more interesting releases of 2011, with a special nod to Mr. Harry Knowles as well. He played it at BNAT (rocked the house) and that's what got the ball rolling on this particular release. True story. $20.99 on Blu, $19.99 on DVD.
Lon Chaney Sr's famous turn as The Phantom is finally on Blu-Ray! Buy it or Chaney will live under your house and kidnap your wife and play her some creepy organ music! $23.99 on Blu.
It's a sweater! I've got a big soft spot for this John Landis flick and you better believe it'll be waiting for me when I get home from this epic New Zealand trip. $10.99 on Blu.
There are a few Tarantino Fest flicks in the guide this year, but the one with the best theme song is, without a doubt, Hollywood Man. Once you hear it you'll never unhear it. The rest of the flick is good, too, as should be expected from gonzo '70s exploitation super star director Jack Starett. Legitimate badass William "Conan's Daddy" Smith stars as a famous actor funding his own production using dirty money borrowed from the mob. Of course the mobsters don't want to be paid back, they want the collateral put up by Smith, so they do everything they can to fuck up his movie. If you dig '70s exploitation you'll dig this movie. Dig? $9.95 on DVD.
Another QT Fest hit, The Nickel Ride was Jason Miller's follow-up to his star-making turn in The Exorcist. Directed by To Kill A Mockingbird's Robert Mulligan, this '70s mob flick is an astounding piece of cinema with Miller turning in an even better performance than he did in The Exorcist. I haven't seen 99 and 44/100% Dead, but I can tell you The Nickel Ride is worth every penny just by itself. This is a great gift for the cinephile who has everything. On pre-order, to be released December 13th. $15.99 on DVD.
Rowdy Roddy Piper stars as Sam Hell in Hell Comes To Frogtown, a post-apocalyptic slice of '80s cheese. In this apocalypse the wasteland is filled with amphibian men… and Rowdy Roddy Piper, with Sandahl Bergman on his arm, no less. Super cheap, mega-cheesy but kind of crazy fun. On a double-bill disc with another cheesy apocalyptic flick, Def-Con 4. On pre-order, to be released December 13th. $9.98 on DVD.
The Lion King marked the end of the resurgence of brilliant Disney feature animation in my opinion. I'm not the biggest Pocahontas fan, but from The Little Mermaid through The Lion King I have no criticisms. Having just rewatched The Lion King during its theatrical rerelease my love for the film has only been double-confirmed. It's a quick, simple story, but with some amazingly catchy music, breathtaking animation and surprisingly dark subject matter I can't help but love this flick. All Disney Blu-rays have been outstanding, so you'll always see me picking these up. $24.99 for the 2-disc Blu, $29.99 for the 4-disc Diamond Edition, featuring the 3-D Blu-Ray version for 3-D TVs.
If you think it's sad when Mustafa dies in The Lion King you are going to be demolished by a simple shot of a mother elephant's trunk cradling her baby. And then you're shit's gonna freaked out by the Elephants on Parade trippy sequence in this movie. Sure, the crows are a little… um… not PC, but this is a beautiful film and since Disney always pulls out all the stops on their Blus I can't imagine not having this one on the shelf. $23.99 on Blu.
I'm dying to watch this, which is sitting at home waiting patiently for my return. Guillermo del Toro's nightmares on Mimic are well known. He didn't get along with the Miramax producers and of all his films this is the one he believes was the most compromised. Now he's assembled a cut of Mimic which, I imagine, is still not the movie he wanted, but closer to it. I like Mimic already and if this one is more Guillermo-y then I'm sure I'll like it even more! $13.99.
I know Jodorowsky not the most common gift recommendation, but it's fascinating to me that his work is out on Blu-Ray now. It used to be that you could only find El Topo or The Holy Mountain at Mom & Pop stores on the same cult shelf that had 200 Motels and Faces of Death. Now you can get these bizarre films in near 35mm quality from Amazon. I include Holy Mountain here because it's a fascinating film and one that might be a perfect unconventional DVD/Blu gift for a fellow movie geek. $14.99 on Blu.
If you're going for Holy Mountain, might as well complete the pairing and get El Topo, too. Funny, surreal and a badass revenge tale to boot. Definitely a good, off-kilter gift. $14.99 on Blu.
I know very little about this other than it is directed by William Shatner and is all about Star Trek captains, featuring Chris Pine, Patrick Stewart, Avery Brooks, Kate Mulgrew, Scott Bakula and Shatner himself. And it's cheap, so it's a good option for the Trekkie/Trekker/Nerd Supreme in your family! $12.99.
What's interesting about this release is that they're lesser known Kirk Douglas titles, including his screen debut. Here's what you get in this set: The Strange Love of Martha Ivers (1946), My Dear Secretary (1948), The Big Trees (1952), To Catch A Spy (1971), The Master Touch (1972) and a few of his television appearances, including The Colgate Comedy Hour, The Jack Benny Show and a massive amount of Kirk Douglas trailers. Of those features I've seen The Master Touch, a great heist flick from Italian director Michele Lupo. The set is cheap, so I'm willing to bet the transfers aren't fantastic, but hey… they're obscure flicks. Sounds like a great package, though. On pre-order for only $19.99.
Fandom has debated over JJ Abrams' Super 8 since its release and while I think it is a flawed film what works for me works incredibly well. I dig the coming of age part so much that the fairly unearned ending still lands for me. The kids are all great, the movies look like movies should look (in my opinion) and the first 2/3rds I find very little fault. It's a flick about the love of film and word on the street is this is one of the prettiest Blu-Ray transfers out. $19.99 on Blu, $16.99 on DVD.
If you held off on the big Alien Anthology Blu- Ray Box set, congratulations! You can now get the two great Alien movies as single discs. And trust me, you want to get this disc. Alien is not only the best sci-fi horror movie ever made, this transfer is the reason Blu-Ray was invented. The look of Alien and Aliens is so great, clean, but still with the charm of film grain, that I'd describe it as home 35mm. Alien and Aliens are the two best Blu-Ray transfers I've ever seen. Alien comes with commentaries, two different Jerry Goldsmith isolated score tracks and both cuts of the movie. $15.99 on Blu.
Alien was above and now we have to follow it up with Aliens, hands down my favorite James Cameron film and one of the best sequels of all time. Again, the transfer is unbelievable. These discs should be the template for any HD restoration/transfer. If every vintage title looked this on Blu-Ray I'd have to pinch my arm to wake me up from the fucked up too-perfect world the robots have created in order occupy my mind as they suck my life-battery dry. Brilliant film, brilliant transfer, comes with both theatrical and extended cuts, commentaries, deleted scenes and James Horner's isolated score. A bargain at $15.99 on Blu.
Adventure Time takes a bit of getting used to, but once you turn yourself over to the bizarre comedy you'll fall in love. And it's a great item for geek families as the comedy is weird, but still kid-safe. There is a lot of innuendo, but that'll fly over the little nerds' heads and give the adults something to laugh over themselves. My understanding is this set is a compilation of many episodes from both seasons of the show, but in lieu of full season releases this will have to do. $10.99.
The second best X-Men film behind X2 and almost the best period once you consider just how butt-raped we X-Men fans were by X3 and X-Men Origins: Wolverine. I get depressed even thinking about those movies, so let's spend some happy time away from that crap. Groovy 1960s X-Men are awesome, their throwaway Wolverine moment is better than the entirety of the actual Wolverine movie and Michael Fassbender makes a perfect Magneto. I could have watched Fassbender hunt down Nazis using his metal-controlling superpowers the entire film. Sure, January Jones is about as blank as you can get, but Kevin Bacon's the bad guy! So much coolness in here. I could have done with a more packed disc, but I'm just thankful we squeezed another good X-Men flick out of Fox. $24.99 on Blu, $15.99 on DVD.
The surprise of the summer hits DVD and Blu-Ray December 13th and is on pre-order. I can't wait to own this one and relive Rocket being cookied, Caesar's No (so much better than Vader's), Maurice's jawdropping character animation and Andy Serkis' flat out amazing performance. The Blu comes with deleted scenes and two different commentary tracks. $24.99 on Blu, $15.99 on DVD.
The funniest show on television apparently won't ever get high def treatment, but you can still scoop 'em up in "better than nothing" 480p glory on DVD. With the humor of Arrested Development and the rapid-fire stylings of classic screwball comedy this show is aces. Even when they miss it's still great to spend time with this ensemble crew. I can't wait to dig into the commentaries when I get back home. When I got the first season (currently $20.99) I watched every episode once then ran through the entire season again listening to the commentary tracks. If you have a buddy that likes funny things or just need an excuse to finally give this show a whirl yourself, then click away and make yourself happy. You work hard, you deserve it. Season 2 of Community will run you $23.49.
If Community is the best comedy on television right now, the best television is Breaking Bad. Period. I wish season 4 was already out on Blu-Ray so I could rewatch it. If you haven't seen this latest season, you an order the whole thing on Amazon's Video Marketplace for $20.99. This goddamn show just keeps getting better and better. How do they do that?!? The show is about a high school chemistry teacher who puts his skills to use when diagnosed with cancer. In order to keep his family going when he's gone he starts cooking meth and turns out to ridiculously good at it. Shenanigans arise. You gain instant karma points for passing this show on. Season 1 is $22.49, Season 2 is $23.99, Season 3 is $28.99 and you can pre-order Season 4 for $38.99, although I don't know if there's a definitive date yet. Will I pre-order anywhy? Ding-ding-ding-ding-ding-ding.
Animated Chuck Norris? This is a yes. A big yes. I mean, it's the rare item that works as both a gag gift and a genuinely awesome present. Plus it just might save your life because we all know if you don't buy it Chuck Norris will karate chop your throat until you drown on your own blood. That's just the way Chuck rolls. $23.99 on DVD.
Red Vs. Blue has evolved from simple a Machinima comedy set in the world of Halo to a CG-animated sci-fi action series over the course of 9 seasons. You don't need to be a Halo fan to get into this stuff, just a fan of fun things. You like fun things, right? Then this is for you and your fun friends! The new season is out and will run you $14.99 and you can get the Seasons 1-5 box set for $25.99 and Seasons 6-8 for $13.49

OR
Note - Winners have been picked! Congrats to David LaMont, Wendy Holly, Kevin McNabb, Jason Vannette and Sgt. Laszlo Kovacs!

You can enter a quick email contest to win one of five Seasons 1-5 Box sets, signed by the entire Rooster Teeth team! Yay! Freebies! I'm going to have to do the contest as random email draws, so if you want to be entered I need you to email this address with the subject line "RvB For Me! For Me!" and your shipping address in the body of the email (should you win it'll be kind of important). I'll be pulling the winners at random and will post the winners here sometime between right now and Friday at 11:59pm CST. Anybody from anywhere in the world can enter! Good luck!
Hanna's one of the most kick-ass under-the-radar movies this year. I'm shocked it wasn't talked about more, but confident it will have a long shelf life. Equal parts creepy fairy tale and badass action flick, the movie focuses on the survival of a young girl who was brought up to murder fools by her hunted covert ops father. And murder fools she does. Great flick, great performances, great score by The Chemical Brothers. $19.99 on Blu, $14.69 on DVD.
When the DVD for Battle Beyond the Stars hit it seemed to go out of print immediately, so jump at getting this Roger Corman B-movie piece of awesomeness. Equal parts Star Wars cash-in and Magnificent Seven remake, this is a movie that has to be seen to be believed, especially when you consider that James Cameron built the spaceships, including the giant-breasted AI-driven main ship known as Nell. Written by John Sayles and featuring the awesomeness of John Saxon, George Peppard and Robert Vaughn, Battle is one of the classic B movies now available in high def with commentaries and other fun stuffs. $21.99 on Blu, $15.99 on DVD.
And here's one of the best films of 2010, Takeshi Miike's ode to Kurosawa, a samurai epic the likes of which haven't been seen on cinema screens since the master's heyday. You don't get much more badass than this movie. About the time the flaming cows show up you know you're in for something special. A great gift for those who like things which do not suck. $15.99 on Blu, $14.99 on DVD.
Speaking of good movies, here's a film that any cinema fan needs to see. From Warner Archive, Gaslight is a brilliant gothic suspense film from George Cukor starring Ingrid Bergman as an heiress slowing going insane. But is she really sick or being driven mad? Joseph Cotten and Charles Boyer co-star and a very young Angela Lansbury makes an appearance. This is the kind of movie you'll see and want to show your cinephile friends. A perfect gift for the thriller-lover in your extended family that has seen all the classics. $17.99.
Dark of the Sun is another archive release and remastered to boot. This men on a mission flick featuring Rod Taylor and Jim Brown is pure badassness. It's directed by flat out brilliant cinematographer Jack Cardiff (The Red Shoes, Black Narcissus, The African Queen) and doesn't deserve the obscurity it has fallen under. Good on Warner Archive for treating this one with some respect and finally getting it out there for film fans to devour. $19.99.
I love trailers. I collect them on both 35mm and 16mm. Trailers were always my favorite part of going to the movies as a kid, a promise of future surprises. Especially considering in those pre-internet days you really were taken by surprise by each trailer. Now, Joe Dante has been running a site called Trailers From Hell that celebrates trailers, getting people like Roger Corman, Guillermo del Toro, Edgar Wright and Dante himself to have a running trailer commentary track, which usually comes off as movie geeks geeking out about their favorite movies. This DVD is a compilation of those trailers and commentaries, featuring everything from Gorgo!, Deep Red, Flesh Gordon and Little Shop of Horrors. The best part is you have the option of just watching the trailers themselves or with the celebrity commentaries. Too cool and not on the radar of the everyday movie geek. A great idea for a movie fan that has everything. $14.99 on DVD.
While we on this obscure movie geek run I have to feature this box set of crime films from Italian filmmaker Fernando Di Leo. Tarantino preaches a lot about Di Leo and with reason. This dude made some hardcore crime flicks, with great tough-guy actors like Henry Silva and Jack Palance these gritty, harsh stories really make an impact. In particular make sure to check out The Boss and The Italian Connection. Also included in this box set is Calibre 9 and Rulers of the City. All are gold and a steal at $17.49.
This is the DVD/Blu release of the year as far as I'm concerned. Brian de Palma's Blow Out is a gut-punch of a film, featuring John Travolta's best performance and John Lithgow at his creepiest (sorry Dexter). The flick is about a movie sound man out collecting wild sound when he witnesses a car accident that is more than it appears. A brilliant thriller, my favorite Brian de Palma film and all given the Criterion treatment, with an outstanding HD transfer and a bunch of special features. On Blu for $21.99 on Blu and $19.99 on DVD, but if you're going to get the full impact of this release you gotta go high def.
This has been an amazing year for Criterion. It's like they're aiming their releases just at me. Blow Out, 12 Angry Men, Fear and Loathing, The Killing and Kiss Me Deadly are all easily in my top 100 films of all time and to see them get the Criterion TLC makes me think I'm controlling The Matrix. Robert Aldrich's Kiss Me Deadly is one of the very best noirs ever put to film with Ralph Meeker portraying private dick Mike Hammer and the crazy adventure he goes on after picking up a very young Cloris Leachman on a cold, rainy night. She's a woman on the run and the why becomes the big question of the movie. Brilliant movie done up with typical Criterion love and respect. $22.79 on Blu, $21.33 on DVD.
Chaplin as Hitler (well, a tyrant that looked and acted exactly like Hitler, but he wasn't fooling anybody). Perfect. I mean, he already had the mustache, right? This wartime comedy did a lot to take Der Feuhrer a peg or two just before the US entered the war. I've always been more of a Buster Keaton guy, but there's no law saying I can't love both Chaplin and Keaton, especially when Chaplin delivers on this level. He acted and directed for years after this, but The Great Dictator feels like his last true masterpiece. Criterion once again delivers an outstanding package, featuring commentaries, interviews and feature-length docs. $23.49 on Blu, $18.05 on DVD.
MODERATE $25.00-$70.99
As of this writing Criterion's release of 12 Angry Men hasn't been released yet, but you bet your ass this title will be waiting for my return (release is November 22nd). Sidney Lumet's 12 Angry Men is one of my all time favorite films and the fact that it's getting Criterion treatment has me giddy. If you haven't seen it, do yourself a favor and pick this release up. It's one of the best actor-driven films of all time, all about a jury arguing over the guilt or innocence of a young man accused of murder. Henry Fonda is out of this world good in this film. You get many new interviews with those involved, archival interviews with Lumet, the 1955 TV version of this story by Frank Schaffner and uncompressed monaural soundtrack on the BR edition. So excited for this one! $27.99 on Blu, $17.99 on DVD.
It kind of blows my mind that Rushmore is 13 years old. Seriously. The press tour for this movie is one of the earliest AICN moments in my mind, when I knew the site was reaching people in the industry. Both Wes Anderson and Jason Schwartzman knew of the site and we had a great chat as they moved through Austin, hitting colleges across the country. Personal connection aside, it's just a great movie with Bill Murray really giving a shit and Anderson injecting the perfect amount of indie quirk. Such a good flick. Looks like the previous Criterion special features make it over to this release, newly remastered under Anderson's watchful gaze with a DTS-HD audio track. $27.99 on Blu.
More Criterion! This time, it's Hitchcock and one of his lesser known (in geek circles, not cinephile circles, so relax film students) efforts The Lady Vanishes. Criterion promises a high def digital restoration of this 73 year old film with uncompressed audio, excerpts from Truffaut's awesome audio interview with Hitchcock, a video essay about Hitch and this film, an audio commentary by film historian Bruce Eder and another bonus film, called Crook's Tour from 1941. The flick itself is fascinating, showing Hitchock's unique balance of suspense and humor. Naturally it's a great movie and one that every Hitchcock fan should have in their collection. $27.99 on Blu, $29.05 on DVD.
My favorite part about Criterion's release of Stanley Kubrick's The Killing is that it also includes a restored transfer of Kubrick's early noir Killer's Kiss. Both are great films, with The Killing being particularly special. It's announcing one of cinema's best minds in a crime story co-authored by noir mastermind Jim Thompson. Their other collaboration, Paths of Glory, is also a masterpiece, but you really need to check this one out if you haven't. $25.99 on Blu, $23.27 on DVD.
Alright, alright, alright… Here we have Richard Linklater's most enjoyable film, hands down. This is just one of the most easy to watch entertaining dramas of the last 20 years. There's a reason Criterion has put it out and given it a spiffy high def transfer. Great music, great performances, great cast and just an overall brilliant piece of entertainment. $26.99 on Blu.
Holy Jesus! The Criterion release of Fear and Loathing in Las Vegas is finally on Blu-Ray! The DVD release ($) was one of my favorite Criterion titles, so I'm psyched to see this new transfer/DTS-HD audio release. Back when Johnny Depp was underexposed, remember those days? I absolutely love this movie. I saw it three or four times theatrically, love Terry Gilliam's insane adaptation of Hunter Thompson's book and Depp and Benicio del Toro KILL it in the movie. Besides being one of the most quotable moves of the '90s (Did you see what Goooood just did to us, man? Tell me about the fucking golf shoes! We can't stop here! This is bat country!) there's an anarchist spirit to the film, the essence of Thompson's personality interpreted by both Depp and Gilliam and forever imprinted on celluloid. This is one of my desert island films. $28.99 on Blu.
Leave it to me to go from Fear and Loathing to It's a Wonderful Life. For some incredibly earnest holiday cheer you can't go wrong with Frank Capra's Christmas Classic, especially when it comes with an angel wing alert system… meaning a bell, of course! And a booklet. And the 2-disc Blu-Ray of one of the most famous holiday movies of all time! $26.99.
Another movie geek must own in 1080p. Every user should own a copy of Tron, especially when it looks this beautiful. And the cover is almost Criterion quality, which is kind of awesome. Tons of special features, including new docs and everything from previous releases, and one of the geekiest cool computer nerd movies of all time! $26.99. End of line.
Much smarter people have written at length about Citizen Kane, so I won't try to sound important with this title. I just will say that its reputation is well-earned. Not only is Orson Welles a personality to contend with here, the impact this film had on cinema as an artform is undeniable. Much of the cinematic language we take for granted was born here. Kane pushed film out of theatricality and into a bigger, more involving world. I prefer Touch of Evil, but can't deny the greatness of Kane. Now, this Collector's Edition Box set runs $36.99 for the blu and includes a crazy amount of extras. There are bonus disc documentaries, two commentary tracks, Welles' War of the Worlds broadcast, collectable booklets and much more. Amazon has a special bundle that has all that Citizen Kane jazz plus a DVD of The Magnificent Ambersons. I don't know if it's worth $35 for you to get The Magnificent Ambersons as that set now runs $71.99, but it's the only way to get Ambersons on DVD in the states. Your call. I bought the Ambersons bundle, but Amazon had it at a special price then. I don't know if I would have spent double to get a single DVD.
MediaBlasters is putting out HD Godzilla! Word is that the original Godzilla will be getting the Criterion treatment next year (click here to pre-order that at $27.99, but to appease your man-in-suit Giant Monster itch there's one of the best Godzilla flicks, which just hit Blu-Ray with the original Japanese language track and subtitles as well as the AIP dub. $24.99 on Blu.
Jurassic Park is a classic and holds up extremely well. Nobody does full on adventure storytelling like Steven Spielberg and he was on fire here. Much like how he followed up the disastrous release of 1941 with Raiders he comes out swinging post Hook with Jurassic Park. Brilliant John Williams score, fantastic performances, fun writing, industry-changing special effects and before-he-was-famous Sam Jackson… this movie has everything! Available only in the box set right now, if you're impatient like me you'll want this set. The Lost World is a fascinating misfire and John Johnston's Jurassic Park 3 is fun, but forgettable. Disc comes with all new documentaries, making ofs and digitally remastered picture and sound for all three films. Look out for the super special collectors set in the expensive category. This regular set runs you $49.99.
This set is so far the best collection of Laurel and Hardy material available. Great prints, 10 whopping discs filled with the majority of the famous duo's output between 1929 and 1940, featuring shorts and features. Taken from the film elements, this is the best Laurel and Hardy set you can get your mitts on. 1941 minutes of Laurel and Hardy for $64.99.
Speaking of awesome black and white in high def, it wouldn't be a Holiday Gift Guide without some Twilight Zone. I know let my Light and Shadow column fall by the wayside, but that doesn't change my love of The Zone. Rod Serling's epic TV series has been getting a lot of love of late, especially with these fantastic Blu-Ray sets. They've just released the fifth and final season on Blu-Ray at $48.49. Now, there's a bundle deal for all 5 seasons, but for whatever reason it's about $50 cheaper to buy them all individually, so if you want grab all 5 seasons of one of the best shows ever to grace the boob tube you'll be dropping about $234.00 total. Season 1 is $45.12, Season 2 is $47.99, Season 3 is $46.54, Season 4 is $45.59 and Season 5 is $48.49.
I lost so much money to that goddamn Dragon's Lair video game as a kid that I became slightly obsessed with all things Don Bluth, especially when the accident prone Dirk was involved. Hanna-Barbera came out with a Dragon's Lair show that has been unavailable until the Warner Archive people dug it up. Now you can get the complete series for $28.49.
Jim Backus, Mel Blanc and Magoo… a magical combination. I loved this cartoon so much as a kid and now Shout Factory has released and incredible-looking set of Mr. Magoo's entire TV career in 180 episodes, over 31 hours of Magoo-ness. Perfect for a vintage animation completist! $52.99.
If you don't own the four films in this big Coen Bros box set then this is a great deal. Included is Raising Arizona, Blood Simple, Miller's Crossing and Fargo. All are memorable, fantastic films with Miller's Crossing being a flat out undeniable masterpiece. Holy shit what a movie! Danny Boy!!! Now we just need Barton Fink and The Hudsucker Proxy (two of The Coens' most underappreciated movies) on Blu-Ray! $47.99.
Glassy-eyed or not, Dean Martin was a force of nature. Cool, smooth and funny as all hell. I bought this set earlier this year and it's a fascinating look at his Variety show featuring everybody such amazing performers as Jimmy Stewart, Bob Hope, Orson Welles, Rodney Dangerfield, Eddie Albert, Duke Ellington, The Andrews Sisters, Woody Allen and a ton more. The whole thing is kitschy, cool stuff with musical performances, comedy sketches and Dino gluing them all together. So much fun! $49.99.
Joseph Gordon-Levitt has pioneered a collaborative team via his hitRECord website and this is product of their labor, a collection of short films, music and written word. While it's all spearheaded by Gordon-Levitt it's all about this collaboration and it has resulted in this fascinating bundle of art, featuring a CD, DVD and book of their work. $26.99.
Now this is a cool little thing that can be an awesome gift for a variety of different people. You can get it for your stoner friends, your nieces and nephews or your parents who might want a nostalgic look back at their Sid and Marty Krofft-dominated childhood. With this Collector's Edition you get the complete series plus an H.R. Pufnstuf bobblehead. Oh yeah. $28.99 for the Collector's Edition, $20.62 for the regular DVD.
I'm giddy at even the concept of Chuck Jones in 1080p. This is the first of the Looney Tunes Platinum series that will feature a collection of 50 Looney Tunes cartoons in all their HD remastered glory. Bugs, Daffy, Porky, Road Runner and Coyote, Marvin the Martian, Tasmanian Devil and the whole gang are represented here. The above link takes you to the more expensive Collector's Edition which is a limited numbered release that includes a character glass, souvenir tin sign, a lithograph and a limited book with rare images as well as the three disc Blu-Ray that has 50 toons and a bonus disc dedicated to the awesomeness of Chuck Jones, featuring rare shorts from the maestro. It's a great looking release. I have mine on order! $49.99 for the Collector's Edition, $38.99 for the regular Blu-Ray.
Turner Classic Movies has this fantastic documentary mini-series narrated by the great Christopher Plummer all about the history of Hollywood, with a focus on how the big studios came to be. At 420 minutes, this series is as comprehensive as you could want, letting us get to know Louis B. Mayer, Sam Goldwyn, William Fox and other studio giants as we see how they shaped this brand new art form from the silents to the kind of film we see today. An absolute MUST for any cinephile. $28.99.
This is a really cool gift for either nature-lovers or home theater aficionados. The original Planet Earth Blu-Rays were what I used to really show off my high def player back in the day. This special release looks simply awesome packaged in a Globe that opens to reveal all 6 discs of nature and animal awesomeness narrated by David Attenborough. Very cool! $68.99.
I'm salivating at the chance to finally see this Blu-Ray when I get back home. Warner Bros did an 8k scan of the original 70mm negative to produce what I hear is one of the best high def restorations put out on Blu-Ray. I hope it's a massive success and we get similar treatment on titles like Lawrence of Arabia. This collector's set includes the epic film, commentaries, an isolated score track, a feature length doc on Charlton Heston made by his son, the 1925 silent version of Ben Hur, screentests, a book with rare behind the scenes pics, production art, a reproduction of Heston's diary from 1958-1960 and much more. It's a lot of bang for your buck. $50.99 on Blu, $36.99 on DVD.
Gene Wilder kicks Johnny Depp's ass. Sorry, Johnny, you know this to be true. This collector's set of one of the best kid's flicks ever-ever includes a ton of goodies. First you have three discs which have the Blu-Ray and DVD version of the film, an all-new bonus disc filled with interviews and featurettes, a 144 page behind the scenes book compiled by director Mel Stuart, a Wonka Bar pencil tin, Willy Wonka pencils and erasers (scratch and sniff, apparently), 14 pieces of production correspondence and a nifty box to wrap it all up in. This set reminds me a lot of the similarly awesome Wizard of Oz set from a couple of years back. You get all that stuff plus a brilliant movie for $45.99.
EXPENSIVE $71.00-$499.99
I'm such a conflicted geek. As much as I want to make a stand against the obliteration of the original theatrical releases of my beloved Star Wars Trilogy I'm champing at the bit to see the deleted scenes and spend days pouring through all the special features on this release. I'd include the broken up Episodes IV-VI set, but let's face it… if you get the Blu-Rays and you care at all about the original trilogy you want those special features, which I hear are out of this world awesome and only available in the big mega set. Whether I like it or not, this is the biggest geek release of the year and has made Uncle George yet more money. I don't know if I can resist picking this up, even though I know I'll get sad every time I hear Vader scream "Noooo" or see an Ewok blink. $89.99.
These Lord of the Rings: Extended Edition Blus are brilliant. This one is more of an upgrade collection as it's everything you had before, but in high def. However, if you're going to spend the dough to upgrade to uncompressed audio and high def picture this is the series to do it with. And unlike that OTHER series I can go buy high def versions of the theatrical cuts if I want to. Ahem… All kidding aside, how awesome is it that we live in an age when within the span of a year we have near 35mm quality home versions of the entire Star Wars series, Lord of the Rings series and Harry Potter series all coming out? That's insane. If you hurry, you can pick up the LOTR:EE Blus for super cheap as part of Amazon's Black Friday week! Only $49.99.
Okay, so as a completist I feel obliged to include this set as it's the first to have the entire Harry Potter series from Movie 1 to Movie 7.2, but word has it that Warners is gearing up for a massive high def set late next year. Personally I'd hold out, but I understand needing to have something right now. Especially if you want to be the most badass mom/dad uncle/aunt ever and bequeath this set to a wide-eyed kid. $48.99.
Christopher Reeve, Gene Hackman, Miss Tessmacher and Otis in 1080p! This Superman Collection features every Superman movie from Richard Donner's first flick all the way through Bryan Singer's Superman Returns plus over 20 hours of bonus material. The expanded editions of Donner's Superman and Superman 2 cut are also included as well as many of the Fleischer Superman toons, worth this purchase just by themselves. $79.99.
Here's the promised inclusion of the badass Gift Set for the Jurassic Park Trilogy Blu-Rays. Why settle for just plain old boring Blu-Ray discs when you can get them packaged with a FUCKING DINOSAUR! T-Rex busting through the Jurassic Park gates never happened in the movie, but I'll be damned if that isn't a sweet bonus bit of nerdiness that's worth the extra $30. $79.99.
This one's for the families out there. Cars and Cars 2 are lesser Pixar, for sure, but the kids love 'em. It's not horrible that cartoon makers make movies for kids, I just wish there was a little more of that traditional Pixar love aimed at all audiences along with the goofy stuff for kids. This is a cool set, though. 11 discs featuring DVDs and Blu-Rays of both movies and 3-D Blu-Rays of the second film all in special packaging that comes with a matchbox car. $79.99.
Band of Brothers is incredible. The Pacific can't quite live up to BoB, but is has some unforgettable set pieces, especially in the first few episodes. Joseph Mazzello is fantastic in the series, but can't carry the whole thing. Band of Brothers on the other hand is flawless. Both series are incredible technical achievements and put you right in the middle of WW2. This double package includes an exclusive documentary that follows up on the postwar lives of veterans featured in both Band of Brothers and The Pacific. A great gift for your father, especially if he's been newly upgraded to HD-TV and Blu-Ray. $99.99.
This show has quite the following. It's not for me, a bit too WB handsome people show-y, but when I put the call out for suggestions for this column this set was mentioned quite a lot. The massive set comes with a ridiculous 62 discs which include over 5 hours of new special features on top of the usual extras. That's 11,520 minutes worth of show. That's a whole lot of pretty people! $199.99.
I've just started to dip my toe into the massive ocean of Dr. Who TV out there, so by about 2039 I should be all caught up. David Tennant is one of the more popular Doctors and BBC has put out a 26 disc collection of his entire run as the 10th Doctor. I hear the packaging is hit and miss, but what's on the discs is what matters. You get 5 years worth of Tennant Who for $105.99.
Back in my TV snob days Friday Night Lights premiered. "I've seen the movie," I thought. "Why would I want to watch a cash-in show?" That led to me kicking myself as everybody talked about how awesome the show was a couple of seasons in. Now that the show has wrapped up I can actually start watching it and not feel the pressure of jumping in in the middle. In other words I can take my sweet time with it while I juggle my other shows. The whole set is out on DVD, seasons 1-5 in one package. $86.99.
With this big Kubrick Box Set comes the Blu-Ray debut of both Barry Lyndon and Lolita so unless you've picked them up separately this is a pretty good deal. On top of those titles you also get The Shining, 2001, Dr. Strangelove, A Clockwork Orange, Full Metal Jacket, Spartacus and Eyes Wide Shut. It's not complete, but it's damn close. That's a crash course in brilliant cinema right there. $87.49.
FOR THE SUPER RICH ONLY $500 and Up
Yessir, that's a $700 (retail $999.99) special edition DVD right there. It comes with the regular $19.99 Blu-Ray you get 10 collectible art cards and a real, working humidor. Or you can buy a good working humidor for $89.99 and put the $19.99 Blu-Ray in it and get pretty much the same thing. Or go for the $700.99.
IMPORTS – Region Free Blus
This is a special add-on section to the Guide this year. All the below movies aren't available on Blu-Ray in America, but can be imported for a nominal fee. No unlocked player needed, all titles below are either region free or has the US region included. Here are a handful of interesting geek titles not easily available in the States.
Lucky McKee's newest flick is out in Europe and can be ordered off of Amazon.co.uk for a relatively cheap price. This flick is extreme, fair warning, but genre fans should love it. There's a lot of commentary going on under the vile exterior. Trust me, I'm not the guy that puts up with a flick about a woman being chained up in a slimeball's shed without there being something else going on. Fascinating, difficult, raw, horrifying. Oh, and good. That, too. £9.99 at Amazon.co.uk.
'80s Schwarzenegger cheese in high def! It's no Commando, but for the super cheap price it's worth it to have Arnie at the top of his game even if the movie itself ain't that great. £5.99 at Amazon.co.uk.
Region-free David Lynch and Nicolas Cage craziness in 1080p! Plus you get amazing bonus features like "Interactive Menu!" Well, you can't win 'em all, but for under £8 you get a nice high def transfer of this great, bizarre flick. £7.49 at Amazon.co.uk.
Ralph Bakshi's Wizards isn't out on Blu-Ray in the states, but you can import the UK Blu-Ray. I haven' seen this yet, but reviews say the transfer is nice, but not meticulously restored, but that somehow feels right for a Bakshi flick. I'd love to see his more risqué animated features hit high def, like Fritz the Cat and Coonskin, but it's good that we can import at least something. £9.99 on Amazon.co.uk.
With Nightmares 1-3 already out on Blu-Ray stateside you may not want to import this pricey box set, but horror nerds are an impatient lot. I know because I'm part of the cult myself. Having grown up with Freddy Krueger I find stuff to like in even the worst Nightmare movie (looking at you Freddy's Dead), so while the only must-owns of the series are 1 and 3, being a completist means you'll want all 7 Robert Englund Freddy flicks in 1080p. If that describes you, then £36.47 on Amazon.co.uk.
VIDEO GAMES
For video games this year I'm not going to double up on titles by putting, say, the Skyrim Collector's Edition in the Expensive category and the regular edition in the Moderate category. I'll make sure to list what's available on each title including Collector's Editions for all the different consoles.
Some great stuff out there in the video game world this quarter. As usual, I'm an X-Box guy, but I won't ignore Playstation, Nintendo and PC fans. If I list a title that's available on all formats the picture will be X-Box, but I'll have PS3, Wii and PC links in the description as well as pricing for all the consoles.
Let's take a look!
CHEAP $24.99 and Under
This probably should have gone on last year's guide as it came out in January 2011, but I'm a newly turned fanatic of this game. I'd be lying if I said I didn't pull out the iPhone during the downtime on the set of The Hobbit and kill me some goddamn undead. So, in honor of my new addiction, here's Plants Vs. Zombies for the Nintendo DS. $15.96.
MODERATE $25.00-$70.99
I'm dying, people! Dying. I want to play this game so bad… I've been craving a badass Bethesda RPG since Fallout 3 (psst, it's only $19.99 for the Game of the Year Edition!). I liked New Vegas, but it wasn't the same. I tried to get into Oblivion, but after playing Fallout 3 it felt like I was taking a step back not a step forward. From all accounts this is that step forward. I've been obsessively reading reviews, starting gameplay videos only to turn it off after 30 seconds because I don't want it spoiled for me. I can't complain, I'm in Middle Earth for fuck's sake, but you have no idea how much I'm jonesing for this game. The consensus is that Skyrim is the pinnacle of RPG gaming and I'm hearing from friends who didn't get into Elder Scrolls that this is like Fallout with dragons, which makes me so excited I think I need to go change my underwear. A sure bet for Game of the Year.

Xbox: $57.99 for the standard edition, $149.99 for the Collector's Edition (which comes with a dragon… A DRAGON!).

PS3: $57.99 for the standard edition and $149.99 for the Collector's Edition.

PC: $59.99 for the Standard Edition.
I'm not a big fan of Game Guides, especially in this day and age of technological achievement where there's a Wikia page for anything and walkthroughs out the butt if you get stuck in a game… However, Bethesda's games are different. If you're going to devote hundreds of hours to building a character and adventuring in a massive world having a sanctioned guide to help show you the way isn't a bad thing, especially since there are so many choices you have to make early on that impact the rest of the game it's good to have a clear understanding of what these choices mean. This guide is a whopping 656 pages of maps, quest walkthroughs, character breakdown, locations of hidden goodies and detailed descriptions of the various perks and perk trees. If you're as obsessive about this kind of shit as I am, this is a must have. I will perfect your achievements! It took me 2 years to do it on Fallout 3, but you bet your ass I'll do it, Bethesda. And this book will help me do it, too! $16.19.
Sitting down to shoot some dudes with thick accents is like slipping on a comfortable sweater to me. I love these Call of Duty games and not just for the multiplayer, which is always fun and spectacularly designed. This is another one waiting for me whenever I get back home. I have a feeling Skyrim is going to dominate my gameplay hours, but this one will be next on the stack…. That is, of course, until Bioshock Infinite comes out. I am looking forward to playing through with 2-player co-op, though.

Xbox: $55.96 for the Standard Edition.

PS3: $55.96 for the Standard Edition.

PC: $57.99 for the Standard Edition
So many video games! I have this bastard waiting for me, too. I'm going to disappear for 2 months when I get home! I absolutely loved Arkham Asylum and why wouldn't I? It's the creative team from the great Batman: The Animated Series and the voice talent to boot! The Joker, The Riddler, Catwoman, Two-Face, The Penguin, Hugo Strange and many other Batman villains are on the lose in Gotham and it's up to you to stop 'em. Reviews are positive for this follow up to one of the most fun comic book games ever put out. Imma gitchu, Two-Face! Just wait and see if I don't!

Xbox: $47.00 for the Standard Edition and $99.99 for the Collector's Edition which includes an awesome black and white Kotobukiya Batman statue.

PS3: $47.00 for the Standard Edition and $98.49 for the Collector's Edition.

PC: $49.82.
The first Halo game is what made me buy an Xbox. It's one of the best first person shooters ever and that very first game's multiplayer maps are still my favorite. We used to have LAN parties in the pre-XBL days and it was great. As a way to get the masses excited for next year's Halo 4 (dropping Christmas 2012) and to celebrate the 10th anniversary of the groundbreaking game Microsoft has spruced up the graphics, added in some weapons from later games, given us new achievements, bonuses and other goodies while adding in campaign co-op and the ability to play those original maps on XBL. I just wonder if the pistol is still as ridiculously overpowered as it was back then. If so then I'm crazy-excited to replay the game! $37.99 only on Xbox.
This game is an update to one of the best shooters of all time: GoldenEye. GoldenEye 007 Reloaded is a blend of old and new in this next-gen platform redo.

Xbox: $58.99.

PS3: $58.99
Don't judge me, but I've never played a Metal Gear Solid game. Remember, I'm not a big Playstation guy, so that's my excuse. Now I have no reason to see what all the fuss is about since all the Metal Gear Solid games are packaged into one collection for both Xbox and PS3… and in HD, no less. Well, almost all of them. Is the first one super old school? Is that why it's not in the bundle? What is included is Metal Gear Solid 2: Sons of Liberty, Metal Gear Solid 3: Snake Eater and Metal Gear Solid: Peace Walker all with revamped high def graphics.

Xbox: $49.96.

PS3: $49.99.
When Skyrim has had its way with me and I start picking off my stack of Xbox games I'll play the dust off my PS3 and sit down for an Uncharted marathon, play all 3 games in a row. Harrison Ford thinks the newest Uncharted game is amazing and if Indiana Jones says that you know he means it! I've heard nothing but amazing things about these games, especially this last one.

Only on PS3: $59.99 for the Standard Edition and $99.99 for the Collector's Edition which comes with a little Drake statue, replicas of his ring and necklace and a steelbook for the game all bundled in special traveling chest packaging.
Xbox has Halo, Nintendo has Zelda and their Mario games, PS3 has Uncharted 3 and PC gamers get their own exclusives this holiday season. And it's a big one, a Massively Multiplayer Online Role Playing Game (MMORPG) set in the Star Wars Universe where you start out deciding whether you're Sith or with the Galactic Republic. The early footage and cinematics from The Old Republic look amazing. The next generation of consoles (rumored to be announced next year) should be able to handle MMORPGs. How great would that be? Now we just need to make sure Bethesda is working on Fallout 4 to work that way…

Only on PC: $59.95 for standard edition. Available for pre-order with a December 20th release date. If you pre-order on Amazon you get a bonus lightsaber crystal that not only gives your elegant weapon a different color, but effects the kind of damage it does.
The new Zelda game is setting the world on fire. So much so that Amazon is backed up with orders and won't ship for 2-3 weeks. You can still order it for $49.99 (look to the right on the page under More Buying Choices) or you can order from a brick and mortar store like Target and pick it up for $49.99 plus tax and get it right away. Whatever you decide, word on the street is this is a great addition to the Zelda universe. It comes with a music CD and is available only on the Wii.
The new Assassin's Creed game just hit and is receiving raves from fans of the previous games and noobs alike. The graphics are supposed to be out of this world good and the sneaky gameplay as good as the series has ever been.

Xbox: $58.99.

PS3: $59.96 and it includes the original Assassin's Creed bundled with it.

PC: $48.48.
You know, I've never played a single Saint's Row game. I know they're hugely popular, though. Tons of readers recommend this one to me when I put the call out for stuff for the guide. I've heard it described as a crazier Grand Theft Auto type game and that's exactly what it looks like. The new game in the series just hit.

Xbox: $55.58 for the standard edition and $99.99 for the Platinum Pack which comes with DLC codes and headphones.

PS3: $59.99 for the Standard Edition and $99.96 for the Platinum Package Edition.

PC: $49.99
Unfortunately the reviews for this one isn't stellar, but I'm curious. Telltale Games put it out and they did those great Back to the Future games for the iPad. I'm not expecting great quality, but Jurassic Park is a big movie for me and I love that universe. I'll probably be a sucker and buy into it just for that nostalgia rush. On Xbox for $39.99.
Described as a Co-Op Action RPG, this game takes you into Middle Earth to fight alongside Elves, Men and Dwarves as Sauron rises. The events of LOTR are happening in other parts of Middle Earth and you're out doing your part to keep Sauron from taking over the world. Since most of these Fantasy RPGs all rip off Tolkien anyway, why not play in Tolkien's world? Apparently the co-op on the game is what makes it a winner, according to user reviews on Amazon. If you dig Peter Jackson's movies or Tolkien's books this one is an easy choice.

Xbox: $51.88.

PS3: $49.99.
I know some people didn't care for Dead Island, calling it the bastard love child of Borderlands and Left 4 Dead. Well, it is, but that's exactly what I liked about it. I loved wasting time with some friends stomping on zombie heads and exploring the island for rare weapons. It might not be a gamechanger, but I had a blast with it.

Xbox: $46.99.

PS3: $46.99

PC: $36.99.
I dig the Gears of War games and only got to play a little bit of Gears 3 before I left for New Zealand. It didn't hook me, but the love it's getting is out of this world, so I'm sure if I had been able to play a little longer it would have.

Only on Xbox: $49.96 for the Standard Edition, $79.99 for the Limited Edition which includes a replica COG tag and the ability to unlock Adam Fenix as a playable character in multiplayer and $145.34 for the Epic Edition which comes with everything the Limited Edition comes with plus a Marcus Fenix PVC statue, an Octus Service Medal and a book with concept art from the game.
You'll never feel smarter in your life than when you solve a Portal level that has been tasking you for 45 minutes. I don't care if you won Millionaire, this will make you feel like an Einstein level genius. Portal 2 is awesome, taking all the dark humor from the first game and expanding the world to a ridiculous degree. JK Simmons' Cave Johnson is worth playing through the game just by himself. You can't go wrong with Portal and at $40 bucks the most recent game is a bargain.
As you should know by now, I'm a rather large Bethesda fanboy, so of course this makes the list. I also was around back in the granddaddy days and played Doom when it first hit the market, so seeing Bethesda and id Software join forces to put out a post-apocalyptic game should be a treat. This game was literally on its way to me when I boarded my plane to New Zealand and with Skyrim sitting in a nice cozy UPS box waiting for me I'm afraid Rage will have to wait, but the reviews are pretty positive on this one.

Xbox: $51.49.

PS3: $51.49.

PC: $57.65.
This is another updated release with more bells and whistles. They took the first Marvel Vs. Capcom and added a dozen new characters, new levels and rebalanced everything for a new experience. Not sure how onboard I am with this trend, but you can make Wolverine cut up Ryu, so I guess we have to accept it.

Xbox: $39.96.

PS3: $39.96.
With the release of their 3DS you knew Nintendo was going to hit us with a ton of Mario games in 3D. The newly released Super Mario 3D Land is the best 3D game they've released so far if you believe the reviews. All I know is the Tanooki suit comes back and that's all I need. Well, that and a 3DS, I guess… but you know what I mean.

Only on 3DS: $39.96.
There's no such thing as a bad Mario Kart game. That is so impossible even Tom Cruise wouldn't take part and hang off of the Nintendo building or whatever he does on those Mission: Impossible journeys of his. The 3DS gets another good exclusive and that's Mario Kart 7, which is on pre-order for a December 4th release.

Only on 3DS: $39.96.
Yes. Your eyes aren't deceiving you. That's pretty goddamn awesome. When you're done with your DS (and I assume 3DS) and need to put it somewhere for safekeeping, why not let Mario hold it for you? I wish there were more badass gaming system stands like this. $29.99.
Okay, I'm a sucker. I know it. But this looks like it was made for me. I just got a Kinnect (surprisingly fun) and I'm a whore for Disneyland. Now they've made a Kinnect game where you can explore Disneyland and play games based on the famous attractions within the park. Is the Haunted Mansion included? If so Imma live in there.

Xbox only: $49.96.
This game is going to suck. And I'm going to buy it because I have to buy every Jaws game ever even though in the history of Jaws games, going back to the NES, there has never been a good Jaws game. I mean, look at that cover! That's not even the right shark! Whatever, I'll buy it and hate myself… or be pleasantly surprised when the game is fun. I'm not gonna hold my breath for it.

On pre-order for release December 1st, available only on the Wii and 3DS.
Wii: $29.96.

3DS: $39.99.
Ubisoft's Avatar game sucked donkeys for quarters, but they've put out some decent stuff, so I'll give them the benefit of the doubt on Tintin… probably more because I wanna walk around in a Herge's world. The movie is super fun and if the game captures that spirit we could have a really fun gaming experience waiting for us.

Xbox: $39.49.

Wii: $39.99.
Apparently Mario and Sonic like hanging out at the Olympics. Who knew? This is the second Mario and Sonic Olympics game, this one set in London for the 2012 Olympics where Bowser and other baddies are also participating. They'll let anybody in these days… Only available via Nintendo devices.

Wii: $49.69.

3DS: $39.95.
There's a new Metal Gear Solid game hitting very soon (December 31st, according to Amazon) and it'll be the first without Solid Snake. There's not a ton of info out on the game, but you can pre-order it. The E3 trailer looked pretty cool, I'll say that much.

Xbox: $56.99.

PS3: $56.99.
Now, Mass Effect 3 doesn't come out until March, but here's the thing. I know quite a few geek girls read this Guide. If your boyfriend/significant other is a gamer and you know they haven't played Mass Effect yet, here's what you do. Buy Mass Effect 1 and 2 and pre-order Mass Effect 3 and give them that as one present, with a printout of the receipt. That gives them plenty of time to fall in love with the epic sci-fi quasi-FPS, quasi-RPG world depicted in these games. You have three months to explore and then BLAMO, new game hits! I'll give you all the links below.

Xbox: You can get Mass Effect 1 for $19.99, Mass Effect 2 for $19.96 and pre-order the Standard Edition of Mass Effect 3 for $59.99 or the Collector's Edition for $79.96. The Collector's Edition comes with exclusive in game packs including suits and weapons, an Art Of Book, an N7 fabric patch and a lithograph.

PS3: You can't get the first Mass Effect game unfortunately, but you can get Mass Effect 2 for $19.99 and pre-order the Standard Edition of Mass Effect 3 for $59.99 or the Collector's Edition for $79.96.

PC: You can get Mass Effect 1 for $11.90, Mass Effect 2 for $14.43 and pre-order the Standard Edition of Mass Effect 3 for $59.99 or the Collector's Edition for $79.99.

It should also be noted that if you pre-order the Standard Editions of either the Xbox or PS3 versions you'll get an Amazon gift card for $10.
It's also never too late to pre-order the Xbox Exclusive Star Wars game for use with the Kinnect system. Swing your arms and cut down Stormtroopers! That's what technology has been building up to since the invention of the computer. Release date TBA, but you can pre-order it for just $49.96.
This is the tops on my own personal pre-order list. After Skyrim this is the game I'm most looking forward to! I loved every inch of the first Bioshock and liked most of Bioshock 2, but you could already feel the premise getting stale. Which is why I'm so psyched about Bioshock Infinite. The visual style, gameplay, setting… everything seems to have shifted dynamics while keeping the feel of the original games. This one holds a lot of potential. I wanna go explore that sky city! There's still no official release date (Don't believe that December 31st date on Amazon), but you can pre-order it and start marking your calendar, ticking off the days until it finally arrives in your mailbox.

Xbox: $59.96.

PS3: $59.96.

PC/Mac: $49.96.
EXPENSIVE $71.00-$499.99
This is the evolution of the Rock Band type games. This one actually plugs into your guitar… your real guitar and you can learn to play songs for real. Now this regular edition just comes with the guitar connection and the game itself. There's a bundle pack that super expensive, but comes with a working guitar, not a fake button-smashing guitar. I'll include it in the links below. I think this is a great tool and if there was one for piano I might take my own piano lessons a little more seriously. Heh. Artists include The Rolling Stones, The White Stripes, Tom Petty and the Heartbreakers, The Cur, The Animals, Stone Temple Pilots, The Black Keys, Cream, Bowie, Clapton, Nirvana, Skynyrd and much more.

Xbox: Just the game is $77.99 and the Bundles can be found around $270.

PS3: Just the game is $77.99 and the Bundles can be found at around $289.00.

PC: Just the game is $79.96.
Not being a massive 3D fan this new Nintendo DS does little for me, but I'm told the 3D is actually put to really good use. I know everybody who has one loves it. I just don't play my regular ol' DS much so I didn't make the jump. The 3DS apparently takes 3D pictures… that's pretty cool… $180.00.
Oh, Lordy. If I had one of these with me right now… well, you wouldn't be reading this and there'd be no Hobbit set reports because I'd be a couple hundred hours into Skyrim. So, it's probably a good thing… But seriously, how cool is this? It's a padded portable next gen console player, complete with HDMI connection to a 15.5 inch HD display (720p, but still), integrated stereo speakers (and two headphone jacks in case you need to play silently), storage spots for you controllers, games and accessories, 100-240v AC power supply and can safely transport and hold an Xbox 360 or 360S and a PS3 Slim. The padding is even designed to give full ventilation to the systems so they don't overheat. It's also well within carry-on regulations so you can take it on the plane with you. I'm equally so happy I don't have one of these and supremely pissed off that I don't. $299.00.
If you waited to dip your toe into next gen console gaming or were an Xbox guy, but feel the call of these Uncharted games then this is the one to grab. 320 gig harddrive, a controller, built in Blu-Ray player and a copy of Uncharted 3 for under $300 shipped. That's quite a bargain especially once you consider when it originally came out PS3 was significantly more expensive for less. $299.96.
This is Xbox's similarly priced bundle this year. I haven't played any of the Fable games, so I can't vouch for the game that comes with it, but you do get a 250gig XboxS with built in wifi, Fable 3, a wireless controller, headset, 3 free months of Xbox Live and a download code for Halo Reach for under $300 shipped. $299.99.
I picked up a Kinnect earlier this year and was hooked immediately. It's weird, it's not that it changes Xbox gaming much… it feels like an add on, like Netflix. When I play a Kinnect game it's like I'm able to port it through my Xbox, like Netflix or Hulu. Kinnect Sports is my favorite (I like bowling), but the dance games are fun and the adventure games are a blast. There's also work-out games that would actually help me lose weight if my fat ass wasn't so lazy. Word is there's going to be further Kinnect integration, with Mass Effect 3 taking advantage of the voice command system. With Kinnect Star Wars coming out... well, there you go… $124.99.
ART
Now on to the Art section. The Hive Mind of Twitter helped me greatly in compiling this list of great geek prints, so many thanks to those who replied with solid leads on fun art. There's some awesome stuff below! Enjoy!
CHEAP $24.99 and Under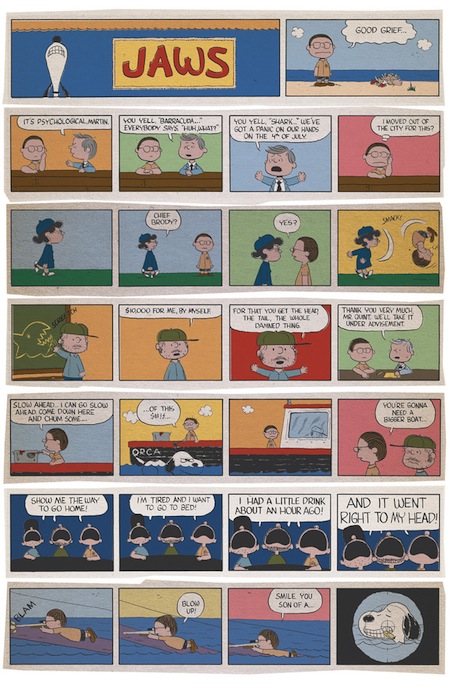 Come on now. How perfect is this mash-up? Jaws and Peanuts together at last. Artist Charles Forsman made a one-page comic strip style retelling of Jaws with the Peanuts characters and it is kind of genius. I thought this was just online art, having received it as a random JPG that I twitter-blasted immediately, of course, and see Forsman is actually selling 11X17 print-outs on heavy stock paper. Very cool, easy size to frame. $15.00.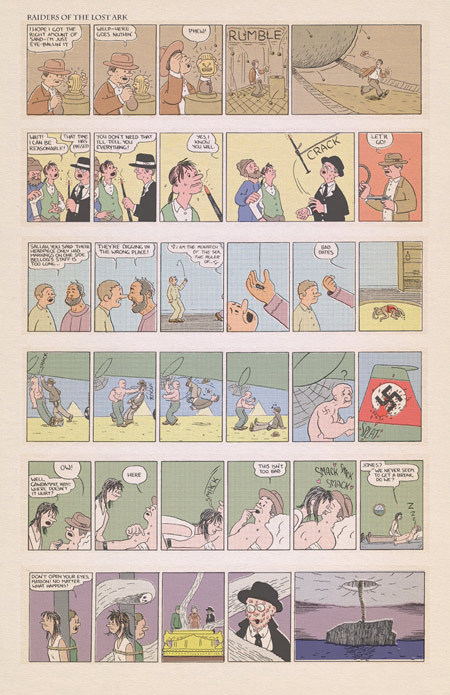 Forsman also has a Popeye/Raiders mash-up that is worth a look as well. It's not as good as the Jaws one I think, but I'm a little biased on that one. Also 11X17 and $15.00.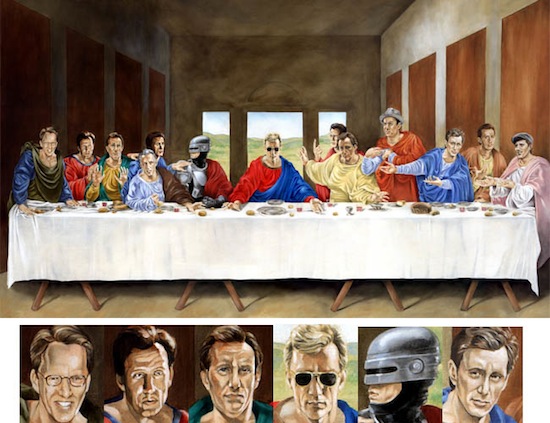 Now don't ask me why RoboCop is James Woods' Judas and why James Woods is every apostle and Christ, but it just kinda feels right, doesn't it? Cue lightning flash and my charred remains fused to this keyboard. I'm a big fan of Brandon Bird's art. He did the infamous "No One Wants To Play Sega With Harrison Ford" piece that I featured here a couple years ago. He also has a lunchbox you can see over in the Toys section when that one posts. Blasphemy via RoboCop and James Woods. Sacrilege never looked so awesome! Print comes 22X13 and runs ya' $24.00.
MODERATE $25.00-$70.99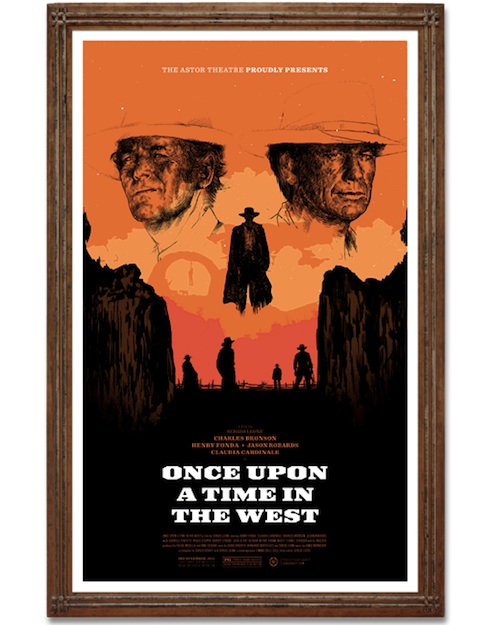 That's a gorgeous Once Upon A Time in the West poster, isn't it? Artist Oliver Barrett is on my radar big time after seeing that. One, it's an awesome title that doesn't have nearly enough everyday love from movie geeks. Sure, it has its fanatics, but you say The Good, The Bad and The Ugly and everybody knows what you're talking about. You say Once Upon A Time in the West you'll get some blank stares. In a way that's awesome because you can spread the gospel. Soapbox is going away, don't worry. Now bask in the glory of evil Henry Fonda and badass Charles Bronson! Limited edition print, only 170 copies printed. $33.00, with shipping it's up to $50. I know because I ordered one.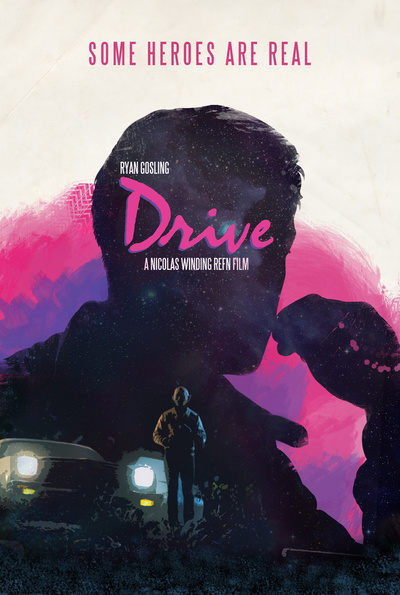 Speaking of awesome movies getting sweet posters, check out the above Drive poster! This is a non-licensed fan-made poster, so there's a chance FilmDistrict will stomp down on this, but if I were them I'd let it lie. People love this movie and that is a badass poster. 20X28 print, art by FCRUZ. Runs you $36.00.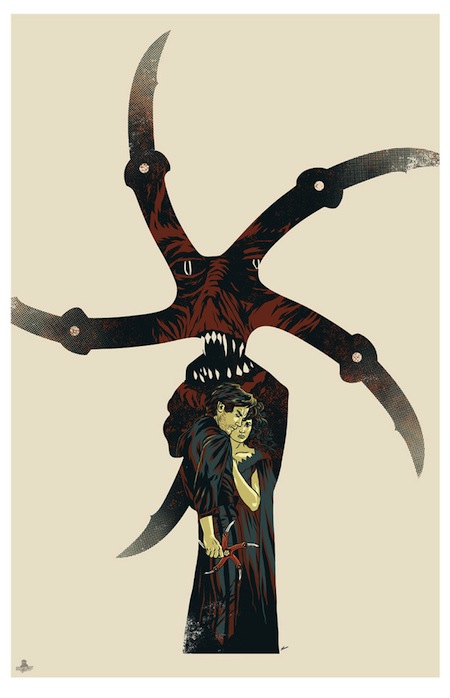 I love Krull, so what? You got something to say? Judge me all you want, but the score is awesome, the film looks great and it gets dark as shit. If they had cast a better lead it would be an '80s favorite. Well, it's an '80s favorite of mine, but most people won't cop to liking it. Most can tell that's a pretty awesome poster, though. Put out by PhantomCity, partnering with our friends at Twitch on a film series at the Lightbox. Limited edition of only 150 11X17 prints, costs ya' $25.00.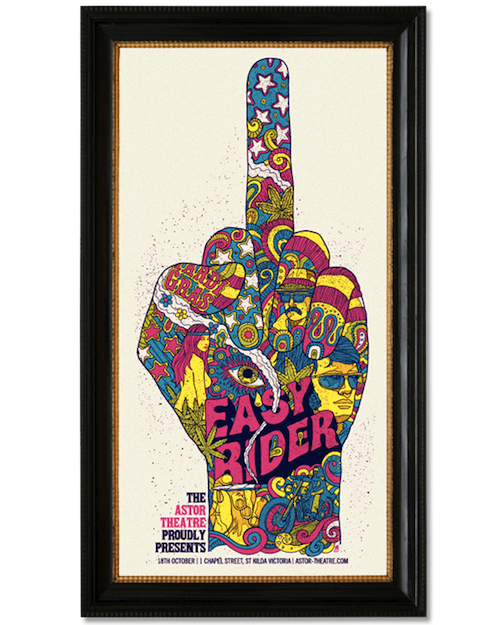 Far out! That just about sums up Easy Rider in one image. Psychedelic middle finger. There you go! Printed by Methane Studios in a limited edition of 225, this 16X32 print will cost you $33.00.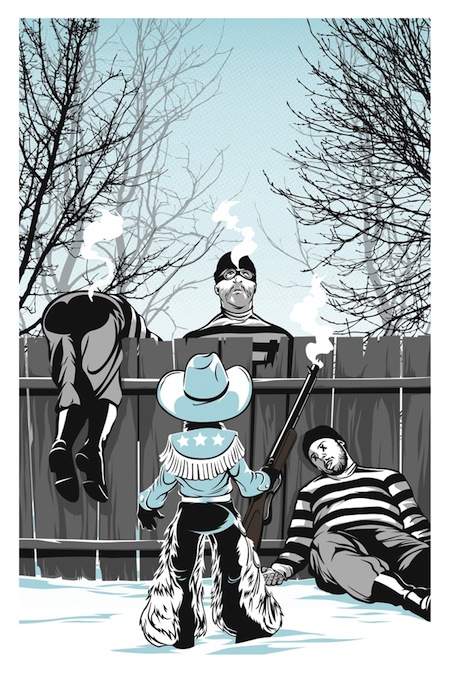 I always loved this sequence from A Christmas Story. Cowboy Ralphie taking out Black Bart and his goons who aren't doing a very good job of being inconspicuous with their jail stripes on. Nakatomi produced this 12X18 print, limited to 100 pieces. According to the website of the artist (Joshua Budich), which I've linked below, there's only 17 left at the time of this writing, so if you want one snap it up! $25.00.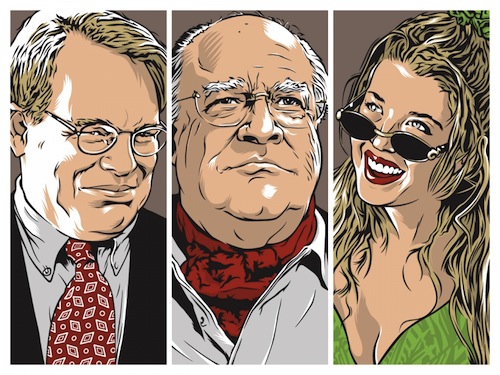 Apparently Brandt can watch! He must have come up with $100. Another great print from Joshua Budich focusing on some of the tertiary characters from The Big Lebowski, including, funnily enough, the title character. 18X24, limited edition of 50 and only 13 left at the time of this writing! This is the only way having Tara Reid starring at you in your hallway is a good thing. $35.00.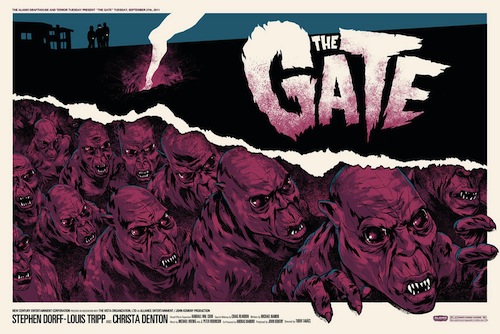 This was a Mondo release that, of course, sold out… and why shouldn't it? That's a badass poster for a great, fucked up '80s horror flick. Those little imp bastards freaked me out as a kid and I'm still terrified of dudes busting through the plaster walls to pull me into hell. Phantom City have a few artists copies that they're selling at a very reasonable price. Large poster, 24X36 and it's only $50.00.

Here's another Lightbox team-up with Phantom City Creative (and artist Gary Pullin) to honor Guillermo del Toro and his films. Any artistic love for The Devil's Backbone puts a smile on my face! You can get this really rad 12X36 (limited to 100 prints) poster for $40.00.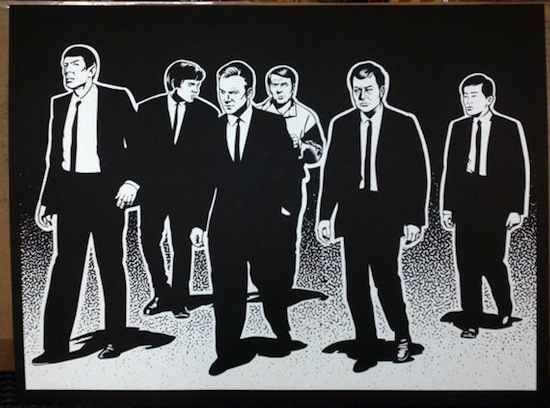 I'm a sucker for a good mash-up. Reservoir Dogs and '60s Trek? Oh. My. Yes. Brent Cheshire sells his 18X24 print, limited to 100 pieces, for only $30.00.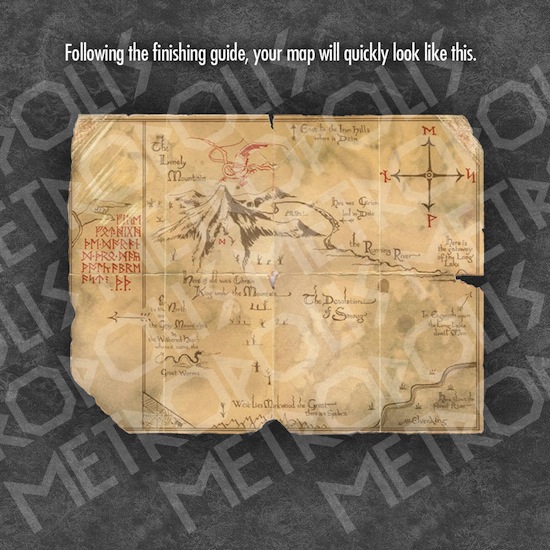 Metropolis Graphics put out that great Time Bandits Map replica (which makes an AICN Holiday Gift Guide reappearance below) and have come out with a reproduction of the map from The Lord of the Rings that more than likely plays into the events of The Hobbit. It's cheap, so I'm willing to bet the quality isn't up to, say, museum standards, but… well, it's cheap. And cool. $27.00.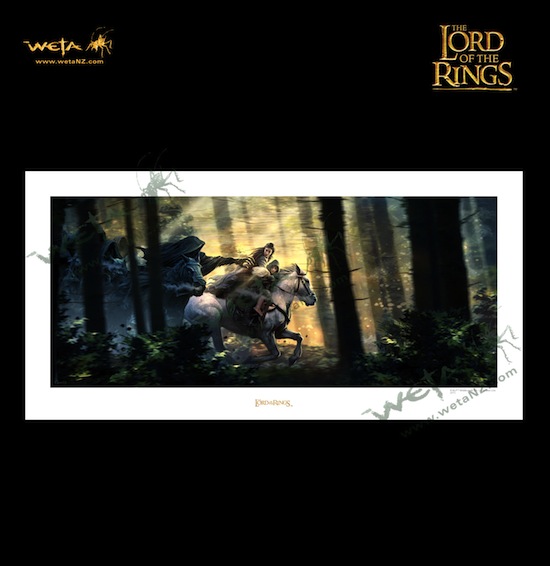 Gus Hunter is a very talented artist at Weta and he's put his talents to use to make nerd boys and girls all squee with this great print from Fellowship of the Ring. Gotta keep that Tolkien theme running, right? $34.99.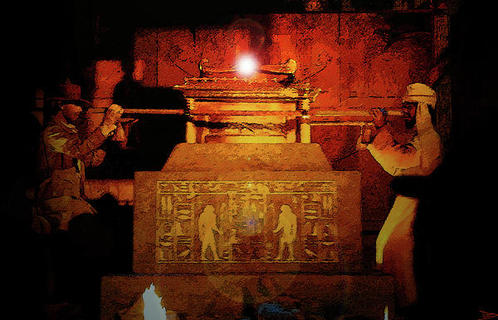 Movie geek art is my favorite. I love seeing the passion of young up and coming artists taking iconic movie moments and reinterpreting them. Take David Lee Thompson for example. He took a moment from Raiders of the Lost Ark that isn't the go-to when thinking about that movie. You have the warehouse, Indy facing down the cobra, Indy weighing the sand in front of the fertility idol, etc… All have been done before, but this is a great moment that isn't given this kind of love. It's a nice piece. You can choose your print sizes and how you want to receive it, but a good 16X24 will run you around$36.00.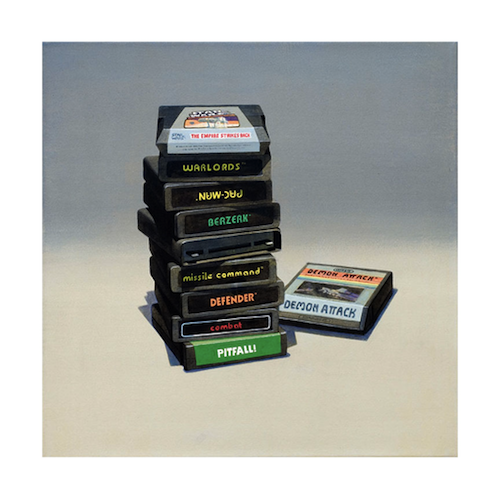 Now we get into a couple Gallery88 pieces! From artist Jason Brockert comes this ode to gaming of yesteryear. This is an image very familiar to those of my generation and you can get his impressive art on this 12X12 giclee signed and hand-numbered by the artist in a limited run of only 100 pieces for only $40.00 (or you can buy the original painting for the low sum of $950.00!). He's got another good one below. Check it out:
If I had to choose between the two, I'd go with the NES art, but I was a Mario kid. I have a lot of fond memories tied into that piece of machinery. It's another nice piece, this time available as an 18X18 giclee, limited to 100 and at the asking price of $60.00 (or you can buy the original for a measly $1800.00).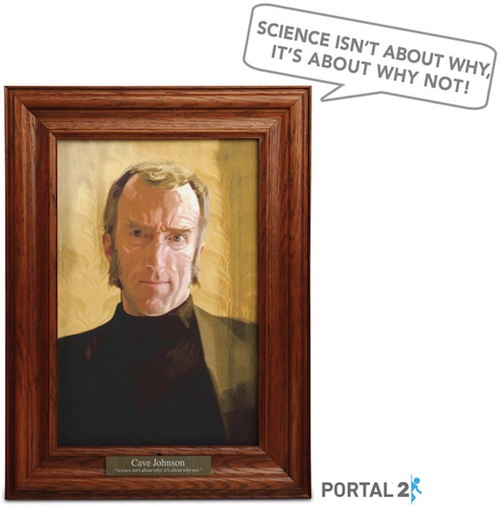 Those clever bastards at ThinkGeek have outdone themselves this time. There's a ridiculous amount of Portal shit in this Guide (just you wait and see), but this is one of my favorites because it's not the go-to image from the game. Not only does this portrait of Cave Johnson look awesome, it also has a motion sensor and TALKS! It spouts out some great JK Simmons dialogue directly from Portal 2 and that makes it a must own in my book. ThinkGeek is out of stock right now, but you can sign up for an alert to get some of the next batch, which should hit in December. $39.99.
EXPENSIVE $71.00-$499.99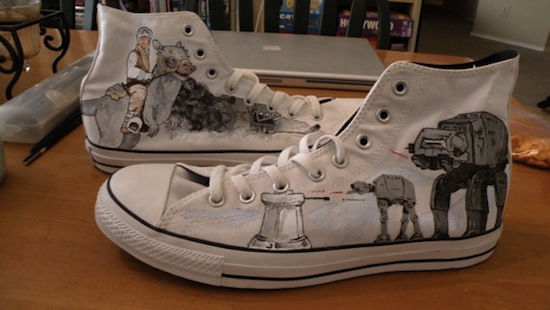 Now this is a fun, unique gift here. Toni Salisbury is a well-loved fixture in Austin and she's pretty good at painting shoes, it turns out. She'll customize a pair of Converse for your man, woman, child, grandpappy or Great Aunt Ethel. Whatever you want, she'll take a crack at it. Lovecraft, Star Wars, Debbie Does Dallas... you know, the basics. I want her to be successful, but don't overload her too much because one of these days I'll commission her myself for a pair of Fallout 3 Vault Boy-adorned shoes! $124.99.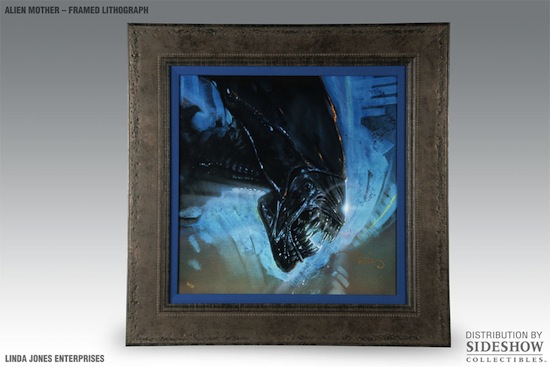 Yeah, it's an expensive (super limited) portrait of the Alien Queen by legendary poster artist John Alvin. How limited you ask? Why, I just happen to have the info you seek! Only 35 of these were printed up, each signed by the late artist. While it is super pricey Sideshow has a 30% off Black Friday Week sale on this particular piece so that should take it from nearly $600 to just over $400. $599.99-30%.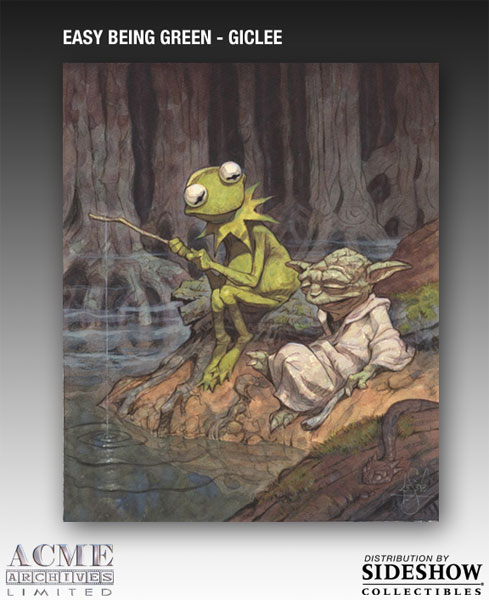 I told you I was a big fan of mash-ups! Two of my favorite green swamp-dwellers together at last in this ACME print from artist Peter de Seve. Easy Being Green It Is Not! 16X20, limited to 150 hand numbered prints and it'll cost ya' $194.99.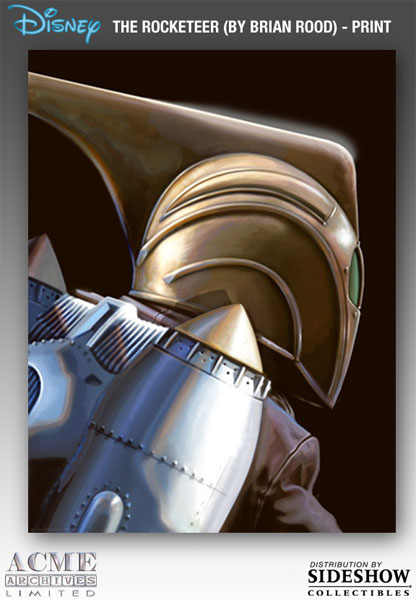 That's great, isn't it? The art deco awesomeness of The Rocketeer makes me happy on the inside. And the outside now that I think of it. This piece by Brian Rood is hand numbered, limited to 91 pieces and is available from ACME Archives via Sideshow. $174.99.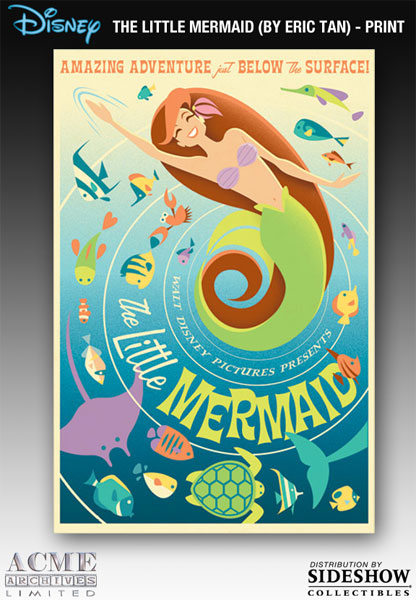 Eric Tan did those great Incredibles posters (and followed those up with even greater Wall-E posters) from a while back and now he's become a staple in the geek poster art world. His Little Mermaid poster is pretty sweet. I have very, very vivid memories of watching this movie when it came out. My young mind was captured in the way only Disney at its best (not to mention the hot half-fish redheads) could do. Limited to 150 pieces, this one comes out to be $124.99.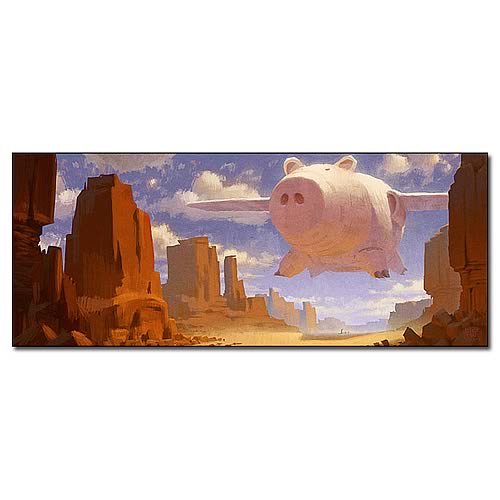 I saw this production art for Toy Story 3 back when I toured Pixar a few months prior to the release of the film and was taken by it. The fantasy land that is created when the toys are being played with hide the heart of what makes the Toy Story films special. It's pure imagination, as Mr. Wonka might say. This print is 10X24, on pre-order for a release in January and will only be 100 strong. $294.99.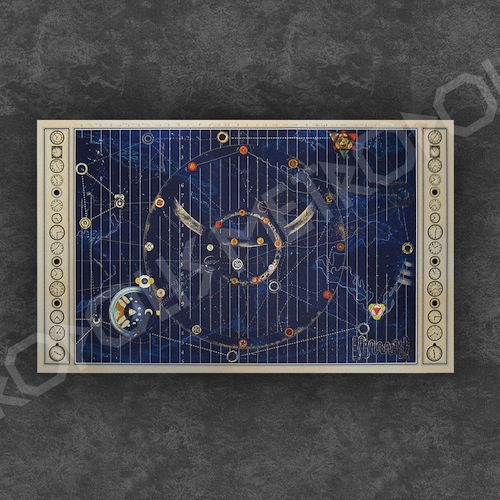 It's an oldie, but a goodie. Unfortunately the Metropolis Graphix guys threw a heavy blanket of watermarking over the whole damn thing, but what's underneath is a really cool recreation of the map from Terry Gilliam's Time Bandits. Measuring 24.5X40 and printed on matte-finish canvas material this is a sizeable, awesome replica. $100.00.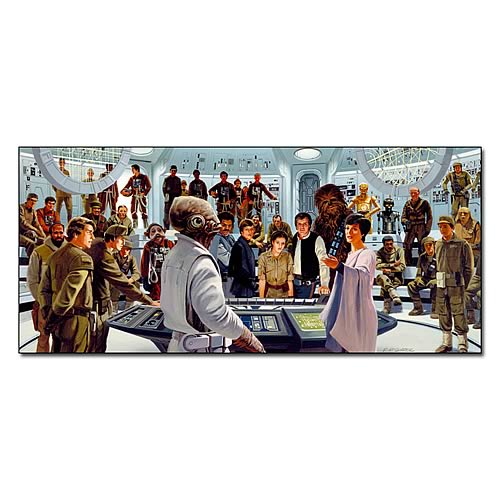 It's a Trap! Well, maybe not, but it's an instinctual response every time I see Admiral Ackbar. I can't help it, sorry. It's like nerd Tourette's. So, what you see above is a limited edition printing of one of Ralph McQuarrie's production art pieces for Return of the Jedi. Cool, huh? Limited to only 25 pieces, this very awesome, very limited and thus very expensive piece will set you back $394.99.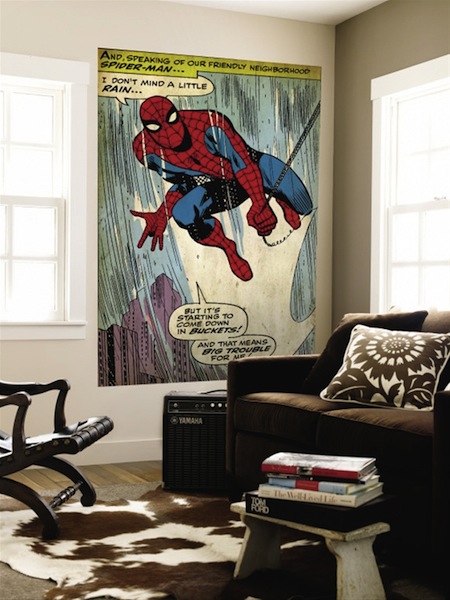 This is pretty rad. These are giant wall murals made out of vintage comic book panels. I especially like the Spider-Man one linked above (which is about $157-ish bucks), there's a whole section featuring various Marvel heroes which can be browsed here. Excelsior!
FOR THE SUPER RICH ONLY $500 and Up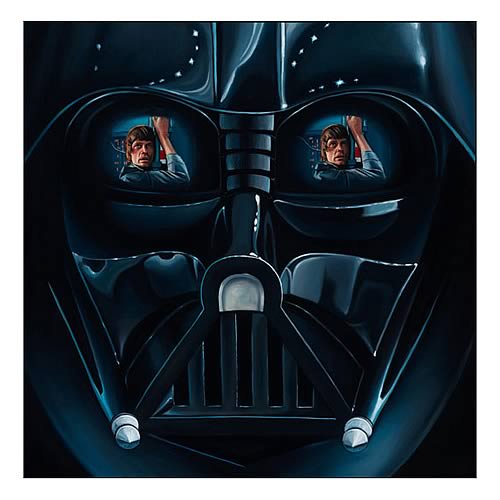 There's a series of paintings like this… In one Blockade Runner Rebels are reflected in Stormrooper's eyes, in another Carbonite Han is reflected in Boba Fett's visor… here we see the face of the father as he lays some truth down on his kid. Beautiful piece from artist Christian Waggoner. This price is a little more expensive than what I've seen his prints sell for before, but it's limited to only 25 pieces and measures 35X35. $1249.99. Yikes! Awesome, but yikes!
Special Bulletin! Alert! Alert! Add-on in progress!
I mentioned above in the Art Section that Mondo rules, but is hard to link to these days in a guide like this because they sell out everything instantly. Well, guess what? I know of two prints that haven't sold out because they haven't gone on sale yet! Both go on sale sometime Black Friday and both announce new licenses acquired by Mondo! In order to get a heads up on just when these prints can be bought, make sure to pay extra close attention to @MondoNews on Twitter.
Now behold two awesome Mondo prints (ppppsssttttt, I'm giving one of them away):

That's a thing of beauty, isn't it? Hell of an announcement piece, guys. "Fortress of Solitude" by JC Richard is a 12X32 print limited to 390 and it'll be put on sale sometime during Black Friday… jeez, guys… didn't you read my intro above? $50.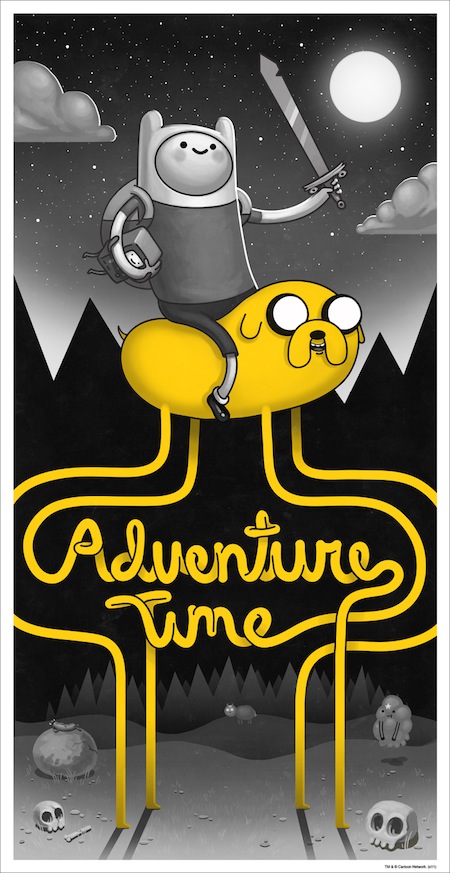 Limited to 220 hand numbered 18X36 prints, Mondo kicks off their Adventure Time license with this pretty friggin' awesome poster by Mike Mitchell. With as nuts as Adventure Time is and as insanely talented as the Mondo poster artists are I have a feeling they're going to come up with some crazy stuff with this run of posters. $40.00.

Adventure Time Winner Picked! Congrats to Australia's Angus Hamilton!
Oh, yeah. I said I had a Mondo Poster to give away! Well, it's this Adventure Time poster! If you want it, I'm gonna have to ask for a bribe… sorry, I mean an email… silly me. Slip of the tongue. Email this address with the subject line "Mathematical!" and your mailing address in the body of the email. I'll pick a winner at random sometime between now and 11:59pm CST Saturday Night and post the winner here. The contest is open to the world, please only enter once and all will be peaceful, calm and happiness.
Click Here for Part 2 of the 2011 Holiday Gift Guide featuring Books, Comics, Soundtracks, Music and Food!
Click Here for Part 3 of the 2011 Holiday Gift Guide featuring Collectibles, Toys and Board Games!
Click here for Part 4 of the 2011 Holiday Gift Guide! Gadgets, Gizmos, Electronics, Home and Office Geekiness, Apparel and For The Super Rich Only!
-Eric Vespe
"Quint"
quint@aintitcool.com
Follow Me On Twitter